It's your first time travel Vietnam and Cambodia and wondering what to see and do? See our own selection of the very best places to see in Vietnam and Cambodia for first-time visitors, a bonus with all the tips on when the best time to visit is and how many days you should spend.
Best places to see in Vietnam and Cambodia
---
Even though the two countries have distinctive differences, Vietnam and Cambodia are both beautiful with spectacular nature and magnificent cultural heritage.
In Vietnam, Halong Bay, Ninh Binh and Mekong Delta have the most beautiful natural features, while Hoi An and Danang are two best cities to visit and enjoy the nightlife.
Visitors to Cambodia shouldn't miss the architecture masterpiece Angkor Wat in Siem Reap and the pristine islands in Southern Sea
Best Places to See in Vietnam
North Vietnam
Hanoi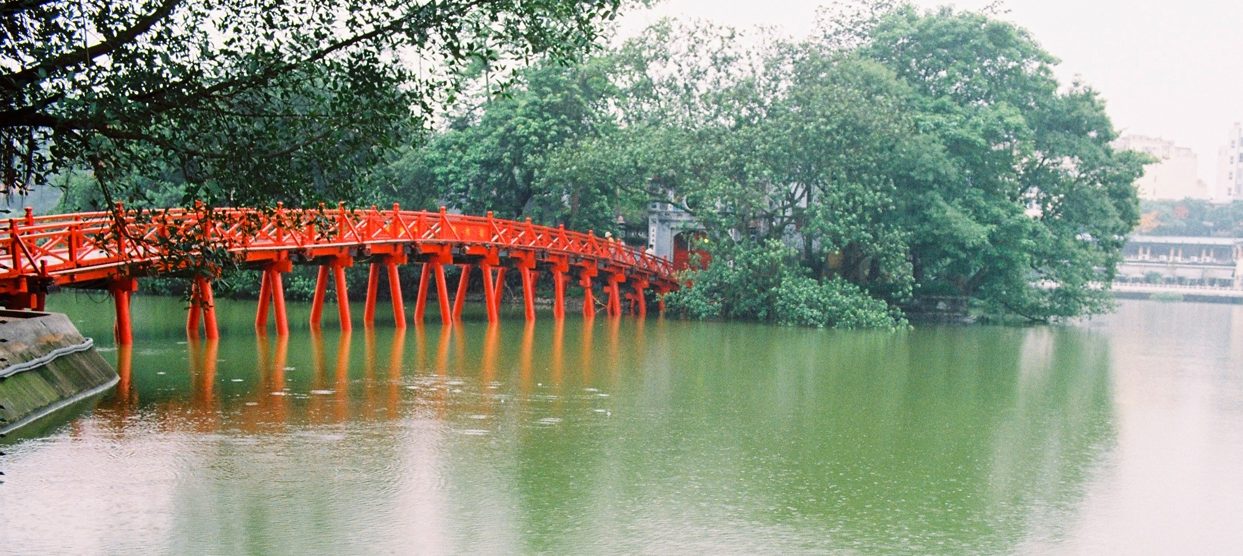 The capital of Vietnam is one of the must-see places to visit in Vietnam, filled with gorgeous French buildings, peaceful lakes and historical landmarks. Hanoi Old Quarter once was a trading and handicraft center of Vietnam, now a hub for travelers from all around the world to come and discover. Don't forget to try Vietnamese very foods in the very best place to do this job.
You can explore further than just the city center. Ba Vi National Park and Duong Lam village both promise a wonderful day trip from Hanoi.
Halong Bay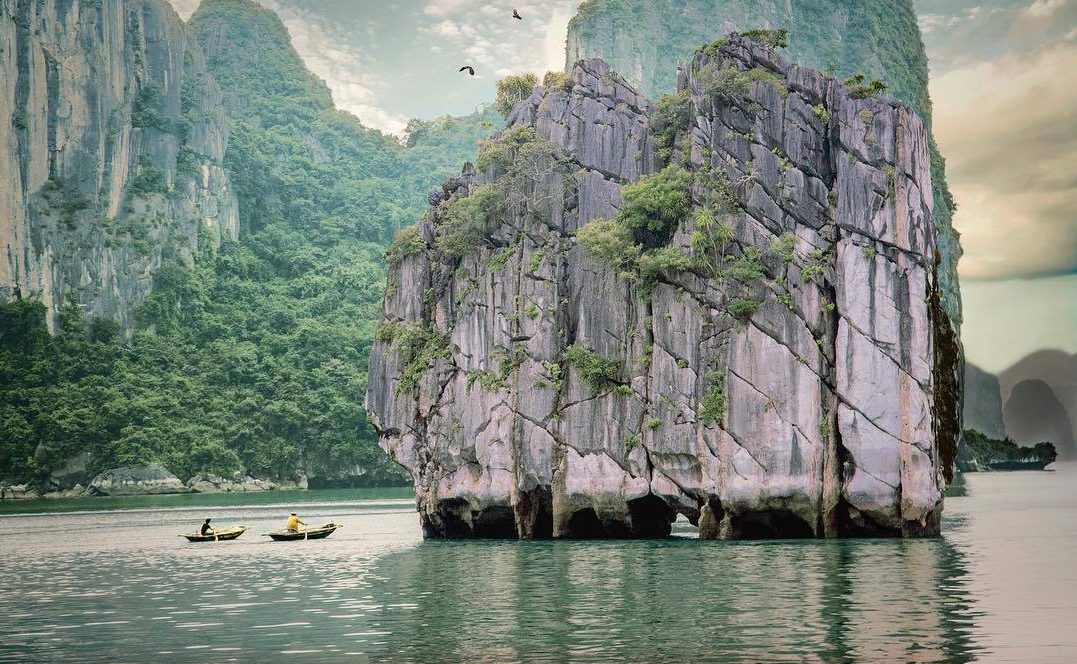 Halong Bay must have the most spectacular landscape in the whole country. The bay wows visitors with its emerald water dotted with thousands of limestone islands and islets covered in green trees. A cruise is the perfect way to bring you across this one-of-the-kind garden of islands.
Nearby there are Bai Tu Long Bay, Lan Ha Bay and Cat Ba Island that are also worthy of your visit.
Sapa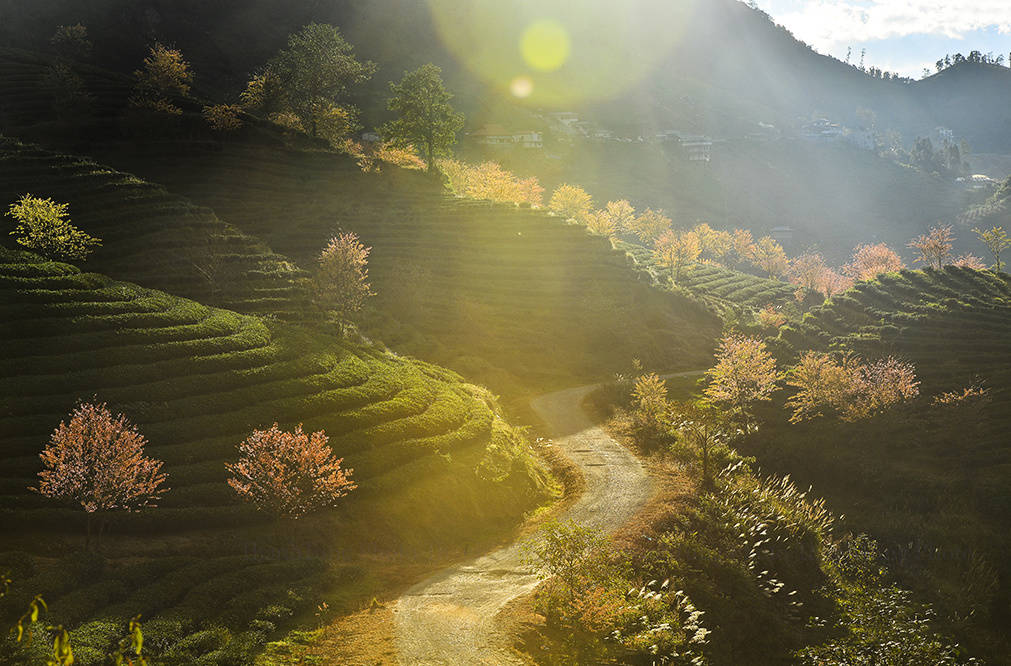 Located on over the height of 1000m, Sapa boasts temperate weather, highland landscape with pine trees, green valleys, silver waterfalls, cloud-laden mountain range and terraced rice fields. Sapa is also home to several ethnic people with the predominance of H'mong culture.
Come to Sapa, you can't miss taking in the beautiful nature and such authentic culture. Visit one of the local fair-market here to learn even more insights into the life of the people.
Ninh Binh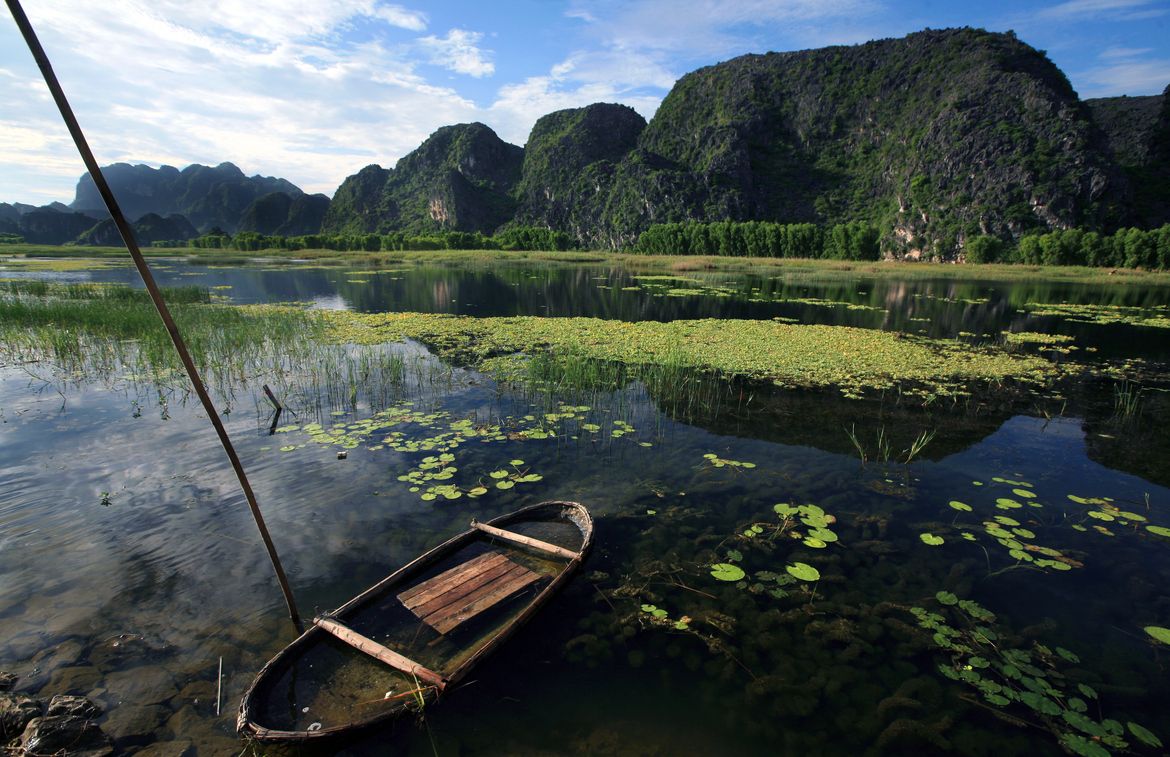 Just 90km south of Hanoi, you can easily get to Ninh Binh after 2 hours of a car ride. Known as the 'Halong Bay on Land', Ninh Binh is even more worthy of your trip with a vast area of limestone complex of mountains and rivers. Designated as a UNESCO heritage for both culture and nature, there are so many things to do in Ninh Binh.
Even though you can visit Ninh Binh with a day trip from Hanoi, it's best to spend two days to explore the place to your heart's content.
Central Vietnam
Da Nang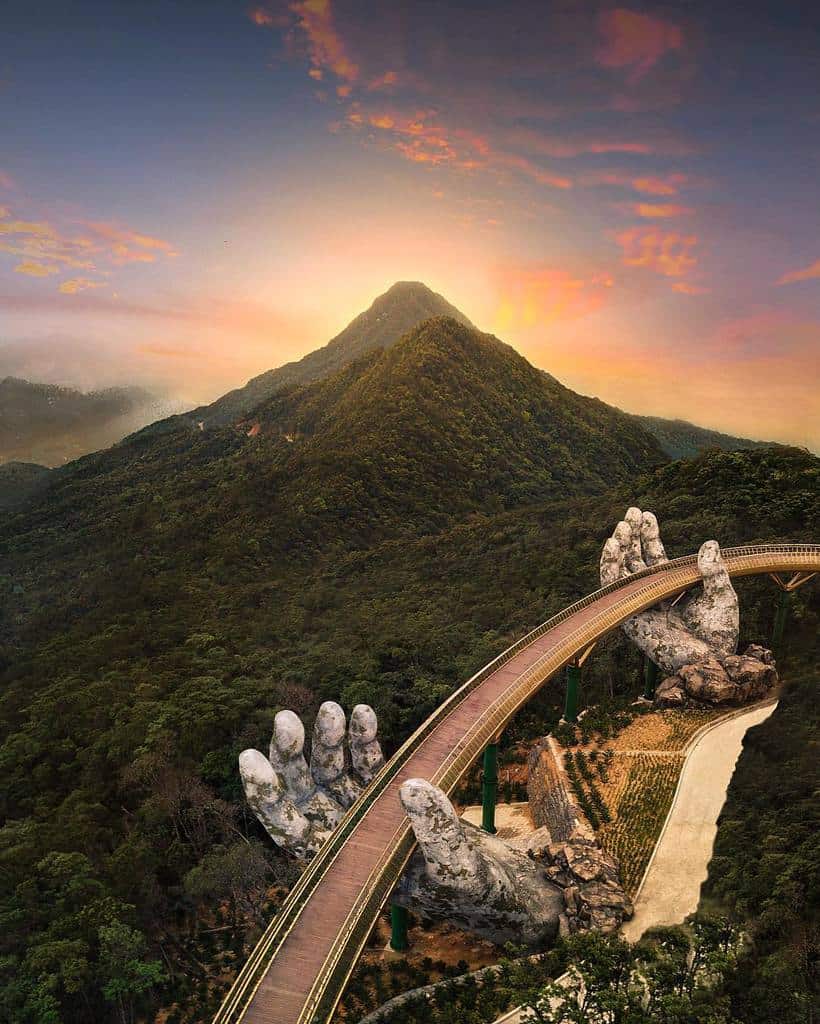 Only 18km away from Hoi An, Da Nang has charms that nowhere else in Vietnam has. Blessed with long coastal line, pristine forest and spectacular bridges, Da Nang is your best place in Vietnam for a city break. Get loose at Ba Na Hills and pose all you want on the famous Golden Bridge, you might not want to leave. Marble Mountains are a wonderful place to return to nature and there are so much, so much more to enjoy in Da Nang.
Hoi An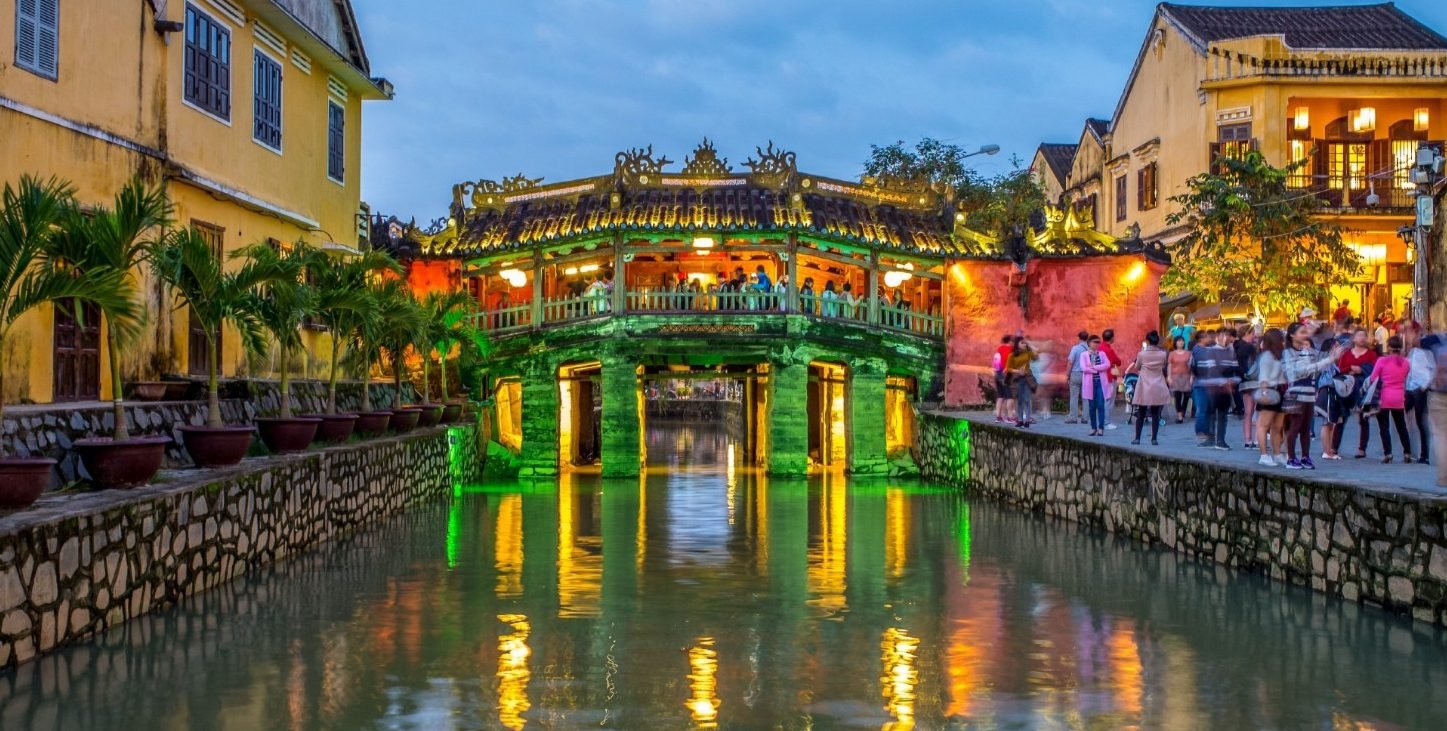 Used to be the most important port town in not only Southeast Asia but also Asia during 15th – 19th century, Hoi An looks like it's still living in its heyday. The glimmering town of Hoi An has become UNESCO world cultural heritage and day by day attracting even more visitors with its atmospheric nightlife.
Don't forget to check out Hoi An Old Quarter, and if you can do that in 14th night of lunar month, it's even better.
My Son Sanctuary

The ancient ruins are nested among mountains and forests, concealing architecture masterpieces of more than 1600 years old. My Son used to be the sanctuary of Champa Kingdom which rued the Central and the Southern part of Vietnam from 3rd century until 1832. The temple-towers here are constructed based on the conception of Mount Meru – the sacred mountain home of Hindu gods at the central of the university.
There're mysteries about the construction of My Son which are still undeciphered. My Son is a place that history enthusiasts would love to visit.
Southern Vietnam
Ho Chi Minh City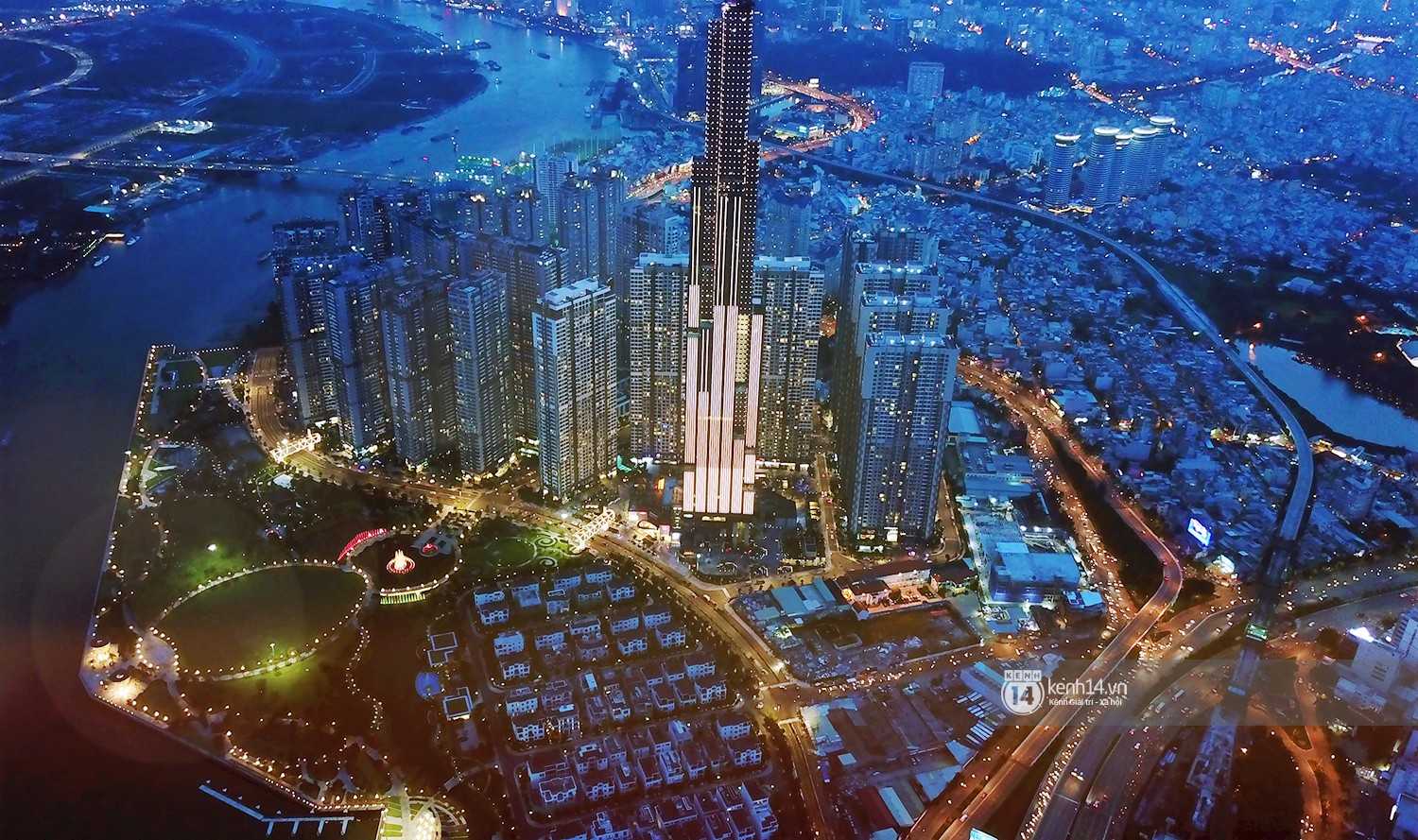 There're endless attractions in the largest, most populous city in Vietnam – modernity, historical landmarks, and delicious street foods. Khmer people was the first people who settled in this area, Vietnamese took over in 17th century but until 19th century, French invaded until was replaced by the US and back to Vietnamese people after Vietnam War.
Ho Chi Minh city is the meeting point of all cultures in Vietnam, yet still preserving the indigenousness of the local people. Ho Chi Minh is also the gateway to a vast, compelling area of Mekong Delta.
Mekong Delta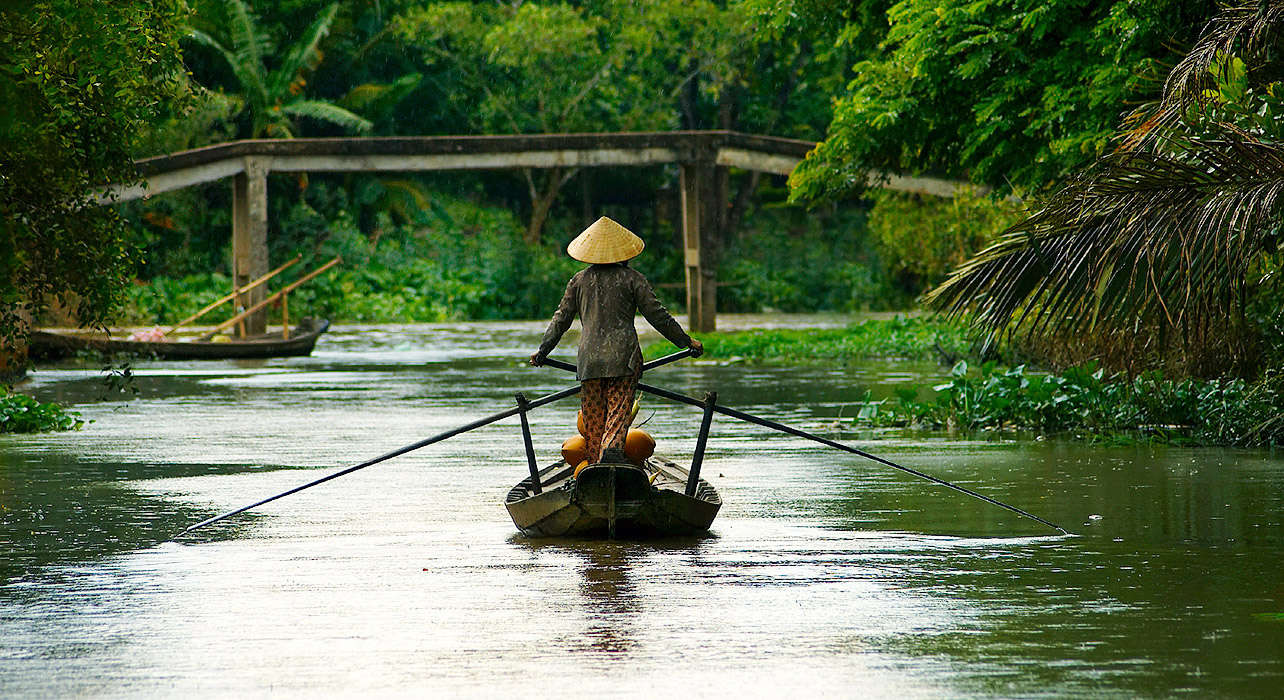 You cannot enjoy a place in Vietnam like you will enjoy Mekong Delta. It's a land of coconut trees, fruit orchards, sugarcane fields and labyrinth of waterways. Come to Mekong Delta means that you'll visit the colorful, bustling floating markets like Cai Be, Cai Rang or Nga Nam…, tasting the freshness of fruits in local orchards and exploring the candy factories. It's one hell of an adventure that no travelers to Vietnam should miss.
Best Places to See in Cambodia
Phnom Penh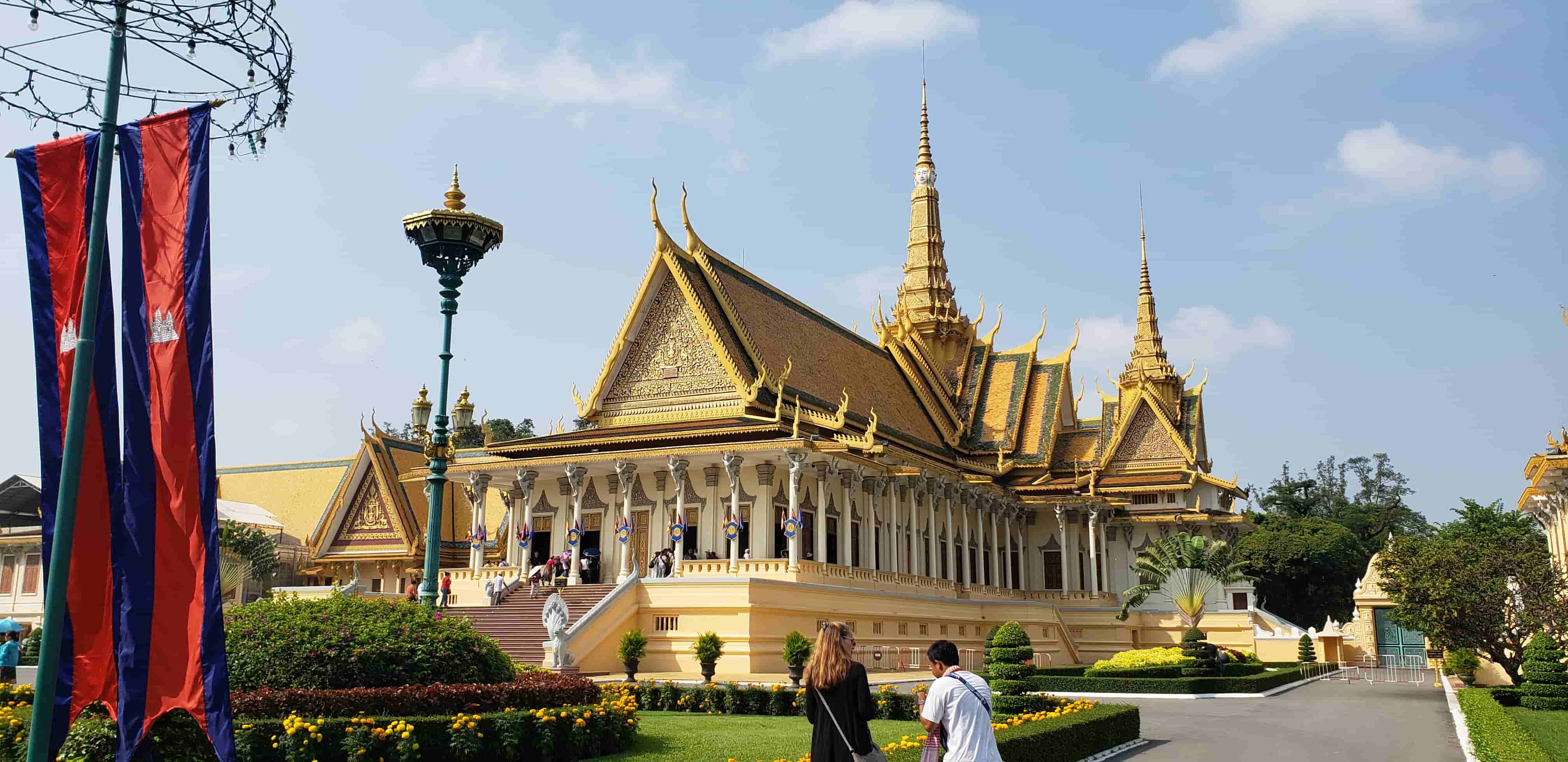 Often known as the 'sleepy capital', Phnom Penh can't be compared to others. As the largest city of Cambodia Kingdom, Phnom Penh doesn't have a vibe of a busy or bustling capital but instead a slow-paced and relaxing lifestyle. Phnom Penh shines with the light of the old time, with the shining golden roofs on the age-old temples and pagodas.
The scars of Khmer Rouge are still present, lying just outside the town in the killing fields. A trip to these sites would be an experience of significance.
Siem Reap

Siem Reap is the star of its own – a vast complex of what was left of the glorious empires. What you'll find in Siem Reap are not only the beautiful ancient ruins but also the mysteries and stories behind them. The questions about the fall of Khmer Empire are still not answered and when you look at these masterpieces, you can't help to wonder.
Siem Reap is also worthy of visit for its many colonial and Chinese architecture in the Old French Quarter and Old Market. Come for the museums, traditional Apsara dance performance, cultural villages and more. In Siem Reap, a wide range of tourist services are available thanks to its close proximity to the most popular attraction in Cambodia.
Sihanoukville

Blessed with pristine, wild and beautiful islands, Sihanoukville is a destination where you go to take a breather, enjoy the nature and stay away from the world. And if you want something more than that, go on a hunt for a magic night scene of bioluminescence on one of these islands.
Top islands to visit in Sihanoukville: Koh Rong Samloem, Koh Rong, Koh Ta Kiev, Koh Thmei.


Best time to visit Vietnam and Cambodia
---

The weather in Vietnam and Cambodia is diverse, varied from north to south and east to west. The best time to travel both country can be quite tricky to determine but it's not impossible.
Vietnam weather is divided into three main distinct climate zones: North, Central and South. Located in a tropical area affected by annually monsoon season which is the number-one factor in making Vietnam's weather to differ significantly by the region. North Vietnam suffers a long, cold winter which makes the weather pattern here much more complicated with four seasons a year.
Central and South Vietnam are hotter and only have 2 seasons a year – dry season and wet season but they're happening in different months. With Central Vietnam's rainy season happens a bit later than South Vietnam's.
How many days to travel Vietnam and Cambodia
---
It depends.
For first-timers, or limited time budget travelers, a 9-day Vietnam and Cambodia tour or 10 days Vietnam Cambodia Tour would be a fantastic experience. Visitors still can enjoy activities such as:  city tour, river cruise, floating market visiting, watching sunrise at Angkor Wat…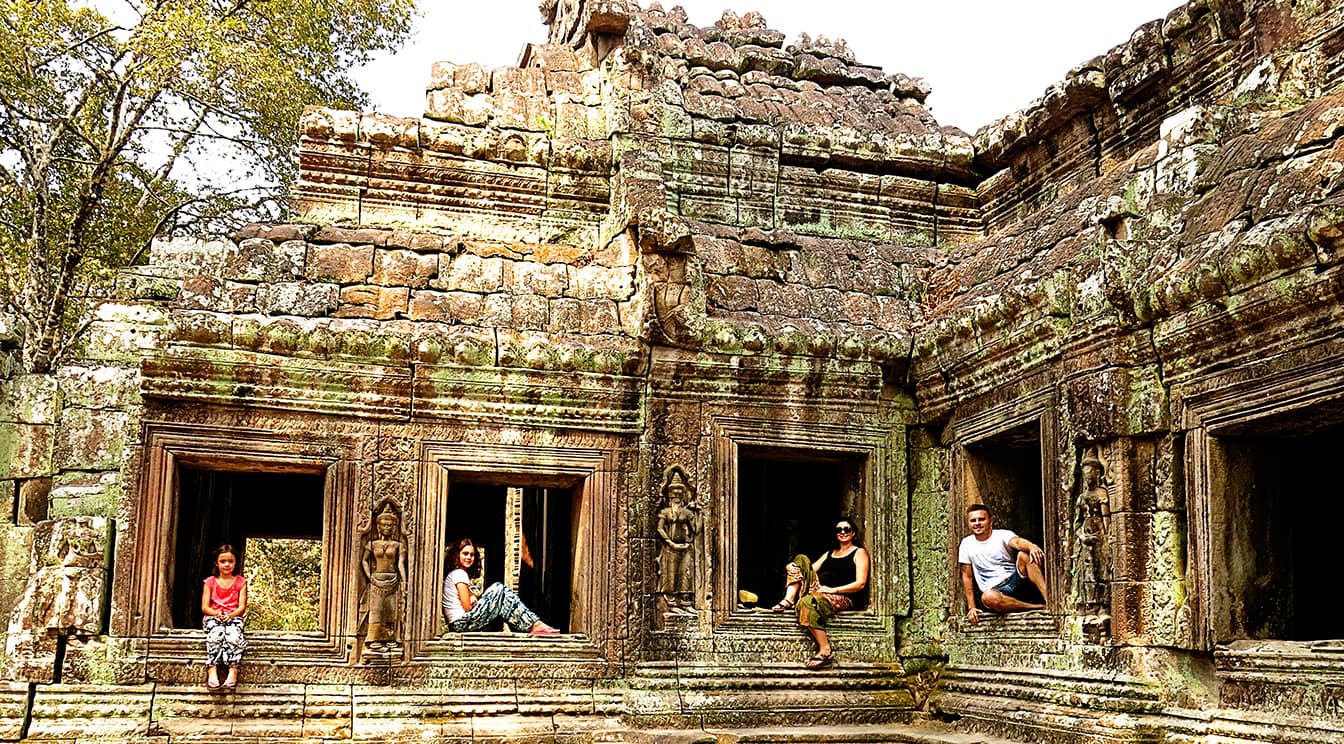 If this is your second time to the countries, and you'd like to see more than just the highlighted destinations, a 14-day Vietnam and Cambodia Trip would do it just right. In the course of 2 weeks, you can enjoy all the activities at a leisure pace: city tour, bay cruise, heritage visiting and boat trip…
For those who have a large time budget and want to discover Vietnam and Cambodia in-depth, a trip for 17 days would be a wonderful choice for you. Activities for this trip include trekking to local markets, cruising, city tour, night train, temple visiting and so much more…. Especially, this trip would allow you to stay in Siem Reap for 4 days.
Tips & Practical Info for First-time Travelers to Vietnam and Cambodia
---
First-time travelers to Vietnam and Cambodia might be overwhelmed with the amount of information. However, it could be much easier if you know beforehand the key facts and tips.
Visa to Vietnam and Cambodia
Vietnam Visa
Citizens who are not on the visa waiver list, can apply for an E-visa, VOA (Visa on Arrival) or a regular visa at a Vietnamese embassy.
E-visa:
Eligible for citizens of 46 countries in the list (UK, US)

Available for Air/Land/Water entry

Validity: 1-month single entry

Cost: US$25, non-refundable in case your visa application is refused

Access

evisa.xuatnhapcanh.gov.vn

Processing: 3 business days

Entry gate: 28 (8 international airports, 13 international border gates, and 7 seaports across Vietnam)
VOA (Visa on Arrival):
Eligible for air travelers

Validity: 1-mo single/multiple entry; 3-mo single/multiple entry; 6-month multiple entry; 1-year multiple entry

You'll have to apply for an invitation letter before you can get the real visa stamp on your passport when landed in a Vietnam airport

Processing: 2 business days or less (urgent service is available)

You can mostly get a refund if your application is turned down
Cambodia Visa


Citizens who are not in the Cambodian visa waiver program must apply for a visa to enter Cambodia. There are three ways to obtain a Cambodia visa: getting a VOA at the landing or applying for a Cambodia E-visa or applying for a regular visa at an oversea Cambodia embassy.
E-visa:
You can get an E-visa through Ministry of Foreign Affairs (mfaic.gov.kh)

Cost: US$30, plus US$7 for processing fee

E-visa is only accepted at Phnom Penh and Siem Reap airports (nor accepted in Sihanoukville) and at three main land borders: Poipet/Aranya Prathet and Cham Yeam/Hat Lek (both Thailand) and Bavet/Moc Bai (Vietnam)
VOA:
Most nationalities VOA when landing at Phnom Penh, Siem Reap or Sihanoukville airports and at land borders.

Citizens of Afghanistan, Algeria, Bangladesh, Iran, Iraq, Nigeria, Pakistan, Saudi Arabia, Sri Lanka and Sudan need to make advance arrangements (invitation letter)

One-month tourist visa costs US$30

Processing: 2-3 business days
Safety Tips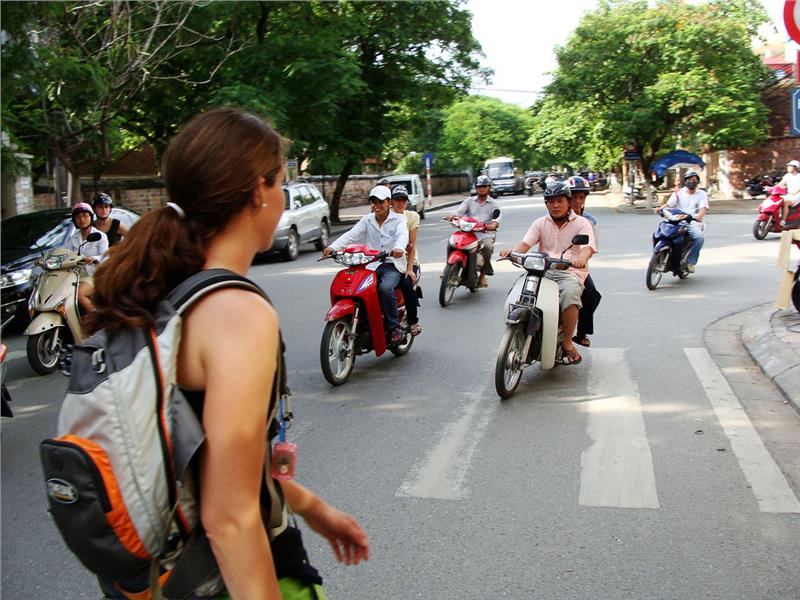 Vietnam is relatively a safe country to travel to. It has friendly locals, strict gun law and almost no threat of terrorist attacks. The rate for a serious crime is quite low and less likely targeted at foreign tourists. However, there're still risks from traffic and petty crimes you can always avoid if you know these things in beforehand:
When on open space or crowded streets in big cities like Hanoi and Ho Chi Minh City

Keep your belongings close to your body, camera, bags in front

Have your back against a wall or move indoors or to a more narrow space when using smartphones or other devices.

Do not keep money or important documents in your back pockets

Noted helpline numbers to call when you're in trouble (Hanoi: 0941.33.66.77, Halong: 0913.265.009)
Cambodia is also a relatively safe country for foreign travelers. Most frequent crimes against foreign tourists are snatching, pickpocketing and other petty thefts. Here are a few tips for travelers to Cambodia:
Be careful when you choose bicycling to explore around. Risk is the criminal will push you off the bike while you're riding, take the bike and ride away. Biking with a group would be safer to do

Like the tips above, to avoid pickpocketing, snatching, highly beware of your surroundings, keep belongings close…

The line of the border near Thailand can be dangerous since there's a history of the dispute between Cambodia and Thailand

Landmines are common in remote areas, so watch out for warning signs
Dress Code
In both countries, conservative clothing style is much more appreciated than exposing, see-through, flamboyant styles. There are a set of rules when it comes to wearing clothes in sacred places like temples and pagodas.
Do not wear short clothes like miniskirts, shorts or see-through tops or any kind of exposing too much skin in worshiping places.

Flip-flops are also not welcomed.

Take off hats, sunglasses when entering sacred places, worshiping places, graves…

Do not show off wealth like jewelry, gold, silver accessories excessively in places where it's not suitable.
Shopping
Much more bustling and developed than Cambodia, Vietnam is a wonderful place for shopping, for both quality and quantity. All major cities in Vietnam can be your shopping paradise, especially Hanoi and Ho Chi Minh City. In Vietnam, the practice of bargain is pretty common and you might find it fun if you can get a hold of it.
For the beginning, determine what you want to buy, ask several stores or shops for its price.

The seller will offer you a price that is often higher and more expensive. You can start by offering a number which is 50% of the first amount.

The seller would mostly look surprised (it's all acting) and decline your offer. If your price is not too far to the agreeable price, they'll ask you again to reconsider.

You might want to raise your offer little by little (10% at a time) but the maximum price should be just 75-80% the price the seller told you at first.

Remember to keep the conservation calm and you might want to humor your seller with a little Vietnamese, they'll love it.

If you still can accept the price in the end, just politely say thank and move to other stores.
Street Food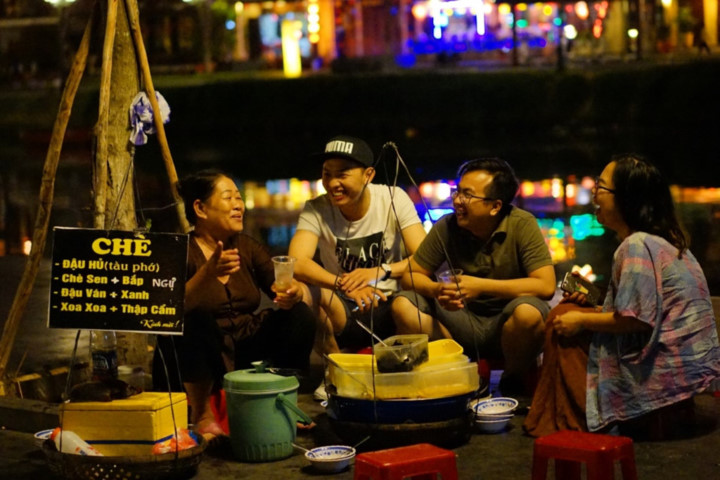 Both countries have fantastic food and street food is a major part of the cuisine here. Food in Vietnam and Cambodia is cheap, delicious and various and is a part that can't be missed during your trip. Here are some tips to stay safe and enjoy the food street food here to your heart's content:
Always ask the price first before buying if the restaurants or the vendor don't have their price shown

Buy from a vendor or stall that uses gloves and clean utensils during the process of making food

One-dish stalls or restaurants would be your choice if you don't know which the safer option is.

Look for the oil if you're eating oily dishes. If the oil is transparent yellow, then it's safe. If the oil is darker, then it means they have used it over and over again.

Fruits can be deceitful with their appearance. We recommend you to buy fruits from green stores or marts.
Are you thrilled for an adventure to Vietnam and Cambodia right in this year 2020? Check out our:
Best Vietnam and Cambodia Tour for First Timers
or sending your inquiry to our travel experts to get your trip planned out today, email

booking@asianwaytravel.com