Ever thought of an escape to northern Vietnam with bright-shining sunlight, crystal sands, and sapphire beaches? Or even camping, kayaking, or climbing on a mountain on an island? Well, Lan Ha Bay offers you the full package.
Welcome to Lan Ha Bay
Where is Lan Ha Bay
Located to the south of Ha Long Bay and the east of
Cat Ba island
, Lan Ha Bay humbly but naturally attracts the eyes of ocean lovers. Being outstanding with the magnificent beauty of above 400 islands in the total square of 7000 ha of the bay, Lan Ha bay as said, offers you the full package.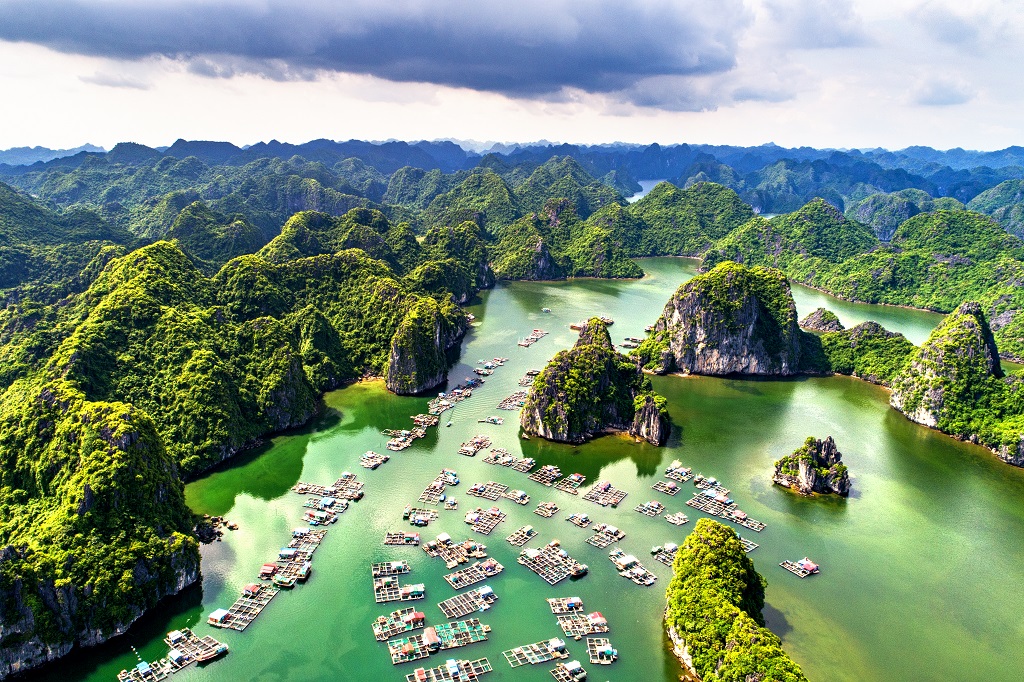 Why Lan Ha Bay?
Unlike Ha Long Bay, every island in Lan Ha Bay, regardless of being small or big, is covered with trees. It's because this bay is still not yet well-known like the sibling Ha Long Bay which also makes it more unique. Besides, there are 139 pretty areas of sand in the bay, located sparsely among it for visitors to have several choices of discovery.
Moreover, compared to some similar popular bay/island destinations, even though Lan Ha is a new name in town, it offers visitors newer and more upgraded & spacious ships/cruises. Room facilities in this bay area are new, thus they are more modern and fancier. Also, the effort of local authorities to protect the primitive beauty of the island, along with developing tourism services is much appreciated.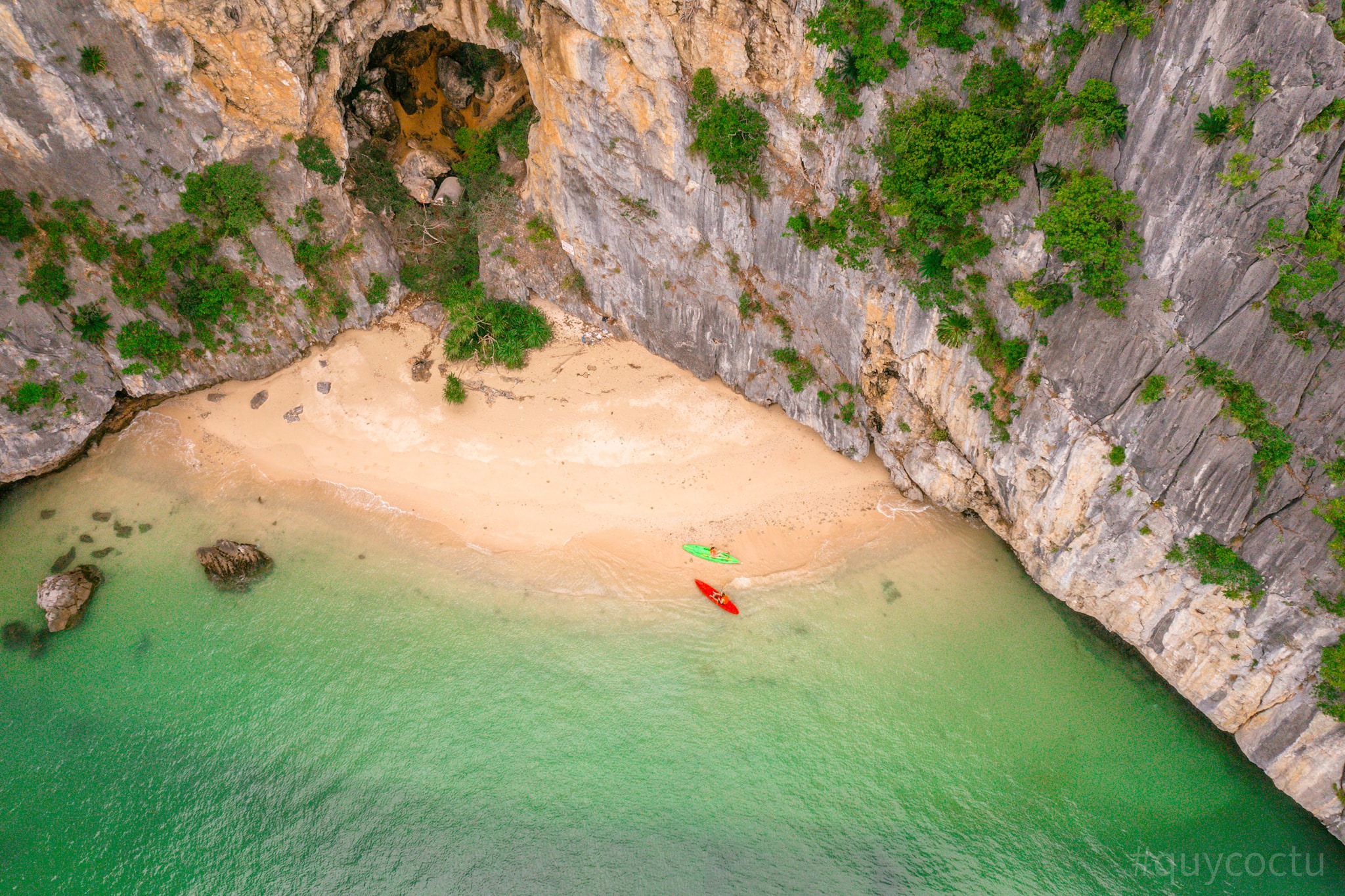 Tourists also can be allowed to jump into the water from the ship/cruise in Lan Ha Bay, while this activity is banned in Ha Long Bay & Bai Tu Long Bay. You can choose to swim anywhere in Lan Ha (better with local security/instructor) while you can not do that in Bai Tu Long. You can swim in an allowed area in Ha Long Bay only.
Weather
The average temperature falls between 25 to 28 degrees Celcius. Surrounded by the sea so the air is fresh and not too hot. In the summer, there might be storms and in the winter there will be monsoon
How to go
To go to Lan Ha Bay, you have to go to Cat Ba island of Hai Phong first. Then from Cat Ba island, catch a taxi to Beo dock, buy a sight-seeing ticket to Lan Ha (30.000 VND) then board the ship to visit Lan Ha Bay (1.200.000 – 1.500.000 VND/ship).


Another way is using a small engine boat (500.000 VND/boat). It is suitable when you go with a small group of people and this way is more adventurous and saving.


You also can choose a new means of transport to visit Lan Ha which is using a cruise. The quality varies from 4 stars to 5 stars, and an estimated price per passenger is about 2.000.000 VND. But in order to choose this method, you have to be in Ha Long Bay because they are cruises cruising from Ha Long Bay and Lan Ha is a destination during the journey.
When to go
The most favorable time of the year to make a visit to Lan Ha Bay is from April to July. The least favorite one is from August t October because there will be heavy rain & storm during this time in Lan Ha Bay.
Where to visit
Cua Van fishing village
This is a must in your trip to Lan Ha Bay. Located 12 kilometers away from Beo dock, it takes you 1 and a half hours to go to
Cua Van fishing village
. You can take part in many interesting daily activities with the villagers such as: riding a boat, using a net to catch a fish, go catch shrimp or squid,…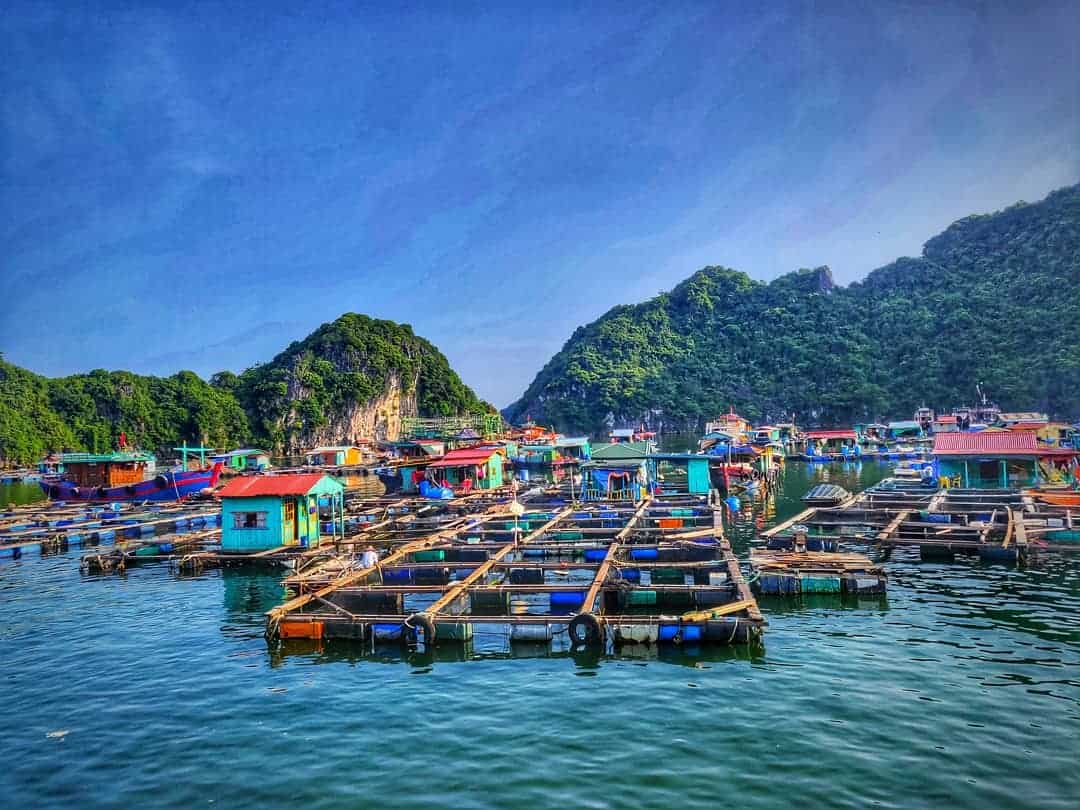 Van Boi swimming area
Van Boi swimming area is located on a small island opposite Rua Giong island in Lan Ha Bay. You can rent a wooden boat, or kayak to make your way through many beautiful small islands of the bay. You can enjoy your private time here as it's not so crowded.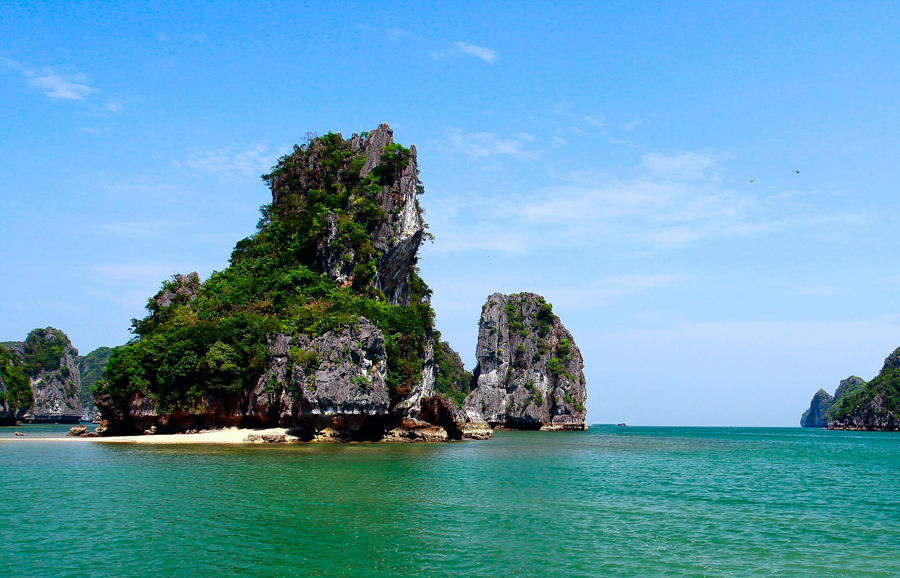 Nam Cat island
To reach Nam Cat island, you go from Beo dock heading to Lan Ha Bay way in about 15 minutes. Among many islands of the bay, Nam cat is a great choice for nature lovers with pure crystals sand area, less crowded swimming areas, dim light to take a nap with sea win blowing your ears.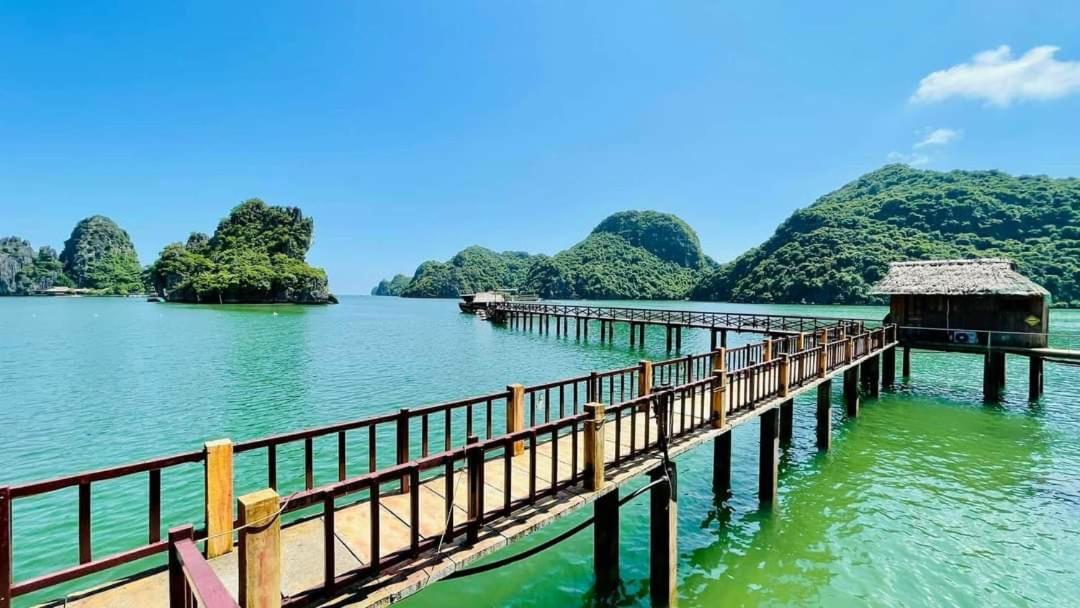 Luon cave
Make a visit to Luon cave and go kayaking to explore the surrounding. You also can rent a day tour boat to visit the bay. A high suggestion from visitors is to go kayaking in this cave.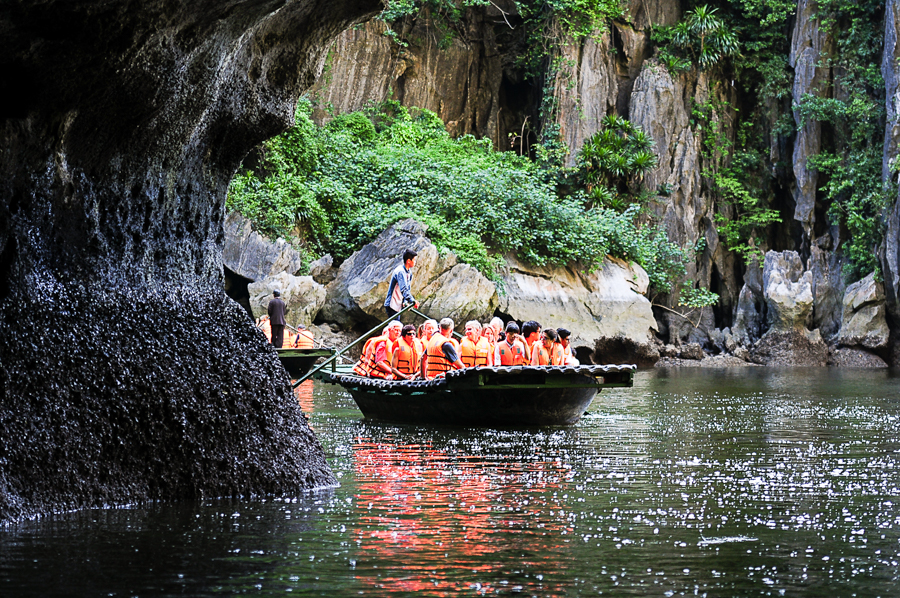 Monkey island
From Beo dock, make your way passing by Cai Beo fishing village and some small islands before reaching Monkey island. It only takes you around 10 minutes. There are two famous swimming areas on Monkey island: cat Dua 1 & cat Dua 2. You can also enjoy watching monkeys' daily life on this island.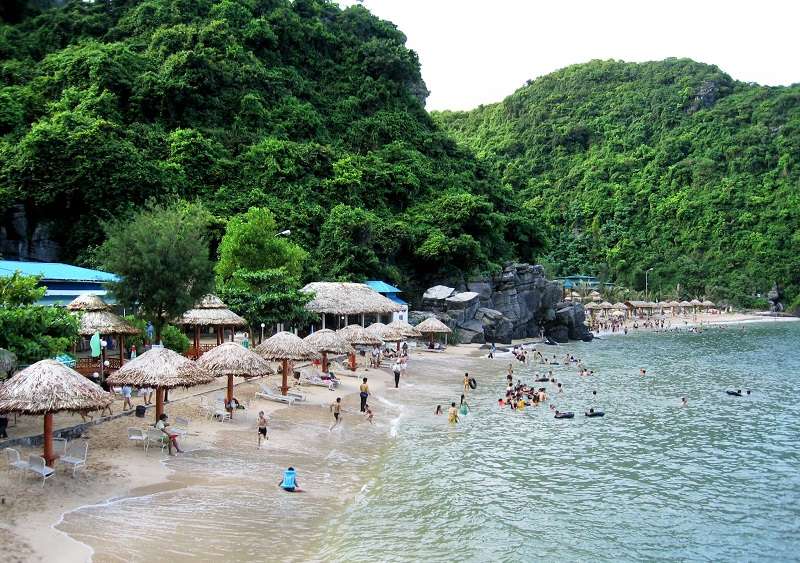 Activities in Lan Ha Bay
Sunbathing on the beach & discover the beautiful coral system of this island
It sounds very weird if you visit a bay without getting yourself to the beach, isn't it? Come one, bikini/short on, let your office fair skin be tanned under the beautiful sunlight here. Also, dive deep under the water to see how marvelous & incredible our oceanic scenes can be with the system of coral in the bay.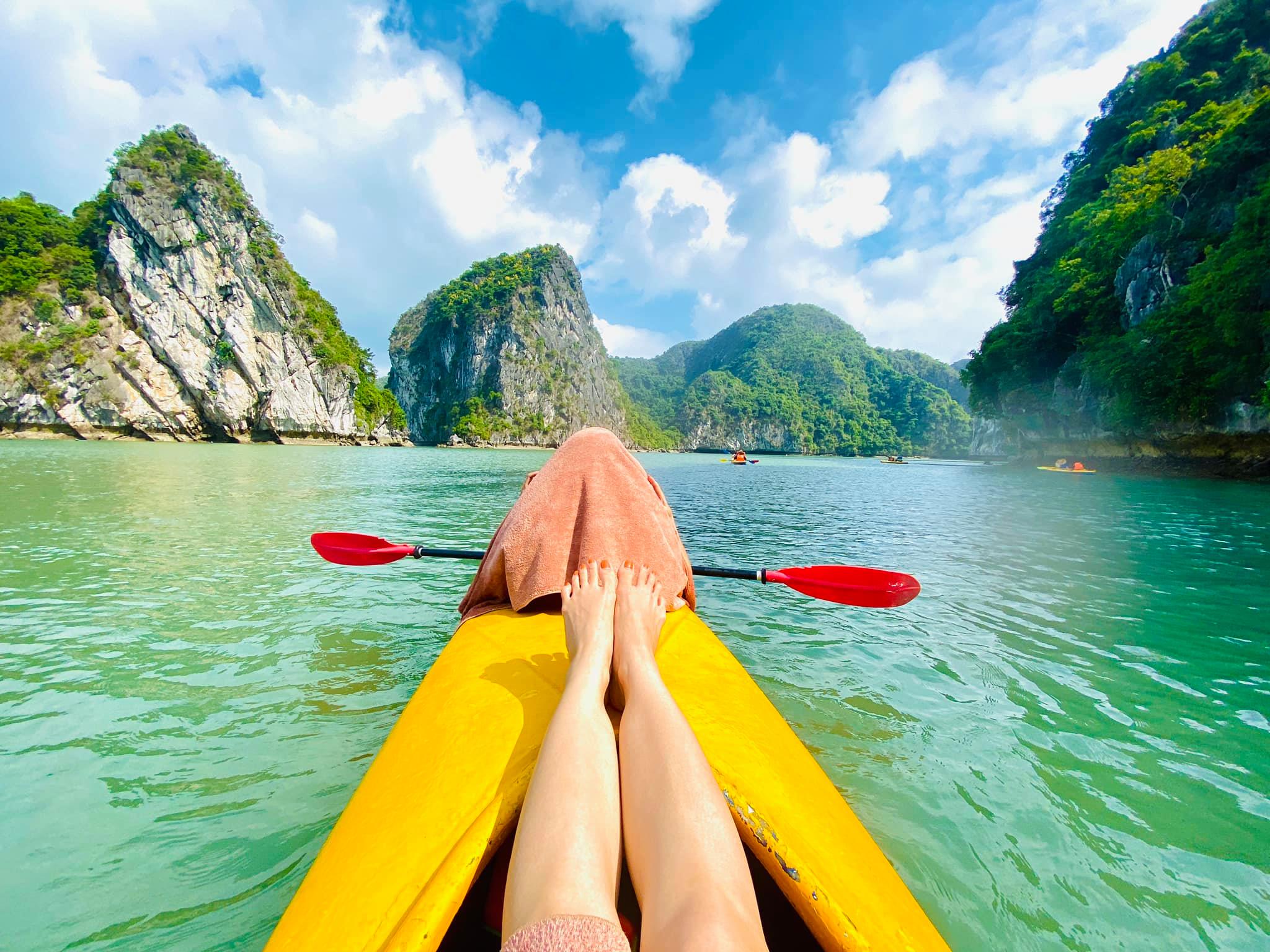 You can book this diving service at the diving center of Monkey Island Resort. There are many options for you to choose from: 30-minute diving with a personal coach (1.000.000 VND per passenger) or you can choose a snorkeling service to discover on your own with 600.000 VND.
Kayaking
Kayaking would be a great experience in Lan Ha, because there are so many tiny and small islands on the bay that you can not enjoy their rear beauty if you go on a cruise. Kayaking helps to get you closer to nature to see how unique their rock shapes can be and how cool our nature could be.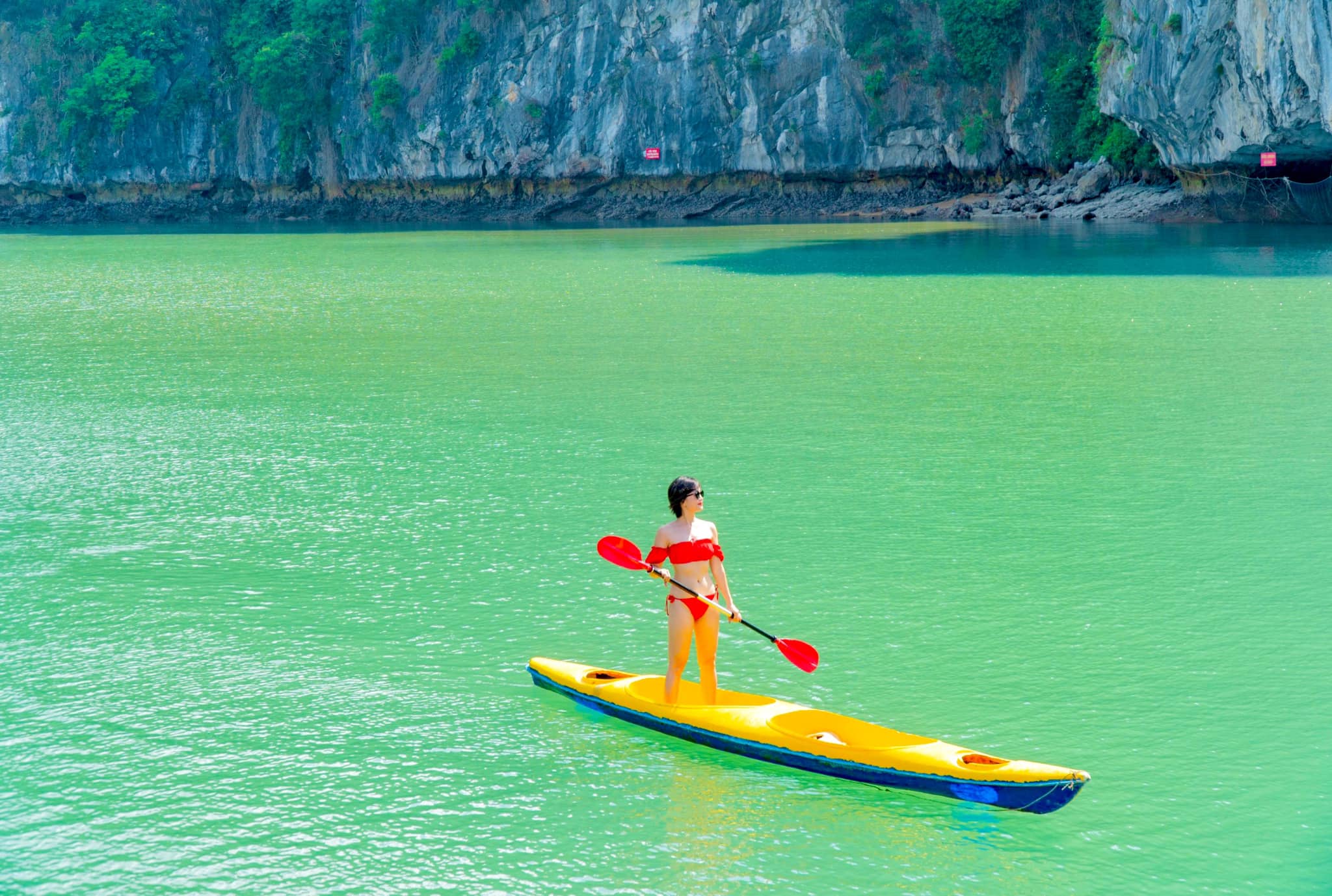 Below are some places that allow you to rent a kayak:
– Manh Nu house
– Cat Ba Venture
– Kayak for rent area on Monkey island with unlimited time for kayaking
Exciting rock climbing activity
If you are an adventurous person, try rock climbing in the bay. Conquer harsh and challenging cliffs. There are many types and levels of climbing for you to try so don't worry. There are 3 favorite climbing spots on the bay which is Dau Be island (2 hours of travel boat far away from Cat Ba island); a cliff located at Beo dock (2km far away from Cat Ba center) and Ba Trai Dao island (Three Peaches island, 22 kilometers away from the travel port).
Lan Ha Bay Cruise suggestion
– High-end: Ylang/ Ginger – about 400 USD/cabin (2 pax)
– Luxury: Stellar of the Seas/ Orchid Cruise/ Azalea Cruise: from 320 USD/pax
– Deluxe: Sealife Legend/ Era Cruise/ Peony/La Regina Legend: from 250USD/pax
– Superior: Sena/V'Spirit Premier: from 220 USD/pax
What to eat in Lan Ha
Obviously when in a bay, we must try seafood. But what kind of seafood in Lan Ha, apart from popular ones we can try everywhere?
Geo-duck
If you hear that name so strange, so this is its scientific name: Lutraria rhynchaena. It's the special dish only Cat Ba & Lan Ha have. Thus the price is really high. Depending on the size, the price will be different. This seafood can be cooked in many ways such as grilling, slicing to eat raw, or making a soup. It is chewy, fresh & nice-smelled. This dish is good for your health.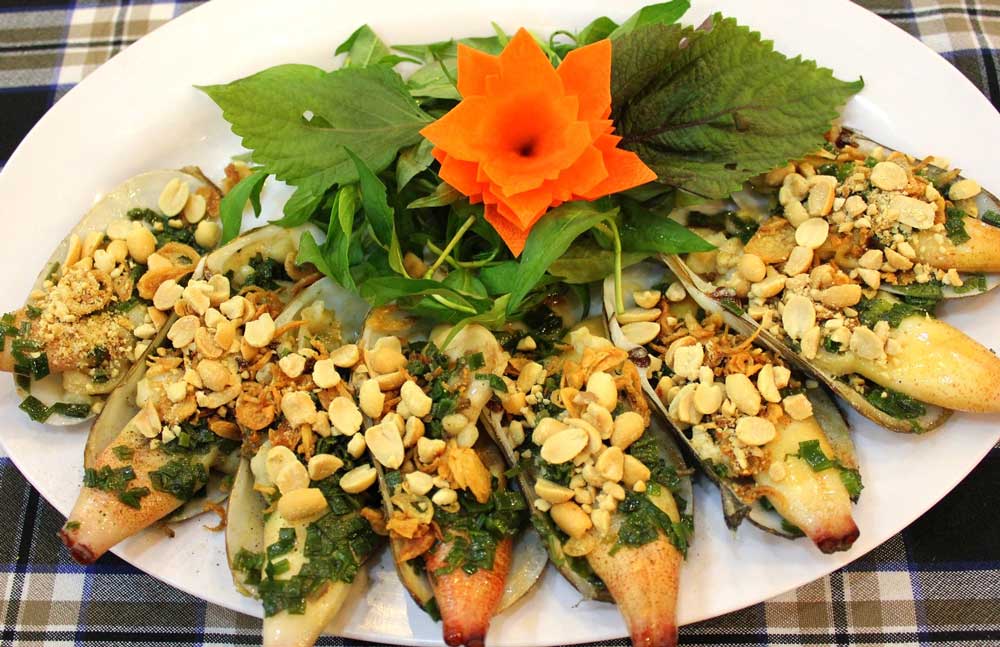 Horseshoe crab
There are hundreds of dishes with this seafood for you to try out: fresh horseshoe crab, fried horseshoe crab with chili and lemongrass, sweet and sour sauced horseshoe crab, horseshoe crab soup, horseshoe crab noodle… However, the highly-recommended dish, also the most famous method of cooking seafood to keep their instinct flavor is grilling horseshoe crab. People like to eat grilled horseshoe crab egg with sour grapefruit, vinegar-soaked radish, basil, fried peanut, fried onion, and sweet and sour fish sauce. Food lovers rumor that once you taste this dish in this kind of local way, you'll never forget it.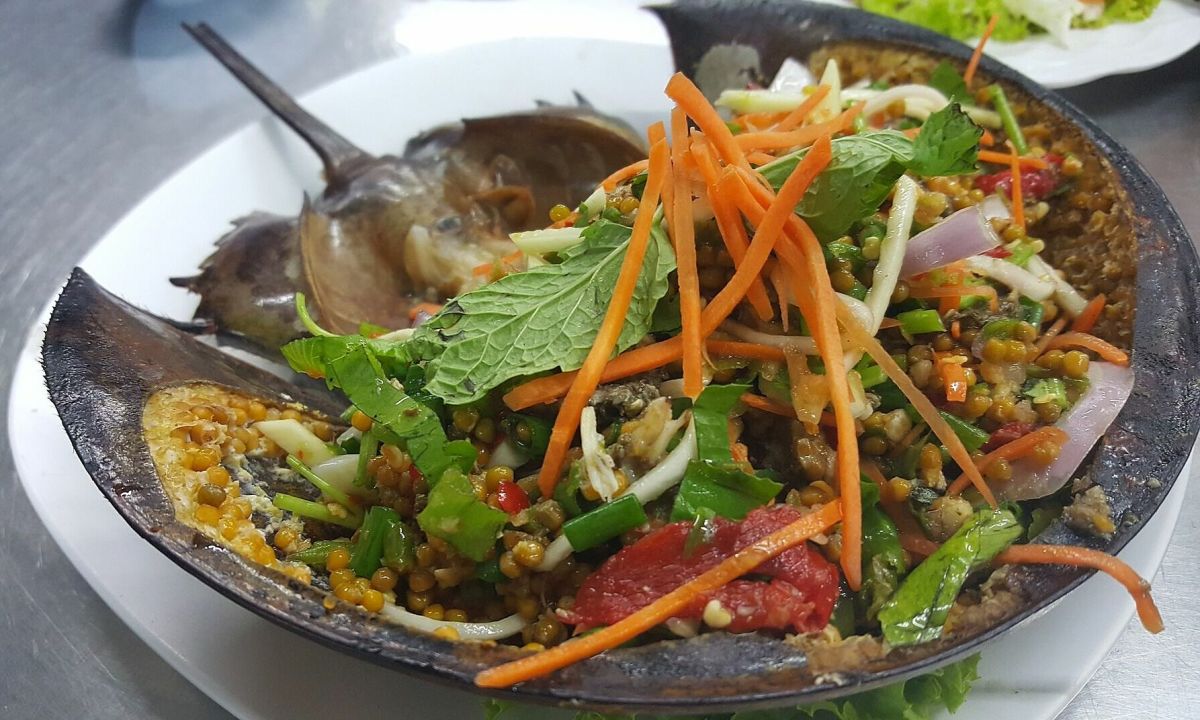 Squid
Squid-theme dishes are cooked in various ways locally here: boiling, steaming, hot-water slight touching, vinegar-deep mixing… But the most famous one is fried flavored squid.
If you still fancy the popular seafood, go for king crab or lobster, they all have for you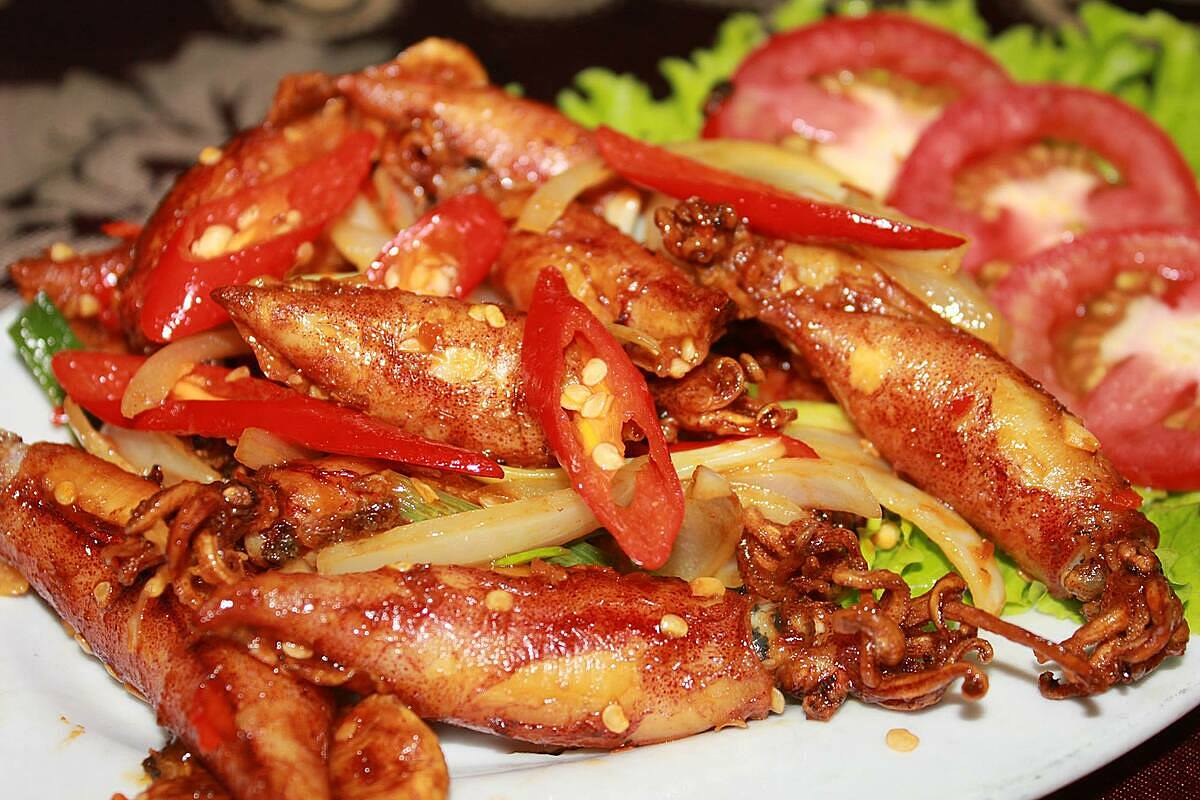 Small Notes to Fulfill Your Trip
Remember to bring sunscreen & hat with you
Don't feed the monkey
Do consider your travel actions to protect this pure scenery