Vietnam and Cambodia are two countries that have so much in common yet at the same time shine with their own different charms. A Vietnam and Cambodia itinerary in 2 weeks takes you to see unforgettable history, indigenous culture, compelling cities and divine natural beauties. 
Even though, a 14-day itinerary is suitable for those who don't have the luxury of 1 month long, it's certainly not quite enough to discover the two countries in-depth. However, two weeks just fit perfectly for travelers who are looking to see the very best of what Vietnam and Cambodia have to offer in terms of nature and especially native culture.
We've put together a comprehensive Vietnam Cambodia Itinerary for Two Weeks that can take you to see all the best bits of Vietnam and Cambodia.
Best time to take a 14-day Vietnam and Cambodia Trip
---
It's quite a hard thing to do trying to say for a certain when is the best time for a 14-day trip across Vietnam and Cambodia since Vietnam spreads vertically on such a wide area. Vietnam weather varies from North to South with each destination having the different best time to visit.


January to March is the time that the whole country shares the most favorable weather with less-rain (in South) and dry in North and Central areas. During this time, you can see most of Vietnam.
Cambodia has two distinctive seasons: dry season from October to late April and wet season from May to September. So January to March is also the best time to visit Cambodia.  
Vietnam and Cambodia Itinerary in 2 Week with Details & Map
---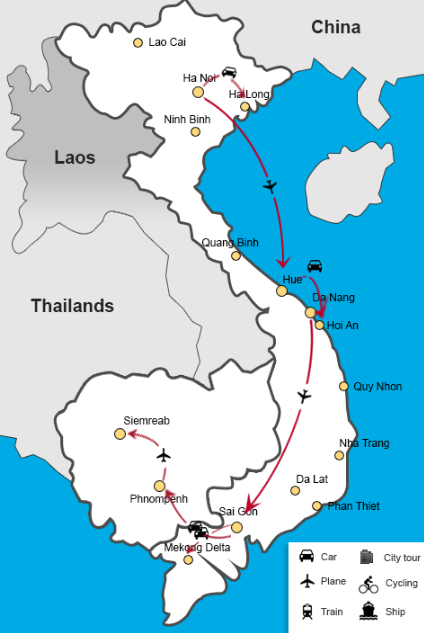 Day 1: Hanoi Arrival
On your first day in Hanoi, you can rest after a long flight or you can explore the area around your hotel. In your first night, it can be an interesting thing to do walking around and trying street food.
Day 2: Hanoi City Tour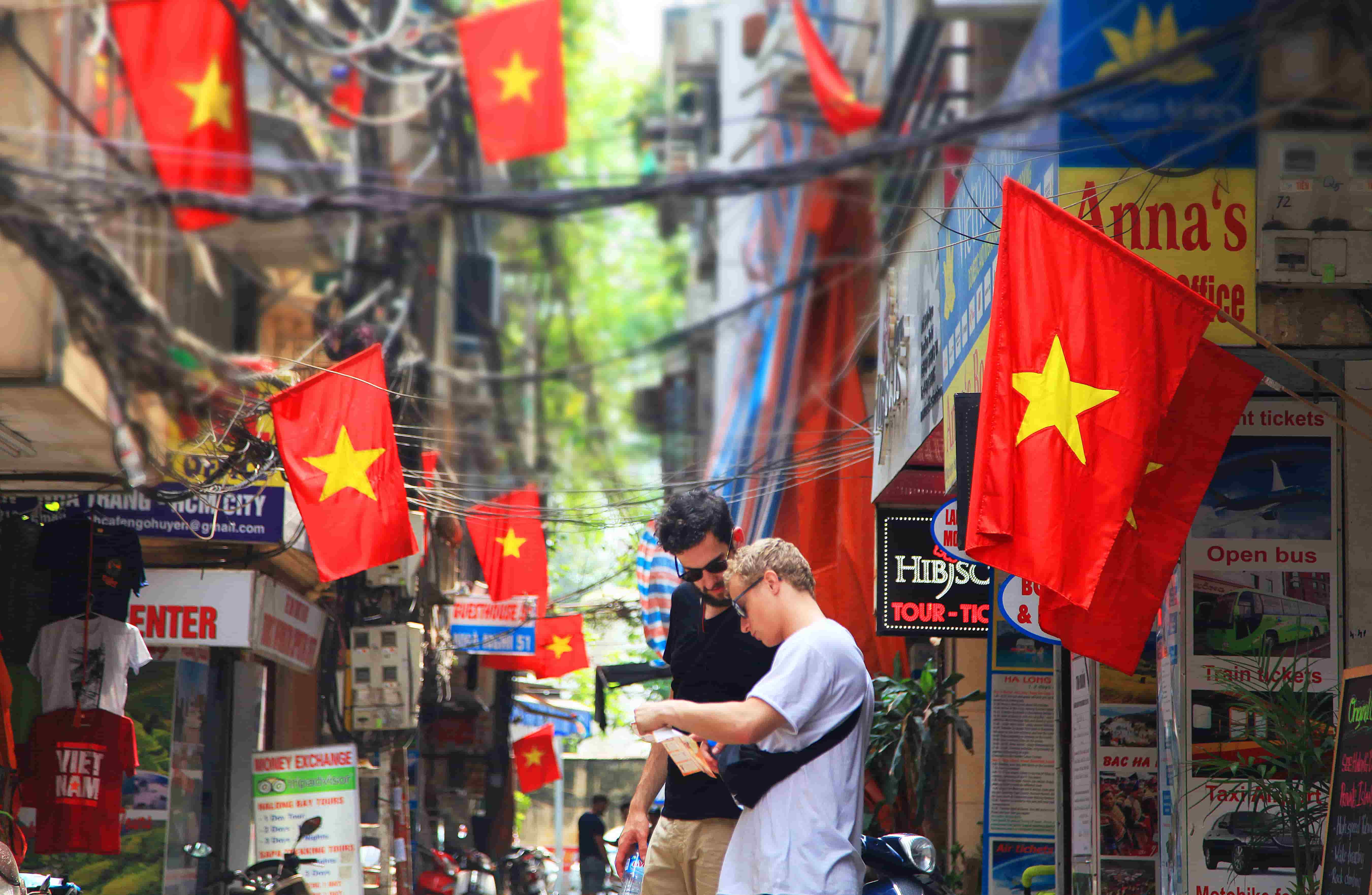 Nowhere else on Earth has the charm that Hanoi has. With its age of more than 1000 years old, Hanoi is a place where tradition and modernity meet. You can find here the glorious influence of agriculture, Chinese philosophy and French architecture almost everywhere you go.
*Places to visit in Hanoi:
Ho Chi Minh Mausoleum

Vietnam Museum of Ethnology

Hanoi Opera House

Hoa Lo Prison Museum

Temple of Literature

or Trendy Hanoi Train Street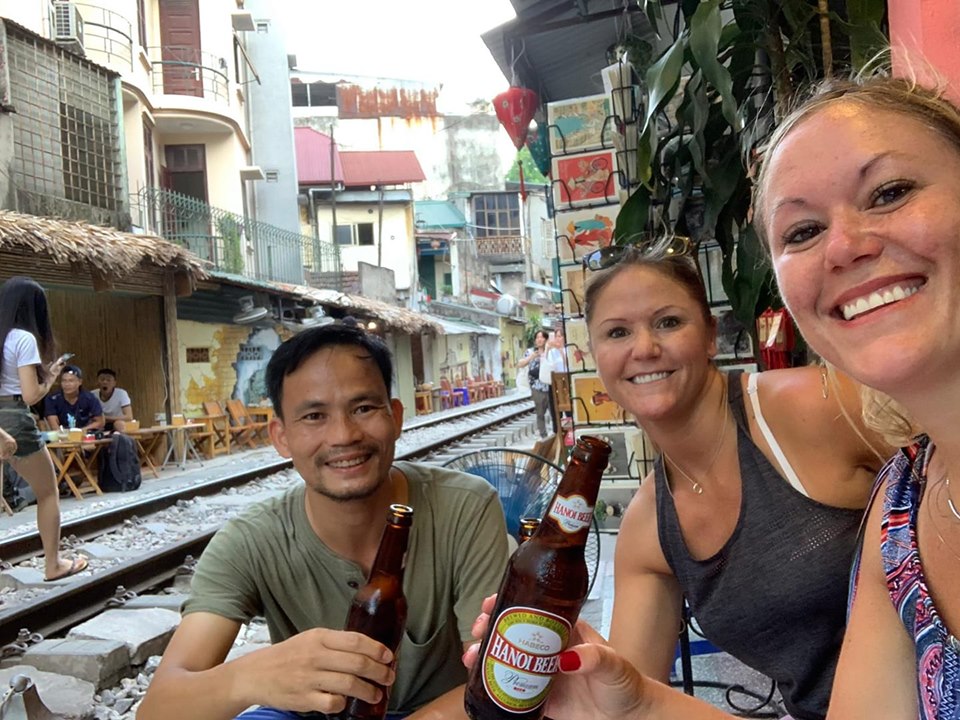 Day 3: Halong Bay Overnight Cruise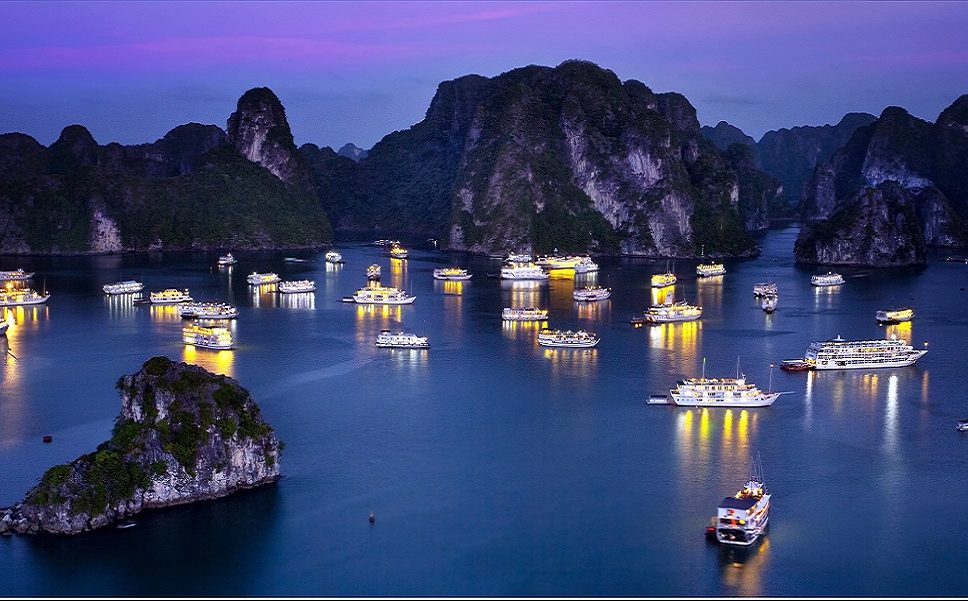 Halong Bay is the most famous destination in Vietnam, blessed with such breath-taking landscape and a wide range of activities. The bay was twice designated as UNESCO-protected world natural heritage which speaks volumes about the beauty this place has.
Set out for a Halong bay cruise to enjoy the magical sunset moment, the overnight stay on the bay and day-breaking scene in early morning. Visit such marvelous caves as Sung Sot Cave, Thien Cung Cave and activities like kayaking, swimming, cooking class, Sunset party and Happy hour.
Day 4: Halong Bay half-day trip – Hue
In the morning is Tai Chi class on the sundeck where you can enjoy the refreshing air and beautiful nature. Fly to Hue in late in the day.
Day 5: Hue City Tour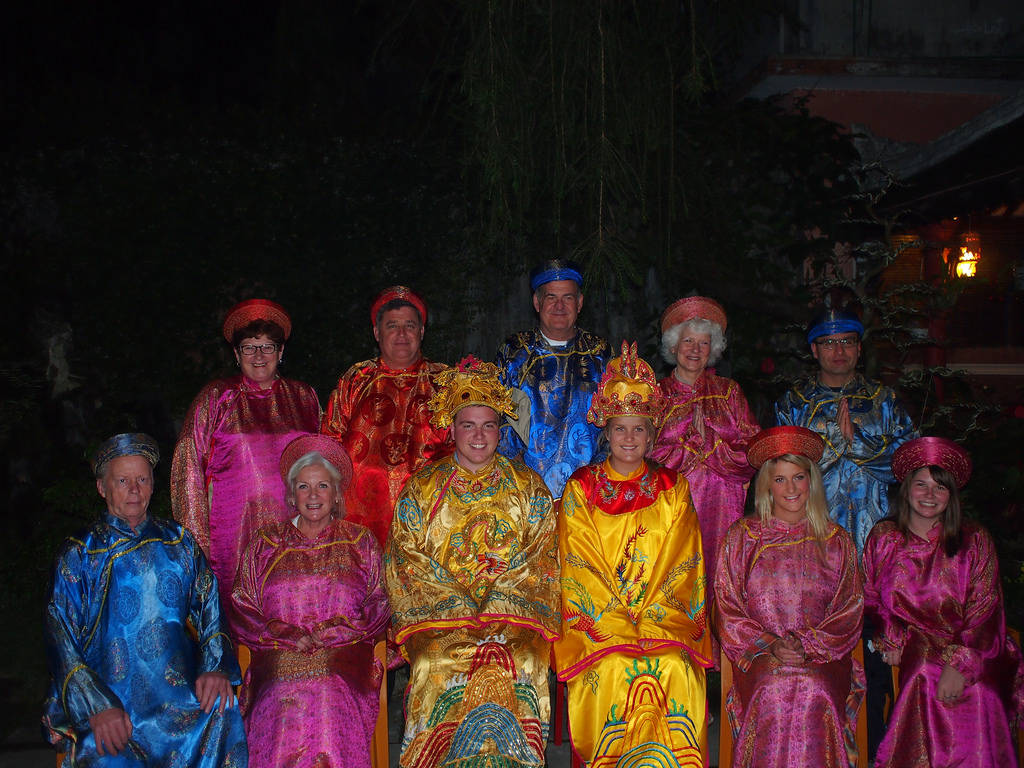 A Hue city tour will take you to the most magnificent architecture work in Vietnamese history – Hue Imperial Citadel. The citadel's innermost part is the Forbidden Purple City which was built by Nguyen emperors in 19th century, modeled loosely on the Forbidden City in Beijing.
The tombs of Nguyen emperors make a unique collection of architecture reflecting personal ideas and reference.
*Places to visit in Hue:
Day 6: Hue – Da Nang – Hoi An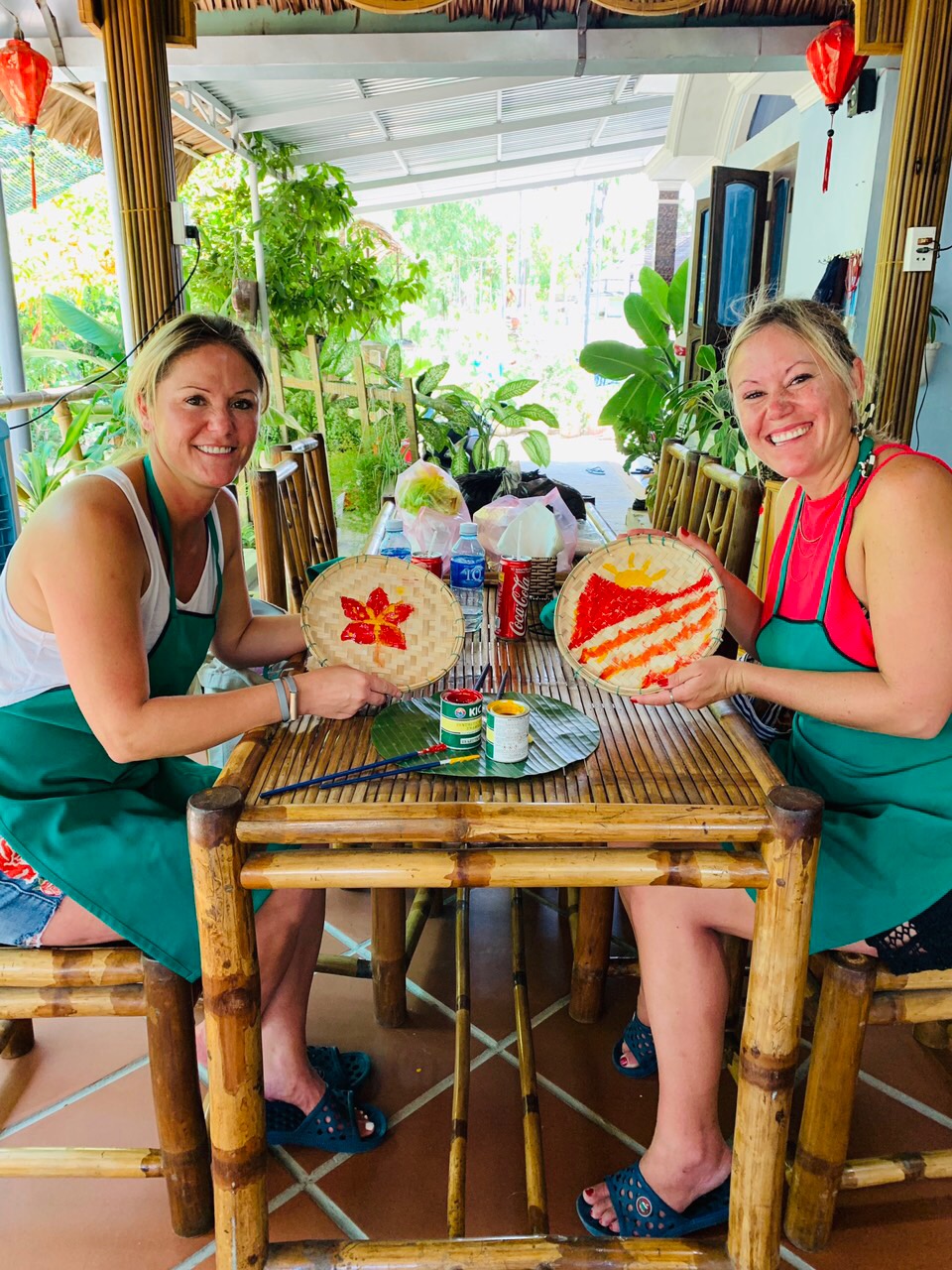 Hoi An is a glimmering small town by the river, still nurturing its ancient atmosphere with the old houses, assembly halls and pagodas. These places are the evidences of Hoi An's heyday when it was a the most bustling and busiest trading port in Southeast Asia, the meeting place major cultures in Asia and the world at that time.
*Places to visit:
Day 7: Explore Around Hoi An
The villages in Hoi An's suburb offer you the most rustic, authentic and exciting activities in Vietnam. Tra Que village and other handicraft villages offer you a great insight into the life of the people.
For a half-day tour, you can enjoy one of these experiences:
Day 8: HCMC – Cu Chi Tunnels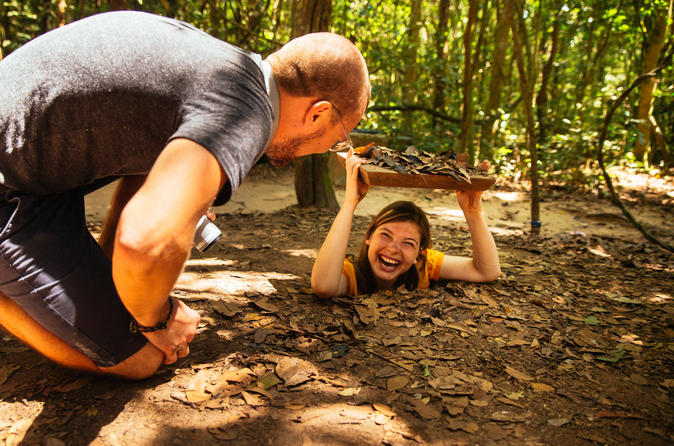 Cu Chi Tunnels is a part of a 151-mile system of an underground tunnel network built by Southern Vietnamese communists to shelter the people from the bombards and also used it as a defense base.
Cu Chi Tunnels is one of the most famous day trips from Ho Chi Minh City.
Day 9: Mekong Boat Trip to Cai Be floating market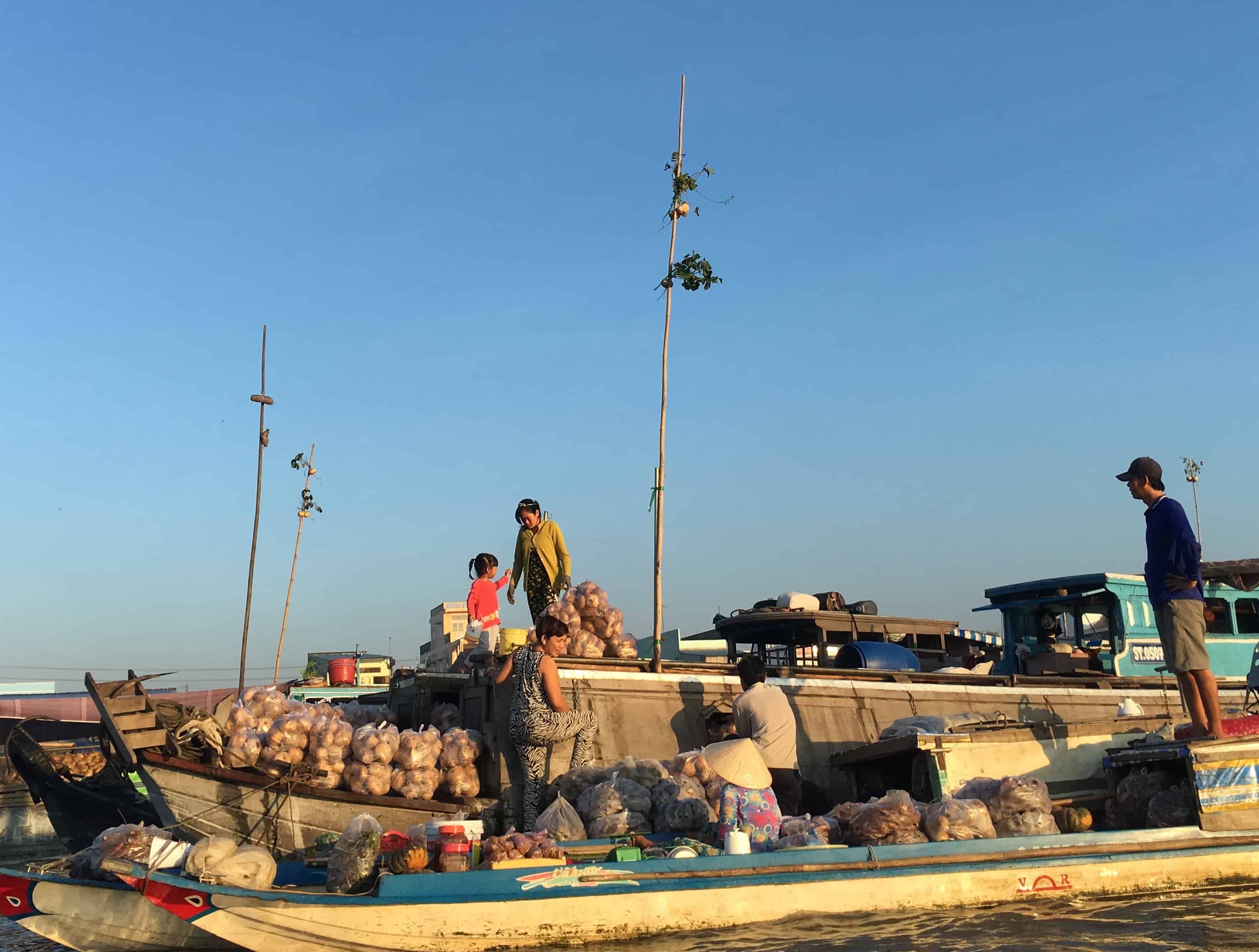 Set sail on a sampan cruise to visit Cai Be Floating Market to see the unique way of life of the delta dwellers.
Leaving the market, continue to Tan Phong Island where you can enjoy an activity like bicycling tour which takes you a local banana candy factory, conical hat workshop, a fruit orchard and a local school.
*Places to visit:
Cao Dai Temple

Cai Be Cathedral

Cai Be Floating Market

Tan Phong Island
Day 10: Ho Chi Minh City Tour – Phnom Penh Arrival
Discover Ho Chi Minh best historical landmarks such as: Independence Palace, FITO Museum, General Post Office, and Notre Dame Cathedral.
Take a bus to Phnom Penh late in the day.
Day 11: Phnom Penh – Killing Fields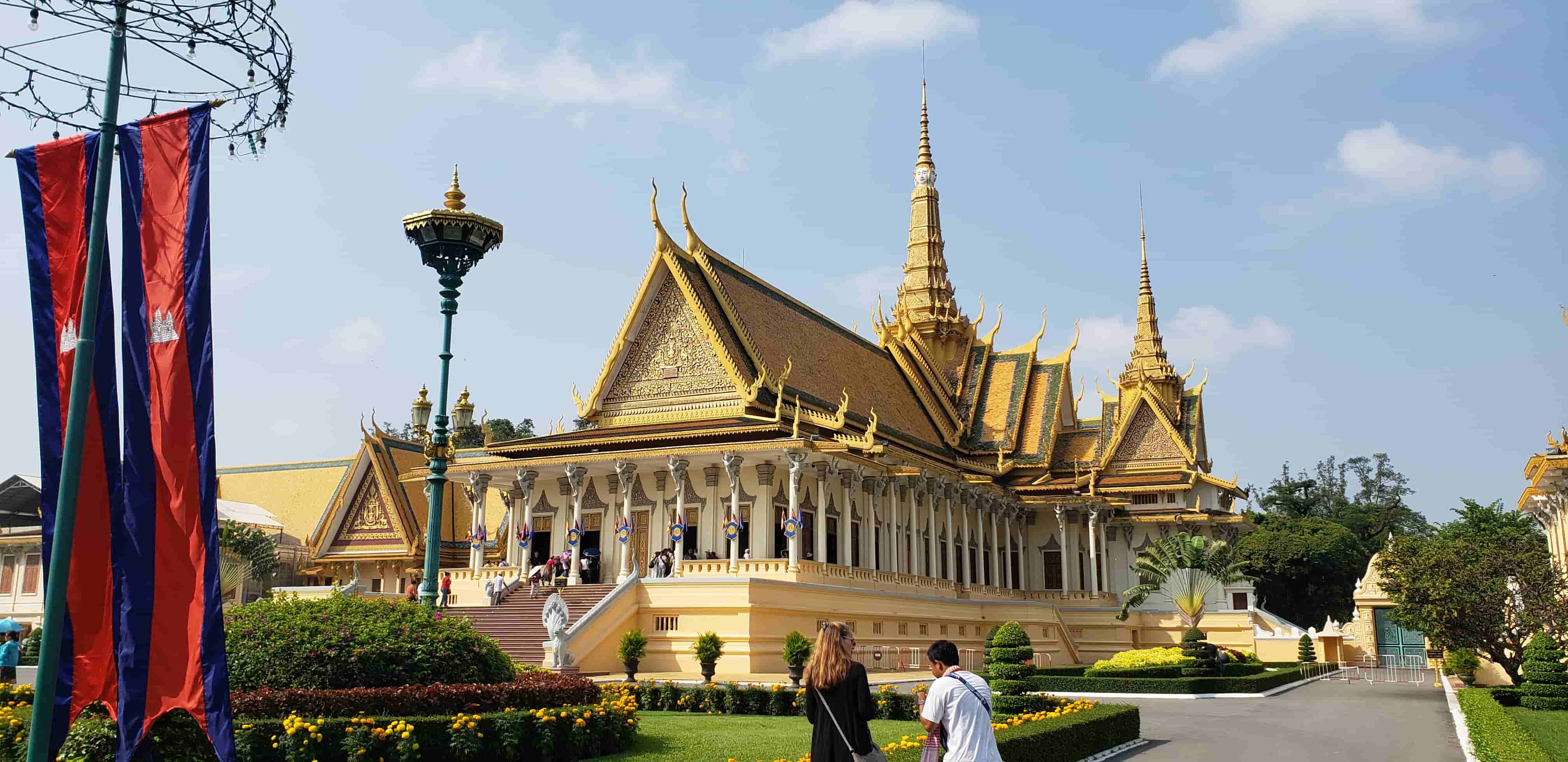 Prepare to visit Killing Fields in the suburb of Phnom Penh with proper wear. There are two sites you will visit in this tour: Toul Sleng Museum, former a high school which was used by Pol Pot troops to torture around 20,000 Cambodian civilians; and Choeung Ek where the victims were murdered and buried.
After visiting Killing Fields, move back to Phnom Penh for the city tour to:
Royal Palace

Silver Pagoda

National Museum

Wat Phnom Pagoda

Tonle Sap Lake.
Day 12: Siem Reap Arrival – Siem Reap Half-day Tour
Fly to Siem Reap and enjoy half-day tour in Siem Reap to Angkor Thom and the Bayon with sites like the South Gate, Baphuon, the Royal Enclosure, Phimeanakas, the Elephants Terrace, and the Terrace of the Leper King…
Day 13: Siem Reap Full Day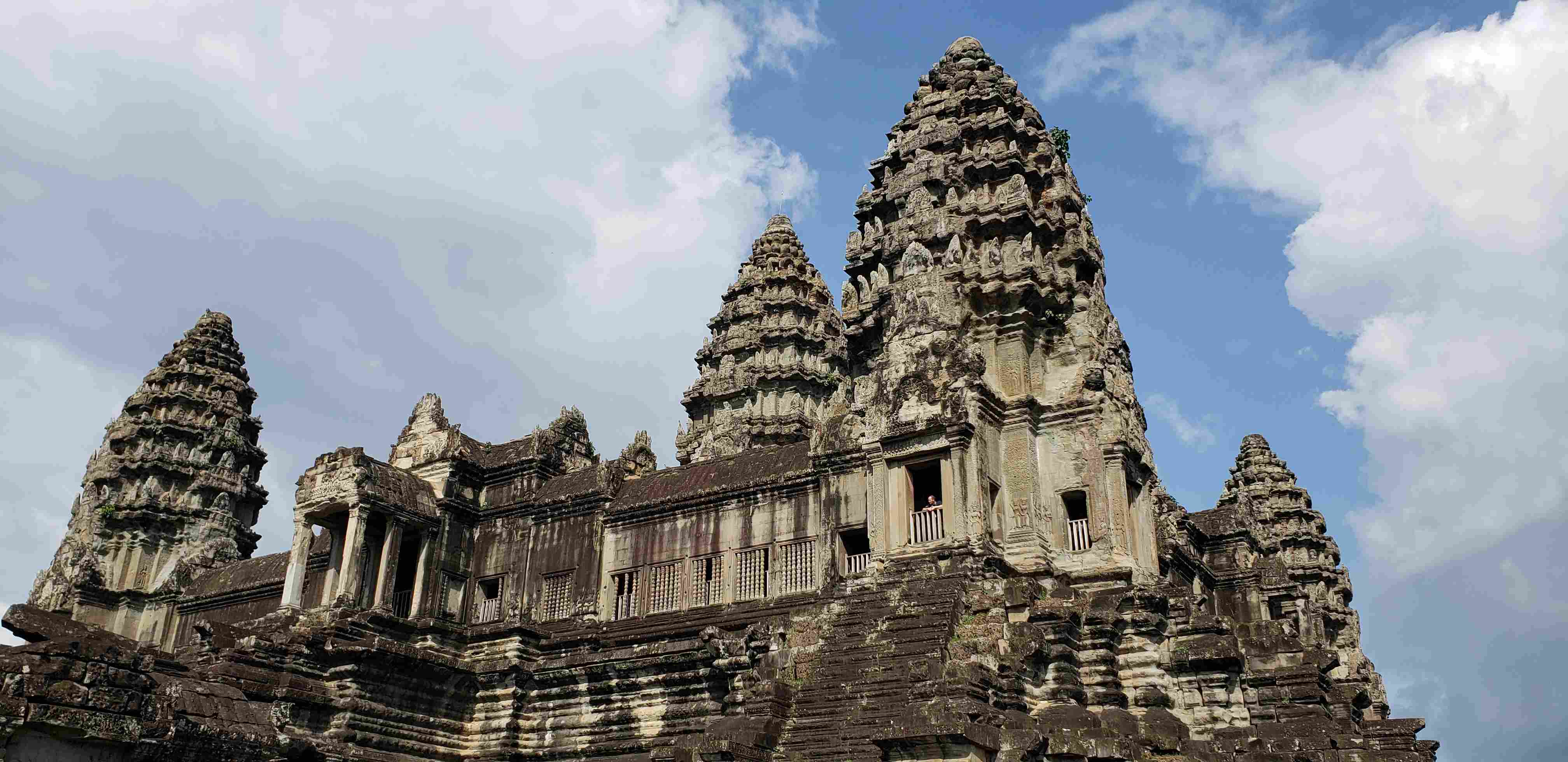 A full day trip to Ta Prohm – the jungle temple that appeared in Hollywood movie Tomb Raider. You can also visit the surrounding temples like the surrounding temples, including Banteay Kdei, Sra Srong, Ta Keo, Thommanon and Chau Say Tevado.
At the afternoon, visit the main highlight of the tour – the magnificent Angkor Wat.
Day 14: Siem Reap departure. Tour ends.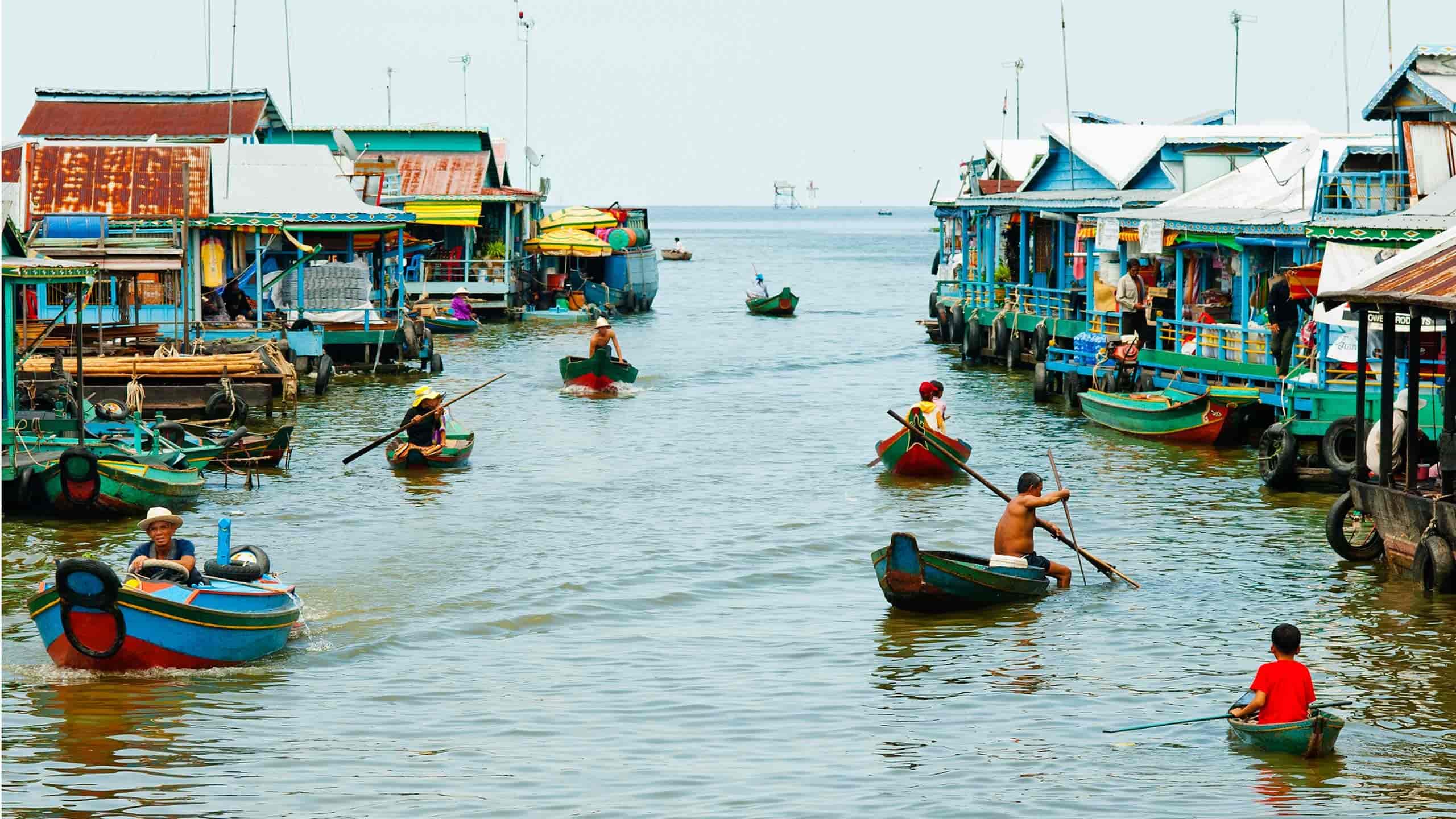 If you still have time left, take a boat trip to Tonle Sap Lake. The lake is rich in both nature and local culture and way of life. The boat trip will take you to see one of the most beautiful floating villages in Southeast Asia.
Tour ends.
Recommended Tour for Two Weeks in Vietnam and Cambodia
---
Our recommended tour for your two weeks in Vietnam and Cambodia – Discover Vietnam and Cambodia in 14 Days – can cater all the destinations and activities that are essential to understand the two countries. The tour thoughtfully focuses mainly on the cultural experience that shows the beauties, the difference and the stories of the two countries. All of these experiences set this tour apart from other classic Vietnam – Cambodia holidays.
*Here is why this tour is the best choice for a 14-day Vietnam & Cambodia Trip:
The itinerary is well-paced, it's not too tight to make you exhausted but doesn't skip any major attraction.

Visitors during the tour not only can observe and appreciate the local culture but also can immerse in the cultural scene and join the traditional practice and activities with the local people.

With a reasonable rate just from 1775 1699 USD, the tour is packed with unique and educational activities, beautiful landscapes, offering luxury and comfortable accommodation and transportation for the most parts.
Vietnam & Cambodia 14 Days Tour Reviews: It's Not A Tour, It's "The Tour"
We received such a heartfelt and inspiring letter after the Vietnam & Cambodia 14 Days Tour from our lovely guest, Mr. Robert Wyatt. We're more than proud to share his words.

Having served two tours in Vietnam during the war, I had always liked the country and people, and this was my first opportunity to visit a country I had last seen almost 50 years ago. I combined it with a short stay in Cambodia. While my comments are primarily about the Vietnam portion of the tour, everything I say pertains to the 4 days I spent in Cambodia as well. I loved the friendly people and was highly impressed with their English language skills. They are highly impressive countries that deserve more time that I was able to devote this visit. I plan to return.


I have been on many tours in my life, and this trip was exceptional in every way. I have told friends and family that it was the tour of Vietnam, not a tour,the tour. Anyone deciding to travel to Vietnam, with a short diversion to Cambodia, would do be well advised to do the exact same trip I just completed.

I credit Ms. Phi Mai of Asianwaytravel for considering my wishes and planning the perfect trip for me. Her attention to detail from our first contact through the end of the trip insured a memory of a lifetime. Everything happened exactly as planned, on time. (The only exception was a cancelled flight in Cambodia which is impossible to control, unless you own the airline.)told Ms. Mai that I wanted to learn the culture, history and lifestyle of the Vietnamese people as thoroughly as can be expected in a couple of weeks. I believe that even in that short period, this trip did just that. I learned history of the beginning of the nation to its current state – again, considering the short period I had available. Experiences included taking part in becoming a rice farmer for a day – from plowing through the harvesting. The tour was entertaining, educational and just plain fun. In short, the variety and extent of experience was incredible.

Mr.Bob – 'Be a rice farmer for a day' experience in Hoi An
 I did have one glitch during the trip. As mentioned, one of my flights was cancelled and delayed my arrival at my destination by four hours. I, frankly, thought the planned experiences during that time were lost and considered how to compensate for the lost time. Unnecessary since my guide met me at the airport with a revised plan. He rearranged the tour to ensure I missed nothing. Who could ask for anything more?

It was as great a trip as it sounds. Hard to believe? Believe it.



Why you should book with Asianwaytravel?

---


Asianway Travel, based in Hanoi, Vietnam, has been in the industry for nearly 20 years, bringing thousands of guests from all over the world to the beautiful countries in Indochina. Last May, we are honored to receive TripAdvisor Certificate of Excellence 2019 for delivery amazing travel experience for travelers from all over the world. 


>>>> 14-day plan is not exactly what you need? See other Vietnam – Cambodia tours from Asianway Travel with different duration:

 

Or send us an enquiry via booking@asianwaytravel.com