Often called by the name 'pearl island' by Vietnamese people, Phu Quoc Island is one of the most beautiful islands in Vietnam. Phu Quoc is no doubt the best place for you to get away from the bustling city life. Nowhere else other than Phu Quoc you can find the perfect combination of modernity and tranquility. In this travel guide, we'll show you all the most fun and exciting things to do in Phu Quoc island, together with all the necessary information such as Phu Quoc's visa policy, best time & how to get to the island and best Phu Quoc tours.

>>> Looking for Vietnam destinations for your honeymoon vacation? See here
Things to do in Phu Quoc Island
---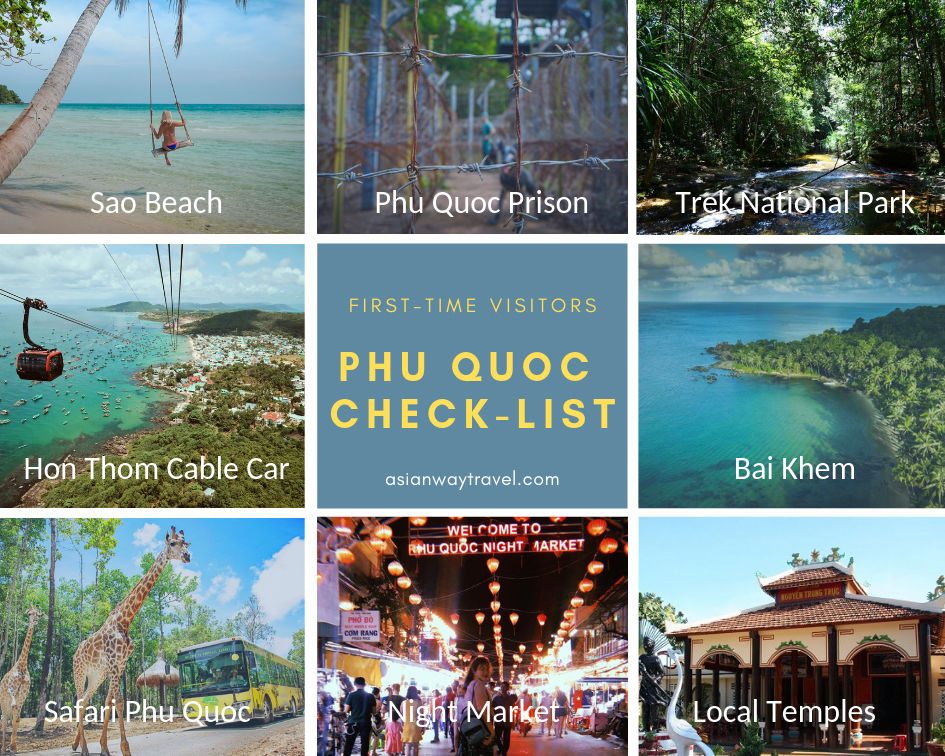 NORTH OF PHU QUOC
The north of the island is wilder than the southern part with most of the area covered by mountains and forests of Phu Quoc National Park. There are relatively more things to do and see in the north of Phu Quoc. Let's discover them in-depth.
1. Trek to Phu Quoc National Park and Ganh Dau Beach



Phu Quoc National Park covers almost half of the island, making it a perfect site for outdoor enthusiasts either you are looking for challenging hikes up to mountaintops or scenic morning trails to enjoy the nature.

The best maintained path is the Phu Quoc National Park Trail, located in Cua Duong Commune. This is a narrow single lane trail at easy level everyone can challenge. This trail is most suitable for a short trek in early morning to enjoy the fresh air and the wilderness at its best. You can expect to see plants and wildlife like pit vipers, macaques, hornbills, insects amphibians and reptiles.

The most popular trail in Phu Quoc National Park is Ganh Dau Trail which is extremely popular and easily accessible for all visitors. The main draw on this trail is the 'Ancient Tree' which can be found close to the park's entrance. Ganh Dau Trail is best experienced at dawn just before sunrise – it's the time the wildlife in the area most active.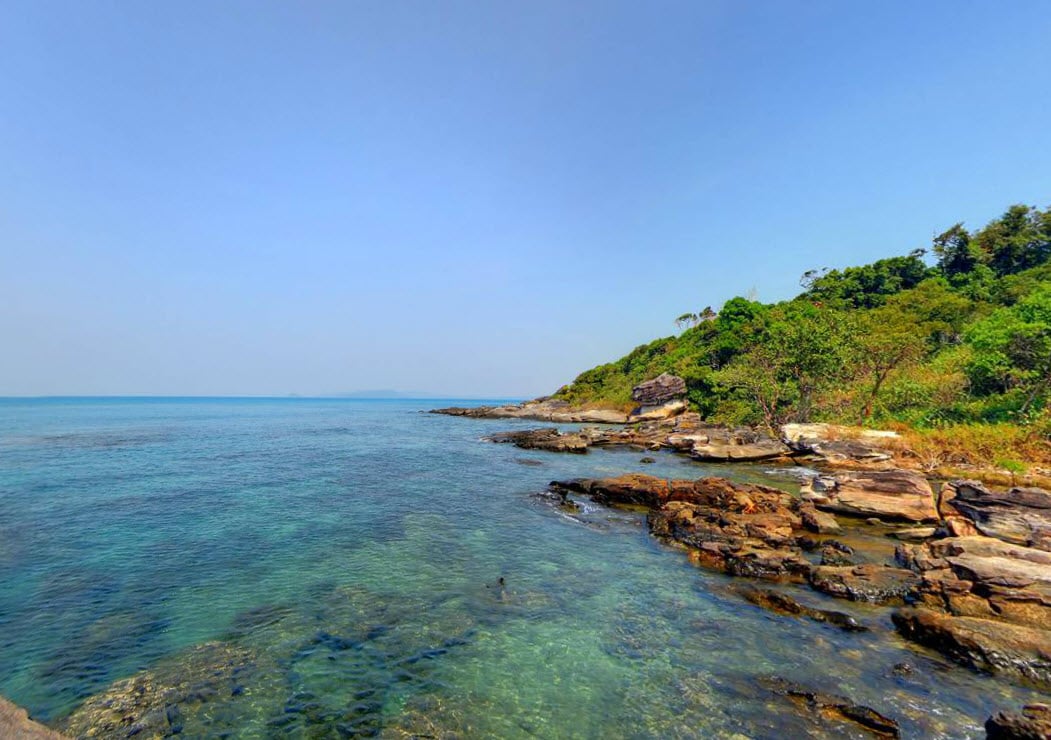 Ganh Dau Trail also leads to the most remote beach on the island – Ganh Dau Beach, one of the most pristine and beautiful beach of Phu Quoc. The beach is surrounded by forest and mountains, 500m arch shaped shore. The sand is yellow and a bit coarse. A best place to enjoy the water and the sunset.
2. Get the most of Phu Quoc Nightlife in Duong Dong town



Duong Dong is the central town of Phu Quoc island also a great base for visitors to travel the island, lying on the bank of mighty Duong Dong River. There are quite lot of things to do in the town of Duong Dong: a variety of attractions including a couple beaches, temples, fish sauce factories, night market and pepper farms.
Dinh Cau Temple is the most highlighted attraction of the town, boasting an impressive architecture which is considered as the symbol of Phu Quoc. Lying just offshore Dinh Cau Beach, you can expect a breath-taking sight of sunset here while enjoy a cup of coffee in a café nearby.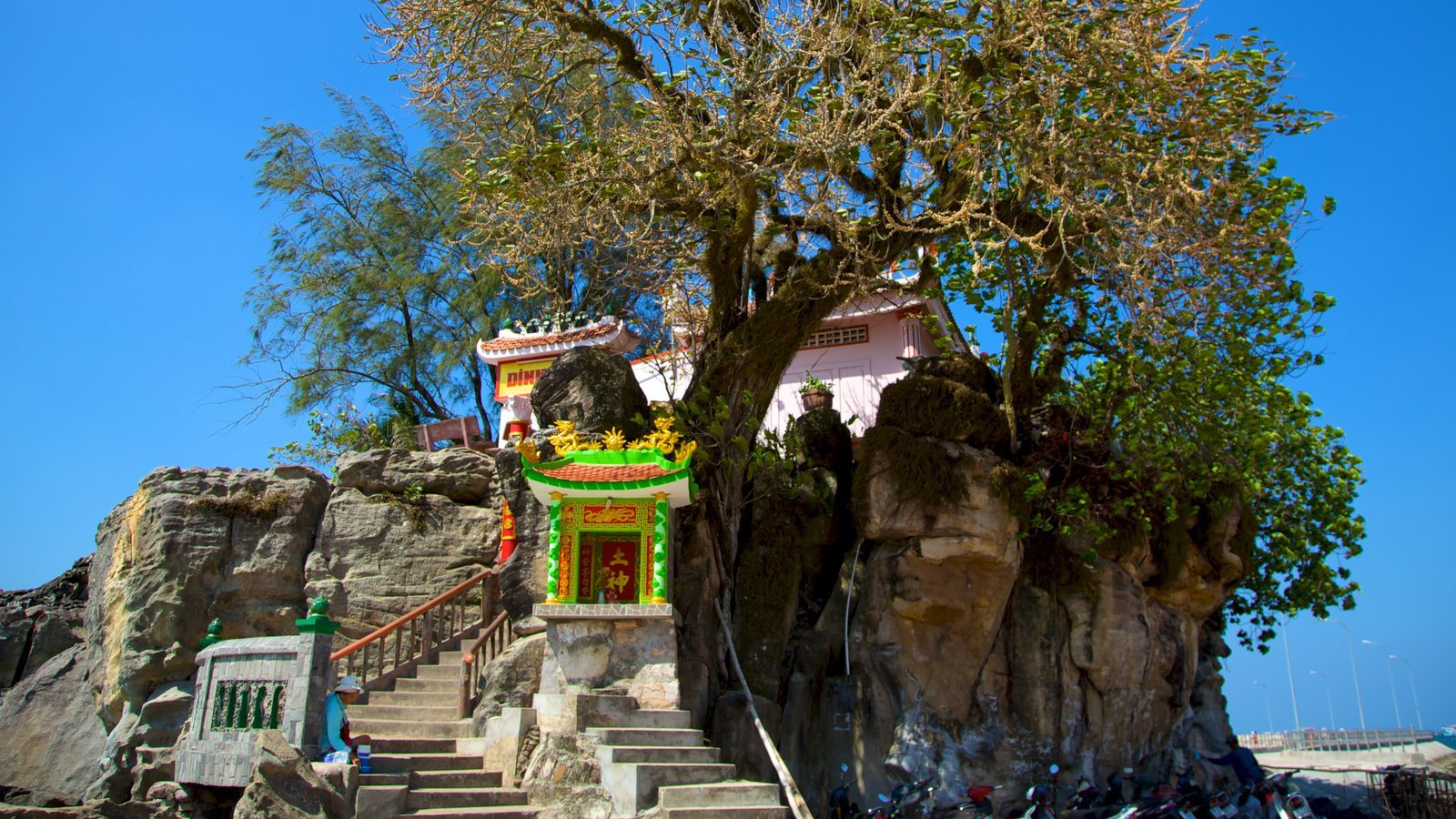 The night market on Bach Dang Street is an experience that no visitor should miss while in Duong Dong Town. You can buy all kinds of souvenirs, crafts and clothing but the highlight of the market is of course, fresh produced savory seafood dishes. The ambiance of the market is nice with a lot children come and play around. Phu Quoc night market is a nice choice for dinner, you can choose from prawns, squid, scallops, crab, elephant snails and variety of fish. Other kinds of foods and night snacks are also widely available here.


 *Tips for eating at Phu Quoc Night Market:
– The prices of seafood in this market are relatively higher than other markets
– You should make sure the seafood is really fresh and cooked the way you like
– Go with a local person will make your experience much better. If you are on your own, try to bargain to lower down the price.
– Watch out for your belongings when you are in crowds.
– If you come here before the sunset, you can see local fishermen trying to sell their daily catch. Duong Dong Market, as well as the Cao Dai Temple, are located nearby. Both of them can make for a good side trip prior to feasting on seafood.
– The market Phu Quoc night market opening hours are from afternoon to 2 AM
Fish Sauce Factories: there are three fish sauce factories in Duong Dong Town which have become tourist sites, located along the Duong Dong River, behind 30 Thang 4 Street. These factories are the places you can learn more about the most special sauce in Vietnamese cuisine.
3. Join Organic Cooking Class at Phu Quoc Countryside



Phu Quoc Countryside is an organic farm built on a permaculture principle with the aim to provide healthy products without using chemical or synthesized fertilizers.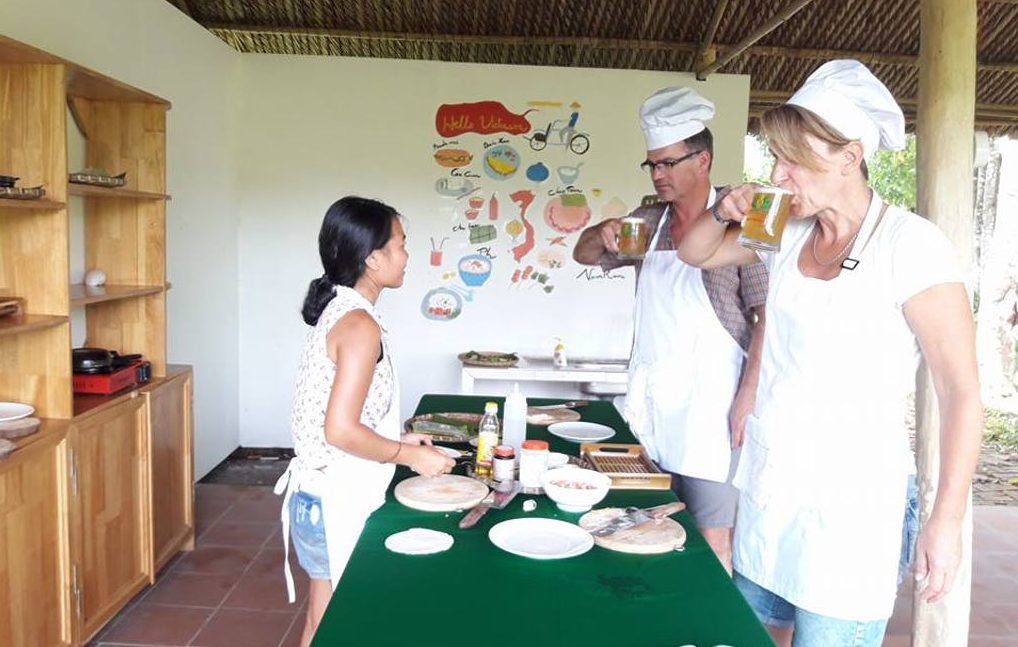 The cooking class includes a series of activities related to cooking. Tour starts by visiting the local Nguyen Trung Truc market to shop for the ingredients. It's an insightful experience for you to see for yourself what a real Vietnamese local market is like.  Don't miss this chance to take lots of photos of the markets which sure will bring you various colors of Vietnamese daily life.
The cooking class is accompanied by a very friendly and helpful guide from the farm. At the end of the class, herbal tea and craft homemade beer from the farm is also provide for free. You can also visit beer factory and pepper farm if you want.
4. Explore the island by jeep cars



Phu Quoc Jeep Tour is the first brand in Phu Quoc organize private tours by jeep with different itineraries exploring Phu Quoc Island. You can book tours with driver or just rent jeep without a driver.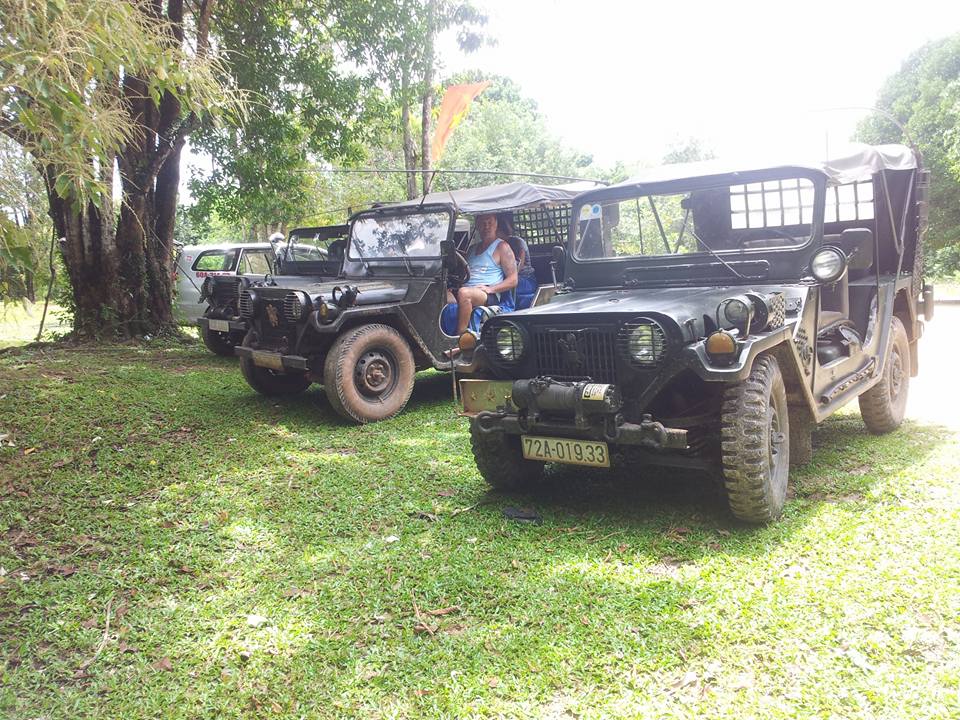 For tours by jeep, special private jeep tours are divided into three types – north of island tour, south of island tours and whole island tours. Since Phu Quoc is the largest island in Vietnam, jeep car is one of the best transportation means to explore the island and much safer than motorbike.  
5. Visit Phu Quoc Safari & Vinpearl Land



Located in the northern part of Phu Quoc Island, Vinpearl Phu Quoc Safari is Vietnam's first Wildlife Conversation and Care Center, built based on Safari World. There're 3000 individuals of 150 fauna species and 1200 flora species in the park's area. Visitors can visit two parks – Safari Park and Open Zoo.

Come to Safari Phu Quoc, you can watch the animals and plants by riding the bus into their habitation, feeding the animals, a performance of African tribe and take photos with the animals. Safari Phu Quoc is a wonderful place to take your kids to.
Safari Phu Quoc Fee:
Children under 1m in height: no charge

Children from 1m – 1,4m in height: 500,000VND per person

Adults: 600,000VND per person
Vinpearl Land Phu Quoc is the most modern recreational park with two sections – Indoor games and Outdoor games. On rainy days, you can stay indoors at Vinpearl and still have fun with all kinds of games and services available there. Especially if you're going with kids, Vinpearl is the number choice.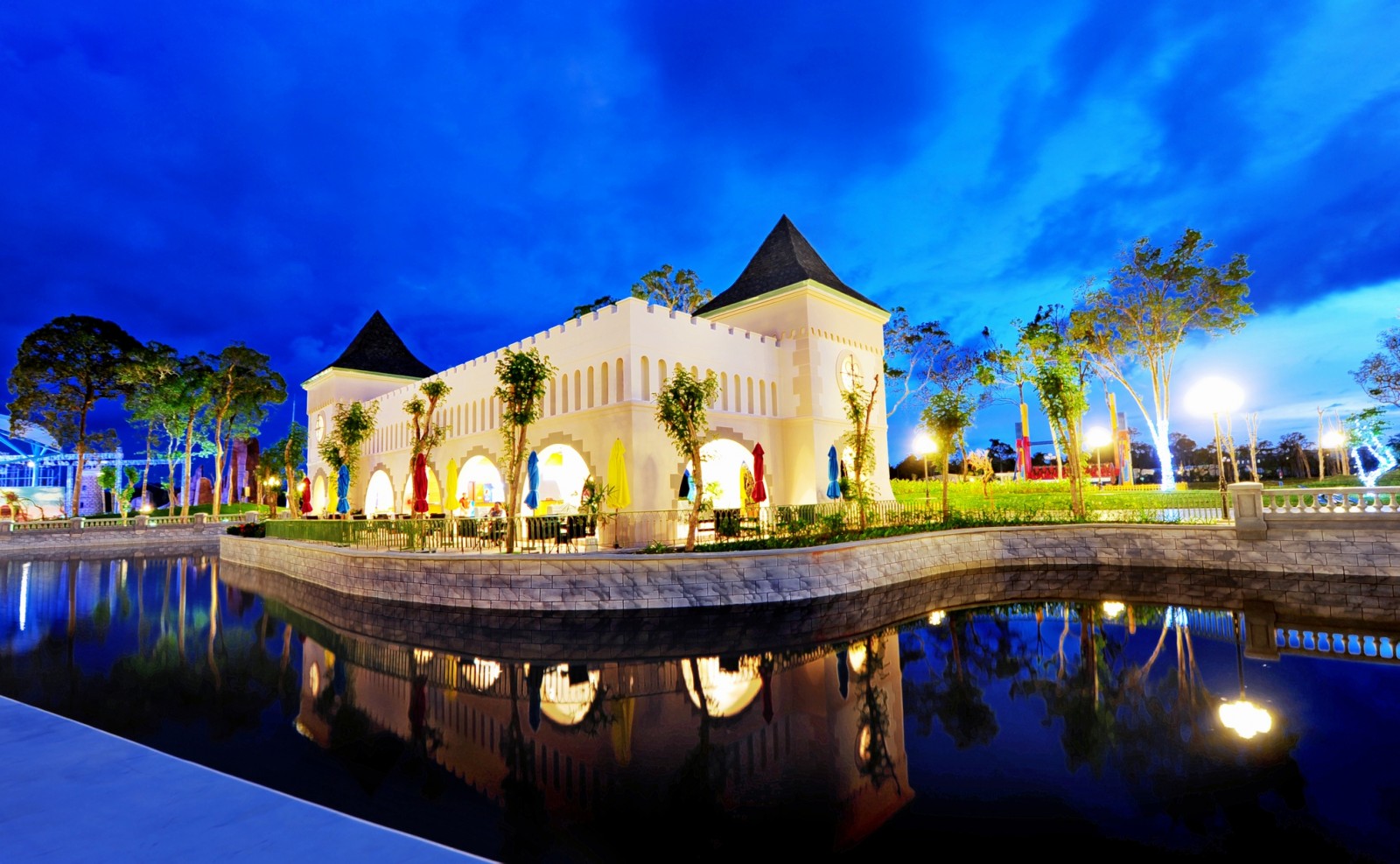 Vinpearl Phu Quoc has a top-notch aquarium which is consisted of three subsections – Tropical, Caves and Ocean. The aquarium is the dedicated for study and preservation of aquatic life in Vietnam and the world.
Admission: 500,000VND for adults above 1.4 meter, 400,000VND for children under 1.4m
6. Visit Phu Quoc Pepper Farm



Phu Quoc Pepper Farms have become a popular experience in Phu Quoc. Phu Quoc indeed is known domestically for its strong, flavorful pepper, a spice that will enhance and make your dishes much more delicious.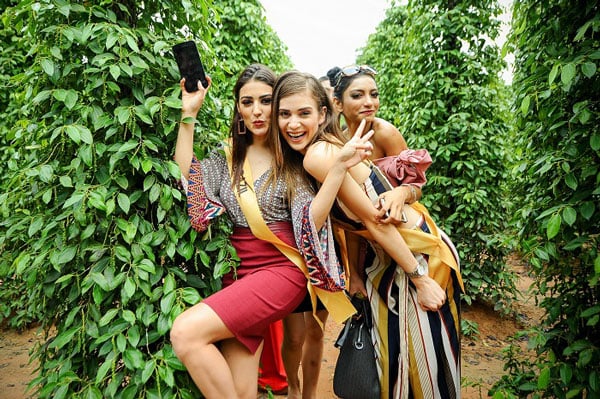 The harvest time which falls between November and February is the best time of the year to visit a Phu Quoc Pepper Farm. Visitors will be able to watch the red pepper on the tree, enjoy the smell of pungent and discover the pepper growing secret with the farmers.
7. Pay a visit at one of Nguyen Trung Truc Temples



To Phu Quoc islanders, Nguyen Trung Truc is the heroic historical figure that has the most influence in the religious life of the people here.
In October 1868, in order to protect resistant forces and people on Phu Quoc island, Nguyen Trung Truc, as the leader of the resistance, surrendered himself to the French. He was executed at Rach Gia market on 27th October same year.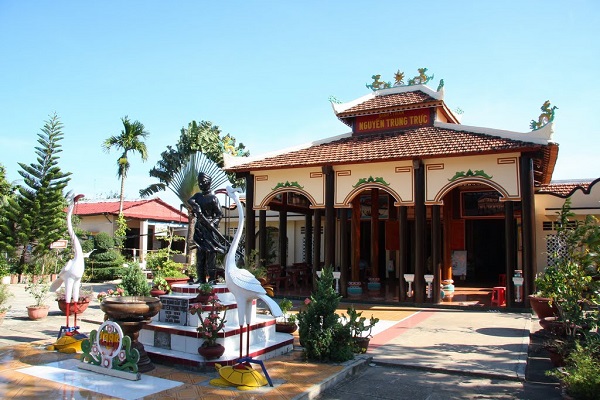 To remember and honor his spirit, the people built many temples of Nguyen Trung Truc on the island, the most beautiful is Nguyen Trung Truc temple in Ganh Dau. Thanks to the many renovations, the temple now has extended with more space, larger capacity. A small statue of Nguyen Trung Truc is placed before the main house. There is also the grave of the hero lying solemnly at the back of the temple.


SOUTH OF PHU QUOC
The south of Phu Quoc boasts with pristine beaches, and is the gateway to the paradise-like islands of An Thoi archipelago.
8. Enjoy the waves at Phu Quoc Beaches



Most beautiful beaches in Phu Quoc lie in the south of the island.
Sao Beach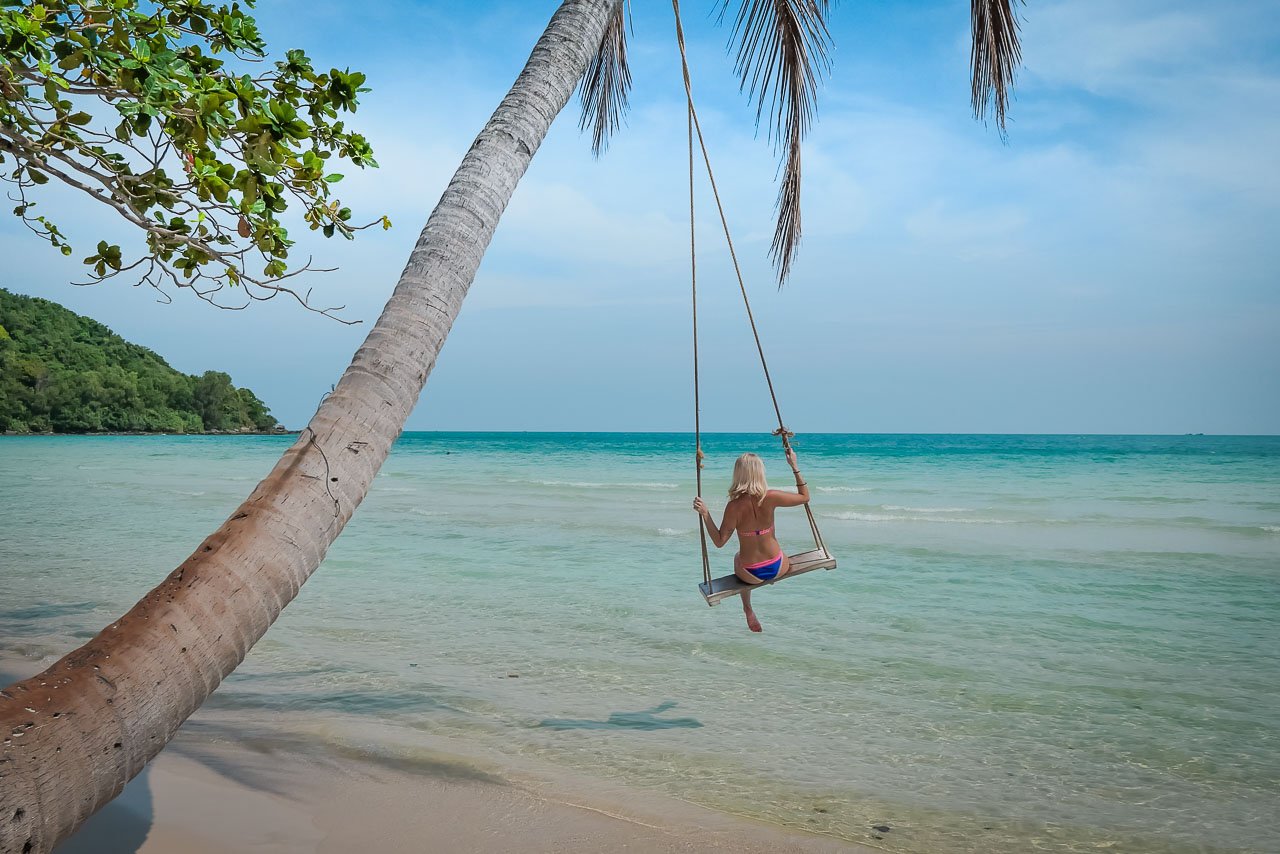 This is the most well-known beach not just in Phu Quoc but also in Vietnam. Sao beach is located just 25km from Duong Dong town, has everything you need in a perfect beach – white powdery sandbank, turquoise clear water, swing by the beach, palm trees, jungle backdrop and few bars to enjoy the drinks.
Khem Beach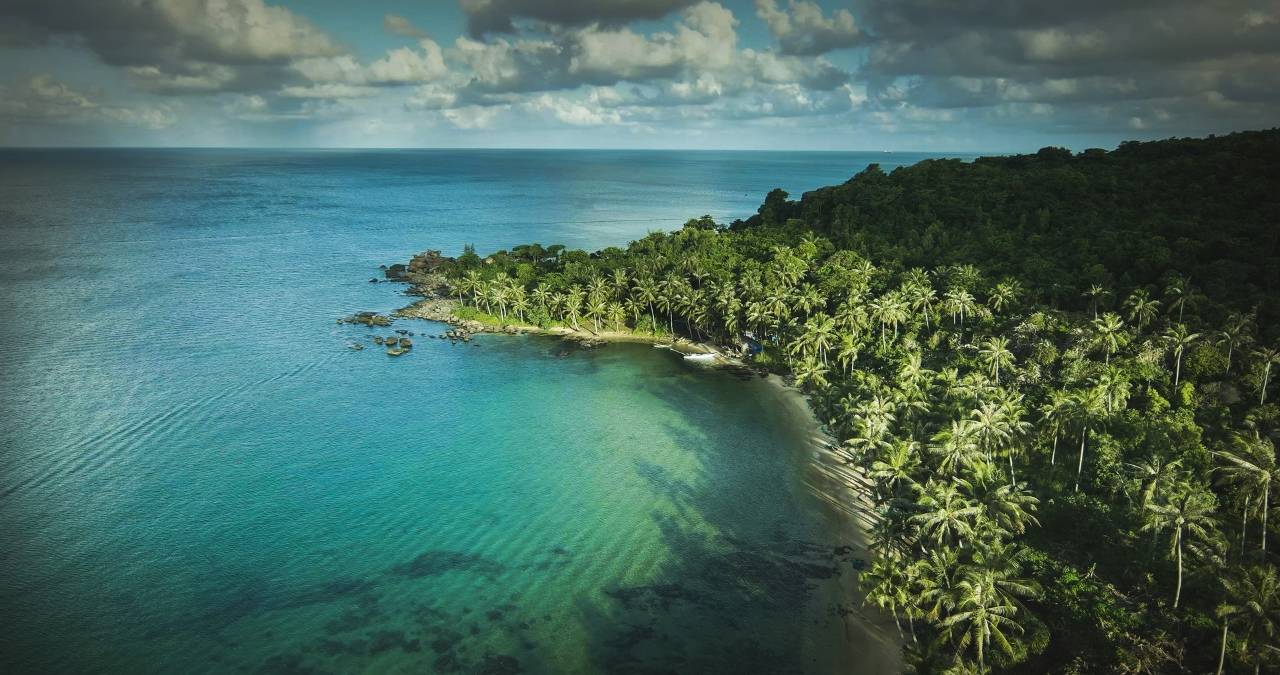 Together with Sao Beach, Khem Beach is the second well-known beach with white sandbank. The beach's name has told it all – 'Khem' in Vietnamese means 'Ice Cream' which describe perfectly the powdery white sandy shore. The beach here is calm and clear with a greenish-blue tint. Thanks to this color, the beach has been given the name 'Emerald Bay'.
Long Beach
Long Beach is obvious the longest beach on the island which means crowds are not a problem for visitors to Long Beach. Unlike Sao Beach and Khem Beach, the sands in Long Beach are golden, not white. Stretching over 20km on the western side of the island, Long Beach is the perfect place to watch sunset on the island. Long Beach is also a decent spot for diving, snorkeling and other water sports.

9. Picnic trips to Phu Quoc Island's waterfalls & streams

Suoi Tranh Waterfall


Suoi Tranh Waterfall is the most popular as well as the most beautiful waterfall to visit on the island. Imagine to have a small picnic with your family by this lush, romantic looking stream, it would be an unforgettable experience on the island of Phu Quoc.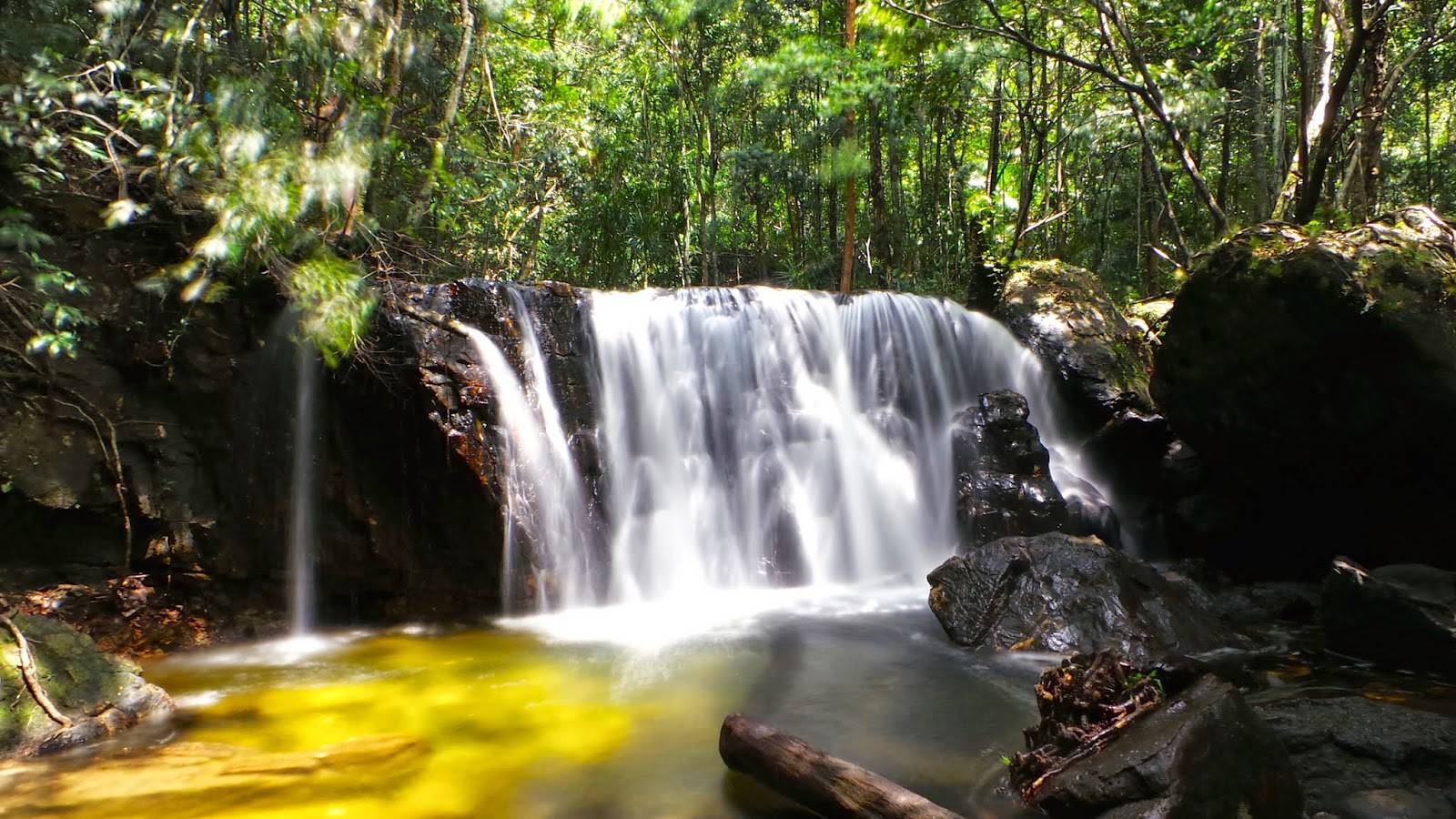 Suoi Tranh Waterfall is located in Ham Ninh Commune on the way to Bai Cay Sao, Da Chong Ferry Port and Bai Thom via Highway TL 48.
Table Stone Stream

Da Ban Eco Tourism Park was built around Da Ban Stream or Table Stone Stream which is a stream originates from Ham Ninh mountain range, close to Duong Dong Lake.
This stream impresses its visitors by a unique and quite bizarre rock setting with flat stone slabs lying in series, making it the best spot for a picnic.
10. Diving & Snorkeling at An Thoi Islands



An Thoi Archipelago is composed of some of the most islands and islets in Vietnam which are also parts of Phu Quoc Marine Park, Kien Giang Biosphere Reserve – a UNESCO designated area. To explore the islands, a boat tour is the perfect way.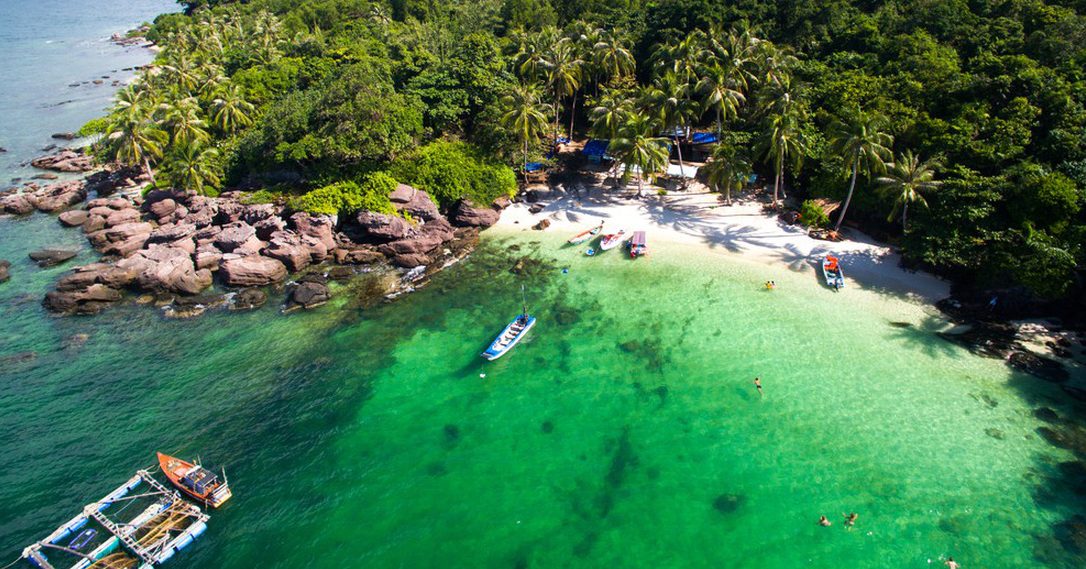 Most of the boat tours include activities like fishing, swimming, diving, kayaking sun-bathing and snorkeling at these islands. 
Best islands: Hon Thom (Pineapple Island), Hon Dua (Coconut Island), Hon May Rut (Cold Cloud Island), Hon Mong Tay (Fingernail Island)….
11. Visit Phu Quoc Prison



Phu Quoc Prison or Coconut Tree Prison is one of the most important historical destinations in Vietnam, representing a dark time in the country's history. Inside the prison, visitors still can find the evidence of the crimes against human rights of USA troops.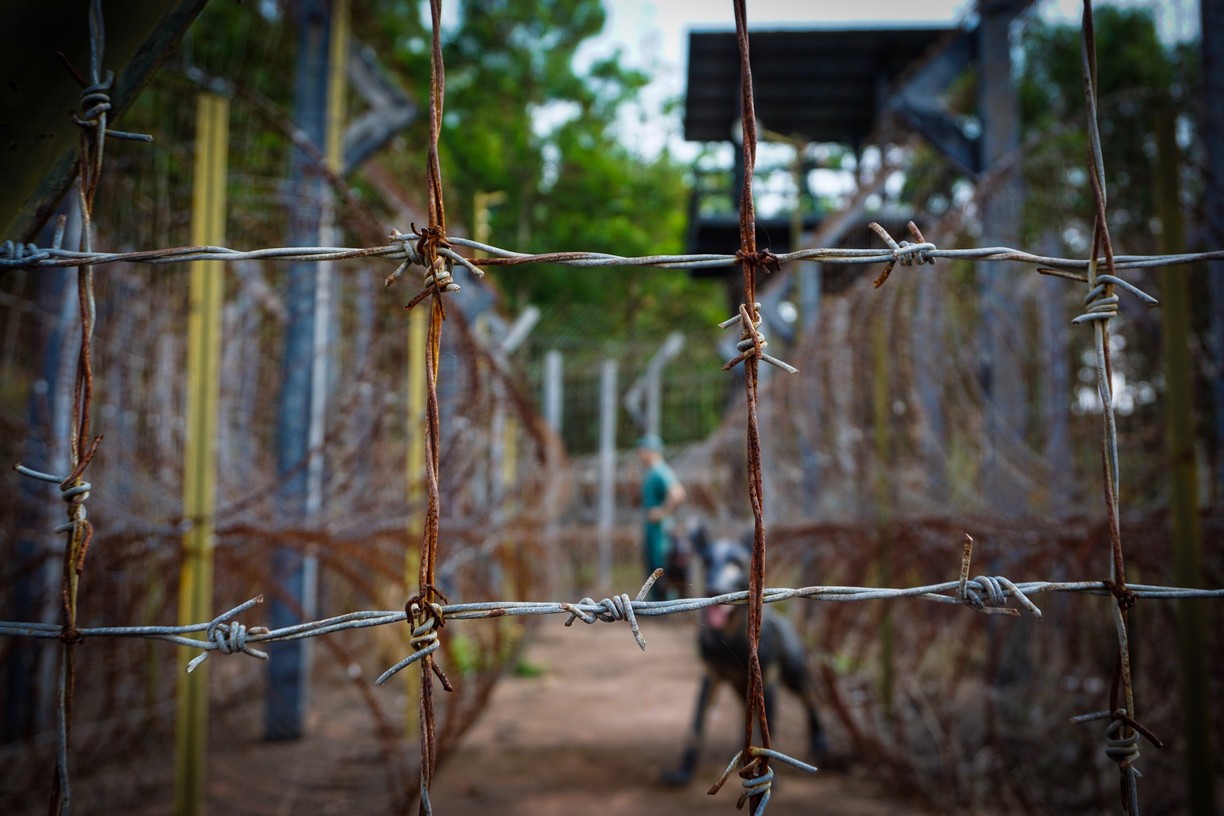 Built by the French then used by Americans during Vietnam-America War to confine and torture more than 40,000 north Vietnamese soldiers. The prison is also a museum with actual outdoor setup with barb wire, guard towers, tiger cages and prisoners to reenact the horrors once had happened here. A trip to Phu Quoc is as educational and eye-opening as it could be.
12. Visit Phu Quoc Pearl Farm



South Phu Quoc also have quite a number of pearl farms where visitors can learn how the oysters are planted and the pearls are harvested. Indeed, Phu Quoc has reputation for high quality pearls, even the precious black pearls.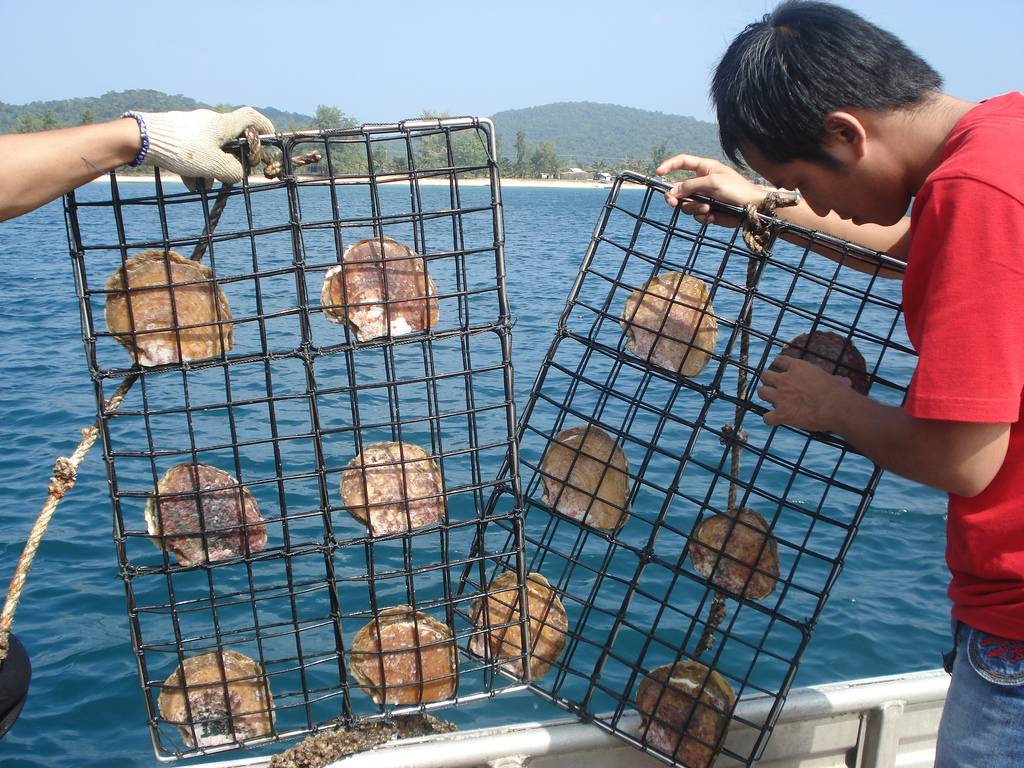 Pearl farms nowadays are open for tourism purposes. You can easily buy pearl products to bring home as souvenirs.

Day Trips from Phu Quoc
---



Hon Thom Island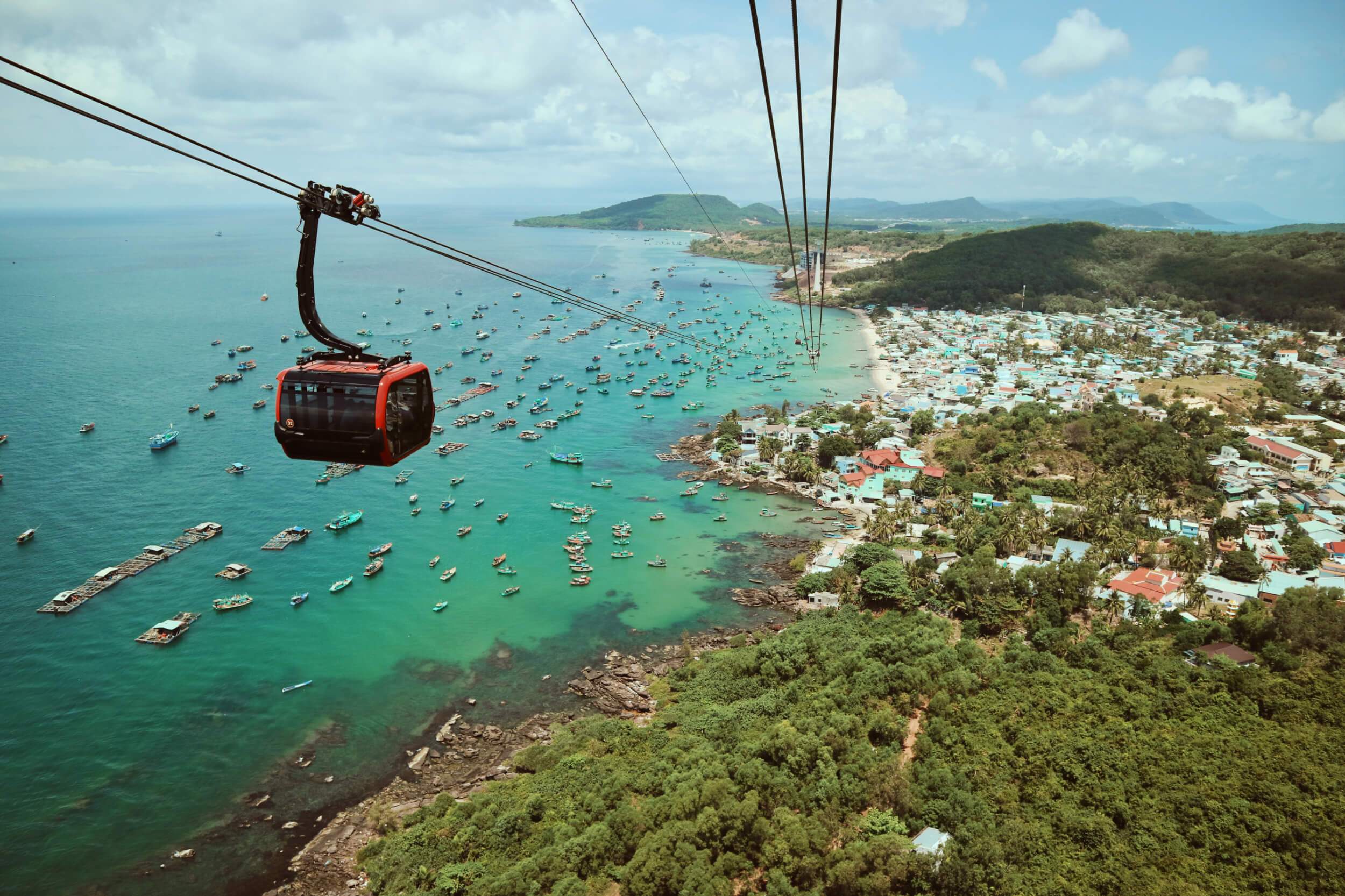 Hom Thom is the second largest after Phu Quoc and the largest island in An Thoi Archipelago. Phu Quoc – Hon Thom oversea cable car is the world's longest cable car which reduces the traveling time from the main island to Hon Thom down to 15 minutes.

Hom Thom is famous for idyllic landscape and slow-paced life style of the islanders. Beaches on the island are incredibly pristine and beautiful where you can swim and enjoy the blue water and snorkel to see the colorful coral reefs under the surface. Don't forget to enjoy magnificent sights of the sunset on the ocean here.
Best time to Visit Phu Quoc
Unlike the seasons of other destinations in Vietnam, which are commonly split into the dry and the rainy seasons, Phu Quoc tropical climate is divided into three seasons, reflecting its volume of visitors as well. Therefore, I will call these seasons as high, shoulder and low season so you can easily distinguish between the three. When it comes to packing, clothing options do not really matter since it is hot all year round.
High Season – November to March
Most travelers will choose this period for a trip to Phu Quoc. Why is that? The weather is extremely ideal for a tropical getaway with an average temperature of 30 degrees Celsius throughout the day, with shining sun and crystal-clear sky. This season is so perfect that most people will visit during this time, the only downside to the season.
This period falls the winter and spring holidays of the West, so be awared that the price will be racked up and service are might fully booked. We recommend to arrange your booking beforehand at least 2-3 month for better price and service. 
Shoulder Season – April to June
These are the sweatiest months of the island, literally. Chances of good weather are fifty-fifty, between a perfect sunny day and sudden downpour, but it won't affect your trip that much. The humidity level is around 80 to 85 percent and everybody is sweating because it feels like a sauna. The tourist population starts to decline.
Low Season – July to September
It's raining cats and dogs, and the locals! It is raining everywhere. But even the heavy rain can't stop the domestic tourists from having a hard-earned precious summer holiday. And the mixture of these two are the worst in July.

How to get to Phu Quoc
---

Phu Quoc is accessible by plane and ferry. Flights to Phu Quoc are available from all major cities in Vietnam as well as afew oversea cities. Ferries can reach Phu Quoc from two main harbors: Ha Tien and Rach Gia while international cruise ships are also allowed to directly arrive in Phu Quoc.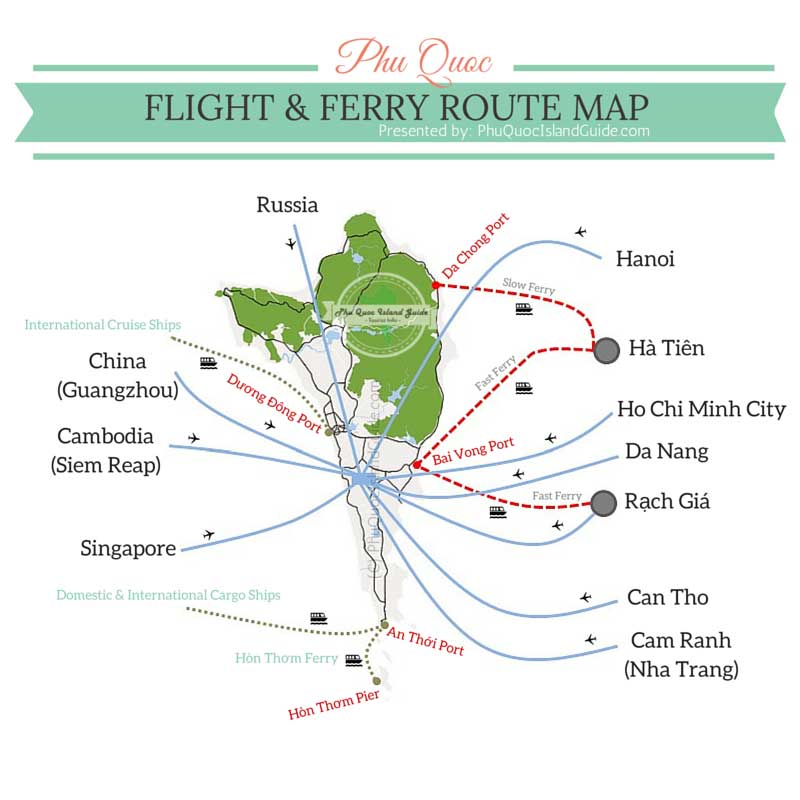 *By plane: from Hanoi, Airmekong offers a price for a round-trip ticket of 2,8mil VND per person (tax included), flying time is around 2 hours. A round-trip ticket to Vietnamairlines from Hanoi is about 3,6milVND. From Ho Chi Minh City, a round-trip ticket to Phu Quoc is 800,000 VND (Vietjetair), 850,000 VND (Vietnamairline), 835,000 VND (Airmekong), 950,000VND (Jetstar). Vietnamairline has at least 2 flights to Phu Quoc per day.
*By coach and boat:
Ho Chi Minh City – Rach Gia – Phu Quoc (Vong beach's wharf)
You should catch Mai Linh or Phuong Trang coaches at Le Hong Phong of District 10, Ho Chi Minh City. From Mien Tay Bus Station, Tuyet Hon, Chau Ha, Dieu, Viet Duc brands all have coaches to Rach Gia bus station. The tickets are priced from 120,000VND to 150,000VND. It would take 7 hours of traveling so it's best to catch a coach at 22:00 to arrive in Kien Giang bus station at 5:00 next day. Take another transit coach to Rach Gia wharf.
Ho Chi Minh City – Ha Tien – Phu Quoc (Hon Chong wharf/Bai Vong Port)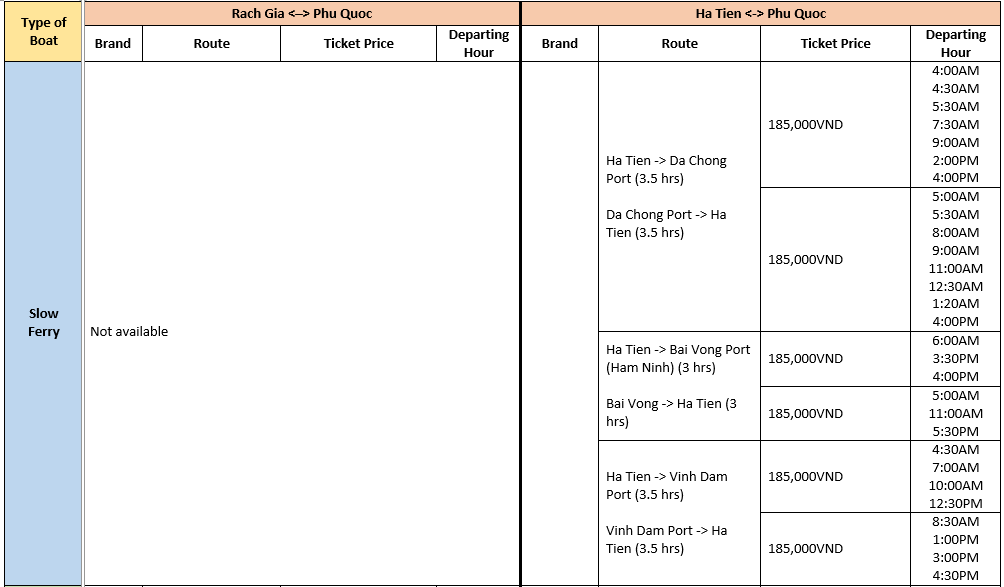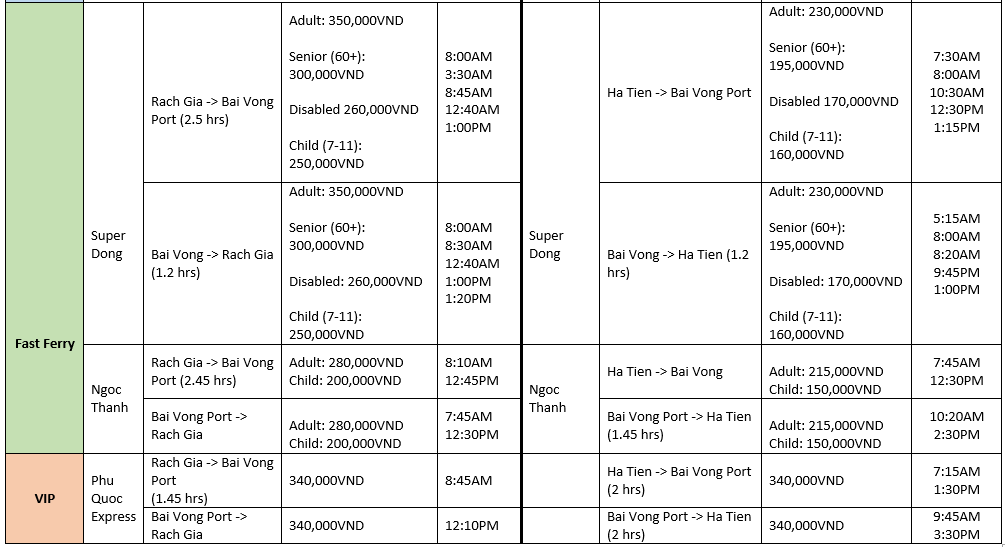 From both ports, you can take a taxi or motor taxi to Dong Duong Town which is only 15km away. In high season, you probably may not find taxis when you arrive in Phu Quoc. There will be few motors but they might raise their price higher. Minibuses are available to the two main towns but the tickets, as said above, are sold on boat before arrival.
Get around the island
You can move from place to place in the island by motorbike, cycle, jeep and taxi.
*By motor/scooter: the motorbikes and scooters are hired easily for 100,000VND to 240,000VND per day from your hotel/resort. You don't need paper, or to make deposit. But there is a rule that require you to refill the fuel when you finish. Roads are mostly red dirt and full of pot holes. There are no traffic lights or rules on the island but you better keep it slow and drive on the right. Motor taxis are about 200,000 – 400,000 VND or US$10-20 for a day trip. Be sure to agree how many hours and locations you want to do with the driver.
*Jeep: a jeep tour is also an interesting choice for you. Jeep For Rent offers price for a 6-hour tour with driver $30 and $50 for a 24-hour tour.
*Taxi: in Phu Quoc, you need to pay a little bit higher around 650,000VND for a half day tour in the north or the south of the island. Phu Quoc taxi is probably the cheapest brand.
Phu Quoc Visa Information
---
Visitors from any country arriving to Phu Quoc by cruise ship no longer need a visa for stays of up to 30 days. You must meet the following requirements:
Your passport remains at least 6 months once you arrive on Phu Quoc.

You must have a round trip air ticket to and from Phu Quoc/Vietnam. Next destination must be outside of Vietnam.

Visitors arriving in Phu Quoc by any other means (eg. plane) are still subject to normal visa regulations.
We've listed all the top things to do and see in Phu Quoc Island and around. The best way to enjoy your time in this pearl island is personalizing your tour to fit your own fantasies. Let our travel consultants give you the best advice for your upcoming trip to Phu Quoc by sending email to booking@asianwaytravel.com to tell us your ideas.