Ho Chi Minh City or Saigon as it's more commonly called, like Hanoi, has become a tourist hub in the south of Vietnam with the attractions of a modern city which is busy and dynamic, fostering its historical and cultural values. And here is our ultimate Ho Chi Minh City Travel Guide, including its major attractions, activities and day trips and generally all things you can do in just 48 hours. Check out now to know how to make the most of your trip to Ho Chi Minh City if you don't have luxury week-long holiday to visit.


Day 1 – City Tour around Ho Chi Minh City
---
The first day should be spent touring around this modern, busy and absolutely charming city. What to enjoy in Ho Chi Minh City are the historical landmarks, French colonial buildings, bustling markets, active nightlife and a diverse street food scene. Below are all the attractions and things to do that are worth doing in Ho Chi Minh City.
1. War Remnant Museum

A collection of memories of the Vietnam War or as the Vietnamese people prefer to call: American War. War Remnants Museum offers a perspective of the Vietnam side of the war which lasted decades. The museum is not for the faint-hearted. Besides the display of old tanks, planes and war machines, the indoor exhibition takes you on a journey of the sufferings of Vietnamese people through photographs and written documentation. They might not be able to change your opinion about the war that has been but it can move you to tears. Nevertheless, the War Remnants Museum is one of the most important sites for all the visitors to visit.
– Address: 28 Vo Van Tan, Ward 6, District 3.
– Open hours: 7:30am – 12:00pm and 1:30pm – 5pm, daily
– Admission: 15,000 VND per person
2. Reunification Palace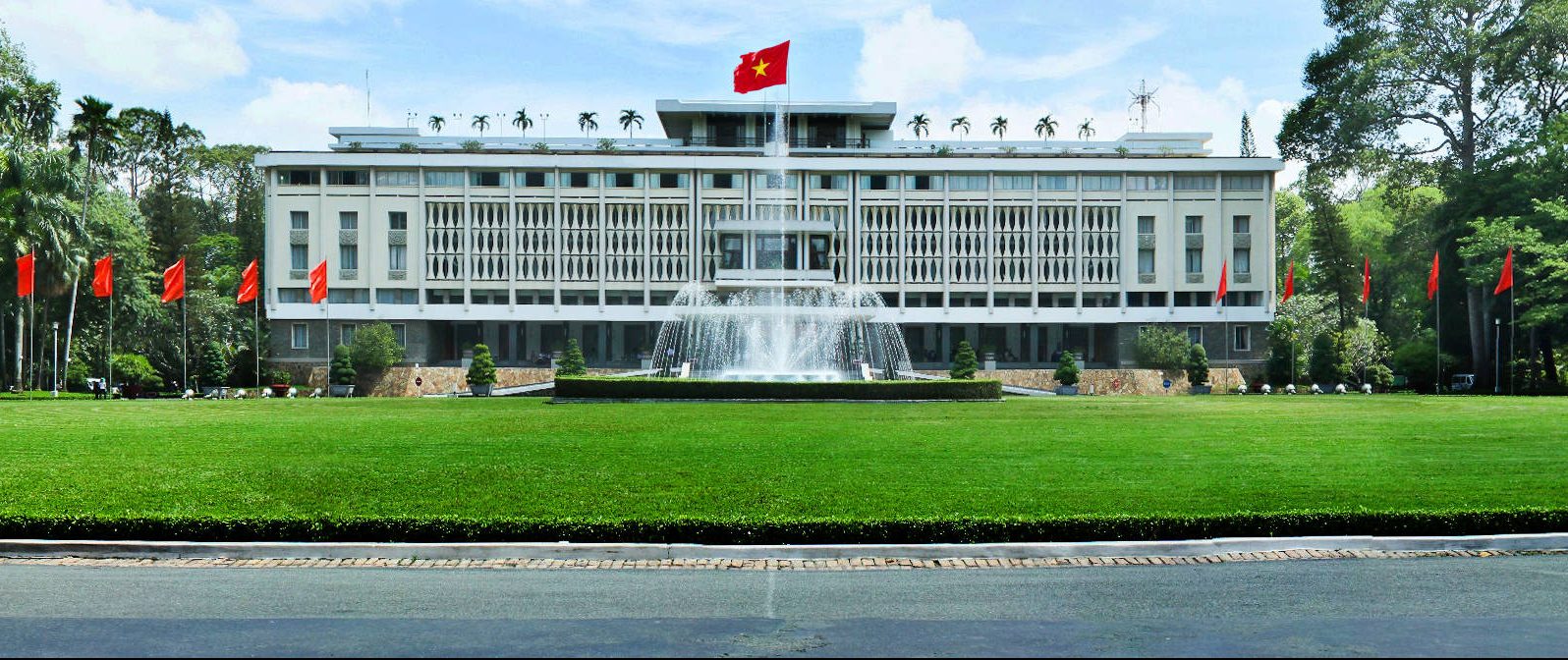 Considered as the most historic landmark of Vietnamese history, Reunification Palace marked the end of the American War. On the noon of 30th April 1975, Saigon's Palais Norodom was claimed by North Vietnamese and since then it changed its name as known as today. Time seems to be frozen here, in the secret rooms, Ngo Dinh Diem's command bunker, even the grand reception halls. The history of Vietnam will float before your eyes as you wandering through the palace. Especially how the war has ended. Reunification Palace is also known for its architecture – another work of the French. Although the palace has undergone a lot of restoration, its main architecture remains.

– Address: 135 Nam Ky Khoi Nghia, Ben Thanh, District 1
– Open hours: 7:30 am – 11 am and 1 pm – 4 pm daily.
– Admission: 30,000 VND per person
3. Saigon Notre Dame Cathedral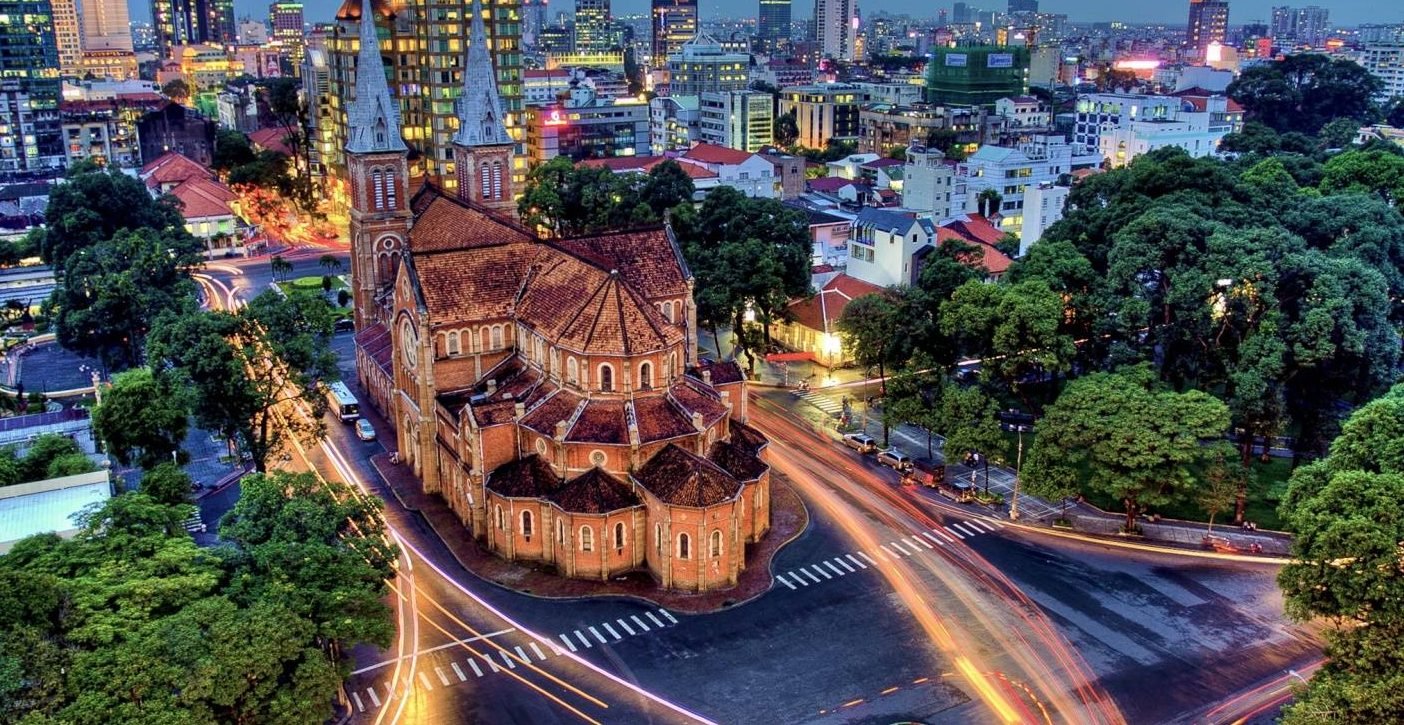 Just like the Saint Joseph Cathedral in Hanoi, Saigon Notre Dame Cathedral is another architecture masterpiece left by the French colonists. Built in 1880, the Cathedral remains one of the few strongholds of Catholicism in a country that is deeply influenced by Buddhism. The name of the building was inspired after the erection of the statue "Peaceful Notre Dame" in 1959, a statue of Virgin Mary standing in front of the Cathedral. Many believed that they saw the statue shredding tears in October 2005. Nowadays, Saigon Notre Dame Cathedral has become one iconic tourist site in Ho Chi Minh City. All visitors are free to attend the official mass at 9:30 AM on Sunday.

– Address: Ben Nghe, Ho Chi Minh City
– Open hours: 8 am – 11 am, 3 pm – 6 pm on weekdays.

Official mass on Sunday at 9:30 am
– Admission: None
4. Ho Chi Minh Central Post Office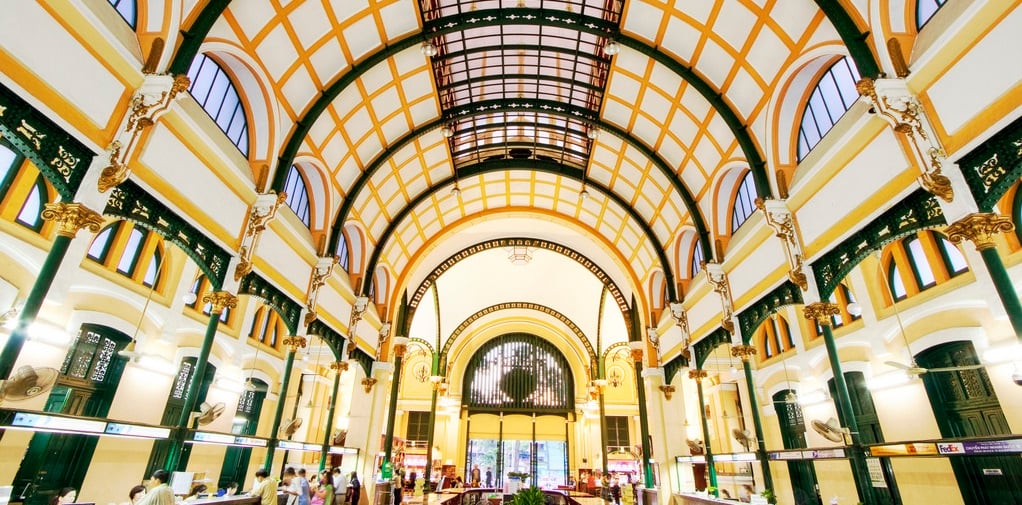 The Central Post Office is one of the most popular sites for photographers. First opened in 1891, the Post Office has become the glorious example of French colonial architecture, designed by the very one who built Eiffel Tower – Gustave Eiffel. Visitors can't help to be enchanted by the shining lopping arches, the marble floors, telephone boxes – the representatives of an era where mobile phones and email hadn't yet existed. Carved on the wall are the maps of regions – one showing telegraph lines in Vietnam and Cambodia and a map of Saigon in 1892. Until this day, the building is still functioning as a post office with two wings beside the main office where you can purchase souvenirs, postcards, stamps, and lacquerware.
– Opening Hours: Daily 07:00 – 19:00
– Address: 2 Cong Xa Paris, Ben Nghe, District 1, Ho Chi Minh City
– Tel: +84 83 822 1677
5. Shop at at Ben Thanh Market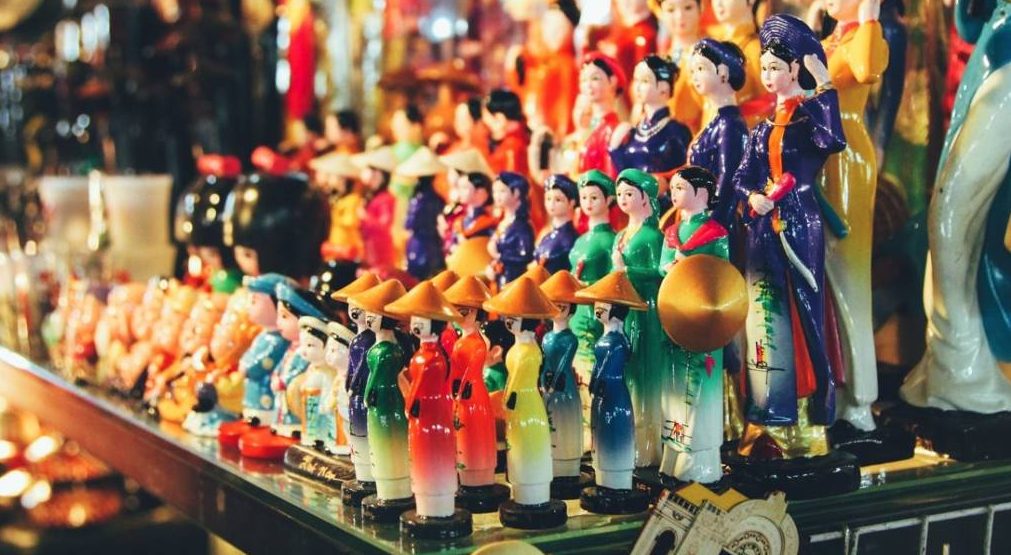 You want to go to a place where you can enjoy shopping for souvenirs, handicrafts, all kind of goods and eating traditional Vietnamese foods? Welcome to Ben Thanh Market whose existence so vital to the point it's considered the unofficial symbol of the city. Situated at the intersection of Le Loi, Ham Nghi, Tan Hung and Le Lai streets, Ben Thanh is accessible through 4 gates. The food section with more than 20 eateries in the market offers a wide variety of Vietnamese cuisine from Com Tam, Pho, and Sizzling Pancakes to Noodles and seafood. For shopping, you can find almost everything here: clothes, textiles, electronic goods, lacquerware, souvenirs, and more. Bargaining is acceptable, don't hesitate to haggle the prices down.

– Opening Hours: Daily 6:00 –24:00 
– Address: Le Loi, Ben Thanh, Quan 1, Ho Chi Minh, Vietnam

6. Watch A O Show at The Opera House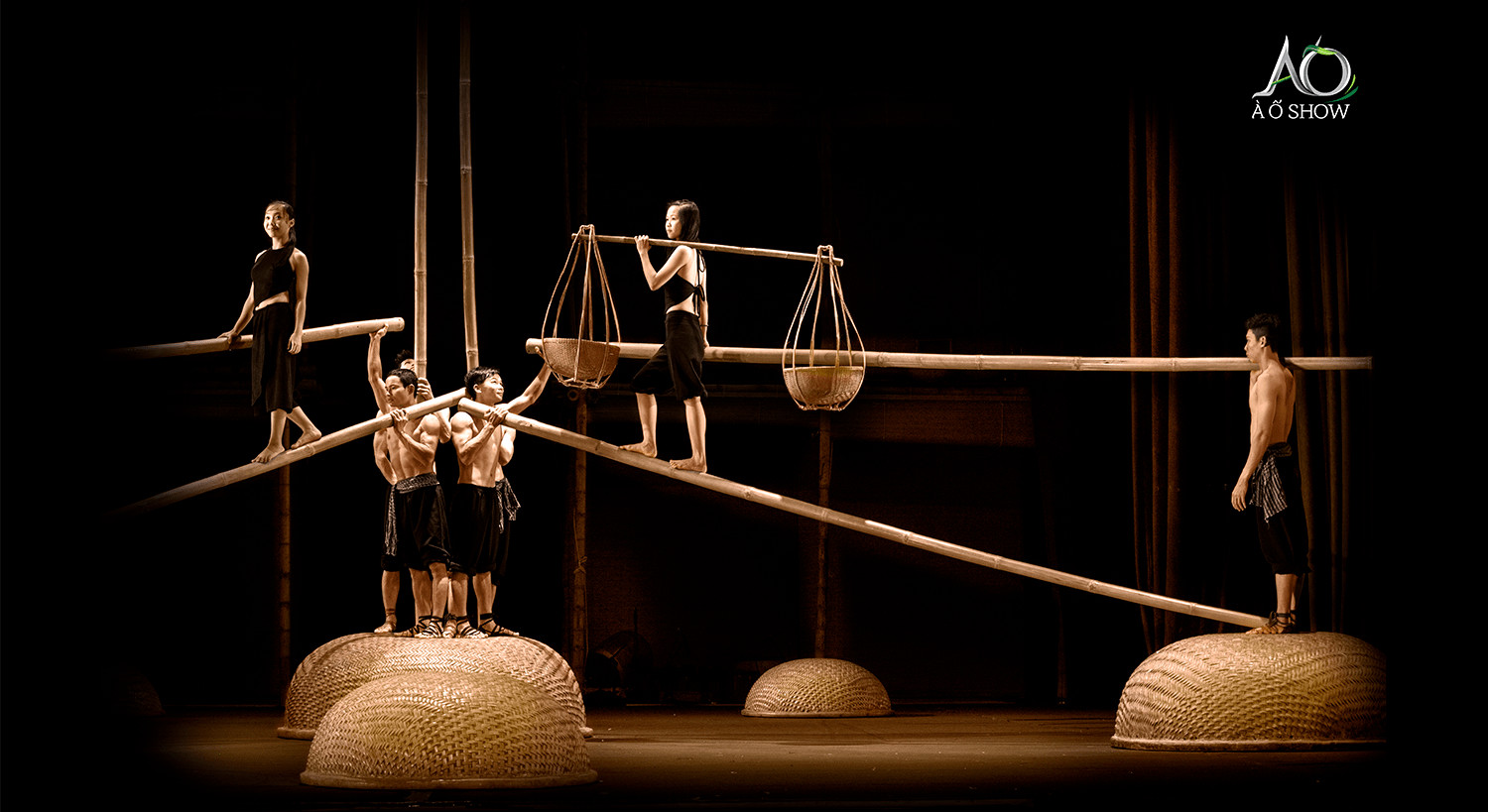 The Opera House in Ho Chi Minh City was built in 1897 by the French colonists, beautifully preserved until this day. Just like Hanoi Opera House, Saigon's Opera House is a top venue to listen to classical and opera music. Visitors who come to the Opera House have the chance to enjoy photographing since its architecture boasts as the best of European style. To make the most of Opera House, buying a ticket for performance is the best way to do so. We recommend A O Show, a blend of Cirque du Soleil and traditional Vietnamese elements. See A O Show Review here

– Address: 7 Cong Truong Lam Son, Ben Nghe
– Tickets: Prices range from 504,000 VND – 1,176,000 VND for show tickets


7. Ho Chi Minh City Nightlife – Bui Vien Street, Pham Ngu Lao Street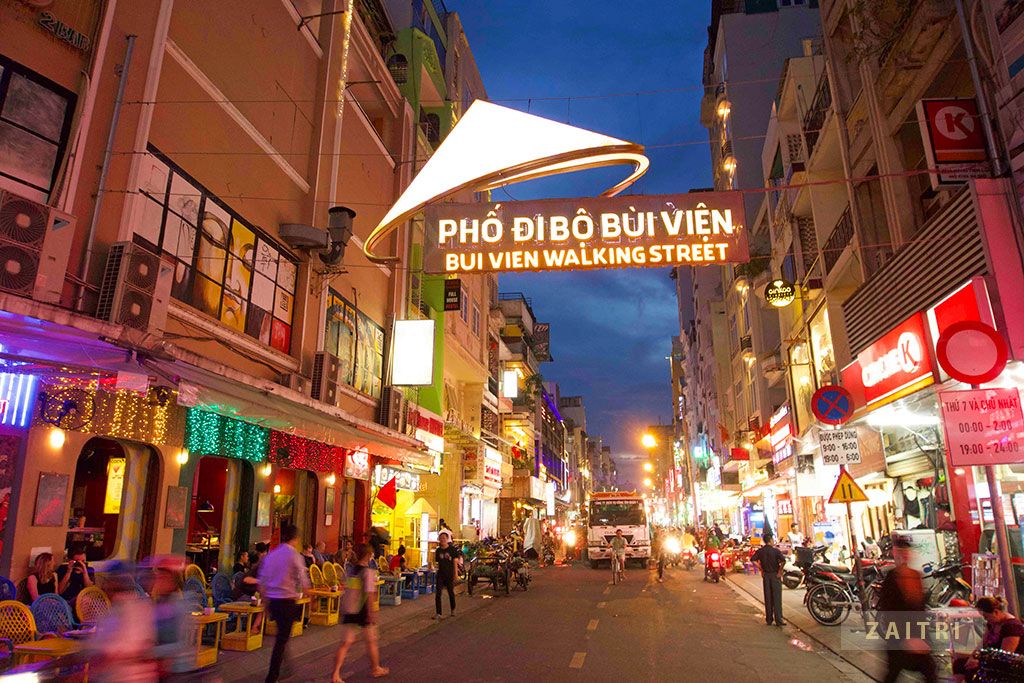 The nightlife scene in Saigon is busting with parties. If bars, live music, lounges and dance floors are not your thing, just go and grab a beer at Bui Vien Walking Street or Pham Ngu Lao Street. This is the top activity in Ho Chi Minh City to locals and tourists alike. The atmosphere in these streets just gets more incredible as the night approaches. The streets turn extremely colorful and vibrant with the neon lights. Come to Bui Vien and Pham Ngu Lao Street, you can't miss the chance to gulp down a glass of the popular drink – Bia Hoi, draft beer which is essential to surviving the tropical heat of the south.
8. Saigon Food Tour
Saigon or Ho Chi Minh City is famous for abundant, affordable and diverse street foods. Saigon is indeed a city for food lovers all over the world. A food tour has become a must-do thing when in Ho Chi Minh City at night.
See more about the tour with reviews here.
Here are some of the best spots to check out:
Bun Mam (Noodle Soup with Fermented Fish Sauce Broth) Bun Mam can be challenging because of its strong smell. It's a noodle soup with fermented fish broth, seafood and pork belly. It sounds smelly but once tasted it, you might be addicted to its thick rice noodles and savory fish and meat.

– Bun Mam Dac San: 22 Phan Boi Chau, Dist. 1
– Bun Mam 444: 369 Le Quang Dinh Str., Binh Thanh Dist.
Banh Beo (Water Fern Cake) A very familiar street food dish among Vietnamese, as well as Saigonese. You dip the small round rice-flour cakes, topped with pork rinds and toasted shrimp powder, into a dipping bowl of fish sauce. One serving often comes with 8-10 cakes.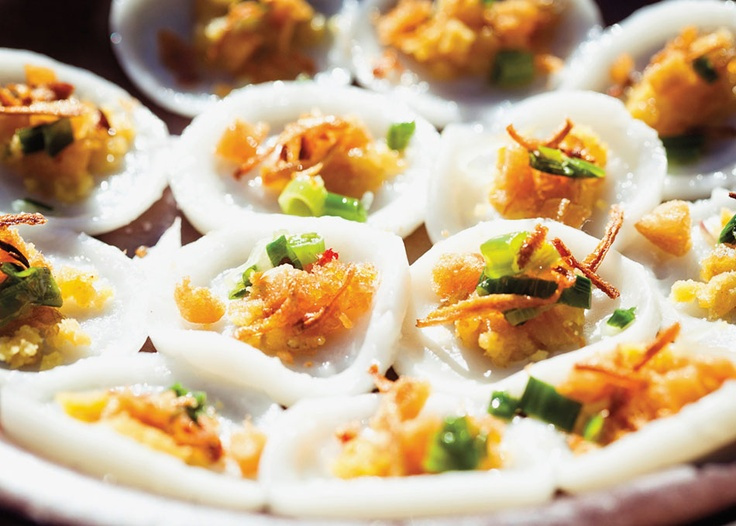 – Nam Giao: 136 Le Thanh Ton Street, Dist. 1
Banh Cuon (Steamed Rice Rolls) Banh Cuon is a favorite breakfast dish for Vietnamese people – it's cheap, simple yet delicious. The thin steamed rice papers are rolled with or without ground pork and wood ear mushrooms, topped with fried onions. Dip one roll into a bowl of fish sauce, you'll know why this dish is loved widely by Vietnamese people.
– Banh Cuon Hai Nam: 11A Cao Thang, HCMC – Banh Cuon Tay Ho 1: 127 Dinh Tien Hoang Street, District 1
Banh Trang Tron Banh Trang Tron was invented by Southerners, the most popular street snack in Ho Chi Minh city. You can easily find the stalls selling this dish on almost every corner of the city. The dish is composed of rice paper threats, mixed with all kinds of toppings and spices. The taste is sour and lightly spicy which is so addicted and makes you crave it for more.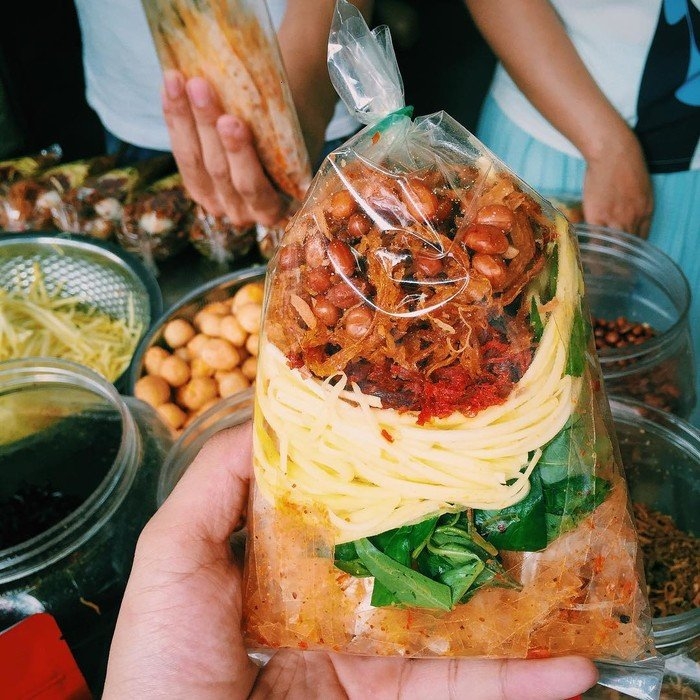 – Nguyen Thuong Hien Street, Ward 5, Dist. 3 – Banh Trang Tron Hoa Hao: Hoa Hao Street, Dest. 10
Com Tam (Broken Rice) Common dish of not only Ho Chi Minh City but all the South Vietnam. People can eat Com Tam (Broken Rice) for all meals. The dish is simple yet can make you full for half of the day, be it breakfast, lunch or dinner. The name came from the fact that after the drying and milling process, the farmer used the leftover grains which are usually broken but cheaper than whole grain.
– Com Tam Cali: 32 Nguyen Trai Street, Dist. 1 – Com Tam Moc: 85 Ly Tu Trong, Ben Thanh Ward, Dist. 1
9. Go Sightseeing at Starlight Bridge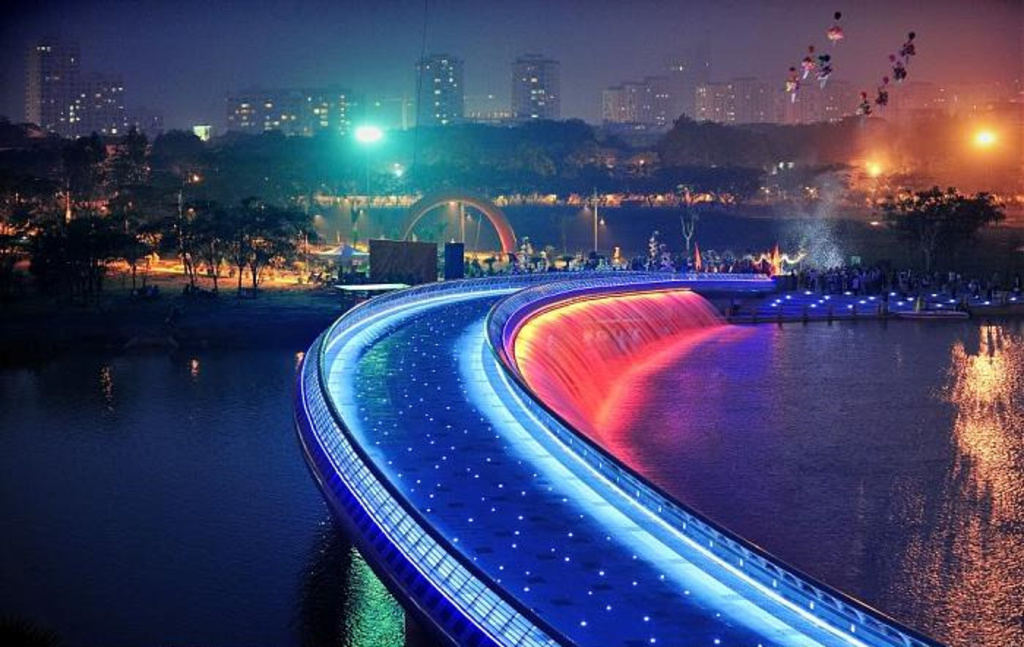 If you're finding a spot to enjoy the city's colorful scene of the city at night, Starlight Bridge is one place to go. Nested in the upscale developed area Phu My Hung, Starlight Bridge embellishes the wealthy, modern side of the city even more and indeed is the main draw besides hundreds of malls, shops, cafes and restaurants… The bridge spans over a lake with a waterfall cascading down, decorated with rainbow flashing lights, which altogether has made the bridge one of the most romantic places for couples.

– Address: Ton Dat Tien, Tan Phu, Ho Chi Minh
– Admission: none
10. Visit Thien Hau Pagoda


Thien Hau Pagoda in Ho Chi Minh City is the most sacred worshiping place of Thien Hau, the Lady of the Sea, and an important character in the religious worship of Vietnamese and Chinese people. The pagoda was built back in the 19th century with every Asian architecture style. Looking at Thien Hau Pagoda's façade, it seems to bring you back in time with a kind of haunting feeling. The most beautiful feature of the pagoda to behold must be the roof section on which an incredible sculpture reliefs were carved on. But as soon as you walk inside, the beauties of intricate details and sculptures will be something to feast your eyes on. The many giant coils of incense hanging in front of Thien Hau's altar makes the place even more photogenic.

– Address: 710 Nguyen Trai, Ward 11, Dist. 5, Ho Chi Minh
– Opening hours: 8:00 am – 4:30 pm daily
– Admission: none
11. Relax at Thao Cam Vien
For a modern city with skyscrapers everywhere like Ho Chi Minh City, Thao Cam Vien is a great place to change the landscape and take a breather. Thao Cam Vien actually consists of two parts: Saigon Zoo and Botanical Gardens of which Saigon Zoo is the largest zoo in Vietnam. If you don't want to visit the Zoo, you can skip (but still have to pay a single entrance fee for two sites). The botanical garden is full of greenery and local vegetation creating wonderful scenery in the middle of the city. Thao Cam Vien is the number one site in Saigon to hang out, relax and get away from the noisy motorbikes on the roads.

– Address: 2 Nguyen Binh Khiem Str., Ward Ben Nghe, District 1, Ho Chi Minh City
– Opening Hours: 7:00 am – 7:00 pm daily
– Admission: 20,000VND
Day 2 – Day Trips From Ho Chi Minh City
---

On the second day you can spend exploring nearby attractions. You can choose one of the options below to make a day trip from Ho Chi Minh City. 


Cu Chi Tunnels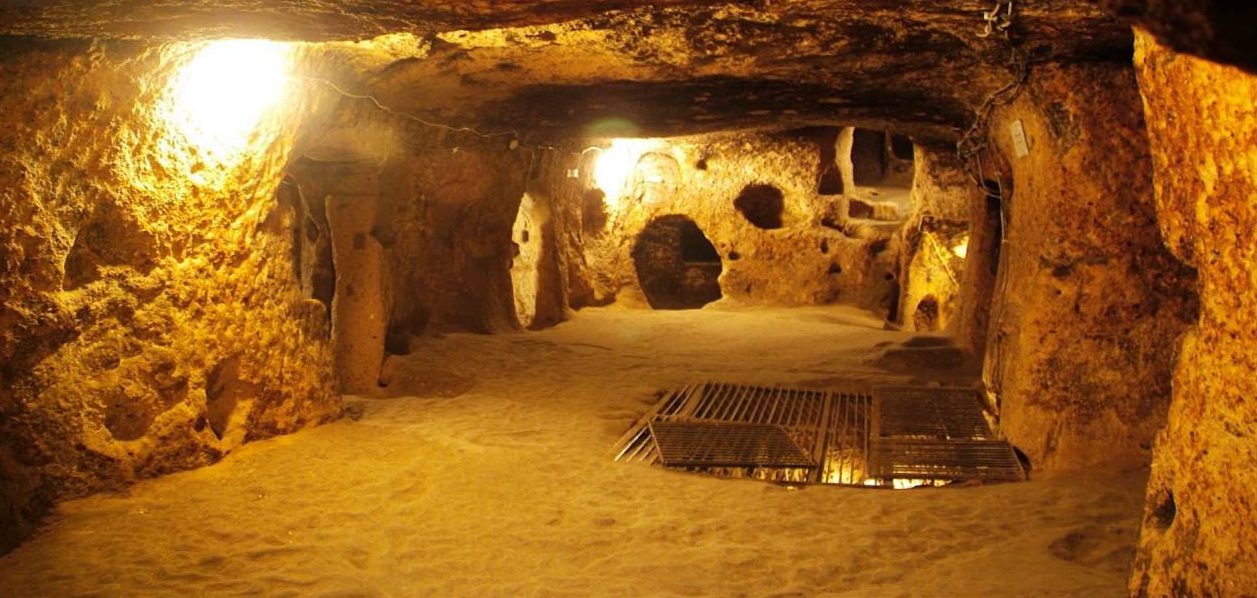 Cu Chi tunnels rank as the top day trip from Ho Chi Minh City. The complex is about 40km away from the city center, concealing an enormous system of underground tunnels which was used as shelters from bombs, living places, supply routes and more, built by Viet Cong during Vietnam – America War. Besides the tunnels were the impressive setting of hand-made traps and weapons hiding beneath the grounds, made mostly from bamboo trees. Cu Chi Tunnels contributed an important part to the final victory of Vietnamese people.

Nowadays, Cu Chi Tunnels is a huge tourist spot near Ho Chi Minh City. Tourists come to the tunnels will get a deeper insight into how Vietnamese people dealt with the war and their ways to win it. There is also a shooting range featuring the guns which were used widely at the time where visitors can try shooting.
– Opening hours: 8 AM to 5 PM daily
– Admission:
Ben Dinh: VND 110,000/ pax
Ben Duoc: VND 90,000/ pax
See more: Ho Chi Minh City and Cu Chi Tunnels full day tour

Mekong Delta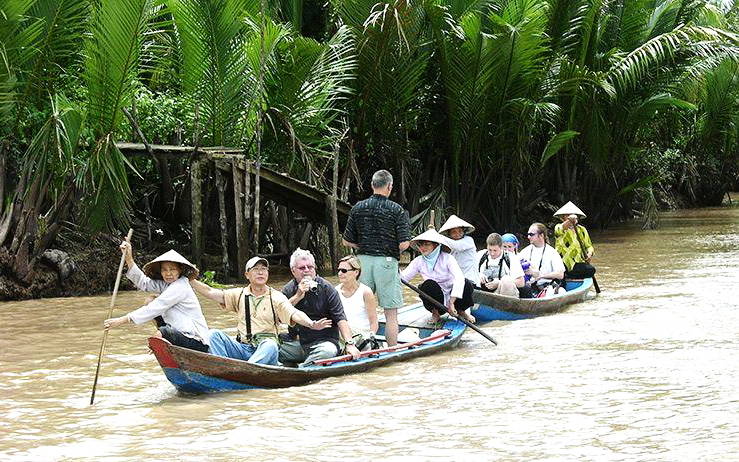 From Ho Chi Minh City, it's just convenient to get on a short day trip to Mekong Delta – the fertile region of the south. Mekong Delta, for a long time, has been recognized as the mother river that gave life to the largest delta region of the country. It's the land of a lot of rice, all kinds of tropical fruits and vegetables.

The river also nurtured a unique way of life of the southern dwellers who bonded so deeply with nature and the river that their lives are centered around. Here, people transport by boats just as much as other vehicles. A trip on a sampan boat down the backwaters, or deep into the submerged forests will be so fun because it's when you actually see the land through the eyes of the locals.

Floating markets in Mekong Delta is a memorable cultural experience to enjoy. The local farmers walk up so early to sell their fruits and vegetables to folks on the land. The atmosphere is absolutely incredible with flocks of sampan boats come and go, busy purchasing farmers, colorful heaps of all different kinds of fruits and vegetables. You can enjoy some local foods that are sold right on the boat. And there're even more things to see like durian orchards, rice paper factories, candy factories…. Mekong Delta is indeed a wonderful place for both first-timers and those who have visited before.



Can Gio Island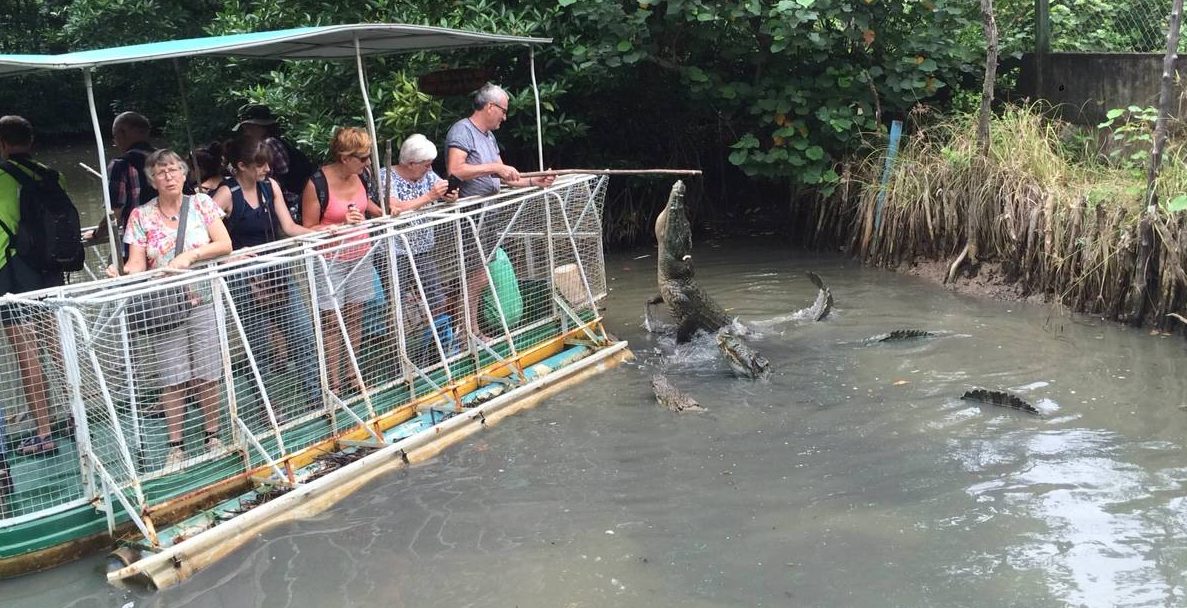 Once you're already in Ho Chi Minh City, why not spend some time to take a trip to Can Gio Island? Also known as Monkey Island, Can Gio Island is a number of islands located near Saigon which together make a nature reserve of 80,000 hectares featuring mangroves and water coconut forests. Once deforested during Vietnam-America War, nowadays, Can Gio Island has been revived and thriving as a Vietnam's UNESCO recognized biosphere. This is home to hundreds of monkeys and crocodiles. You can get close with both of the creatures, even feed the crocodiles with eels or small snakes. With monkeys, you can even take pictures with them but be careful because they can be mischievous at times. Can Gio is also a historical site and there are also a few beach resorts here to stay if you want to enjoy near the sea.
The above are our best suggestions for the things to enjoy in Ho Chi Minh City and around, a city which you can enjoy fabulous foods, historical values and vibrant nightlife! But it's not all to talk about what are the best things to do in Ho Chi Minh City, please let us know your own thoughts and suggestions!


Cao Dai Temple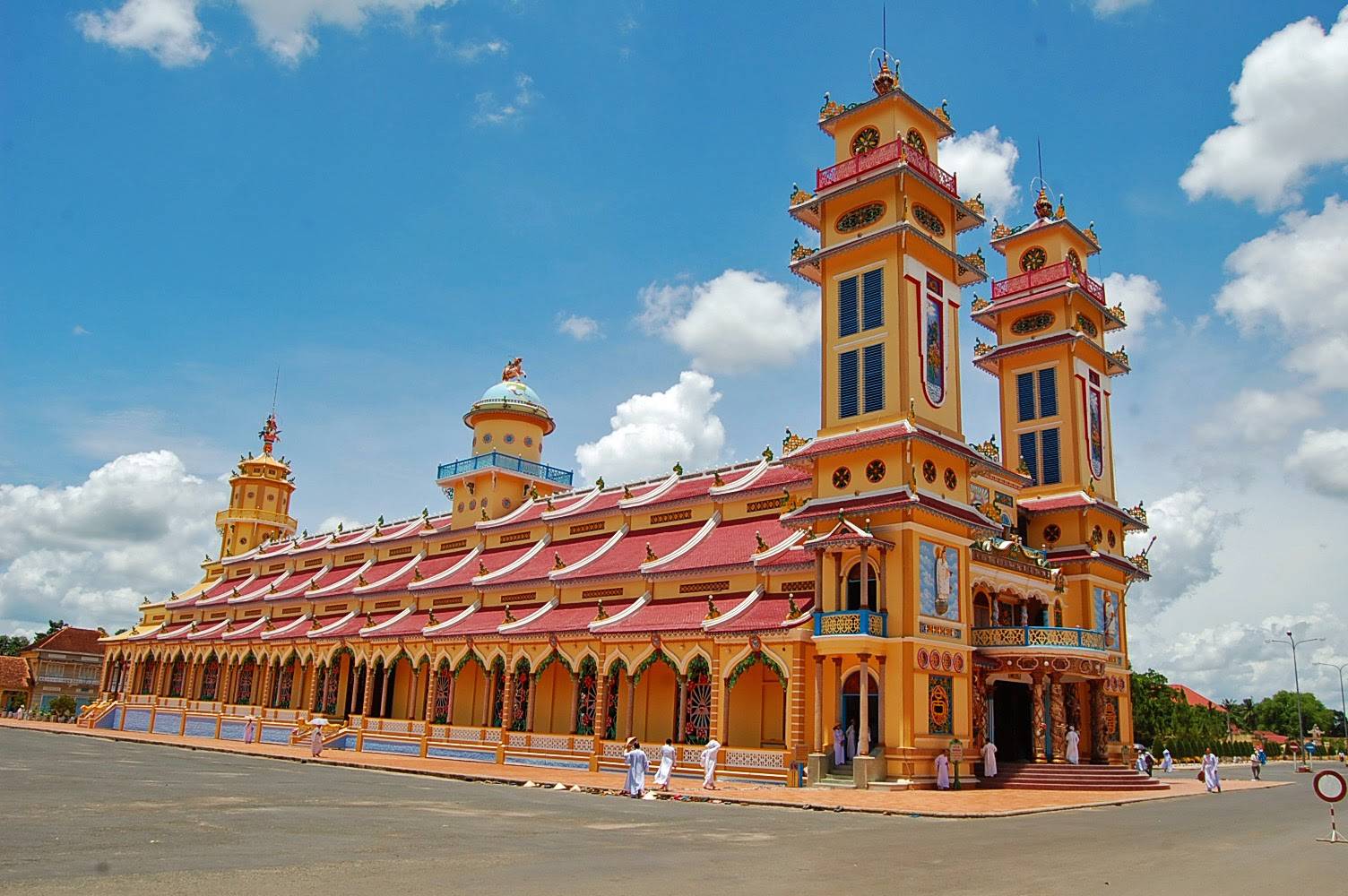 Caodaism can be considered as a religion of Vietnamese people which consists of Buddhism, Christianity, Islam, Taoism and Confucianism. Built in 1955, Ho Chi Minh City's Cao Dai Temple now is opened for visit. With the design similar to a Christian cathedral, Divine Eye which has Yin and Yang in the pupil, dragons wrapping pillars, Cao Dai Temple indeed is a unique architectural combination. Witnessing praying ceremony is the highlight of your visit to Cao Dai Temple when the followers dress in white, yellow, blue and red long robes.

– Location: Near Cambodian border, 100km northwest of HCMC
– Worshipping hours: 6:00, 18:00 daily

>>> Want to see Ho Chi Minh City, Cu Chi Tunnels and Mekong Delta in one go? Click to see our tour now:


---
Ho Chi Minh City – Cu Chi Tunnels – Mekong Delta- 4 Days
---