Our comprehensive guide will show you from A to Z things to do in Sapa and how to make the most of your Sapa experience. Through the course of history, Sapa underwent the changes of time to turn itself from a remote trading post built by the French colonists into a global travel hub, a top-tier travel destination in Vietnam. Located in Lao Cai, a province in Northwest Vietnam, a small town like Sapa surprisingly boasts its richness in its indigenous tribal culture of the ethnic communities, together with the unrivaled beauties of natural landscapes.You may also like: Top 10 things to do in Vietnam for the first-time visitors
Top Things to Do in Sapa
Fansipan – 'Roof of Indochina'
As the roof of Indochina,
Fansipan
peaks at the height of 3143m above sea level. Fansipan also offers some great choices for many levels of trekking starting from the easiest path can be done within full days for those who are physically fit, but not necessarily experienced. The scenery along the way to the top is worth your effort with thick forest, magnificent landscape of Hoang Lien Son range, idyll tribal villages, and the sight of wild Azalea near the peak.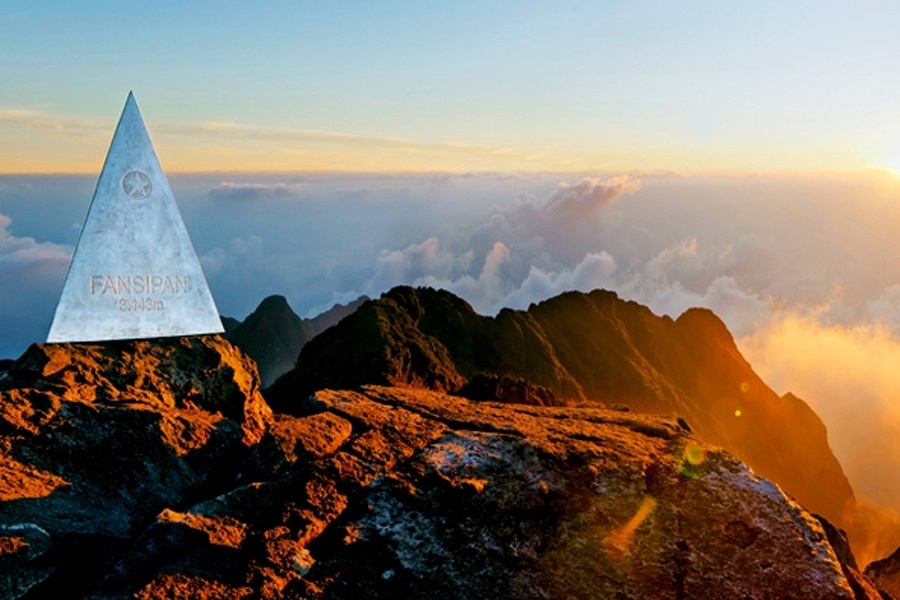 The best time for a Fansipan trek would be between mid-November and March since in this time the weather in the north falls in winter, drier air, less rain, and the temperature is low which will make your trek much easier than it is in summer. For folks who are not capable of trekking for long hours, you still can reach the top of Fansipan by riding cable cars. In 2016, Fansipan Legend, the highest, longest, and most modern cable car system in the world has been opened for everyone who dreams of standing on top of 'Roof of Indochina'.
Cable Car Fees
– Cable Car: 750,000VND per adult
– Cable Car + Funicular Ride: 850,000VND per adult
*Note:
The cable car
will take you to the mountaintop, not the peak. You'll have to walk up the stairs then take the funicular to near the Fansipan's peak.
Sapa Central Town
The central town of Sapa has to its own a dreamy and romantic atmosphere, especially when it's covered in mist and cloud. By no means should you skip this town when coming to Sapa, it's a wonderful base to explore further areas. And Sapa Town itself has a lot of things for visitors to enjoy.
Ham Rong Mt. Park
Why not come up the 1800m-peaked dragon-jaw shaped mountain for the panoramic view of Sapa and Muong Hoa Valley. The path up is easy and on the mountaintop, there is a Cloud Yard if you want to conquer all the way. At a lower altitude, part of the mountain was made into a flower garden with hundreds of orchid kinds and other flowers. A romantic hangout for couples and friends.
Admission: 70,000VND/adult, 20,000VND/child.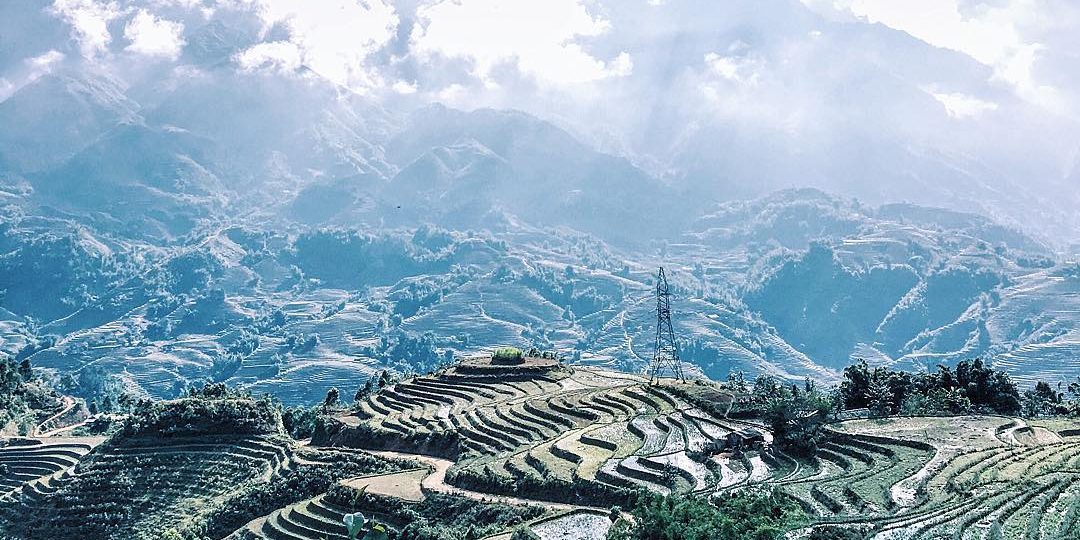 Sapa Church
Sapa Vietnam Church is not far away from Ham Rong Mountain, it only costs you a short walk. The church was built in 1895, made entirely of stones, and considered to be the most ancient vestiges of the French.
Nowadays, Sapa Church is the symbol of Sapa town, especially when it's covered in mist or snow. The front of the church is a huge square where a lot of local activities take place, some cultural performances on Saturday. Take the camera with you for some really unique photos of the Church.
Sapa Market, Night Market
–
Sapa Market:  
The market of Sapa is not only a center for goods exchange but also a meeting place for Hmong, Dao, and Nung ethnic minorities. Located in the center of Sapa (Luong Dinh Cua Street), the market is not easy to miss with thousands of goods, and hand-made products on display.  Tourists can also buy pharmaceutical products, forestry products, and brocade clothing. Food to enjoy here is the local specialty 'Thang Co' – a soup made from horse meat, bacon, borecole, chayote, corn wine.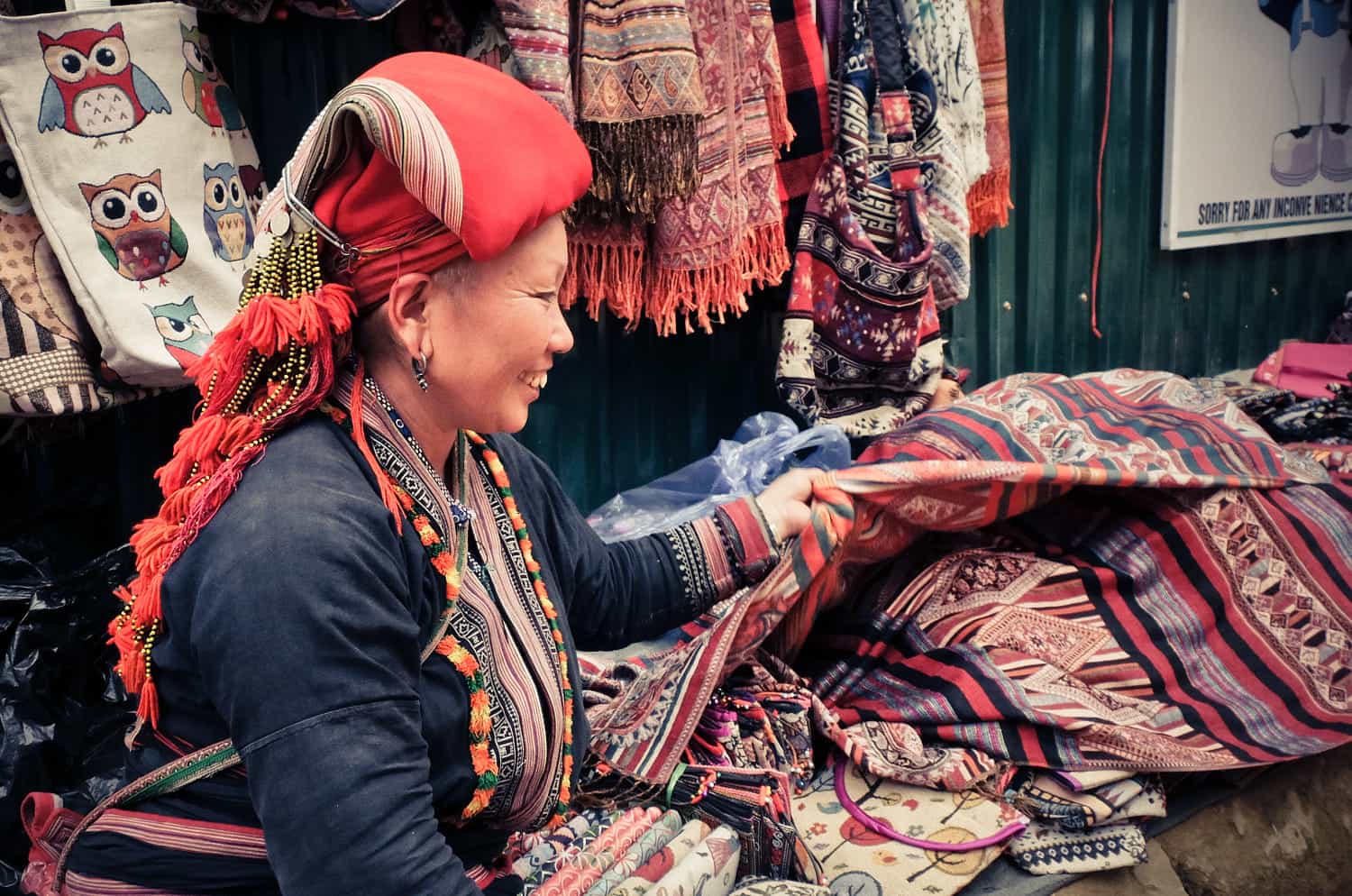 –
Night Market
: If you're looking for a street food tour at night, we suggest you join the Sapa town night market where several nightly grilled dishes like grilled beef, fish, and vegetables can be found. It's a wonderful local experience, especially on chilly nights, you stay close to the fire and wait for your meat to be done. Don't forget to use chili sauce and lemon salt to eat with the meat.
Muong Hoa Valley
To take in the magnificent beauty of highland terraced paddy fields during the harvest season nowhere is better than
Muong Hoa Valley
which lies between two towering mountain ranges running in parallel southeast of Sapa Vietnam. Come to Muong Hoa Valley, you'll be learning more about the age-old rice cultivation of the highland ethnic tribes, taking the scenic sights of the mountain range covered in the terraced fields, forests and streams downhill.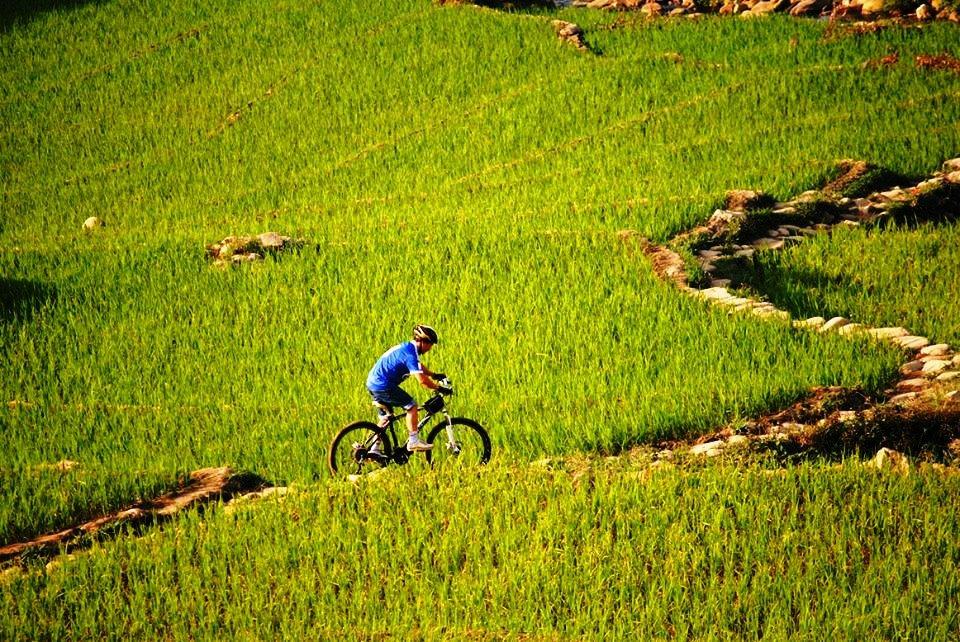 It isn't just landscape, it's the way of life of Hmong, Dao, and many others preserved for many generations. The poetic Muong Hoa River will take you to the idyllic hamlets of ethnic people such as Sa Seng village, Hang Da village and Hau Thao village. At the lowest altitude of 1000m, the valley is home to several minority groups, including Hmong, Zao, and Zay….
 Silver Waterfall
Nested at San Sai Ho Commune, 15km away from Sapa towards Lai Chau and Dien Bien Province,
Silver Waterfall
 can be seen from National Highway 4D. The fall, as the upstream of Muong Hoa Stream, is about 200m high with water cascading down as white as silver. The beauty of the waterfall adds even more to the dramatic backdrop of Sapa's mountains with pine forests and chayote gardens spreading over hillside. To get closer to the waterfall, visitors will climb the stone steps to a height of 30 meters where the water seem like to flow down on you.
Admission: 25,000VND/adult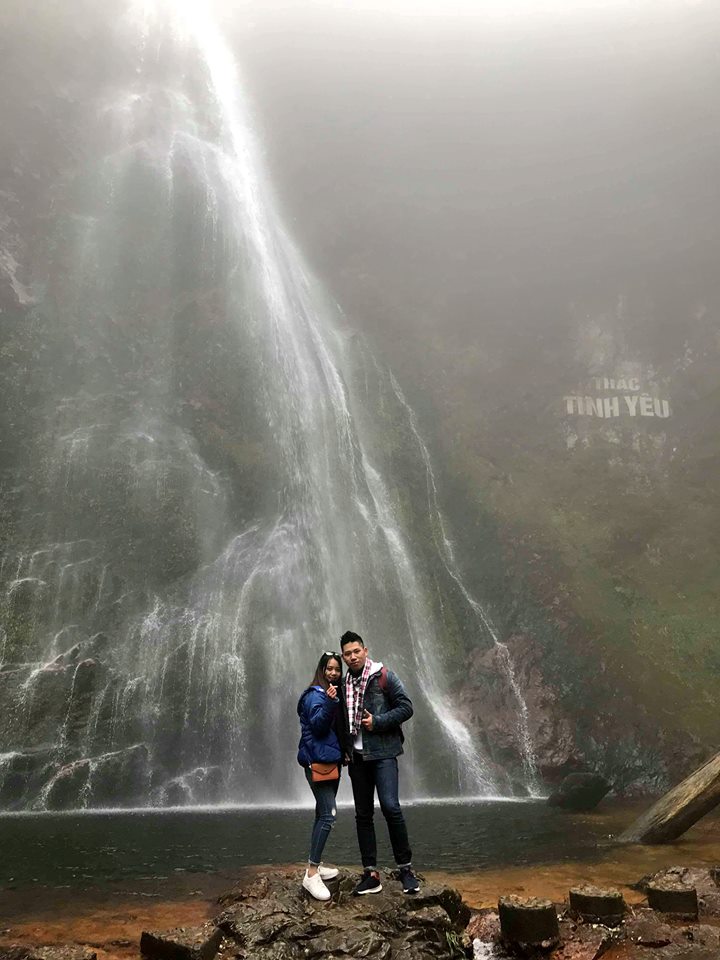 Trekking Authentic Hill Tribe Villages
Cat Cat Village

Cat Cat Village
is the most touristic ethnic village to visit from Sapa, the most excellent example of a hill tribe village of Hmong people. What you can enjoy here is the idyllic landscape, dramatic backdrop and the peaceful atmosphere of the local community. Young Hmong people proudly wear their traditional costumes which were dyed in so many colors.
One thing to look for is the traditional Hmong houses which are still preserved in good condition, the house is considered a very important part of Hmong life. On your trekking way, we can't fail to mention the beautiful sight of terraced paddy fields running immensely to the horizon. Cat Cat village is definitely a delightful and special feature of Sapa.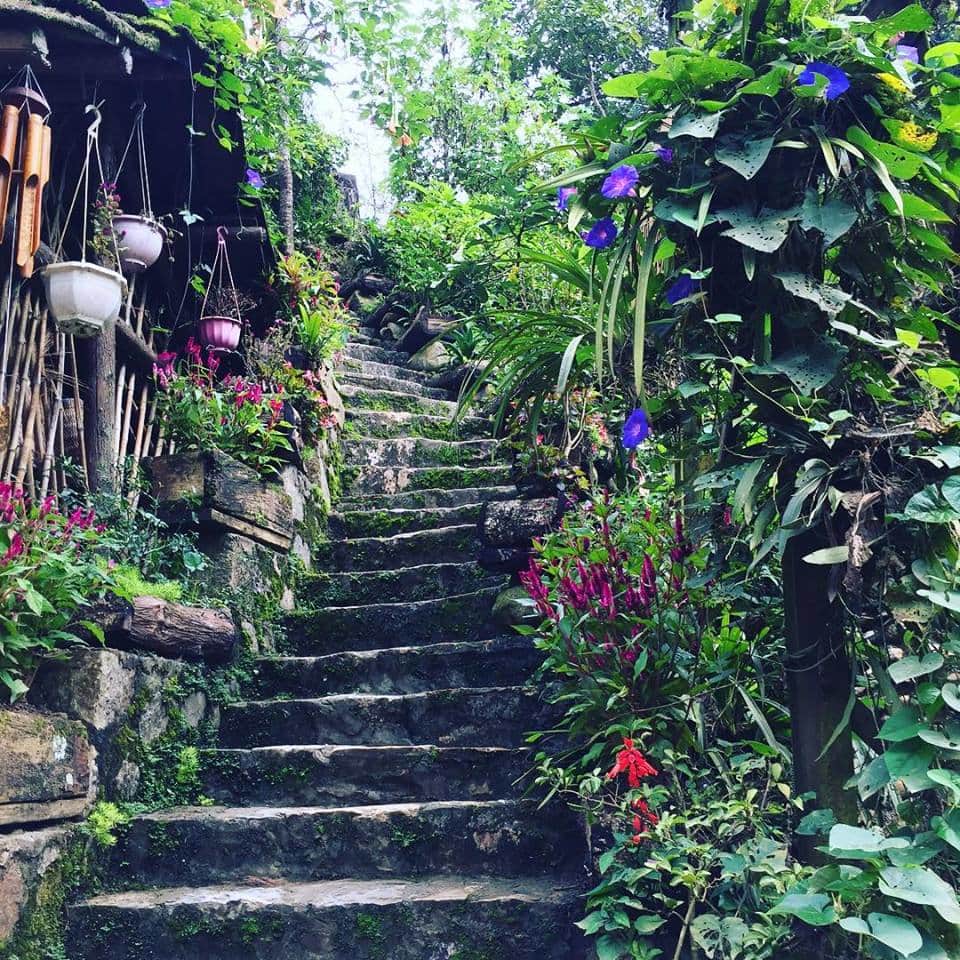 Location: 2km away from Sapa central town
Admission: 70,000VND/adult.
Ta Van Village
Located about 8 kilometers from Sapa Town,
Ta Van Village
is a wonderful alternative for a trekking trip to a hill tribe village in Sapa. The village belongs to Ta Van commune, is home to almost 150 households with approximately 1000 residents mainly from Hmong, Zay, Red Zao ethnic minorities.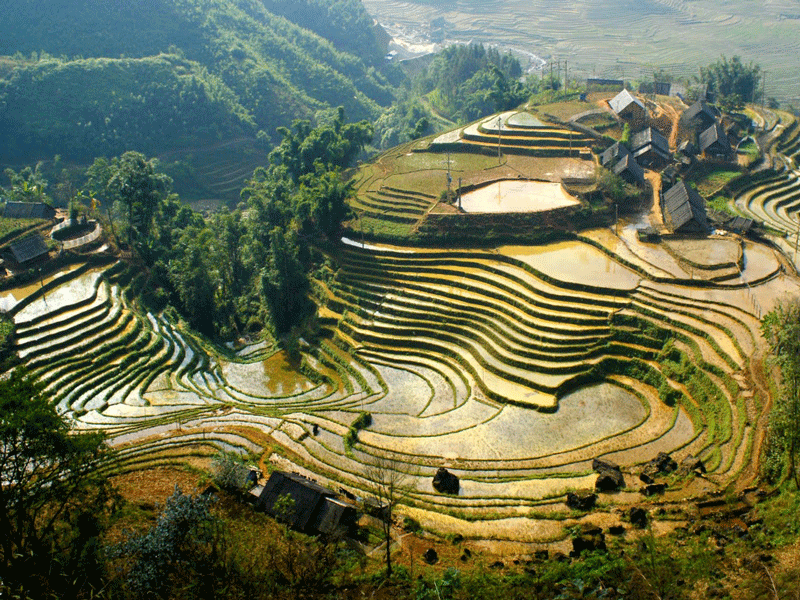 The path leading to Ta Van village is small and narrow, running through two sides of terraced fields. Coming deeper into the village, visitors can't help to be amazed by the harmonious beauty of the natural landscape and the idyllic wooden traditional stilt houses. The Zao culture shows most influence in Ta Van through their prominent Red costumes to cuisine and cultural festivals. Ta Van shouldn't be missed on your bucket list if you're looking for a true adventure.
Sin Chai Village
Sin Chai is another Hmong village with a population of 1400 peole, lying about 4 kilometers away from town's center. Sin Chai belongs to Ta Giang Phinh commune, located at the lower part of Thau Stream and the foot of Ngu Chi Son Moutain Range. From the village, you can see the mysterious Ngu Chi Son Mt, gentle curves of terraced fields, hundred-year-old Mong valley, traditional Hmong houses and more. Sin Chai is no doubt the best spot for views in Sapa.
Discover Sapa Love Market
Sapa's Love Market is one of many specialties of Sapa, celebrating the humane values in the local way of life. Hmong, Zao and many other ethnic groups hold love markets annually or monthly or in Sapa's love market case – weekly for men and women to meet and show their affection. Many young girls and boys become husbands and wives soon after. Sapa Love Market is held on Saturday afternoon, the girls will show up in colorful costumes and silver ornaments which make the festival even merrier. The boys will perform traditional dancing and singing until late. Love Market is indeed one of the best things to do at night in Sapa.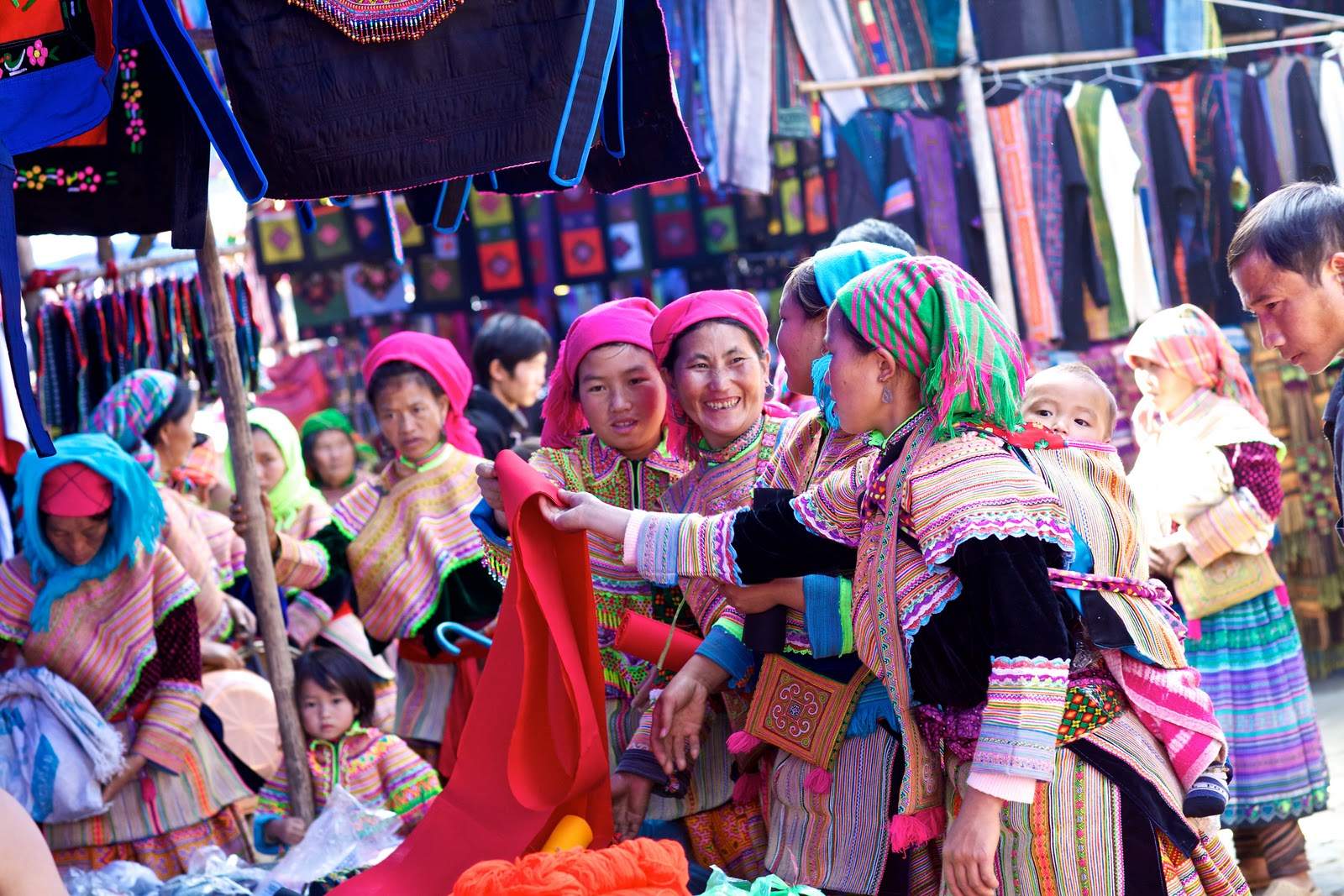 Not a life-time experience like Everest, conquering Fansipan is still an impressive feat. For your safety, it's best to book a trekking tour with a local porter to accompany you during the trip.
Admire Muong Hoa Valley from Muong Hoa Train
Just opened in 2018, Muong Hoa Rail Route which connects Sapa and Fansipan Station has risen to be one of the things to try in Sapa. The trains and the station are designed in European style with impressive architecture. Riding Muong Hoa train, you'll have chance to enjoy the views of the beautiful Muong Hoa Valley below. *Ticket: 200,000VND/adult/way, 150,000VND/child/way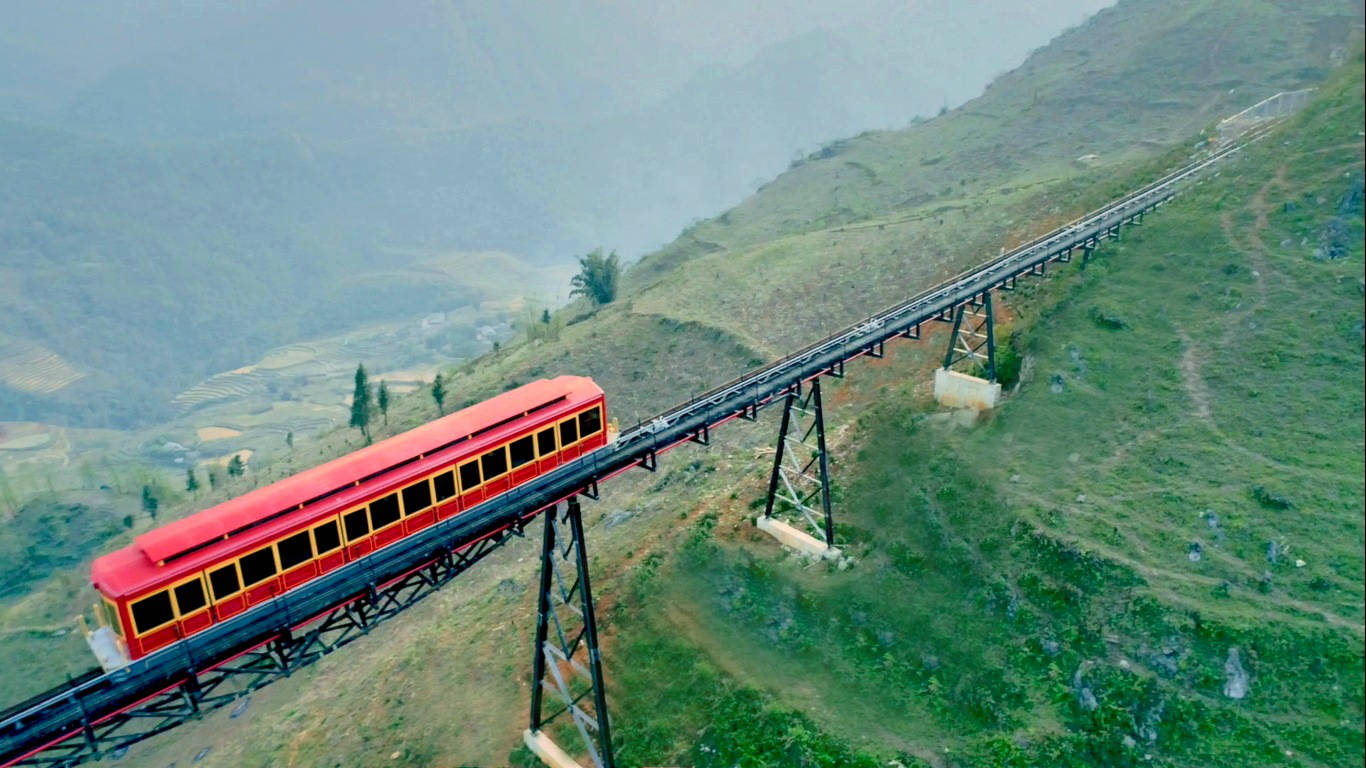 Escape the crowded town to the tea hills full of cherry blossoms
Only 7km away from the city center of Sapa, a private tea plantation dotted with pinkish cherry blossoms might be just what you need if you want to escape the crowded little town of Sapa for a little bit. You can find the beautiful, peaceful tea hills on the your way to O Quy Ho Pass – another place for sightseeing near Sapa, especially when it's sunset. The cherry blossoms are in bloom in December, so if you want to take incredible photos, this site can't be missed in your trip to Sapa. Wait for the clouds descending onto the green hills, you can see the magic of nature happen.
Day Trips from Sapa

Bac Ha Market
Bac Ha Market
is the most unique fair market in Sapa, one of the worthiest thing to do in Sapa during your visit. Every Sunday, the town of Bac Ha erupts into a colorful, vibrant and busy trading market with hundreds of ethnic minorities from the surrounding areas.Bac Ha is a compelling example of a traditional cultural practice in the wild northern Vietnam, an event which is considered just like a small festival to the people here.
Come to Bac Ha, not only you have the chance to witness an authentic local fair market, get closer to the life of ethnic people, but also you can taste some really unique and delicious foods and enjoy the hospitality of the locals here.
O Quy Ho Pass
O Quy Ho Pass, bridging two provinces Lao Cai and Lai Chau, has long been a legendary destination for local travelers. Only 18 kilometers away from the center town of Sapa, O Quy Ho would make a wonderful stop for your motorbiking half-day trip. The pass is hailed as the king of passes in northwest Vietnam, being extreme in both road's difficulty and natural scenery. The road leading up the pass's top is winding, supple as the silk. Come when the sun is setting, visitors will be moved by the beautiful landscape just like a water colored painting before the eyes.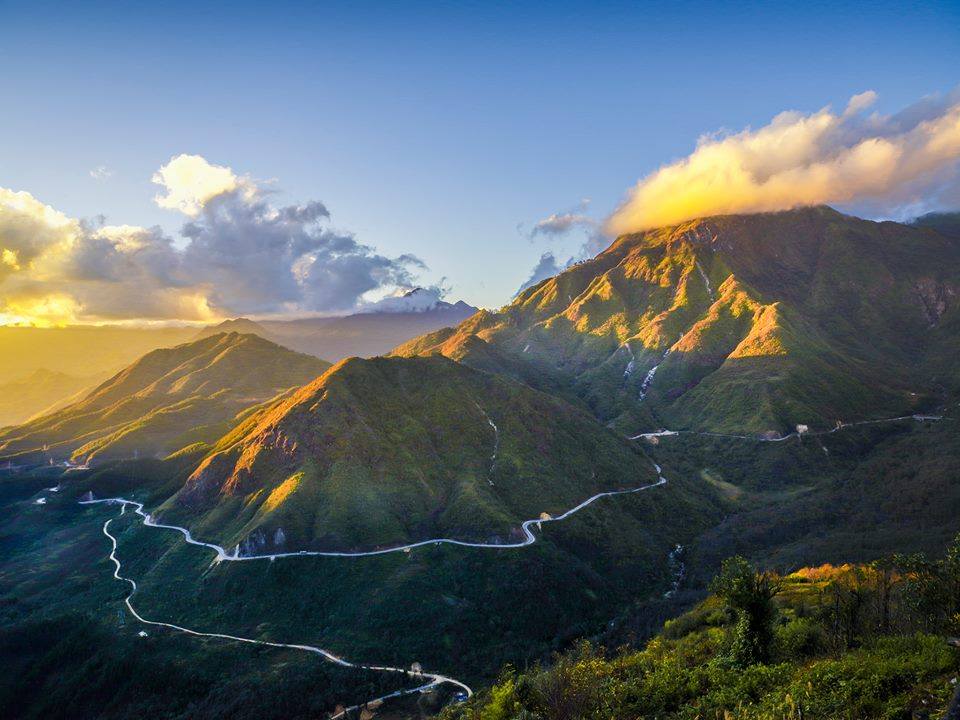 What to eat in Sapa
Thang Co
This dish is known as the traditional dish of H'mong people, cooked from horsemeat, horse's viscera and horse's bone, all made into a soup with 12 spices from cardamon, ginger, citronella, anise to cinnamon twig. When local people cook this dish, they often stew for couple of hours. The dish is served with fresh vegetable and local red hot pepper.
*Where to eat Thang Co:
Thang Co A Quynh restaurant
– Add: 15 Thach Son st, Sapa district
– Opening hours: 7.00 am – 22.00 pm
 Cap Nach Pork
A special kind of pork which is often found in Northwest Vietnam. There're quite many ways to cook this dish with different ingredient but its highlight is the fleshy, soft yet tough texture of the pork meat. It's said that the pigs living on mountainous areas are not caged and free to run around therefore their meat is so much better than regular pork meat.
*Where to eat Cap Nach Pork:
Anh Dung restaurant
– Add: 69 Xuan Vien st, Sapa town
– Opening hours: 8.00 AM- 10.30 PM Hoang Minh restaurant
– Add: number 23-24 Sapa food court (the corner of Xuan Vien st and Fansipan st)
– Opening hours: 9.00 am- 10.00 pm
Salmon Hotpot
Yes, it's true, you can eat salmon in Sapa. And it's not a rare dish here, in fact, salmon restaurants are everywhere to be found. A salmon dish that worth trying the most is Salmon Hotpot, especially in freezing days. The fish meat comes is a heaven match with the hotpot broth with a familiar sour taste from local vegetables and herbs.
– Where to eat Salmon Hotpot:
Lotus Sapa
– Add: 34 Cau May, Sapa
– Opening hours: 9.00 am-10.00 pm
Bamboo Sticky Rice
The dish is an everyday dish in Sapa, sold from roadside to luxury restaurants, fill up the stomach of travelers and local people all the same. Glutinous rice is cooked inside a bamboo tube to preserve the fragrance and sweet taste of the rice. Bamboo Sticky Rice is often eaten with sesame to enhance the taste even more. Where to eat bamboo sticky rice: you can find this dish anywhere in Sapa: restaurant, market or roadside eateries.
How to get to Sapa
Since Lao Cai Airport is still just a plan until 2020, from Hanoi, you still have to choose either bus or night train to get to Sapa.
– By Train:
There're two type of train to Lao Cai – local trains or tourist trains. Average time traveling by train is about 8 hours with slow trains and about 7 hours with tourist trains. SP = New Trains, LC = Old Trains.
Tourist trains are: Livitrans, TSC Express, Hara Express, Fanxipan Express, King Express, Orient Express.
* Schedule for Lao Cai Trains: SP1 (21:40), SP2 (20:35): Tourist trains with air-conditioned soft sleepers only.
Most of these trainsconsists of privately-run sleeping-cars for tourists, including Fanxipan, King, Ratraco, Orient Express, Royal, TSC, Tulico, etc.
– SP3 (22:00), SP4 (21:10): Recommended train with very few stops. Air-con soft sleepers and air-con hard sleepers only. These trains consist of privately-run sleeping-cars including the Sapaly Express Train, TSC, and the Victoria Express Train.
– SP7 (20:30), SP8 (19:40): Earlier trains. Air-con soft sleepers, air-con hard sleepers, air-con soft seats. Conveys privately-run Livitrans sleeping-cars.
– LC3 (6:10), LC4 (10:05): Daytime trains. Tea, coffee & snacks are available on board.
– LC1, LC2: Slower overnight trains. Air-con hard sleepers, air-con soft seats, air-con hard seats, non-air-con hard seats. No soft sleepers.
The price for trains often varies depending on the type of train and amenities.
– By Bus: 

Thanks to the new Hanoi – Lao Cai Expressway that has been opened for the recent years, the time traveling by bus from Hanoi reduces down to 4 to 6 hours. Most of the buses are sleeper buses so you don't have to worry about the comfort. Bus stations in Hanoi: Luong Yen and My Dinh.
+ Price: from 180,000VND to 350,000VND
+ Reliable Company: Sapa Express (however, Sapa Express buses don't depart from bus stations but from its office or Noi Bai Airport).
When is the best time to visit Sapa
Thanks to its high altitude, Sapa enjoys one of the most favorable weather in Vietnam with average temperature for all year round is 15 degree Celsius to 30 degree Celsius and humidity from 83-87%. You can visit Sapa almost all year round because every month there is something to see in this lovely highland town of Vietnam.
In summer time, Sapa makes a great getaway from the busy, heated cities. Sapa in summer is much milder than lower regions. Sapa in this time is mostly hot for domestic travelers. For foreign tourists, Sapa is best to visit in either March-May or September-
December
. Especially in later months of year, Sapa shines with the golden terraced rice fields everywhere you go.
How much time should I spend in Sapa?
Sapa is pretty far from Hanoi and it takes hours to get to the town, plus there're so much to see at Sapa and surrounding areas, so we suggest to spend
at least 2 days
and ideally
four days to enjoy your trip
.
We've shown you all the best things to do in Sapa, together with the most updated information on how to get there, where to eat, and Sapa attractions' admission tickets.
Contact us
now for more detailed itineraries to Sapa with a quotation.