You're planning to take a Hanoi day trip to Ninh Binh and spend time there for 2 days or more? Click to see how to get to Ninh Binh from Hanoi and more ideas for a 2-day itinerary in Ninh Binh – the UNESCO protected world natural and cultural heritage in Vietnam, often called 'The Halong Bay on Land'.
How to travel from Hanoi to Ninh Binh
---
Ninh Binh is located just 100km south of Hanoi, about 2 hours driving, making it an easy day trip from Hanoi. You can get to Ninh Binh by train, bus and motorbike.


Hanoi to Ninh Binh Train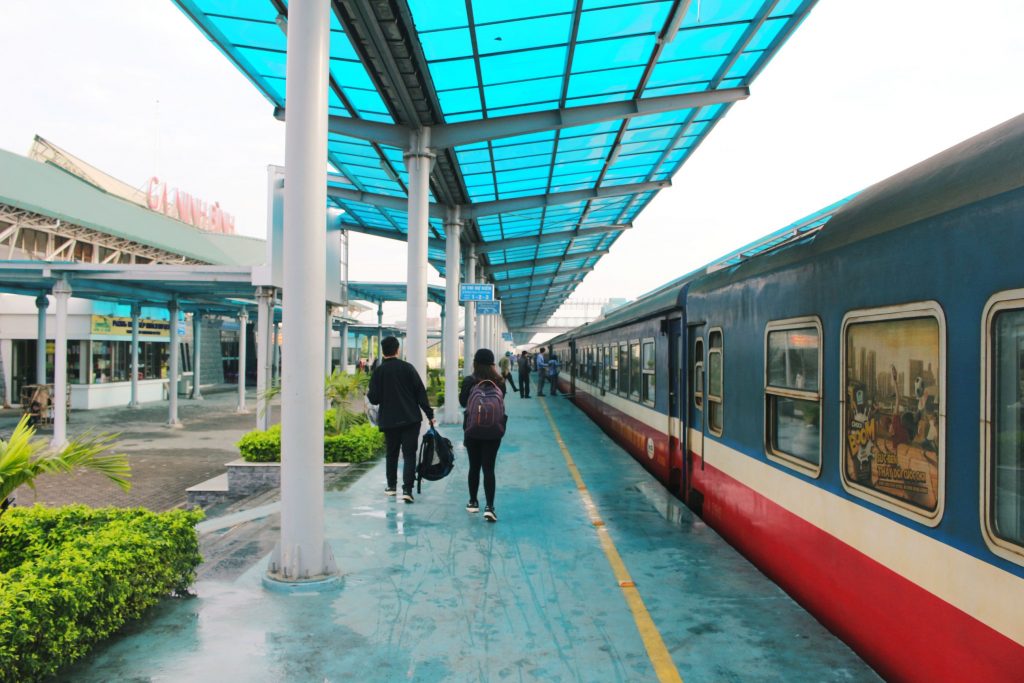 Thanks to the close proximity, there are 6 trains running daily from Hanoi to Ninh Binh back and forth (SE5, SE7, SE19). The journey takes about 3 hours which is much longer than what other means would take. However, the reason train is a worthy transport means from Hanoi to Ninh Binh is its affordability with soft-seat ticket starting from 80,000VND (~5USD) per person.

You can expect the train to be clean, quite comfortable and there are snack sold by the railway staff.


Bus from Hanoi to Ninh Binh

By bus, you can catch buses to Ninh Binh at bus station. Giap Bat and My Binh bus stations both have buses and vans running to Ninh Binh every day. Buses often depart only when the seats are filled. To get to these stations, you can take a Grab or taxi, or public bus. Giap Bat station closes at around 5.30pm/6pm so get there before the closing time or else finding bus to Ninh Binh would be difficult.

Sleeper buses are also available if you want to take a nap before arriving. The journey takes about 1,5-2 hours depending on the traffic and costs about between 100,000VND and 160,000VND per person. Expect that the bus will stop several times to recruit or drop off passengers.

Ask the driver to drop you at Ninh Binh City.

You can also go to Ninh Binh from Hanoi by taxi which would cost you from 60-100USD one-way. If you love riding motorbike, you can rent one from Hanoi and drive yourself to Ninh Binh quite easily. Tip is that you can stop at Perfume Pagoda along your way.
Traveling to Ninh Binh from other places

From Halong Bay to Ninh Binh

You can get to Ninh Binh from Hanoi by a direct bus from Halong (GreenLion). The journey will take about 6-7 hours. The cost is 11USD per person. Sleeper berth buses are available.

From Cat Ba Island to Ninh Binh

You'll have to navigate to Hai Phong from Cat Ba before catching bus to Hanoi then to Ninh Binh. Expect a combined journey of boat and car, through many stops. There are companies that can arrange both boat ticket and car ticket.  

From Sapa to Ninh Binh

You can take bus or train back to Hanoi from Sapa, then go to bus station to catch a bus to Ninh Binh. Buses from Sapa to Hanoi take about 4-6 hours to arrive at Hanoi through the new expressway.

Train from Sapa will run overnight. Choose this option if you don't want to exhaust yourself with 8 hours on the bus.


Recommended 2-Day Itinerary in Ninh Binh from Hanoi |What to do in Ninh Binh
---
You should spend at least two days in Ninh Binh to take in all the greatness of this double heritage for both natural and cultural values. You can always stay longer to explore further which we recommend all travelers to do if can.


DAY 1: Ninh Binh's Main Points of Interest

For this first day, a throughout visit to all the best bits of Ninh Binh is a what you should do.
Trang An Landscape Complex – Boat Ride and Temple Visit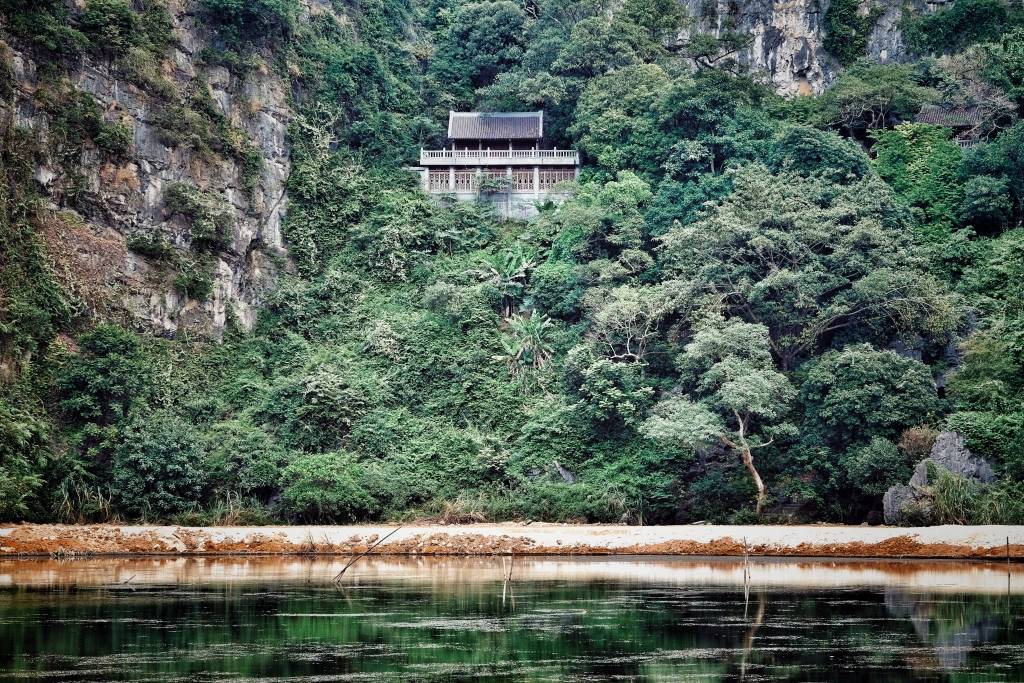 Protected as UNESCO's heritage, Trang An just has so much to offer. Spend at least two hours here before moving to any other place.

A sampan boat ride will take you through magnificent limestone islands and islet. This is the part hailed as the 'Halong Bay on Land'. Along the river, you'll see beautiful caves, grottoes, hidden temples, floating temple….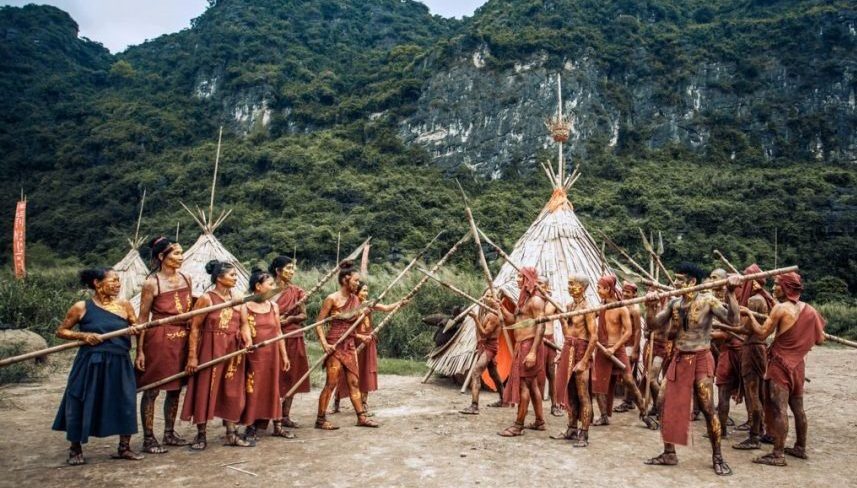 Here are what to see in Trang An:

Kong: Skull Island Movie Set: a tribe village is set exactly like in the movie. This is also the place where the Hollywood blockbuster was filmed.

Dia Linh Cave, Sinh Duoc Cave and Vu Lam Royal Step-Over Palace are also places you shouldn't miss visiting when come to Trang An.




Tam Coc Bich Dong: Boat Ride, Cycling to the countryside, Hike to Mua Cave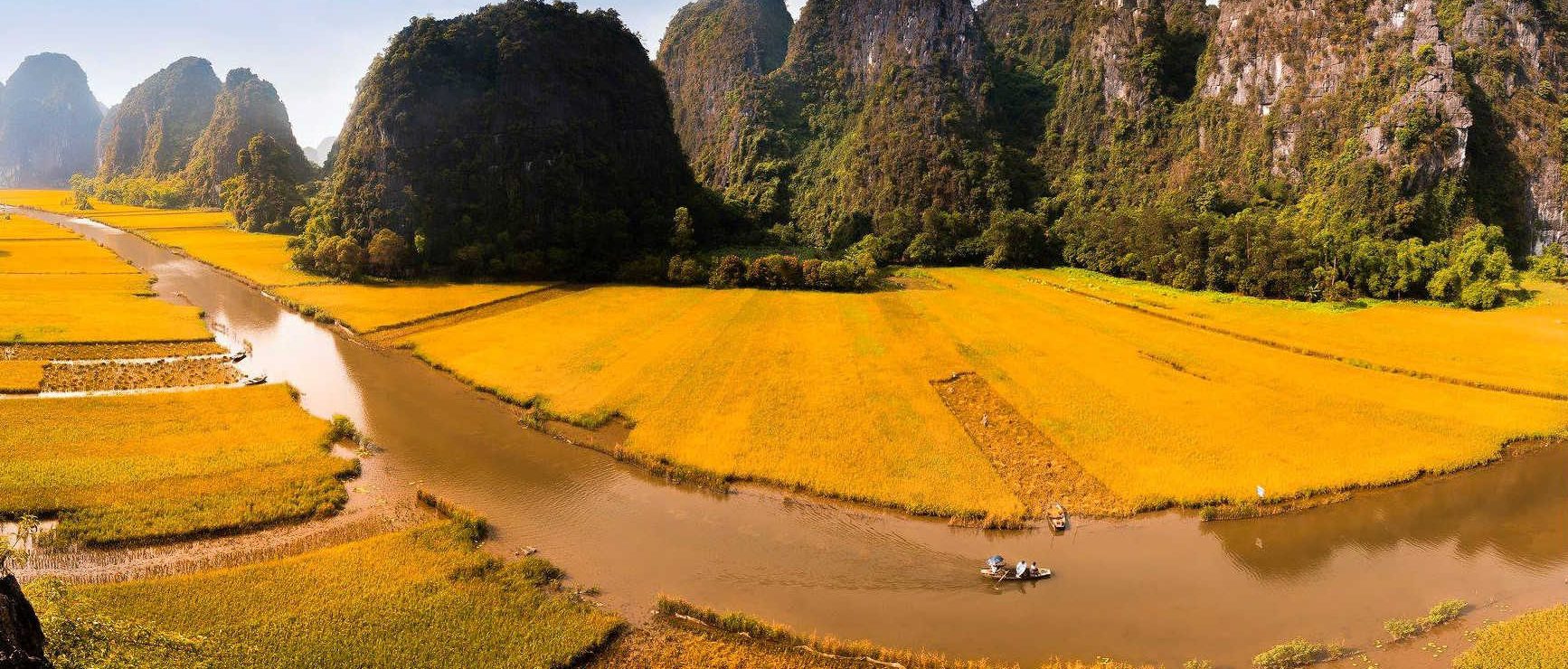 Another boat ride will take you to visit some of the most spectacular sceneries of Vietnam. If you visit Tam Coc Bich Dong in harvest season, the floating rice fields on the two sides of the river will turn golden. It's just a magical scene to witness.

Tam Coc is the three-cave system which is hailed as one of the most beautiful cave systems in Vietnam. Bich Dong is a 15th century pagoda complex on a mountaintop. The women rowers will showcase their mad skills of rowing with their feet and don't forget to film a video.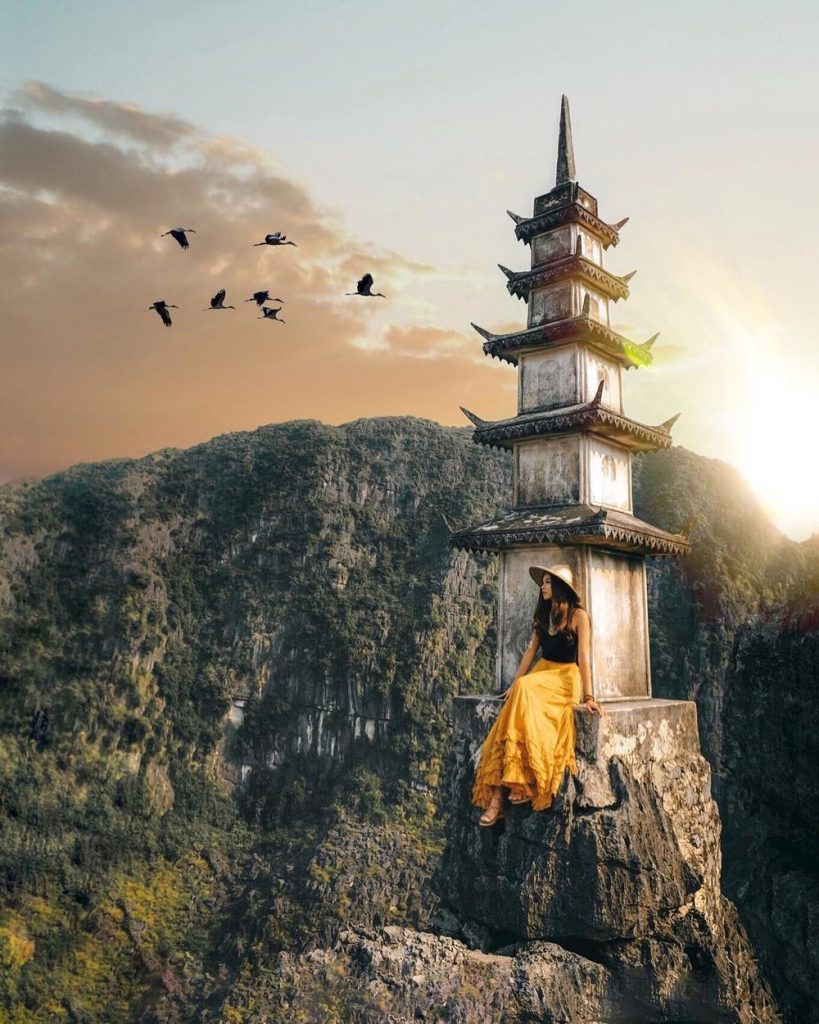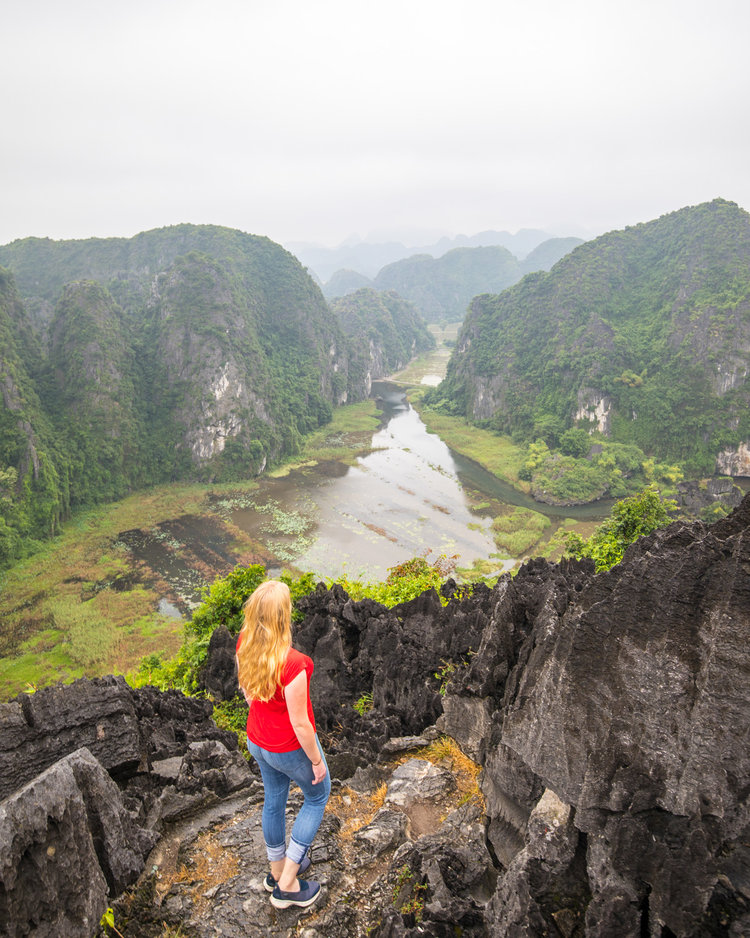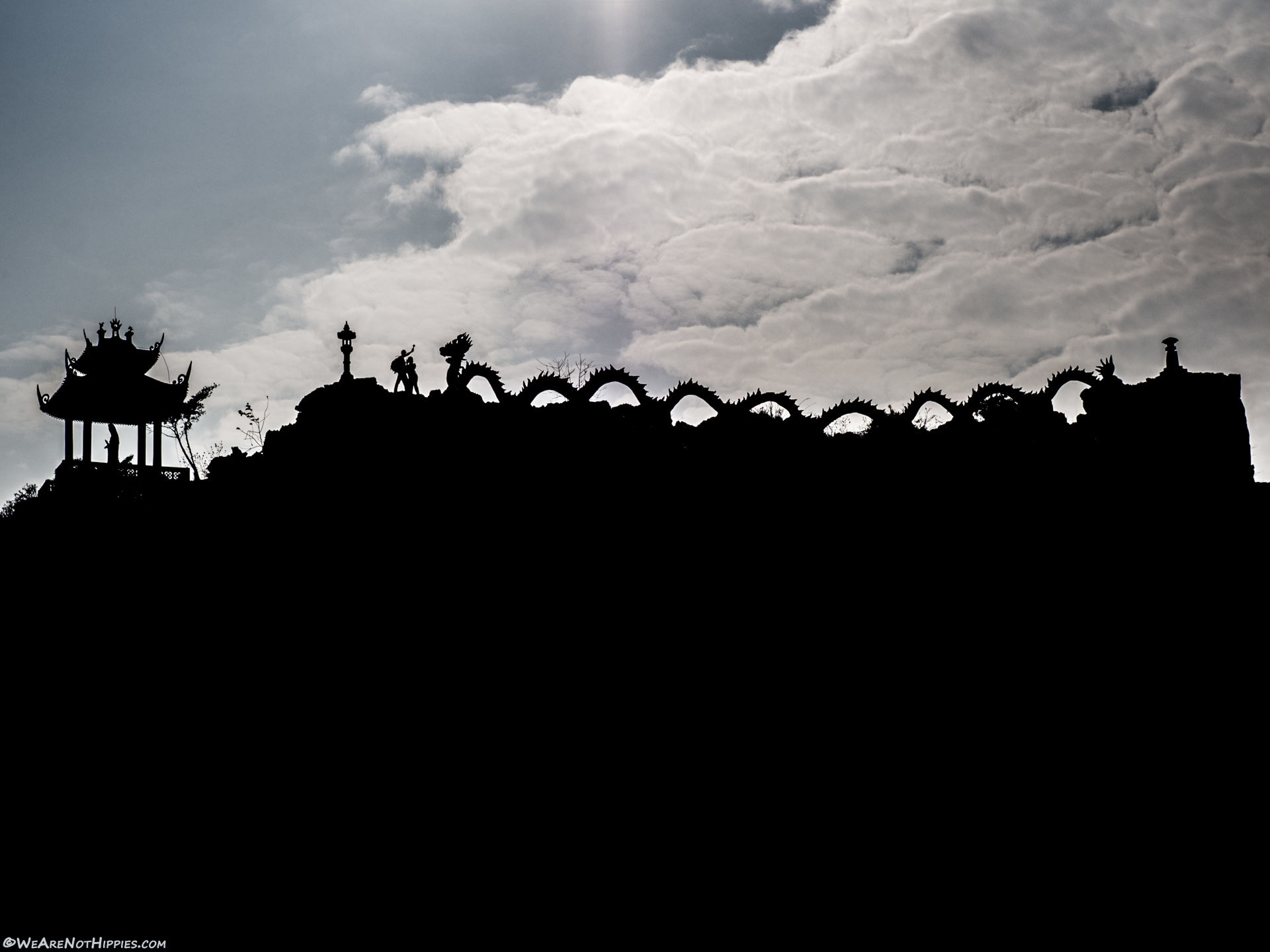 In Tam Coc, you can also do bicycling to enjoy and take in the beautiful, peaceful countryside of Ninh Binh.

Through Tam Coc, you can visit a trendy destination in Ninh Binh in recent years, it's Mua Caves which have what seems to be the most magnificent viewpoint in Vietnam right now. You'll climb almost 500 steps to the top of the Lying Dragon Mountain to see a huge stone dragon statue lying there. Do this late in the afternoon when it's just perfect for sunset view. However, get down before it becomes to dark.

>>>> Want to see Tam Coc in its best time of year for a cheaper price? Click now!!!

Bai Dinh Pagoda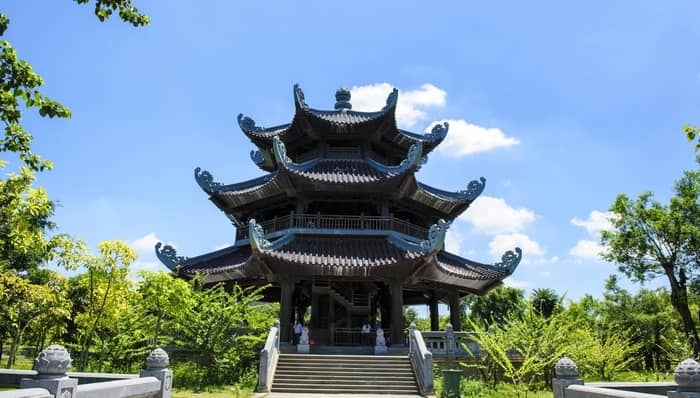 If you have time, a quick visit to Bai Dinh Pagoda before ending the day would be a wonderful experience.

This pagoda has been the largest pagoda in Vietnam until 2019 (now the largest (in the world) is Tam Chuc Pagoda in Ha Nam). Come to Bai Dinh, you'll enjoy the architecture and the scenery on the pagoda's chedi.
DAY 2: Discover in Depth – Finding the Mermaid statue in Van Long
Hoa Lu Ancient Capital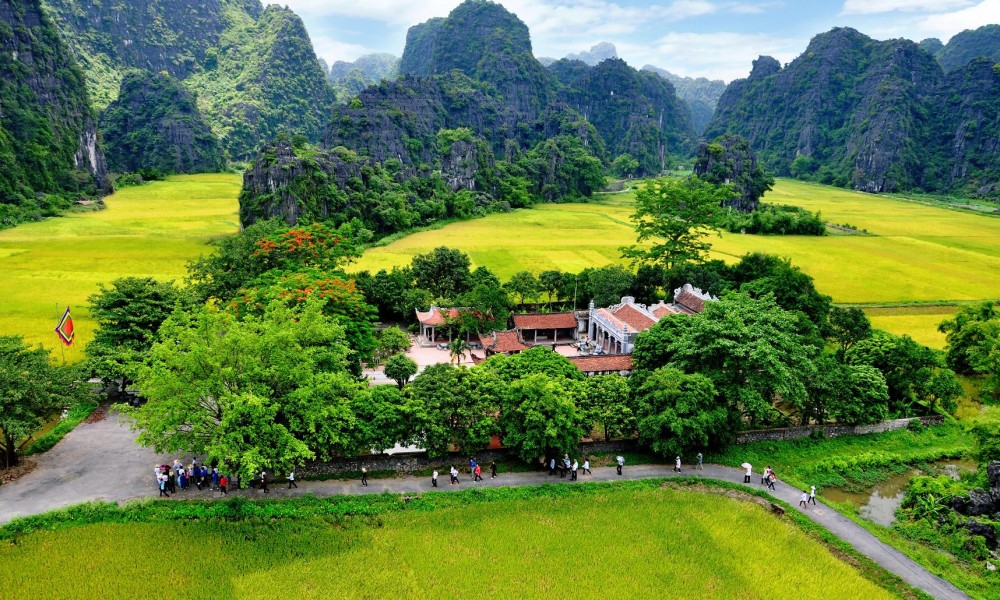 As Vietnam's defensive capital before Thang Long Hanoi, Hoa Lu was established in 10th and 11th centuries. Most of the layers of the citadels, palaces, temples and shrines was destroyed, only a small part remains. A complex of pagoda and shrines is what you find visiting Hoa Lu today. Most important temples in Hoa Lu are Tien Hoang temple Ding Le Dai Hanh temple.
Phat Diem Cathedral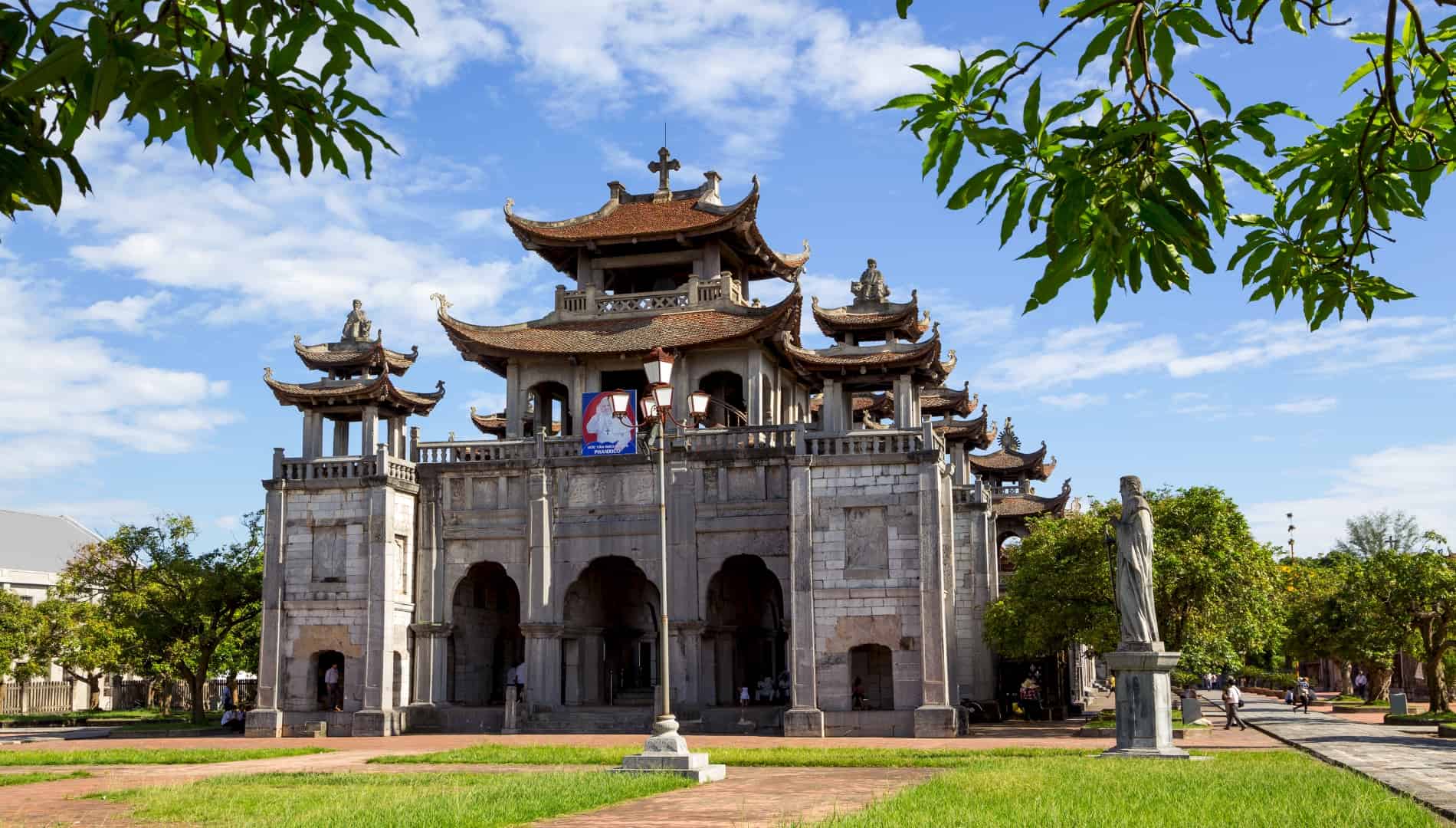 This one has a special architecture which you almost can't find anywhere else in Vietnam. A Catholic church is built in a traditional Vietnam Buddhist architecture. One more special thing is that the church was entirely made of stone and ironwood. Phat Diem Church is one special destination you shouldn't miss.
Van Long Nature Reserve
This place can be your favorite part in the whole Ninh Binh. Another boat ride in Van Long Nature Reserve will take you to the richest, most pristine wetlands in North Vietnam. As the home of more than 40 species of wild birds, this is the perfect place to watch these wildlife.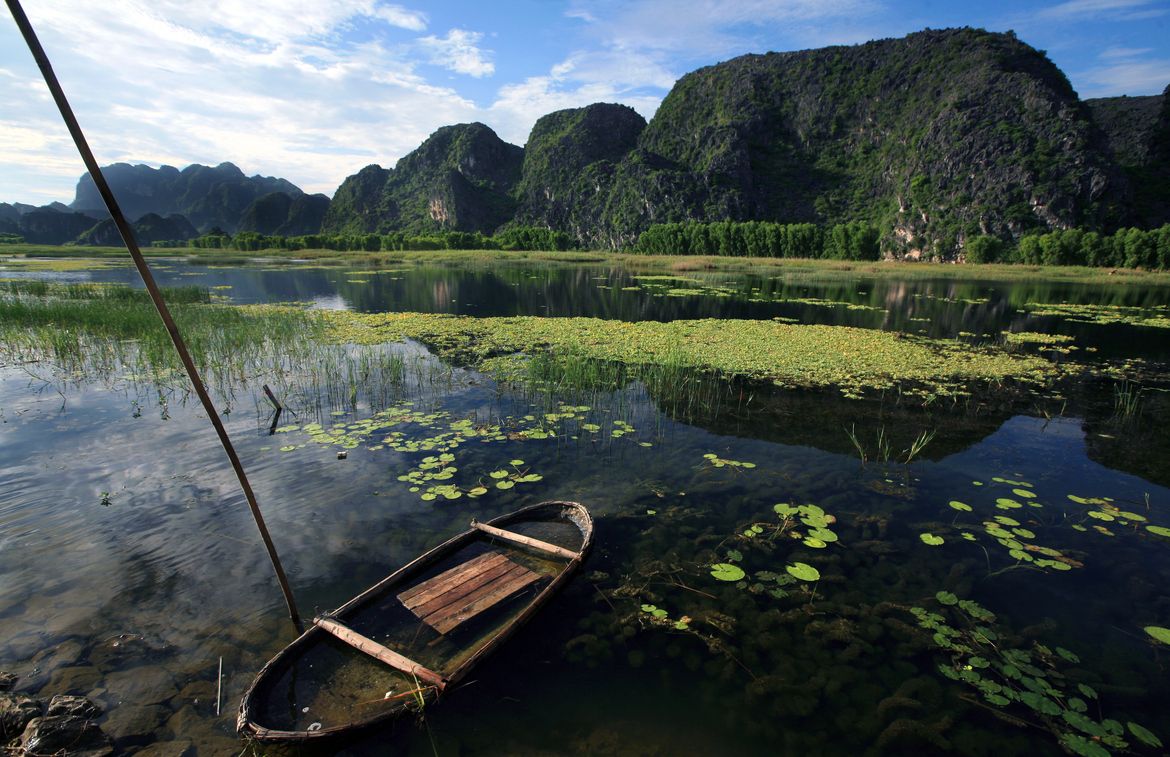 The nature landscape in Van Long is just beyond words – it's gentle, peaceful and harmonious.

Mermaid Cave would be a fun excursion where you'll set out to find the tiny Mermaid Statue which is well hidden within the cave.


Cuc Phuong National Park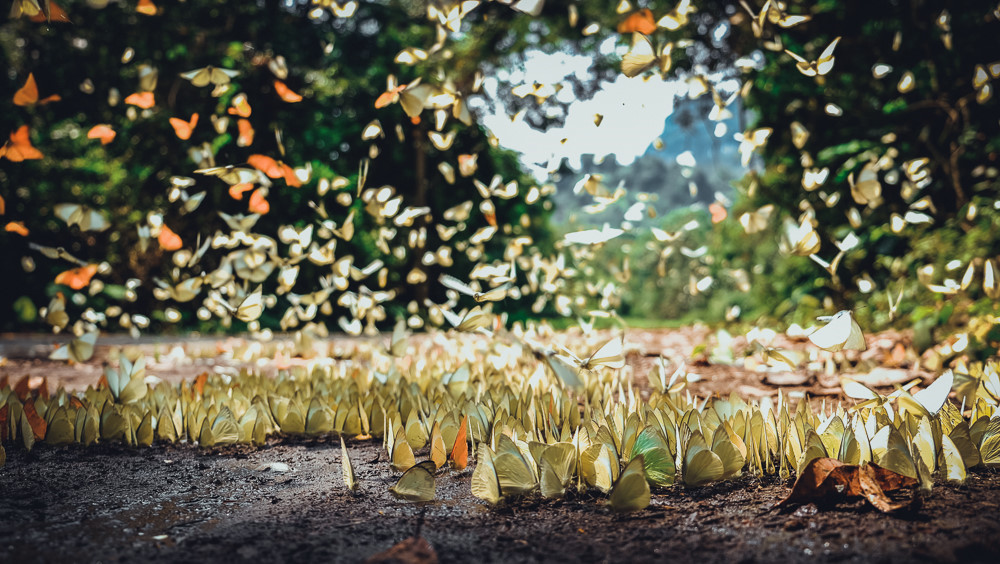 If you still have time, we suggest you to visit Cuc Phuong National Park – the oldest as well as the largest National Park in Vietnam.

The park has everything you would expect – green canopies, butterflies, thousand year old trees, ancient people cave and lush valleys. With a ride range of diversity of wild life, you might see some wildlife during a short trek into the park.  

Above is our recommended itinerary to Ninh Binh in two days for you. Contact us for quote and more details!
Hanoi to Ninh Binh Itinerary with Halong Bay or Phong Nha Ke Bang
---
If you have even more time budget, why not combine Ninh Binh with other beautiful destinations in North Vietnam. Our recommended itineraries for you:
Day 1: Arrive in Hanoi, Half-day City tour

A city tour will take you to Hanoi's most highlighted attractions such as: Temple of Literature, Hanoi Old Quarter, Water Puppetry Theatre, and more.

Day 2: Transfer to Halong – Overnight Cruise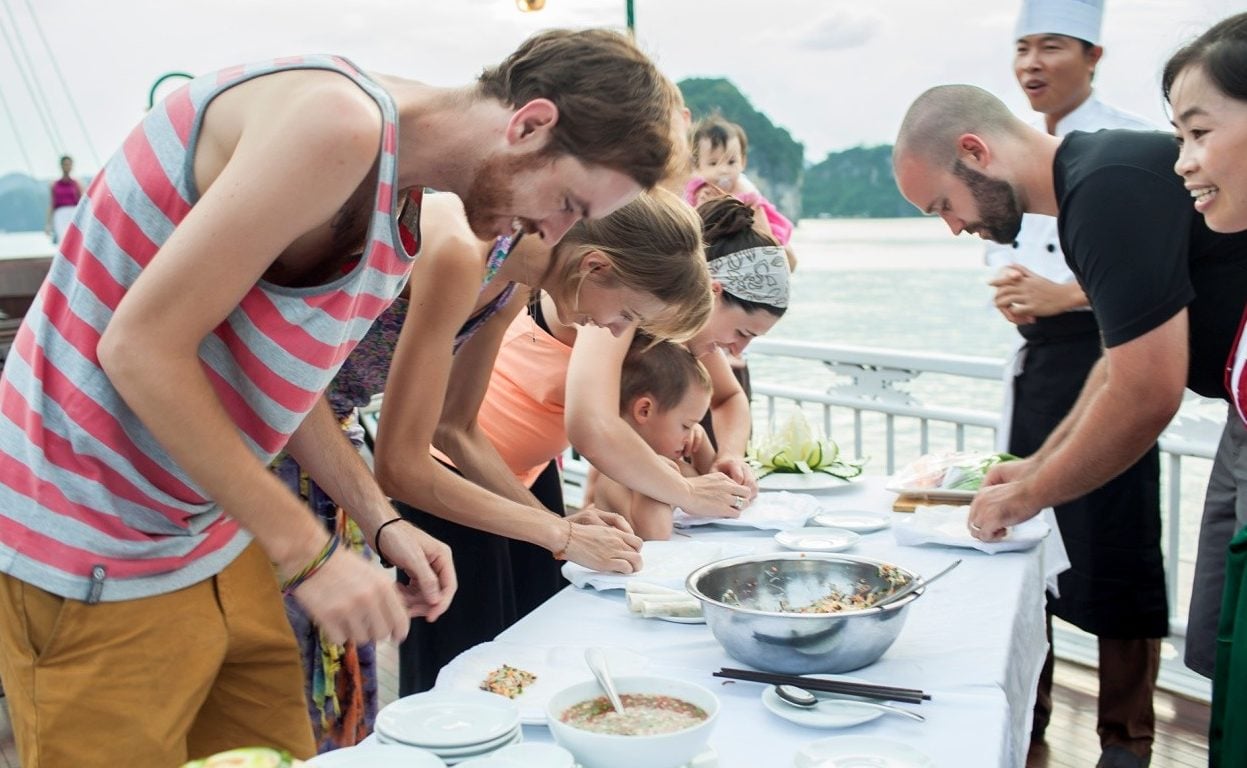 Let our cruise take you through the scattered limestone islands and islets on the green bay of Vietnam. You'll see how nature played with water and rock to create such masterpieces like Fighting Cocks, Dinh Huong Islet and more. Visit the beautiful caves Dau Go and Sung Sot to witness the true magnificence of nature.

The overnight cruise will give you chance to take in the sunset view on the world natural heritage.

Day 3: Half-day Cruise and transfer to Ninh Binh

After Tai Chi Class, you continue you excursion to a cave or a floating village. In late afternoon, transfer to Ninh Binh and stay overnight to rest before a full-day tour next day.

Day 4: Hanoi to Ninh Bay – Full Day Tour

Visit Trang An, Tam Coc and Dinh Le Temples to admire the nature beauty and the cultural heritages at once.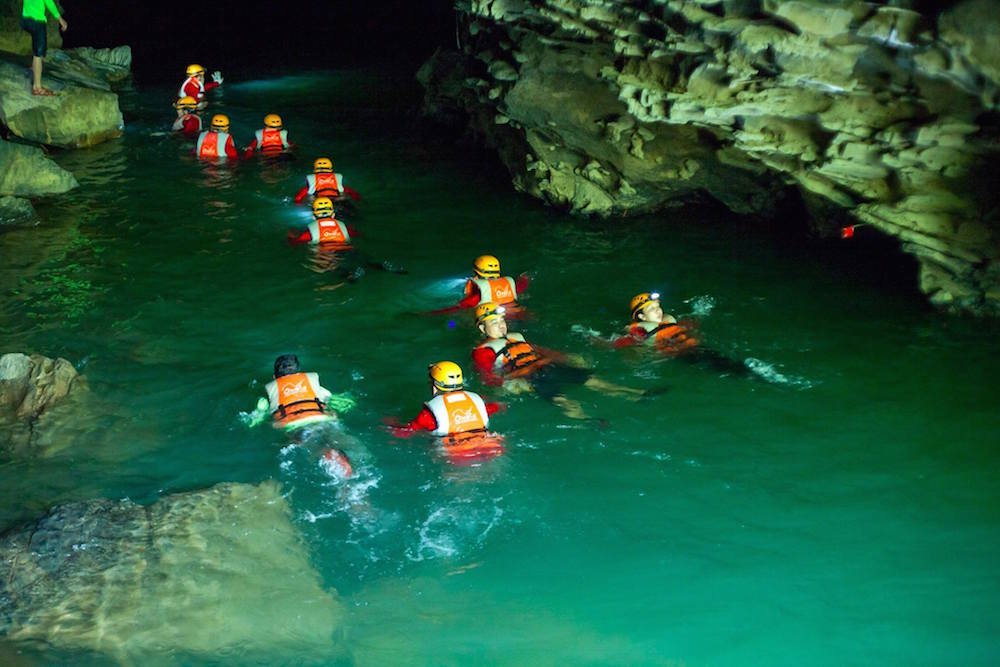 Day 1: Hanoi Arrival – Food Tasting

Arrive in Hanoi and spend the afternoon to wander around enjoying Hanoi Street Foods. 

Day 2: Ninh Binh Full Day

Boat ride to Tam Coc. Explore Van Long Nature Reserve. Visit Mua Caves and other attractions in Ninh Binh. Enjoy bicycling to the Ninh Binh's countryside to enjoy the peaceful scenery.

Day 3: Ninh Binh – Halong Overnight Cruise

Transfer to Halong to board on a cruise to visit World's nature heritage. Discover the beauty of Sung Sot Cave, Titov Island, Titov Beach. A lot of activities are prepared for you.

Day 4: Halong – Phong Nha Ke Bang National Park

Enjoy a half-day cruise and a cooking class on Halong Bay.

Return to Hanoi to catch train to Quang Binh for Phong Nha Ke Bang.

Day 5: Phong Nha Ke Bang 

Discover around Phong Nha-Ke Bang: visit Bong Lai village, Gia Hung village, Wild Boar Farm to enjoy the refreshing nature.

Day 6+7: Tu Lan Trek

Two full days of trekking to Tu Lan Cave – the greatest alternative for Son Doong Cave. Activities including picnicking, swimming, trekking…

Day 8: Depart from Quang Binh
Tips and Info for Trip to Ninh Binh from Hanoi
---
Admission ticket and boat ride fees:
Van Long Nature Reserve: 20,000VND/person, boat fee 60,000VND/2 guests
Dressing Code: When visit the temples and shrines, remember that Vietnamese people don't appreciate skin exposure or see-through items at sacred places. Wear long-sleeved tops and pants.
---
Are you considered Ninh Binh your next Vietnam destination? Contact us for more information or send your request to our email booking@asianwaytravel.com to have our experts start design your trip today.