Nha Trang has always been known to visitors from all around the world for its beautiful beaches and islands, richness in aquatic life and an active nightlife. If Nha Trang isn't in your Vietnam's bucket list, your trip to Vietnam will surely be a miss.  Here are your top 14+ easy and exciting things to do in Nha Trang while in Vietnam.
Things to do in Nha Trang
---
1. Nha Trang Bay
Often listed as one of the most beautiful beaches in the world, Nha Trang Bay boasts its beauty with the blue beaches, wild islands, gentle waves and fresh air. Anyone will find their best relaxing time here on 19 islands with all shapes and sizes and things to do. The Bay is home to most of the rare typical ecosystems of tropical sea such as coral reefs, mangroves, sea grass, as well as valuable animals including swallow, sea turtle, red coral, and more…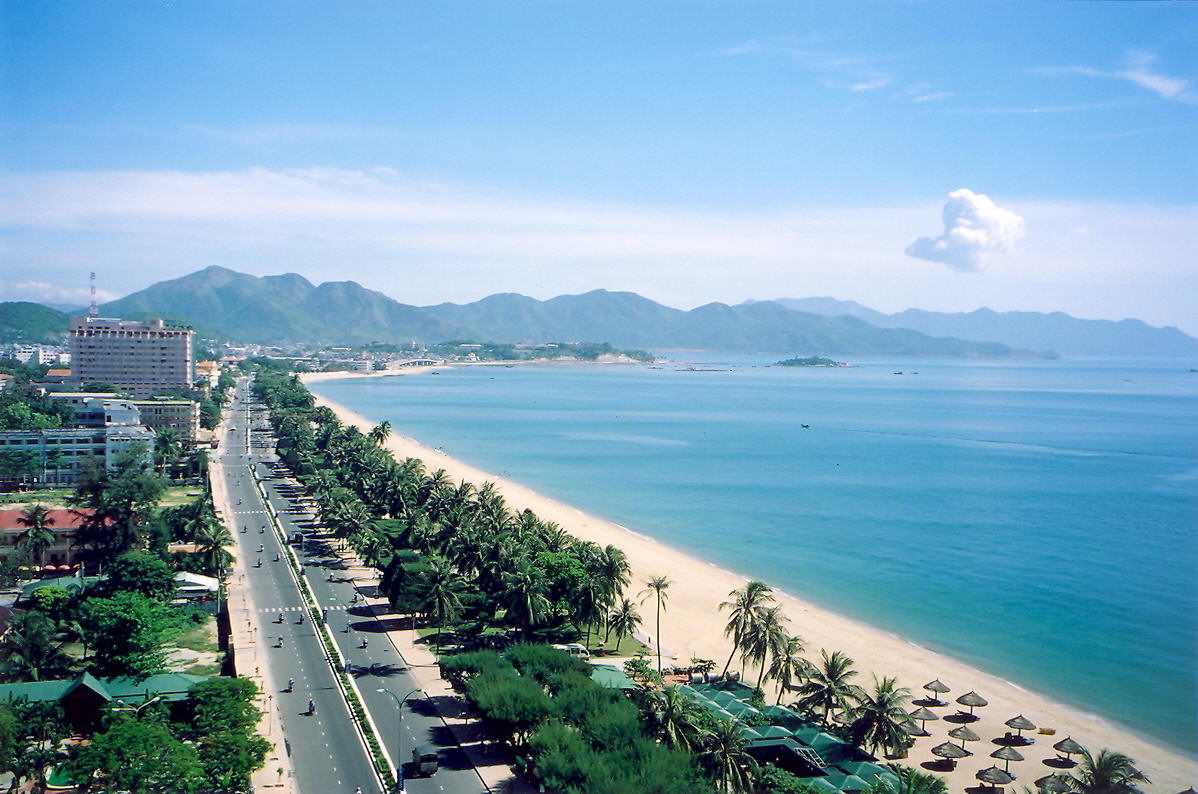 Nha Trang Bay offers you chance to visit the worthiest islets in terms of nature and sightseeing: Mun Islet, Tam Islet, Mieu Iset and Noi Islet.
2. Po Nagar Cham Towers



Po Nagar Towers is the most well-preserved representative of Cham Culture in Central Vietnam besides the World Heritage My Son Sanctuary. Visiting Nha Trang without seeing this masterpiece of architecture and culture would be a mistake! Each tower in Po Nagar with the prominent Champa architecture, was built to honor different deities.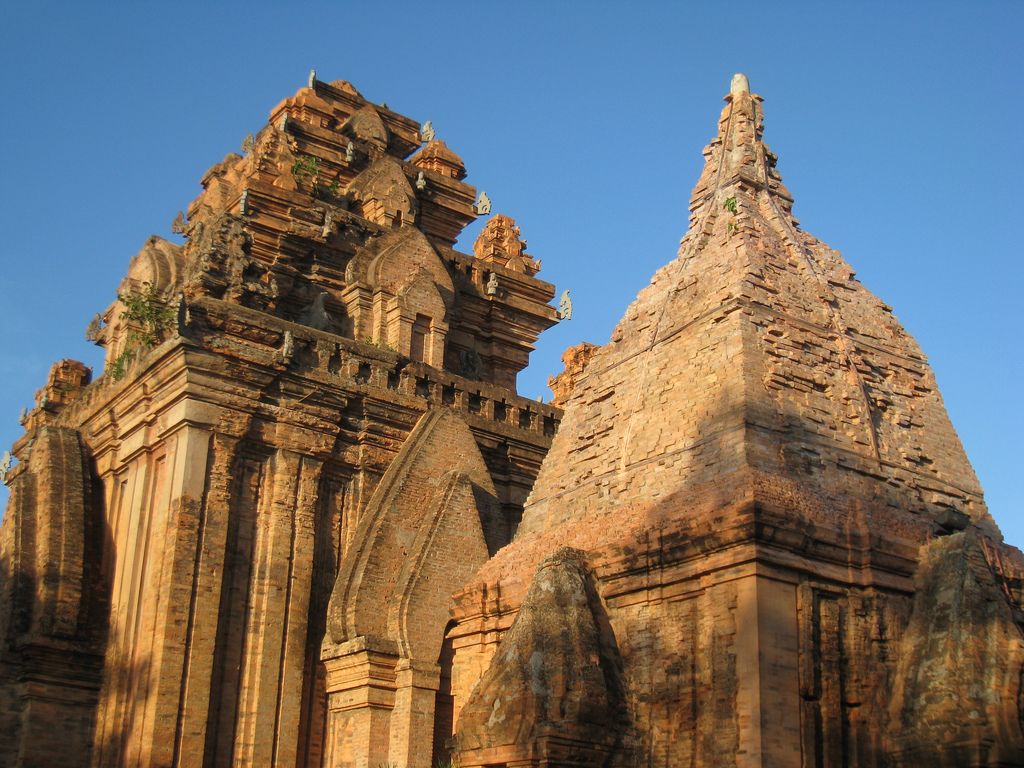 Come to Nha Trang from April to May, you might have the chance to join the bustling annual festival held at the towers.
Entrance fee is only $1 and the site is open from 7:00 – 19:00.
3. Long Son Pagoda



The reason why this pagoda should be on your list is the huge white Buddha statue lying on the hillside right behind the major compound. The statue is 24 meter high, making it visible even when you're at the ground. The protest of local monks against Diem regime are also remembered through the portraits at the statue's base. Long Son pagoda is just 400m west of the train station and can easily be reached.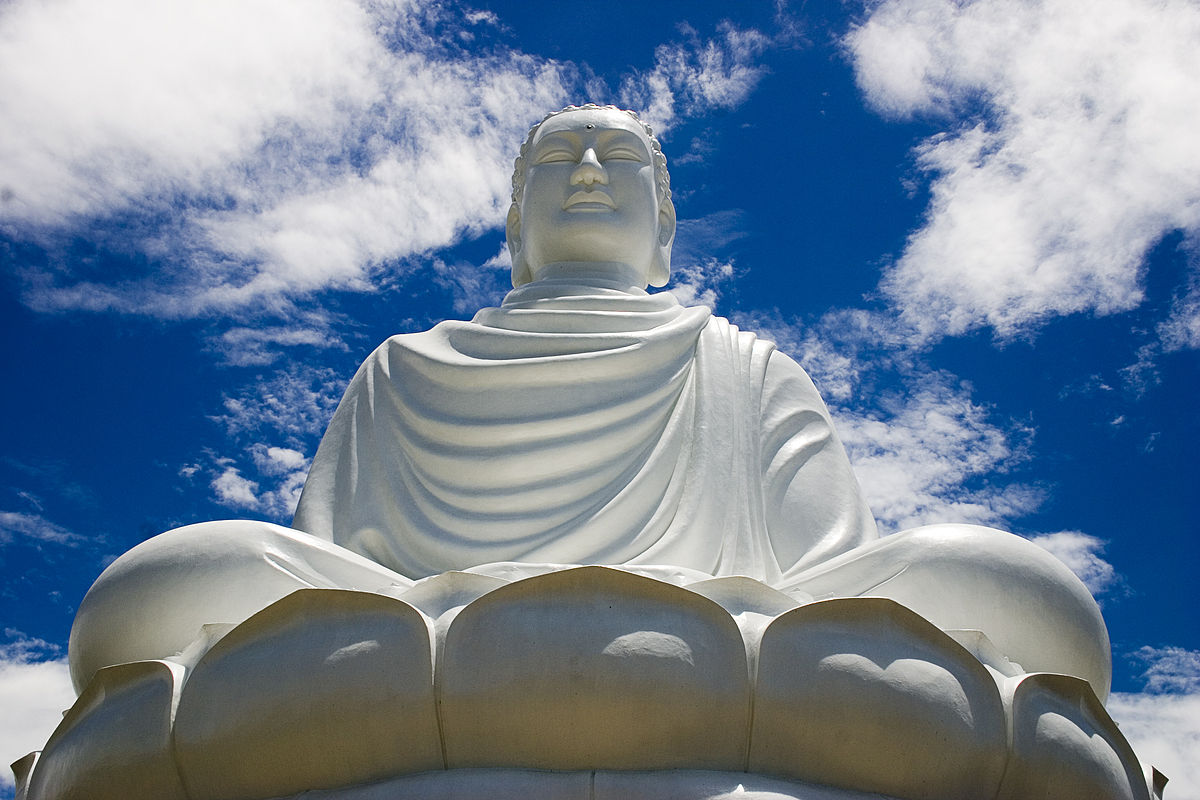 Opening hours: 7:30 – 11:30 and 13:30 – 17:30, daily
Location: at the end of Xom Bong Bridge, 2 km out of Nha Trang city's centre
4. National Oceanographic Museum



Come to National Oceanographic Museum, you'll see about 60,000 jars of pickled marine specimens, stuffed sea mammals and birds and a lot of displays of fishing artifacts and local boats which might be the most extensive collection of aquatic life in the Eastern Sea.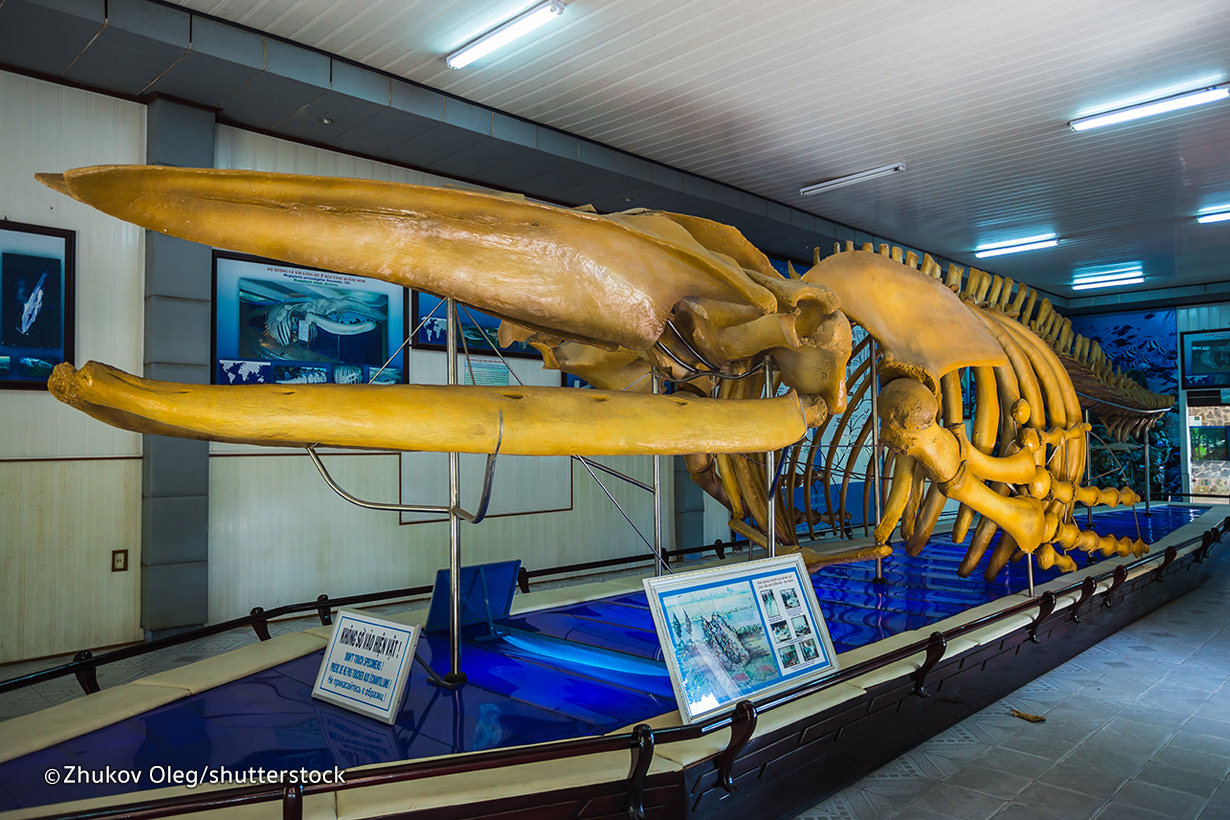 There are two floors to discover: on the 1st floor where the fish tanks are located and the 2nd floor is home to 18-m long whale skeleton. The whale skeleton is absolutely a sight to behold.
Opening hours: 6:00 – 18:00 daily
Location: no.1 Cau Da, Nha Trang
5. Get a photo of the iconic Hon Chong Promontory



This site is just too iconic to miss when in Nha Trang. Located just 3.5km away north of the city centre,
Hon Chong
is a massive and unique rock setting lying off the beach just a little. The scenery is beautiful, combining with the tranquil atmosphere of the area which would makes a great place for you to enjoy the sunset.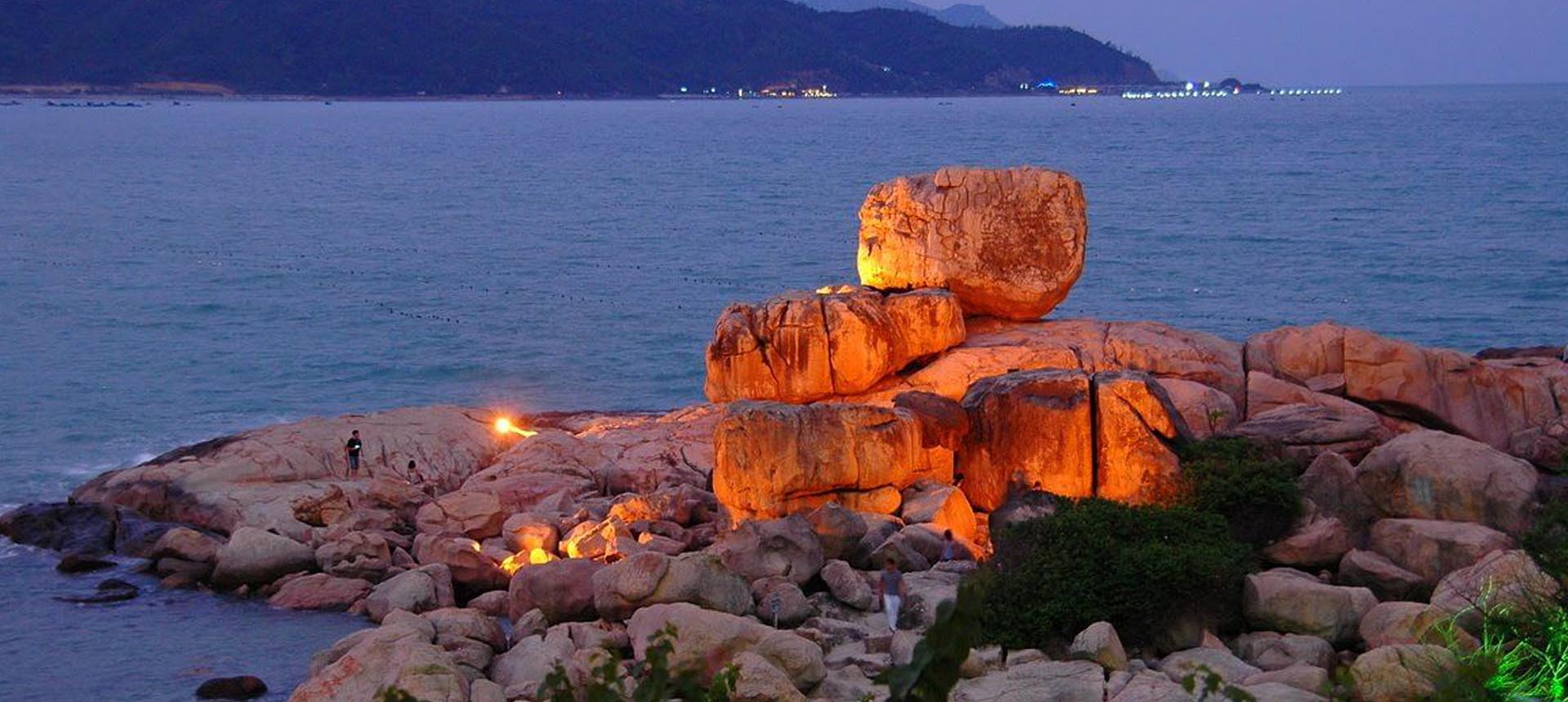 For those who love to admire the wonders of nature, remember to spend time at Hon Chong Promontory – a place you can't find anywhere else outside of Nha Trang.
6. Relax at Nha Trang beaches



Nha Trang is known for its incredible blue beaches with the long, white sand banks that stretch gracefully along the city. Not just the beautiful beaches, Nha Trang also has a wide range of beach resorts and recreational activities you can enjoy.

With that many beaches, equal in beauty, you have a lot of choices for your beach break – either beaches that are near the city's centre or empty, pristine beaches you can have all to yourself. Here are some names to check out: Tran Phu Beach, Hon Chong Beach, Bai Tru Beach, Bai Dai (Long Beach), Doc Let Beach…
As we've mentioned above, Nha Trang has some of the best beaches in Vietnam where the blue sea meets white sandy coastline. Not only the beaches, there're plenty services for accommodation and beachside activities you can enjoy.
– Tran Phu Beach
The beach has the most convenient location since you can get to it from almost everywhere in Nha Trang. A wide range of seaside resorts, hostels and restaurants can be found on Tran Phu Street. Nightlife is also active here – most popular bars: The Sailing Club, ZIMA, Skylight Skydeck & Rooftop Beach Club.

Activities: surfing, snorkeling, bicycle tours, spa treatments, meditation and yoga
You only have to pay 35,000VND to hire a beach bed or deck chair along the beach
– Bai Dai Beach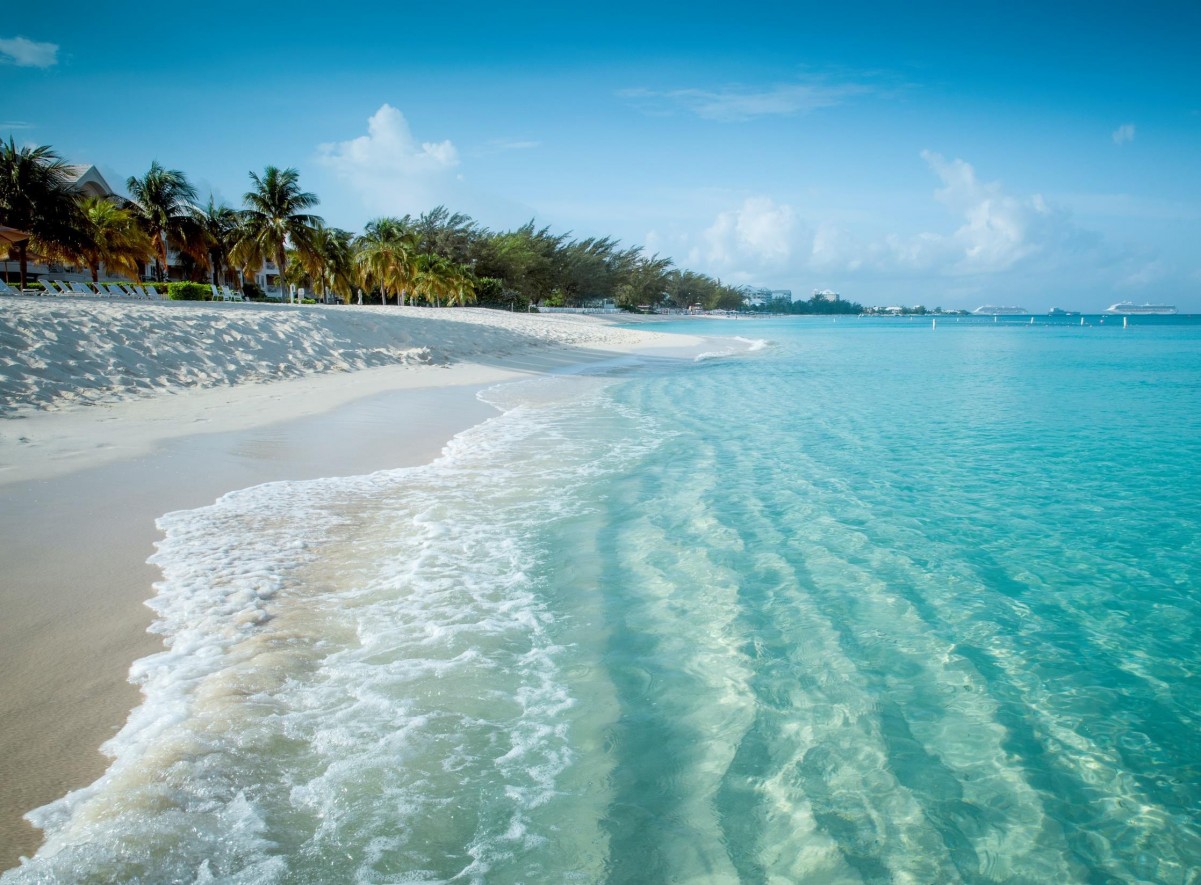 Located about 28km away from Tran Phu Beach, Bai Dai Beach is your perfect day trip from Nha Trang for those who love to see the empty, pristine beaches. Come to Bai Dai, not only you can enjoy the blue, clean sea water, check out the beachside Nha Trang restaurants which serve delicious local seafood dishes, western cuisine and beers.

– Doc Let Beach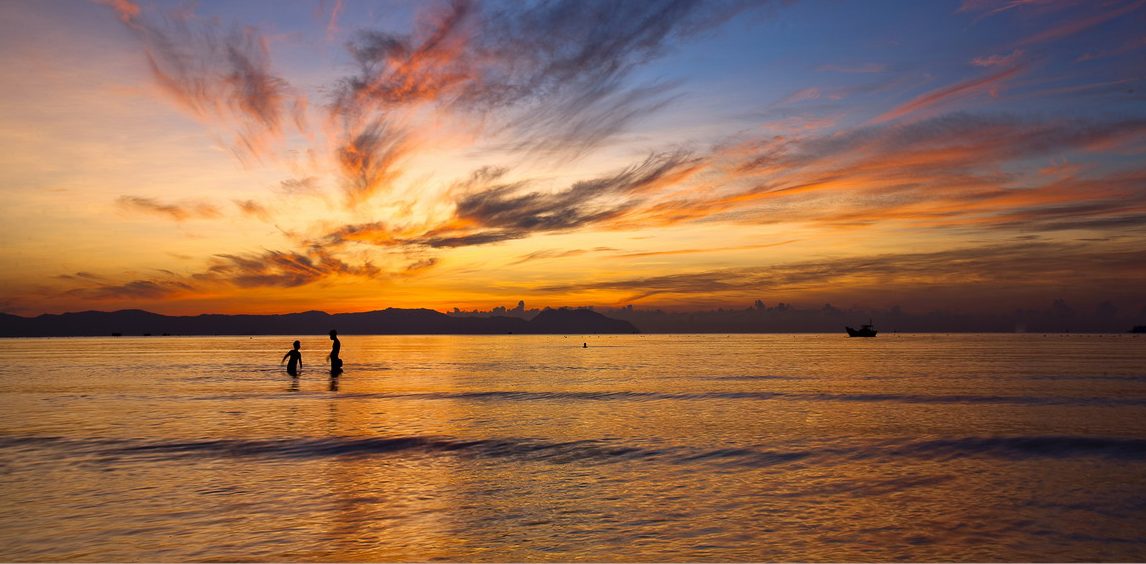 Doc Let deserves to be the most beautiful and untouched beach to visit in Nha Trang, lying 45km north of Nha Trang with incredible white sandy beach and emerald blue sea. The beach also feature palm trees, fishing boat docked offshore and salt fields which are just suitable for a photo time.

7. Boat Tour to Nha Trang Bay's islands (+ Diving, Snorkeling)



If you still feel unsatisfied with just Nha Trang, set sail deep into Nha Trang Bay – one of the most beautiful bay on earth. The bay features a range of wild, pristine islands and islets which are open for visit. You can visit four of those by booking a boat tour from Nha Trang which often includes snorkeling, a visit to aquarium, and fish farm. This is one of the best things to do for those who are seeking active water activities.
Diving, snorkeling to see the colorful coral reefs at Hon Mun Marine Protected Area
Hon Mun Marine Protected Area (MPA) covers 38 sqkm of land and 122 sqkm of surrounding water, including not only Hon Mun but also Hon Tre, Hon Mieu, Hon Tam, Hon Mot, Hon Cau, Hon Vung, Hon Rom and Hon Noc. The protected area aims to reserve the diverse marine ecosystems and coral diversity of the South Vietnam.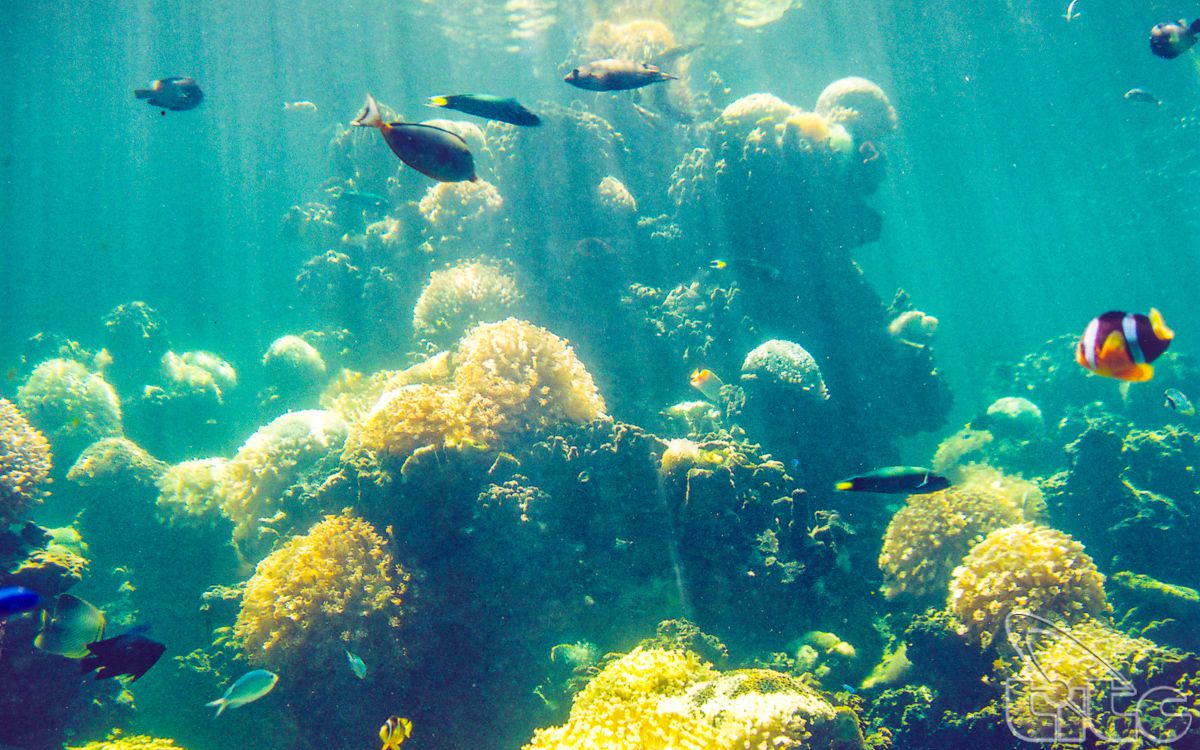 The coral reefs of MPA feature more than 350 species of hard coral species. This is the number one reason for you to go diving and snorkeling in Nha Trang. Best spots are:
10-15m deep: Hard Rock, Pipe Beach, Lobster Beach
15-30m deep: Mama Hanh Beach, Moray Beach, Madonna Rock, South Rock, Whale Island, Hon Trau Nam
Best time to do: avoid windy season from October to December.
8. Ride a Hot Air Balloon to enjoy the view



The newly renovated hot air balloon centre is located on Hon Tam Island, offering wonderful views of immense ocean and Nha Trang city on the height of 150 meters. A ride lasts about 20 minutes, enough for you to admire the 360 aerial degree views of the city below.
Add: Pham Van Dong Street
Price: 100,000VND during the day and 120,000VND in the evening
9. Have fun at Vinpearl Land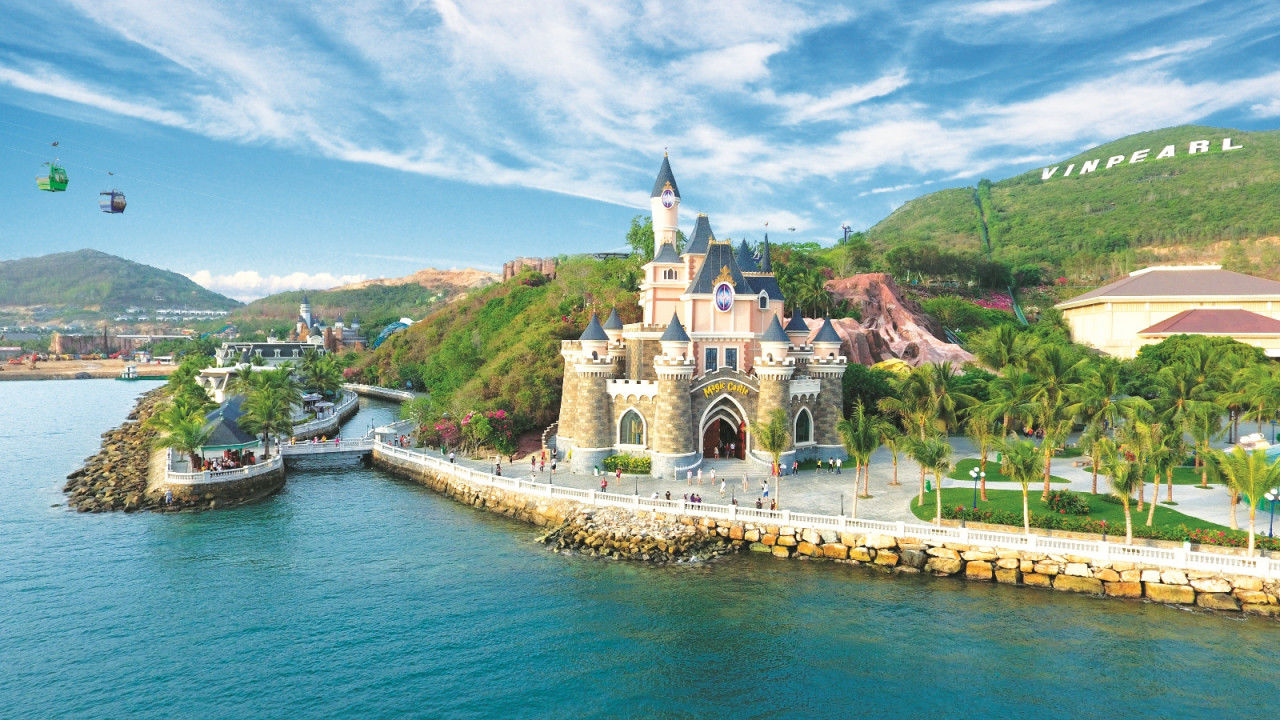 If you're going with kids, bring them to Vinpearl Land where they can lose some energy with countless indoor and outdoor games. To get to Vinpearl Land, you'll get a ride on the Vinpearl Cable Car – the world's longest oversea cable car with a length of more than 3km. Once you're in Hon Tre Island, you and your kids might just forget about the time in the place which is called "Disneyland of Vietnam".
10. Visit Tri Nguyen fishing village and Tri Nguyen Aquarium



If you prefer sites off the beaten track, go south of the city 10 kilometers to visit Tri Nguyen fishing village. This site is just ideal destination to escape the summer heat and the noisy bustling cities. Tri Nguyen fishing village is a small village consisting of about 50 households in vinh Nguyen Ward, Nha Trang City.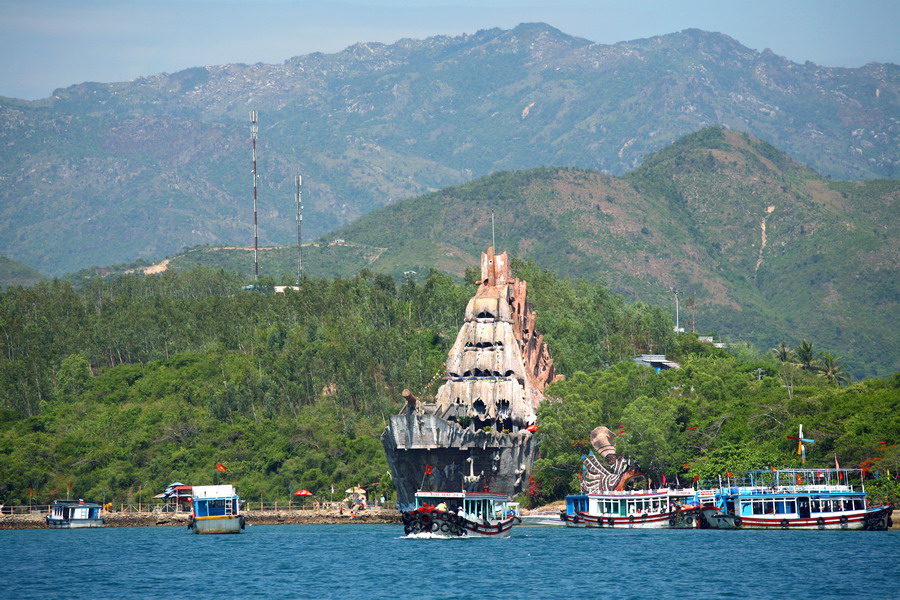 Tourists coming to Tri Nguyen fishing village can enjoy the tranquil, peaceful atmosphere and beautiful landscapes, try catching fish, ride the coracle boat. Don't forget to enjoy the delicious meal cooked by the local fishermen. Not far from the fishing village is Tri Nguyen Aquarium, a wonderful place to take your kids to.

*How to get there: the best way to get to Tri Nguyen fishing village is to hire a boat from locals and ask them to take you the place.
11. Admire the architecture of Nha Trang Cathedral



Established from 1928 to 1933, Nha Trang Cathedral is the best place to admire the French Gothic architecture. The cathedral stands on a small hill facing to the train station. If you look carefully, it's easy to realize some Vietnamese touches on the building. All the walls of this church are constructed by simple cement blocks and the chapel's dome was made of lattice girders and hard-core bamboo. This is the must-see site in Nha Trang for cultural explorers.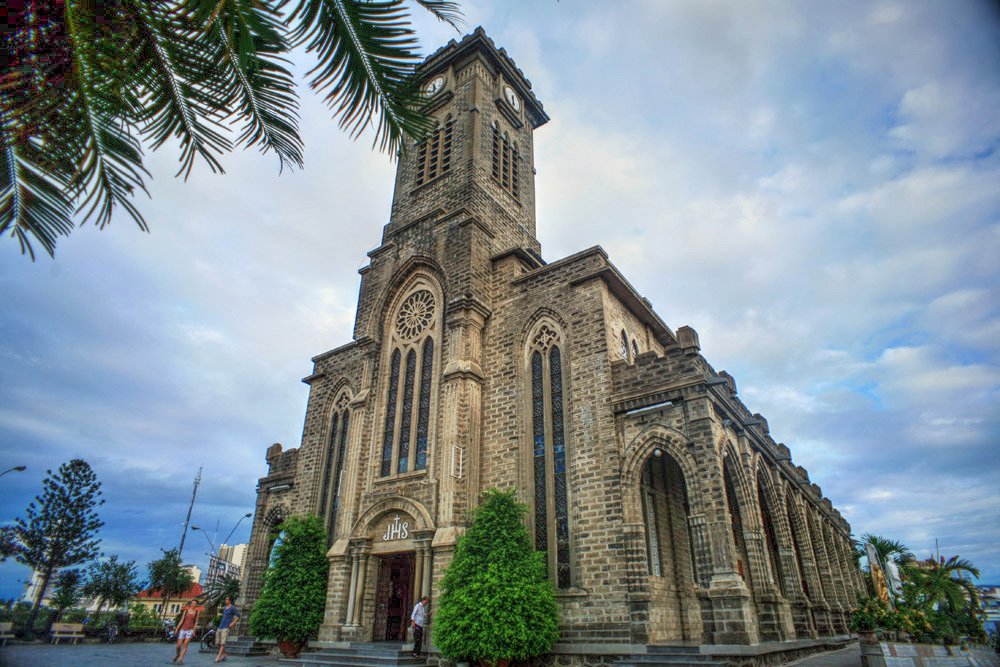 Add: intersection of Nguyen Trai Street and Thai Nguyen Street
Opening hours: 7:00 – 18:00 daily
12. Take pictures at the white spiral stair



If you love take pretty pictures, don't miss the gorgeous white spiral stair located just 5km from the city centre. Come to Hoang Phu Residence to meet this lovely stair that offers a breath-taking panoramic view of Nha Trang beaches and top-notch background for your photos. Hoang Phu Residence also has plenty other corners to be your background with the European architecture style.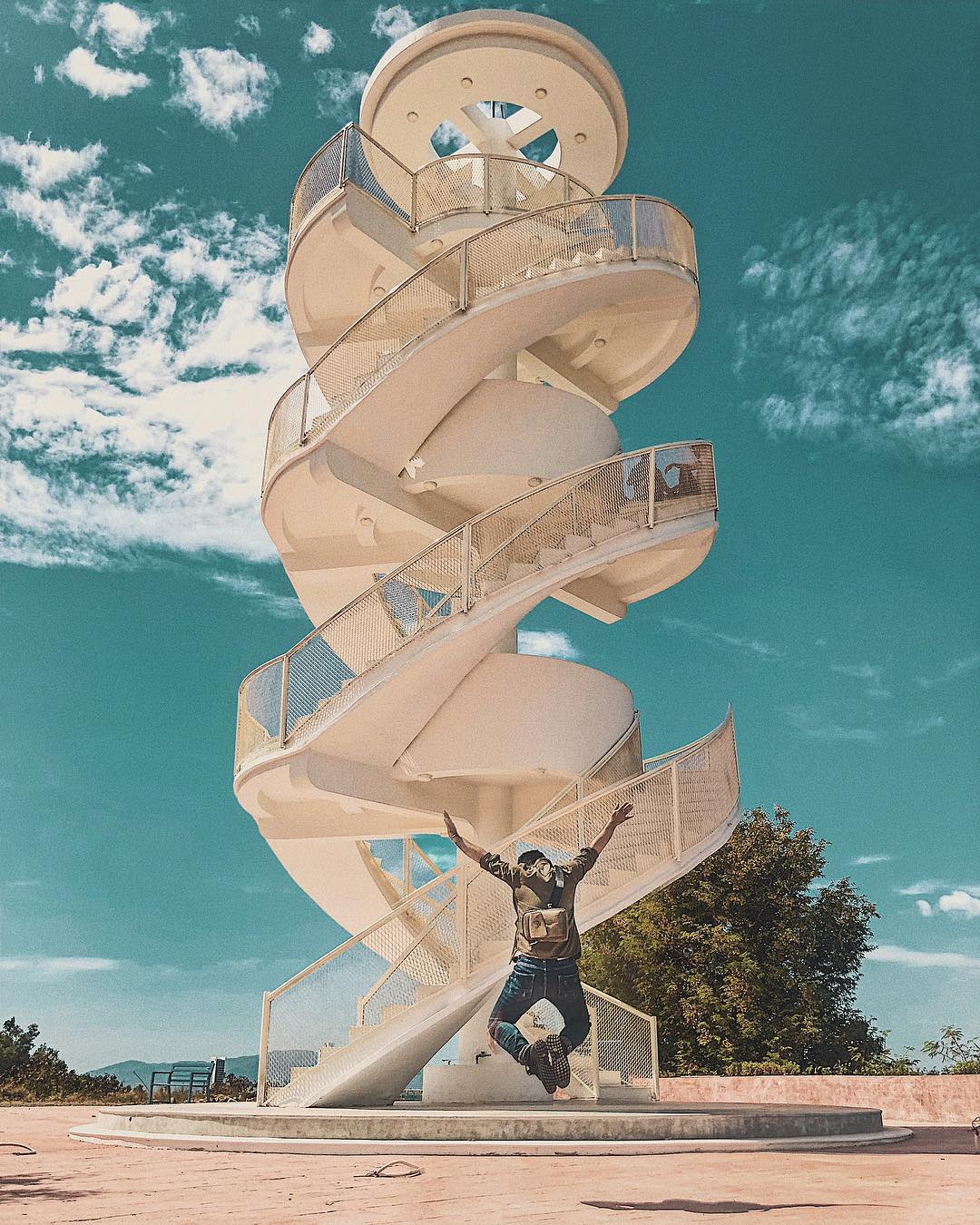 Location: 2/4 Street, Vinh Hai Ward, Nha Trang City
Opening hours: always open
Entrance fee: free
13. Enjoy Nha Trang Nightlife



Nha Trang is a wonderful place to have a great night out with plenty of places to go and things to do. The seaside town of Vietnam offers a wide range of options from cultural performances to rooftop night clubs and bars, all which will keep you entertained.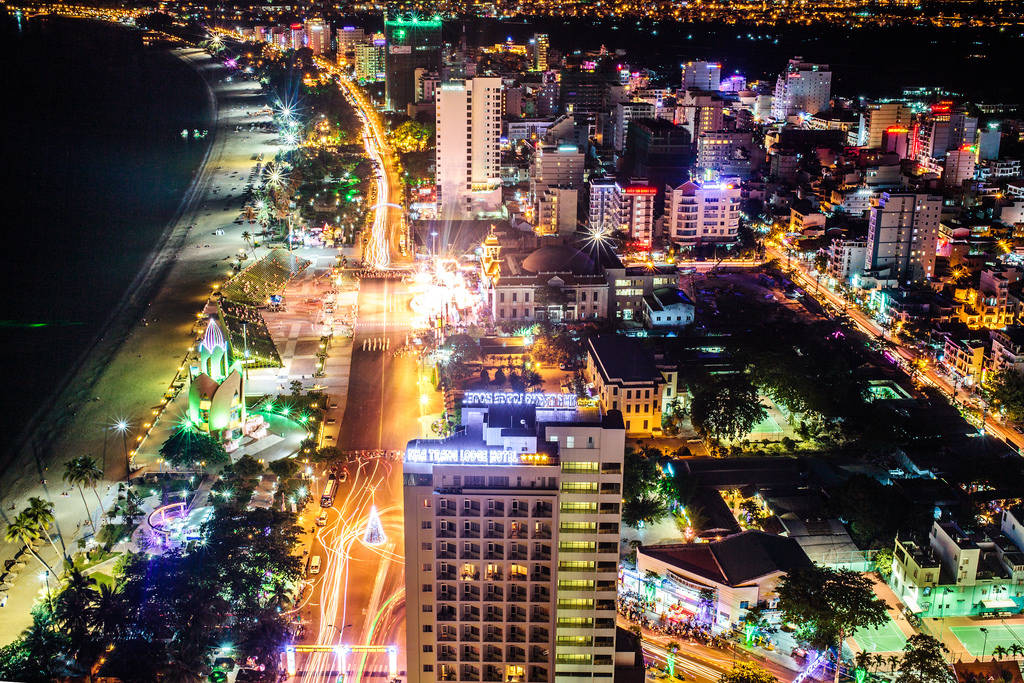 Here are some places to check out:
– Nha Trang Water Puppet Theatre – 46 Tran Phu Street
– Pool Pub – 40 Tran Phu Street
– Rooftop Lounge, Ha Van Hotel – 5th floor, Ha Van Hotel, no 3/2 Tran Quang Khai Street
– Sailing Club – 72 – 74 Tran Phu Street
– Louisiane Brewhouse – 29 Tran Phu Street
14. Have a healthy mud-bath before leaving



Sitting in a tub of mud that contain minerals and all the good stuff for your health would be one of the best thing to experience in Nha Trang. And if you're going with your family and friends then it's perfect. There are more than half a dozen of the benefits you can get from mud-bathing such as: muscle, joint ache relief, body relaxation, detoxifying, circulation improvement and more. Why not spend a little time of your trip to do something good for your body?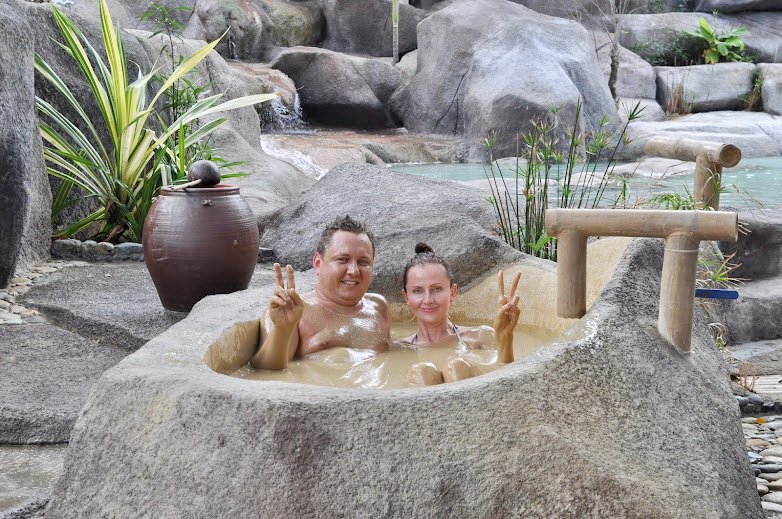 *Where to take mud-bath in Nha Trang:
– Thap Ba Hot Spring: prices range from 550.000VND/person
– 100 Eggs Mud Bath (Tram Trung): avg. price from 150,000VND/adult, opening hours 8:00 – 18:00
– Galina Hotel & Spa: prices range from 250,000VND/adult, opening hours 8:00 – 21:00

>>> Nha Trang is your dream-like beach paradise? See our recommended tour:



Day Trips from Nha Trang
---
1. Binh Hung – Binh Ba Islands



Binh Ba and Binh Hung islands are located near each other and about 60km from Nha Trang city, and 15km from Cam Ranh Bay. These two islands can be your destinations for not only day trip but also longer trip.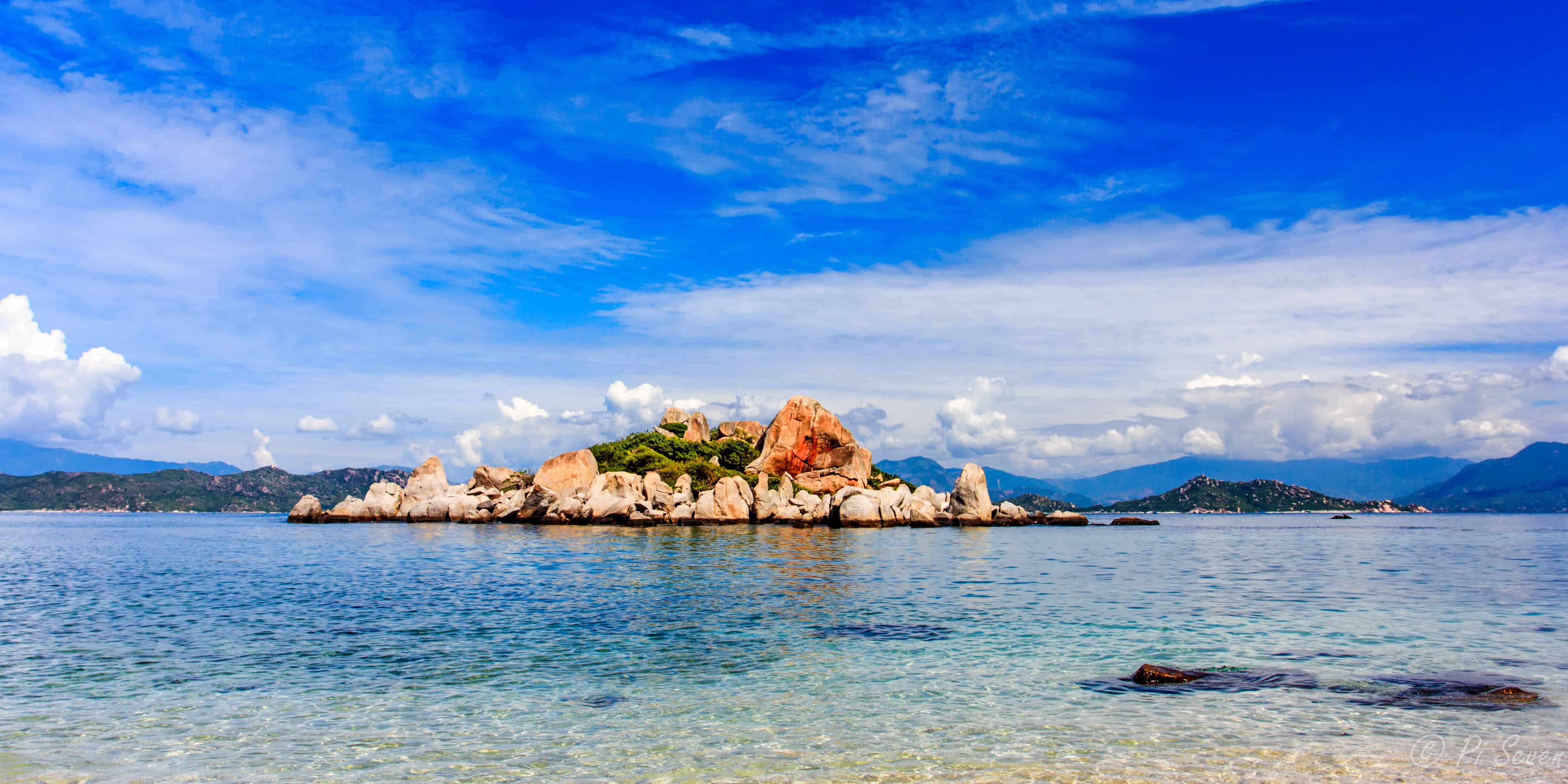 Binh Ba or Lobster Island is the place to enjoy the landscape, the pristine beaches and freshly delicious lobsters. Binh Hung, in other hand, is almost untouched with sublime beauty of nature, especially Nuoc Ngot beach which has incredible blue sea water.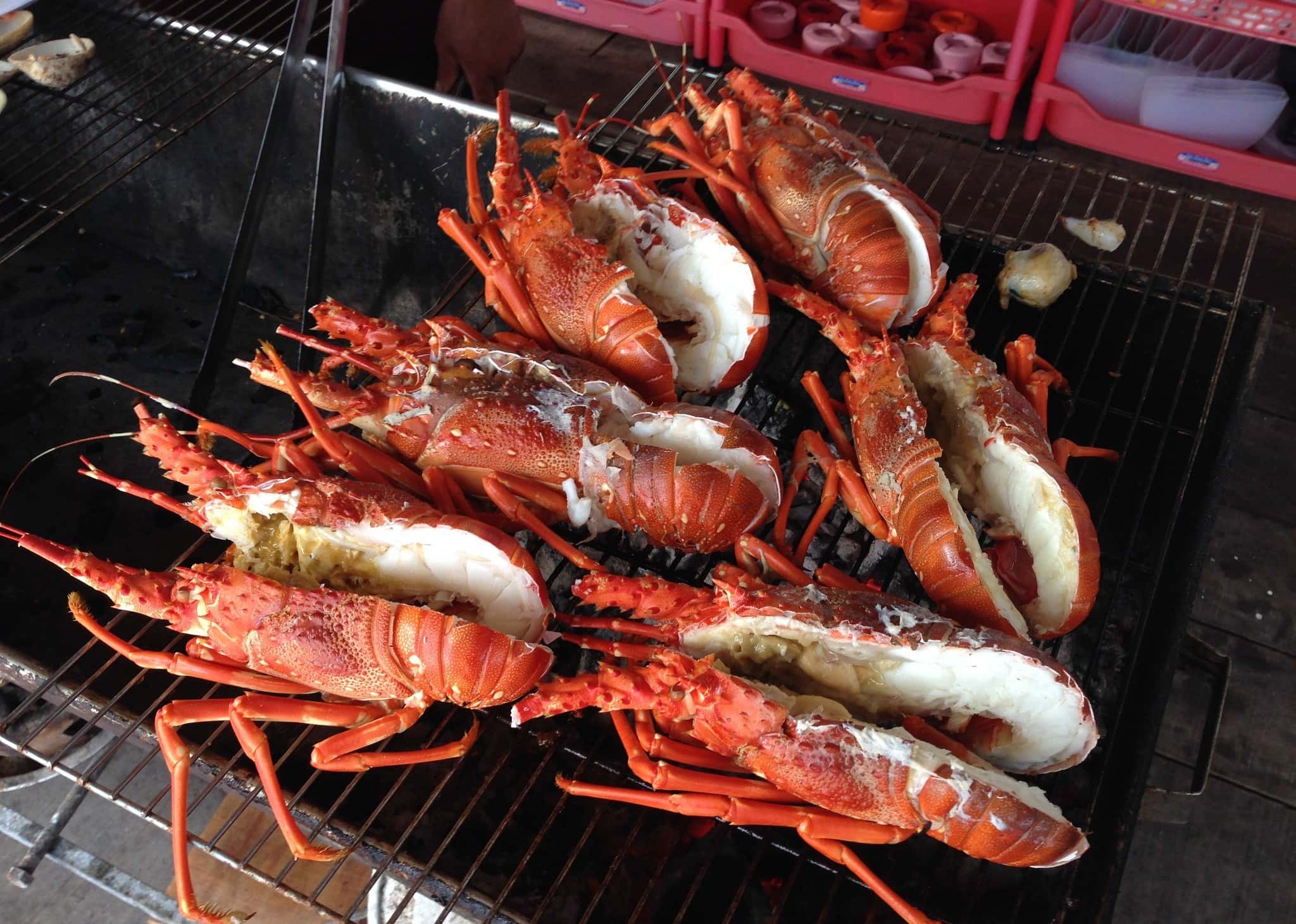 2. Nui Chua National Park



Lying right beside Cam Ranh Beach, Nui Chua National Park should be on your list if you are a keen trekker. Nui Chua is an ecotourism destination, covering a total area of 24,300 hectares. The national park is home to 664 species of plants and 201 species of animals, including many rare species that are nearly extinct.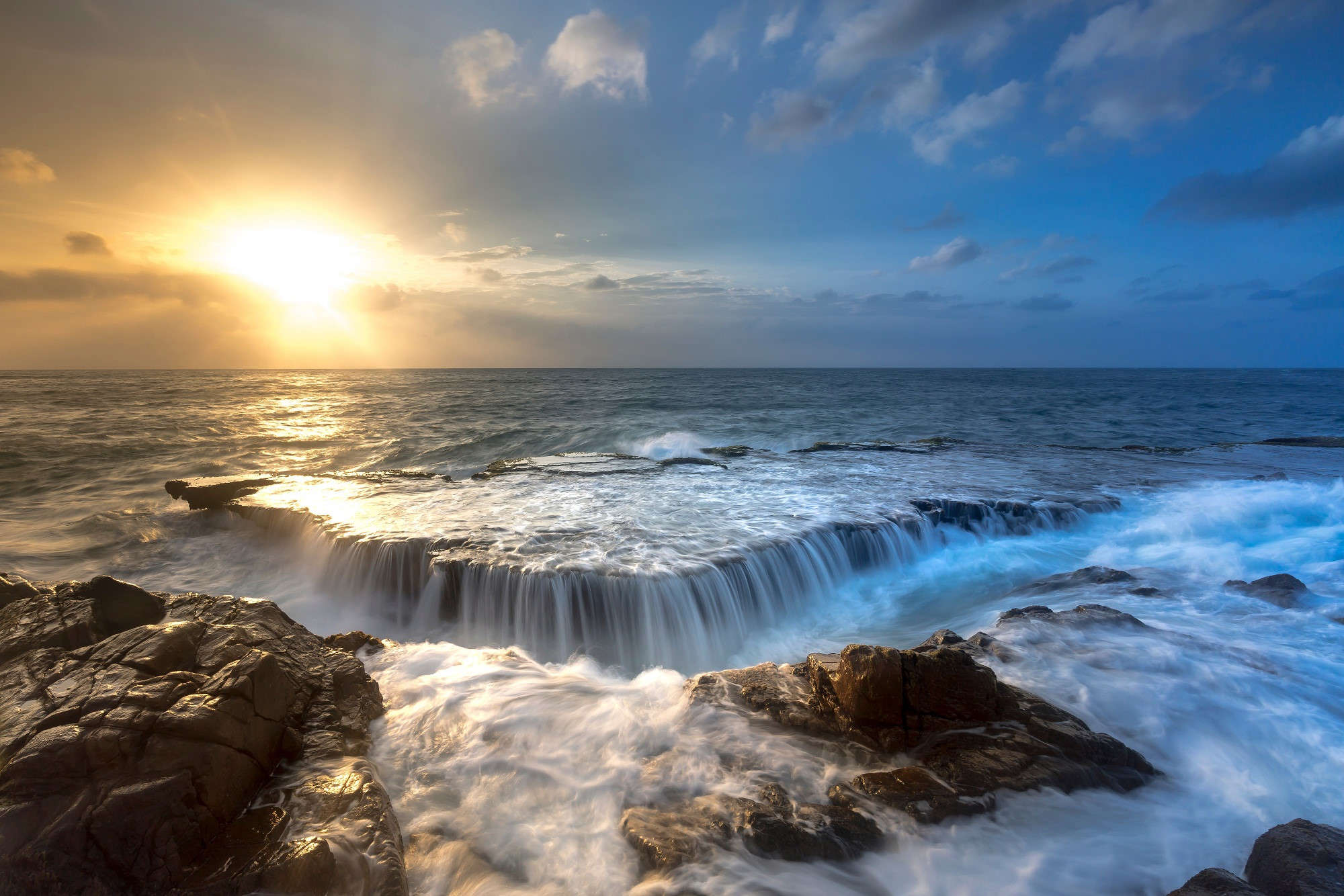 Tourist to Nui Chua National Park can expect the beautiful, wild nature scenery. Don't miss to check out Da Vach Mount and Treo Lake – on top of the mountain. Nui Chua's beach stretches on a coastline of 40km long and you won't have to worry to about the crowds.
You can trek up Nui Chua from Vinh Hy bay on Vinh Hy – Thung Beach route which is combined of forest, lake, mountain and beach. Or you can book tours directly from Nui Chua National Park's Centre.
What to eat in Nha Trang & Best Nha Trang Restaurants
---

In Vietnam, all the seaside cities have freshest, most savory and diverse dishes of seafood. Nha Trang is no different. People come to Nha Trang not just to swim and enjoy its blue sea but also to buy home some kilograms of squids or fish. For street food enthusiasts, Nha Trang is a place of nostalgic, rustic cuisine you can find anywhere else in Vietnam, combined so fine with the top-notch taste of local seafood.

1. Nem Nuong

This dish is famous in not only Nha Trang but whole Central Vietnam. The main element of Nem Nuong is the grilled pork sausages. Ninh Hoa district in Khanh Hoa is the famous place to find this dish.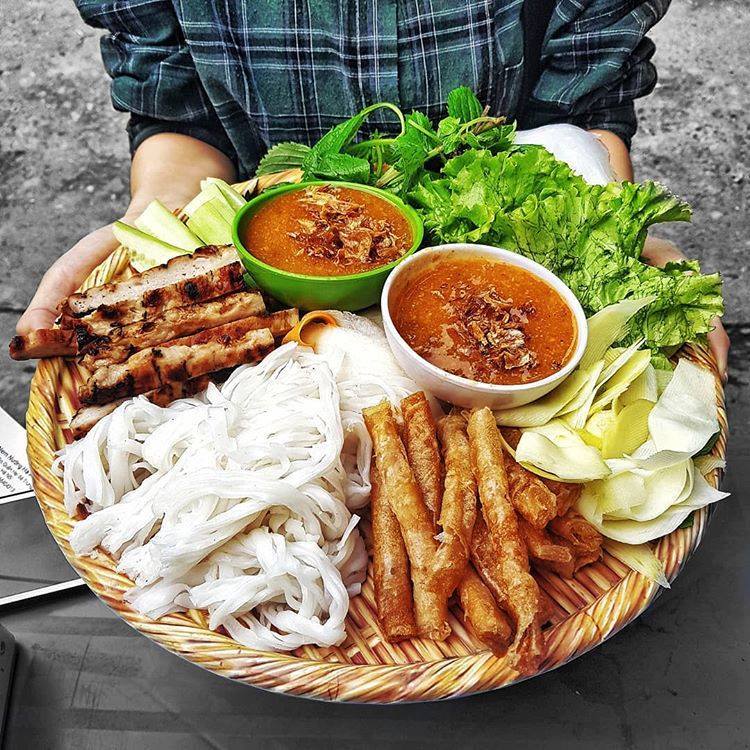 The pork sausages are flavored with garlic, fish sauce, sugar and black pepper, making the fragrance so savory. Eating Nem Nuong is such a joy when you do it with a group of friends or family. The sausages, all kinds of vegetables, fruit slices and herbs are all wrapped in rice papers then dive into a bowl of wonderful dipping sauce which is made of fish sauce, minced pork, and lime water.

*Where to find Nem Nuong in Nha Trang:


Nem nuongNinh Hoa Dang Van Quyen

– Address: 02 – 04 Phan Boi Chau Street (this is just opposite the previous restaurant)
– Price: around 50,00 VND per portion

Nem Nuong Nha Trang

– Address: 39 Nguyen Thi Minh Khai Street
– Price: around 40,000 VND per portion
2. Goi Ca Mai (herring salad)
One of the best seafood dish in Nha Trang, made with the local deep herring fish. The dish requires a meticulous process of preparing. Deep herring is small, white colored and less smelly than many other fishes. The herrings are used for making salad should be fresh-caught, the bone removed, then marinated with lime water, tamarind, sour star fruit, or vinegar. After leaving some time, the fish is mixed with ground roasted soybeans, chopped onions, chopped garlic, cilantro, and perilla.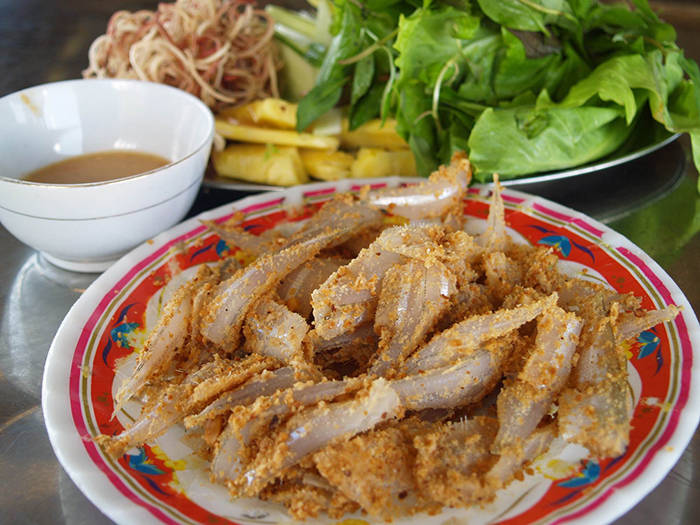 * Goi Ca Mai can be found in many Nha Trang restaurants. 

Goi Ca Ha Ra

– Address: No 166, 2 Thang 4 Street
– Price: 30,000 – 70,000 VND

Hai San Nina

– Address: 6 Ngo Si Lien Street
– Price: 100,000 VND
3. Bun Cha Ca (Noodle with Grilled Fish)
Bun Cha Ca can be eaten for any meal of day but best in breakfast and lunch. Noodles soup is served with topping grilled chopped fish, fresh caught from local sea. The dish is rather simple, focusing mainly on the tasty, fleshy, and flavorful grilled chopped fish. Served with herbs, onions, sweet and sour broth, this dish will leave such a great memory in your Nha Trang trip.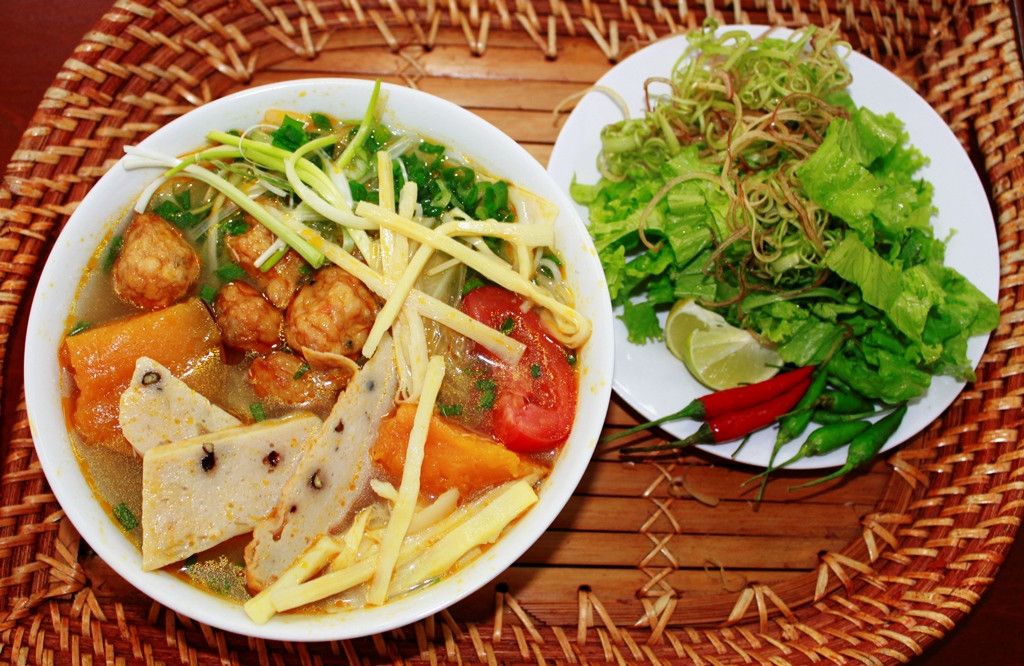 Bun cha ca in Xom Moi market

– Address: at Vo Tru Street corner open daily from 1 PM to 7 PM.
– Price: around 20,000 VND per bowl 

Bun Ca Nam Beo

– Address: B2 Phan Boi Chau Apartment, Phan Boi Chau Street
– Price: 30,000 – 40,000 VND
4. Bun Sua (Jellyfish Noodle)
Are you ready for the most unique Nha Trang specialty? The dish is similar with Bun Cha Ca but still unique for its very special chopped jellyfish meat, accompanied with grilled chopped fish to create such a refreshing taste you can only find in Nha Trang. The jellyfish must be caught far offshore then made in to two-finger or thumb size pieces, transparent color and thick. This dish is best trying in summer for it will release the heat in your body.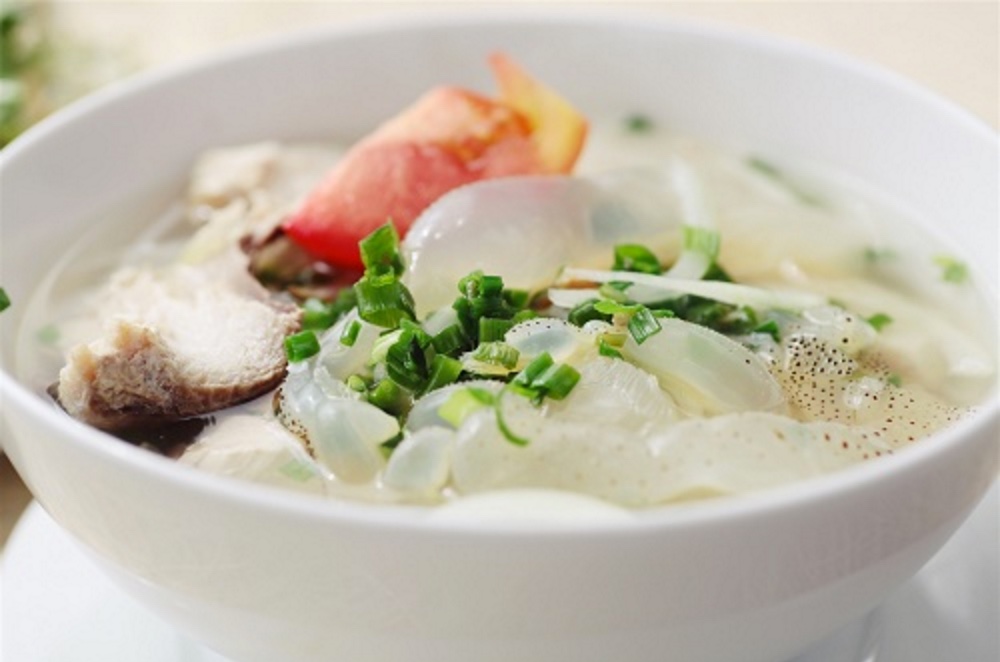 Bun Ca La Cay Bang

– Address: 6 Han Thuyen Street
– Price: 30,000 – 35,000 VND

Bun Ca Sua Yersin

– Address: 87 Yersin Street
– Price: 25,000 – 35,000 VND


How to get to Nha Trang
---
You can get to Nha Trang by airplane, train and bus.
By Airplane: Khanh Hoa's airport is not located in Nha Trang but in Cam Ranh. The international airport is located about 30 kilometers away from Nha Trang, taking about 50 minutes. You can find a Vietnam Airlines booking office in Nha Trang at 91 Nguyen Thien Thuat. Available flights from Nha Trang to: Da Nang (Vietnam Airlines), Hanoi (Vietnam Airlines, VietJet Air, Jetstar) and Ho Chi Minh City (Vietnam Airlines, VietJet Air, Jetstar).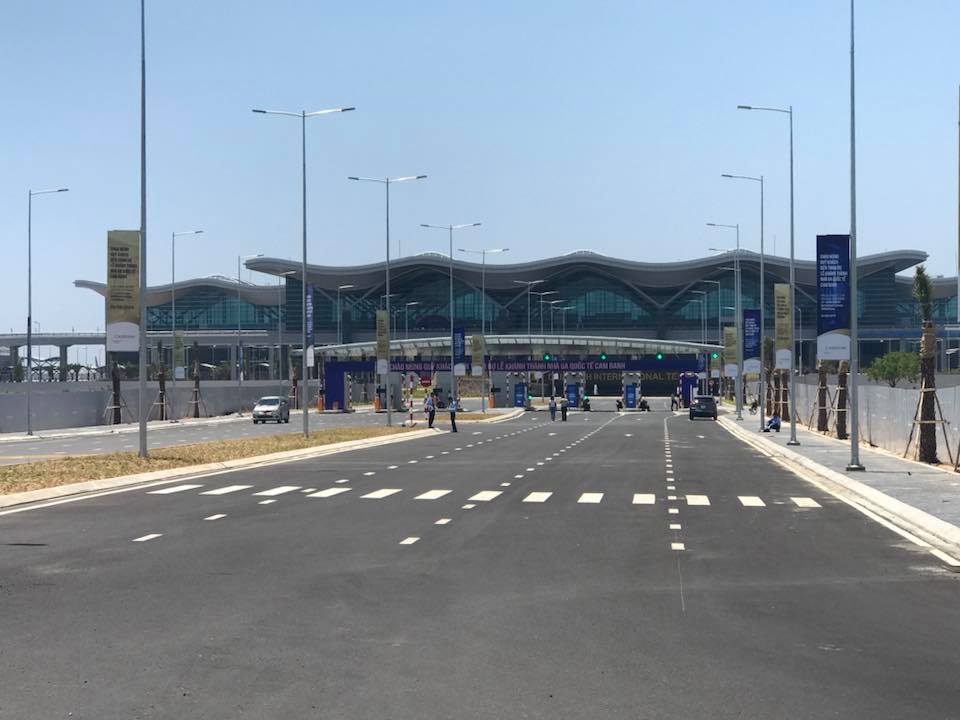 From Cam Ranh Airport, taxi fare to Nha Trang city is fixed at 350,000VND – this rate is much cheaper than charging with the meter. You might negotiate it down to 300,000VND.
An alternative choice for you is the airport minibus, costing 65,000VND per person.
By Train: since Nha Trang is on the route of Reunification Train, there are plenty trains stopping at Nha Trang Railway Station. There are five classes of seats with different level of comfort.
Trains to Nha Trang are available from HCMC, Da Nang, Hue, Hanoi:
HCMC departure hours: 8:35, 11:44, 17:55, 20:34, 21:22, 22:12, 22:46. Duration: 7-9 hours. Prices range from 300,000VND to 700,000VND per seat

Da Nang departure hours: 03:21, 05:00, 13:26, 16:29, 19:54, 21:29.

Hue departure hours: 03:21, 05:00, 13:26, 16:29, 19:54, 21:29

Hanoi departure hours: 03:21, 05:00, 13:26, 16:29, 21:29
By Bus

: you have plenty choices for bus to Nha Trang. Most popular bus service is Open Bus Tour which costs more than regular local buses. Most reliable companies that run Open Bus are TheSinhTourist, Phuong Trang and Hanh Café Open tour. Prices can be varied from 100,000VND to 300,000VND depending on where you start.
Nha Trang clearly lives up to its name as one of the worthiest destination in Vietnam. A paradise-like getaway for those who get tired of the noisy, bustling city life. Come to Nha Trang to enjoy the nature so close to you and the uniqueness of Cham culture. Your trip to Nha Trang will be even more memorable when booking tailor-made tours with Asianway Travel because we always take your interests and affordability into consideration.