Meal provided: Breakfast, Lunch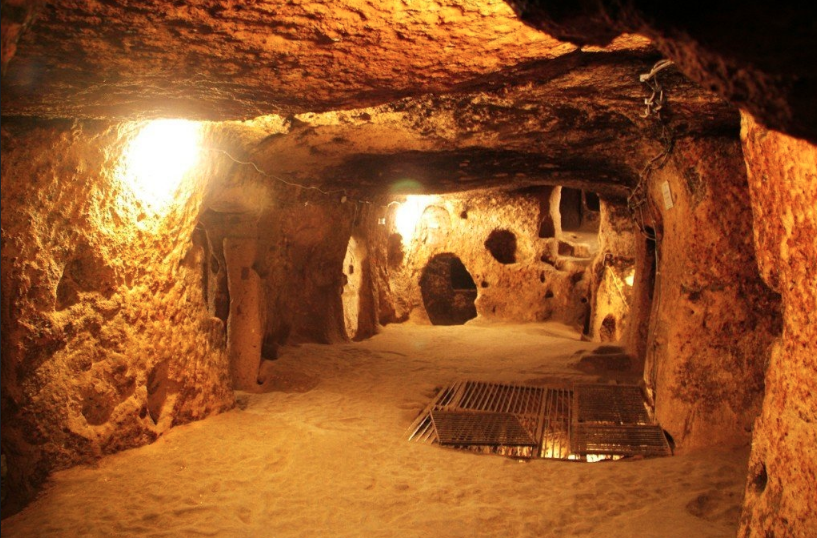 Morning tour of the Cu Chi Tunnels:  At 7.00, pick up at hotel & enjoy scenic drive through the countryside as people work on their rice paddies and thatched hut villages scattered along the way. Visit a local village making rice paper, a well-known product used to make the delicious spring rolls. Arriving at the Cu Chi Tunnels to explore part of the 151-mile underground network that zigzagged from the southern tip of the Ho Chi Minh Trail near Cambodia to the Saigon River. Cu Chi is a must for anyone interested in understanding a vital aspect of guerrilla warfare fought by the Vietnamese against both the French and the Americans. These criss-crossing tunnels were begun in the late 1940s by local resistance fighters looking for a place to hide their weapons from the French. Discover secret trapdoors, field hospitals, command posts, underground kitchens, living areas and meeting rooms.
Have Lunch at a local restaurant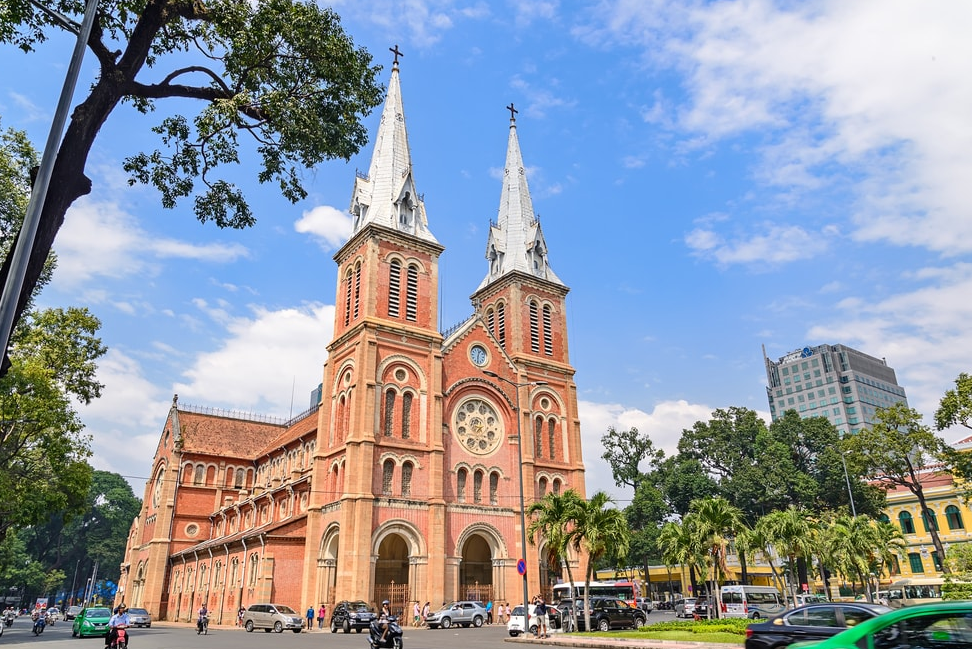 Afternoon tour of Ho Chi Minh: we'll discover Saigon's historic landmarks including the War Remnants Museum, established in September 1975 in Ho Chi Minh City, it contains countless artifacts, photographs and pictures documenting some of the less heroic activities carried out by the US army in Vietnam. Planes, tanks, bombs and helicopters are also on display.
Next visit the FITO Museum, it is the first museum of Vietnamese medicine. On display are nearly 3,000 items dating back to the Stone Age. Exhibits include tools used to prepare medicine, knives, mortars and pestles, documents and objects from a traditional pharmacy. The museum regularly screens a documentary about the history of medicine.
Continue visiting to the 1880s General Post Office and the late 19th century Notre Dame cathedral, located in a peaceful part of the city. Ending at Ben Thanh Market or House of Saigon for shopping and café.
Stay overnight in Ho Chi Minh
Optional excursion: Please contact us if you are interested.
1. The Mist Show (modern dance and ballet) at Saigon Opera house (Price from US$ 28 to US$ 65/ per ticket)
2. A O show (bamboo dance, acrobatic & music) –  at Saigon Opera (Price from US$ 28 to US$ 65/ per ticket)
3. Saigon's nightlife & foodies tour by Scooters ( 2.5 hours – price will be updated)
Day 3: Ho Chi Minh - Mekong delta – Can Tho - overnight cruise
Meal provided: Breakfast, Lunch and Dinner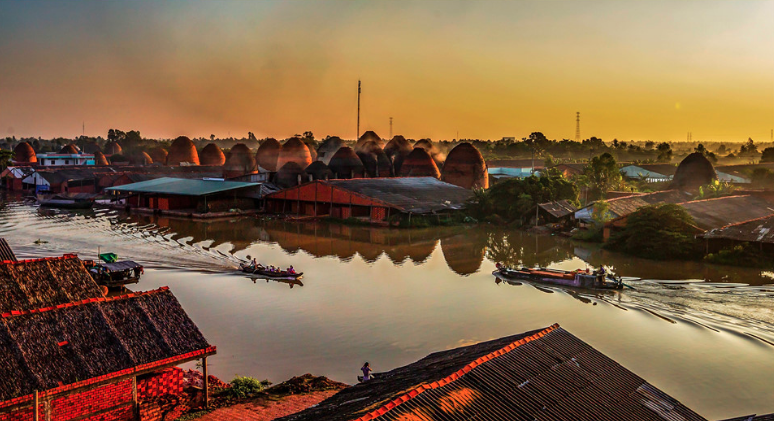 In the morning, our driver will take you to Can Tho.
Boarding at Can Tho at Ninh Kieu pier. Welcome drink, introduction to the ship and crew, check into the cabins. Departure downstream of the Hau river. Lunch on board while en route.
Turning into Nicolai canal, towards the Mang Thit river. Rest on the upper deck in a scenery of rice fields, sugar cane, woods on the near banks.
By mid-afternoon, the Bassac casts anchor for a visit on shore: past the first tree line, quiet discovery of the peaceful life in the delta's countryside, of rice fields, fruit trees and the welcoming inhabitants, or, at your option, short cycling tour of the surrounding area.
Boarding back, complimentary drink as a welcome back on board. Rest on the deck or around the bar enjoying the sunset.
The Bassac sets anchor just downstream from Tra On for the night.
You stay overnight on board your floating hotel in the Mekong Delta.
Day 4: Cai Rang floating market – Ho Chi Minh
Meal provided: Breakfast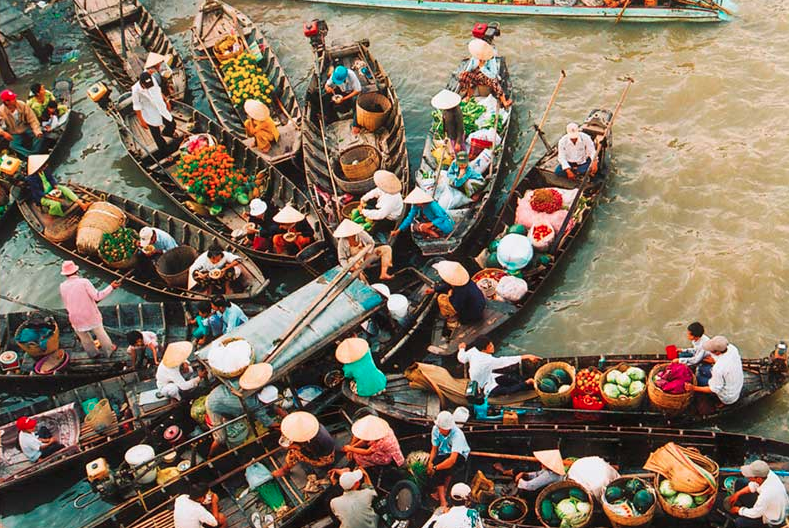 Wake up well rested to the sound of the river and get ready for another exciting day of sightseeing in the Mekong Delta.
The boat departs at 06:00, as the ship passes by Tra On. The ship then departs towards Can Tho. The breakfast is available at 7:00.
Arrive in Can Tho, transfer onto a local boat to visit the Cai Rang floating market (8:45), then a noodle factory, and return to the Ninh Kieu pier.
Our driver and car will then take you back to Ho Chi Minh.
Free for the rest of the day to discover Ho Chi Minh City on your own.
Stay overnight in Ho Chi Minh
Please note: The floating markets in the Mekong Delta are no tourist markets but wholesale markets where produce of the Mekong Delta like fruits and vegetables are traded. For this reason, the number of boats on the market fluctuates depending on harvesting seasons and market demand. Furthermore, modern wholesale markets are becoming more popular in Vietnam. This can result in decreasing numbers of boats being present on the markets.
Day 5: Ho Chi Minh - express bus to Phnom Penh
Meal provided: Breakfast


Depending on your choice, our express bus will pick you up at your hotel and start going to Phnom Penh at 8:00 am or 13:00 pm.
Enjoy a journey of 6 hours and a half on our comfortable bus. You are provided free wifi, a bottle of water, a cold towel, and a snack.
When you arrive at Phnom Penh station, you will be picked up and transferred to your hotel by a private driver. Settle in and enjoy the afternoon and evening at your leisure.
Stay overnight in Phnom Penh
Day 6: Phnom Penh city higlights
Meal provided: Breakfast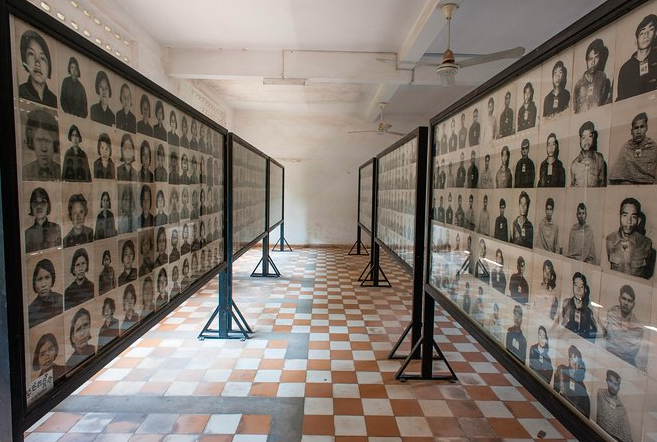 Morning tour of Killing Fields & Tuol Sleng Museum: Today, meet your personal guide and driver and drive to the Killing Fields of Choeung Ek (16 km south of Phnom Penh). Between 1975 and 1978 about 17,000 men, women, children, and infants (including nine westerners) detained and tortured at S-21 prison were transported to the extermination camp of Choeung Ek. They were often bludgeoned to death to avoid wasting precious bullets. Fragments of human bone and bits of cloth are scattered around the disinterred pits. Over 8,000 skulls, arranged by sex and age, are visible behind the clear glass panels of the Memorial Stupa, which was erected in 1988. You'll then continue to visit the notorious Tuol Sleng Museum. In 1975 Tuol Svay Prey High School was taken over by Pol Pot's security forces and turned into a prison known as Security Prison 21 (S-21). It soon became the largest such center of detention and torture in the country. More than 17,000 people held at S-21 were taken to the extermination camp at Choeung Ek to be executed; detainees who died during torture were buried in mass graves in the prison ground. Room after room the museum displays photographs of men, women, and children covering the walls from floor to ceiling; virtually all the people pictured were later killed.
Afternoon tour of Royal Palace, National Museum & Sunset Cruise: After lunch at a local restaurant (on my own account) continue to discover the Royal Palace built in 1866 by King Norodom. See the different structures of this pagoda-style compound and stroll in its beautiful garden.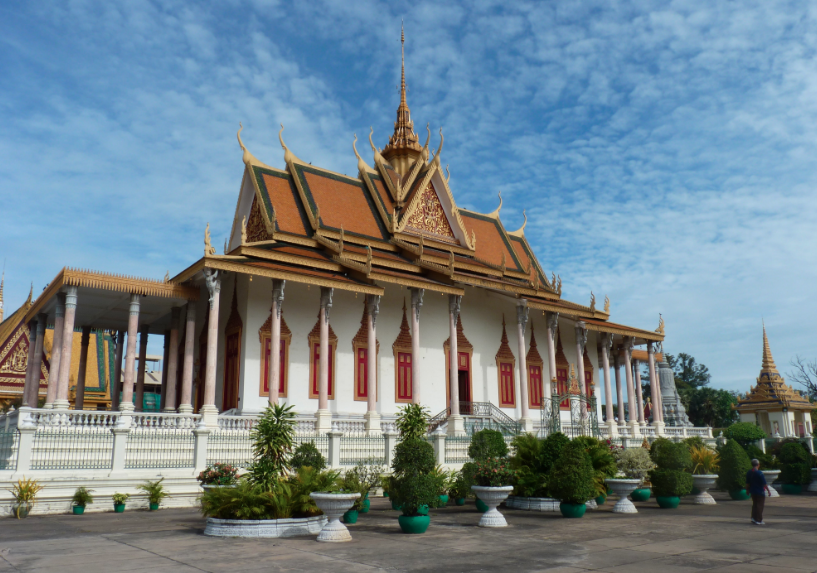 Visit the Silver Pagoda so named because of its floor which is comprised of 5,000 silver tiles. A gold Buddha encrusted with 9,584 diamonds and a small 17th-century emerald and baccarat crystal Buddha are also housed here.
Next, visit the National Museum. Built-in 1917 it is an exceptional example of traditional architecture and is exclusively devoted to preserving and displaying Khmer art and sculptures. Hundreds of pieces are housed here including both pre-and post-Angkorian pieces.
Finish your tour at the city's namesake, Wat Phnom. Founded in 1373, the pagoda was built to house Buddhist relics washed ashore by the river. Later this afternoon enjoy one-hour sunset cruise on the Mekong and Tonle Sap Rivers. The boat will pass past floating villages, providing great views of the city's rapidly changing skyline.
Stay overnight in Phnom Penh
Day 7: Phnom Penh - fly to Siem Reap
Meal provided: Breakfast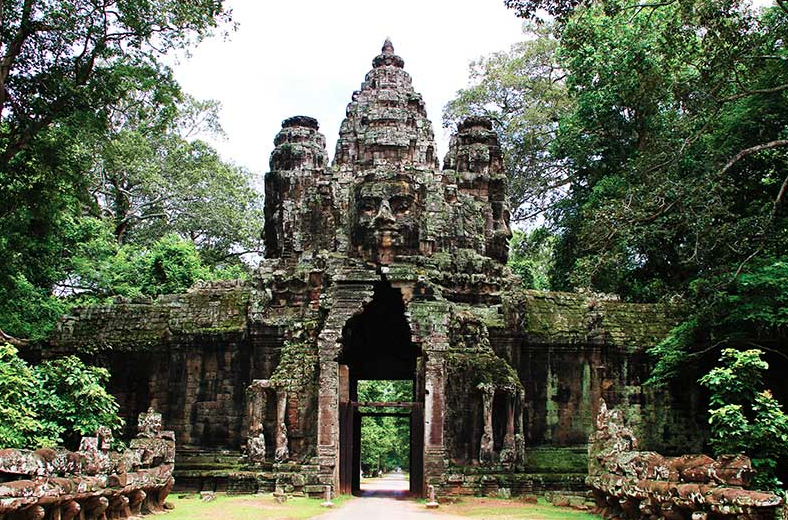 After leisurely morning, you will be transferred to the airport on time for your flight to Siem Reap. 
Welcome to Siem Reap. Upon arrival at Siem Reap Airport. After collecting your baggage, exit the airport to meet outside your tour guide. He/she will be holding a sign with your names on it. From the airport, you will be privately transferred to your hotel.
Afternoon tour of Angkor Thom & the Bayon: After settling in and enjoying a bit of free time, you'll head out with your guide and spend the afternoon visit the ancient capital of Angkor Thom (12th century). See the South Gate with its huge statues depicting the churning of the ocean of milk, visit Bayon temple (unique for its 54 towers decorated with over 200 smiling faces of Avolokitesvara), Baphuon (recently re-opened after years of restoration), the Royal Enclosure, Phimeanakas, the Elephants Terrace, and the Terrace of the Leper King.
This evening, walk up Phnom Bakheng for a sunset view of Angkor Wat and the surrounding areas. This view provides a wonderful overview of the entire area. 
Stay overnight in Siem Reap

(Please note that this site becomes very crowded at sunset, so you may choose to walk up to Pre Rep instead.)
Day 8: Sunrise at Angkor Wat - Banteay Srei -Ta Phrom
Meal provided: Breakfast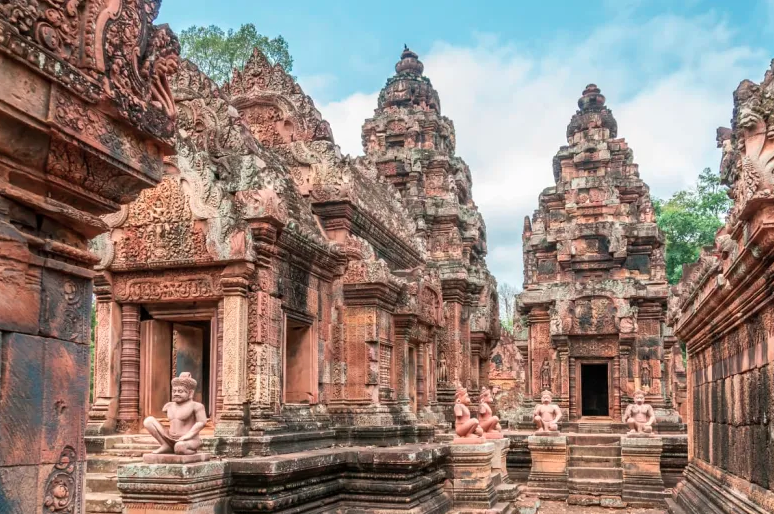 Morning tour of Angkor Wat: These temples were built from the 9th to 12th centuries by a Khmer empire that controlled not only Cambodia but large parts of what are now Laos, Thailand, and Vietnam as well. With their grandeur of scale and extraordinary delicacy in detail, the temples rank among humankind's most supreme artistic expressions.
This morning before sunrise departs your hotel for Angkor Wat, the largest and most breathtaking monument at Angkor. Built as the funerary temple for Suryavarman II, who ruled from 1112 to 1152, Angkor never fails to reward the first time or repeat visitors with its grand scale, surreal bas reliefs, and unbelievable attention to detail. Here you will spend the morning exploring one of humankind's most magnificent creations before returning to the hotel for a late breakfast.
Afternoon tour of Banteay Srei & Ta Phrom: This afternoon, visit Banteay Srei, the citadel of women – a tiny, enchanting temple, which is one of the jewels in this remarkable city. Built of red sandstone in the tenth century and dedicated to the Hindu god Shiva, the carved male and female figures in the niches are exquisitely executed in both style and proportion. This is the most Indian of all the temples in Angkor and in the words of H.W. Ponder, is a fairy palace in the heart of an immense and mysterious forest. Stop at a local village to visit families who are producing palm sugar.
Next, visit Ta Phrom in the soft afternoon light when there are not too many visitors around. Built-in 1186, Ta Phrom was dedicated to the mother of Jayavarman VII. Its atmospheric dark gray sandstone towers and courtyards exude an aura of reverence and mystery. Unlike the other temples of Angkor, Ta Phrom has been left to the elements and looks very much like the other temples must have looked when rediscovered by Henri Mouhot in the 1860s. Navigating through its narrow passages, immense kapok trees, and its jungle-covered ruins is an unparalleled experience, one of the highlights of Angkor.
After dusk, you'll be returned to your hotel with the evening free to relax or explore independently.
Stay overnight in Siem Reap
Please note: The tour program is flexible. Your guide will be more than happy to adjust the tour itinerary to suit you. You can skip one site or add another if you so wish.
Day 9: Siem Reap - Departure
Meal provided: Breakfast
Today is your final day. You are free to chill out and relax. Depending on your departure flight, your private driver will pick you up from the hotel and transfer you to the airport in time for your flight to the next destination. They will ensure you are the correct gate. We wish you a safe and pleasant journey.
End of Tour
Suggestion: If your departure flight is in the afternoon or evening,  you can think about taking an Optional trip in the morning to Lake Tonle Sap:
"This is an excursion to the floating village of Kompong Kleang  located in the south of Siem Reap and then take a traditional wooden boat for a ride on the Tonle Sap Lake, the "Great Lake"of Cambodia, one of the largest in Asia" (price will be updated)
Tour prices shown are 'per person', based on a traveling party of 4 adults, and sharing double or twin rooms.
** If you travel in group of 2, of 3 and so on, please feel free to contact us for specific offer.
** If you intend to travel alone, the cost might be much higher. However, you also earn money by using the
Share button
above to invite your friends and family to book this tour with you.
The 'Single supplement' applies for single travelers who require their own room and needs to be added to the tour price.
Note: Amendments CAN be made to this tour to suite your requirements, but may incur price changes
What's Included: 
7 nights base in double/twin sharing rooms at centrally located & well selected Comfort hotels (3 star-hotel).
[ Superior (4 star-hotel), Luxury (5- star hotel), High-end (best of the best hotel) properties are also available upon request]
1 night on board cruise in Mekong delta
Daily buffet or set breakfast at hotel and all hotels taxes and service charges.
Pick-ups and transfers by private air-conditioned vehicle as specified in the itinerary.
Travel by air-conditioned vehicle with an experienced, safe driver as specified in the itinerary.
Sightseeing with local, English-speaking guides as indicated in the itinerary.
Luxury express bus transfer from HCMC to Phnom Penh
Meals included as indicated as in program: B: breakfast, L: lunch & D: dinner.
Boat cruise as specified in the programmed.
Entrance fees according the above program

Local bottled water while sightseeing and transfers
VAT and all taxes and service charge. 
What's Excluded: 
International and domestic flight tickets and Visas stamp 
Any items of purely personal nature such as laundry and telephone calls 
Personal, travel and health insurance
 
Early check in and late check out 
Single room supplement if request 
Drinks during meals
 
Meals that are not specified
 
Gratuities/tipping to tour guide, driver and hotel staff and restaurant's staff 
Surcharge for peak season & compulsory dinner on X'mas and New Year's Eve
Remarks: 
1. All of our itineraries can be tailor-made to suit your requirements, allowing us to create the perfect holiday just for you. Please click on the "Tailor this trip" button and complete the requested information for us. Upon receipt, our travel consultant will customize the best value vacation for your kind consideration. Please note: Changes CAN be made to the itinerary after our initial quote, but may result in a price change also!

2. We are aware that a good tour must have good hotels. In Indochina in particular (Vietnam, Cambodia & Laos) hotel prices make up the major expense of your holiday. Therefore, we would like to clarify how we define these charges:
• Boutique & character hotels: from $50-$80 USD per room/ per night
• Comfort = 3 star hotels from US$ 40 - US$ 60 per room/ per night
• Superior = 4 star hotels from US$ 80 - US$ 110 per room/ per night
• Deluxe = 5 star hotels from US$120 - US$ 190++ per room/ per night
• High-end = Best of the best hotels from US$ 250++ per room/ per night

3. Child policy: 
• Ages 0-2: free of charge for tour when sharing bed with parents. Airfares depend on Airlines's policy at booking time
• Ages 2-5: 50% of adult price when sharing bed with parents. Airfares depend on Airlines's policy at booking time
• Ages 6-10: 85% of adult price when sharing bed with parents & airfare fully charges
• 11 years and older: 100% (charged as an adult)
Service Details During The Trip
We'll immerse you in the diverse cultures of Vietnam by showcasing the unique local flavors. And with the perfect balance of included sightseeing and free time, you can customize your dream vacation with the things you have always wanted to do.
Private Local Tour Guide

 You will have legally licensed local tour guide in each destination, from welcome and farewell you at the airport. Your guide will guide, help, assist and taking care of you in order to make your tour worry-free. The good guide for you means we arrange the right guide. Asianwaytravel.com will arrange tour guide base on the feature of the itinerary and consists of the group, to maximize your experiences in traveling.



Private Drivers & Vehicle

 Safety is first priority for transportation. A well maintained good condition car with legal business licensed and an experienced driver to make sure you are in safe hands. To maximize your comfort and joyful experience with driving service, cold drinking water, cold towel and soft drink are provided in the car.


Local Flavor Meals

 Don't worry about meals; we select both restaurants and menus for you. Asianwaytravel.com will select clean and good environment restaurants for our customer. Menu is also carefully selected by us to ensure you try different food every meal.
We will recommend and arrange local cuisine since it is part of the cultural experience while traveling. We also recommend dinners are free on your own so you can choose your favorite food by yourself under necessary assistance of your local guide.



Well-Selected Hotels

 Comfort and good value is our priority for choosing hotels for our customers. Comfort of mattress and bedding, joyful decoration style, user friendly facilities, good service and good breakfast!
Travel Visa
Most countries in South East Asia require you to obtain a visa. Please check carefully with your travel specialist regarding specific visa requirements for each country you plan to visit as the legislation does change frequently. Thailand offers a free visa on arrival to most nationalities. Other countries including Vietnam, Laos, Cambodia and Myanmar offer a "visa-on-arrival" service which requires you to pay a fee at the airport, or you may prefer to obtain this in advance through the relevant embassy or a visa agent. For visa-on-arrival in Vietnam, you must submit some paperwork before you arrive.

This is an option to get your visa for Vietnam instead of getting visa at the Vietnam consulate in your country.
Step 1: Provide us your application details


 • Your full name (as exactly seen on your passport)
 • Your gender
 • Your date of birth
 • Your nationality
 • Your passport number
 • Your passport expiration dates ( with at least 3 vacats pagess and valid for at least 6 months)
 • Date of arrival ( dd/mm/yy)
 • Date of exit (dd/mm/yy)
 • Arrival airport


Step 2: Process your visa information into a visa application


We will contact you for reviewing your visa information and then submit your application on your behalf to Vietnam Immigration department and follow other procedures pursuant to the regulations of Immigration department to get Visa approval letter granted by Immigration department.
We will send the visa approval letter via email to you after 7 working days.
After we obtain the visa approval letter from the Immigration department for you, we will forward you a scanned copy of it by email (Your visa information then have been recorded to the Visa system of the Vietnam Immigration department).




Step 3: Get your visa stamp on your arrival


Just print the approval letter out, prepare 2 passport sized photos and an amount of USD for stamping fee ($25 for single entry visa; $50 for 1 month multiple entry visa ). Put all above mentioned things along with your passport in a package, then show them to Immigration officer at Vietnam arrival airports.

Upon arrival at Vietnam's airport, expect a simple form to fill in (or you can download here to fill beforehand), present the visa approval letter, passport, photos to the Immigration officer inside the counter and look for a place to hear your name be called to get the passport back and pay for the stamping fee. The actual process takes around 15 minutes without hassle or trouble.


For those who is applicable for E-visa, our travel experts will consult case by case.
Be the first review this tour
Want a customized trip
just for you?
Send us a quick inquiry so that we can offer you an itinerary
with price for your information. This short inquiry is FREE and
NOT a commitment for booking.