Caodaism can be considered as a religion of Vietnamese people which consists of Buddhism, Christianity, Islam, Taoism and Confucianism. Built in 1933, Ho Chi Minh City's Cao Dai Temple now is opened for visit.
With the design similar to a Christian cathedral, Divine Eye which has Yin and Yang in the pupil, dragons wrapping pillars, Cao Dai Temple indeed is a unique architectural combination. Witnessing praying ceremony is the highlight of your visit to Cao Dai Temple when the followers dress in white, yellow, blue and red long robes.
- Location: Near Cambodian border, 100km northwest of HCMC
- Worshipping hours: 6:00, 18:00 daily.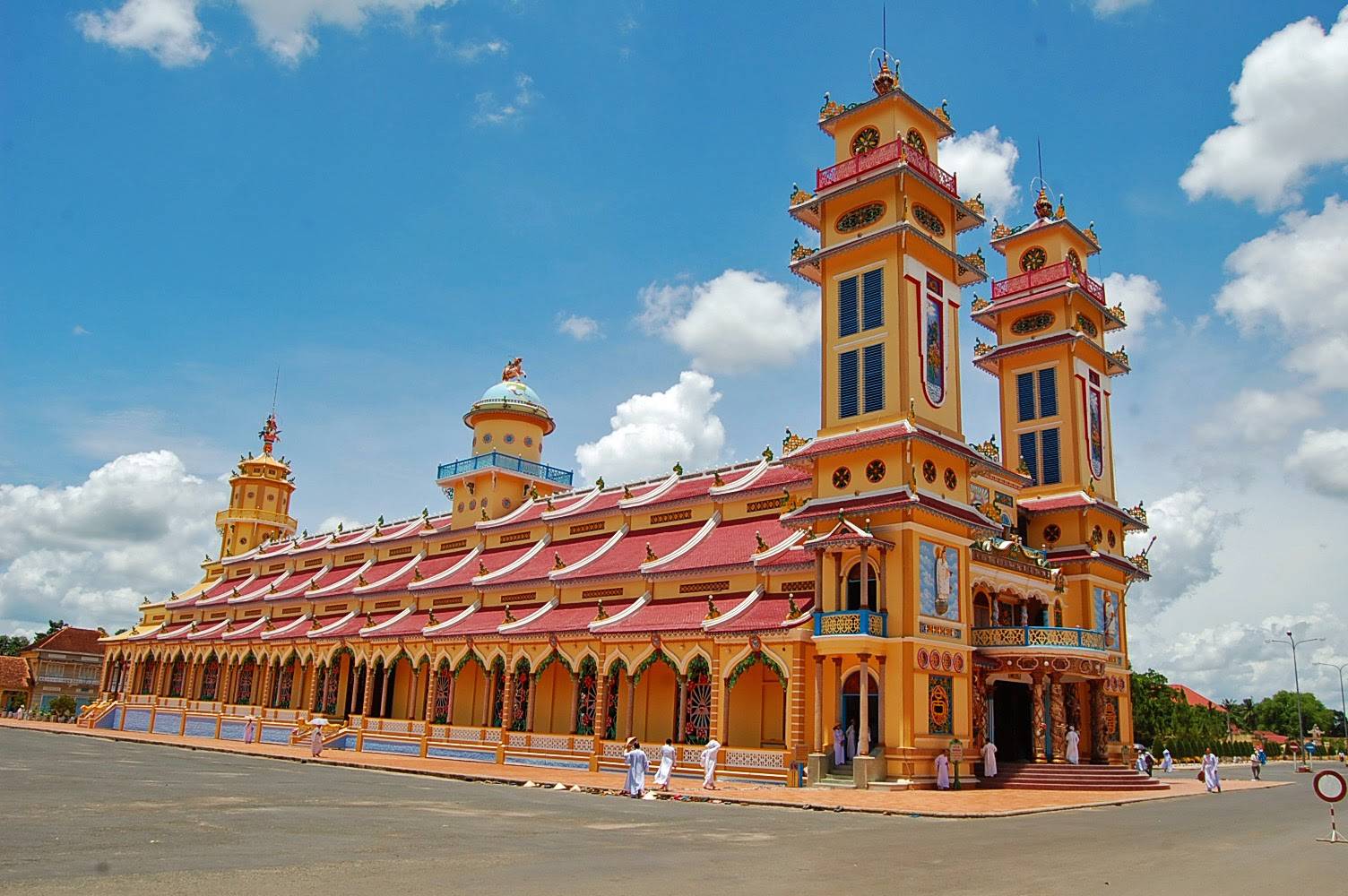 The Cao Dai religion (Caodaism) is unique to southern Vietnam and was established in 1926, this temple was built by the French around that time. It's something completely different and rather mysterious. Cao Dai blends Buddhism, Christianity, Taoism, Confucianism, and Islam. It is the 3rd largest religion in Vietnam and the temple you will visit is absolutely stunning.
What to expect when visiting Cao Dai Temple
Constructed between 1933 and 1955, the Great Temple of Cao Dai closely resembles a Christian cathedral in its architecture – two square towers, a long central nave with an upper gallery, and side aisles. The altar and ambulatory are at the opposite end from the entrance, just as in a typical church.
The religion Caodaist is headquartered in Hoa Thanh district of Tay Ninh province, about 90 kilometers northwest of Ho Chi Minh City and approximately 55 kilometers of the Cu Chi tunnels. The temple, visible from almost any part of the complex, is located about 150 meters from the main entrance from the road.
Cao Dai encourages obedience to the three duties (those between king and citizen, father and child, husband and wife) and five virtues (humanity, obligation, civility, knowledge, reliability) of Confucianism.
Followers are expected to participate regularly in worship services, practice vegetarianism at least ten days per month, purify their body and spirit and avoid killing living beings.
Cao Dai's organization is patterned after that of Roman Catholicism, with nine levels of hierarchy including a pope, cardinals, and archbishops. Worship involves group prayer in the temple, elaborate rituals and festivals.
Watching Caodaists pray is one of the major highlights when visiting the temple as they dress in long flowing robes of white for lay followers, yellow, blue or red for priests whilst bishops have the Divine Eye embroidered on their headpieces. During worship, men are seated on the right and women on the left with all devotees seated in orderly rows. The building is a combination of Neo-Gothic, Baroque and Oriental design and is very ornately decorated including dragon wrapped pillars, seven-headed cobras, and ceilings of sky blue.
Female tourists will enter the temple through a door at the base from the left side and then roam around the outside of the colonnaded hall as a clockwise direction. Meanwhile, men will enter from the right side and move around the hall as an anticlockwise direction. During the visit, you are able to take pictures, but under the instructions of the priests. Remember there are some places you have no permission to take photographs.
The Cao Dai Temple can be combined with a visit to the Cu Chi Tunnels to make for a worthwhile day. The 75-mile-long complex of tunnels at Cu Chi has been preserved by the government of Vietnam and turned into a war memorial park with two different tunnel display sites, Ben Dinh and Ben Duoc.
How to get to Cao Dai Temple
The only way to get to the Cao Dai Temple is by road. Although it is only 90 kilometers from the center of Ho Chi Minh City, the traffic and the State of the roads, many of them in construction or improvement process, it makes will take 2 hours and a half to arrive until the Cao Dai Holy headquarters.
To take advantage of the day ideally go in van/tourist bus from Saigon, that can be purchased easily in any travel agency in the area of backpackers from Saigon (streets of Tham, Tran Hung Dao, and surroundings). For those who dare to ride a motorcycle, they know that the only secure parking is in Cao Dai is for the faithful, not allowing tourists to park.
Also, you can go on the regular bus line, specifically the bus 702 departs from a station of buses from the Ben Thanh market in Ho Chi Minh City to Tay Ninh. Another alternative is to go with the bus 13 to Cu Chi and from there take one of the many buses to Tay Ninh.