Want more things to do in Hanoi than just a city tour and tasting street food? You've come to the right place. We'll show the best Hanoi tours to take including short day trips and further excursions from Hanoi. In our article, you will find detail information on where to go, how to go and what to see and do, illustrated with concrete itineraries.
As the center of North Vietnam, Hanoi is the base to many other beautiful destinations. The city itself is also a major tourist destination for its richness in culture, traditions and unique way of life.
Hanoi certainly has many things to do and see, which might take you about 2 days to discover fully. If you have even more time budget, you can stay in Hanoi to discover further the areas around this beautiful city.
There are usually two kinds of day trips and excursions from Hanoi: day trips and longer trips. A day trip from Hanoi is only within a day to travel to destinations in within 100km proximity. A longer excursion often takes you to further destinations and it's about 2 days or more.
You can also articulate more destinations in a single trip in north Vietnam from and back to Hanoi.
Short Hanoi Tours: Best Day Trips from Hanoi
---
Perfume Pagoda, Hanoi – Boat Trip and Cave Pagoda visiting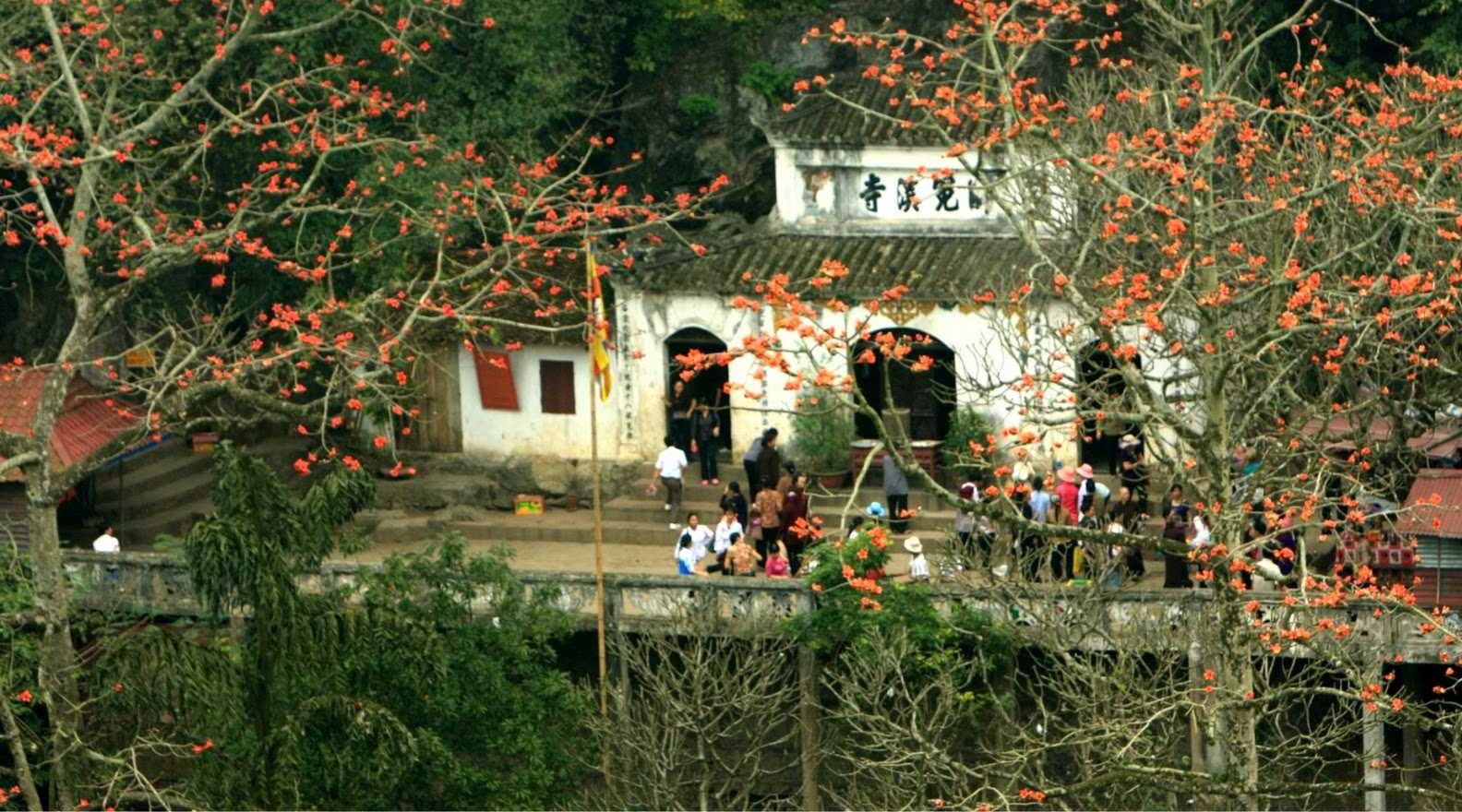 This is the most basic day trip from Hanoi for those who are looking for an enjoyable boat trip but don't want to travel too far from the city. The pagoda is about 70 kilometers south of Hanoi and can easily be reached in just a bit more than one hour driving.
Huong Pagoda or Perfume Pagoda is a spiritual destination of Vietnamese people. You'll enjoy the mountain views while rowing on the poetic Yen River before landing to trek up to the main pagoda. The pagoda is located deep inside a cave which has been praised as the most beautiful cave in Vietnam.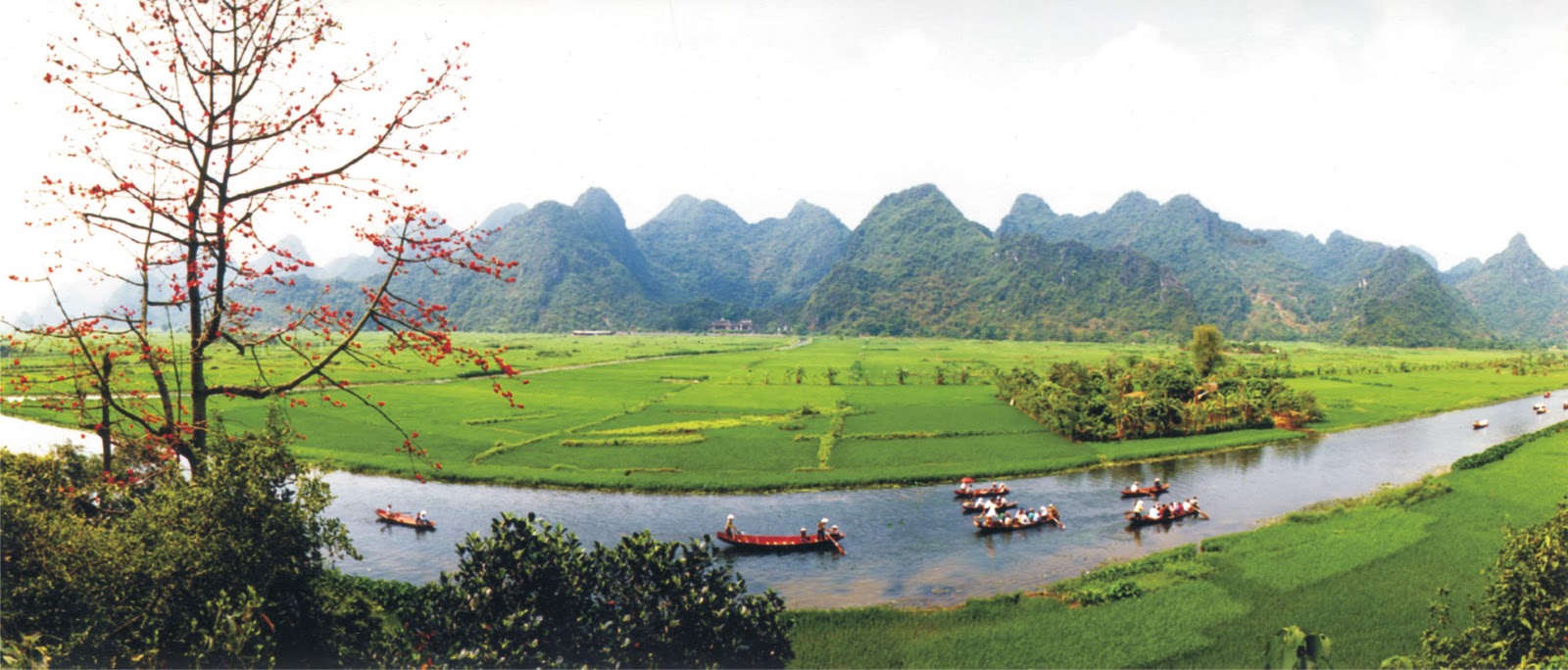 The Perfume Pagoda Festival is a famous religious event but it's really not a good time for tourist activities since every place around the area will be overcrowded.
The admission and boat fee will be VND130,000 per person in which admission is 80,000VND and roudnd-trip boat fee is 50,000VND. You can also take a cable car to visit the pagoda at the price of 180,000VND for a round-trip.

>>> See our Hanoi day trip to Perfume Pagoda:


Perfume Pagoda 1 Day 



Attractions: Yen River boat trip, Huong Tich Cave, Thien Tru Pagoda, Van Phuc silk village



Price from: US$84/ pax
Ba Vi National Park – Green Lungs of Hanoi
Ba Vi is also another great day trip in Hanoi, a leisure picnic and a great opportunity to enjoy trekking while breathing the fresh air of nature.
The best way to visit Hanoi is by biking – the slopes might be steep but it's just worth it. Ba Vi has some of the most beautiful roads in North Vietnam, perfectly shaded and adorned by the thick trees and pretty flowers of the park.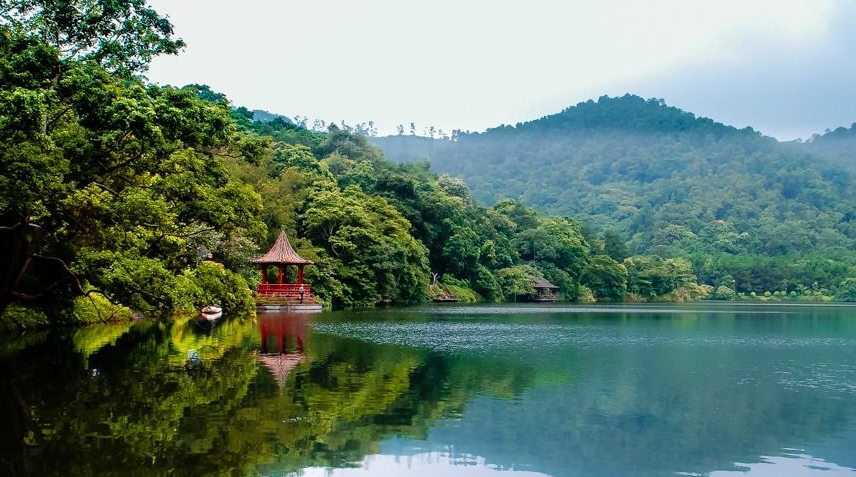 You'll conquer a 12-km scenic and beautiful road with views overlooking hills and lakes below before arriving at the base of the park to trek up to the peaks of the mountains. Along this road, there're many flower gardens and pine tree hills you can stop and enjoy the scenery around. On each peak, there's a temple lying. From the base, you can see the chedi of these temples.
Bat Trang Pottery & Ceramic Village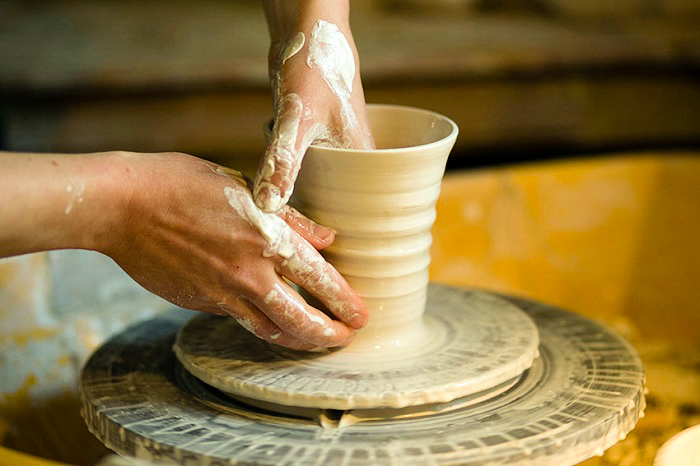 Bat Trang is the closest destination from the city center of Hanoi and one of the most interesting things to do around the city. Bat Trang is known for the age-old practice of making traditional pottery and ceramics. Indeed, the fame of Bat Trang products even reached oversea for its aesthetics and quality.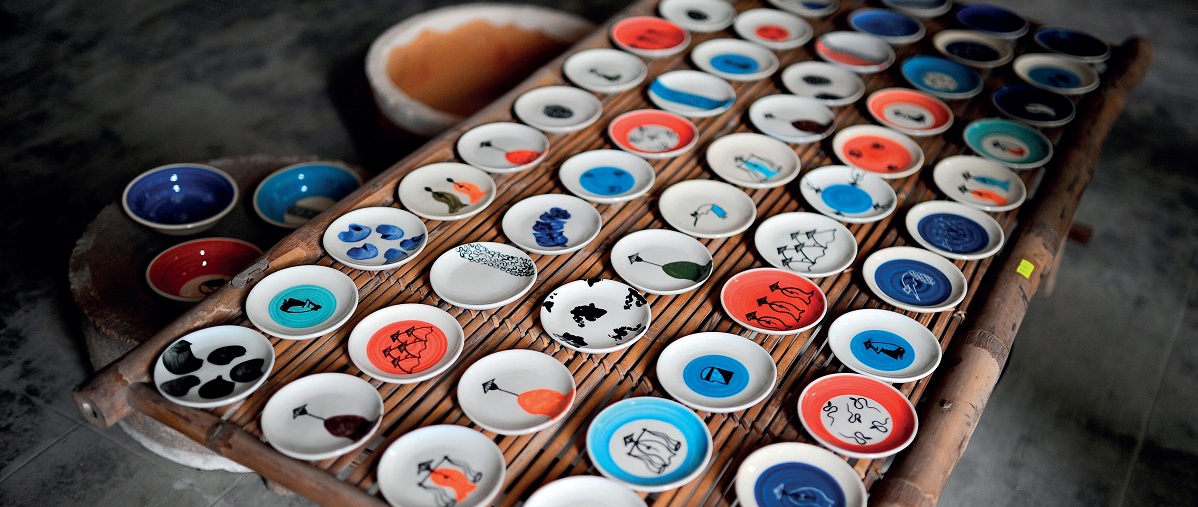 To travel to Bat Trang, you can take the bust no.47 and after a 40-minute ride, you'll arrive at the village. Or you can also book a bike tour to Bat Trang and you'll be enjoy the tranquil atmosphere and the beauty of Hanoi countryside.
Come to Bat Trang, you can enjoy making your own pottery and visiting pottery and ceramic market where thousands of products and items are displayed. The price here ranges from 10,000VND to more expensive products.
>>> Take a look at our Hanoi – Bat Trang Village Biking Tour:


Duong Lam Ancient Village – The ancient Vietnam
No place is better to see the traits of Vietnamese ancient life than Duong Lam Ancient Village. Duong Lam is the first ancient village in Vietnam, has its age of about 1200 years. The village is only 50km west of Hanoi and can be easily visited.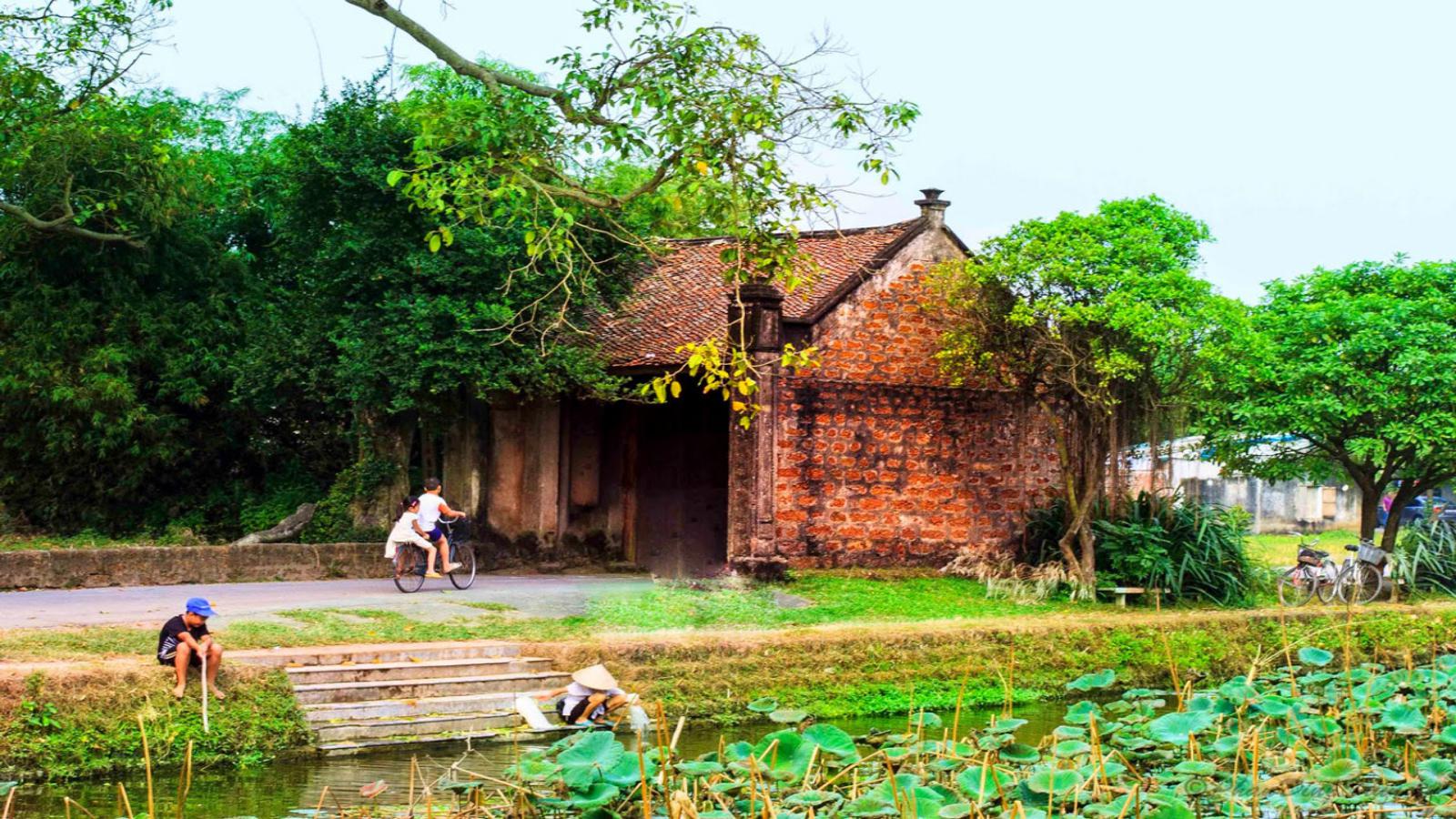 The things that have made the fame of Duong Lam village is the old houses dated back to up to 400 years and the iconic village's gate with a very scenic landscape. The houses in Duong Lam are quite well reserved and are the best representation of Vietnamese house architecture.
Besides visiting these houses, you can also stop by many other beautiful constructions around the villages such as Mia pagoda, Ngo Quyen and Phung Hung temples.
Ninh Binh – World Heritage of Culture and Nature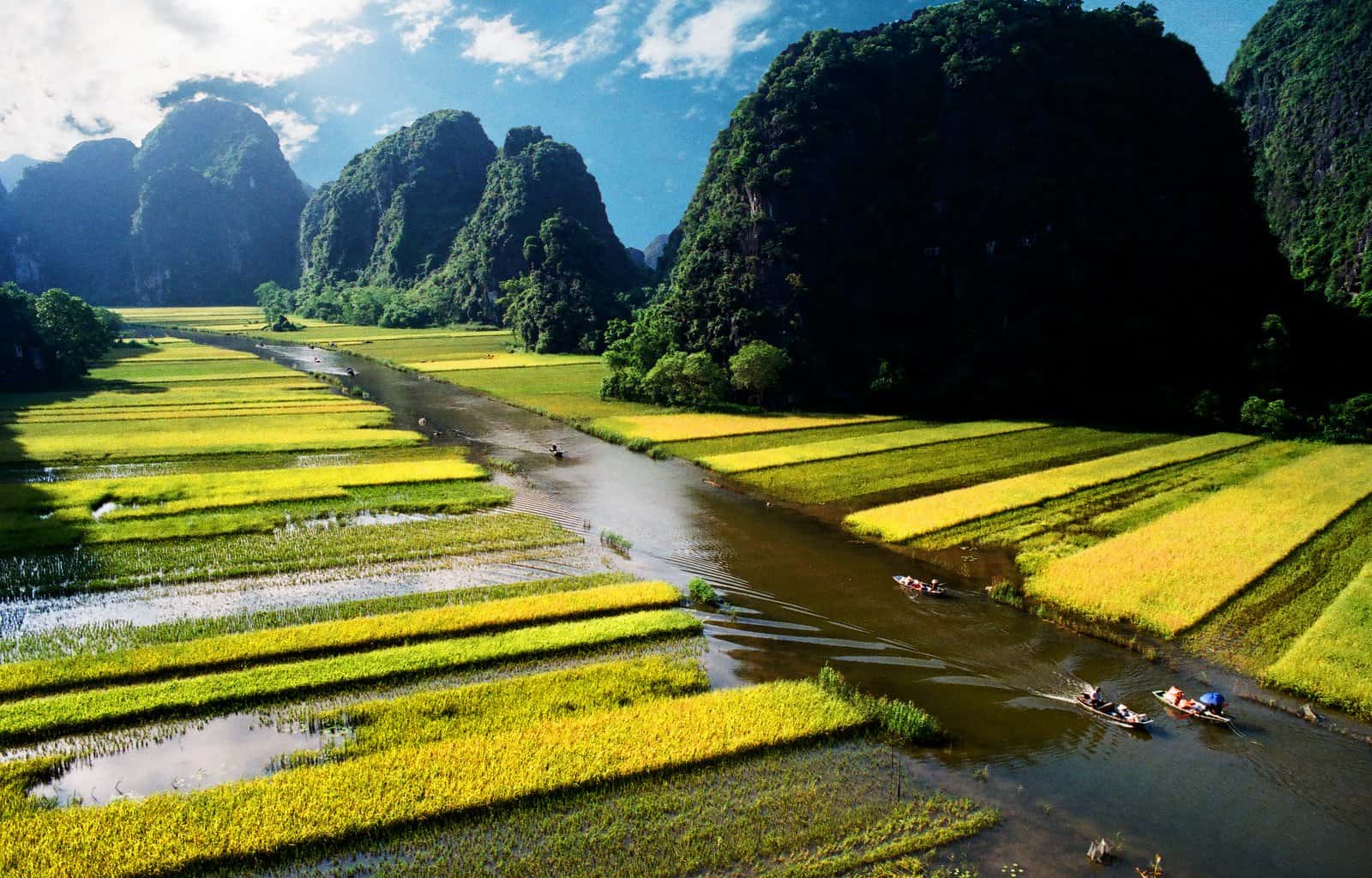 Ninh Binh is a popular day trip from Hanoi and has been rising as one of the most beautiful places to visit in Vietnam. Ninh Binh is about 100km south of Hanoi and can be visited within a day.
As a double heritage of culture and nature, there're so many things to see in Ninh Binh. The most popular place is Trang An Landscape Complex and Tam Coc Bich Dong. In just a day, we suggest you to take a boat trip to visit only one of the two. A boat trip in Ninh Binh often takes about 2 hours and with the time left of the day, Bai Dinh Pagoda and Hang Mua are also wonderful choices.
>> You can see more about Ninh Binh from Hanoi trip in our other post:
Tam Dao, Vinh Phuc – The Closeby Sapa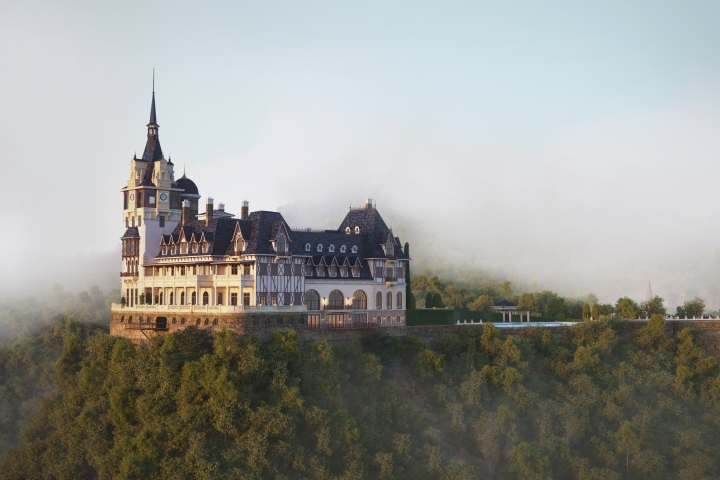 For those who don't have much time to take a trip to Sapa, then Tam Dao is your perfect alternative. The town is blessed with pleasant cool climate and dramatic mountain views, Tam Dao would be a perfect destination to hide from the busy and bustling Hanoi for just a few days.
You can visit Tam Dao within day since the place is only about 70km north of Hanoi. However, Tam Dao is little not much more than a pretty town so we thank that a day trip is enough time to spend here. You can walk among the fogs and clouds while enjoying the views or visit the French ancient church, the magnificent Tam Dao Castle here or trek up the Heaven Gate in Tam Dao.
Longer Hanoi Tours: Best Excursions from Hanoi
---
Halong Bay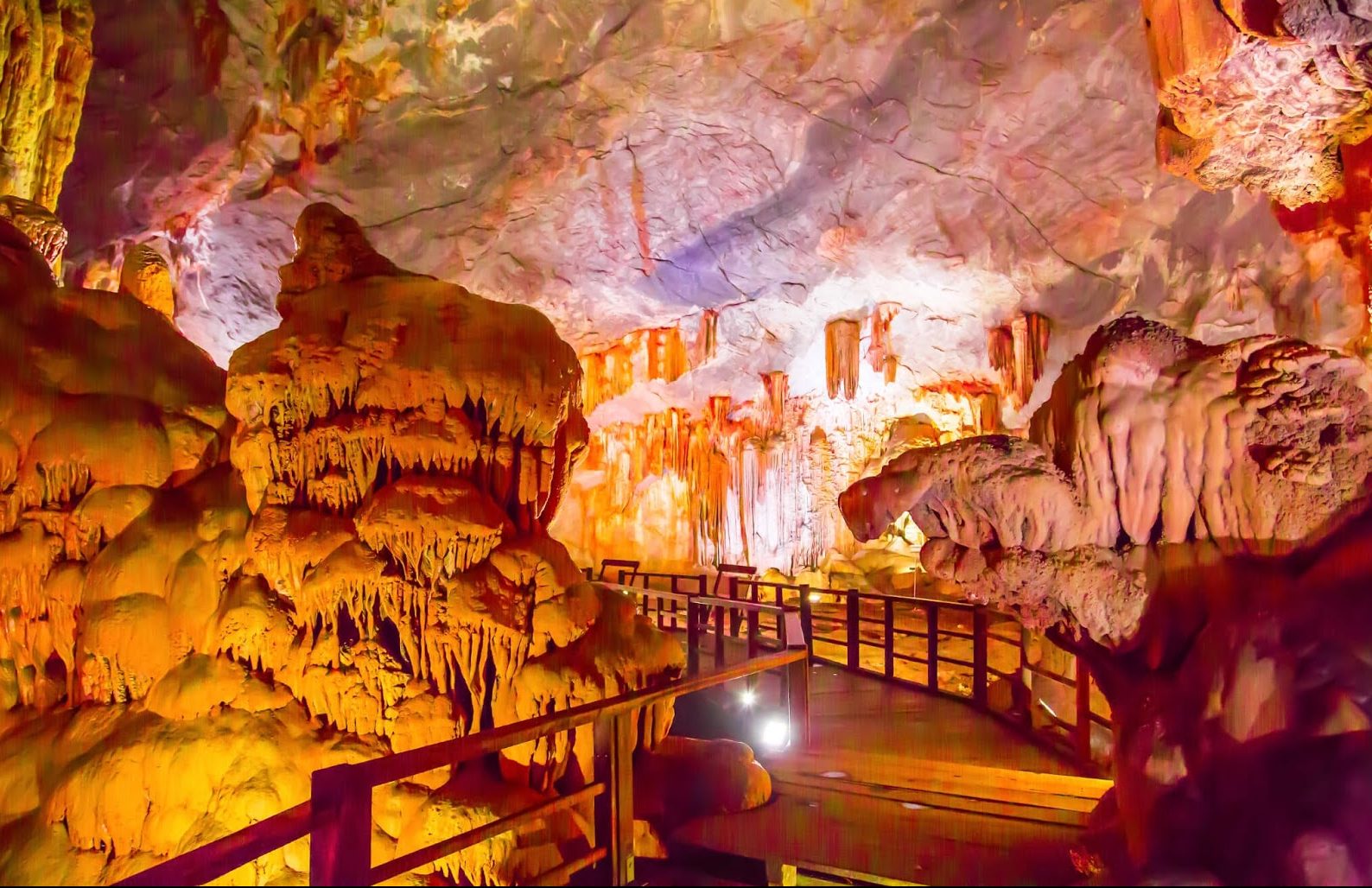 Halong Bay is the best choice for a 2-day excursion from Hanoi. Halong Bay can be visited within a day thanks to the new expressway which reduces the traveling time down to only 2 hours. You can explore Halong Bay with a 4-hour or 6-hour cruise but the most magical moment to see in Halong is the bay in sunset moment. So we suggest you to spend at least 2 days in Halong from Hanoi to enjoy an overnight cruise on the bay.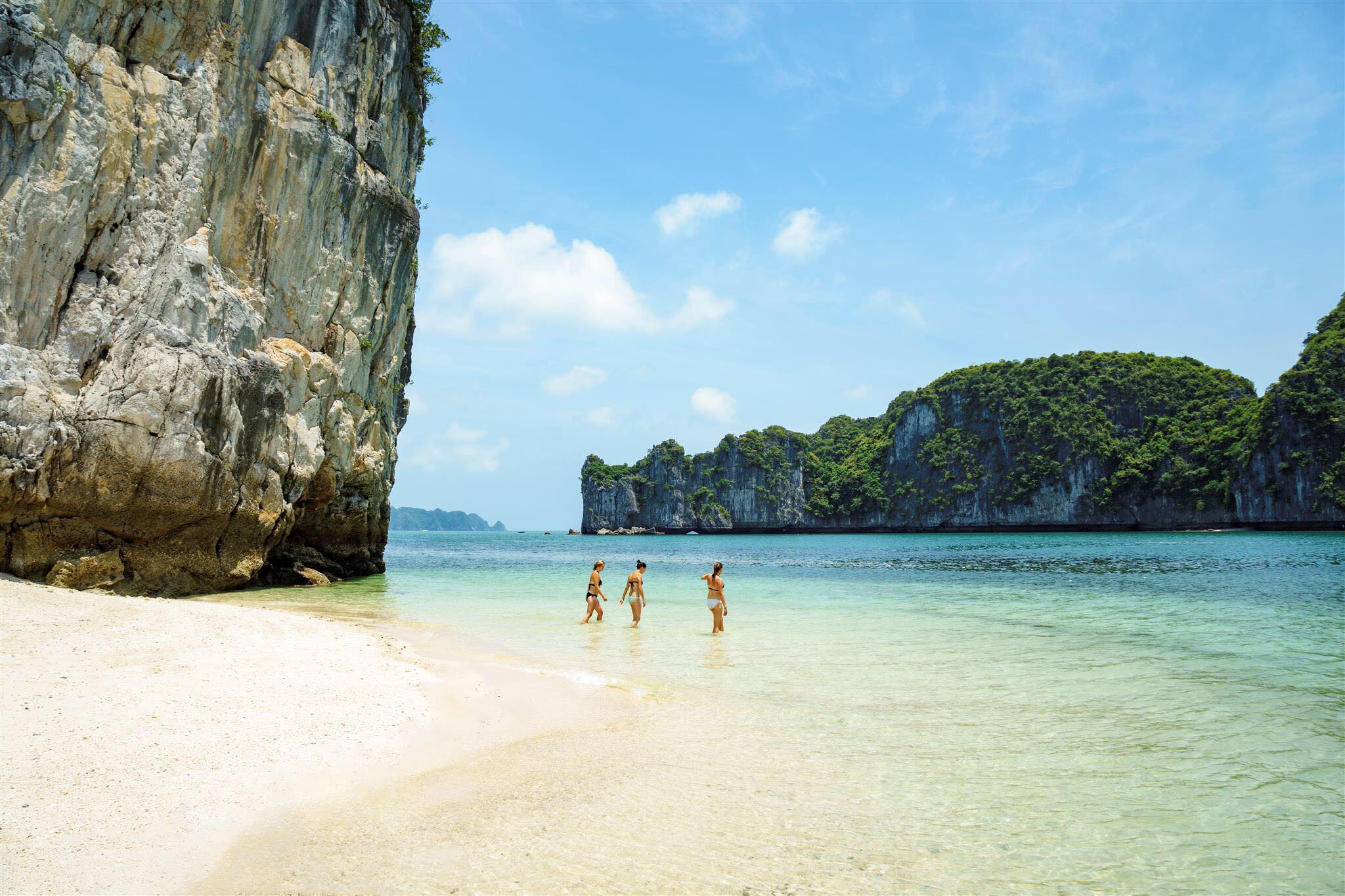 Halong Bay has been known for its magnificent landscape – a magic garden of limestone islands and islets on a green water bay. Designated twice as a UNESCO World Heritage of natural wonder, millions of tourists come to Halong every year just to admire the masterpiece of nature.
Besides the beautiful landscape, you can also enjoy beautiful caves like Sung Sot and Thien Cung, kayaking on the bay, swimming on Ti Top island.
A Tai Chi Class where you can enjoy Halong Bay in daybreak would be an interesting things to do in Halong.

>>> See our Best Halong Bay tours from Hanoi
Bai Tu Long Bay – Sleeping Beauty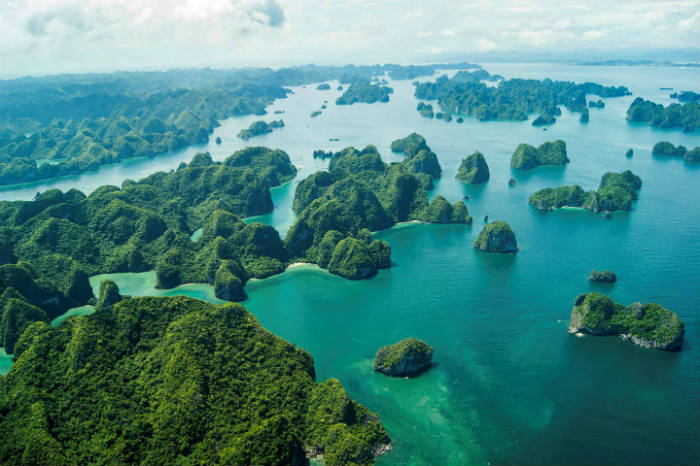 Bai Tu Long Bay is adjacent to Halong, not as popular but its beauty is no way inferior, even more beautiful since the bay is less explored with lesser crowds.
Bai Tu Long is more primitive and pristine and more importantly, there's only 30 cruises operating on this bay (compared that to 600 cruises on Halong Bay). A cruise on Bai Tu Long Bay is truly a retreat to nature.
On Bai Tu Long Bay, you should visit: Thien Canh Son Cave, Ban Chan Cave, Bai Tu Long National Park, Cong Do Island.
Bai Tu Long is often added to Halong Bay trip, however, you can book cruises to Bai Tu Long Bay only.
Sapa – Highland Romance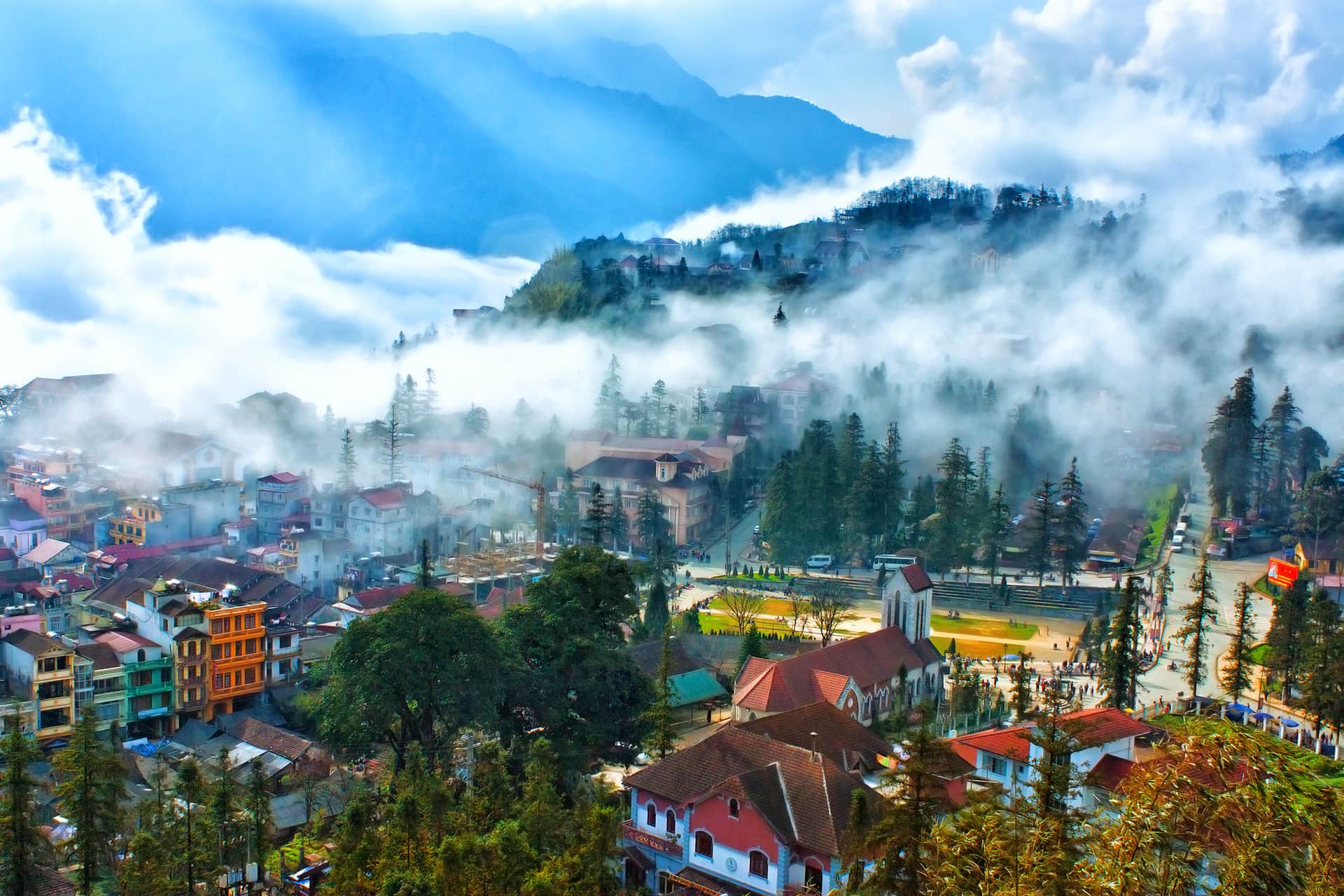 Sapa, the great gateway to Northwest Vietnam is often visited from Hanoi which make Sapa a top excursion in our list. Sapa has all the beauties that Northwest Vietnam is famous for: the peaceful countryside, the gorgeous terraced rice fields and unique cultural charms.
Things to do in Sapa you can't miss: visiting Fansipan Peak, admire the waterfalls, join a fair market of ethnic people, trekking to ethnic village and even more.
To visit Sapa, you should spend at least three days since the distance between Sapa and Hanoi is about 316km which takes you 5 hours by bus and 8 hours by overnight train.
>>> See our best Sapa Itinerary here: Sapa Short Stay – 4 Days
Cat Ba Island – Summer Paradise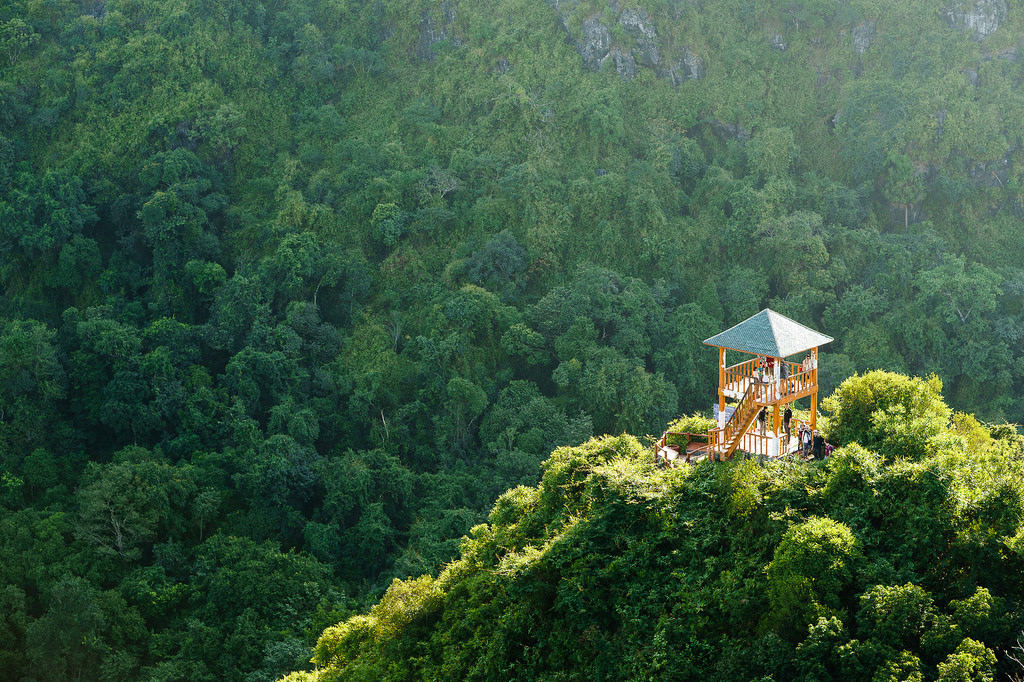 Since Hanoi doesn't have a beach, the closest beach break from Hanoi is Cat Ba Island which is about 120km away. If you're visiting Hanoi in summer, Cat Ba Island is the best choice if you want to enjoy the sea.
Cat Ba is also close to Halong Bay and you can always take a boat to see this famous bay from Cat Ba. The island is blessed with emerald beaches Cat Co 1, 2 and 3, Cat Ba National Park, Viet Hai village, a slow, peaceful nightlife and many islands around worth discovering. Lan Ha Bay nearby is the most perfect place for kayaking since the bay is surrounded by limestone islands and islets.
>>> Take a look at our best itinerary for Cat Ba Island:


Mai Chau – Moc Chau – The Dreamlands of North Vietnam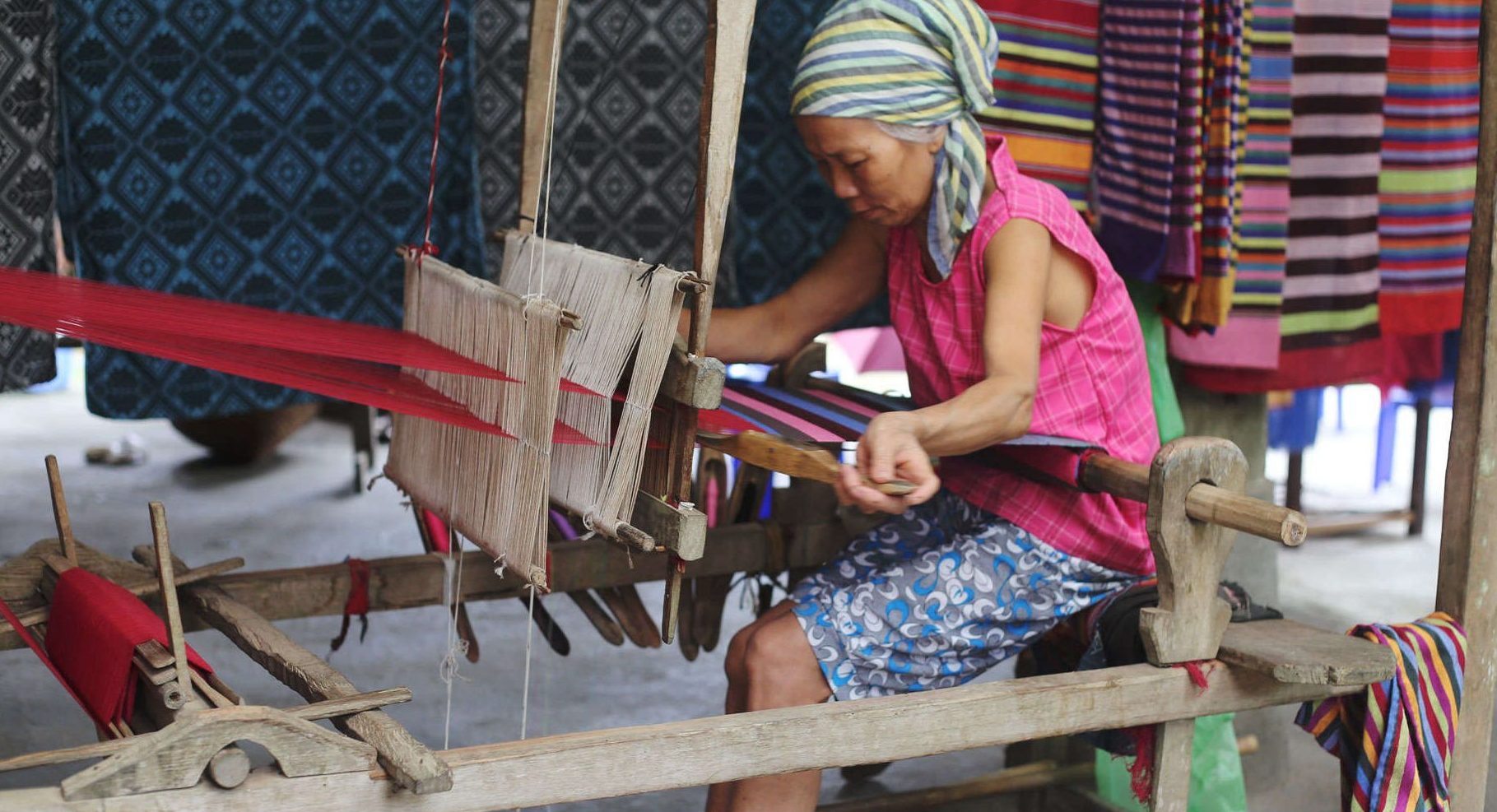 Mai Chau and Moc Chau can be visit together in a 3-4 day trip from Hanoi. This trip is for those who find the bays with limestone islands and foggy towns are too boring, then you can head up north to enjoy the legendary Northwest Vietnam.
Mai Chau and Moc Chau are the easiest destinations of Northwest Vietnam to visit from Hanoi. Mai Chau is a paradise-like valley where the idyllic traditional stilt houses of Thai people is lying side by side with the green rice fields.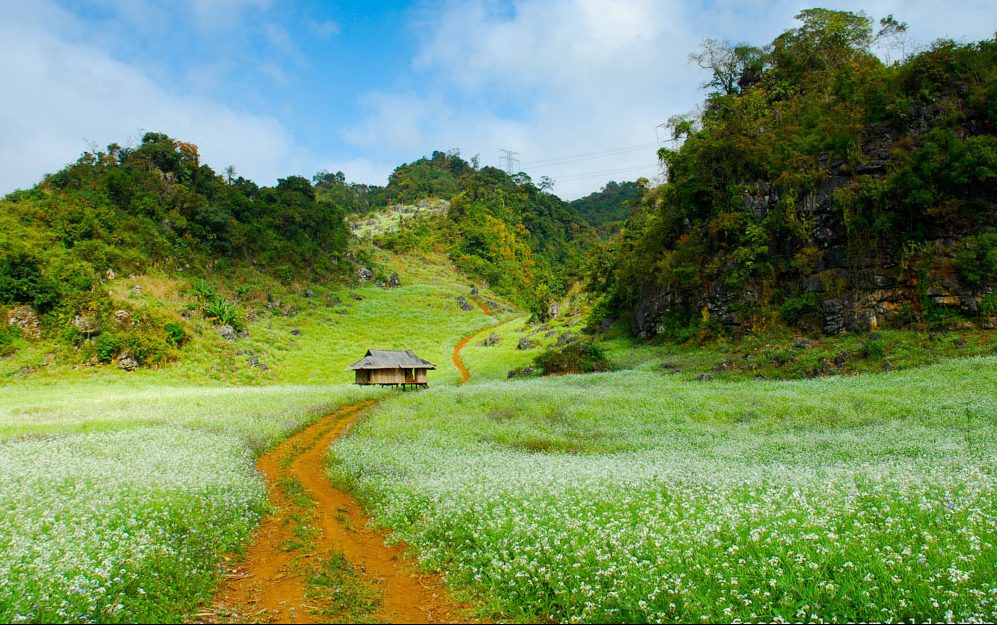 Moc Chau is a beautiful plateau where you can find limestone caves, ethnic villages with fields of flowers, green tea hills and exciting festivals….
You'll only need 2 days to travel both Mai Chau and Moc Chau but it's better to spend 3 days in these two sites.
Yen Tu – Legacy Yen Tu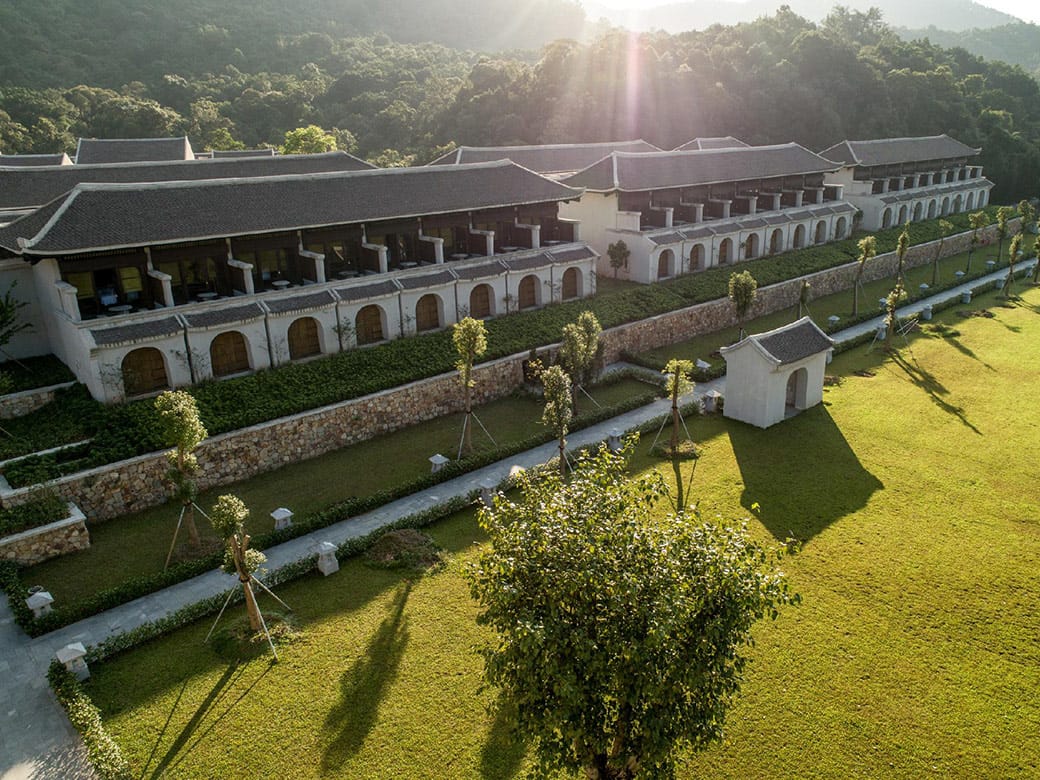 Yen Tu Mountain is now not only for making pilgrimage in Lunar New Year but also for a leisure retreat. With the birth of Legacy Yen Tu, the mountain can be your weekend getaway from Hanoi with absolutely luxury.
Located about 143km from Hanoi, it takes you 3 hours by bus. If you don't fancy the idea of taking cable car to the top of Yen Tu mountain or maybe, trekking it, then you can just spend your time inside this gorgeous hotel. Inspired by Vietnamese traditional architecture and the glory of Tran Dynasty, Legacy take you to the other time of Vietnam's history.
You won't be dissapointed once you step inside this spectacular property.
---
Are you excited to go on Hanoi tours to explore the beautiful countryside and other dramatic landscapes in north Vietnam? We can customize a trip that is most suitable for you. Send you request to booking@asianwaytravel.com to have our travel experts start planning your trip to day!