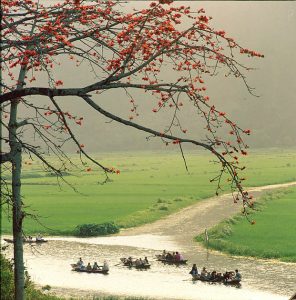 Meals: Lunch
7.30am: you will be picked up at you hotel for driving south to Perfume pagoda. It is about 65km and it will take you about 2 hours.
Arrive at the harbor; you will get on a small boat rowing on Yen Vi River to a mountain. Visit Thien Tru pagoda and Huong Tich grotto.
On the way going back to Hanoi, we will pass by Van Phuc village. Finish your trip at your hotel.
Perfume pagoda is a folk name people used to call the area. There are more than ten Buddhist pagodas and some Temples in here.
Thien Tru and Huong Tich are the main ones. Festival of this complex takes part in from 1st lunar month to 3rd lunar month. During this period, many Vietnamese pilgrimage to the area. It will be very crowded. Perfume pagoda pilgrimage is considered the biggest festival in Red River Delta.
It will take 30 minutes for rowing a sampan from harbor to the main pagoda area. Along the river, it is very quite. You can hear the sound water crush into the boat.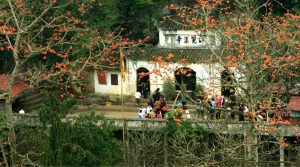 Somewhere, you see the local people plant vegetable, rice or collecting the snail, crap or mussels… One part of the river, water is very clear; you can the water plants as if there is a lush garden under the water.
Arrive in the Island. You take a hiking to the main Pagoda, Huong Tich cave. It will take you about more than 1 hour for hiking up to the mountain; with the length of the path is 2.5km.
Long time ago, it was said to be the most beautiful cave in Vietnam. If you afraid of getting tired, you can choose going by cable. The best way is going up by your foot and going by cable. Fee for cable is not included. Hiking along the way, you can see a lot of tree, listen to the bird's song and breathe the fresh air.
Lunch is followed by visiting to Thien Tru pagoda. The pagoda is considered the oldest one in Vietnam. Its name means the kitchen in the Heaven.
In a patrolling to the south of a King under Le Dynasty, the King stop there and found that the pagoda is in the location of Thien Tru star group, then he named the pagoda the name of the star.
Getting back to the harbor and going back to Hanoi. On the way, we will stop at Van Phuc, a Silk village in the suburban of Hanoi.
Service Details During The Trip
We'll immerse you in the diverse cultures of Vietnam by showcasing the unique local flavors. And with the perfect balance of included sightseeing and free time, you can customize your dream vacation with the things you have always wanted to do.
Private Local Tour Guide

 You will have legally licensed local tour guide in each destination, from welcome and farewell you at the airport. Your guide will guide, help, assist and taking care of you in order to make your tour worry-free. The good guide for you means we arrange the right guide. Asianwaytravel.com will arrange tour guide base on the feature of the itinerary and consists of the group, to maximize your experiences in traveling.



Private Drivers & Vehicle

 Safety is first priority for transportation. A well maintained good condition car with legal business licensed and an experienced driver to make sure you are in safe hands. To maximize your comfort and joyful experience with driving service, cold drinking water, cold towel and soft drink are provided in the car.


Local Flavor Meals

 Don't worry about meals; we select both restaurants and menus for you. Asianwaytravel.com will select clean and good environment restaurants for our customer. Menu is also carefully selected by us to ensure you try different food every meal.
We will recommend and arrange local cuisine since it is part of the cultural experience while traveling. We also recommend dinners are free on your own so you can choose your favorite food by yourself under necessary assistance of your local guide.



Well-Selected Hotels

 Comfort and good value is our priority for choosing hotels for our customers. Comfort of mattress and bedding, joyful decoration style, user friendly facilities, good service and good breakfast!
Travel Visa
Most countries in South East Asia require you to obtain a visa. Please check carefully with your travel specialist regarding specific visa requirements for each country you plan to visit as the legislation does change frequently. Thailand offers a free visa on arrival to most nationalities. Other countries including Vietnam, Laos, Cambodia and Myanmar offer a "visa-on-arrival" service which requires you to pay a fee at the airport, or you may prefer to obtain this in advance through the relevant embassy or a visa agent. For visa-on-arrival in Vietnam, you must submit some paperwork before you arrive.

This is an option to get your visa for Vietnam instead of getting visa at the Vietnam consulate in your country.
Step 1: Provide us your application details


 • Your full name (as exactly seen on your passport)
 • Your gender
 • Your date of birth
 • Your nationality
 • Your passport number
 • Your passport expiration dates ( with at least 3 vacats pagess and valid for at least 6 months)
 • Date of arrival ( dd/mm/yy)
 • Date of exit (dd/mm/yy)
 • Arrival airport


Step 2: Process your visa information into a visa application


We will contact you for reviewing your visa information and then submit your application on your behalf to Vietnam Immigration department and follow other procedures pursuant to the regulations of Immigration department to get Visa approval letter granted by Immigration department.
We will send the visa approval letter via email to you after 7 working days.
After we obtain the visa approval letter from the Immigration department for you, we will forward you a scanned copy of it by email (Your visa information then have been recorded to the Visa system of the Vietnam Immigration department).




Step 3: Get your visa stamp on your arrival


Just print the approval letter out, prepare 2 passport sized photos and an amount of USD for stamping fee ($25 for single entry visa; $50 for 1 month multiple entry visa ). Put all above mentioned things along with your passport in a package, then show them to Immigration officer at Vietnam arrival airports.

Upon arrival at Vietnam's airport, expect a simple form to fill in (or you can download here to fill beforehand), present the visa approval letter, passport, photos to the Immigration officer inside the counter and look for a place to hear your name be called to get the passport back and pay for the stamping fee. The actual process takes around 15 minutes without hassle or trouble.


For those who is applicable for E-visa, our travel experts will consult case by case.