Though Hanoi- Vietnamese Capital- is one of the most bustling cities in this country (together with Ho Chi Minh city, Da Nang and Nha Trang), Hanoi boasts its own charm that you may not feel if you just spend one or two days there. To get off the beaten tracks in the one-thousand-years-old city, discover its cultural sediments or have direct talks with the locals, spare at least 7 days here and follow a Hanoian's itinerary to know what are the best things to do in Hanoi.
Day 1- Welcome to the heart of Hanoi

After arriving in Hanoi, take a rest at your hotel to cover from the long haul flight. When the darkness comes, it is the time to explore the interesting nightlife of this old city. Instead of going to a bar, pub or for a beer, it is recommended to take an enjoyable walk along Hoan Kiem lake and the unique walking street on the weekend there.
Hoan Kiem Lake at night covers itself with sparkling scenery of a red bridge connecting green lake bank with small temple, a colorful tower and a lotus-like yellow temple in the middle of the calm lake reflecting everything around. Just walk around this peaceful lake and listen to the legend of returning a sword of a Vietnamese King to a…Golden Turtle God. 
On the weekend from 6 PM on Friday night until 12 PM on Sunday, the pedestrian-only route spread from Hoan Kiem Lake bank to 36 streets in Hanoi Old Quarter. Traditional games and street-art or Vietnamese cultural performances are held every corner of this enormous walking area… for free. Immerse yourself in the crowd of Vietnamese people from youngsters to elders, stop by a coffee or tea street vendor, eat the food that you may have never heard of or just watch people moving and feel the life beat in the heart of Hanoi. It's an amazing start for anyone who has just said "Hi" to this city.
Day 2: The land of history
On this second day, turn back time to Hanoi from the 10th to 20th century. The history of Hanoi dates back to Ly Dynasty and a renowned king- Ly Cong Uan, who made Hanoi (in the past, its name is Thang Long meaning Rising Dragon) the capital of ancient Vietnam. During 10 centuries of ups and downs, Hanoi becomes the home to a whole heap of historical sites ranging from ancient temples, pagodas to colonial-style buildings and hundreds-years-old walls. Get on the minivan with Asianway Travel to explore one by one
Cited as the first university of Vietnam, Van Mieu or the Temple of Literature was built in 1070 and became the sanctuary of Confucians, sages and mandarin-choosing exams. The temple was reconstructed in Tran Dynasty but still keep the old architecture of ten centuries ago with the pagodas, lotus ponds and gardens of the five courtyards.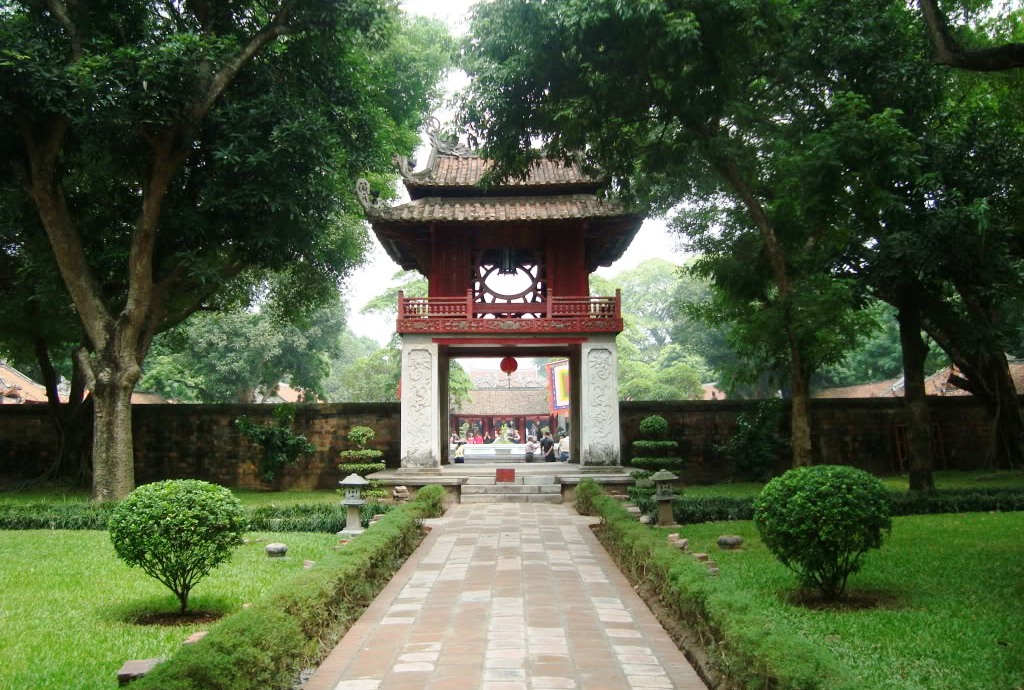 Travel Tips: if you visit Vietnam during Tet holiday, never miss this temple as it holds annual calligraphy event where calligraphists write and sell their hand-writing wishes to everyone. 
Ba Dinh Square and Ho Chi Minh Mausoleum
Ba Dinh square is the largest square in Vietnam and cited as a symbol of the independence of Vietnam and the August Revolution in 1945.  The museum to Uncle Ho's life and the simple cottage where he lived and worked, along with his "house on stilts" as well as his final resting place are both listed as must-visit places in Hanoi. Besides Ho Chi Minh Mausoleum, take in Hanoi's famous One-Pillar Pagoda, constructed in 1049 to resemble a lotus blossom.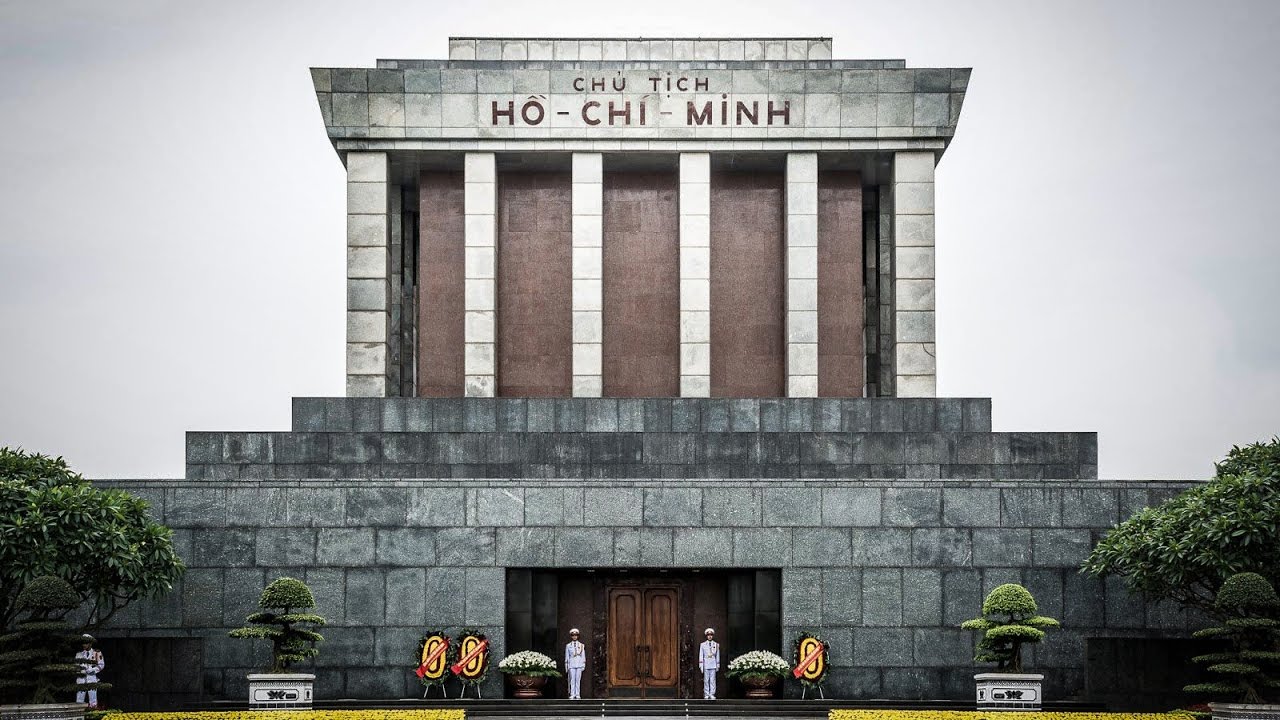 Hoa Lo Prison Museum

A next stop is a place called "Hanoi Hilton" by American Army in Vietnam War. It is a museum inside the old Hoa Lo Prison where Senator John McCain and Douglas "Pete" Wilson were once captured.
Hanoi Opera House and the century-old hotel Sofitel Legend Metropole of Hanoi

Keep moving forward to  Hanoi Opera House to admire the French-style theatre that stands more than 100 years of history and still keep all the original charm. Then have a romantic dinner and get a coffee at the outdoor Paris-inspired Cafe of Sofitel Legend Metropole to put an end to the 2nd Day.
See more: Things to do in Hanoi at night
Day 3: Wander around 36 Old Streets of  Hanoi
This day is fully dedicated to exploring the soul of Hanoi- 36 streets- one of the most interesting things to do in Hanoi. In fact, there are more than 70 streets in this area and "36 streets" is the old name emerging in the 13th century when handicraft evolved in ancient Vietnam and craftsmen from nearby villages came to trade their goods then lived right inside the Old Quarter and created these streets.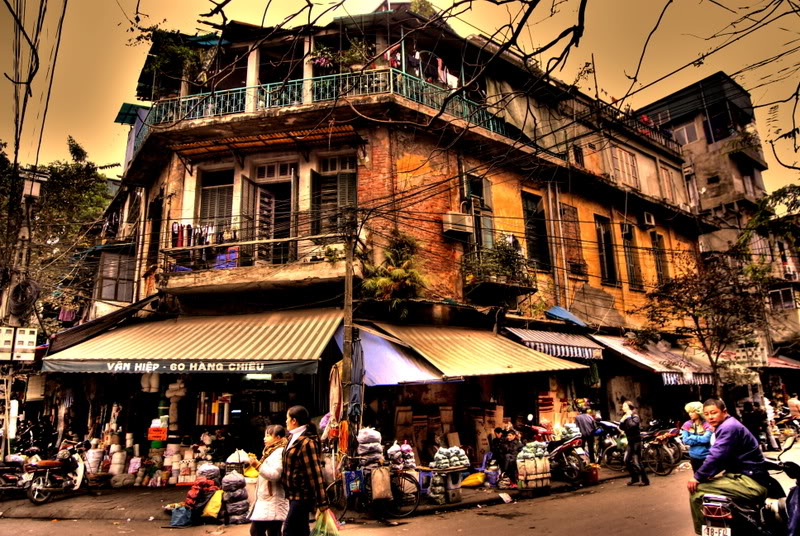 Explore Hanoi old houses and streets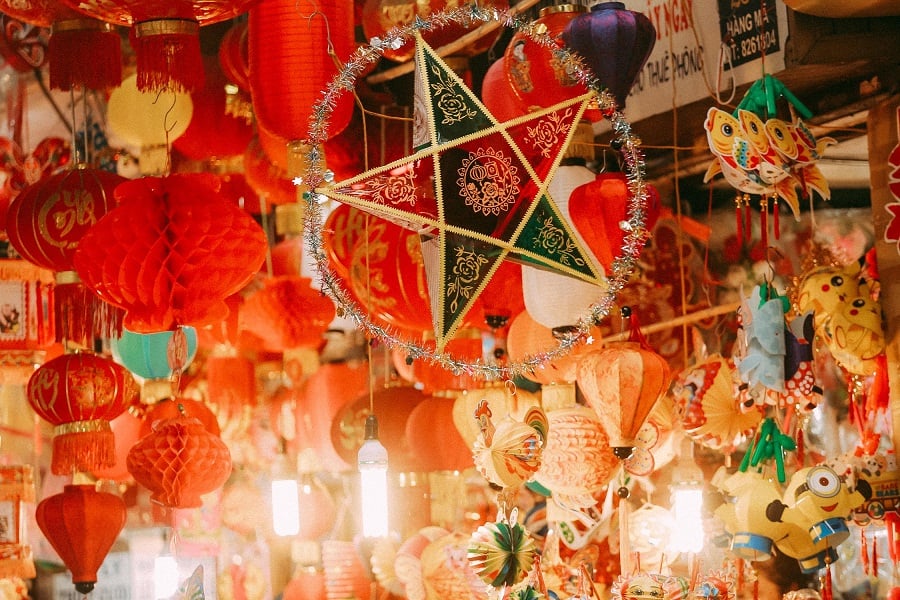 Each street used to represent each handicraft village and its typical product, hence, it was named after this product, for example, Hang Bac (Silver Street), Hang Chieu (Mat Street) or Hang Manh (Curtain Street). You still can admire the rustic houses, winding lanes, small pavements,  and traditional street vendors with bamboo yokes or bicycles full of products that standstill with time. 
It is recommended to visit such unique places as:
Hanoi Ancient House – 87 Ma May: a well-reserved and pipe-shaped house built in the late 19th century.
Some unique streets like Hang Gai, Hang Ngang, Hang Dao, Hang Bac, Thuoc Bac, Hang Ma, Thuoc Bac, Hang Duong, Hang Buom, Cau Go.
Dong Xuan market: the biggest traditional market in the center of Hanoi.
O Quan Truong gate: the ancient gate of the Imperial Citadel of Hanoi.
Bach Ma Temple:  one of Four Thang Long Protectors
Train street in Hanoi– a small lane at 224 Le Duan street.
Feed the tastebud with street food

When walking through the old streets, stop by local restaurants to satisfy your tongue with diversified dishes mentioned in any food channels, TV shows, newspapers, magazines or travel books. It is recommended to try these following foods:
Pho (with beef or chicken) at some restaurants like Pho Bat Dan, Pho Ly Quoc Su, Pho Suong, Pho Thin and so on
Bun Cha that Obama used to eat at Kim Lien restaurant in Hang Manh
Cha Ca La Vong (Grilled Fish with turmeric) at La Vong street.
Egg Coffee  in some famous cafe shops that open for nearly a century like Giang Cafe, Cafe Pho Co, Dinh cafe, 
Bun Suon Doc Mung (pork noodle soup) at 41 Ngo Si Lien
Banh Cuon (steamed rice roll) at Ham Tu Quan.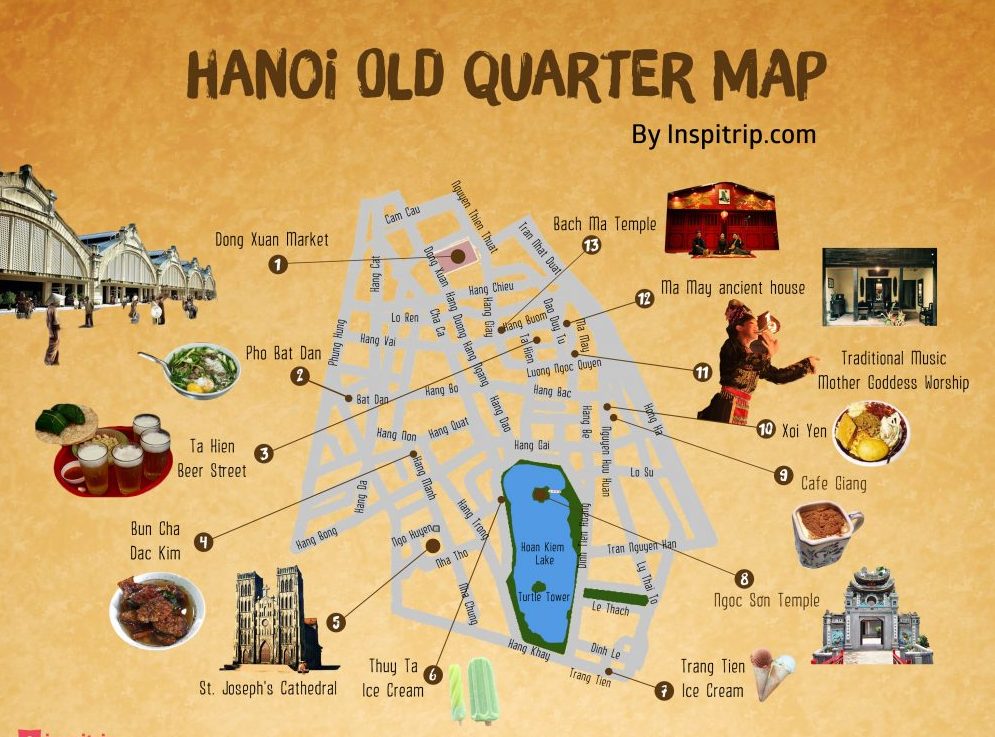 Grab a beer and eat something at a local restaurant is the best way to end the 3rd day in Hanoi.
Note: Touring Hanoi on a cyclo ridden by a local driver will save your time and energy for a long journey in Vietnam. Contact Asianway Travel to arrange this tour.
Day 4: Hanoi Handicraft Day
For more than 10 centuries, Hanoi has become the center of handicraft in Vietnam with a variety of handicraft villages nearby. On the fourth day in this city, follow us to Bat Trang, which is one of the most famous pottery-making villages in Vietnam. After a whole day at Bat Trang, come back to Hanoi center to watch the Water Puppet show. 
>>  Explore other villages near Hanoi
Visit Bat Trang pottery village
 For many people, the seven-century old pottery village is too touristy, however, there are always a few places that only local people know and surprisingly, are not crowded at all. Besides the ceramic market where you could choose from thousands of vases, decoration stuff, kitchenwares or even pieces of jewelry, come to an artisan's house, join a pottery-making workshop and bring back home your own creation. For those who are curious about the traditional process of making pottery in Bat Trang, pay a visit to Lo Bau Co- the only factory that has 20 ancient ceramic kilns dating back in the 19th century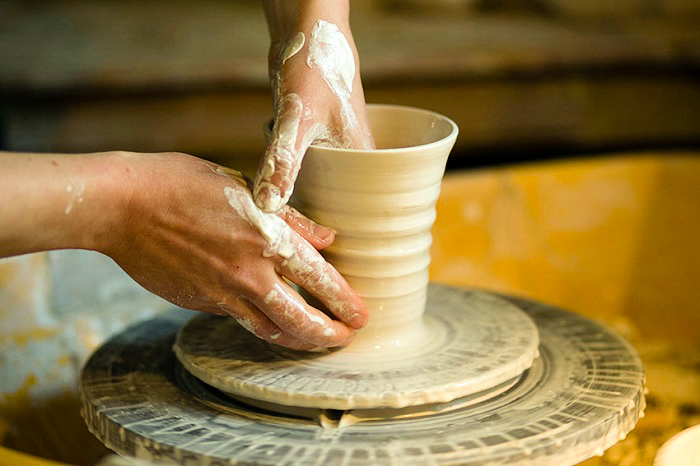 Enjoy Water Puppet Show
In the late afternoon, come back to Hanoi and then transfer to Water Puppet Show in Thang Long Theater. Unlike other countries, Vietnamese Water Puppet performance happens fully on a special stage- water and puppets are controlled by artisans standing in the water. This art form reflected the local life of ancient Vietnamese in the 19th century and the handicraft skills of artisans. It is a must-see show in Hanoi if you want to explore the culture of this beautiful city.  
After the show, enjoy a sweet dinner at a nearby restaurant in the Old Quarter. You can also have a massage in Hanoi at very cheap price yet good service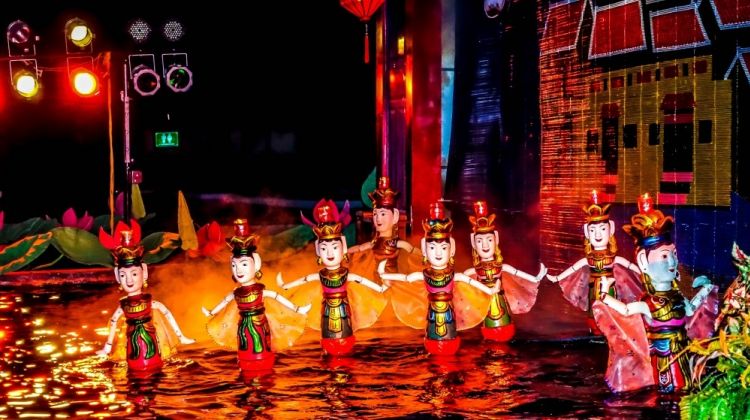 Day 5: Hanoi Arts & Culture
Today, let's get out to visit some interesting museums to know more about the culture and art of Vietnam and Hanoi particularly. 
Museum of Ethnology
It is a good start in the morning with both outdoors and indoors display. It showcases the diversification in Vietnam Culture reflected by the differences in clothes, houses, rituals, cultivating methods, kitchenware and the like of each ethnic group in Vietnam (54 in total). If you travel with your family, never miss its playground with traditional games that you and your children may have never played before.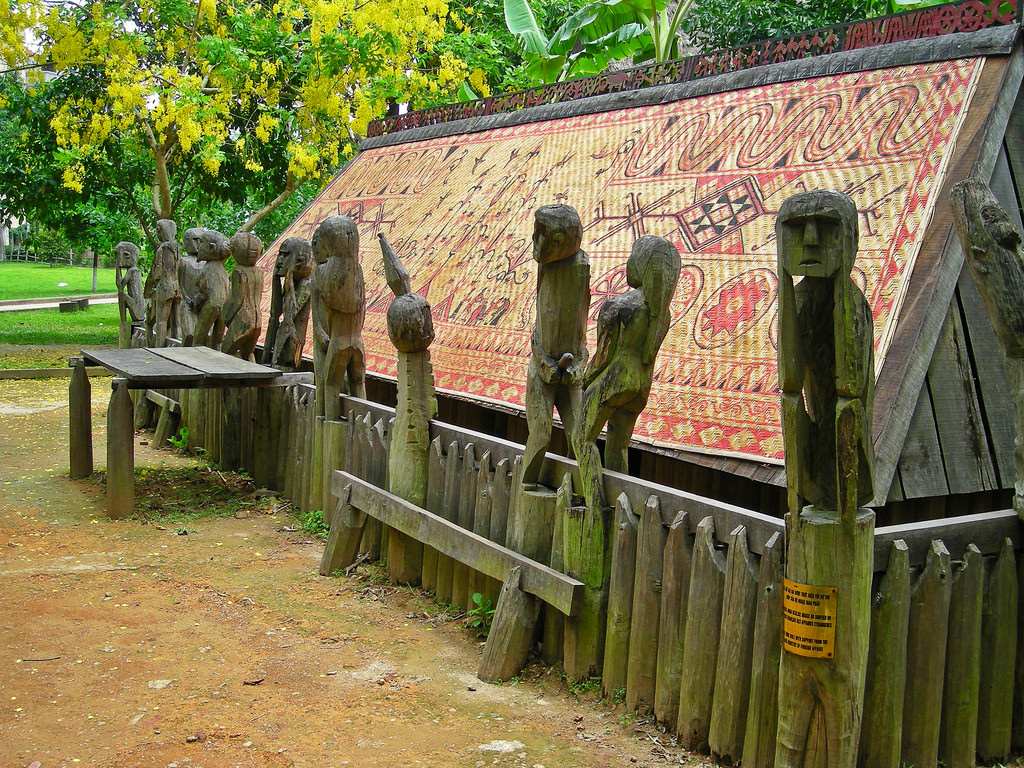 Vietnamese Women's Museum

There is an outstanding collection of  Vietnamese female traditional clothes from various ethnic minority groups in Vietnam as well as propaganda posters that highlight the role of Vietnamese women in the development of the country.
Vietnam National Fine Arts Museum

It is a precious place that preserves an extensive amount of art collections from stone carvings by Cham people,  lacquered statues or effigies of Buddhist monks and Buddha, contemporary art as well as folk-naive paintings. Get to this museum and immerse yourself in the world of beauty and creativeness of Vietnamese artists from ancient times until now.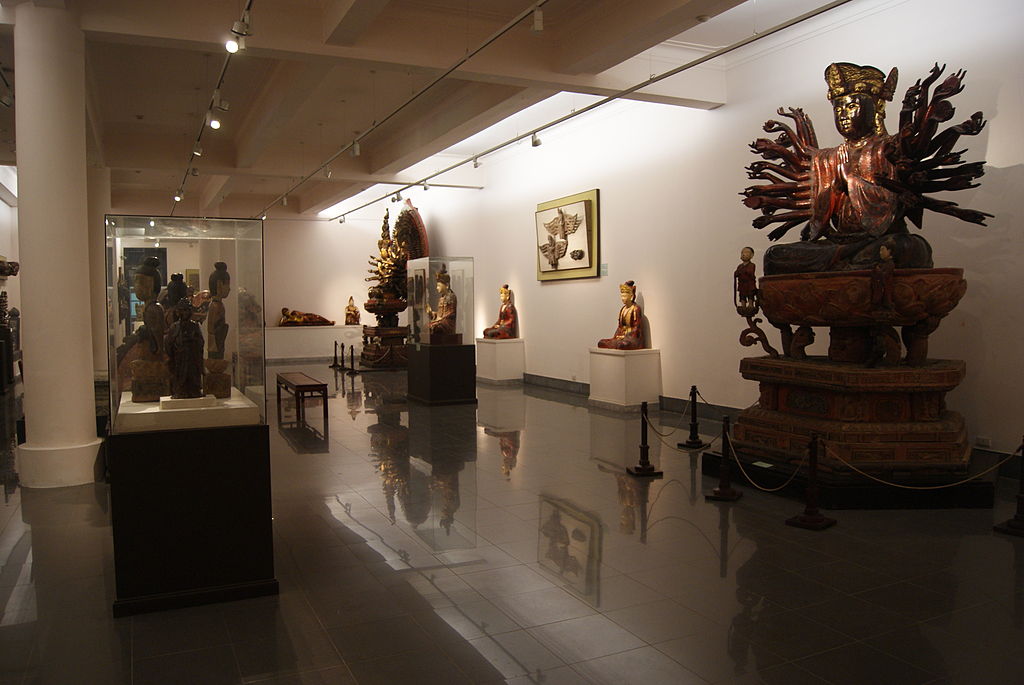 "My Village" Show
Finally, finish the 5th day in Hanoi with a dinner and a cultural show called "My Village" that renders the poetic scenes of an ancient village in Tonkin area from farming to fishing, gathering at local house and so on. The light, transitions, stage setting together with the live music from bamboo instruments and local artists may take you from surprise to satisfaction.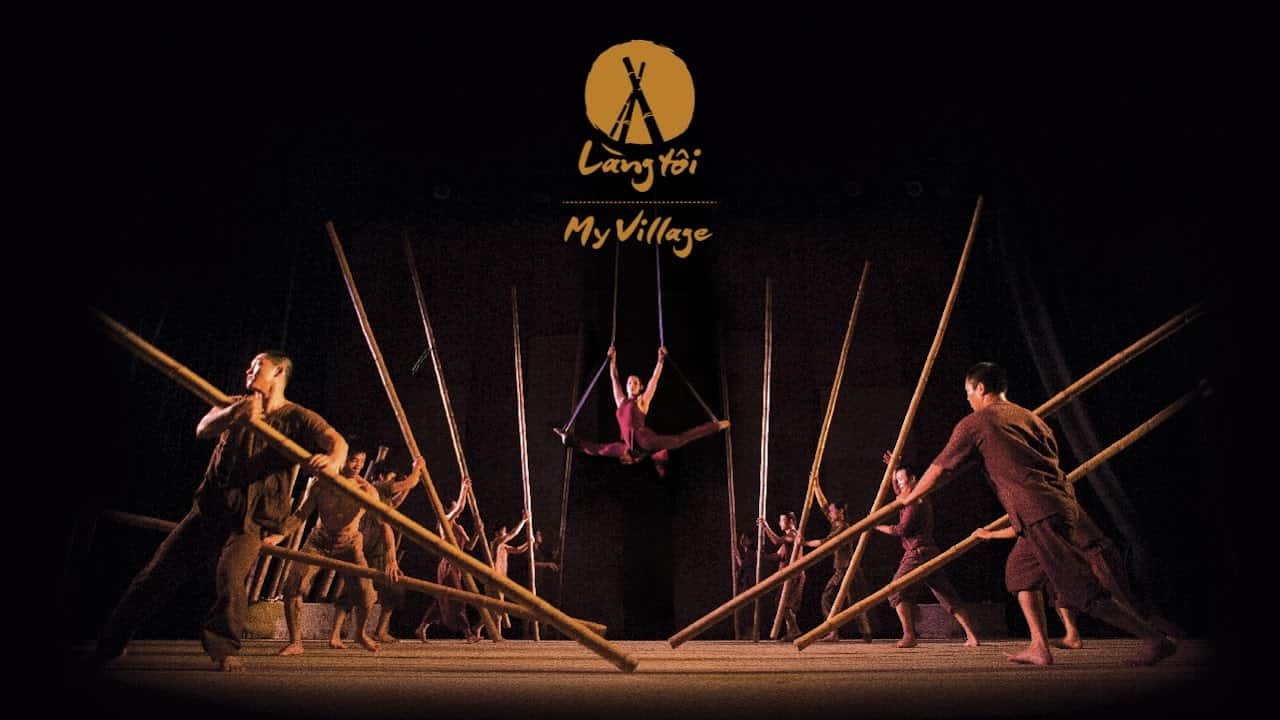 Day 6- 7: Get on off-the-beaten paths

Let's get out of the bustling center of Hanoi and flee to a natural place near here to enjoy fresh air, admire the stunning landscapes of North Vietnam and meet warm-hearted local people. There are several magnificent destinations like that but three ones below are the most impressive:
Ha Long Bay: For those who like beach, kayking, cave exploring, cruising through jaw-dropping bay surrounded by limestone islands and islets.
Ninh Binh: Those who love history, ancient temples, peaceful ricefields and green river flowing through limestone cliffs will like it
Sapa: For adventure seekers who are always yearning for trekking through hill-tribe villages, admiring magical rice terraces and challenging with the highest mountain peak in Indochina.
Choose one of those three places to finish your journey of Hanoi in 7 days with amazing experiences.
Option 1: Relax in Halong bay
2 days in Ha Long bay is quite enough to enjoy the beauty of landscapes as well as ease yourself off after the journey in Hanoi. Our suggestion is choosing a luxury cruise that sails along the whole bay, sleep on board for one night and fully revel in its 5-star services from romantic meals with mouth-watering seafood, yoga or taichi on the boat, kayaking to exploring surrounding caves or just soaking in its jacuzzi. The most unforgettable moment is savoring a glass of fine wine, hand in hand with your beloved one while the cruise is heading to the orange horizon and the glorious sunset over the spectacular bay.  On the 7th day, come back to Hanoi in the evening to complete the whole trip.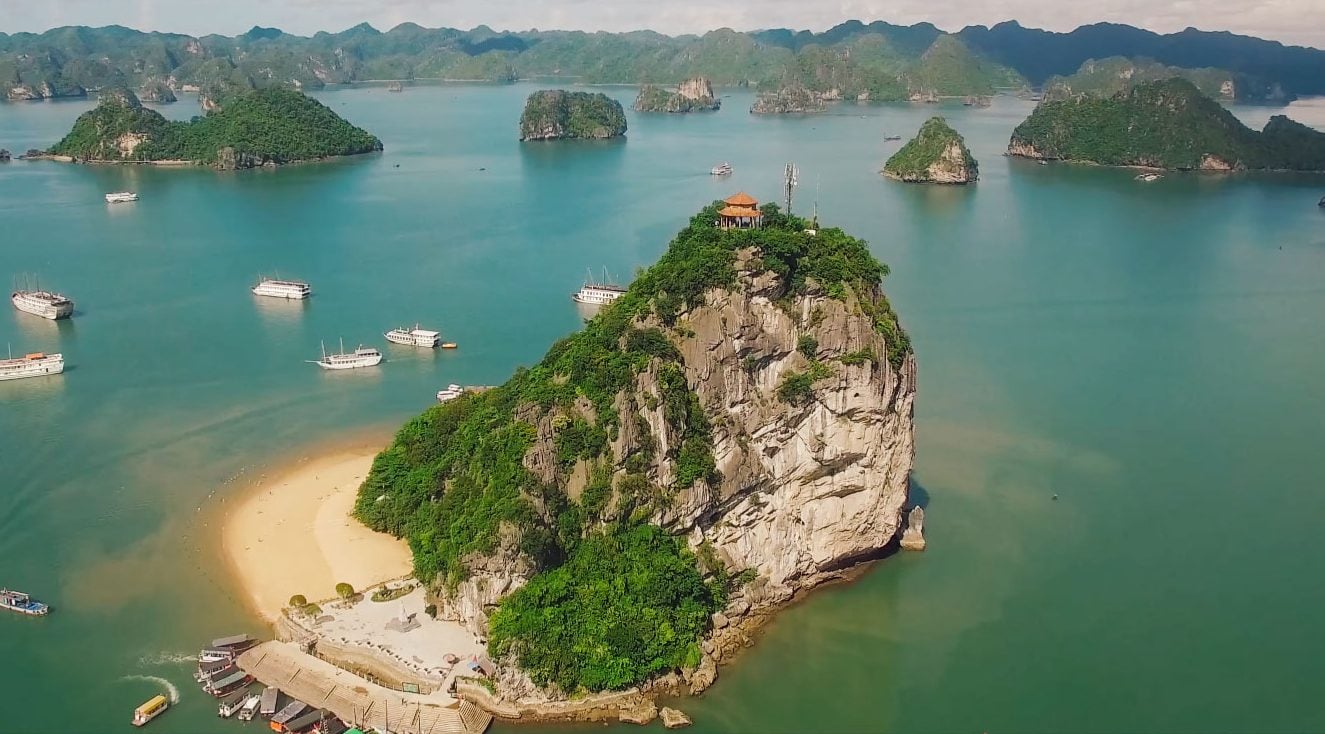 Option 2: Immerse Yourself in ancient Ninh Binh
Not as crowded as Ha Long bay or Hanoi but with marvelous landscapes and cultural relics, Ninh Binh is like a paradise for nature and history lovers. 2 days are not really enough if you want to enjoy it to the fullest as there are at least 10 Amazing Things To Do in Ninh Binh but still offers you an opportunities to discover the hidden charms of the citadel. Here is our suggested itinerary for 2 days here:
Day 1: Get on a small boat and sail along Trang An- a UNESCO world heritage site – then pay a visit to Bich Dong Pagoda. After that, take a short hike to Mua cave to get a panoramic view of Tam Coc rice fields and river when the sun sets.
Day 2: Spend a day in Cuc Phuong national park and stop by Hoa Lu which used to be the capital of Vietnam over a thousand years ago. Finally, come back to Hanoi

Option 3: Have an adventure in Sapa
From Hanoi, take a night train to Sapa and arrive in this rural town in the morning to start 2 day-journey here. This short trip is truly a soft adventure as you will experience things that you may have never imagined before:
Day 1: Spend the whole morning to do minority village trek that goes through Cat Cat- the land of Black H-mong, poetic  Silver waterfall, a dirt trail and finally, Muong Hoa Valley, a stunning spot with the largest rice terraces.  Let down for the rest of the day or walk around Sa Pa old streets.
Day 2:  Get up early for a 5-mile drive, along the rim of a deep valley to Ta Van Village which is inhabited by Dzay people. Walk along rice fields to a place called rattan bridge. Enjoy your peaceful time before getting back to Hanoi.
You can totally shorten the time in Hanoi and combine both Sapa, Ha Long or even Ninh Binh to a 7- day journey in North Vietnam. Take a look at our most favorite itinerary of Hanoi in 7 days:
Hanoi- Halong – Sapa – 7 Days


Highlights: Hanoi city with highlights, Halong bay with overnight cruise & kayaking, Sapa with trekking to hill tribe minority villages in Sapa. All in one tour 7-day with us at a very competitive price and true experience.

Price from: US$ 558/pax
See more on our Private Hanoi Tours from 69$/pax