Designated as a UNESCO protected world heritage for both cultural and natural values, Trang An is the highlight of your Ninh Binh trip. Known as Halong Bay on land, Trang An has the landscape as just dramatic as the former, yet it has something more – a tranquil, almost still atmosphere as if time here was stopped. The limestone mountains hovering above the stretching golden rice fields and winding rivers. You'll see no cruises here or no kayaks, but only the quietly floating boats along the river, carrying tourists who are too busy taking the beauty ad if any moment they look away would be a waste.
World Heritage – Trang An Landscape Complex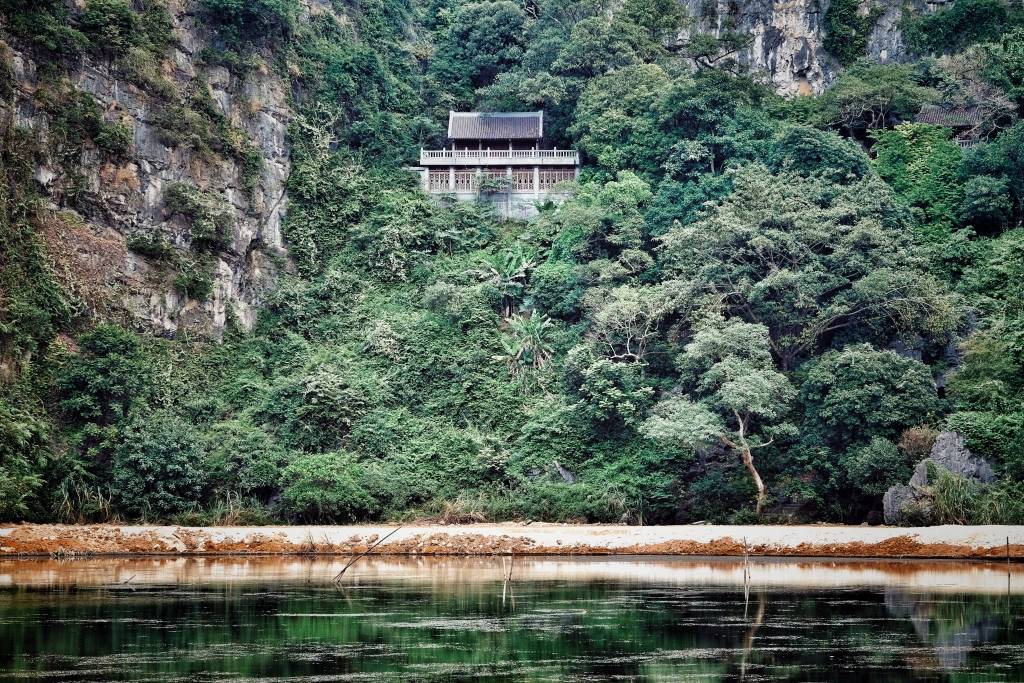 Situated just 7 kilometers from Ninh Binh City, Trang An is a paradise of its own. Hollywood filmmakers knew this fact too when they chose Trang An to be one of the major filming sites of the blockbuster Kong: Skull Island.
Before that, Trang An was recognized by UNESCO in 2014 as a World's Heritage of both culture and nature – also Vietnam's very first mixed heritage. Indeed, the complex includes not only magnificent limestone mountains and green rivers but also an impressive collection of ancient temples and pagodas.
The whole complex of Trang An covers an area of 6,172 ha surrounded by a buffer zone of 6,268ha. There are three routes you can take to explore Trang An.
What to do in Trang An Landscape Complex
To visit Trang An, you'll go by the waterway. You'll have to hire a boat with a local rower to visit Trang An following either of these three routes:
Route 1: Boat Wharf – Trinh Temple – Toi Cave – Sang Cave – Nau Ruou (Wine Making) Cave – Tran Temple – Ba Giot (Three Drops) Temple – Son Duong Cave – Khong Temple – Quy Hau Cave
The longest and most northerly route

Takes you to 9 caves and 3 temples
Trinh Temple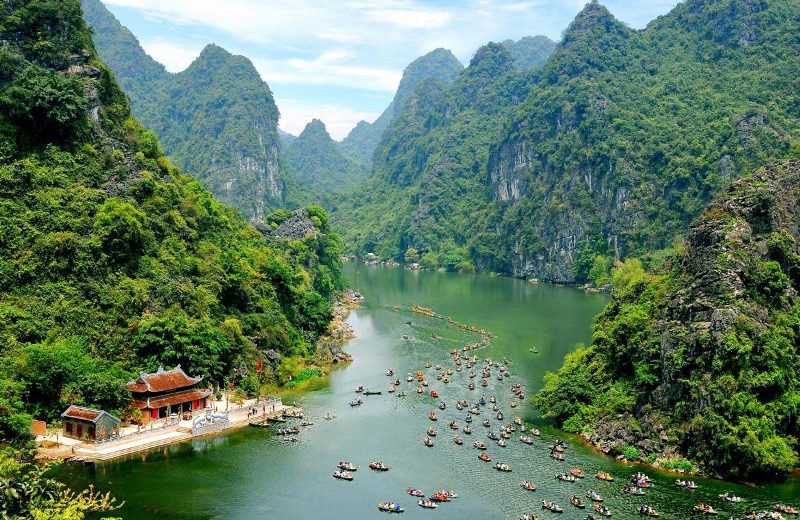 Trinh Temple is believed to have existed for 1000 thousand years, has been restored and expanded many times throughout history. The temple is located at a mountain's foot. Many Vietnamese people believe that this temple is one of the most sacred temples in the country.
The temple is the worship places the 'four-pillars' of Dinh Dynasty, once serving faithfully King Dinh Tien Hoang in the feat of reunifying the country.
You can visit this temple with both routes in Trang An.
Tran Temple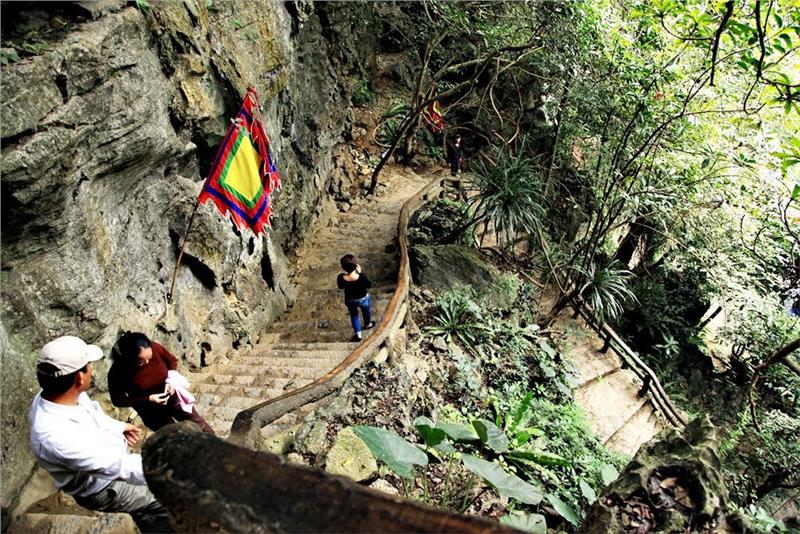 Also known with the name Noi Lam, Tran Temple has a reputation for its special architecture which stands out the most from any other temple.
According to legends, this temple was built by Kings of Tran dynasty to be the place for religious activities. It also served as a base in the preparation for the war against Mongols.
The temple is the worshiping place of God Quy Minh and Princess Minh Hoa.
Toi Cave (Dark Cave)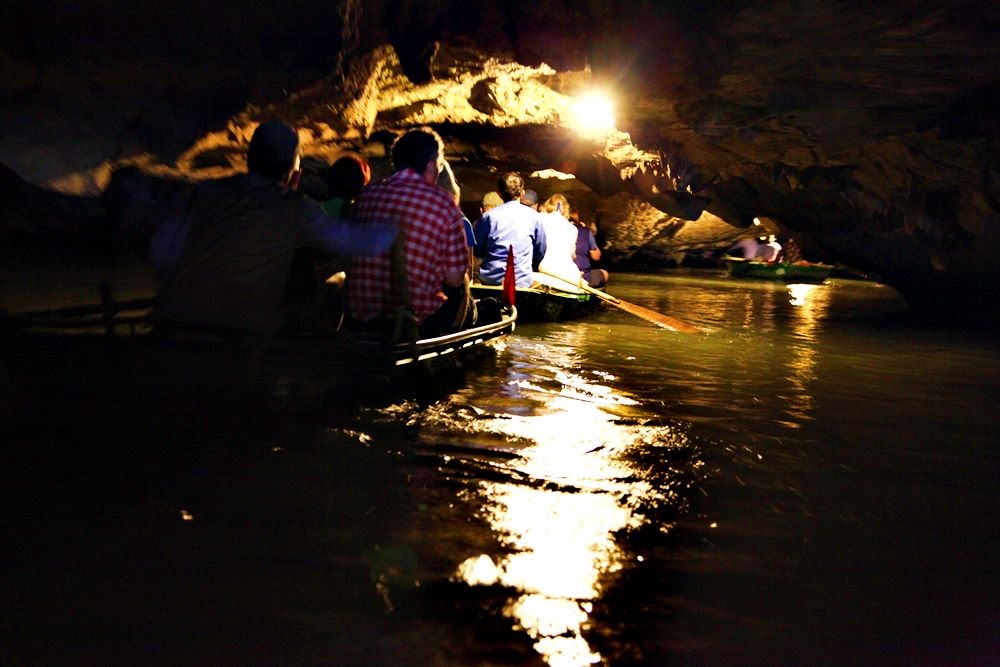 After passing through Dia Linh, you'll arrive at Toi Cave or Dark Cave. As the name describes, visitors have to use flashlight to see the karst formations inside the cave. Toi Cave is about 315m deep which owns a lot of beautiful stalactites in odd and interesting shapes. Inside the cave is hotter than the outside about 2-3 degrees due to the hot spring.
Sang Cave (Light Cave)
Adjacent to Toi Cave is Sang Cave (Light Cave) which is absolutely an opposite to Toi Cave. The cave is filled with natural light and you can easily take in the majestic karst formations inside the cave.
Nau Ruou (Wine Brewing) Cave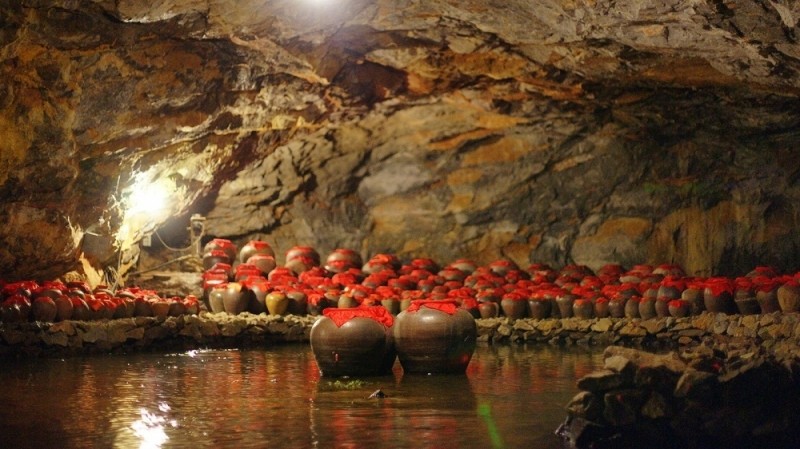 Nau Ruou is one of the best caves in Trang An with an interesting story behind it. It seems like almost a myth that this cave was the place where ancestors brew the finest wines to offer the kind.
There is 10m deep well with groundwater here, so clean and clear and fresh and just so perfect to brew the king's wine. Today, you can only see what was left of the story are the old-fashioned wine-containing jars here.  
Sinh Cave – Si Cave – Ba Giot Cave
These three caves witnessed such a tragic love story. The story was about a young man who fell in love with a princess. He prepared wedding presents to propose here in front of Sinh Cave but the princess was sent to the neighbor country as an annual offer. Too sorrowful with the turn of fate, the young man ended his life at Si Cave.
Route 2: Boat Wharf – Lam Cave – Thanh Cao Son Temple – Vang Cave – Thanh Truot Cave – Suoi Tien Temple – Dai Cave – Hanh Cung Vu Lam Temple – Kong: Skull Island Film Set
Hanh Cung Vu Lam (Vu Lam Citadel)
The temple was originally a military base, lying next to Tran temples. This place is related to important battles and historic events dating back to Tran Dynasty. Tran Thai Tong chose a beautiful place to build Buddhism shrine and spend his time to practice the religion here.
Later, Vu Lam also becomes a base in the second war against Mongol invaders, thanks for its important and brilliant defensive natural features.
Kong: Skull Island Film Set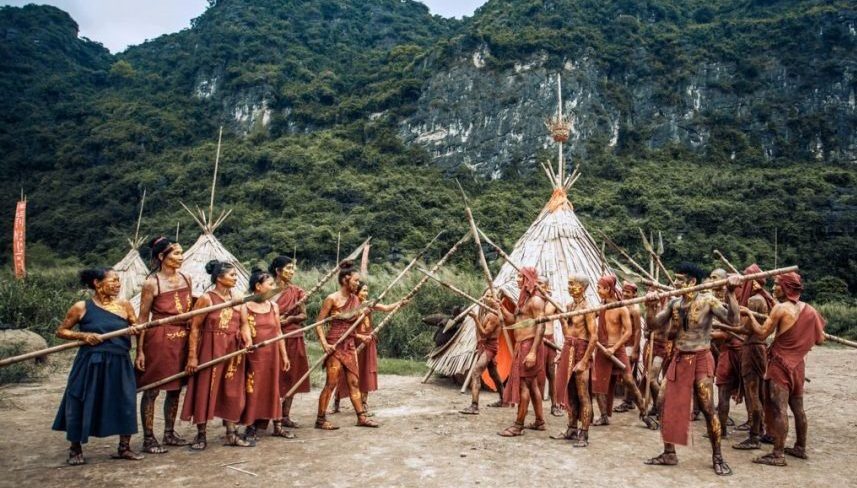 This must be the most interesting place in Trang An, with such trait of western culture. The whole island was the place where part of the famous movie Kong: Skull Island was filmed. The tribal village you've seen on screen now come alive with great details and characters.
On the island, you'll find the models of ship and airplane mimicking the ones in the movie. This is absolutely a highlight of Route 2. 
Route 3: Boat Wharf – Trinh Temple – Dot Cave – May Cave – Suoi Tien Temple – Dia Linh Mountain – Dai Cave – Hanh Cung Vu Lam Temple – Kong: Skull Island Film Set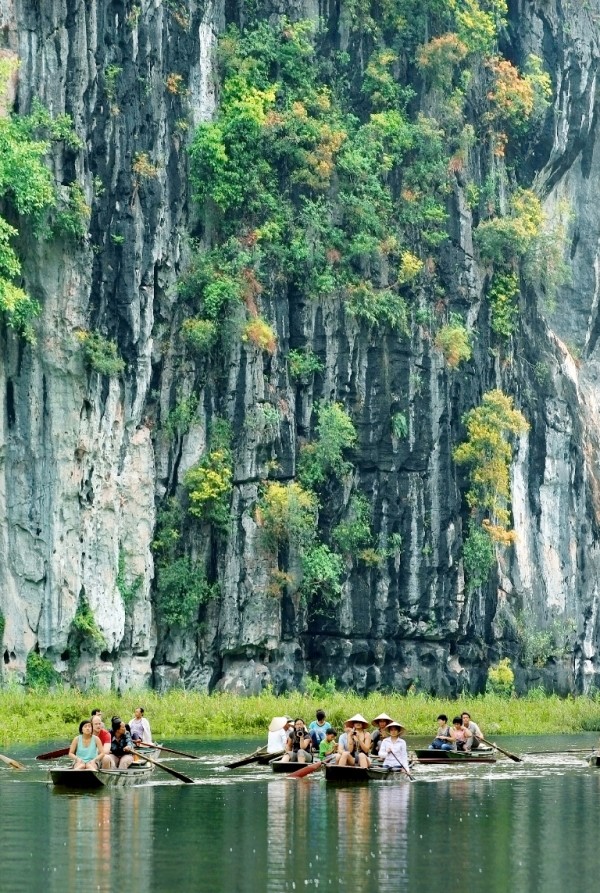 Dia Linh Mountain/ Cave
With the length of 300 meters, Dia Linh Cave has some of the most impressive karst formations. The cave also has a wide and marvelous looking entrance. The river flows through the cave boasting such a gentle greenish color.
Suoi Tien Temple
The temple is located on the upper stream of Ngo Dong River, in fact an extra part of Tam Coc Route but is included in Route 3 of Trang An. The temple is the worshiping place of Quy Minh God from the South Gate of Hoa Lu Four Gates. This site is only accessible by boat, featuring with wild, dramatic sceneries of nature.
Practical Information for travelers to Trang An Landscape Complex
Trang An ticket fee: Trang An: 200,000VND/person (including boat ride)

Children below 1.4m ticket: 100,000/pax/route (including a boat trip)

Tour guide: 300,000 VND/tour
The boat will leave when four people are seated.
Remember to wear life jackets whenever you're on a boat
Dress code: it's best to wear longer clothes during the trip because you will visit temples here, all of which are considered sacred places to local people. Long clothes also can help you not to get burned in summer days.

Trang An Route Map