Due to its high-altitude location and traveling difficulties unlike the famous Sapa on the northwest, Ha Giang can be overlooked even though it's inferior to no other place in terms of natural beauties and indigenous culture. To make your trip to Ha Giang an unforgettable experience, our complete guide will show you through all the things to do and places to see on Ha Giang Loop!
The final frontier of North Vietnam, as many has called Ha Giang, is a legendary destination to many local travelers. In recent years, the beauties of Ha Giang has been known to foreign tourists as well, making Ha Giang one of the most desired place of the north.
Things to do & see in Ha Giang
---
1. Happiness Road – Ha Giang Loop
To travel to Ha Giang is to travel the Ha Giang Loop which is actually the Happiness Road that connects Dong Van and Meo Vac through the King off All Passes – Ma Pi Leng Pass. Happy Road has a long and heroic history of itself starting from the days even before its birth. Ha Giang without a road was so remote to travel to that no one ever thought of coming to Ha Giang for tourism purposes.



Many volunteers, workers from several ethnic groups had joined hands to open the toughest mountain road in Vietnam, very first road in Ha Giang. Some of them sacrificed their lives on the span of 7 years of making this road. The name of the road is also the wish for happiness that the local people here sent to the future.
Happiness Road has a total length of 185 kilometers, running from Ha Giang City to Dong Van and Meo Vac. The road was opened in year 1965.
*Ha Giang Loop Map: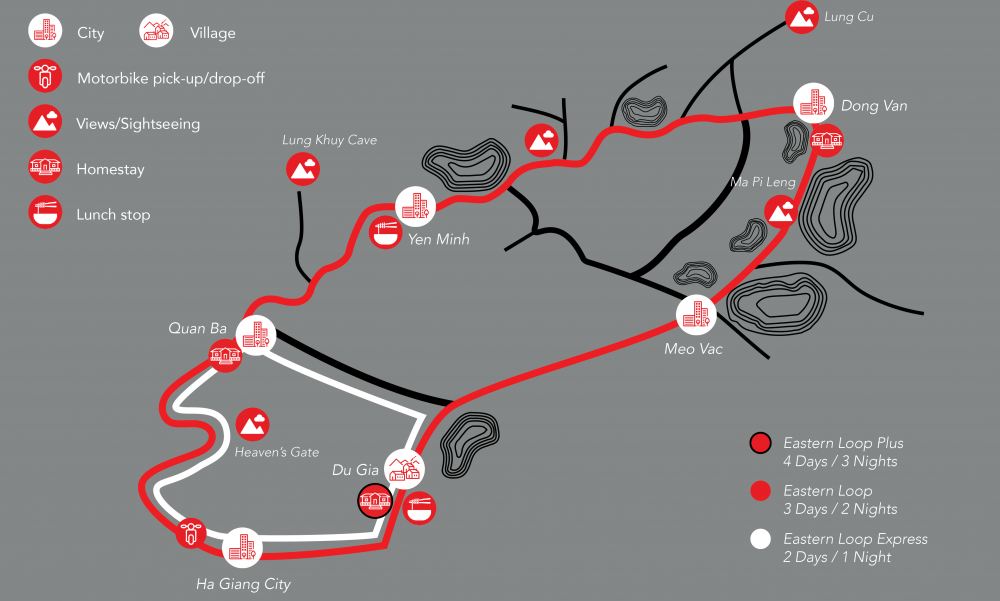 2. Quan Ba – Heaven Gate & Twin Mountains



Quan Ba Twin Mountains are a lovely sight to behold from the road. The two round-shaped green hills lying side by side on the middle of the rice field will sure will catch your eyes because of its charming appearance.

Right near the Twin Mountains lies the Heaven Gate which is on a height of 1500m above sea level, offering breathtaking views of the valley below. It's such a wonderful experience to take in such scenery during your trip. You can stop at Quan Ba to a quick rest before go up the winding road to Dong Van Karst Plateau.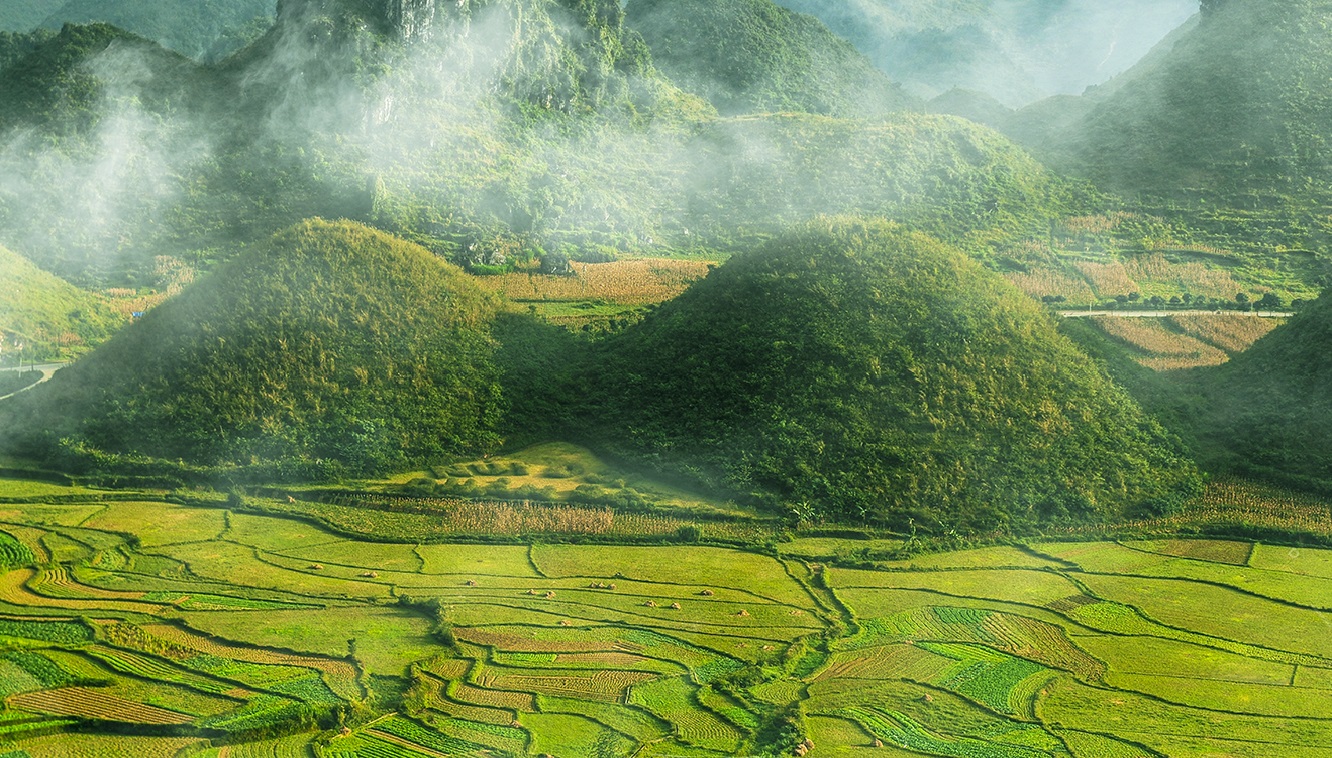 3. Dong Van Karst Plateau Geopark
Dong Van Karst Plateau Geopark is the main thing to do in Ha Giang. Listed as a member of UNESCO Geopark Network, Dong Van features a vast area of limestone which covers most of the four provinces of Ha Giang. Located on the height of 1400 – 1600 meters above sea level, the geographical characteristics of Dong Van Plateau are just as dramatic as it can get with sheer mountain cliffs running to the horizon.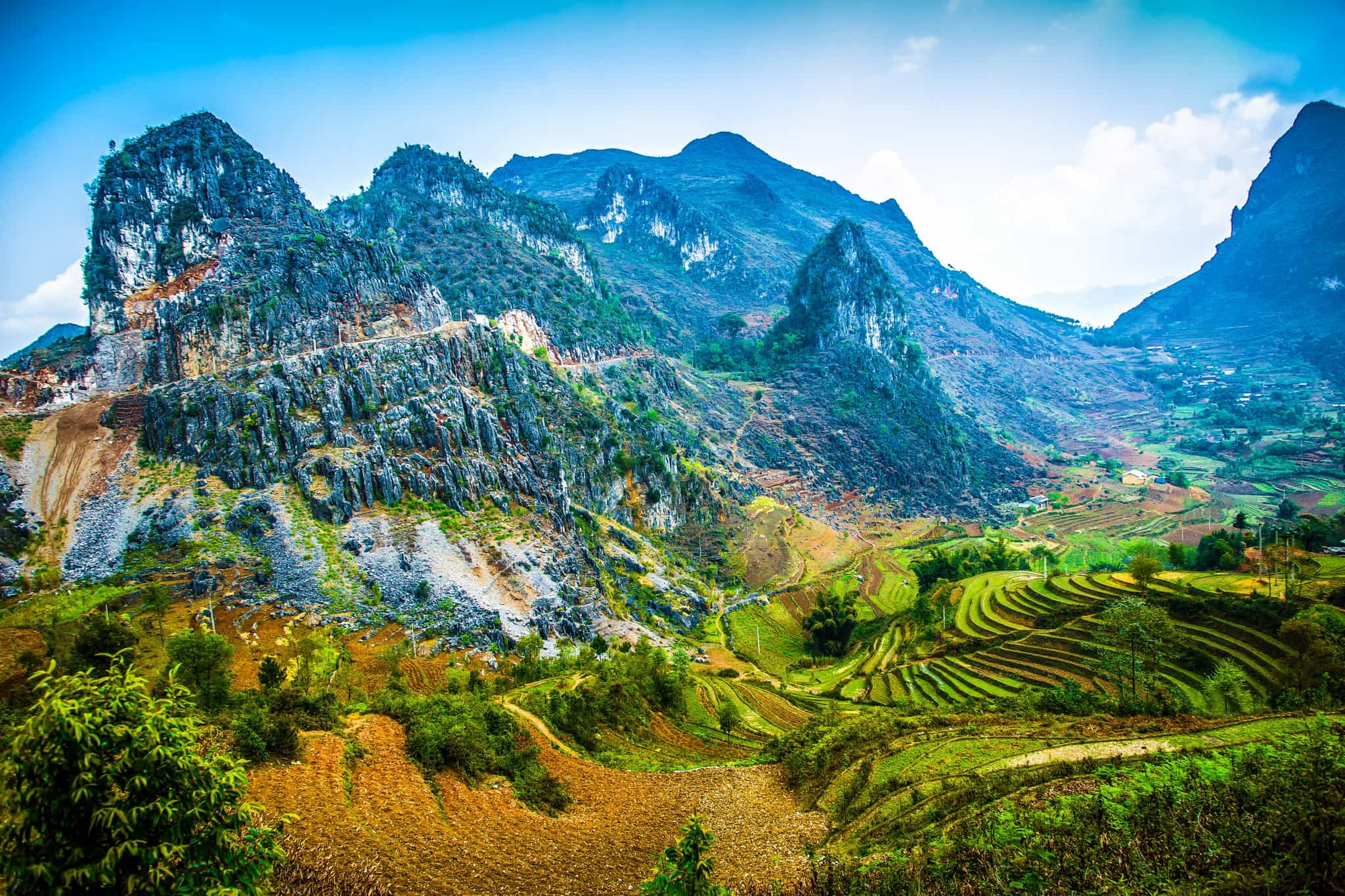 There're huge mountains and deep canyons to be found here of which the highest peak is Mount Mieu Vac (1971m) and deepest canyon is Tu San (800m). The landscape at Tu San Canyon has become something you should look forward when climbing up Ma Pi Leng Pass.
One of the mysterious things in Dong Van Rock Plateau is the scripts found on many rocks – ancient letters but until now, the meanings to these letters are left unknown.
4. Meo Vac – The Pass and The Love Market


There are two things to talk about Meo Vac: Ma Pi Leng Pass and Khau Vai Love Market. Both are excellent examples of its kind – Ma Pi Leng yields to no other in its majestic beauty and Khau Vai is the most authentic love market that only happens once a year.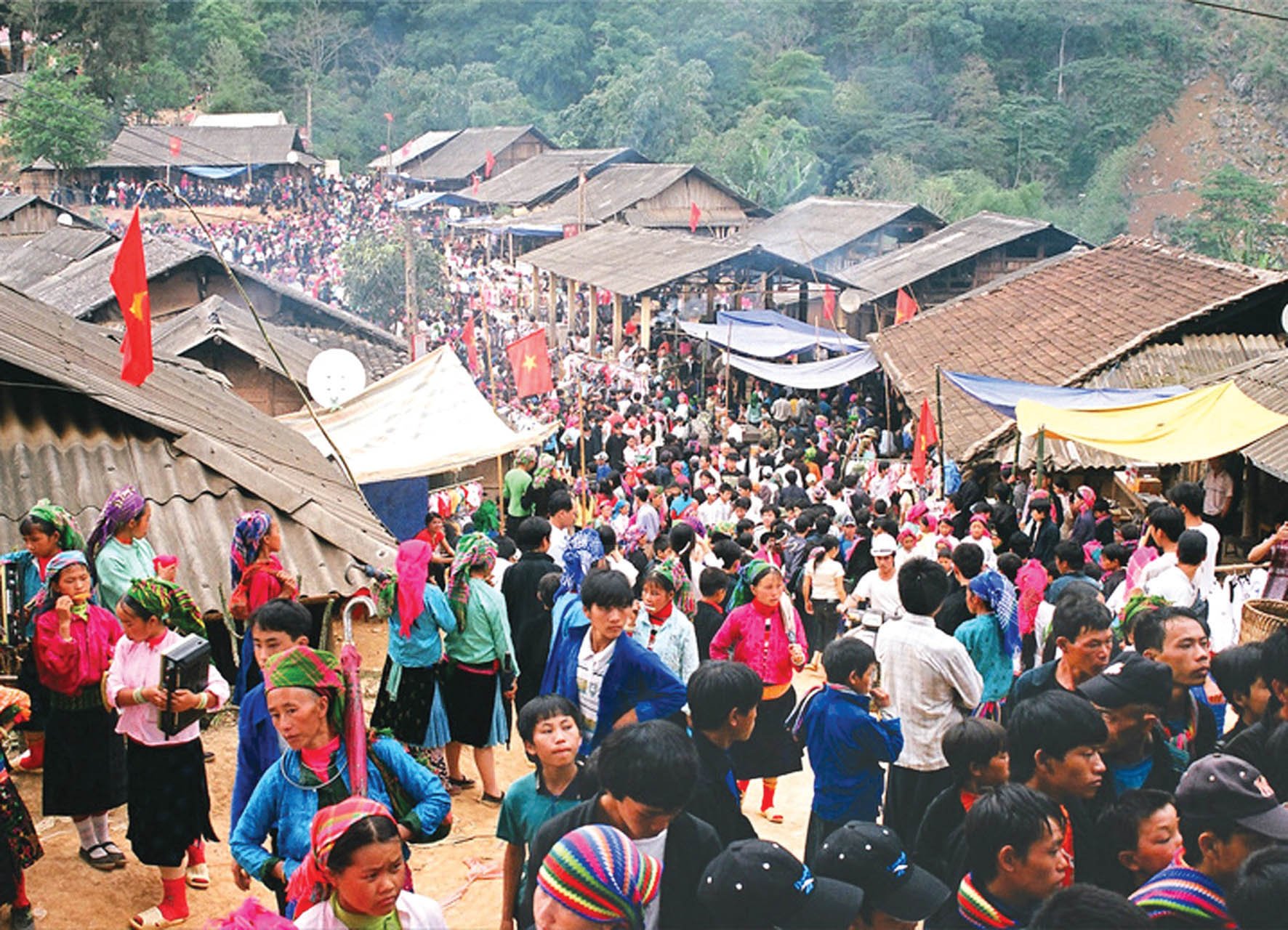 Held on 27th day of the third lunar calendar, Khau Vai Love Market is a festive event where the ethnic people celebrate love, meet their ex-lovers, potentials lovers and show affection. Ethnic people get dressed up for this event and turn the atmosphere very vibrant with the colorful costumes. It's a great opportunity to travel to Ha Giang during this time.
5. Hoang Su Phi
If you think Ha Giang don't have graceful golden terraced rice fields like Sapa or Mu Cang Chai, we gladly to let you know that Hoang Su Phi in Ha Giang has some of the most dramatic and scenic terraced rice fields in Vietnam.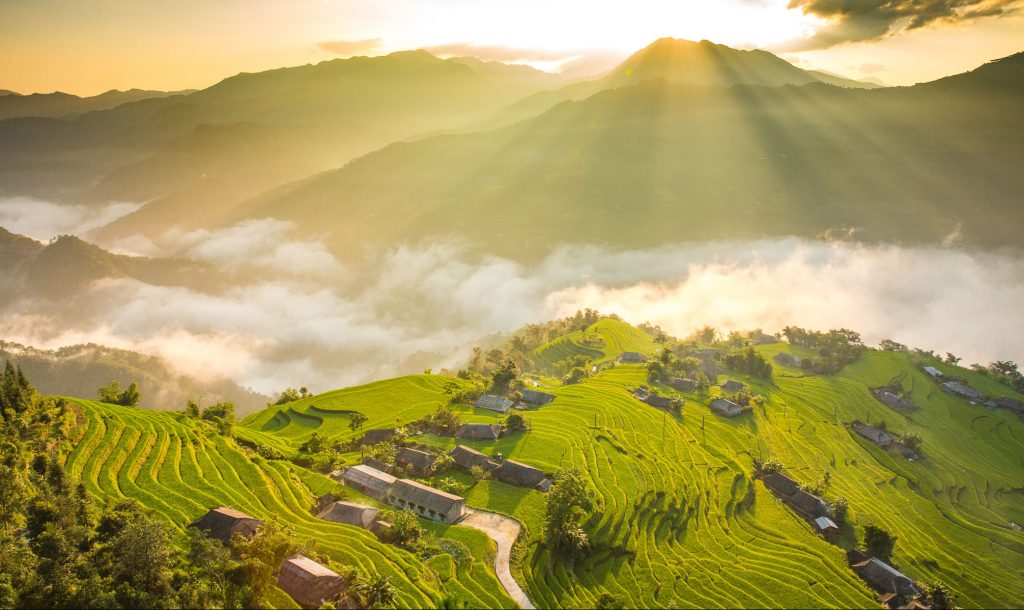 Hoang Su Phi is a district in the western of Ha Giang Province, at the foot of Tay Con Linh Mountain. Thanks to its geographic characteristics, coming to Hoang Su Phi during harvest season, travelers will have the chance to see the golden terraces covered in the white clouds.

The terraced fields has long been considered as the artworks of the locals' hard work and no longer just agricultural cultivation. Hoang Su Phi offers breathtaking views of layers and layers of rice fields on mountain after mountain.

*When is the best time to visit Hoang Su Phi?

Late September and October is the best time to visit and to witness the terraced fields turning golden and the hard labor of the people during harvest time.

6. Soak up the Culture in Dong Van Sunday Market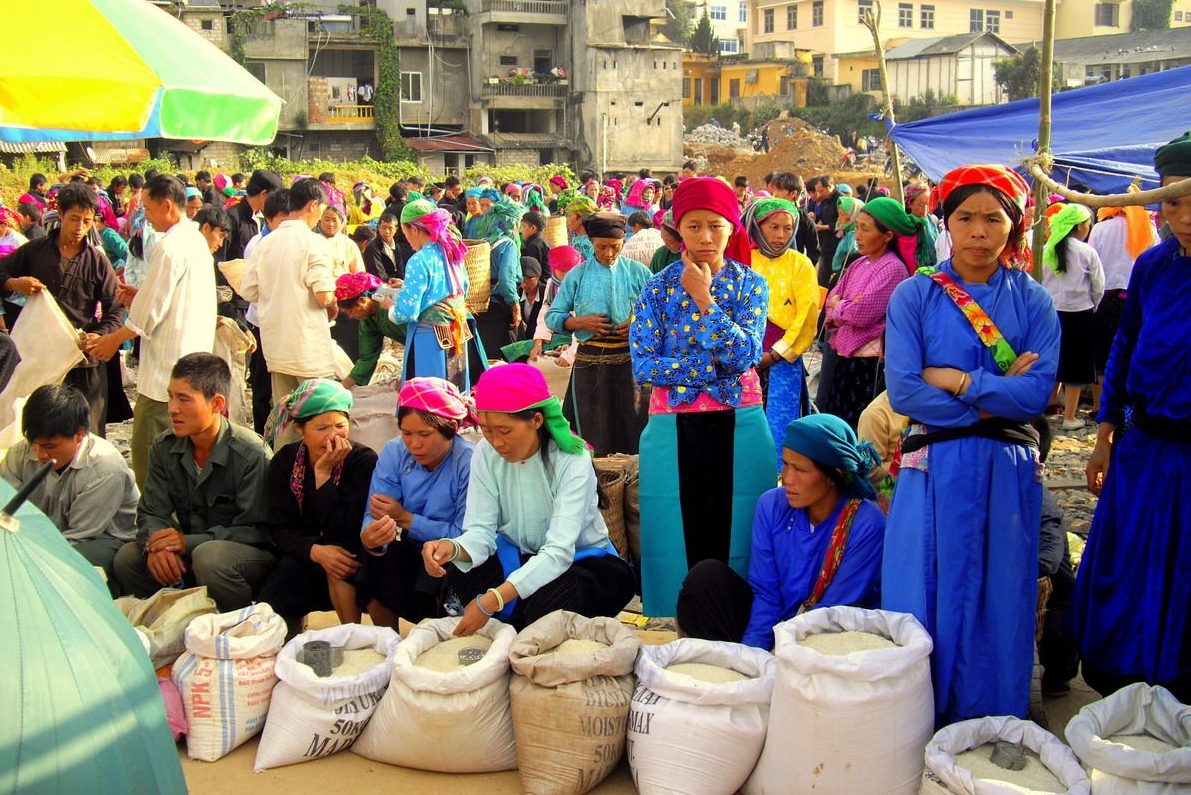 One of the must-do things to do in Dong Van is to visit the fair market that is held on every Sunday. Occupied at Dong Van Old Quarter, the market is a delightful highlight which turn the highland town vibrant and exciting from 5am to 10am every Sunday morning.

The ethnic people, including Hmong, Tay, Nung and Hoa ethnic minorities stay true to their identity and tradition by dressing with their finest costumes to attend the weekly fair market. The event is a chance for local people to purchase their tribal goods, self-grown li, socialize, and eat good foods. It's a very local, friendly atmosphere and you'll find yourself enjoying the market in no time. So why not set your alarm and wake up earlier to join the one of the most important fair markets in North Vietnam? You won't be disappointed.
7. Conquer The Northernmost Point of Vietnam – Lung Cu Flagpole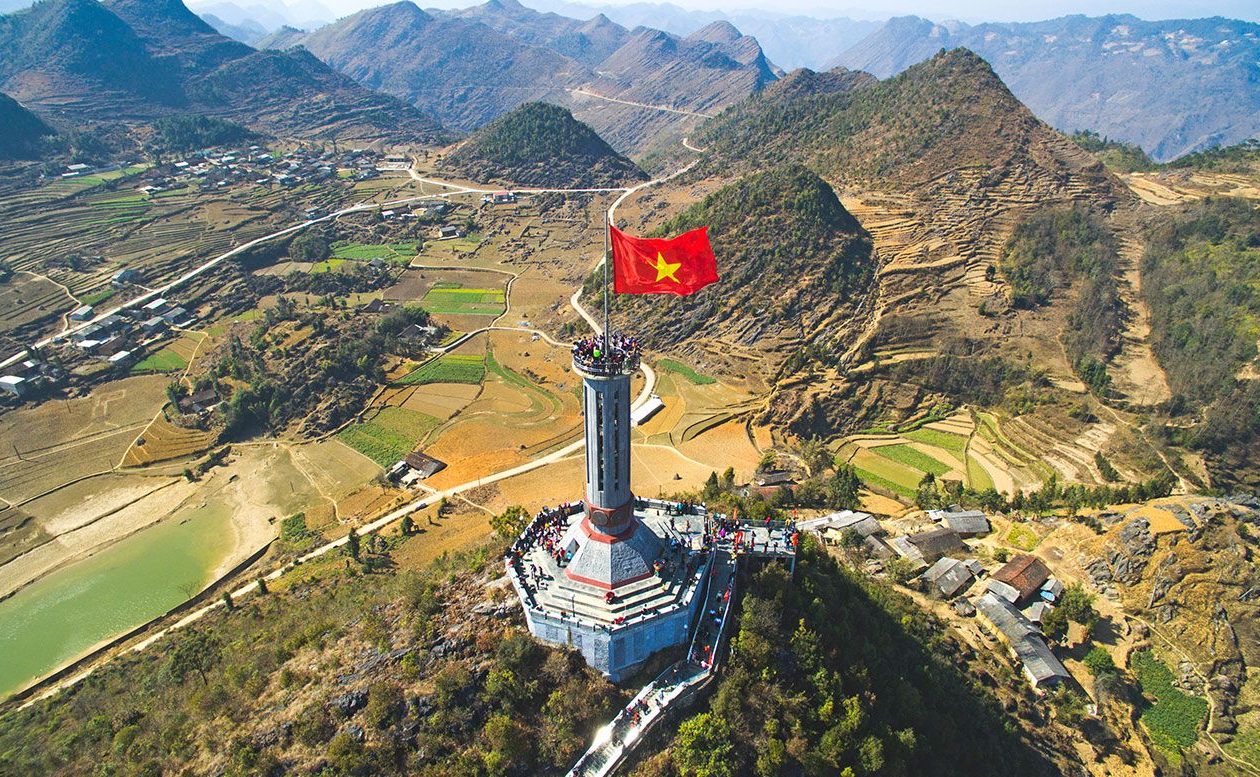 Lung Cu Flag Tower is Vietnam North Pole the furthermost point to the North of Vietnam, lying close to China-Vietnam border.

The road up to Dong Van is already hard, the road up to Lung Cu flagpole is even harder, car or motorbike. Once you reach the flagpole's entrance, you'll have to climb almost 400 steps to reach the actually flagpole. Continue to climb some more steps, the views on the top will reward your effort.

Lung Cu is a great place to take panoramic photos of Dong Van, Ha Giang, especially the winding Happiness Road below.

Note: Foreigners visiting Lung cu Flagpole will have to get a permit. Book tour with Asianway Travel, you won't have to worry about this issue.

*Admission: 20,000VND per person
8. Enjoy The Night at Dong Van Old Quarter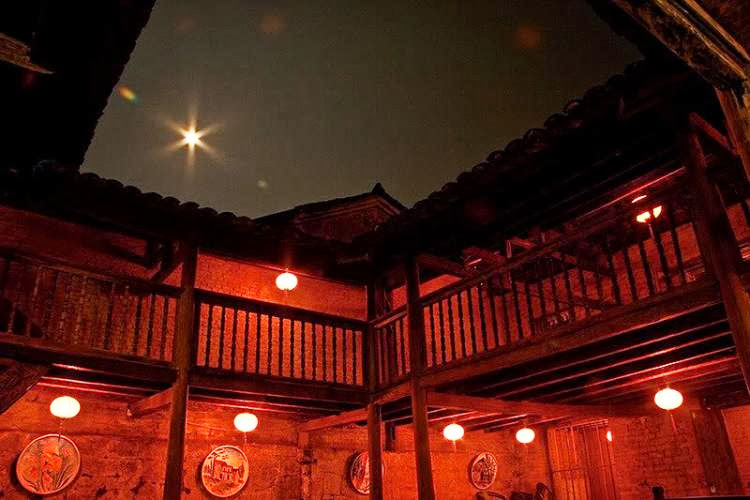 The 100-year-old Dong Van Old Quarter is the highest old quarter in Vietnam with the typical Chinese architecture on the dramatic backdrop of sheer mountains and green rice fields. Most of the houses in the Old Quarter are Trinh Tuong Houses, lived in by Hmong, Tay, Kinh, Zao, Hoa ethnic people. These age-old houses has two floors of which the first floor often is opened for small business like restaurant or store, the second floor is used for living.

The old quarter is also the place the Night of Old Quarter takes place on three nights on 14th, 15th, 16th lunar days of March. It's when the local people hang their red lanterns, showcase their traditional brocade products, foods and perform cultural activities. It's a great opportunity to visit Ha Giang during this time.
9. Visit Mansion of Vuong Family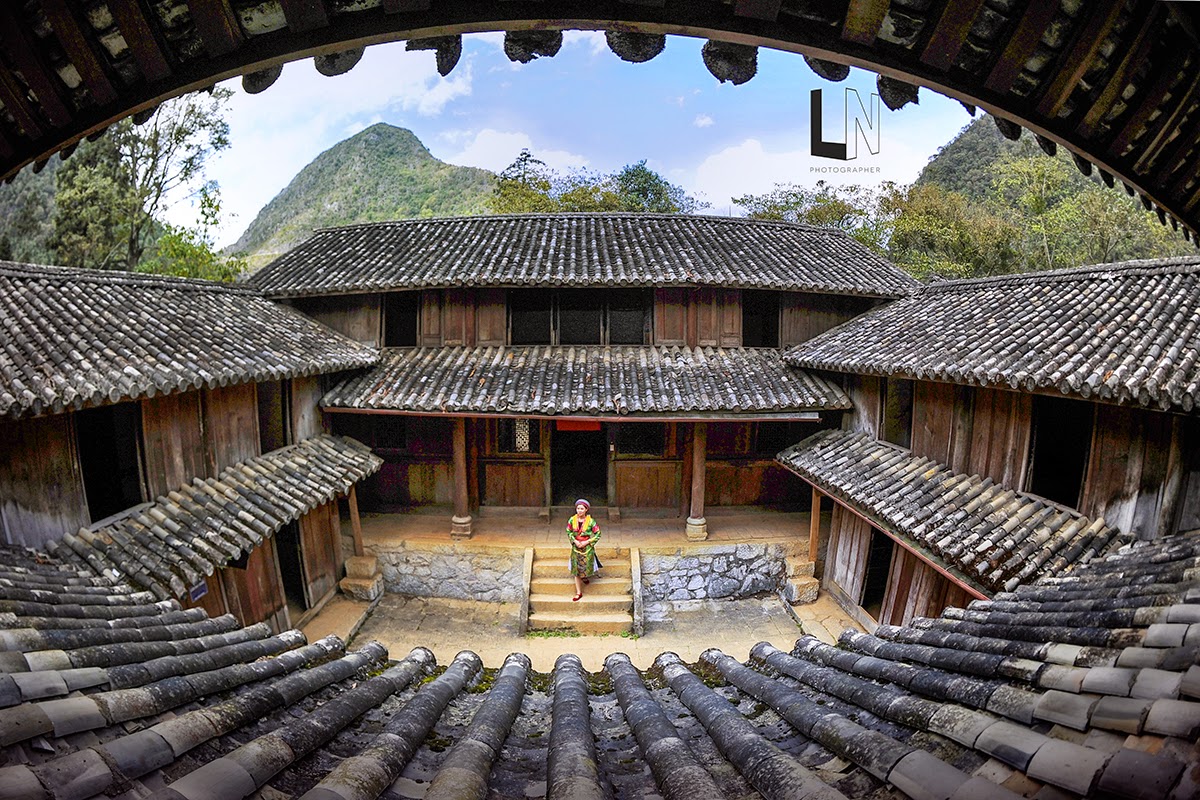 The Vuong family's mansion is just like a stone castle among the nature, protected by the high canopy of special trees in Ha Giang. The mansion itself is a masterpiece of architecture, taking 10 years of construction to finish as it's seen nowadays. At the time the mansion was built, the amount of money spent on its expense was considered a very large sum which equalizes about 150 billion of Vietnam Dong.

Vuong mansion was built by the skillful of craftsmen who came from Yunnan (China) along with the best of the H'Mong workers. Therefore, the structure has architecture of China reign of Thanh combined with essence of the H'Mong.
*Admission: 20,000VND per person
10. Ride Motorbike on Ma Pi Leng Pass
Riding motorbike on Ma Pi Leng Pass will bring you exhilaration, that's how beautiful the pass is. However, we only recommend those who have enough riding experience to take on the challenge because the road leading up Ma Pi Leng is no joke. It's winding, narrow and two-way.
Ma Pi Leng means a bridge of a horse's nose, describing the shape of its shape. Have long been ranked by locals, Ma Pi Leng is among the top 4 passes in Vietnam which are both beautiful and dangerous.
11. Take a Selfie at Tu San Canyon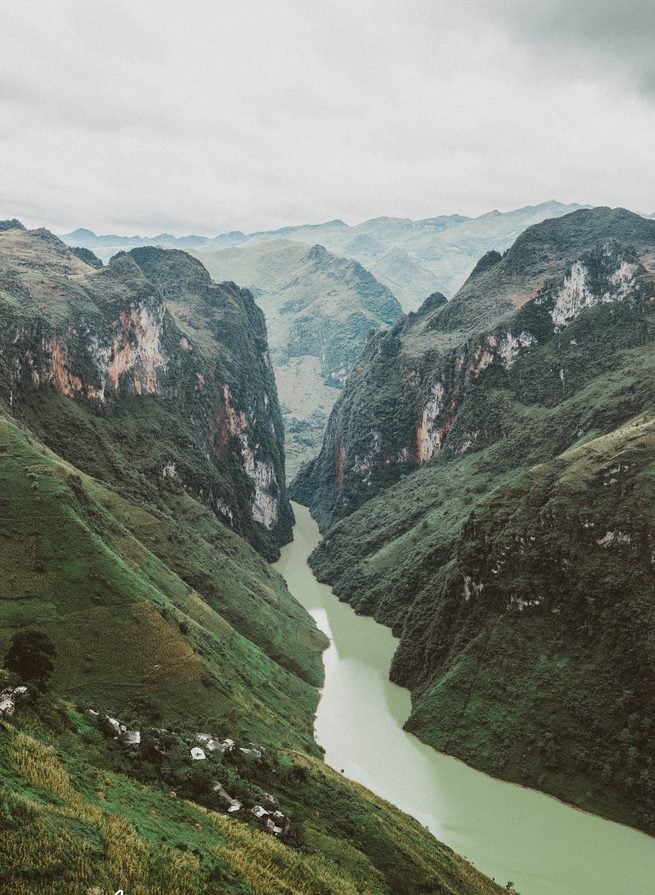 Once you are on the 20-km long Ma Pi Leng Pass, make sure you know when to stop for a picture of Tu San Canyon. Why this particularly canyon is such a big deal? It's the deepest canyon of all Dong Van Karst Plateau with the famous and poetic green Nho Que river running through its two grey cliffs.

Looking down at the canyon from the pass will blow your mind because of the grandeur of nature. Take a camera with you to capture your special moment.

12. Lung Cam Village – Highland Romance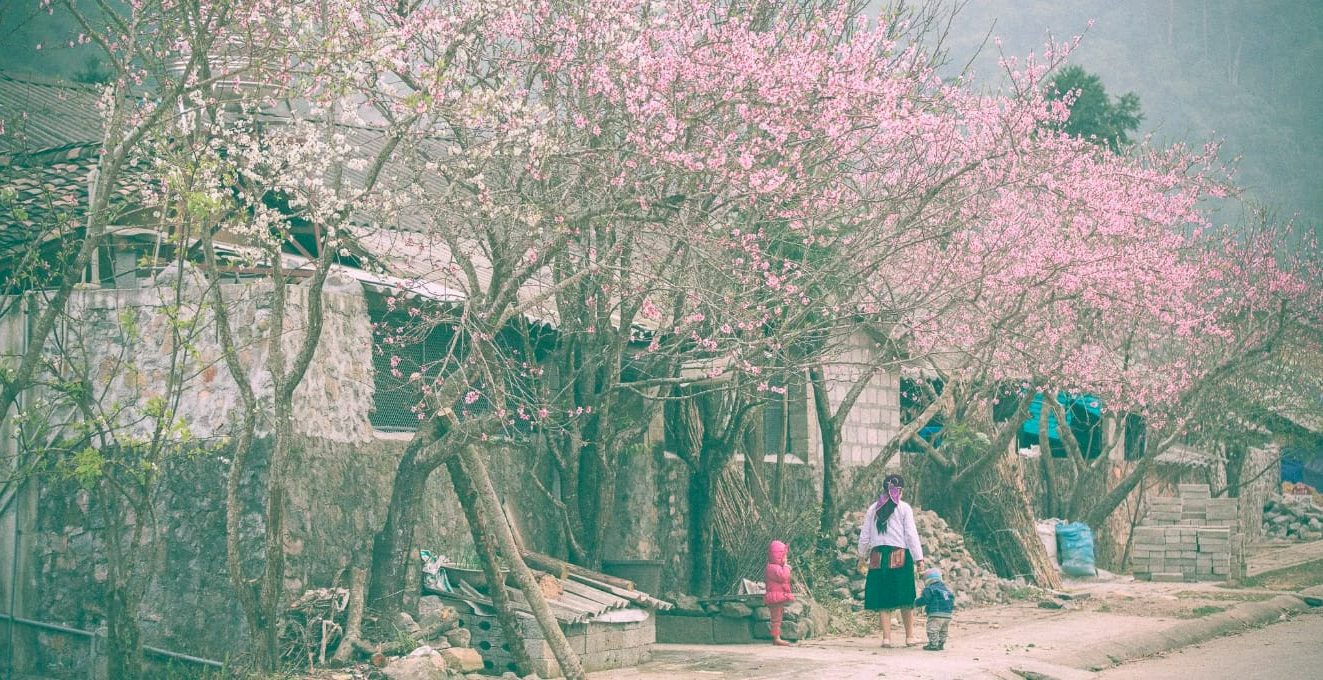 A romantic hangout for friends and family in the middle of rock plateau. Lung Cam village is one of the best sites to visit in Ha Giang, only about 25km away from the town of Dong Van.

Lung Cam Village is also the village where the famous house of Pao in the famous movie Story of Pao is located. The house is opened for visit with admission of 10,000VND per person.

The village is nested in a very romantic valley with 61 households in total of which are 53 households of Hmong ethnic people. Coming to Lung Cam village, visitors can enjoy the idyllic landscape and the peaceful way for life of the locals.



>>> Ready to see the magnificence of Ha Giang? Click to see our best tour:





What to eat in Ha Giang
---
Au Tau Porridge as known as bitter porridge is a specialty of Ha Giang, can be found everywhere from Ha Giang City to Dong Van plateau. A bowl of au tau has literally everything in it from all flavors of au tau and spice leaves to the balance of rice, herbs and meat…. This dish is also a medicine to cure sick and cold.

Dried buffalo meat is famous in northwest Vietnam, not only in Ha Giang. This dish is a specialty of Black Thai people. The buffalo meat will be marinated then hung on the wooden bars on top of the kitchen's fire. The smell of charcoal remains with the flavors of peppers, ginger and "mac khen" – a kind of forest pepper in northwest Vietnam.

Foods made from buckwheat flowers (Tam Giac Mach flowers) are Ha Giang's specialty. Tam Giac Mach is known not only for  its beauties but also for its tastiness. You can find many food-stall selling coal grilled Tam Giac Mach cake near Lung Cam cultural village, Vuong King palace, Dong Van market and Old Quarter. Tam Giac Mach flower is also used to make wine, cookies and soft cake….

Thang Den is a popular sweet soup dessert in Dong Van and Meo Vac, when served hot can warm your body up in the cold night on the highland's town. The small white balls made of glutinous rice are soaked in sweet syrup, topped with peanuts, sesame and coconut slices. This soup sure smells good.  

Thang Co Dish – North Vietnam's Specialty


It's uncertain that Thang Co is loved or hated but it's obviously the most famous dish from the northwest Vietnam.

The dish is originally a traditional food of Hmong people, has become a common food among ethnic groups in the region. Thang Co's main ingredient is horse meat. All parts of the horse are put in a big pan and fried. Men often eat Thang Co with wine while women eat the dish with com nam (rice balls) or men (ground maize).You can try the dish in Dong Van, there are some restaurants selling Thang Co, prices are varied.

How to get to Ha Giang
---
Located at the northernmost region of Vietnam, Ha Giang was never an easy destination to travel to and is considered as the final frontier of Vietnam. If you are considering visiting Ha Giang by motorbike, extra preparation is needed.
Ha Giang is about 320km north of Hanoi and it would take you around 7 – 9 hours of driving. From Hanoi, several buses are available to take you to Ha Giang. The price ranges from 200,000VND (8 USD) to 300,000VND (13 USD), depending on the amenities of the bus (wifi, outlets, water and snacks, toilet, etc.).

Once you're in Ha Giang, Happiness Road is only one way available to travel to Dong Van and other districts. The steep slopes together with the crowded traffic in peak season would be dangerous if you're riding a motorbike.
When to visit Ha Giang
---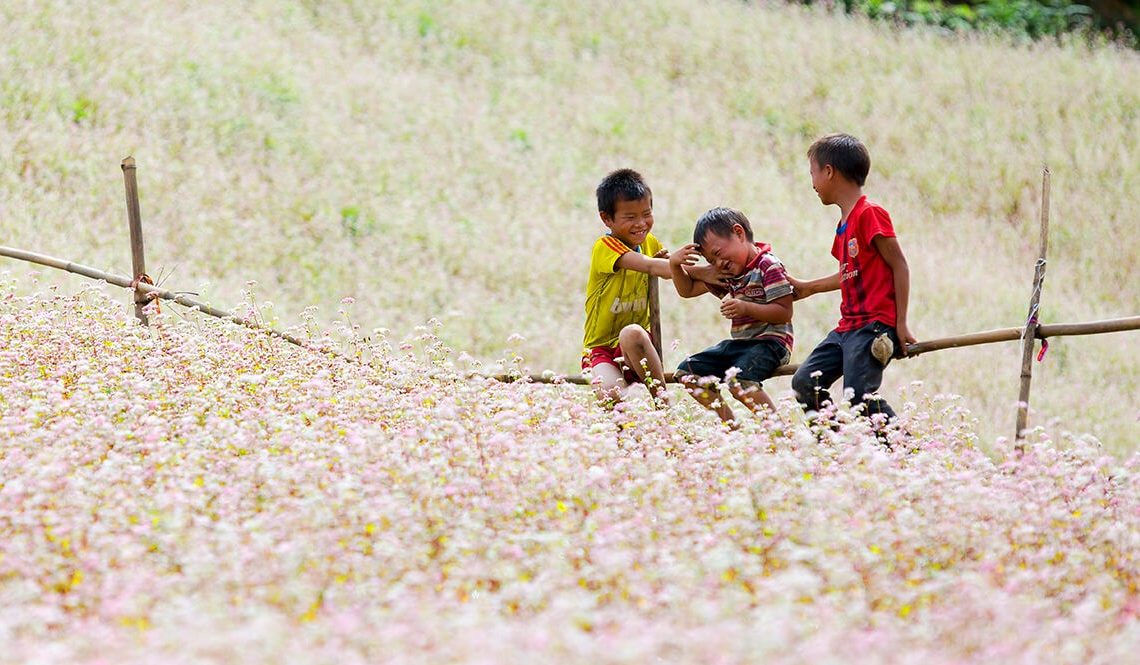 You can visit Ha Giang almost all year round, but the best time is during the buckwheat flower blooming season (from October to December) when the grey mountains are covered in the pinkish color of flower field after flower field. However, Ha Giang in other month has its own authentic charms, too.
January – February: it's the time of peach and plum flowers to boom, also the time of Lunar New Year with a festive atmosphere.
April: On 27th on the third month of the year which falls in April, Ha Giang is bustling with Khau Vai annual love market.
May: this is the month the terraced rice fields in Ha Giang are flooded in water to prepare for the rice season, making a poetic scenery
September – October: the rice fields turn golden, especially the fields in Hoang Su Phi
November – December: it's the time for buckwheat flowers to bloom on the terraced fields, also the time for buckwheat flower's festival