If you're preparing for a summer trip to Asia, don't forget Danang – the most worth-living city in Vietnam. Have you ever wondered why people keep talking about Danang as this name? Spending just 3 days in Danang, you can explore lots of amazing sights and experience the comfortable environment there. In this blog, we will give you some useful tips and a quick description of your 3-day trip to Danang city. 
Why Choose Danang For Your Vacation
The variety of landscapes
For your vacation time, maybe you will have plenty of places to make a decision. If you want to play on both land and beach, you should put Da Nang – Vietnam on the top of your list. Danang has a diversity of landscapes and provides you with a lot of services and activities at an affordable price.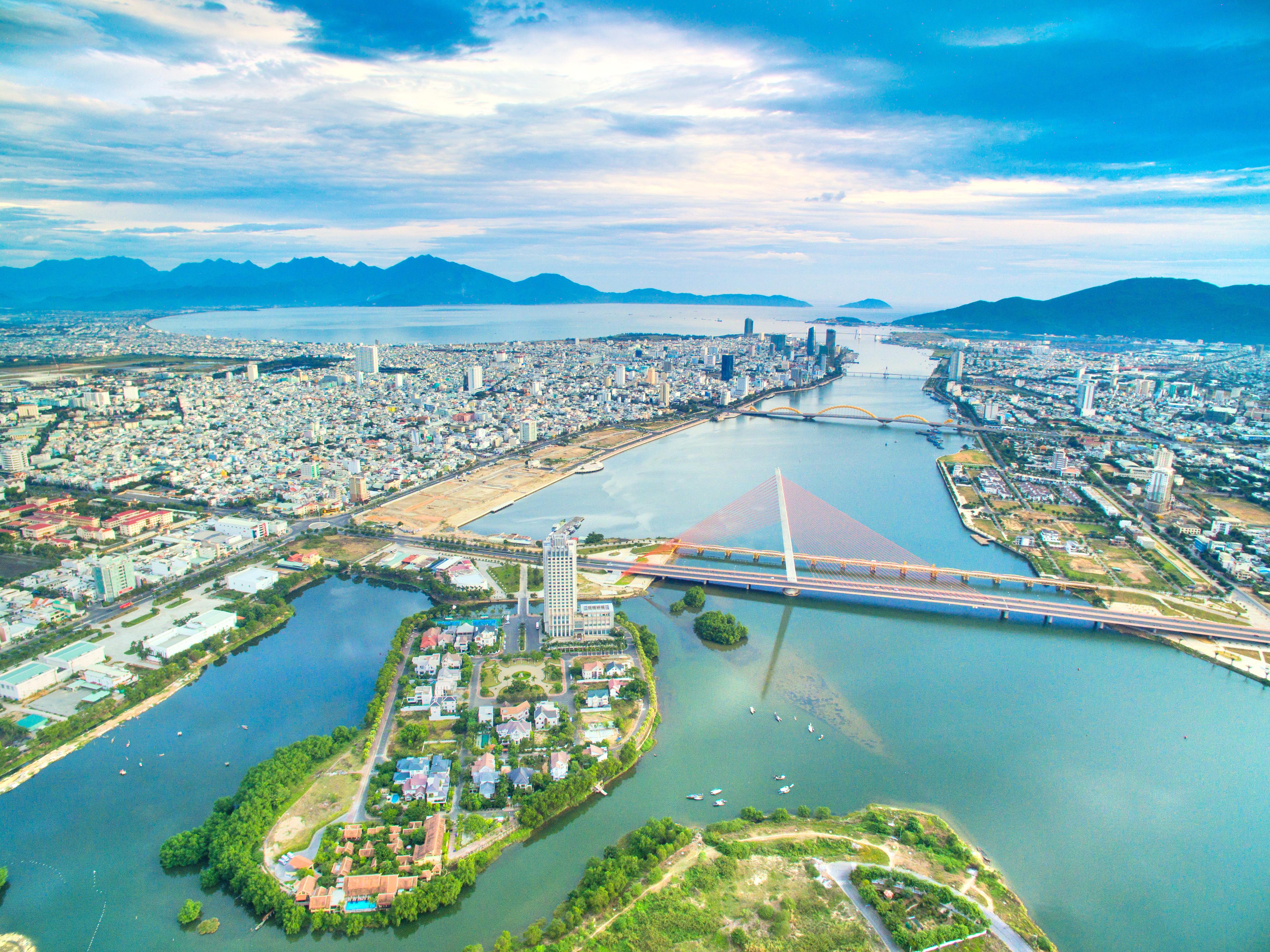 About the background of the city, Danang is located in the middle of the country. Due to this position, Danang has both massive land and a beautiful beach with a 60-km long shoreline. Not only famous for its beaches, but Da Nang also has many sightseeing spots. In this article, we will suggest to you some places to go, don't miss it. 
Moreover, the three UNESCO World Heritage sites of My Son Sanctuary, Hoi An Ancient Town, and Hue Citadel are all connected through Da Nang. So visiting Da Nang will give you a chance to come across Hue and Hoi An most conveniently. If you stay 3 days in Danang, you just should explore this city instead of going to Hoi An or Hue. If you have a long time here, you can extend the itinerary and get a look at our 5-day tour as a reference.
The weather is always nice
The weather in Da Nang is generally dependable, with high temperatures and minimal alterations. In Da Nang, the annual average temperature is around 25 degrees. The lowest temperature ranges from 18 to 23 degrees celsius in December, January, and February, while the greatest temperature is a little over 28 to 30OC in June, July, and August.
Plan The Appropriate Time For 3 Days In Danang
Check the seasonal tourism news
The best period is from April to August because there is less rain and there are more daylight hours for outdoor activities like touring. Although it's summer at this time of year, it's not particularly hot. This is also Da Nang's busiest travel period.


The best time to travel on a budget is from September to March. Since there won't be as many tourists during the wet season, hotel and restaurant services make lots of hot deals to get people in. When the wet season finishes in January and March, this is the greatest time to visit Da Nang on a budget. There is less rain and the weather is neither too hot nor too cold. Da Nang is likewise not overly congested.
Check the special occasions in Danang
Spending 3 days in Danang means that you should decide on a more effective timeline according to your budget and your demand because you don't have too much time here. So checking the special days in this city can be another way for you to enjoy your vacation. You can also visit Da Nang according to the festivals of the city. Various events are held in Danang per year, some of them are: 
Plan The Must-try Food List For 3 Days In Danang
Planning where to eat is an essential part of the trip. Here are some suggestions you can follow. With a 3-day trip, you should try some traditional food from Danang. Above all, the most exciting thing is: that Danang has a wide variety of food, from meat to seafood, from rice to noodles. Therefore, whether you are a vegetarian or meat-eater, Danang can serve you lots of cheap and delicious dishes.
Quang Noodles (My Quang)
Quang Noodles are the kind of noodles with a few sloths, yellow noodles, and grilled pork. On top of the bowl, there are fried peanuts and rice crackers, which will make the noodles more interesting. 
This well-known dish's foundation is a mixture of rice noodles with meat (or seafood), various fresh herbs, and a tiny bit of broth flavored with turmeric for flavor. Basil, cilantro, and onion leaves are the typical herbs used by locals. 
Price: From 30.000 per dish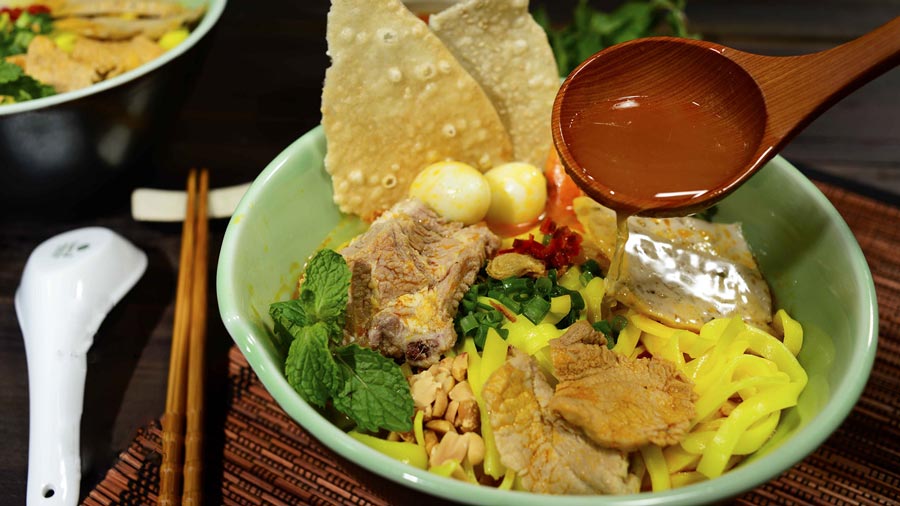 >>>Recommendations: 
Madame Xuan – 77 Ha Huy Tap Street, Chinh Gian province,  Thanh Khe District, Da Nang city
Miss Dung – 121 Do Ba, Ngu Hanh Son District, Da Nang city
Grilled Pork Noodles (Bun Thit Nuong)
A bowl of fresh grilled pork noodles is the food you're looking for if you enjoy a barbecue and peanut products, such as peanut butter. It's a well-liked dish in central and southern Vietnam, and fortunately, Da Nang has some of the best bowls of this well-known cuisine on its streets. Vermicelli noodles, green salad, bean sprouts, peanuts, and cooked peanut sauce are all placed in a bowl with the vermicelli noodles. Fresh herbs (mint and basil) are also presented.
Price: From 30.000 VND per bowl



>>>Recommendation: Grab yourself a full of noodles in some restaurants on Pham Cu Luong street
Seafood
Because you're spending just 3 days in Danang, you must take a seafood excursion as soon as you arrive there! In the entire nation, Da Nang is probably the most well-liked location for dining on fresh and varied seafood. Since drinking while enjoying a table of freshly prepared fish is ingrained profoundly in the Danang culture, seafood restaurants are frequently crowded to the very last seat practically every night. 
There are a lot of seafood eateries with welcoming locals and more affordable costs. Searching for a genuine regional experience? Wander around Nguyen Tat Thanh street on the opposite side of the city. The entire street offers breathtaking views of the neighborhood beach and Hai Van pass, as well as numerous seafood eateries that are crowded with locals.
Price: For the cozy dinner for 4 people, the price can be from 500.000 VND per person



>>>Recommendation: For the best view, you can choose a restaurant on Nguyen Tat Thanh street
Pancake (Banh xeo)
The name of this well-known food, Banh xeo, which means sizzling pancake, accurately describes what it is. If you enjoy pancakes, you'll undoubtedly want to know what sizzling is. The name for this dish originates from the loud sizzling sound that occurs when the rice batter is dropped into heated oil on a skillet. Rice flour, turmeric powder, and water are combined to create a pancake batter.
People typically combine it with little shrimp, various cuts of meat, beans, and bean sprouts, depending on the eatery. Typically, it is served with lettuce, mint, and basil.
Price: From 20.000 per piece of cake



>>>Recommendation: Madame Duong Pancake – K280/23 Hoang Dieu Street, Hai Chau District, Da Nang city
Sweet soup (Che)
What could be greater after a filling and delicious lunch than to indulge in a sweet soup, a typical Vietnamese dessert? This famous treat is a reference to any sweet Vietnamese dish, including pudding or soup. Sweet soup is typically created with a mixture of coconut cream, sweetened condensed milk, frozen beans, peas, and kidney beans as well as various kinds of jelly and fresh fruit pieces.
Price: From 10.000 VND per dish


>>>Recommendation: Almost every corner of the street in Da Nang will sell this food and they are all sweet and delicious. 
One must-try food we recommend for you: If you like durian, Ms. Lien Durian Sweet Soup is the best choice for you – 198 Hoang Dieu Street, Hai Chau District, Da Nang city
Plan The Places To Visit For 3 Days In Danang
"What to do in Danang for 3 days" can be a hard question for you. In a short time, you can follow our must-visit checklist and some suggestions for the itinerary.
Day 1: Explore Danang mountain and beach
The Marble Mountains
This collection of five magnificent marble hills, which is not far from the city center, attracts tourists with its abrupt emergence from the nearby delta, Da Nang's earliest Buddhist temples, and fascinating caverns. The best time of day to explore the area's hills is early in the morning. The art of carving stone sculptures is still practiced close to the mountain. During the busiest season, there are 2,2 million visitors.



Dragon Bridge Fireshow – Weekend Only
The Dragon Bridge that spans the Han River breathes fire and water on Saturday and Sunday. The show starts at 9 and lasts till 9:30. The riverbank park below, on a balcony of a café or restaurant, on a boat, or on a bridge for a closer view are all options for spectators.


My Khe Beach
From the Lady Buddha to the city's core, My Khe is traveling. Forbes listed this extensive stretch of fine sand as one of the top six attractive beaches in the world. Travelers can pause here for a little while to take in the scenery and take a barefoot stroll along the water's edge. If you're traveling alone, pack a swimsuit.
Staying 3 days in Danang beach can give you so much entertainment, fun, and joy. Let's prepare carefully for the beach with sunscreen, a straw hat, and rubber slippers. 


Day 2: Explore Ba Na hills
Linh Ung Pagoda – 67m Lady Buddha in Son Tra Peninsula
The tallest Lady Buddha in Vietnam resides in Linh Ung Pagoda, which is located north of the coast. It was built between 2004 and 2010 and reaches a height of 67 meters. The Buddha is said to face the city to protect its inhabitants from natural catastrophes. There are large worshiping shrines, bonsai gardens, picturesque vistas, and bodhi trees nearby.


Sunset in the Golden Hand Bridge
With 3 days in Danang, you can not miss the huge Golden Hand Bridge. Travelers will begin an astonishing adventure on the world-record Ba Na Hills cable car, before arriving close to the Golden Bridge, 40 minutes to the west. The bridge was opened in 2018, and because of its incredibly spectacular, surreal beauty, it quickly gained popularity on social media. It is tenderly held by two enormous hands that symbolize the hands of the Mountain God drawing golden silk from the highlands. To avoid the crowds and the hot weather, come here in the late afternoon.
Using a Cable Car to reach the top of the mountain, you can observe the natural beauty of Danang city from a high level. This is an incredible experience that no words can describe.


Day 3: Da Nang city tour
Sun World Park 
Sun World Da Nang Wonders, also known as Asia Park, is the most famous modern amusement park in this city. The park has a huge area of ​​nearly 900,000m2 with 22 games. You have to go for nearly a day to be able to experience it all. Located on the banks of the Han River, players in the park will see beautiful Da Nang from different angles.
Moreover, there are several monthly events in the park depending on the month you get there. You should check the website: https://asiapark.sunworld.vn/
The price is different for the activities, so you can check with the ticket seller before choosing which game to play. Besides, visitors are free to visit and go sightseeing around the park.
Place: 01 Phan Dang Luu, Hai Chau District, Da Nang city 
Opening hours: 15h – 22h (Monday to Friday), 9h – 22h (Weekend)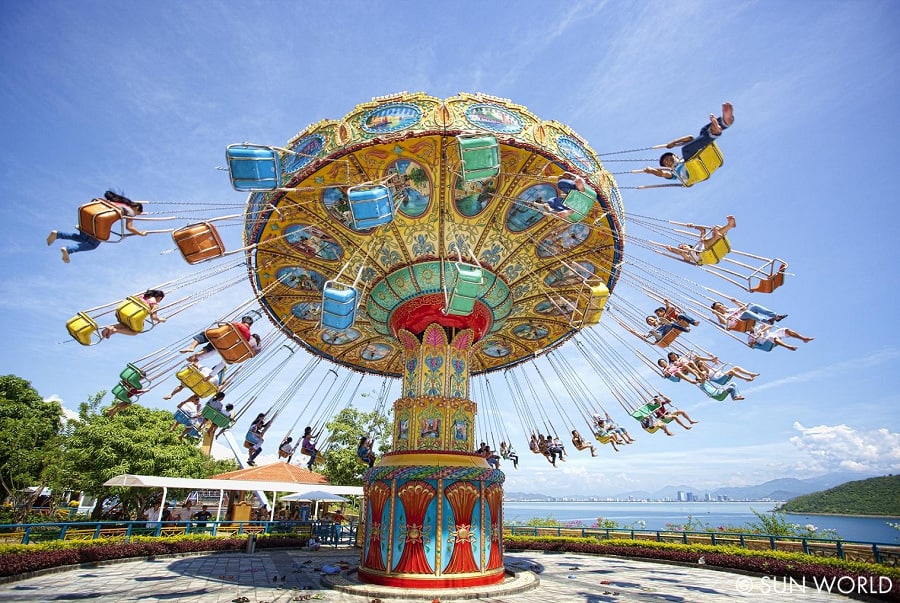 Love bridge
Love Bridge is a nice bridge in Danang, with many heart-shaped lights along the bridge. People check in here not just because of the scenery but also because they want to save the memories with their lovers. So if you go to Danang as a couple or a family, don't forget to come across and take a photo on this bridge!
For the more memorable moments, you can buy a lock, put it on the bridge and throw the key to the beach. It's proof of the love of you and your partners.
Place: Han River at Tran Hung Dao Street, Son Tra District, Da Nang City


Final Thought
3 days in Da Nang is perfect for you to enjoy Da Nang because it's enough for relaxing and discovering famous sights and having some tasty meals. Your vacation will be even more exciting if you have a detailed plan. We hope that our information will be useful for you. Moreover, we wish you a nice and safe summer vacation on one of the six most beautiful beaches in the world (according to Forbes US 2016). If you have any difficulties in planning your trip, please leave the contact details to us on this website. 
To have the closer look at the itinerary, visit our tour: Heavenly Danang Bana Hills and Golden Bridge 5 Days
---