Moc Chau Plateau is a destination of cool temperature, tea hills and ethnic villages. On a height of 1000m above sea level, Moc Chau pleases its visitors with its average temperature of 20 Celsius degree even in middle of summer heat. As the capital of Son La, Moc Chau lies 200km away from Hanoi, making itself the best choice for a weekend escape from hustling, busy cities. Our Moc Chau Vietnam travel guide will show you everything there is to know to make a perfect Moc Chau trip where you can enjoy both nature beauties and culture charms of the land.
Things to do in Moc Chau



---
With all the ideal conditions, Moc Chau Plateau is just the best location for tea planting, animal husbandry and other agriculture. Of which, Moc Chau Tea Hills have become one of the most highlighted tourist destination in the area.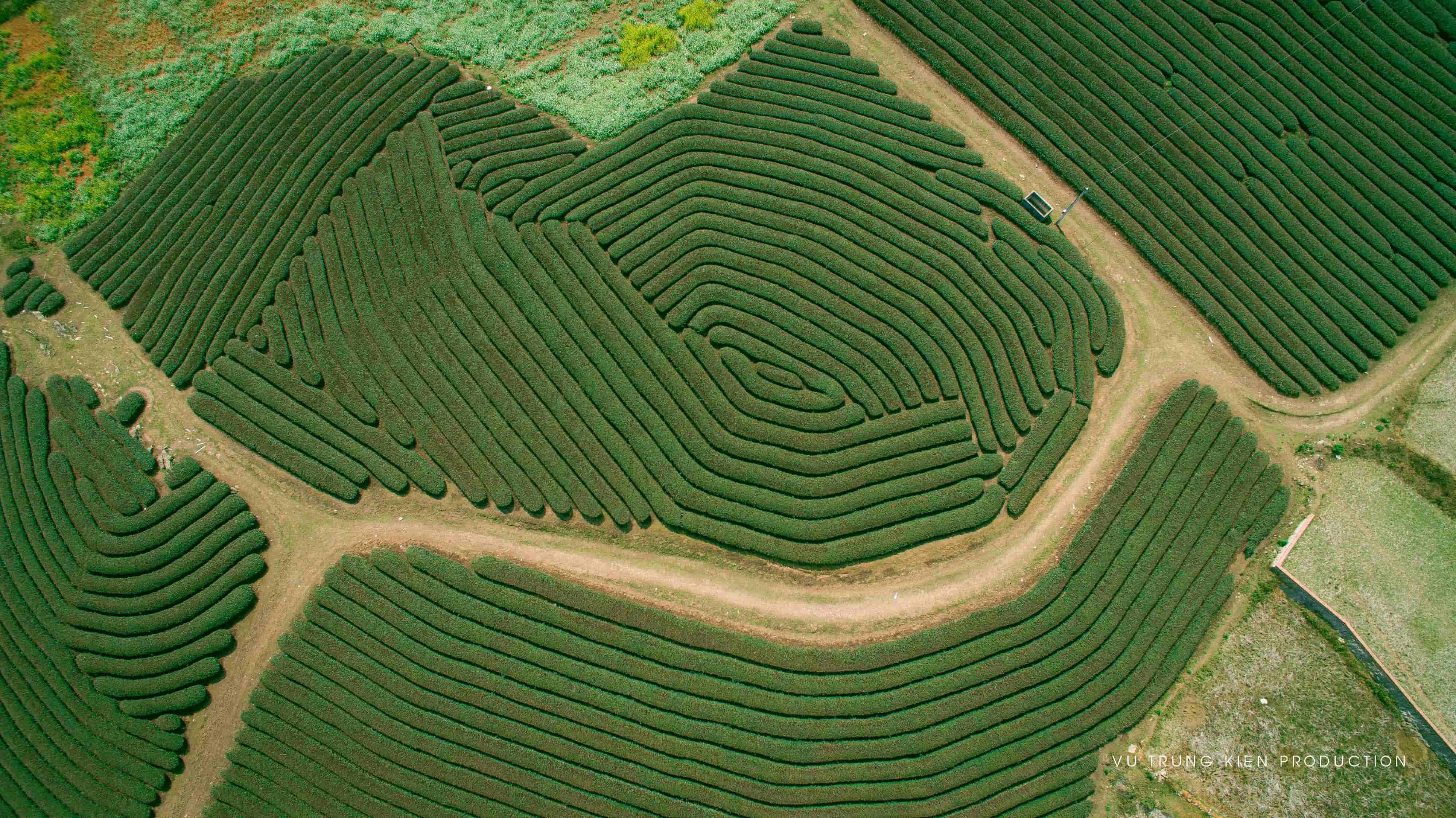 It's a long established fact that you can find Vietnam's best green and black tea in Moc Chau Pleateau. Indeed, planting tea has become a big thing here with almost 3000 hectares of tea gardens. Moc Chau Tea hills lie about 15km away from Moc Chau Farm, and they will capture your eyes right away with the green rows of tea trees running hill after hill. The whole landscape become even more vivid when the sunlight cast down on the hills, therefore visit these tea hills in summer for a great photoshoot would be a wonderful experience.
2. Soak up the culture in Hua Tat Village



Hua Tat Village is a lovely small community of H'mong tribe in Moc Chau, blessed with lush, breathtaking scenery, authentic local culture, and a poetic trekking path into nearby pine forest.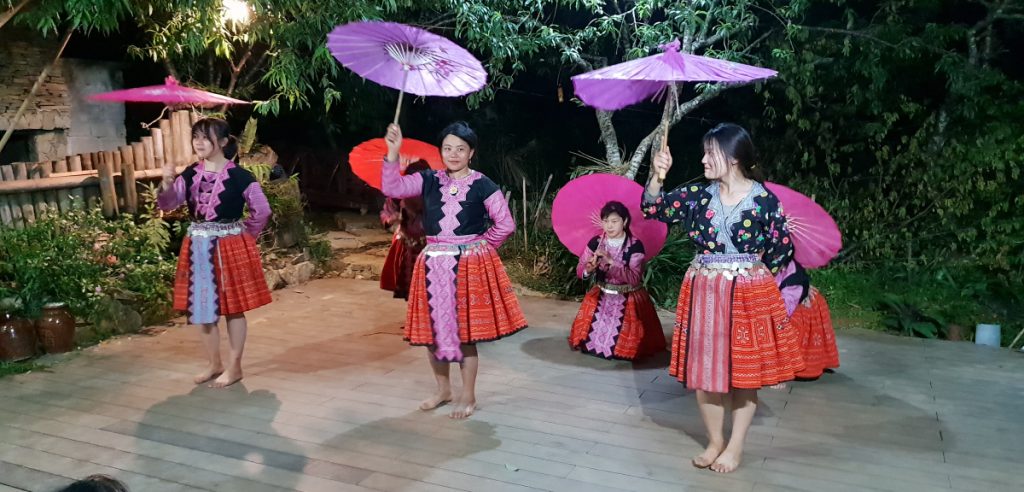 Come to Hua Tat, you'll have the chance to enjoy almost everything in one trip from cultural immersion to pine forest trek to hand-on lessons of ethnic handicrafts. All these activities are set in an idyllic and peaceful atmosphere of highland's village.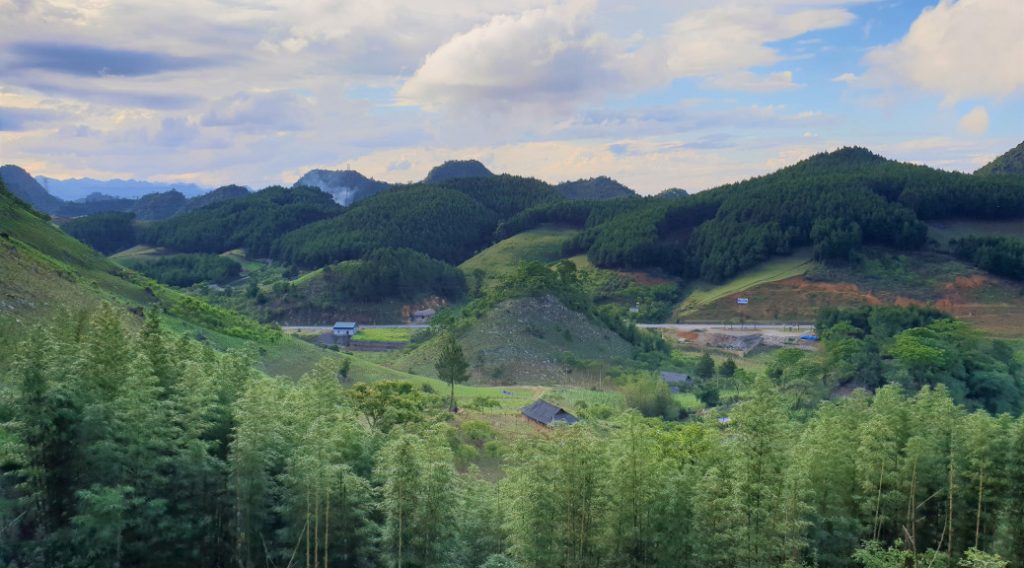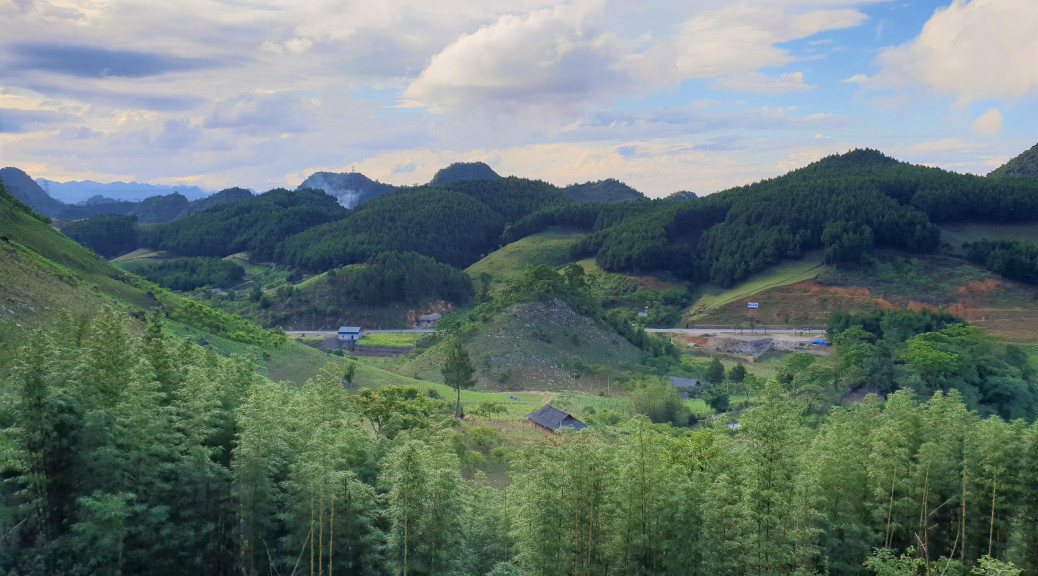 There are three workshops to visit in Hua Tat: H'mong Cooking Workshop, H'mong Embroidery Workshop, and H'mong Paper Workshop. These workshops preserve the very essential traditions and craftsmanship of H'mong culture in northern Vietnam.


The best time to visit Hua Tat for trekking its beautiful pine forest trail is in autumn (November to December).
3. Visit Moc Chau's best cave – Doi (Bat) Cave



Doi Cave (or Son Moc Huong Cave) is located right on the highway 6, 300m northeast of town's center of Moc Chau, with a total area of 6915sqm, 80m in length, 20m in height and 25m in width. Cave entrance can only be reached after climbing 240 steps and once you're inside an impressive limestone system will great you with of its mighty beauty.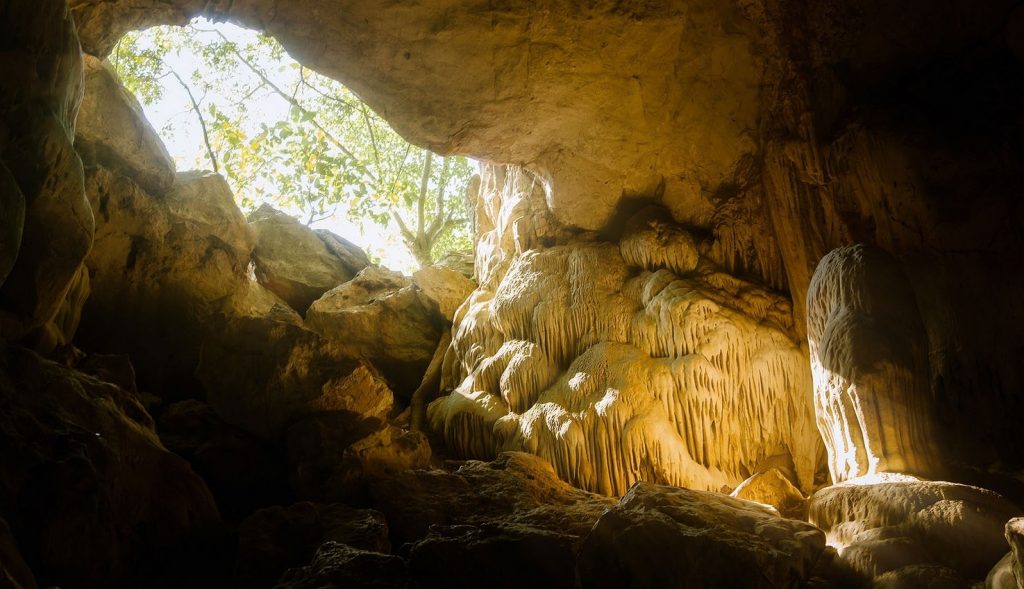 There is a legend related to the mountain range of this cave about a dragon flying to the East Sea, enchanted by the beauty of this land when it was flying above, the dragon forgot all together its plan of finding the East Sea. It landed and lived in this mountain range, making the scenery of the area so magical with mysterious colors: white as crystal in morning, blue as sapphire in midday, pink as ruby in the afternoon, deep purple in the twilight. When the day the dragon had to leave the mountain range, it left seven jades from its mouth and turned them into mountains to thank the land and people of Moc Chau and one of them, Doi Cave is situated.
4. Admire the romantic beauty of Dai Yem Waterfall



Dai Yem Waterfall or Pink Blouse Waterfall has a poetic connotation behind its story of a young girl who used her pink blouse (a traditional brassiere of Vietnamese women) to save her lover in a flood.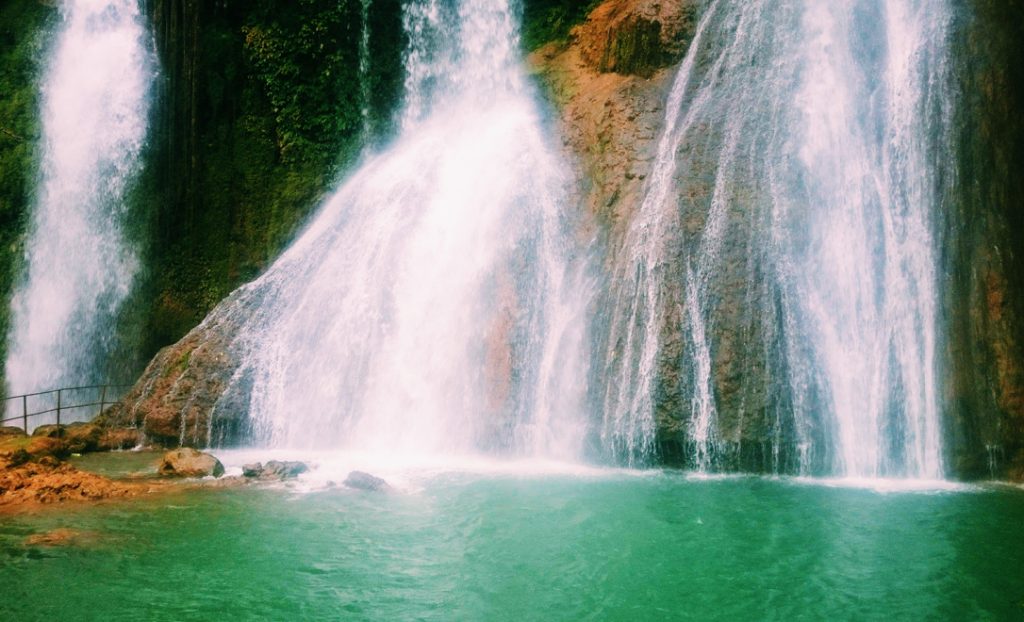 The fall lies 3 kilometers away from Moc Chau Farm, at Muong Sang commune, with an easy accessible. Dai Yem is a beautiful 2-level with a drop at a height of 50m, with many water tails. The fall is especially spectacular in the rainy season between April and September.
5. Ba Phach Village – the village of cauliflowers



Ba Phach Village must be the most iconic tribal village in Moc Chau Plateau, offering the fully beauty of the land and local culture here.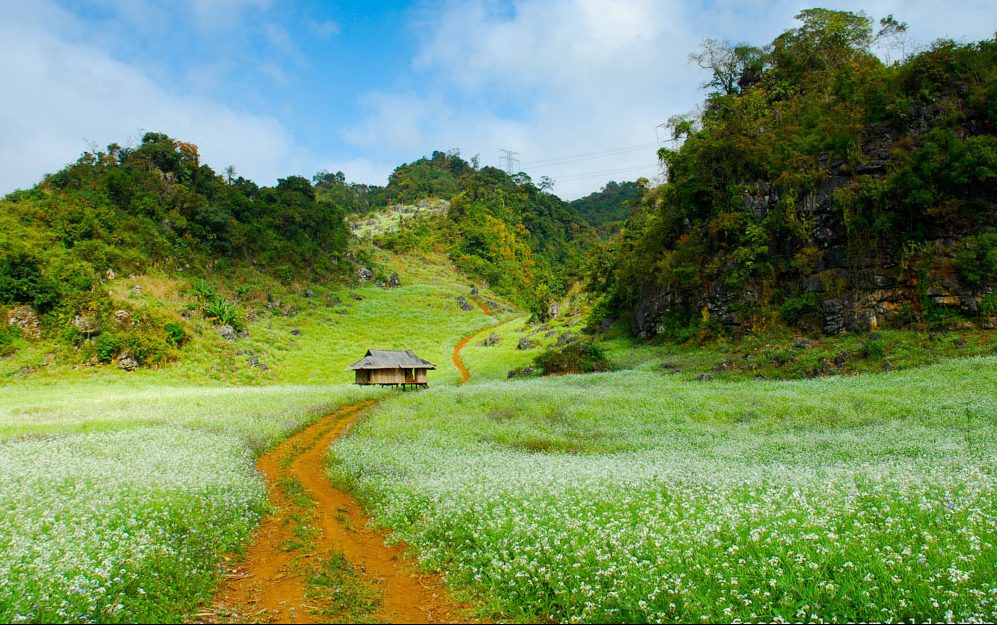 Ba Phach Village is well-known for spectacular sights of plump and peach flowers blooming in spring time and cauliflower blooming from November to December. The village is home to two ethnic groups residing here – Thai people and H'mong people with their richness of cultural customs and traditions. Thai and Mong people have a tradition of living together for a long time. Thai people live and cultivate near water source while H'Mong people live up high and cultivate on terraced fields. It's also the reason there are Lower Ba Phach and Upper Ba Phach. The Thai takes the lower village while H'mong people reside on 3 village of upper Ba Phach (Ba Phach 1, 2, 3).
6. Get lost in the plum paradise at Na Ka Valley
Every spring, the whole 100 hectares of plum trees in Na Ka valley, located 20km away from Moc Chau town, turn into a paradise of blooming plum flowers was white as clouds. If you're seeking the chance to take some of the most dreamy Vietnam landscape pictures, go to Moc Chau in January and February. Another time to visit Na Ka valley is in May – when the plums are just ripe for harvesting. A plum festival is also held during this time to attract tourists to Moc Chau.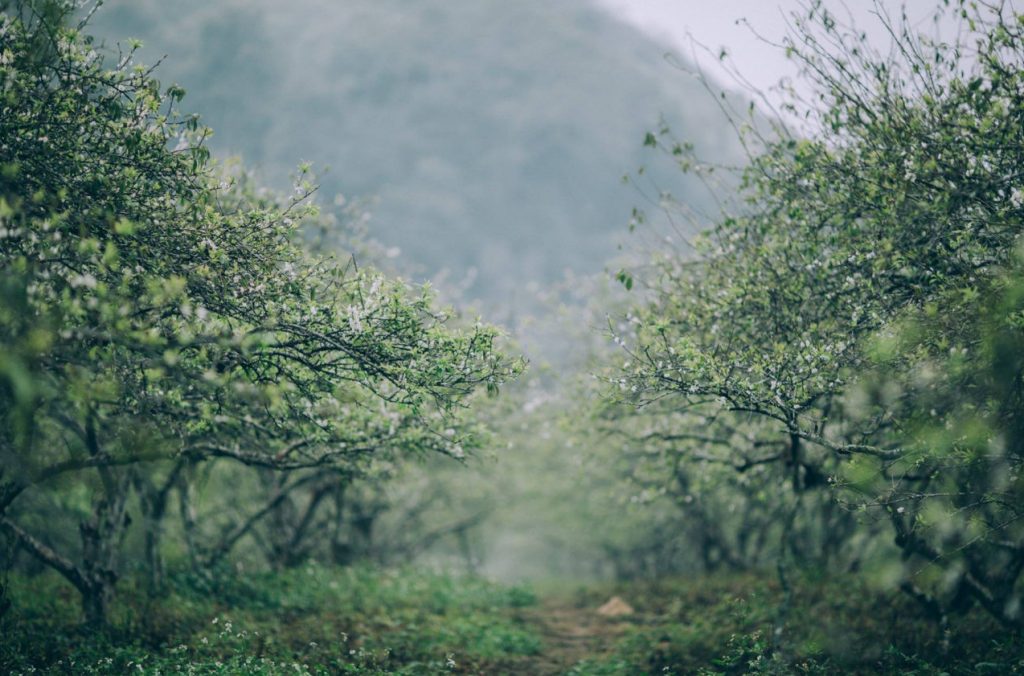 7. Off the bean track to On Village's Five Caves



On Village's Five Caves or Ngu Dong Ban On are indeed the special features of the dreamy plateau of Moc Chau. If you would love to admire the nature beauties, you shouldn't skip these caves. 
The five caves of On Village are attached to the Eastern philosophy of five basic natural elements: Metal, Wood, Water, Fire and Earth. To reach Cave Number Three, you'll have to go deep into the valley of Tan Lap Commune, 16km away from Moc Chau Town. As the journey proceed, you'll see the landscape changing from gentle green tea hills to thick primeval forest. The path isn't easy but it's worth it.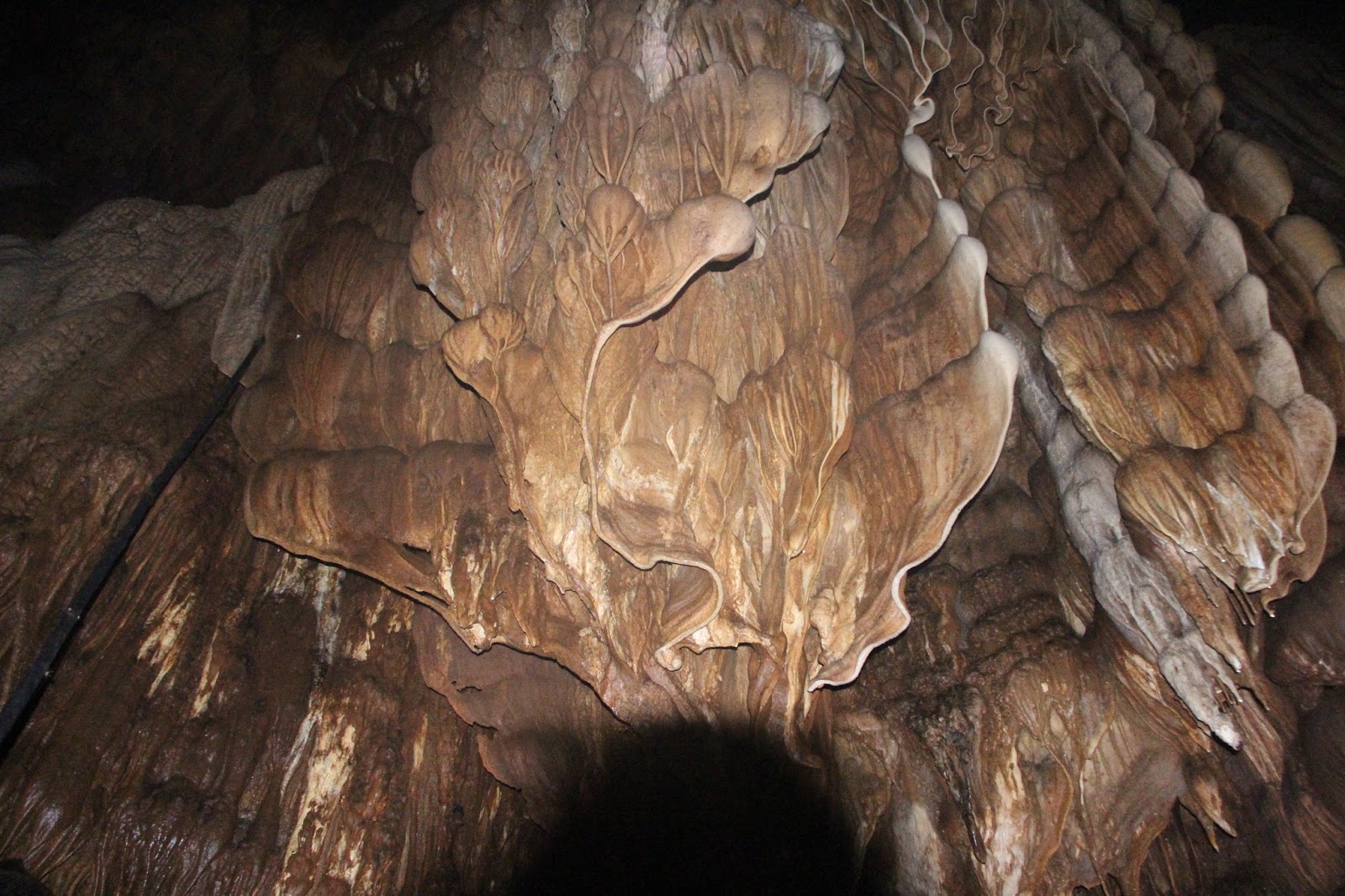 The Cave Number Three welcomes you with its sparkling stalactites looking like they are dripping down from the ceilings. Other karst structures with many different shapes and sizes will arouse your own imagination like a floating cloud, an animal, or a woman.
8. Picnic at Ang Village's Pine forest



Ang village of Thai people has the largest and most beautiful pine forest on Moc Chau Plateau, boasting a peaceful landscape complex with pine forest, small lake and flower garden. You'll have the feeling that you're in a park where you can enjoy a picnic while admiring the beautiful nature surrounding.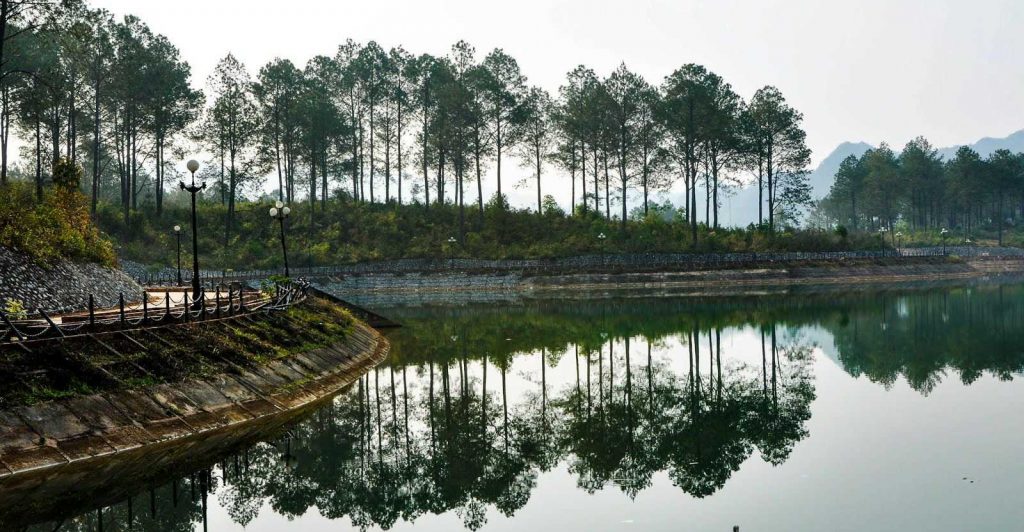 The Thai community in Ang village live mainly on farming (tea, canola, corn, rice), traditional breeding and handcrafts (mostly weaving). Thai people still live in their traditional stilt houses, wear their own costumes and occasionally perform their singing, dancing and folk games. Come to Ang village, do not forget to try the delicious food here like can wine, com lam , grilled fish, smoked meat and vegetables…
9. Hike to Pha Luong's board peak



Has inspired creation of the famous poem 'Tay Tien' (West March) by soldier-poet Quang Dung, Pha Luong Mountain was the symbolized image of both hardships and the determination of humans to overcome such difficulties. The poem was written to praise the courage of the soldiers who were marching to the western border in the fight against French troops.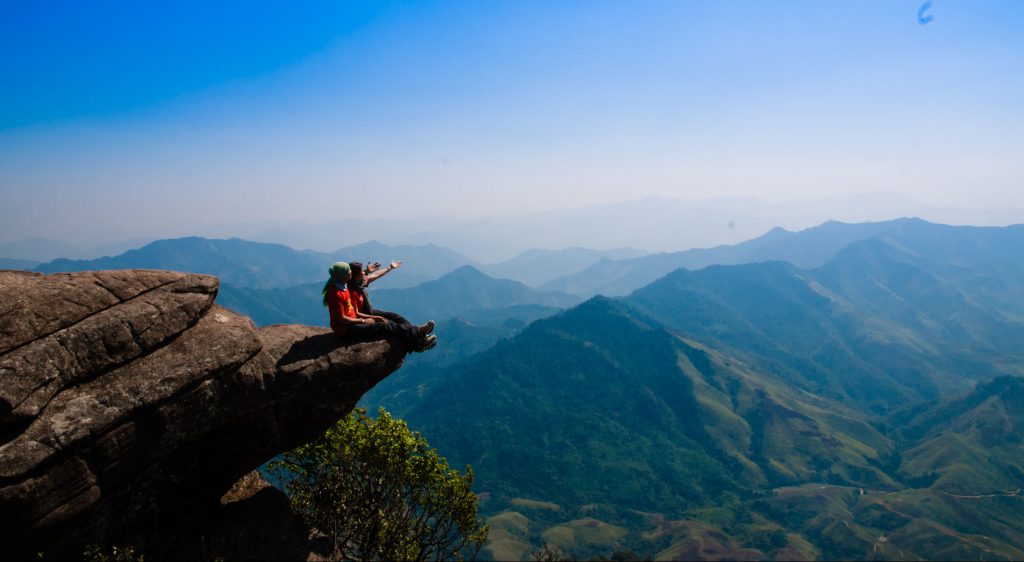 Nowadays, Pha Luong Mountain has become a famous trekking site with the level of difficulty has dropped significantly yet the nature beauties has still been as wild and beautiful as they were in the past.
On the height of 2000m, Pha Luong Peak offers majestic scenery of Lao-Vietnam border with primitive forest and mystic mountain backdrop. The road to the mountaintop takes you about 3 hours on steep slopes, with a local porter's assistance. When you're on the top, don't forget to enjoy the bare board rock intruding out to the air. This is indeed one of the coolest site to take picture in Vietnam with the whole view of mountains and clouds behind your back.

*Tips for climbing Pha Luong Mountain:


For foreign travelers who wish to climb Pha Luong, you'll have to attain a permit from authorities to visit the place.

No one will be allowed to stay overnight on the mountaintop



Take much time to rest and prepare at the border guard station which is located 10km away from the highway before going up.

Best time to climb is between December and April which is the dry season in Vietnam
What to eat in Moc Chau



---
1. Five-colored sticky rice

This dish is a specialty in many provinces in northwest Vietnam, including Moc Chau Plateau. The sticky rice is made from glutinous rice but the colors are made from natural ingredients. There will be five different colors including green, yellow, red, purple and white. Due to different ingredients, the fragrances of each colored sticky rice will be different, too. You can find this dish most frequently at fair markets.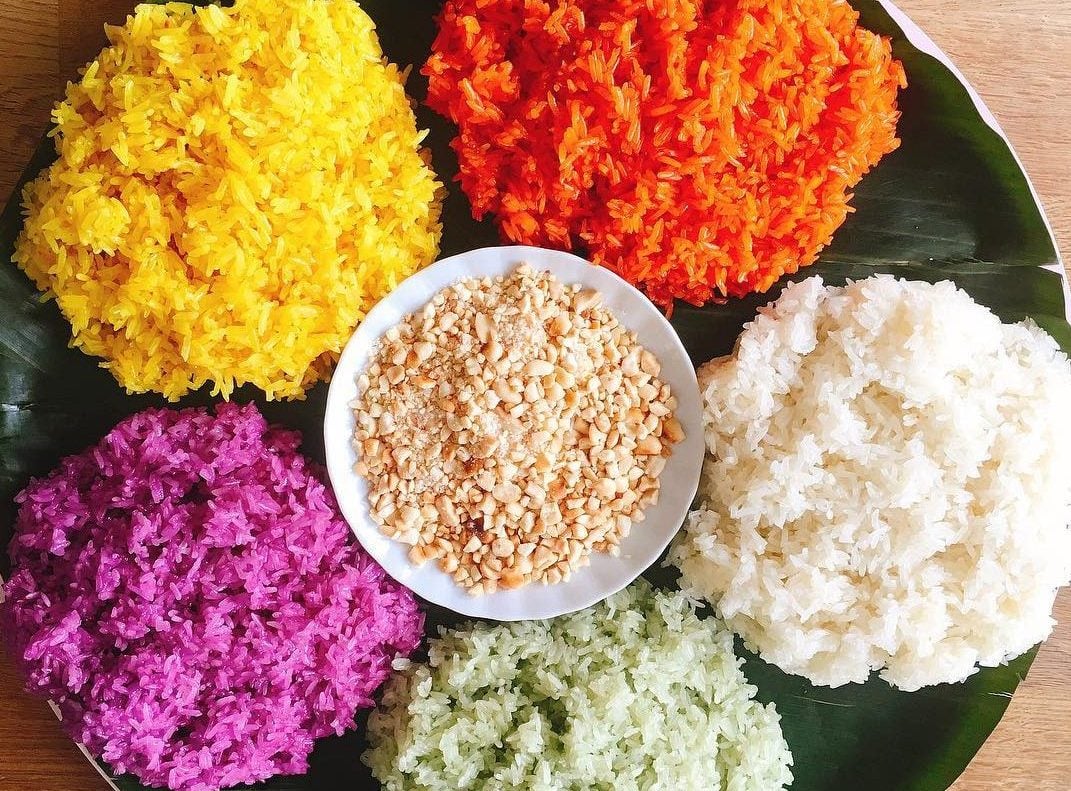 2. Ca Suoi Nuong (Grilled Fish)
The fishes caught from the clean streams of Moc Chau plateau are firstly cleansed and its organs will be removed before before being grilled. The tantalizing smell when the fishes are done is absolutely irresistible and the taste won't disappoint you. If you have the chance to dine with a Thai family, this dish will appear on the table, served as the warmest welcome from the host family.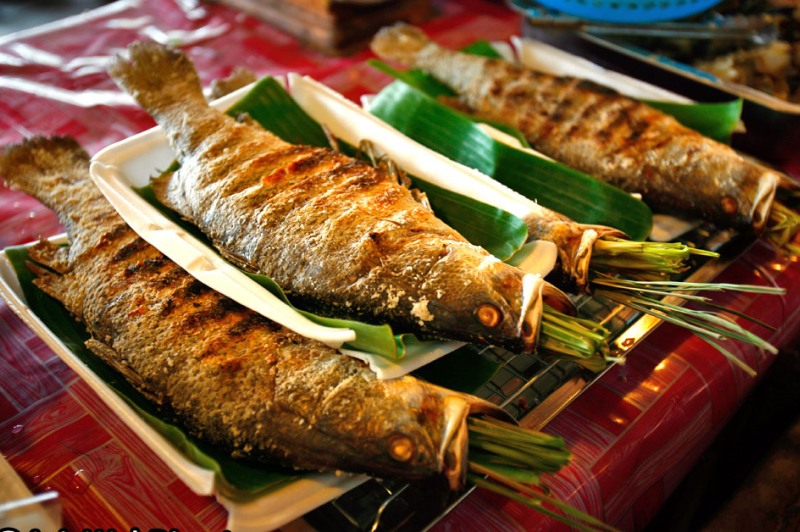 Thit trau gac bep (Dried Buffalo Meat)
This dish is the specialty of Black Thai people you can only find in North Vietnam. Made by hanging marinated buffalo meat on the wooden bars on the top of the kitchen for several months, the meat tastes sweet and chewy, best when accompanied with corn wine. A fun fact about this dish is the buffalo meat, without any preservation, will be kept from going bad for about one month.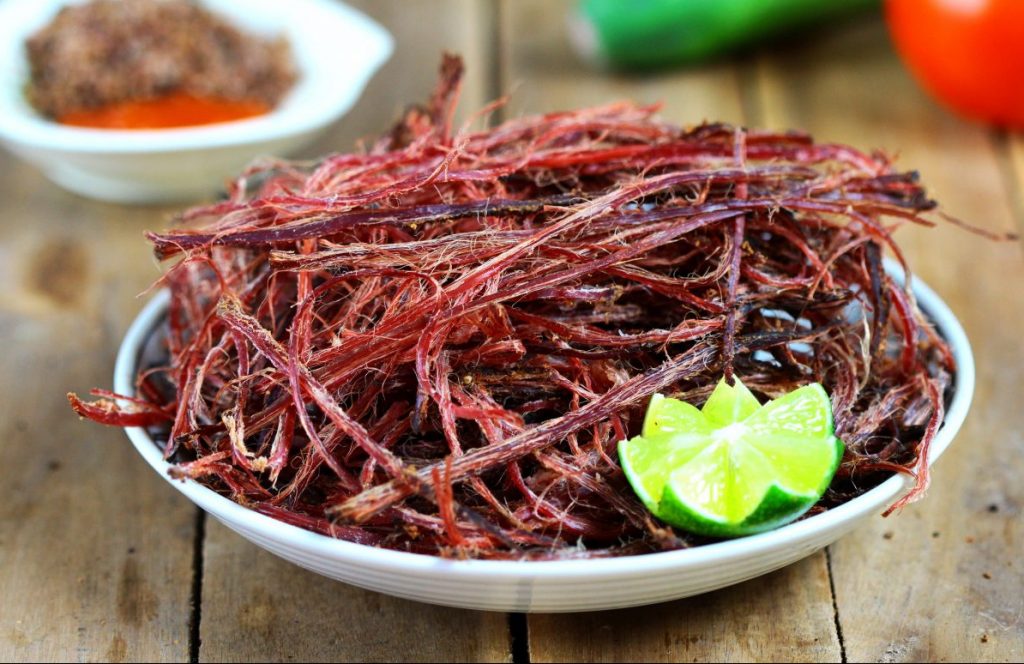 Where to stay in Moc Chau Vietnam
---
As a famous tourist destination of northwest Vietnam, Moc Chau has a wide variety of accommodation services. Cheap hotels and hostels can be rented for 100,000VND – 300,000VND per night per room in Moc Chau town. In other areas, there is homestay service in ethnic village with wide price range, can be anywhere between under 100,000VND per person per night to above 1 million VND per person per night.
How to get to Moc Chau Vietnam
---
Moc Chau plateau is about 200km away from Hanoi by national highway 6, the distance is suitable for both motorbiking or taking bus.


You can catch buses to Moc Chau (Son La) in My Dinh and Yen Nghia bus stations with ticket price ranging from 130,000VND – 160,000VND. Reliable companies are Hai Van, Bac Son and Hung Thanh. Coaches depart from morning to late night, taking you about 4-5 hours to Moc Chau.
When is the best time to visit Moc Chau Vietnam
---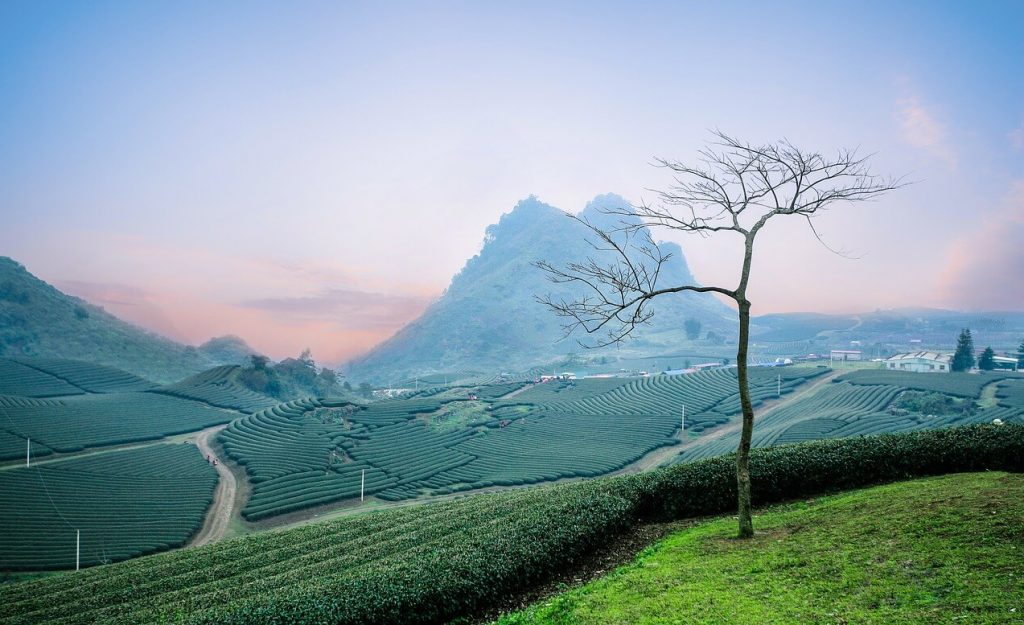 During spring, Moc Chau boasts a lush, poetic beauty when the plum and peach flowers bloom all over on the green hills. Come to the villages of Thai, Hmong, Dao minorities for such sights. In summer, pine forest in Ang village offers shades for picnics while Dai Yem waterfall is its finest beauty. Come to a tea plantation for a refreshing taste of the most famous Vietnamese tea. In autumn, Moc Chau changes for its most important fair market and festivals – "Love Market", "Independence Day" and "Het Cha" festival. It would be a wonderful experience if you can join the joyous, festive and lively atmosphere of the people here.

– January – February: peach blossom and damson flower season

– March: ban flower season

– April: tea field harvesting season

– April to August: peach and damson fruit season

– September: Tet Doc Lap – the biggest holiday and cultural festival of Moc Chau people 

– October to February: kale flower, da quy flower season (peak on November)
Independence Day Celebrating of H' Mong people: since year 1945, H'Mong people in Moc Chau, Son La have developed a new festival – the Independence Day Celebration which is to be held in 1st of September every year. Thousands of thousands people from many ethnic minorities in north Vietnam and some from Laos come and gather in Moc Chau to celebrate this glory day of Vietnamese history. September 1st is also the day of an annual love market in Moc Chau where girls and boys meet wearing their best costumes and sing their songs. Foods and all kinds of goods are displayed in the market. If you are planning to visit Moc Chau on September, you should not miss such an event!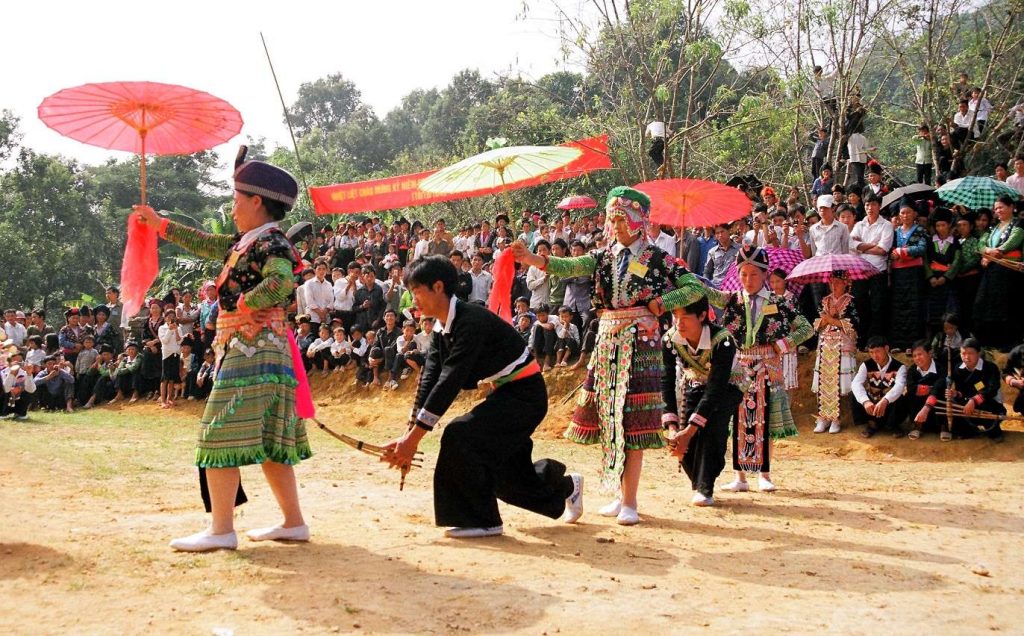 Praying-for-rain festival of Thai people: this is the most important festival of Thai people in Moc Chau. In 15th century, the festival was popular then lost until 2011 by when it was restored. The festival is held on 15th of February of Lunar Calendar annually to wish for a new bumper. Thai people prepare very carefully for this important day and one thing that can't be missed is the Neu tree which is believed to send the messages of the people to the gods above. An altar full of fine foods and votive is made and put out in the outside. A shaman will use a bamboo leave to splash water on everyone symbolizing that the gods shall give rain to the people.


---

Moc Chau can be visited almost all year round, a wonderful destination of northwest Vietnam still pristine and untouched by mass tourism. Contact us now for more information about Moc Chau Vietnam and other destinations or send your request to

booking@asianwaytravel.com

.