Tam Coc – Bich Dong, a harmonious architectural ensemble has long attracted numerous tourists. Its beauty is a wonderfully harmonious combination between the stunning caves, the charming waterways and the talent of the human, forming an inseparable unity.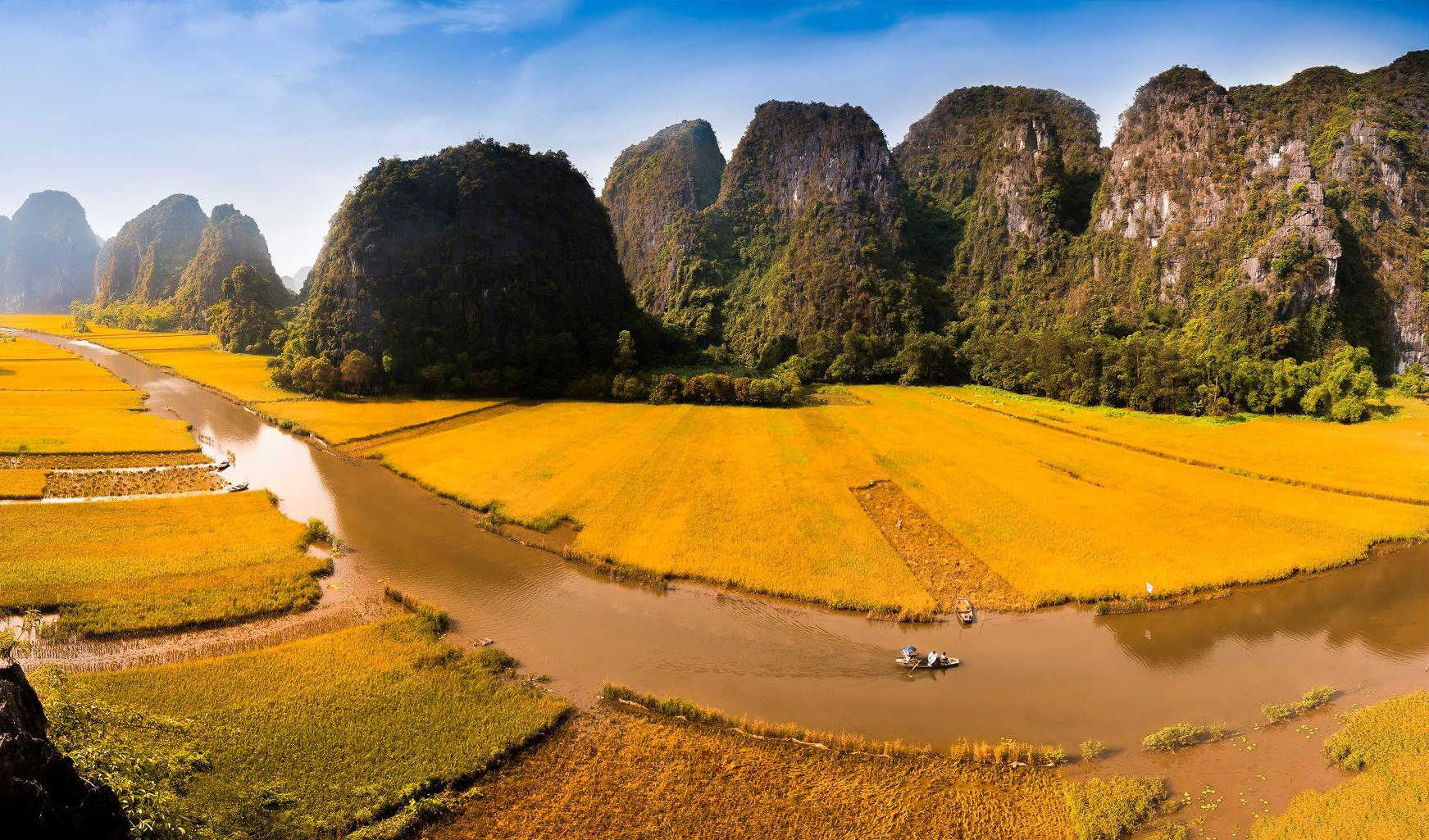 Where is Tam Coc Bich Dong
---

The complex is located just right next to Trang An Landscape Complex and both appeared in the Hollywood blockbuster Kong: Skull Island.


What to do in Tam Coc Bich Dong
---
Tam Coc – Bich Dong is considered the most appealing tourist attraction in Ninh Binh, known for famous names such as "Second nicest grotto". Tam Coc (Three Grottoes) includes Hang Ca, Hang Hai and Hang Ba Grottoes. All of 3 caves are formed by Ngo Dong River crashing through mountains…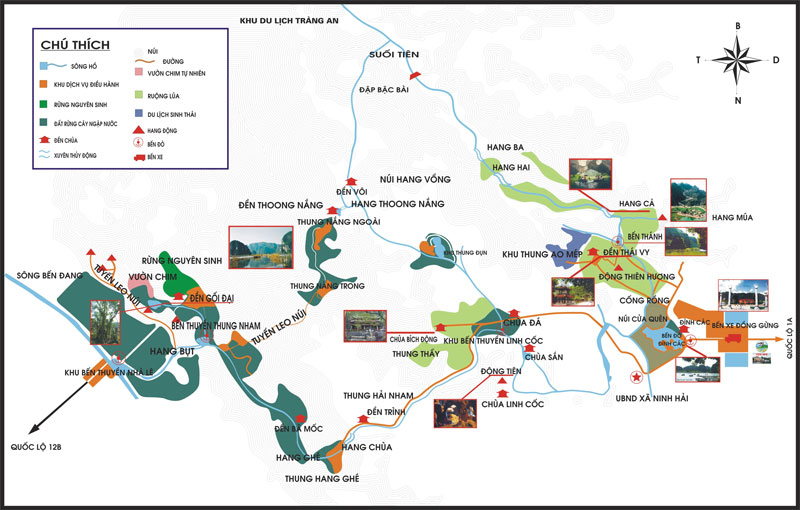 Far about 100km from Hanoi city center along Highway 1A, tourists will meet Tam Coc – Bich Dong, the most famous landscape of Ninh Binh travel. Tourists to Tam Coc Ninh Binh will actually feel the charming beauty of the waters and mountains. Ninh Binh today retains numerous scenic spots, yet Tam Coc – Bich Dong is the oldest one and the only region where the local people still cultivate wet rice combining with tourism development. 

Like Trang An, to see the most impressive sceneries of Tam Coc Bich Dong, you'll have to hire a boat. However, there're plenty of places nearby you can explore on foot or by bicycle.

Boat Routes: 

Boat Wharf – Ngo Dong River – Tam Coc (3 caves)

Linh Coc Wharf – River Cave to Bich Dong 

Thach Bich – Thung Nang Wetlands


Thung Nham Bird Garden Route 
We'll cover two most basic routes in Tam Coc Ninh Binh:
1. Tam Coc Route: Boat Wharf – Ngo Dong River – Tam Coc (Three Caves) – Thai Vi Temple – Thien Huong Grotto

The trip starts from Tam Coc Wharf, takes you about 2 hours two-way.

If you take the Tam Coc Route, the boat will start at the eastern boat wharf and follow the waterway of Ngo Dong River. Actually, Tam Coc was known with the beauty of this part even more widely than the caves themselves.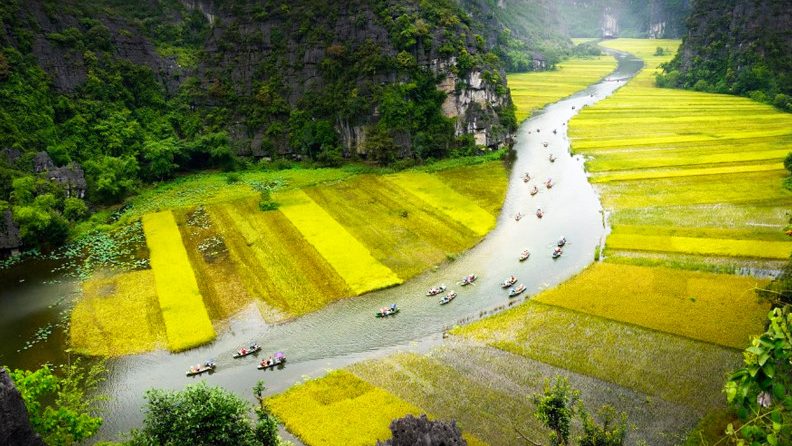 On both sides of the winding river are rice fields and limestone mountains which change their own appearance as seasons go by. If you love to experience the boat ride in this particular part, come to Tam Coc in harvest season to see the rice fields in golden color.

Hang Ca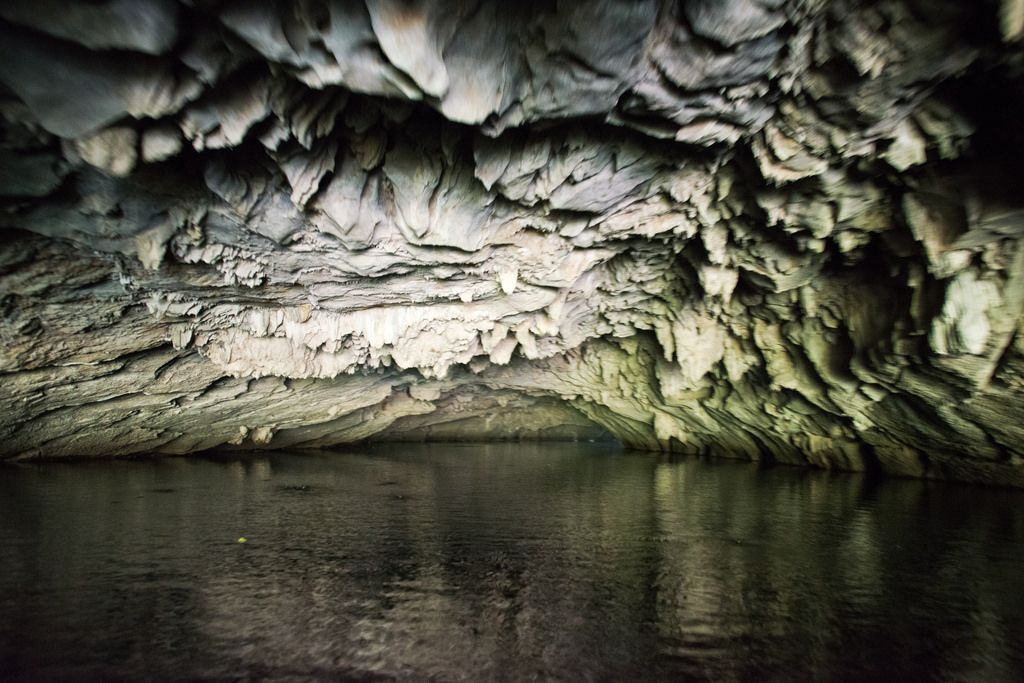 Hang Cả means 'First Cave', also the largest cave with 127m in length and an entrance 20m high. When the boat enters the cave, you'll a cool, refreshing atmosphere here and also can see beautiful karstic formations. 

Hang Hai
Hang Hai is the Second Cave, also the second largest in size with just 60m long. The second cave is about 1 kilometer from the First Cave. The second cave is known for its gorgeous ceiling.

Hang Ba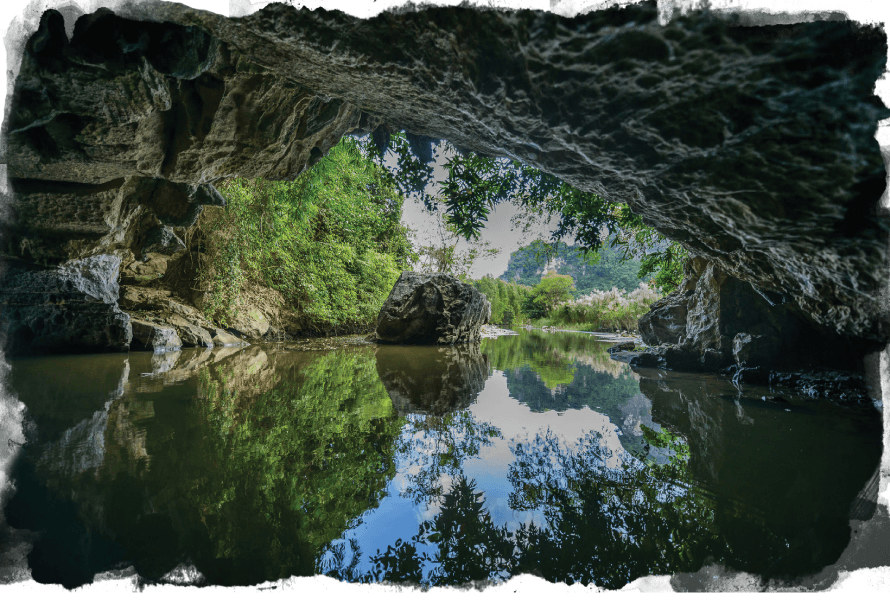 Lying just right next to Hang Hai, Hang Ba (Third Cave) is only 50m in length, much lower than the other two. The cave's ceiling looks like a little dome made of limestone.

Thai Vy Temple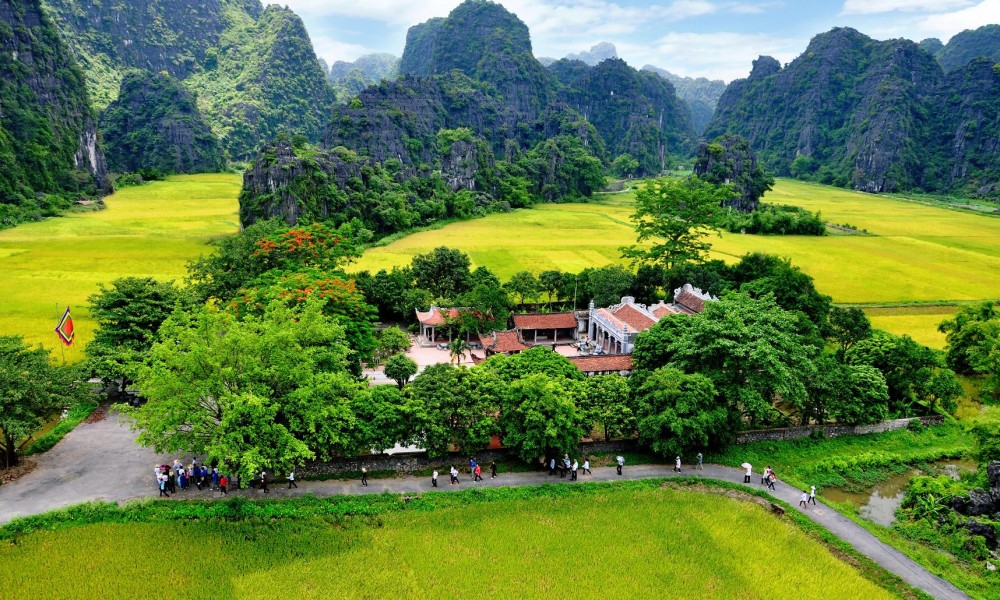 Thai Vy is the worshiping place of King Tran Thai Tong, Generals Tran Hung Dao, Tran Quang Khai and Queen Tran Thi Dung. In the past, Ninh Binh was the place the Trans chose to build a military base (Hanh Cung Vu Lam) to fight the Mongols. During the boat ride, the rower will stop to let you walk trek up to the temple. 

Thien Huong Grotto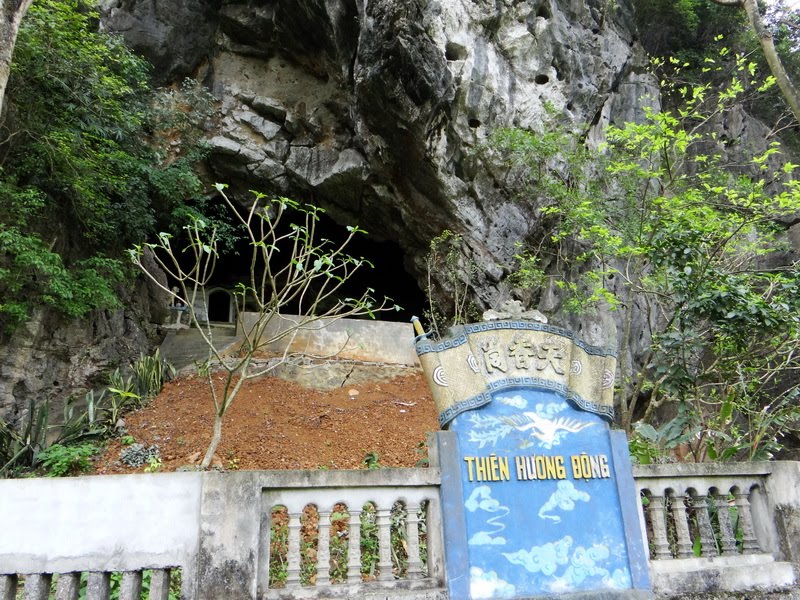 The grotto lies along the river-way to Thai Vi temple, so you can visit the grotto before the pagoda. The grotto is on middle of a small mountain (about 15m above ground), dry and bright, with height of 60m, depth 40m and width 20m. Inside the grotto is the shrine of Quen Tran Thi Dung who taught the locals here the craft of weaving. 


2. Bich Dong Route: Bich Dong – Xuyen Thuy Dong

The boat ride to Bich Dong is separated with Tam Coc boat ride, starting from a different wharf.

Bich Dong Grotto – Bich Dong Pagoda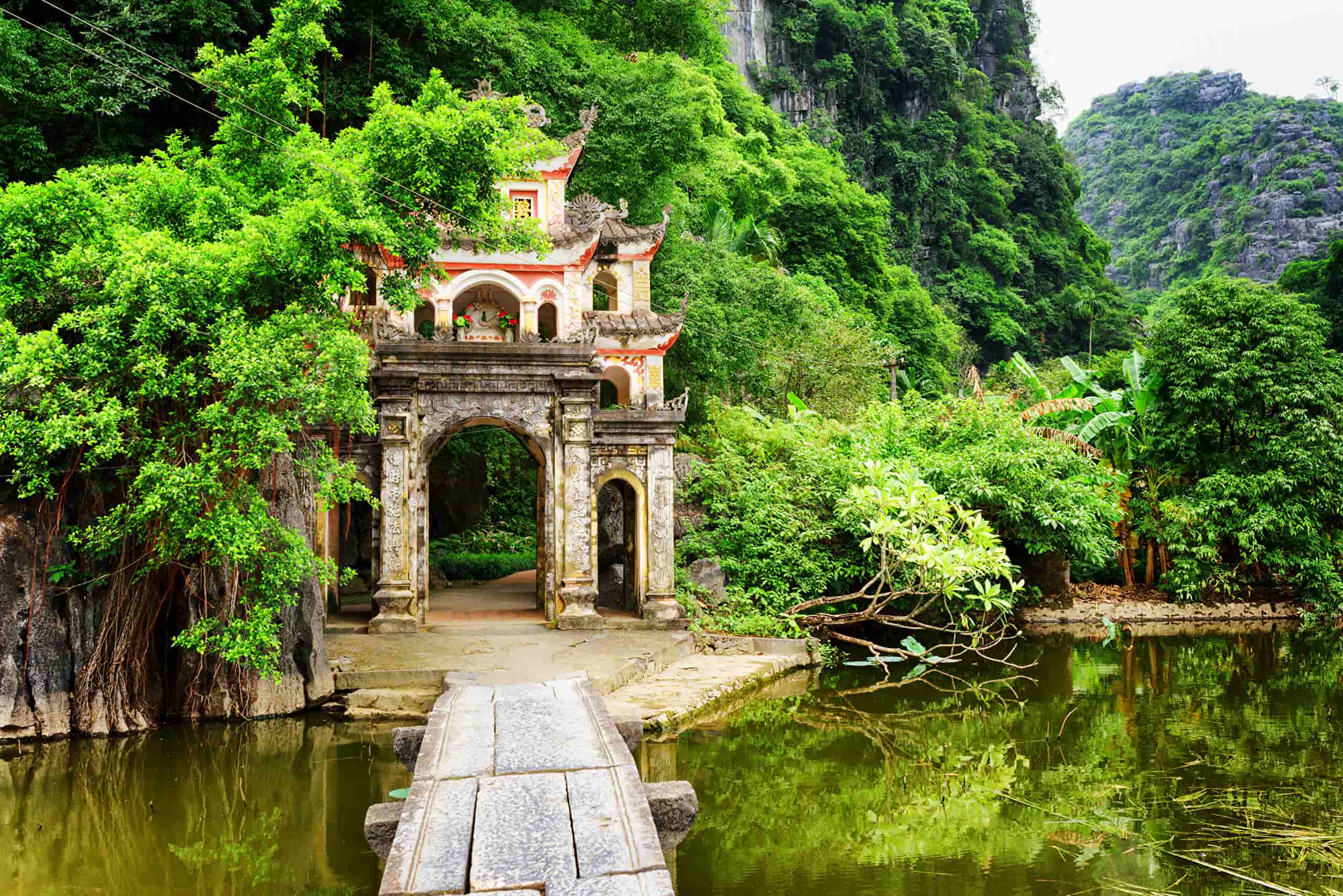 Bich Dong is the place that was called 'The Second Nicest Grotto in Vietnam'. The beauty of Bich Dong was only behind Huong Tich Grotto. The grotto is a dry one, lying on the middle of the mountain. Bich Dong Pagodas are also located at this site. There are three pagodas on this mountain: Lower Pagoda, Middle Pagoda (Bich Dong Pagoda) and Upper Pagoda. Visitors often visit the first and the second ones, but if you can trek all the way up for the view.

The entrance to Bich Dong mountain is quite a famous spot to take photos, you shouldn't miss. 

Xuyen Thuy Grotto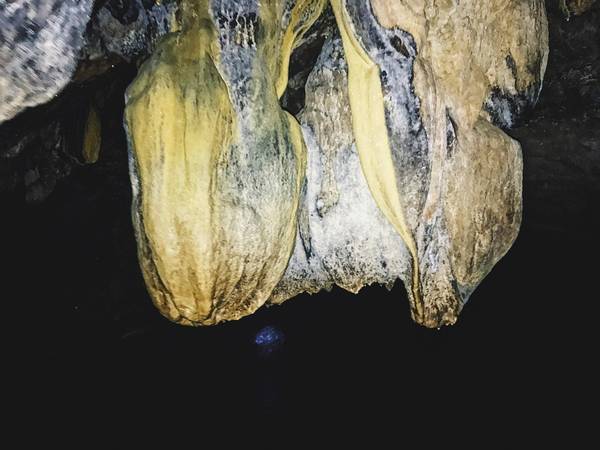 The grotto is a river grotto going through Bich Dong mountain. It's darker and can be visited by boat. The grotto is 350m long, going from east to west with average width of 6m. The entrance to this grotto is on the opposite side of the pagoda's entrance. 

Dong Tien 
Dong Tien is a fair spot in the complex, located just 1km away from Bich Dong Pagoda. The grotto's ceiling has a gorgeous karst formations hanging down, sparkling under light. There are also bats and birds living inside the grotto. 

Other sites near Tam Coc
Hang Mua (Mua Caves)
Only 4km away from Tam Coc – Bich Dong, Mua Cave is the new rising tourist site in Ninh Binh. Most highlighted features in Mua Cave is the trek to Lying Dragon Mountain and Mua Cave Viewpoint.


Van Lam Village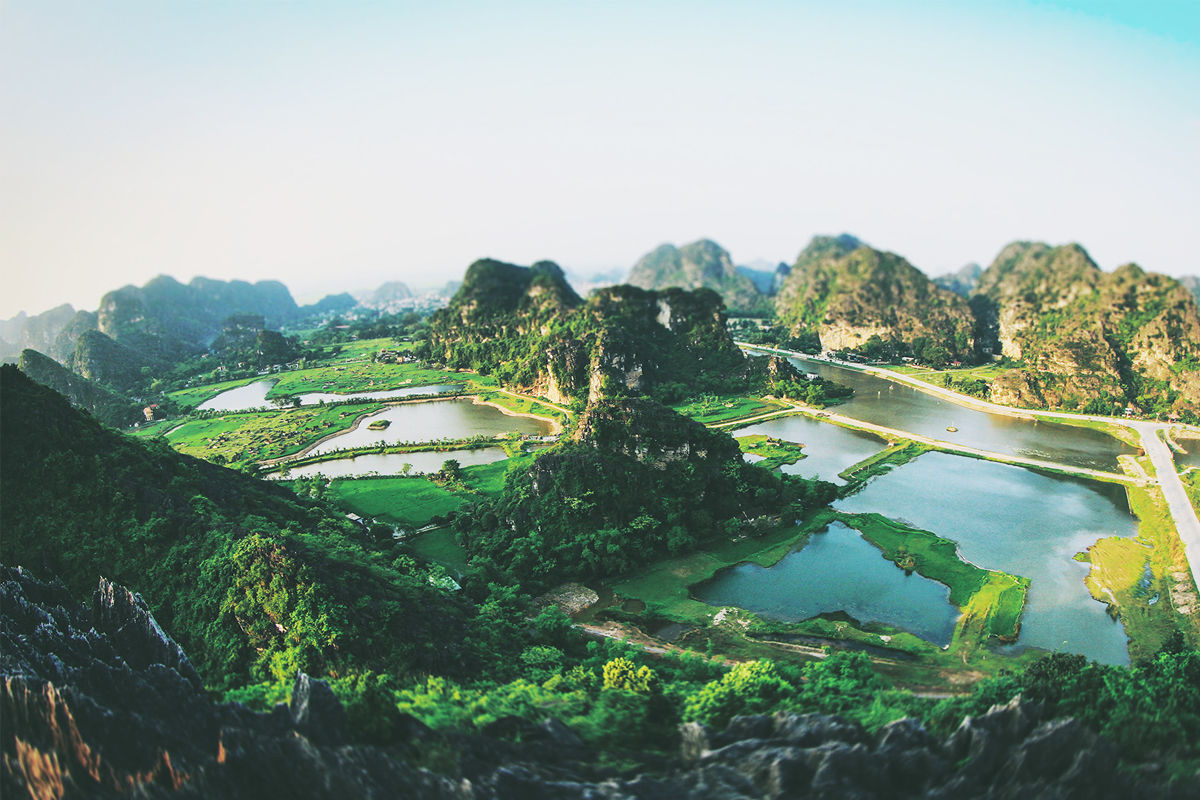 Belonged to Ninh Hai commune, Van Lam village is 6km from Tam Coc Bich Dong. This is a great place to discover the local handicraft of embroidery and enjoy bicycling in the countryside. The remote rice fields with limestone mountains dotting create such a nostalgic yet refreshing feeling. If you're seeking a unique experience in Ninh Binh, don't miss this out.

Practical Information of Tam Coc Bich Dong
Booking tour will save you a lot of time booking and waiting for a boat since the cost is included. If you go by yourself, you'll have to buy an admission of 150,000VND per adult (60,000VND per child) for a route and hire a boat for another 150,000VND (per two-seat boat).