Ta Van village is hidden in the foggy cloud, far away from Sapa busy streets. All its nature beauty are well reserved by over 110 households living in this village. Though you can definitely to get there and back in a day, many choose to stay overnight at the 
homestay in Ta Van village
 to fully experience a day with the minorities groups culture – Giay people. 

> Click for more: Ultimate guide & things to do in Sapa Vietnam

How to get there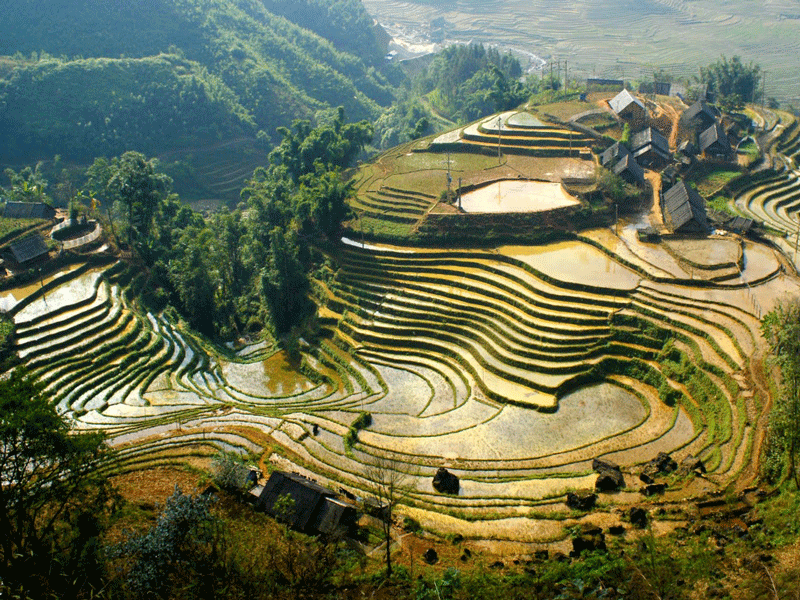 Located at the mountain base, Ta Van village is approximated 7 – 11 km away from the center of Sapa, depending on what route you take. The narrow road leads to the village is a great trek among the beautiful rice paddy and corn terrace fields. The complete Ta Van trek is about 3.5 hrs long but it is an enjoyable trek that definitely worth your time, especially if you are planning to go trekking Sapa for amazing Sapa Tours.
You might catch a minorities group walking together with you to the village. They will offer to sell their handmade bracelets, scarf, clothes, etc. to you. It's okay to say no and don't you worry, they will still carry on the conservation with you no matter what.
If you go during the summertime, you can rent out a scooter and get to Ta Van this way. It's not impossible to do it in other seasons, however, once it's rainy outside, riding a scooter on the slippery muddy road is not fun but rather dangerous to a certain extent.
It's best to find a tour guide to Ta Van village, he will help you out with the accommodation or transportation if you need one, making sure you don't miss out on any of the activities in the village and reveal all the perks of the trip (yes they do). 

When to visit Ta Van village
Anytime between September to November or March to May is the best time to visit Sapa or go Sapa trekking as well as Ta Van village. During these times of the year, Sapa weather is perfect, isn't too moody. It gets sunny in the day and just a bit chilly at night. The average temperature in Sapa is around 59 degree Fahrenheit and is the one and only place to get snow in Vietnam.

Where to stay in Ta Van Village

 Homestay is a kind of a special tourism service in Ta Van Village in which tourists will live with local residents in their house. Arriving in the village, many tidy and clean houses hang a signboard "Homestay", which are always ready to welcome tourists. Using this service may be a memorable experience of tourists because you will have a chance to experience daily activities with Giay people. In these days, Giay people will serve tourists traditional dishes that they often eat every day. The ingredients of these foods are homemade products made by local people such as fresh vegetables, chicken, pigs, fishes, etc. Although these are very popular ingredients, through a special process of cooking, it promises to leave visitors a long lasting impression.
In addition, through such a simple meal, tourists may gradually feel the familiar and close connection with local people here. In the next days, tourists will also be served some specialties of Giay people like grilled fishes caught from Muong Hum stream, Muong Khuong horsemeat, Bac Ha pork meat, Van Ban five color glutinous rice, and so on.
For those who always want to find authentic travel experiences in Vietnam, Ta Van Village is one of Sapa attractions that they should not ignore. Homestay service, specialties, beautiful landscapes, and the special culture of Giay people in Sapa will truly not let tourists feel disappointed.