Vietnamese Demilitarized Zone- A peaceful land with a bloody history

Settled along Ben Hai river, 100km to the north of Hue, covering a vast area of Quang Tri and
Hue
, this small land looks so tranquil that no one may think it used to be one of the bloodiest battles in
Central Vietnam
during Vietnam War in the 60s, 70s of the previous century. Between 1954 and 1975, this area- now called
Demilitarized Zone (DMZ) Vietnam
served as a war-free buffer between the North and the South but still suffered from massive bomb attacks and death from both sides. Together with former American military bases buildings, monuments dedicated to local war heroes,
US combat base-turned-museum 
and war relics scattering around,
DMZ in Vietnam
has become an icon of a war zone in Vietnam that attracts millions of veterans and historical lovers. To go around this special area, you will surely need a local guide with a strong knowledge of the Vietnam war. Follow our local guide below if you plan to visit the DMZ in Vietnam.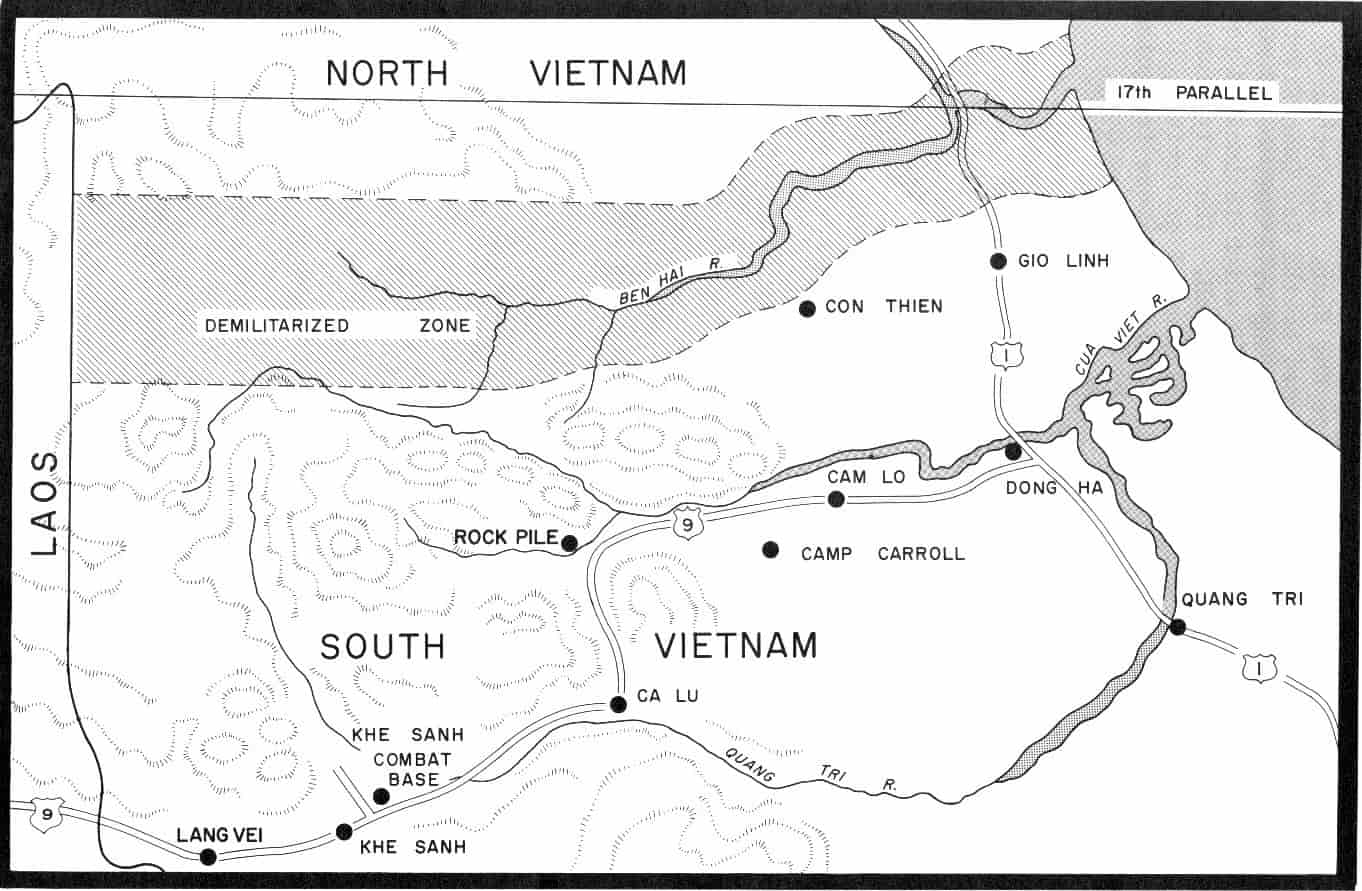 When is the best time to visit DMZ in Vietnam?

Nestled in the rural area of Truong Son mountain range (
Annamite Mountain Range
) in Central Vietnam, DMZ is a characterized by two-season climate: the rain season and the dry season. During the dry season (from April to August), it is often  35-40°C and considerably dry due to the effect of 
Foehn wind from Laos (or Laotian wind called by the locals), which is quite different from the weather of North and South Vietnam (hot and humid). In the rain season (from September to March), this area suffers from heavy rain and high humidity. Therefore, it is recommended to visit DMZ in Vietnam in the early dry season (April or May) to enjoy the most pleasant period of the year, avoid the heat, the rain and the crowd of domestic visitors.

Where to go and things to do in DMZ in Vietnam?
Though this place is not really large, it takes about 2 days or at least a long day to wander around and explore all important historical sites.
Ho Chi Minh trails

Built in 1959 by North Vietnam army, the legend maze of old trails was named after President Ho Chi Minh- or Uncle Ho- the great leader of Vietnamese Communists. It connected a series of small routes starting from the South of Hanoi, running 1,000 miles down the length of the Truong Son mountain range, crossing into Laos and Cambodia at several points before ending near
Da Lat, Lam Dong.
They became a legend during the Vietnam war because they stood still after tremendous attacks of the American army, and continually renovated to deliver weapons and supplies to the Vietnamese Communist army. For over four decades of changing, these trails now are nestled between peaceful rice terraces, lush green forest, and ethnic villages.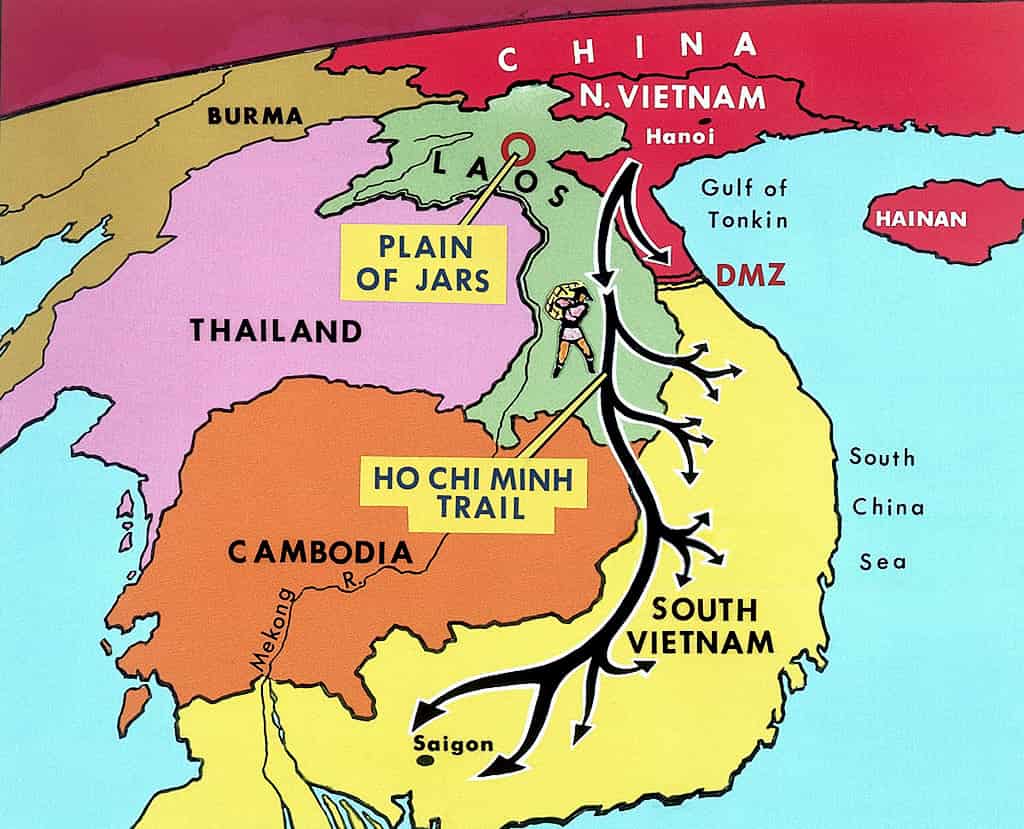 Hamburger Hill

Remember the movie Hamburger Hill (1987), which tells the story of Hill 937 assault through the eyes of American soldiers? It's exactly the battleground featured in the movie with the name "Hamburger Hill". It is the nickname of Ap Bia Hill, which rises from Asau Valley in A Luoi town and 937 meters above the sea. It is not easy to find this former battleground without a local guide as now, instead of a dead point with various bombs, it is covered by waist-high elephant grass, thick bamboo forest and triple-canopy jungle. Upon arrival there, take a pleasant hike to the top of the hill, view the traces of the war and try walking down a tunnel of the North Vietnamese Army nearby.
Dakrong Bridge

Along with Ho Chi Minh, this bridge was truly an obsession of the US Army in the Vietnam War. As one of the main access point to
Ho Chi Minh Trails
, during the 50s-60s period, it suffered from the fierce bombing from US airforce as well as frontal fight, was destroyed but rebuilt right after for so many times during the conflict. It is located in the way to
Khe Sanh Marine Base
so take a short stop there, have some photos and then continue to Khe Sanh.
Khe Sanh Combat Base
In the northwestern part of Quang Tri Province and close to the border with Laos, Khe Sanh used to be the combat base of US Marine Corps that witnessed more than 100,000 tons of bombs in the longest and deadliest fights in Vietnam War.
Route 9 –
Khe Sanh campaign
in
 1968, the campaign Route 9 – Southern Laos in 1971.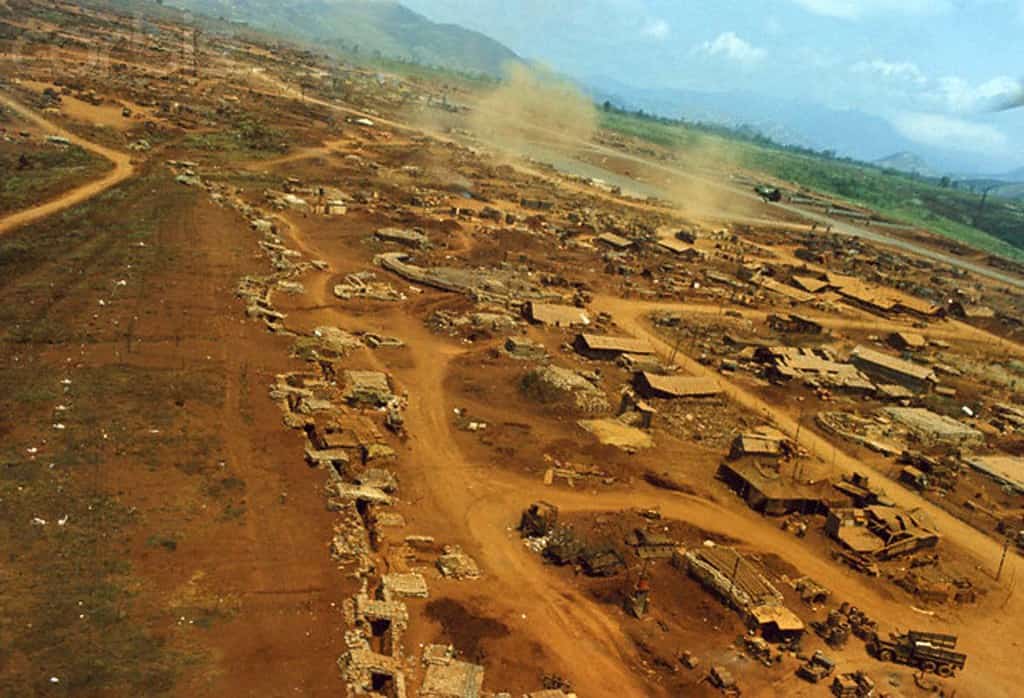 Even though you cannot see the deadly bombed battle and Ta Con airport as they were over 50 years ago, you still can learn the history, imagine what happened with the help of war photos, preserved old airship, several American helicopters, a C130 transport and some North Vietnamese tanks when you visit the museum called Khe Sanh Victory Museum built on the site of the old camp area.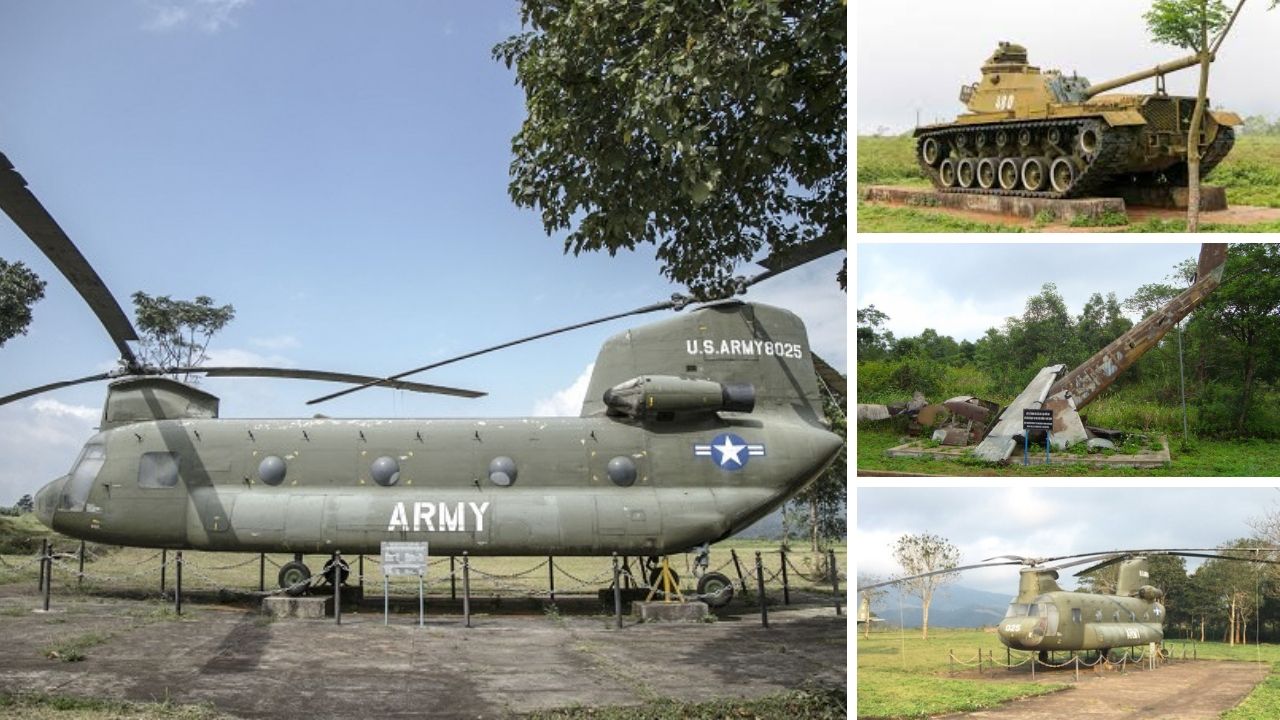 Besides the museum, walk around the area, take a look at the reconstructed bunkers and the old runway which was used by US Marine Force, some armored vehicles, tanks and airplanes.  Don't miss Lang Vei Special Forces Camp, which was known for the battle of Lang Vei in 1968.
those who don't want to recall the bloody history of Khe Sanh, arrange a visit to a coffee plant here to explore how farmers cultivate coffee, harvest a
nd produce them into organic coffee bean called Khe Sanh Coffee.
The Rockpile hill
Going along Route 9 to Vinh Moc Tunnels, you will pass by the Rockpile hill, which is just 230 meters high and 16 miles (26 km) west of Dong Ha, Quang Tri. It was used by the US Marines to observe the surroundings and track North Vietnamese troops infiltrating into South Vietnam through the DMZ in Vietnam. 
Ben Hai River and Hien Luong Bridge (17 Latitudinal)
Route 9 takes us to Ben Hai river and Hien Luong which divided the North and the South in Vietnam War and separated thousands of local families after the victory of Vietnam in 1954 against France. During Vietnam War, Hien Luong Bridge witnessed the conflict between each side, however, after the victory of Vietnam in 1975, it turned into a span of reunification, the symbol of the national independence and freedom.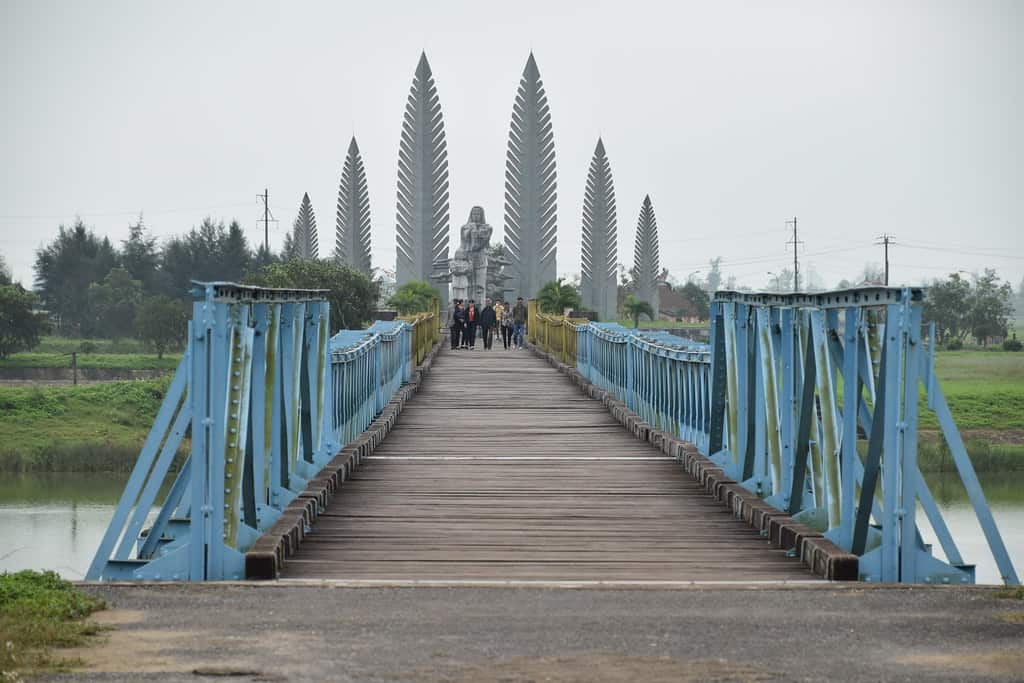 To memorize this legend river and bridge, grandiose reunification monuments were built on both banks of the river which are now the important historical relics of Quang Tri. Spare an hour or two to stop by a small museum here to know more about the history and the importance of Hien Luong bridge in the past.
Cua Tung beach
What a pity if you just focus on monuments, historical relics and forget the "Queen of beaches" which is called by the local- Cua Tung beach. This one-kilometer beach is not well-known as those in
Nha Trang
,
Quy Nhon
or
Phu Quoc
, its beauty, on the other hand, lies in gentle and clear water combined with its smooth sand. Walk along the shore with your bare feet, watching the sun go up or down on the orange or red sky.
Explore the best beaches in Vietnam
To have a deep understanding of the local people here and enjoy the peaceful moment of life in Cua Tung, take a short stroll to Cat Son – a 100-year-old fishing village. Watch and learn the traditional way local people used for hundreds of years to catch fish, join a workshop of drum-making, carpentry or pearl inlay here.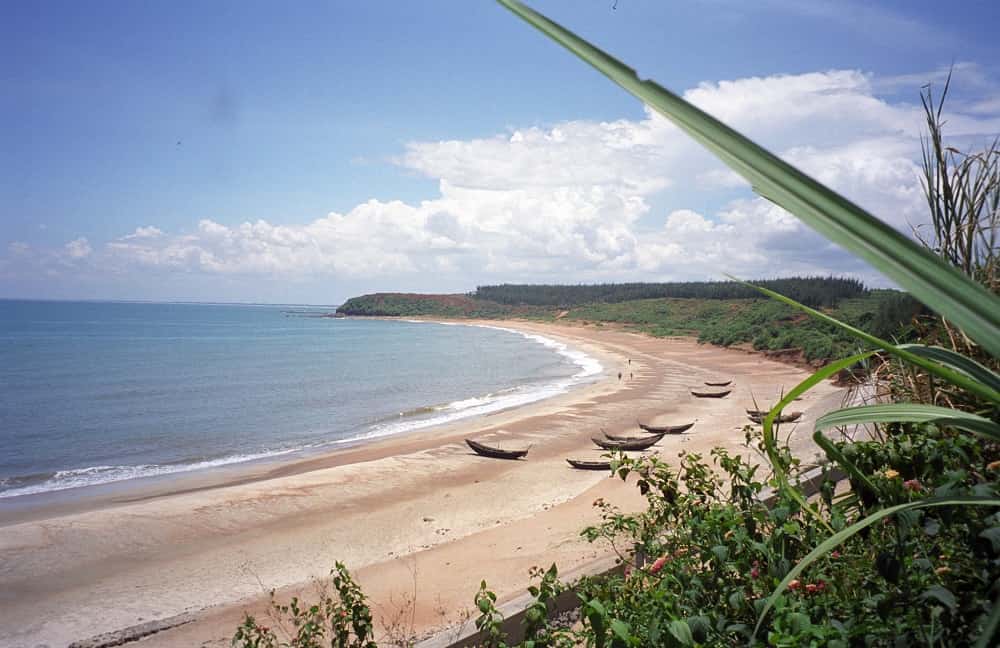 If you have more than two days here, grab the chance to reach Con Co island, a tranquil place nearby which used to be a part of the north's Ho Chi Minh Trail of the sea. 
Vinh Moc Tunnels
Like
Cu Chi Tunnels
in the South, Vinh Moc tunnels were not only the bomb shelter but also the places where the locals in  Vinh Moc village lived during the war. Built secretly between 1966 and 1967, the maze is the longest and largest in Vietnam (even bigger than Cu Chi Tunnels) and had 3 levels which were created 12 metres, 15 metres and 23 metres deep with 13 entrances and 7 exits to the sea, which provide enough oxygens for the civilian as well as supply lines to the sea.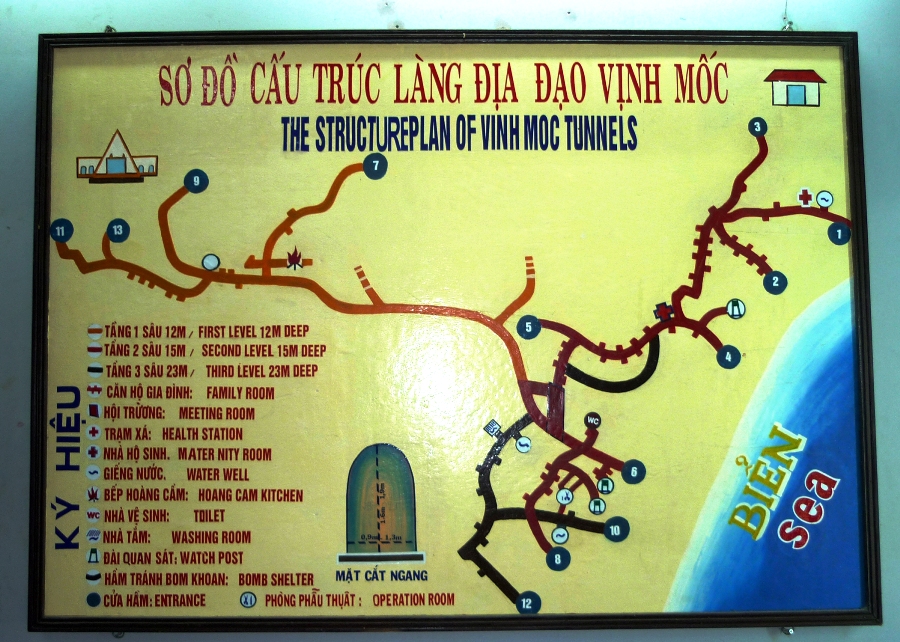 Vinh Moc tunnels witnessed the village everyday life underground from movie watching, birth-giving to studying and so on. Follow the guide and the flashlight, enter the maze at one entrance, keep following down and down until you reach the sleeping quarters, a meeting room and kitchen built to hide the smoke. The maze even hosted an operation room, a nursery and even a maternity ward that welcomed 17 babies to life under the surface. American Forces acknowledged the existence of this maze, they couldn't find the exact entrances or exits of it, thus, hundreds of tons of bombs were dropped during the wartime.  The tunnels stood still despite of the raid bombing and become a symbol of human toil, engineering and perseverance. 
Truong Son National Cemetery
Nestled in Ben Tat Hill in Vinh Truong commune, Gio Linh district of Quang Tri, Truong Son national cemetery is where thousands of martyrs are resting in peace and a memorable place for any Vietnamese people, the government and the army to show the gratitude and respect to Vietnamese heroes who died in the liberation and reunification war.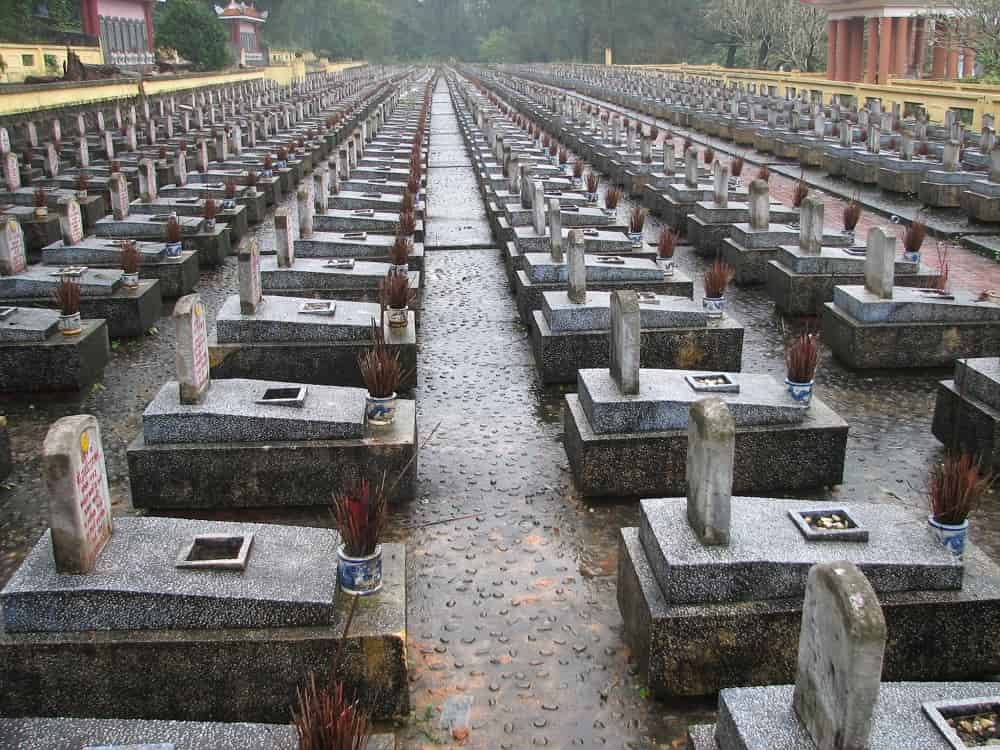 As a military cemetery, it accommodates 33,000 graves of soldiers and civilians killed in the 17th parallel north to fight for the national independence and unity of the North and the South. Among all, only more than 12,000 graves simply marked by a white tombstone dotted in the hillside have the names of martyrs and their gauss. The remains lie either empty or nameless as most of the heroic martyrs' gauss were scattered around Truong Son mountain range or buried in unknown places that were hard to find and totally changed through time. 
It was built in 1975 on a hill surrounded by eight hills like an eight-petal flower and were completed after one year and a half. In the center the cemetery, a war memorial was made from white marble with pagoda architecture and sculpted with an Uncle Ho's famous quote "There is nothing compared to freedom and independence." Inside the cemetery, graves are often grouped in groups of 8 with candles and incense lighted on national memorial days like April 30th, July 27th, National day September 2nd, and so on. 
Suggested Itinerary to travel DMZ in Vietnam
Truong Son national cemetery marked the end of the journey back to time throughout DMZ in Central Vietnam. As DMZ in Vietnam is quite near Quang Binh and Hue, it could be combined with these two places to make a complete journey of history, world heritage and natural sites. Here are some suggestions:
Day 1: Visit Quang Binh: Phong Nha and Paradise Caves
Day 2: Travel throughout DMZ in Vietnam: Ho Chi Minh trails, Khe Sanh Combat Base, Cua Tung Beach
Day 3:  Complete the journey through DMZ in Vietnam: Vinh Moc Tunnels, Truong Son National Cemetery and go to Hue
Day 4-5: Wander around World Heritage Sites in Hue.
Or if you want to combine DMZ in Vietnam to the longer tour around Vietnam, take a look at the tour below:
Vietnam Veterans Tour – 12 Days
Vietnam Historic Tour – Veteran Return – 14 Days