Besides Da Nang, Quy Nhon is listed as one of the most desirable city for retiring and living in Vietnam with the large, terrific beach-blessed shoreline, appealing streets, friendly local people, fantastic food options and plenty of exotic places that are hidden from tourists for centuries. Though it is quite famous among local people, Quy Nhon is still an under-radar destination for international travelers, thus, it still keeps a whole heap of secret beaches, pristine landscape and unspoiled villages. Before it gets more attention, follow the guide of Asianway Travel experts to enjoy Quy Nhon to the fullest, explore the corners of its cultures and landscapes and avoid the crowd of mass tourism.
Top places to visit & Interesting things to do in Quy Nhon
1. Explore pristine islands in Quy Nhon
Not only unspoiled beaches, Quy Nhon also offers some untouched adorable islands. Forget everything stressful in life and escape to these following island to find the peace of mind.
Cu Lao Xanh
It is a small secluded island located in Nhon Chau commune which could be reached only by ferry boat. You can join fishing with local people to catch seafood and set up a BBQ party on the beach there.
Hon Kho Island
This unhabituated island is an ideal place for scuba diving and to see the breathtaking living coral reef of Vietnam sea.  There is a sea turtle conservation area right in the middle of the island, thus, whenever you come here, be careful with this.

2. Chill at stunning beaches
Blessed with a 42km long coastline, diversified landscape with rock cliffs, lagoons, and untouched beaches, Quy Nhon ranks in top 5 most surprisingly beautiful cities in Vietnam. Sometimes, just do nothing but bring some beers, seafood and enjoy your time at the following jaw-dropping beaches.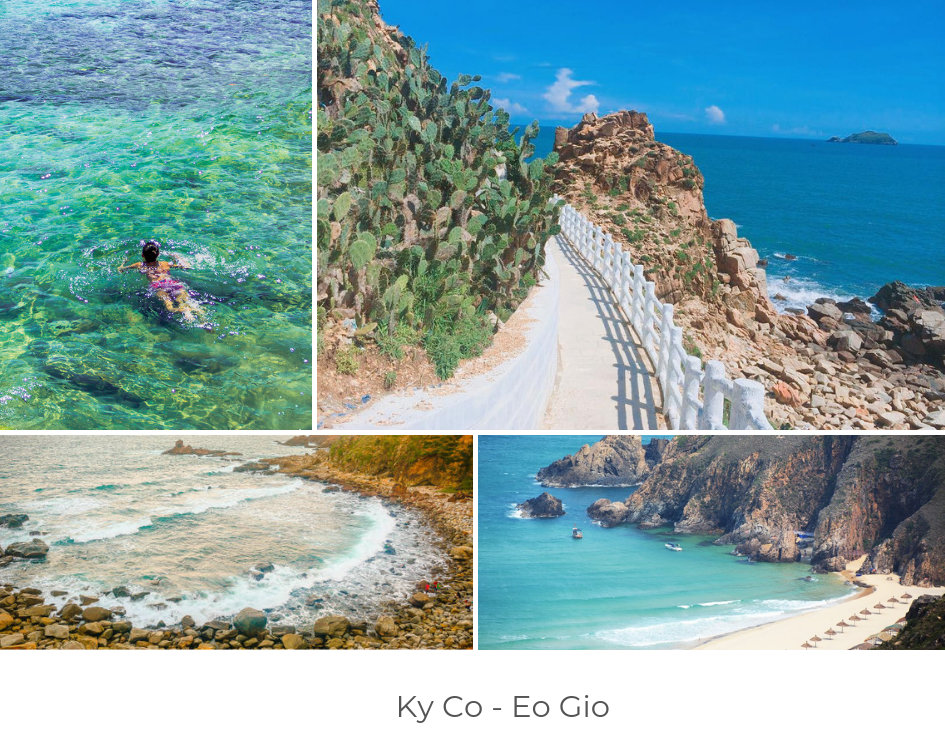 Ky Co Beach
Crystal clear water and creamy sand beaches are the symbol of Ky Co and also draw the attention of anyone who visits Quy Nhon. To reach this secluded beach, you have to rent a boat with a local guide. Once you are here, try snorkeling or sailing the basket boat, which is used by fishermen in Quy Nhon to catch for centuries. Ky Co is one of the most under-radar beaches in Vietnam.

Bai Xep Beach
This unspoiled beach is near the small fishing village named Bai Xep, thus it is called by that name. Bai Xep allures people with its turquoise-blue ocean carousing the white sand beach and a quiet village within a few steps. It is recommended to arrive at Bai Xep before the sunrise to enjoy the first light of the day coming from the calm blue sea.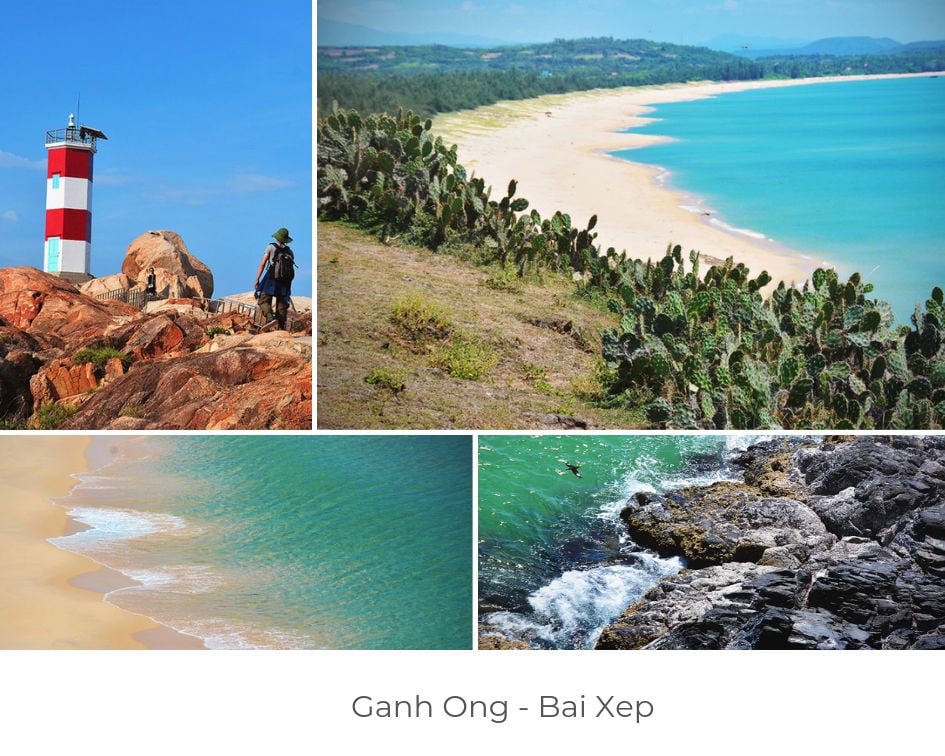 Quy Hoa Beach
Quy Hoa reminds us of a remarkably serene beach and the story of a tragic poet named Han Mac Tu when he was there for treatment.
Genh Rang Beach
As a part of the Vung Chua Mountain that protrudes to the sea, this beach is bound by rock cliffs and blue ocean with the care-free feeling. It is also the second beach in Quy Nhon that is famous for egg-shaped stones right alongside the sandbank.
Queen's Beach
Like Genh Rang beach, it is also characterized by the egg-shaped stones on the beach. It's a few minutes away from the center in Han Mac Tu Memorial Park. As it is quite far from the city center, it is an ideal place for camping and enjoy the tranquility of Quy Nhon.
3. Hike Eo Gio (the Windy Pass)
Rock cliffs stretch out to the blue ocean and rocky structures surrounding create a marvelous landscape especially when the sun sets or rises. For the best view, try to hike the Windy Pass and reach the top then enjoy the cool breeze there. Besides, stop by Nhon Ly fishing village to explore the daily lives off fishermen.
4. Try Sandboarding in Nhon Ly
Besides Eo Gio, Nhon Ly also boasts the magnificent sand dunes right on both sides of the main road. There you can rent a  board to start sandboarding in Nhon Ly. The sand dunes are quite hot in the day time so the best time to visit is just 30-40 minutes before sunset and after it.
5. Taste a whole heap of delicious food
Follow the instructions for any local people and you will find stunning dishes right in small corners that no one pays attention to or in small hole-in-the-wall places that you have never heard of in any travel guide book. Most of the impressive foods are homemade by amateur cooks which could be fishermen or housewives. Here are some mouth-watering dishes that you must try when you visit Quy Nhon:

Bun Ca Dam (Rice Noodle Soup With Fish)
The Best restaurants that sell Bun Ca Dam are Phuong Teo restaurant and Bun Ca Thuan Hong restaurant in Nguyen Hue street.

Banh Xeo Tom Nhay ("Jumping" shrimp pancake)
Everyone is curious about the name of the dish. "Jumping" is used to describe the freshness of shrimp in a pancake. The best banh xeo in Quy Nhon could be found in several restaurants especially Gia Vu 2 restaurant at 14 Dien Hong, Le Hong Phong Quy Nhon city.
Banh Hoi Chao Long (Thin Vermicelli served with pig intestine or roasted pork)
This dish is the most authentic dish in Quy Nhon. It doesn't look like any noodle or vermicelli dish in Vietnam. It is served with boiled bean sprouts, basil, salad, and coriander together with a bowl of porridge and special dipping sauce which is made from fish sauce, sugar, garlic, lime juice and finally, chili pepper. In some restaurant, instead of pig intestine, people eat it with roasted pork.

Banh It La Gai (Pyramid-shaped sticky rice sweet wrapped in ramie leaves)
It is a local cake made from sticky rice, coconut flesh, peanut, green beans, and ginger then wrapped in ramie leaves. After being boiled, it gets black soft skin. Local markets sell the tastiest Banh it la gai so if you visit one, bring home some.
Fresh Seafood
As a coastal city, Quy Nhon takes pride in a wide range of seafood restaurants that serve the fresh fishes, crabs, shrimps and squids caught right during the day. Locals often grill or steam seafood to keep the sweetness and the quality of them. They even add peanuts, onions and some spices to make it more flavourful.
6. Do Temple hopping
 There are dozens of Cham and Buddhist temples in and around Quy Nhon. Among them, Thap Doi and Thap Banh It are the most famous Cham Temples build by Champa rulers who first came to Quy Nhon in the 11th-century (the same period of Ponagar towers in Nha Trang).
They are characterized by red brick walls with sandstone sculptures of Apsara (celestial singers and dancers) dancing, animals and lotuses on, which are quite similar to that at the Angkor temples in Cambodia. 
Ong Nui Pagoda and Long Khanh Pagoda, on the other hand, are both Buddhist temples. While Ong Nui Pagoda boasts the largest seating Buddha statue in Southeast Asia, Long Khanh Pagoda is 300 years old and the oldest pagoda in Quy Nhon.
It takes at least 1 day to visit these temples and experience the mixture of religions and cultures inside Quy Nhon.
7. A visit to tranquil fishing villages
Fishing villages that are just 20-30km from Quy Nhon city are still using traditional ways to catch fish with basket boat, wooden boats and nets dropped for half of the day. If you have had enough with the city center, let's get on the road to some fishing villages like Nhon Ly or Nhon Hai to experience the real-life of fishermen there. Many of them work on big boats and go for long-time seafaring and only come back home for several days per year. Apart from fishing, locals also raise shrimp and certain varieties of fish in their own farms near the shores. To grab the glorious beauty of the villages and to see the early market, start your trip at the beginning of the day.
8. Go shopping at local markets
Local markets in a coastal city like Quy Nhon offer an extraordinary experience of local cultures and the way people make their livings. Prepare your mind for blowing away by exotic things that you may have never seen before in your life, from the strange fruits, fresh vegetables, to living fish and crabs. The busiest time of any local markets in Quy Nhon and surely around Vietnam is the early morning from 6 to 8 AM, which is the best moment to witness the daily life of locals. 
Don't miss the chance to taste unbelievable cheap local food sold right in the markets as they are often made with fresh ingredients and authentic species with their own recipes! If you could not make it in the morning, start your journey at dry seafood stalls, you may find high-quality dry fishes or squids at considerably cheap prices.
Traditional markets are available every corner of this city, however, there are 5 most incredible ones: 

Zone 6 market - Vo Lai, Ngo May Street, Quy Nhon city. It is well-known for dry seafood. 
Dam Market - Hoang Hoa Tham, Thi Nai, Quy Nhon. If you like fresh seafood, come here.
Zone 2 market-  110 Nguyen Hue, Tran Phu, Quy Nhon. This fresh seafood market only opens from 3pm to 7 pm
Night market, Nguyen Tu Street, Quy Nhon. It's a paradise for fashion lovers and street foodies.
Quan Tran market, Ton Duc Thang, Ly Thuong Kiet. It sells both fresh and dry seafood.
Best time to visit Quy Nhon
As Quy Nhon lies in the South Central Coast of Vietnam, its temperatures are very stable throughout the year at more than 30°C. There are 2 seasons in Quy Nhon. The dry season lasts from January to August with less rain, blue sky, and stunning sea color. On the contrary, the storm season from August to December is marked by the grey sky, heavy rain and a lot of typhoons that sometimes result in flood for weeks. Consequently, the best time to visit Quy Nhon is from March to June as from June to August is the domestic travel so the city will be flooded with people from Asian countries especially Chinese and from other parts of Vietnam.
How to get to Quy Nhon
There are several ways to get to Quy Nhon from airlines, long coaches to trains.
By air
Phu Cat, the nearest airport in Quy Nhon is just a domestic airport, therefore, international visitors will need to come via Ho Chi Minh City or Hanoi first, then transfer to a domestic flight to Quy Nhon.  Every day, there are 10 direct flights from Ho Chi Minh City and only 3-4 ones from Hanoi served by four main airlines such as Vietnam Airlines, Jestar Pacific, Vietjet Air and Bamboo Airways. As the airport is 30km away from the city center, you need to take a taxi or catch the shuttle bus to go there. The taxi fare will be around 300,000 VND while the shuttle bus ticket is only 55,000 VND for one way.
By long-distance bus
There are many long-distance buses that connect Quy Nhon Bus terminal with Mien Dong bus terminal in Ho Chi Minh City (Saigon) as well as other nearby cities like Da Nang, Nha Trang, Da Lat and Pleiku. 
By train

To get to Quy Nhon by train, you can choose from Quy Nhon Railway Station or Dieu Tri Railway station. Quy Nhon Railway station only gets 1 train from Ho Chi Minh city a day while Dieu Tri station gets express trains from both Hanoi and Ho Chi Minh city every day.
To maximize the experiences you want to have in Quy Nhon, just spend at least 3 days there. You can include Quy Nhon in a journey to the coastal cities of Central Vietnam