If we say North Vietnam is a kingdom of karst structures then Phong Nha-Ke Bang National Park no doubt, is the capital.
Phong Nha Ke Bang is the only one destination in Vietnam that has been known for its beauties long time ago yet there's still something to surprise the whole world. In the past, visitors coming to Phong Nha Ke Bang for names like Paradise Cave and Phong Nha Cave. But now, everyone talks about Son Doong Cave – the largest cave in the world – when Phong Nha – Ke Bang National Park is mentioned which just proves that how immense the nature wonders in Phong Nha – Ke Bang are and still awaiting for human's discovery.
Overview
---


Phong Nha – Ke Bang National Park belongs to Quang Binh Vietnam. Quang Binh is also the narrowest province of the country and land of five flowing rivers: Gianh, Ron, Nhat Le, Ly Hoa, and Dinh. These five rivers helped created the most massive and impressive karst system in world of which major parts are still being explored. Phong Nha Ke Bang deserves the 1st spot in the list of most beautiful Vietnam landscape.
The national park covers a total area of more than 200,000 hectares including some of the most beautiful mountain sceneries and limestone formations in Vietnam. The forest in the national park takes up to 95% of the whole area. The national park is created to protect 300 caves and grottoes and the also the ecosystem of limestone forest. Up until now, researchers have discovered 20 grottoes and caves (17 of them belongs to Phong Nha Cave System and 3 in Ke Bang Limestone Mountain Area) with the total 20 kilometers in length. The national park is divided in 3 functional areas:
Strict protection zone (64,894 ha)

Ecological restoration zone (17449 ha)
Besides its geography values, Phong Nha - Ke Bang is also an important archaeological and historical site. Researchers have discovered here an ancient hieroglyphic script of Cham people - this proved the fact that Phong Nha Ke Bang had been explored first by Cham group in this region. Phong Nha Ke Bang also was military base King Ham Nghi built for the resistance war against French colonialists in the late 19th century, and was later used as Ho Chi Minh Trail and Road 20 used during the US resistance war of Vietnamese people. 
Attractions in Phong Nha-Ke Bang National Park
---
1. Phong Nha Cave
This cave, shaped by Chay River, is a masterpiece of nature which stretch for 44,5km long, containing 14 chambers on a 13,969m-long underground river.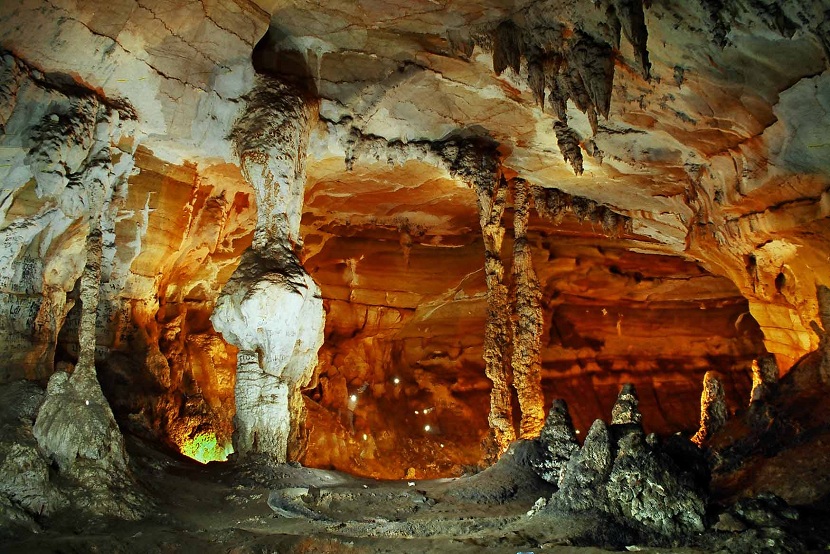 Visitors can only visit 1500m out of the total length that has been explored by the discoverers. Hidden away the magnificent works of nature, Phong Nha Cave has what to be the most well-shaped stalactites and stalagmites in the national park, glittering with the colorful electric lights. The grandiose of the cave will make you so overwhelmed that the feeling is hard to forget.  A boat ride on Chay River to visit the cave to would give visitors the feeling they're on a hunt for treasure.
2. Paradise Cave
The name describes this cave the best – the most sophisticated work of karst structures. Paradise Cave is located on an elevation of 200 meters above the sea level, near the west branch of Ho Chi Minh Highway.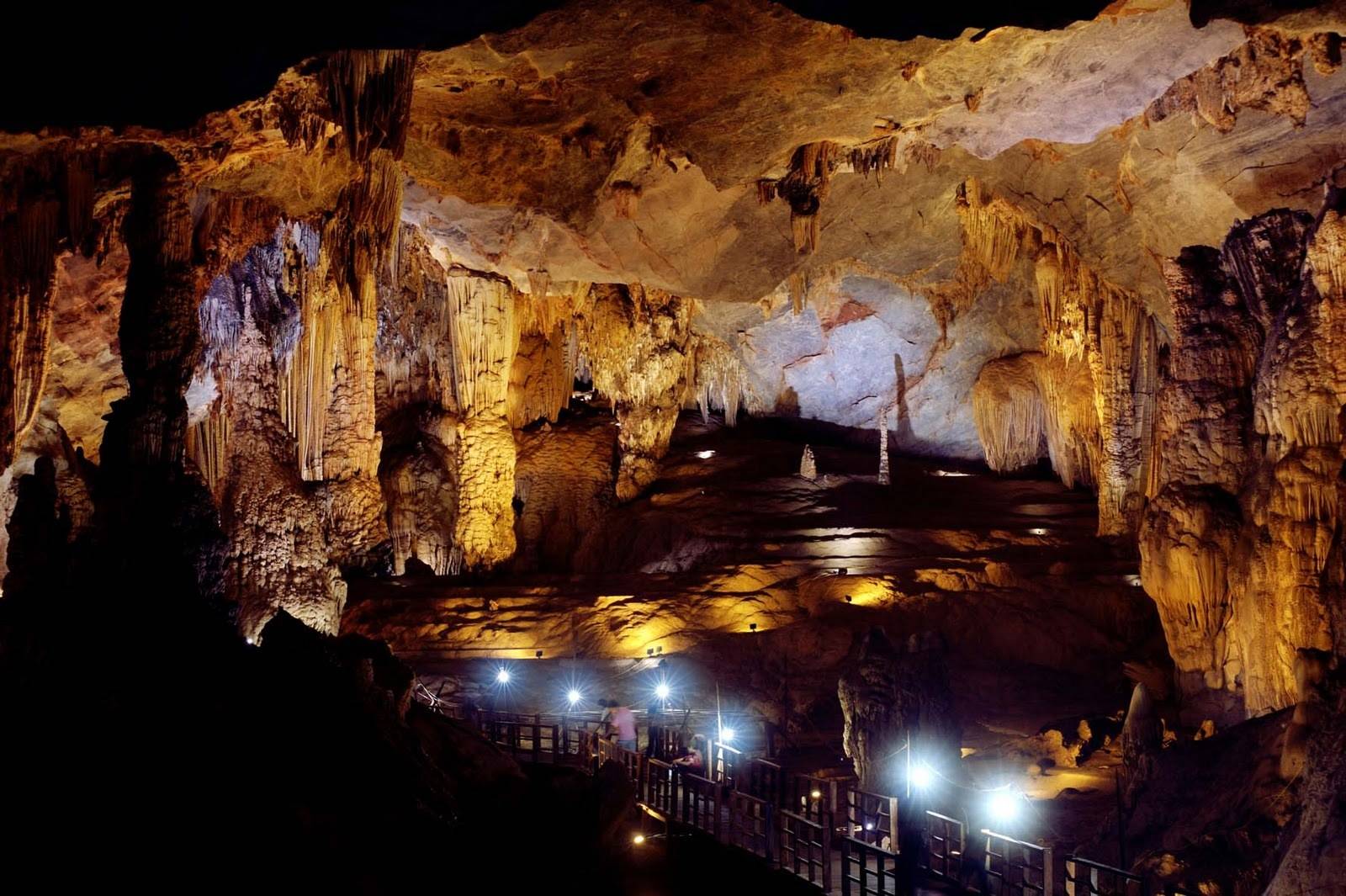 Local people lovingly gave the precious name 'paradise' to praise the beauty of the place. Located on an elevation quite high above the sea level, the cave spreads on a total length of 31 kilometers explored. The limestone formation inside the cave is even more spectacular than Phong Nha Cave with massive ceilings and columns.
3. Va – Nuoc Nut Cave
Just recently opened from 2015, Va – Nuoc Nut Cave quicky has become one the most interesting cave to explore in Phong Nha – Ke Bang national park.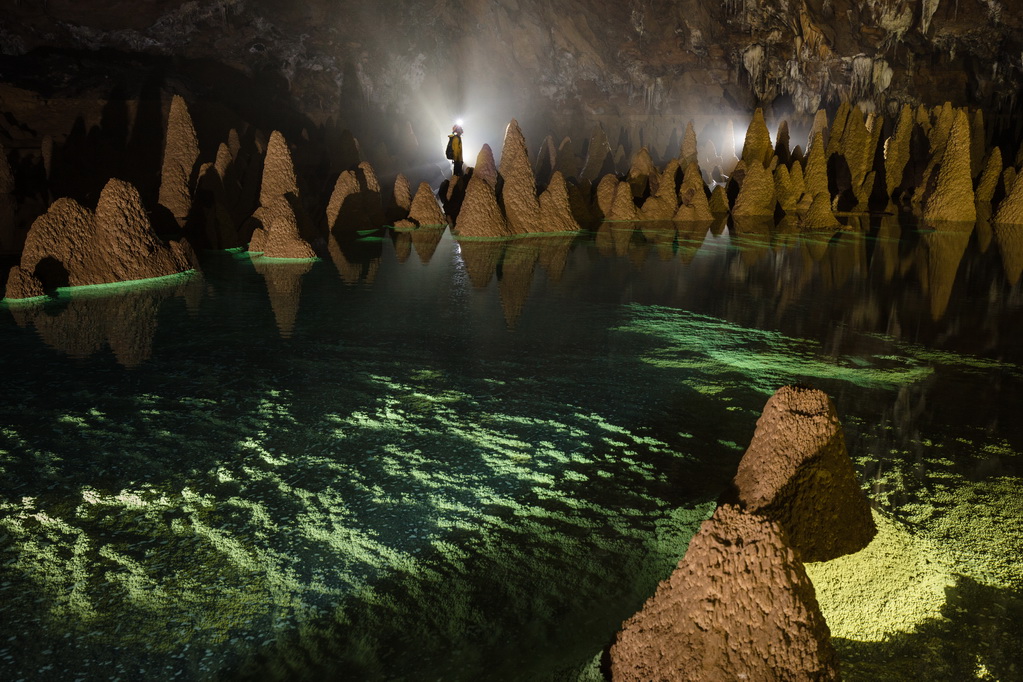 The sight inside Va – Nuoc Nut Cave is just so unique to behold – about 1000 white stalagmites formed in cone-like shapes, dipped in green water. Visiting Va – Nuoc Nut Cave is absolutely must-do thing for nature lovers and adventurers.
3. Son Doong Cave
We've saved the most important for the last – Son Doong Cave, the more beautiful it is the harder for humans to come and appreciate the sights of it. Just known to the world recently but already the main draw of Phong Nha – Ke Bang National Park, a trip to Son Doong is worth every cent of your money.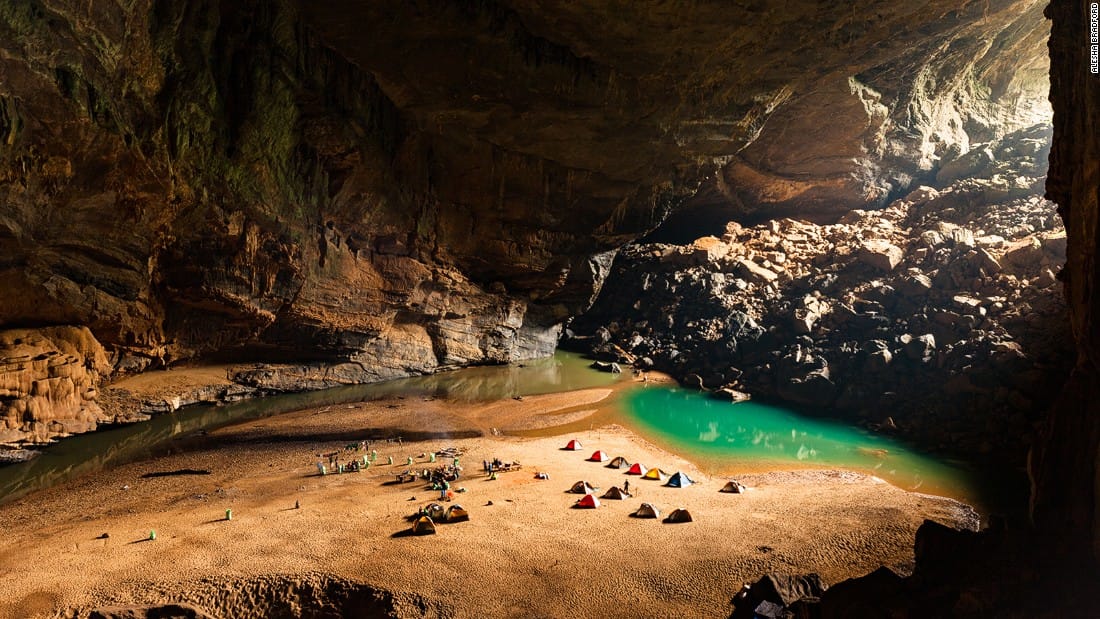 Discovered by Ho Khanh – 'King of Caves' who also the one discovered Paradise and Va Cave, Son Doong is different from its peers. The beauty – on the scale nature has created for it, Son Doong is just breath-taking.

Son Doong Cave is announced as the largest cave in the world, 5 times larger than Phong Nha and En Cave with total length that has been calculated 9km. There are two dolines created by the ceilings collapsed, allowing the sunlight into the cave.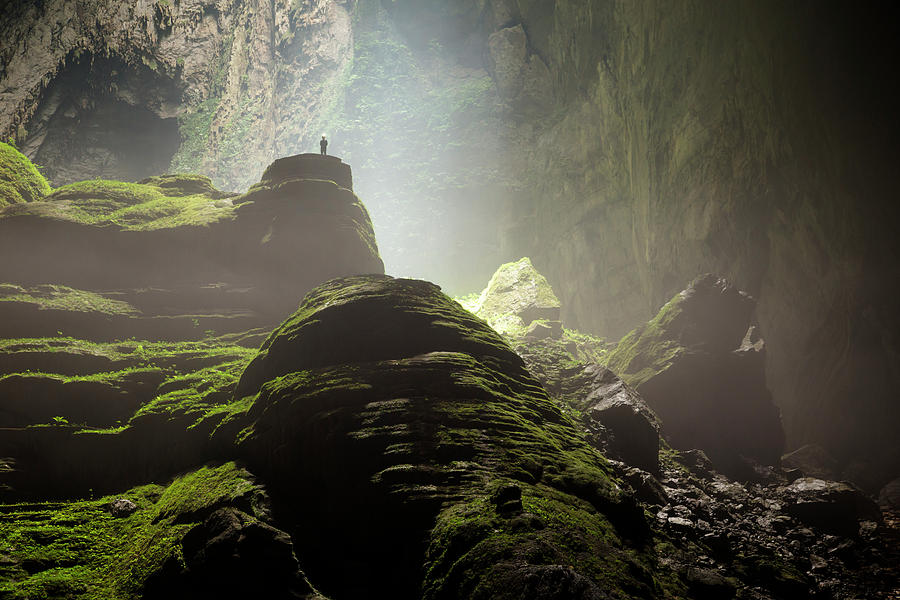 Main sessions of Son Doong: Hope and Vision, The Hand of Dog, Green Gours, Garden of Edam, Passchendaele, and Great Wall of Vietnam at the end of the cave.
Things to do in Phong Nha - Ke Bang National Park
---
1. Boat Ride to Phong Nha Cave
Boat tour to Phong Nha Cave is easy, hence as a result, it's touristy. Tour starts at Son Trach Town, boat cruises along past buffalo, limestone peaks and church steeples into cave's entrance. The illuminated caverns will show themselves before the eyes of visitors. Visitors also can visit Tien Son Cave by climbing 330 steps up the mountainside where the 9th-century Cham altars remain.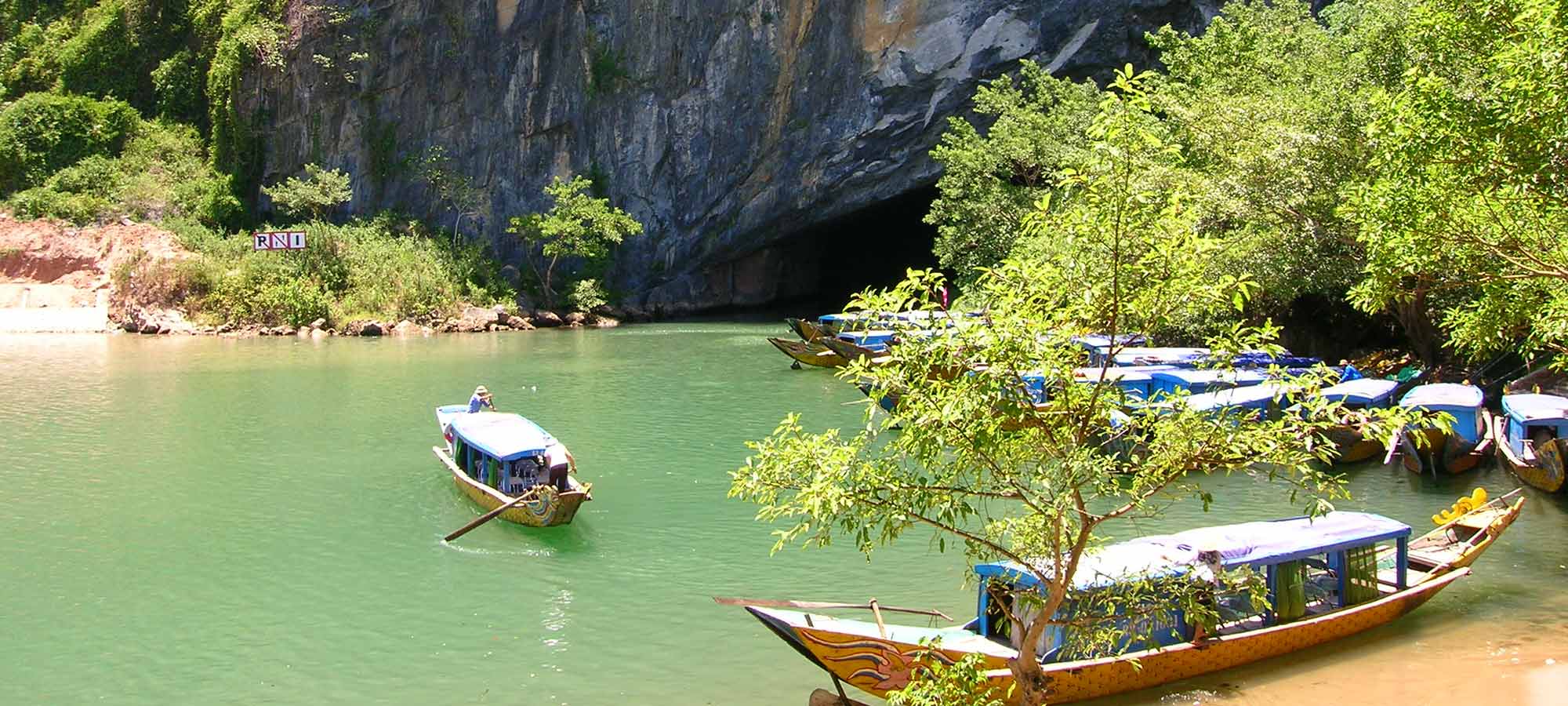 During floating season, the cave will be closed due to the flood.
- Entrance fee: 150.000VND/person

- Boat fee: around 360.000VND/14 persons

- English speaking guide: 300,000VND

- Visiting time: 3 hours (1 hour for Tien Son)
To get to Paradise Cave, you must also hire a boat which will bring you into the cave through a narrow waterway. Once you've arrived, you'll get off the boat and can wander on foot to admire the cave. Paradise is beautifully illuminated by colorful lights and you can take good pictures of stalactites and stalagmites.
- Entrance ticket: 250,000VND/adult, 125,000VND/kid above 1,3m, kids under 1,1m enter free.

- If you want to save energy, there is tramcar service with price of 100,000VND for 4 people, 150,000VND for 6.
2. Trekking Tour to Son Doong Cave
The only way to explore Son Doong Cave is booking tours with Oxalis Adventure Tours – this is also the only tour operator available to Son Doong. This trek requires the highest level in terms of physical fitness, endurance and trekking skills. Visitors to Son Doong will have to go through a safety briefing before departure day, still, at any given time, if the tour guide sees you're not fit for the trip, you'll be removed from the crew without refund. This just shows how dangerous the trek to Son Doong is. But it gets more and more rewarding once you've entered the cave. During the trek, you'll be visiting:
Tour price is expected to be USD3000/pax for a 4D3N tour (actual trekking), only available from January to August.

3. Kayaking on Chay River
With an impressive system of rivers, Phong Nha Ke Bang National Park is a great place to discover the caves by kayaking. This is a must-do thing for all nature lovers to Vietnam.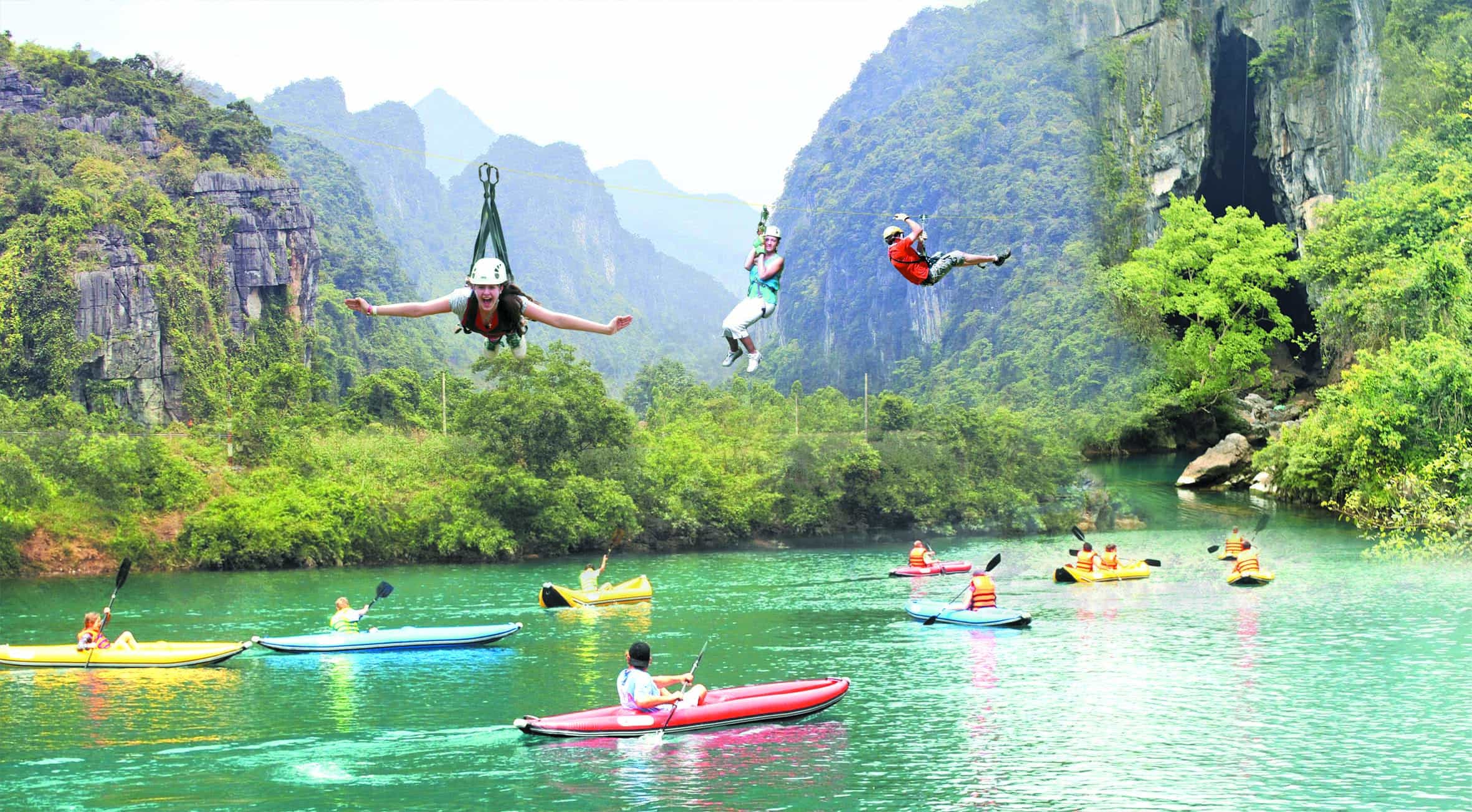 4. Dip yourself in the mud bath of Dark Cave
The nature inside Hang Toi (Dark Cave) remains untouched. There is no electricity to illuminate the karst structures of the cave, hence visitors will have to use flashlight helmet during the trip. One very special feature of Dark Cave is mud-bathing in Thuy Tien or Bong Lai Lakes. Mud-bathing is no doubt good for your health, and mud-bathing in a cave gets ten times cooler!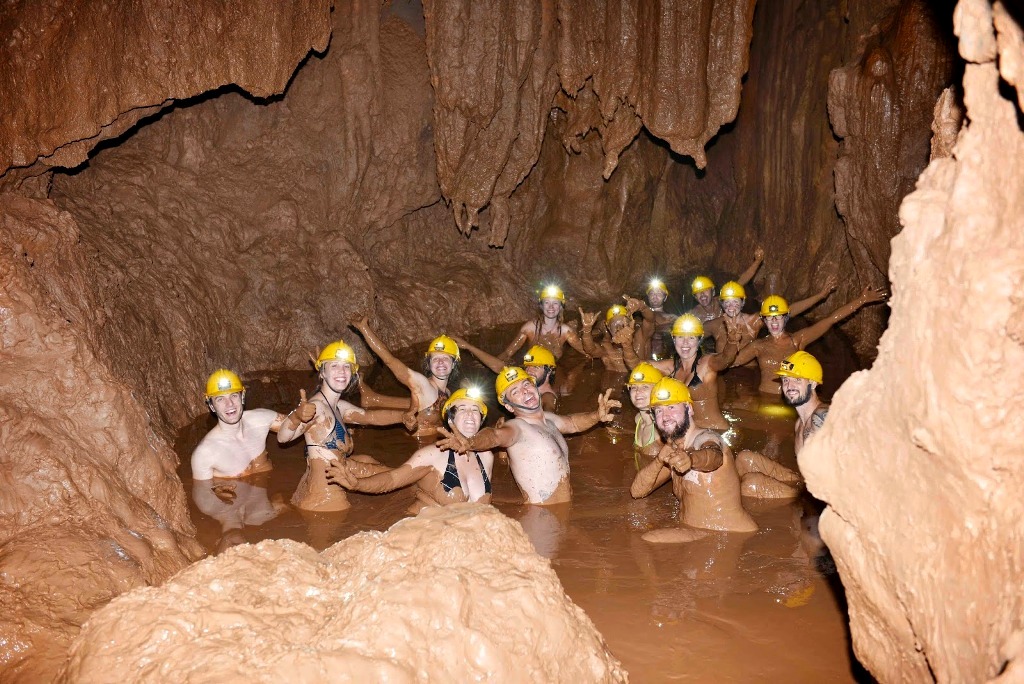 5. Ziplining in Chay River
One of the most thrilling activities to enjoy in Chay river where a 400m long zipline from wildlife observation tower to Dark Cave. You're allowed to jump off from the zipline into the azure swimming tools below. Chay River has some of the most beautiful and dramatic scenery in Phong Nha Ke Bang National Park. It will be a miss of you skip this wonderfully exciting thing to do when in Phong Nha – Ke Bang.

However, this activity is particularly risky so we suggest you to book a tour combining Chay River and Dark Cave to ensure your safety.
Price (entrance fees vary): High season all-inclusive (cave and zipline) 450,000 VND per person.
Low season all-inclusive 250,000 VND per person.
High season limited access (zipline & kayak) 270,000 VND per person.
Low season limited access 170,000 VND per person.
6. Relax in the real heaven on Earth - Nuoc Mooc Stream
If you're looking for a pretty, refreshing, quite and beautiful place to relax after a long trek to the Phong Nha - Ke Bang caves and grottoes, you need to get to Suoi Nuoc Moc or Nuoc Mooc Stream - a place that is praised as 'paradise on earth'.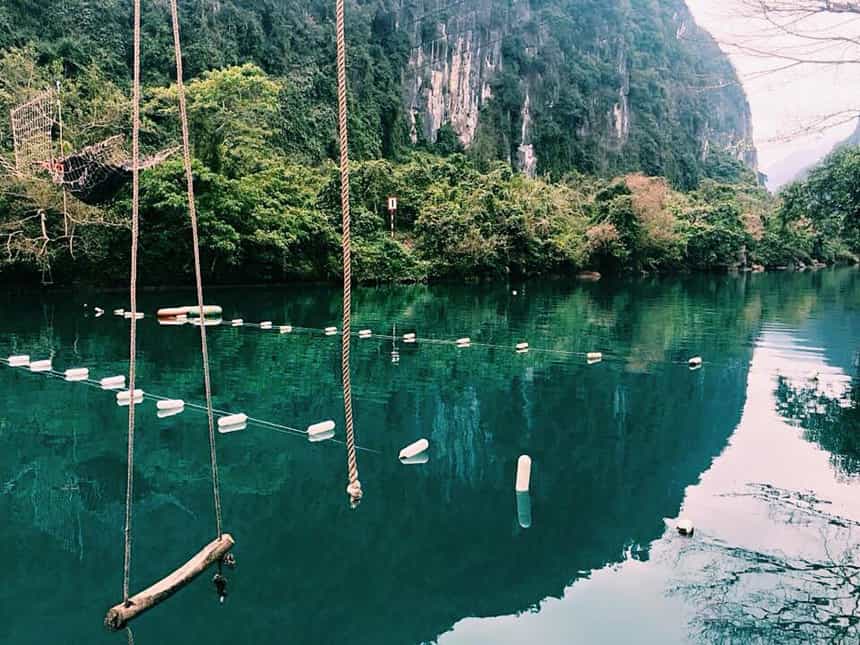 The stream is located near to other attractions in Phong Nha - Ke Bang such as Paradise Cave, Chay River and Dark Cave, Nuoc Mooc still remains its beauty with incredible jade green water and the beautiful surrounding. The water of the stream here is cooler than other places, so you shouldn't visit the stream in winter months. 
A wooden bridge is made to connect to banks of the stream and allows the guests to climb on to take picture. This site is also ideal for activities like swimming (with life jacket on), kayaking and zip-lining.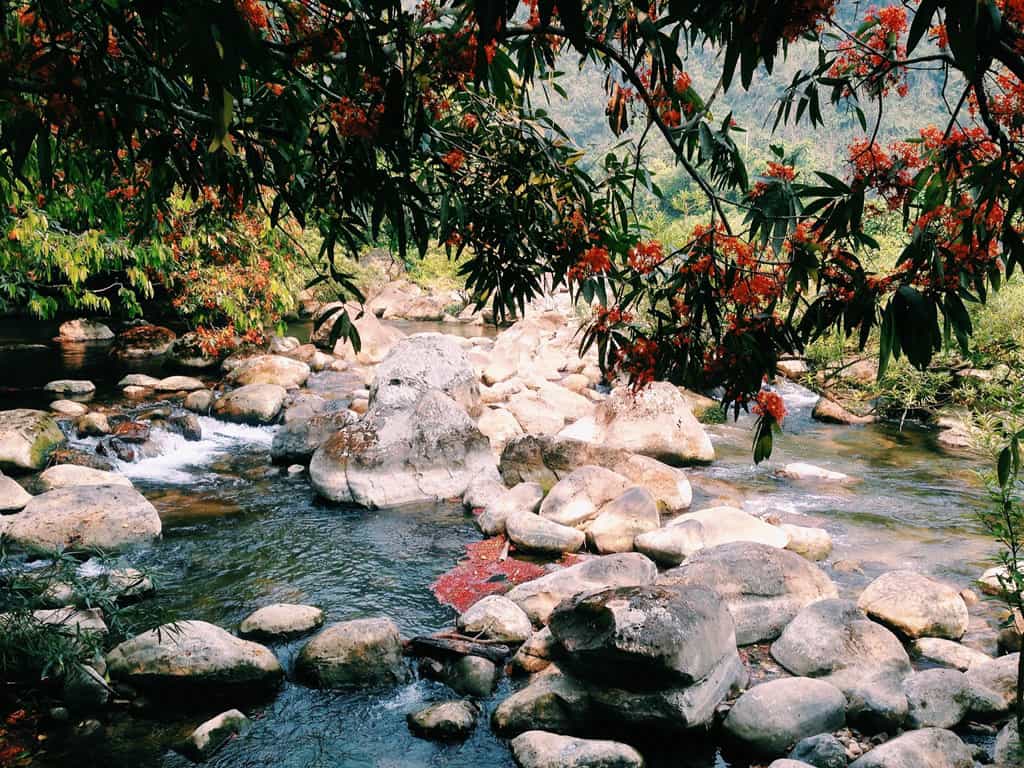 Location:  Nuoc Mooc Stream is located on Quyet Thang road, along the west branch of Ho Chi Minh Trail and about 10km northwest of Phong Nha Ke Bang National Park.

Best time to visit: March to May

Price: 80,000 VND per person for basic entrance fee; 180,000 VND for all access pass
7. Cuddle with ducks at The Duck Stop
Visiting The Duck Stop at Bong Lai Valley is an interesting thing to do near Phong Nha - Ke Bang National Park and to support the locals. Built by a 23-year-old, the small house in The Duck Stop has all the typical features of a rural house in Vietnam's countryside.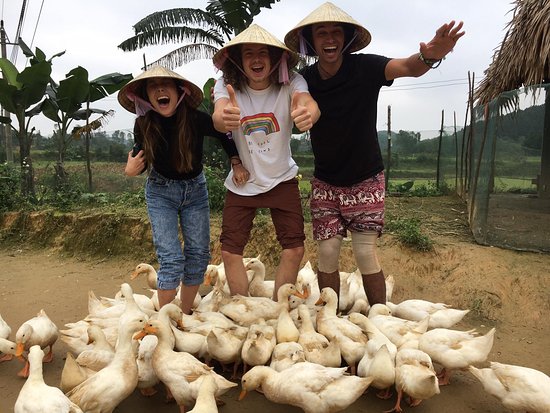 By coming here you'll enjoy the peaceful atmosphere of the countryside and get close to the nature and the little friends - the ducks. You can also try to be a farmer for a day with activities like feeding the ducks and riding a buffalo. The ducks here are trained to not be afraid of the guests and they will actually approach the humans first. It's just a lovely experience over all!
>>> Discover Phong Nha-Ke Bang in-depth in 8 days:

Other Sightseeing near Phong Nha - Ke Bang National Park
---
1. Dong Hoi City
Your base to travel to Phong Nha Ke Bang National Park and other sites in Quang Binh and an absolute peaceful town to stay for one night.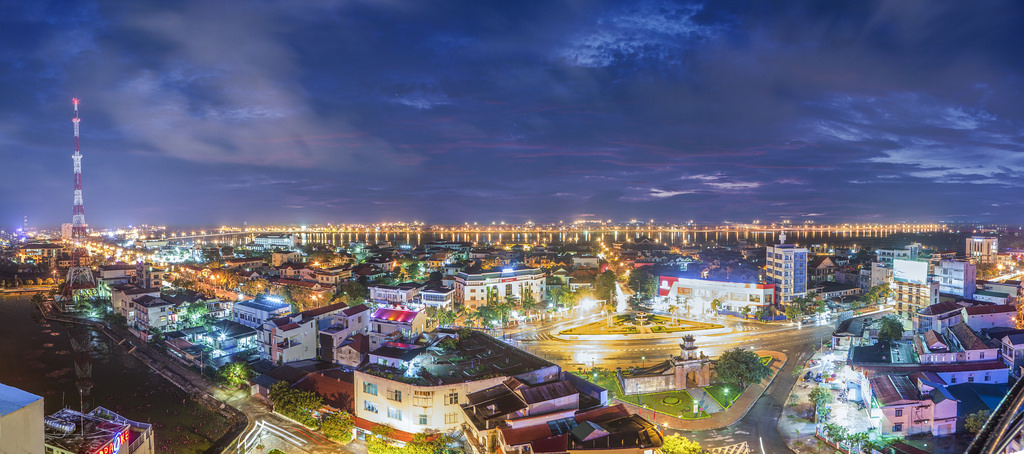 2. Nhat Le Beach
The beach is the nearest beach in the area to Dong Hoi City, located right at where the Nhat Le River ends. Nhat Le offers a wonderful seascape with long white sandy shore and crystal clear water. You can also enjoy parasailing here.
3. Quang Phu Sand Dunes
The sand dunes of Quang Phu are located only 8km away from Nhat Le beach, a terrific spot for those who love photography. Sand hills here has a moderate inclination which is just perfect for sand sliding.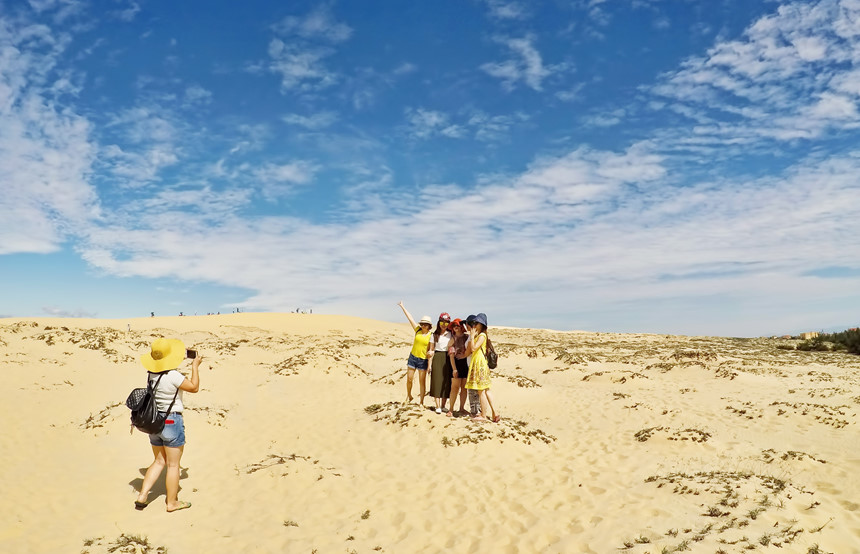 5. Jumping-Stone Beach
Located just 25km away from Dong Hoi City, Jumping-Stone makes a great escape from the city life. Being a small mountain complex facing the blue ocean, Jumping-Stone offers wonderful sights of nature where stones with all shapes and sizes dotting on the pristine beach. You can enjoy many activities such as swimming, boating, mountain climbing, trekking in poplar forest.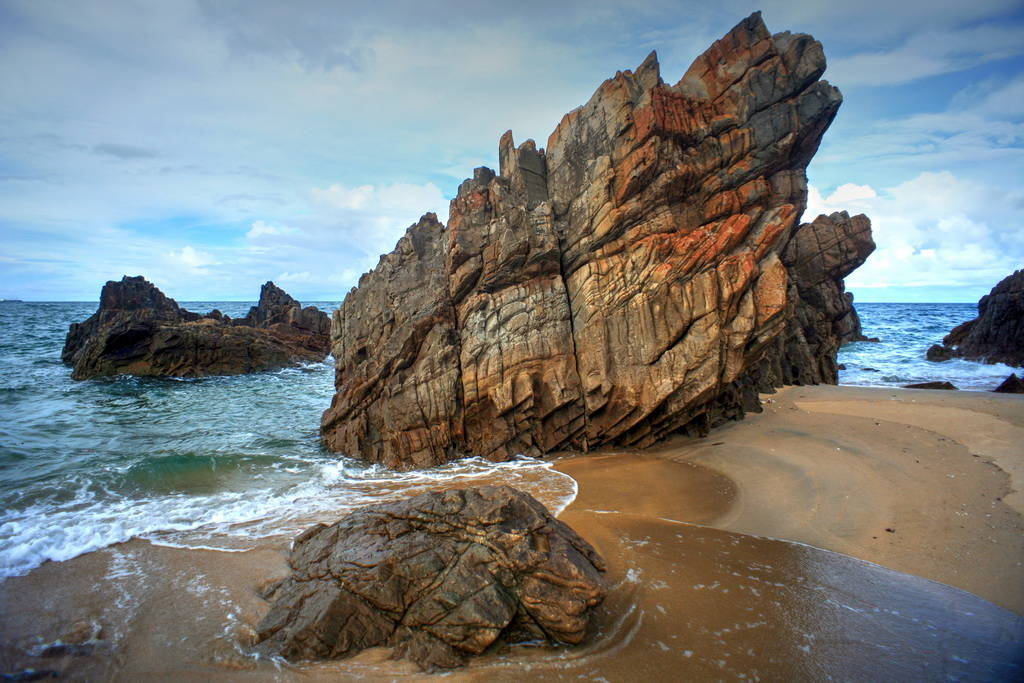 How to get to Phong Nha - Ke Bang National Park
---
You can get to Quang Binh from Hanoi, Ho Chi Minh City and other cities by airplanes, trains and coaches.
*By airplane:
- From Hanoi: Vietnamairlines has straight routes to Dong Hoi Airport on Tue, Thu, Fri, Sat, and Sun. Prices range from 600,000VND to 1,5 million VND. It would take you 1 hour and a half flying.
- From Ho Chi Minh City: you can book flights of Vietjetair, Jetstar and Vietnamairlines.
*By Train:
Vietnam Railway has trains passing Dong Hoi, prices don't go higher than 400,000VND but it can take you a long time, at least 6 hours from Da Nang or Hue.
*By Buses:
- Hanoi – Dong Hoi buses cost about 250,000VND same with all companies.
- Danang – Dong Hoi: 130,000VND
- Hue – Dong Hoi: 80,000VND

When is the best time to visit Phong Nha - Ke Bang National Park
---

Phong Nha-Ke Bang National Park has the typical climate of an region affected by tropical monsoon season with high temperature and humidity. In summer, it can get to 41 Celsius degree and in winter it gets down to 6 Celsius degree. The ideal time to visit this beautiful park is from February to August. Avoid the flooding season which usually starts around Mid-September until mid-November. There will be heavy rains and flooding time to time during these months. Some caves will be closed in this season and adventure tours to Son Doong and other caves won't be available. 

Are you temped to visit Phong Nha-Ke Bang National Park? Why not let us arrange your perfect tailor-made trip to Phong Nha - Ke Bang and Vietnam? Tell us your own ideas and requests by mailing to booking@asianwaytravel.com or by filling the form in Customize Tour.