MOOC STREAM
---
Located in Phuc Trach Commune, Bo Trach District, Nuoc Mooc Stream connects with Chay River which is about 10 kilometers long and flows through Phong Nha Ke Bang National Park.
The stream winds around a dense limestone forest. The tropical limestone forest is home to many species of birds, insects and animals and a rich biodiversity with seasoned trees, orchids, ferns and lianas. Tourists should prepare suitable clothes to stroll through the dense groves to discover the wildlife and wallow in the cool water.
The stream includes many smaller currents of water separated by giant moss covered rocks. Sitting on the rocks under the shade of green trees is a nice option to take food, relax and capture the quiet, poetic surroundings.
In the upper reaches of the stream the currents are gentler and form large pools studded with rocks. These pools are good for swimming but be careful of the rocks.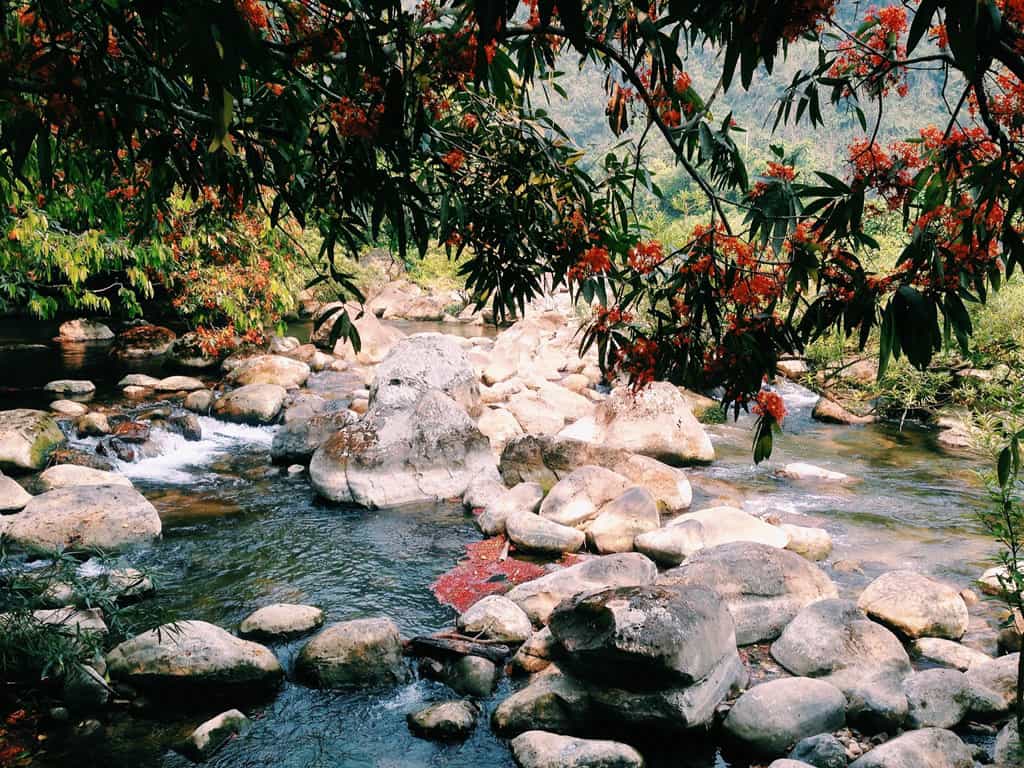 DARK CAVE 
---

After discovering the stream, tourists should take a kayak trip on the Chay River to see some mysterious dark caves and magnificent mountains. All remain pristine and boast poetic views and stillness.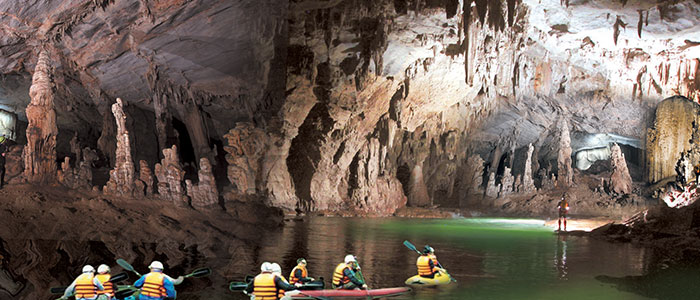 Hang Toi, more commonly known as Dark Cave, has been tweaked to appeal to adventure seekers. Despite all the added artificial frills such as arriving to the entrance via Vietnam's longest zip-line, the main attraction is venturing into the cave with just headtorches and plunging into a narrow cavern full of thick, wonderfully gloppy, gooey mud. "Dark" may refer to the unlit cave itself or your body after the mud bath. Either way, prepare to get dirty and have some primitive fun.
The six kilometre Dark Cave is located within Phong Nha-Ke Bang National Park. The main entrance is on Ho Chi Minh Highway West, about five kilometres north of Paradise Cave. Unlike Paradise Cave, which is artificially lit and is about politely observing the interior from a fenced boardwalk, Dark Cave is about plunging in. It has been developed into a backpacker playground, as evidenced by the 400-metre zip-line to the entrance of the cave.
Once inside the cave, switch on the light on your miner helmet for a barefoot walk through a crevasse that gets narrower and narrower, muddier and muddier until it is walls of thick clay to each side and underfoot. Eventually there is no trail, just deep footprints left from the person in front. Every step (and misstep) becomes a comical struggle of squelching for 300 metres. If you get claustrophobic, Dark Cave is not for you.
Finally the crevasse widens into one big mud pit.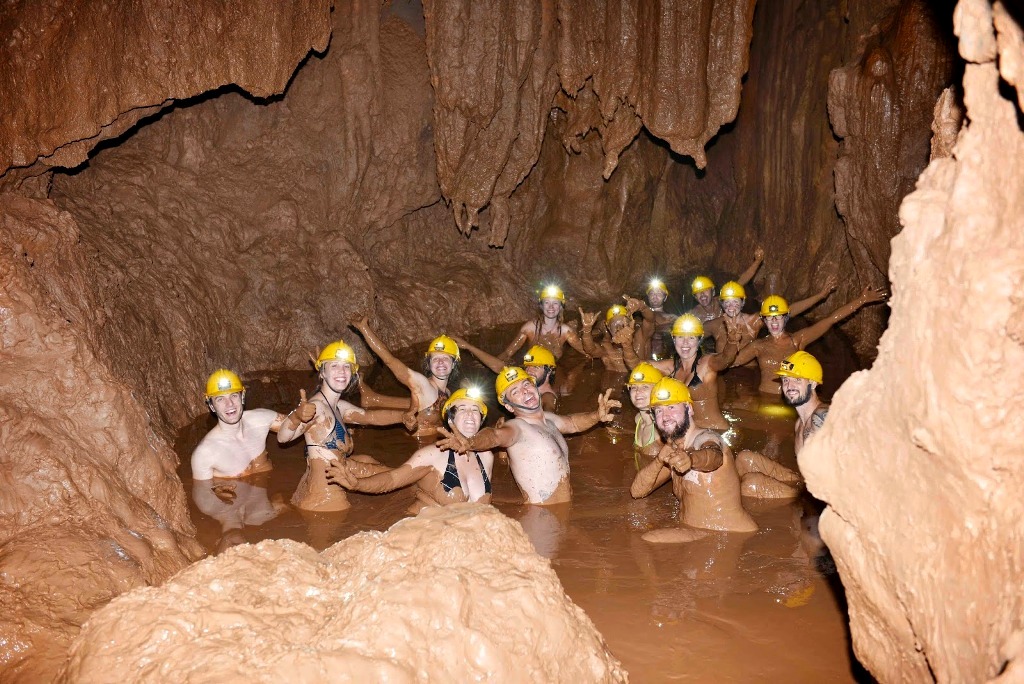 The mud is remarkable. It has the consistency and colour of a rich chocolate milk, and it's buoyant – you cannot sink. You'll effortlessly float like a cork in the Dead Sea. You'll bob up and down and roll around and around. Even trying to set your legs down is almost impossible.
After de-mudding with an invigorating swim in the cave's crisp, cold river (in pitch darkness, mind you), you'll head back with kayaks. To add to the spectacle, they've set up an obstacle course over the water and a flying fox which attracts backpackers like bees to honey. On hot days you'll find yourself lingering here, taking cooling dips in the green-blue Chay River.
The pricing system is more complex than it should be. The entrance fee is 80,000 dong per person, but you only get access to the first 150 metres of the cave. To get there and back, you'll need a kayak, 10,000 dong per person. For the mud bath you need a guide: the "regular access tour" which includes zip-line there, mud and kayak back is 270,000 dong per person, 170,000 dong in the rainy/cold season (September to March).
And behold, the "full access tour fee" which adds activities on the Chay River. It's 450,000 dong per person, 250,000 dong in rainy/cold season.