Unlike Sapa or Ha Giang, Mu Cang Chai doesn't have many things to do besides its main draw: golden terraced rice fields. Travelers don't really visit Mu Cang Chai out of its best time from September to October. Yet when the harvest season comes, everyone tries to get to Mu Cang Chai, just to have a look at the man-made wonder that the people here have diligently created over the years. In this time of every year, Mu Cang Chai turns into a paradise of rice fields. In this Travel Guide of Mu Cang Chai Vietnam, we will show you all the necessary information on how to get to Mu Cang Chai, things to do and what to eat and where to stay.


Things to do in Mu Cang Chai Vietnam

---

We'll show you the things to do in Mu Cang Chai along the way from Hanoi to Mu Cang Chai.


1. Try sticky rice and Com (green rice) in Tu Le



Tu Le commune is located at Van Chan District, about 35 kilometers away from Mu Cang Chai following highway 32. You will know that you have arrived at Tu Le when a vast valley of rice fields, crisscrossed by the freshwater streams come into your sight. If you look closely, here and there on the valley are the idyllic stilt houses' grey roofs of Thai villages.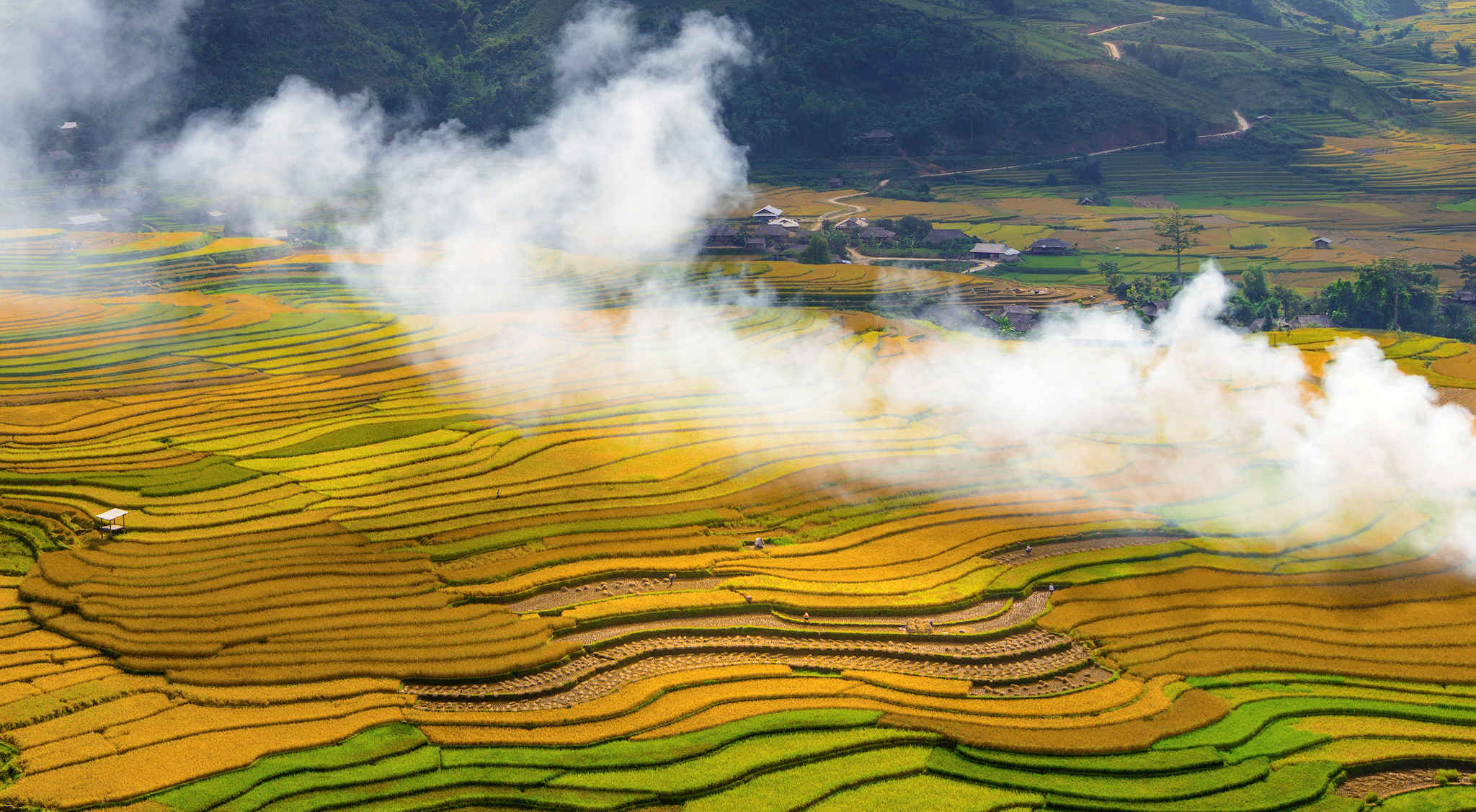 Not just the beautiful rice fields, Tu Le is also famous for food specialties like sticky rice and Com (green rice). The reason for this popularity is that the rice grown in Tu Le has a pleasant fragrance which is not lost even when the rice is cooked. Come to Tu Le, you can find quite a number of restaurants that have this dish.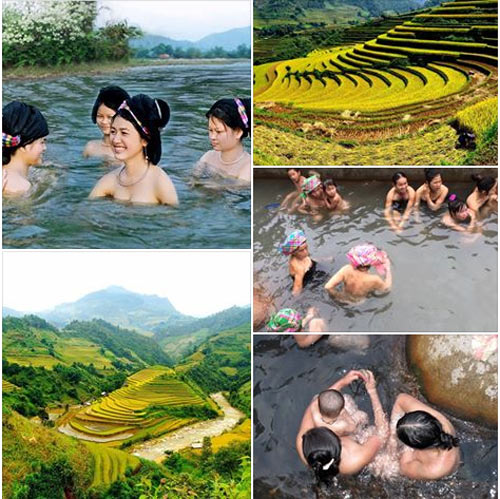 If you have more time budget, check out the hot spring in Chao Village which is about 1 kilometer from the town. At this hot spring you can witness a beautiful tradition practice of Thai women – naked bathing after a hard working day. However, maintain a distance while taking pictures to not make the locals uncomfortable.

2. Ride on Khau Pha Pass – one of the most beautiful passes in Vietnam



Literally called 'the sky's horn', Khau Pha Pass is one of the most beautiful and dangerous passes in north Vietnam. Located right after Tu Le town, Khau Pha is more than 30 kilometers long, considered as the most dangerous pass on national highway 32.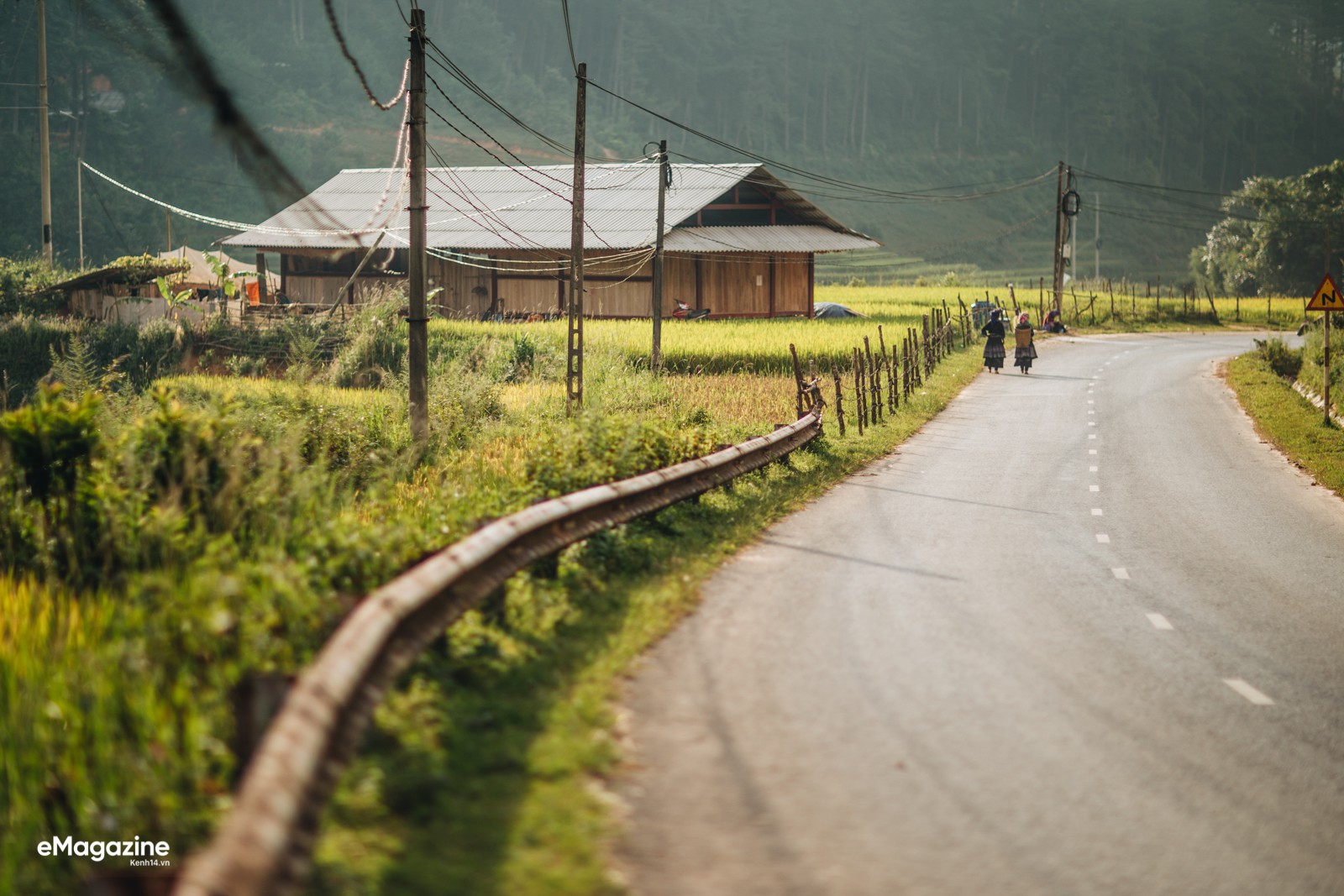 Riding on this pass, either by motorbike or car, you'll have the chance to see the magnificent sceneries of nature. Like the name of the pass describes, if you're lucky enough you might see the top of the pass laden with dense fogs – looking like a horn rising through the sea of clouds. If you're riding on this pass at early hours of day, you might even have to turn on the head light for better vision and to warn people on the opposite direction.


The landscape along the pass even gets more beautiful when the sunlight casts down. Remember to bring your best camera for some eye-popping road trip's pictures.

3. Che Cu Nha – highest mountain hill with terraced rice fields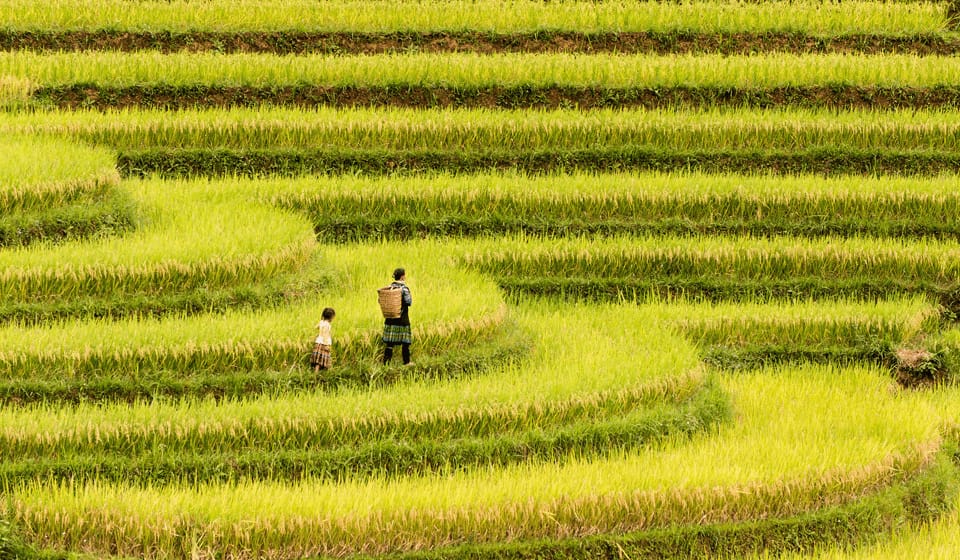 At Che Cu Nha, prepare for the very steep uphill slopes and full views of the terraced rice fields. Che Cu Nha is a remote commune located about 20 kilometers away from Mu Cang Chai Vietnam. The road up to terraced rice fields' viewpoint is only 2 kilometers but very steep and quite dangerous if you go by motorbike. When you get to the top, the views are absolutely rewarding, especially in sunny days. From the viewpoint, you can take in the panoramic scene of the surrounding mountains whose whole bodies are cultivated into terraced rice fields.


4. Admire the magnificence of the terraced rice fields in La Pan Tan



The main highlight of Mu Cang Chai is the terraced rice fields in Ta Pan Tan, located about 30 kilometers from Mu Cang Chai and 5 kilometers from Nga Ba Kim town. La Pan Tan's terraced rice fields have been ranked as one of the most beautiful on Earth. In 2007, fields in La Pan Tan together with fields in Che Cu Nha and De Xu Phinh has been designated as national heritage.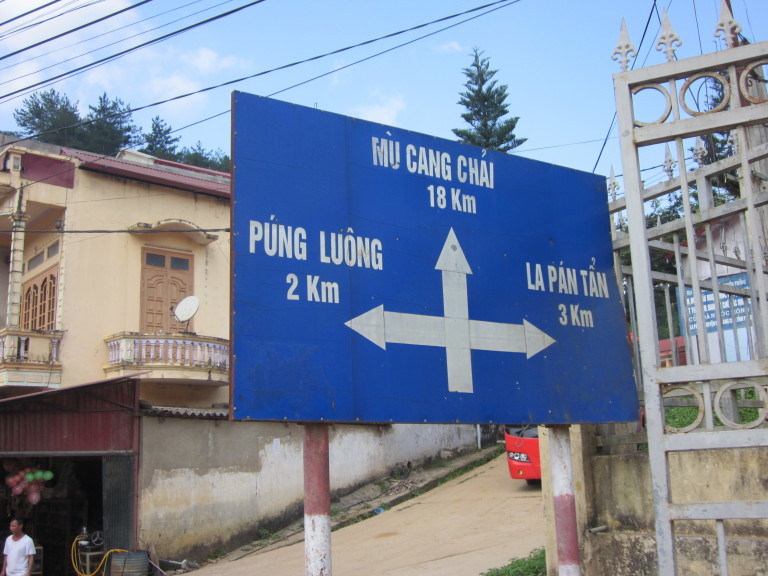 The way leading to the viewpoint is known for its steepness. From Nga Ba Kim town, search for this road sign and follow the road and turn right at the first T-junction for La Pan Tan Viewpoint where you can enjoy the whole panoramic of golden terraced rice fields on all the mountain hills.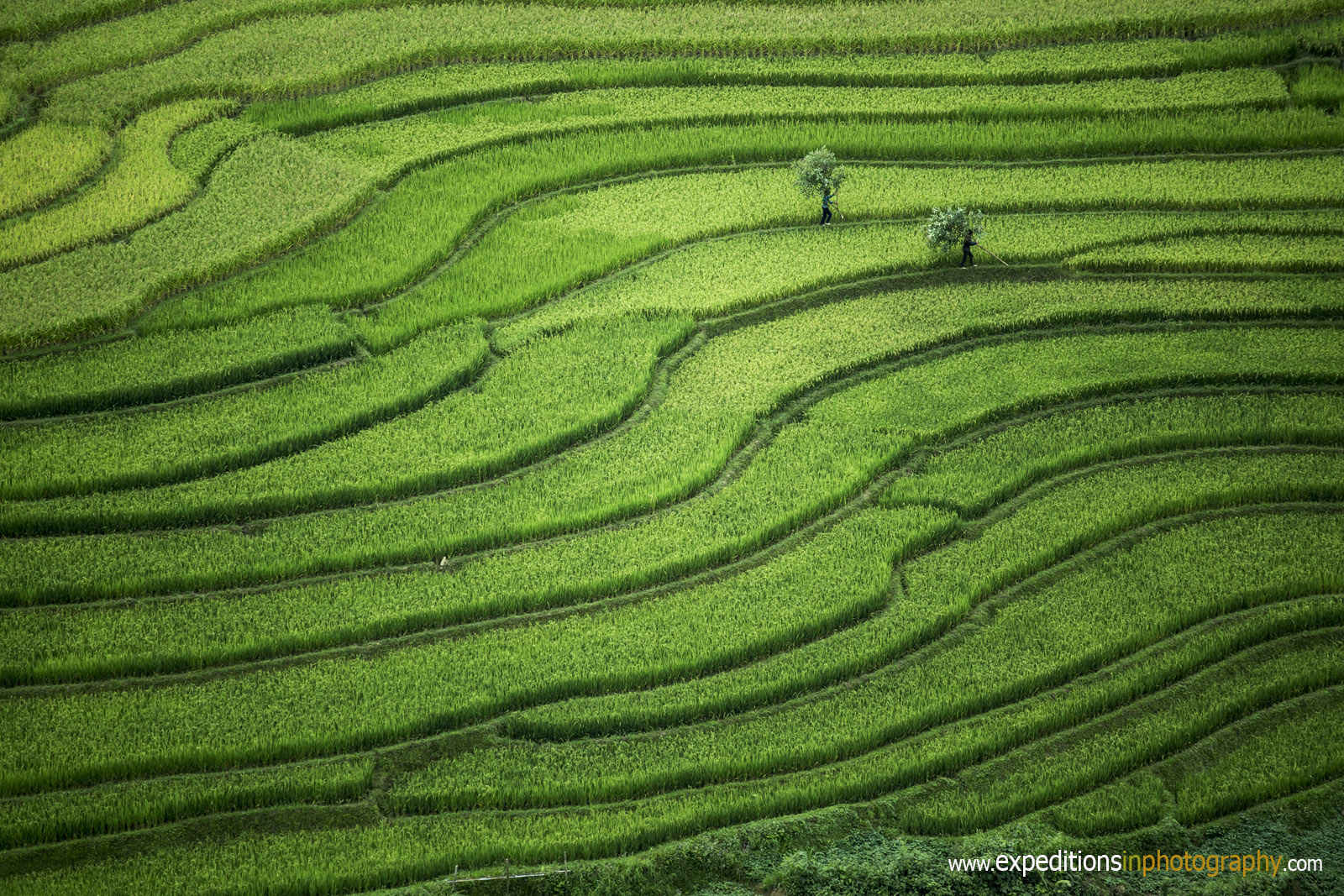 Yet, the most beautiful rice field hill in La Pan Tan is located away from La Pan Tan Viewpoint about 6 kilometers and only 1 kilometer from Ba Nha Bridge. It's the legendary Mam Xoi Hill (Sticky Rice Tray Hill). Your Mu Cang Chai Trip is uncompleted without visit this site.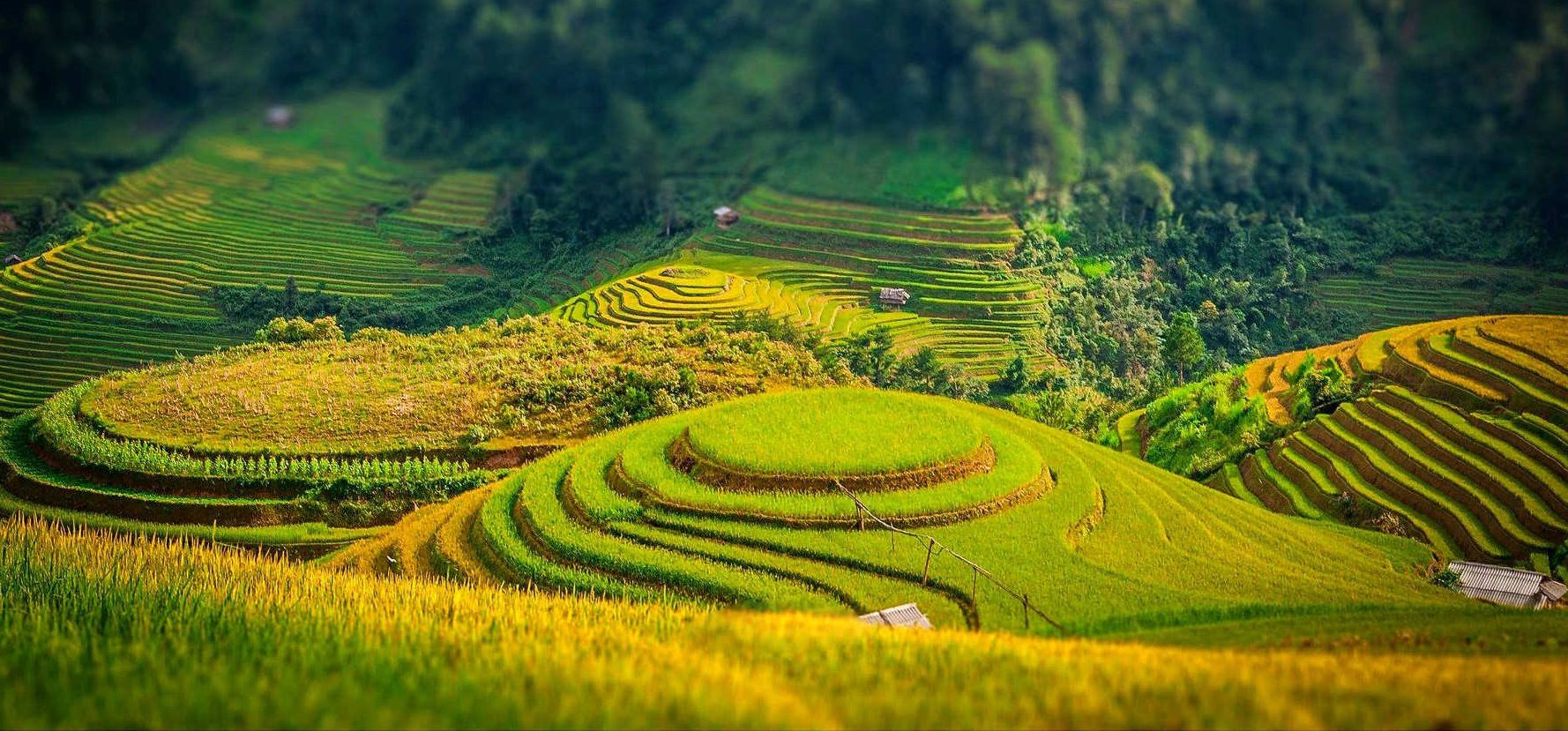 The reason this hill is so famous is that the whole hill is made into terraces therefore the top of the hill is a round shape like a tray of sticky rice. The golden field will turn even more vivid in sunny days, making it a wonderful site for photography.


At Ba Nha Bridge, there're always a group of local xe om offering visitors a round trip to Mam Xoi Hill for a cost of about 50,000VND. There is also a H'mong costume rental service for those who want to dress up as H'mong people and pose for the gorgeous background. 


5. Soak up the cultural atmosphere at Kim Noi Village



Continue to Mu Cang Chai town, once you have arrived, you'll feel in this place a true sense of a highland town. Mu Cang Chai town lies along the river, filled with stores, restaurants and stalls. A small market is gathered near the town's bridge over the river which leads to the beautiful path on the left running in parallel with the river which leads to the famous Kim Noi Village.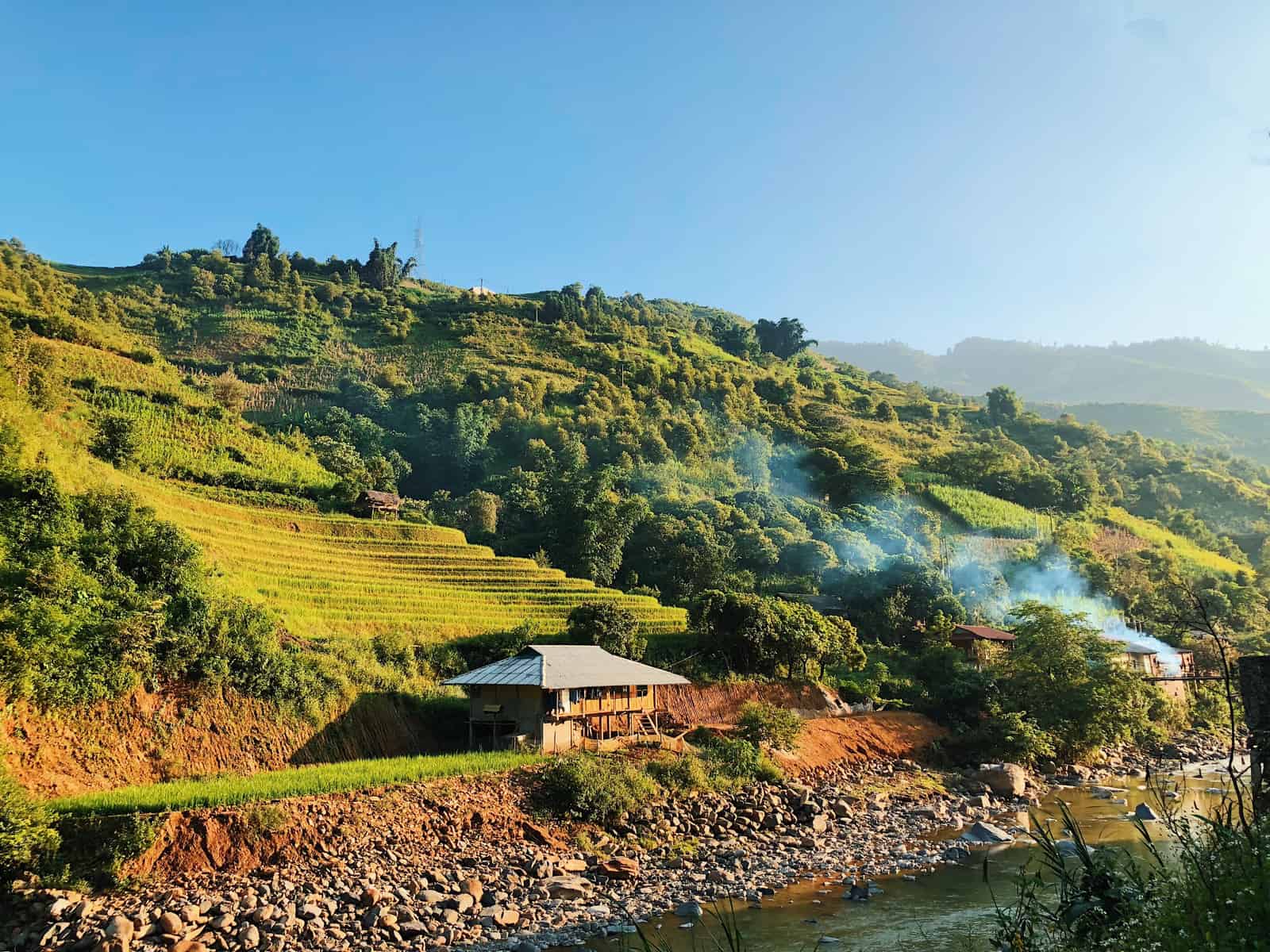 Kim Noi is a Thai village, lying at the end of the vast rice fields, having its back facing against the mountains. All the houses are stilt houses, made by wooden, with traditional Thai architecture. The village is also famous for homestay service and weekend's cultural activities travelers can join like bonfire and traditional Thai dancing.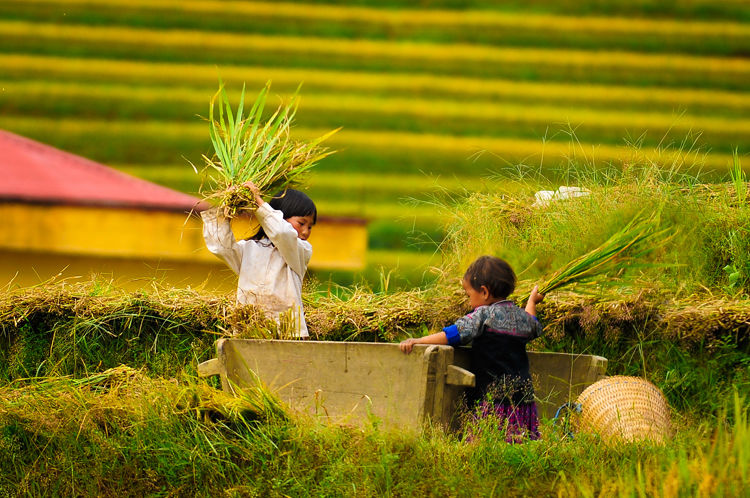 Homestaying with a Thai family host is a must when visit Kim Noi, you can enjoy the cultural space and the daily life in a Thai house. The host family will also serve a Thai traditional meal if you request.


If you have more time budget, hike up the H'mong villages on nearby mountains to enjoy interacting with the ethnic people.


6. See Horseshoe (Mong Ngua) Field at Sang Nhu village

Sang Nhu Viewpoint is just 2 kilometers from Mu Cang Chai Town, the second top must-see site in Mu Cang Chai after Mam Xoi Hill. The rice fields at Sang Nhu deserve to be called the man-made world wonder where the colorful, curvy green and golden patches of rice fields blend so harmoniously with each other. The most beautiful field at Sang Nhu is the Horseshoe Hill where the terraces of the rice fields are shaped like a horseshoe. Sang Nhu Viewpoint becomes most worthy for photo taking especially in sunset and in sunny days.


7. Visit Lim Thai and Lim Mong Village on the way back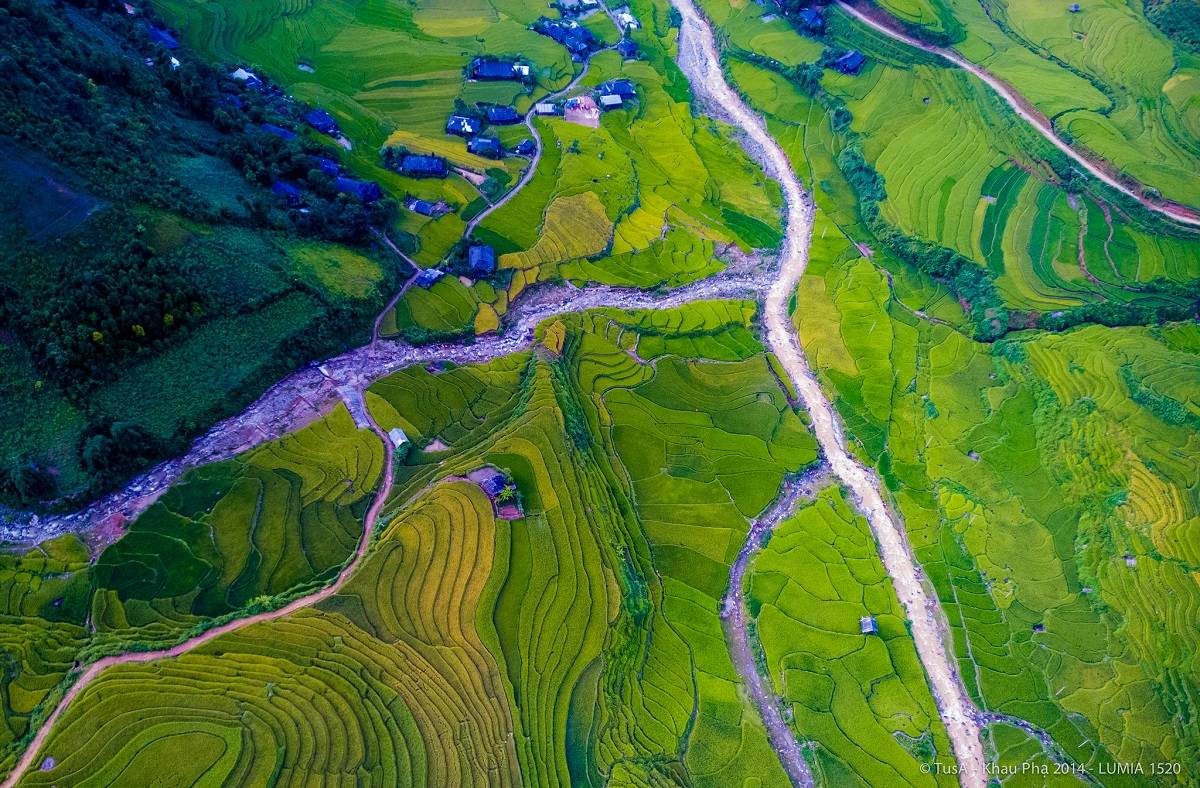 On your way back from Mu Cang Chai, stop to admire the beautiful sceneries at Lim Mong village. Before you riding up the hill to visit Lim Mong village – a H'mong community, you'll get to a vast green valley where Lim Thai – a Thai village occupies. Along the way are the very typical Thai stilt houses. So a trip to Lim Mong will offer you insights into the daily life of two ethnic groups in Vietnam – H'mong people and Thai people.


The lower stream is a great place to have a small picnic while admiring the nature around you.

8. Off-beaten track to Mu Cang Chai's best waterfalls



Mu Cang Chai Vietnam doesn't only have terraced rice fields, it also has beautiful and dreamy waterfalls.


Pu Nhu Waterfall is located at Pu Nhu village, about10 kilometers away from Mu Cang Chai town. The fall is 20 meter high with an impressive rock setting. The fall confluence of many streams and watersheds from Than Uyen, Lai Chai. Pu Nhu fall is a great place to enjoy picnicking.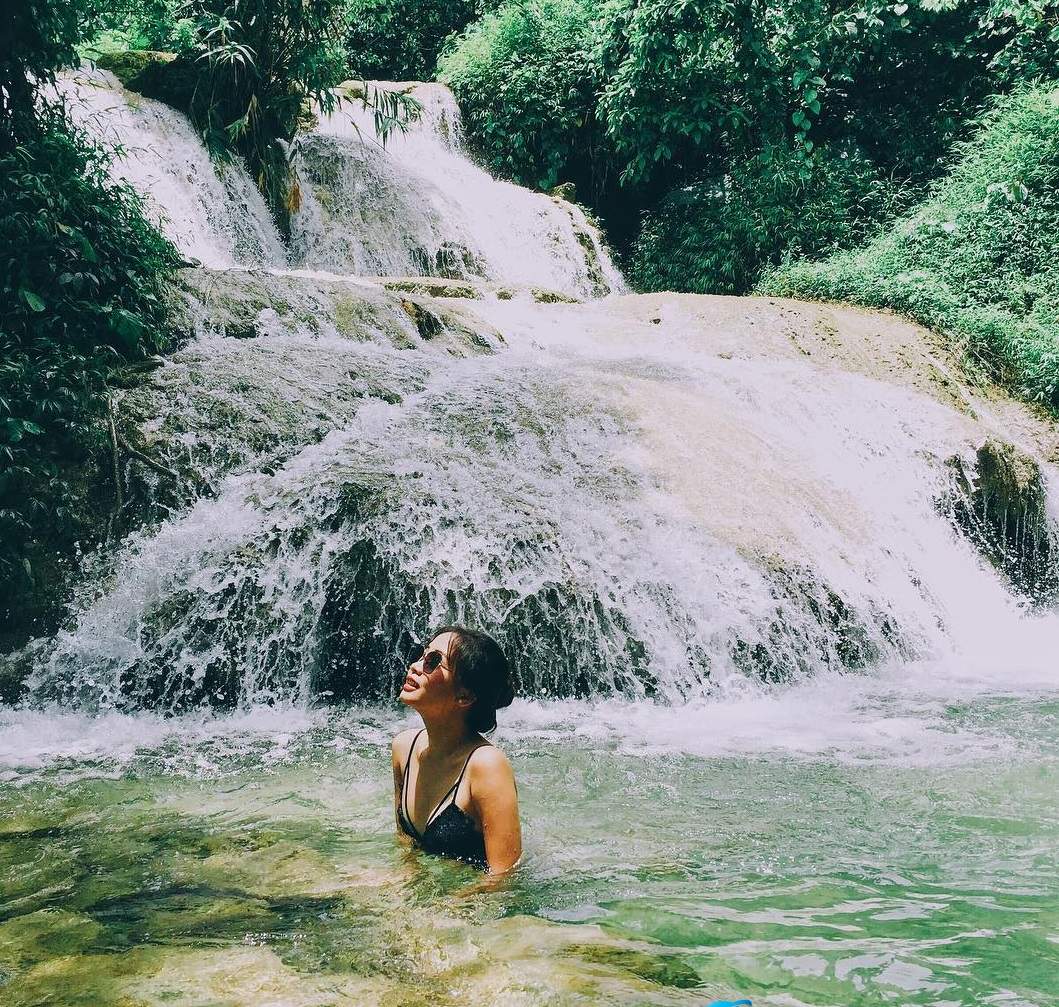 Mo (Dream) Waterfall is the more famous waterfall in Mu Cang Chai – located in between two cliffs Na Hang A and Na Hang B, belonged to Mo De commune. To get to Mo Waterfall's foot, you'll have to trek for about 30 minutes and to get to the 4th level of the fall, trek up to the top of the fall for the great view. The waterfall is most beautiful in rainy season with its full volume of water dropping down on the height of about 40 meters. On the top level, you will have chance to take in the wonderful views of nature.

>>> Can't wait to visit the golden rice fields in Mu Cang Chai? See our recommended tour here:



What to eat in Mu Cang Chai

---
1. Tu Le sticky rice with chicken



Tu Le glutinous sticky rice is a famous specialty of Mu Cang Chai Vietnam. Tu Le rice is planted at Muong Lo field, famous for its special aroma. When cooked, the rice taste sweet and heavenly fragrance. Tu Le sticky rice is often eaten with grilled chicken or pork. Sesame will enhance the taste and aroma of the sticky rice even more, so a plate of roasted sesame always accompanies this dish.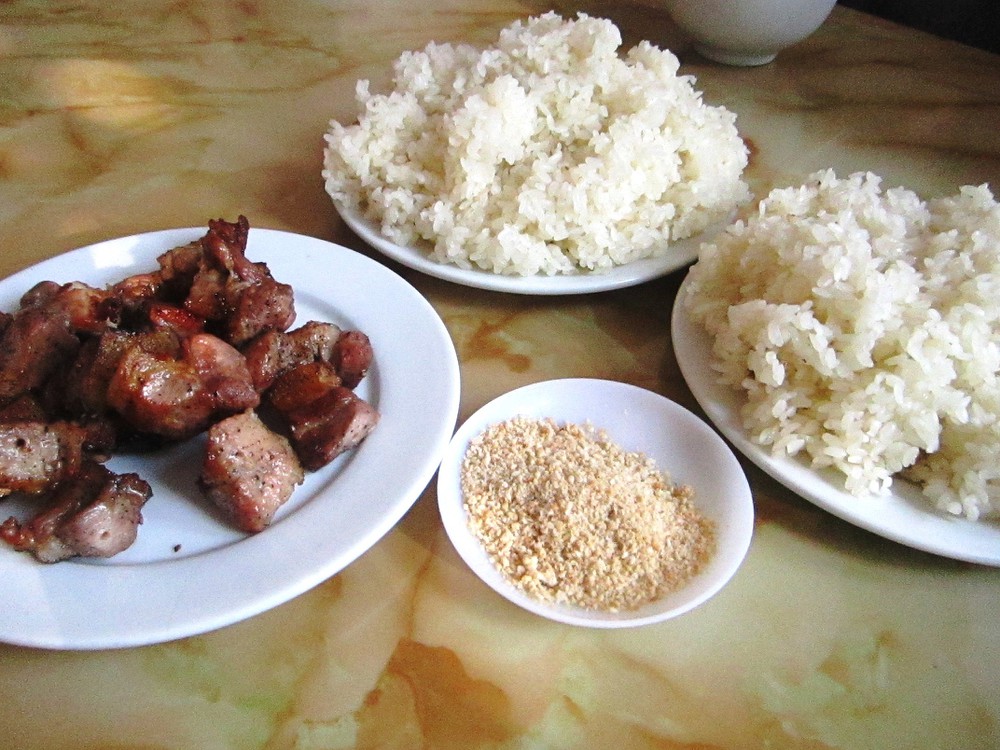 2. Tu Le Com (green rice)



Like the sticky rice, Com or green rice made in Tu Le is well-known to eaters across the country. The rice grains in Tu Le are big, white and almost transparent, when green rice made with the grains has a sweet taste and light fragrance. The dish requires a meticulous process of making which the locals are so dedicated and careful in each step.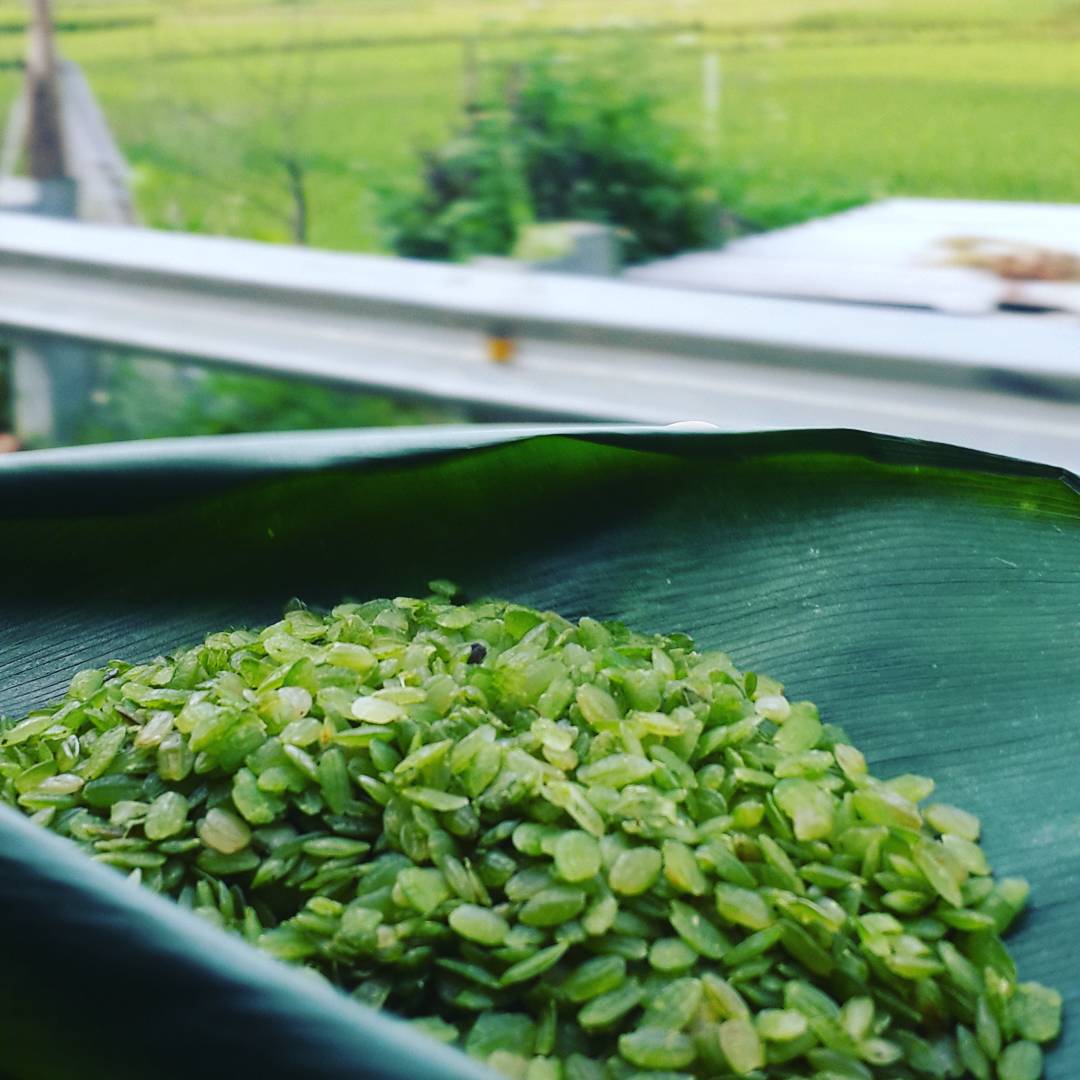 During the harvest season, you can find green rice sold by the locals on the roadside or in local markets and restaurants.   

3. Tao Meo



Tao Meo or Meo apple is the common fruit in northwest Vietnam and quite well-known across the country for its health beneficial characteristics (like treating stomach pains, high blood pressure and even heart-related sicknesses). Meo apple is small, planted mostly in mountainous region and can be found in Mu Cang Chai between September and October. The apple tastes sour and lightly bitter which makes Tao Meo very special fruit to try in your trip to Mu Cang Chai.

4. Salmon



Salmon fishes are available in Khau Pha restaurant which is located about 7 kilometers from Khau Pha pass on the direction to Tu Le. This restaurant has its own salmon farm with a number of more than 10000 salmon fishes which are imported from Europe and grown with European standards. There are various dishes that can be made with the salmon, if you go with a large group, you can have a big hotpot for the lunch.

5. Five-colored sticky rice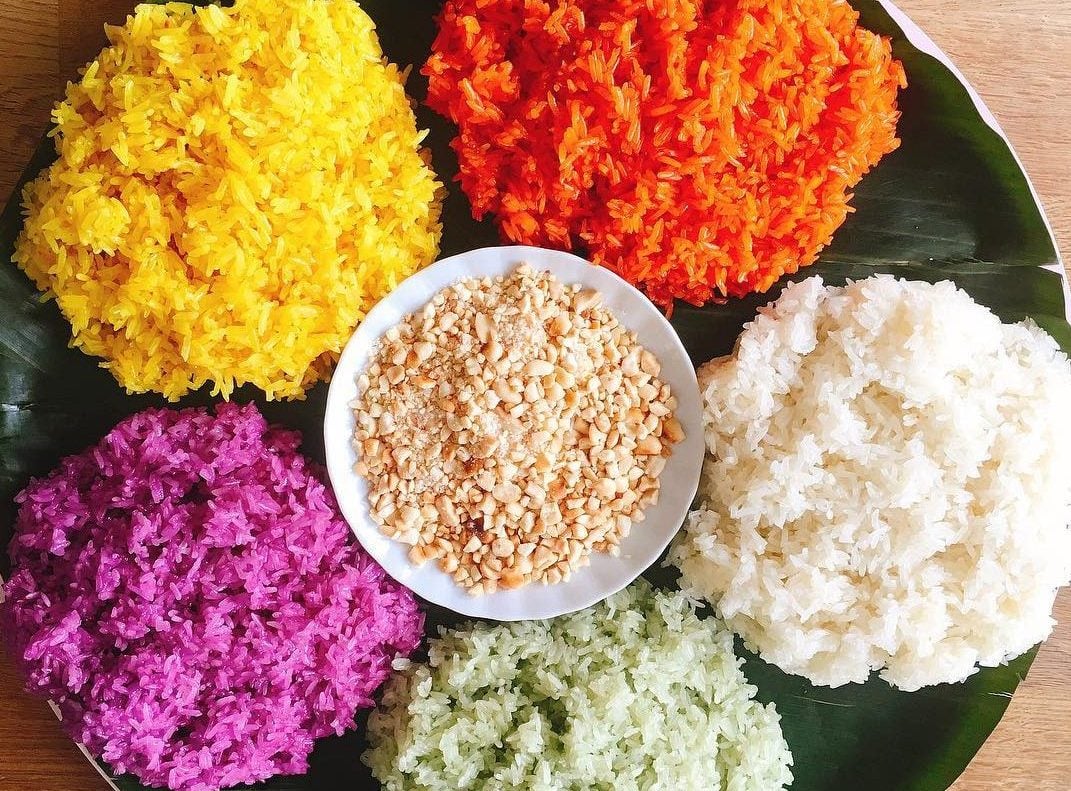 The sticky rice is made from glutinous rice but the colors are made from natural ingredients. There will be five different colors including green, yellow, red, purple and white. Due to different ingredients, the fragrances of each colored sticky rice will be different, too. You can find this dish most frequently at fair markets.


Where to stay in Mu Cang Chai

---



1. Sa Ren village – Nghia Lo Town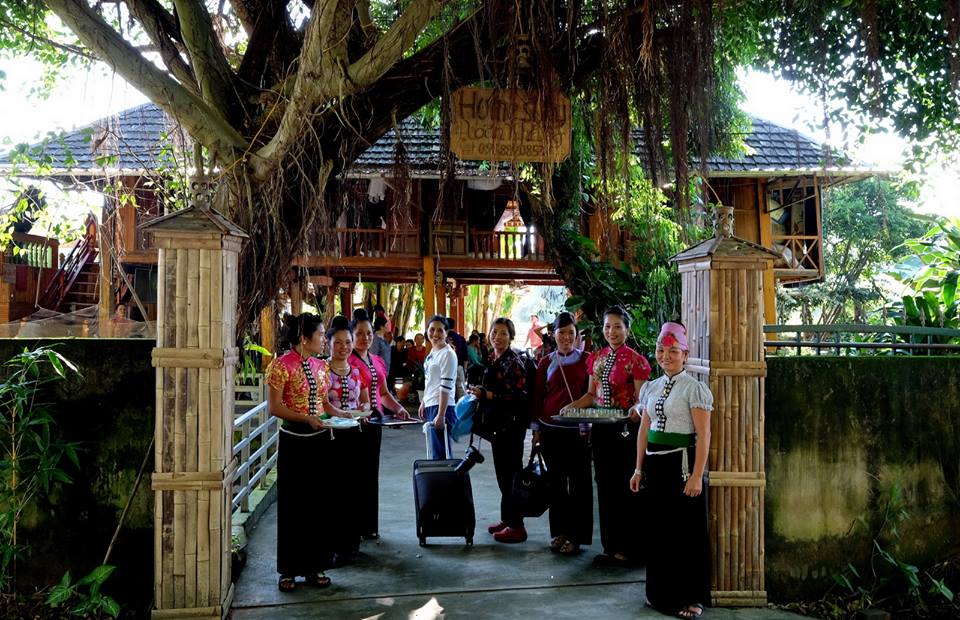 Nghia Lo is not really a must-see attraction in Yen Bai but a necessary stop for the night before going off to discover Mu Cang Chai. There are quite a number of ethnic villages that offer homestay service in Nghia Lo, one of them is Sa Ren village which is praised for its authenticity of a Thai community. Staying at Sa Ren, travelers will enjoy the experiences of living, eating, working and living in a cultural space with local people.
You'll spend the night in a Thai traditional stilt house which is equipped with modernity to make sure you're as comfortable as possible.


2. Hua Khat Village – Mu Cang Chai Ecolodge


This luxury accommodation is nested away from all the hustle and bustling life of city life. Mu Cang Chai Ecolodge is situated on a hill at Hua Khat village, and about 30 kilometers from Mu Cang Chai town, with an excellent location on a hilltop surrounded by green trees and the idyllic terraced rice fields. This ecolodge is recommended for visitors who wish to stay close to nature and enjoy the local authentic way of life. This accommodation is also ideal for couples and honeymoon vacation.


Activities you can do around: trekking, riding motorbike, photo-shooting, fishing, meditating. The staff here are friendly and they do promote ecotourism by planting flowers and trees in the surrounding area, building the lodges by using local architecture and materials.


How to get to Mu Cang Chai

---

*From Hanoi

You will need at least 2.5 days and ideally 3 days to visit Mu Cang Chai from Hanoi. Transportation means available are train, bus and motorbike:


By Train, the Hanoi – Lao Cai train will stop and drop you off at Yen Bai railway station, from there you will have to catch a bus to Mu Cang Chai for a cost of about 100,000VND.


By Bus, buses to Yen Bai or Nghia Lo are available at My Dinh and Giap Bat bus stations. At Yen Bai or Nghia Lo, take a local bus to Nghia Lo and Mu Cang Chai or Mu Cang Chai.


By motorbike, it will take you about 8 hours of riding. Therefore, you shouldn't ride continuously. Take rest at Nghia Lo town for the first night and conquer the rest in the second day.


There are buses from Sapa to Mu Cang Chai Vietnam available and takes about 5 hours for a distance of about 160 kilometers.


*Sapa – Mu Cang Chai Route:


Sapa Bus station – O Quy Ho village – Thac Bac – Cau May – O Quy Ho pass – Son Binh – Huoi Ke – Muong Khoa – Tan Uyen district (Lai Chau province) – short break – Than Uyen district (Lai Chau province) – Mu Cang Chai district – Moon guest house – Mu Cang Chai bus station (last stop).


Best time to visit Mu Cang Chai

---

The best time to visit Mu Cang Chai is no doubt the harvest season which starts from September and ends at October. The second best time to come to Mu Cang Chai is from May to June when the fields are flooded creating a reflecting picture of nature. The time marks the start of the new crop.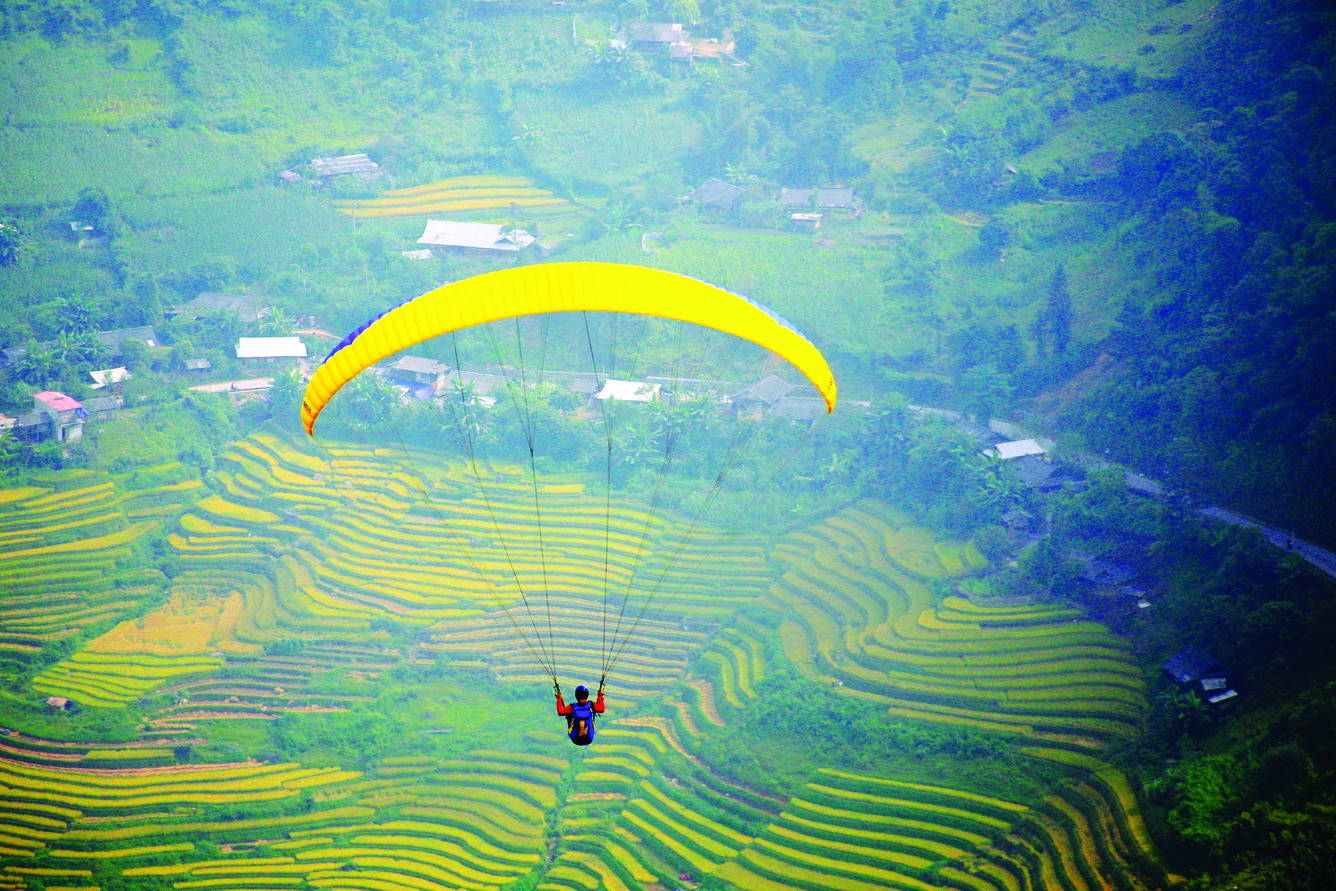 The annual paragliding festival in Mu Cang Chai takes place in September, hosted by Vietwings Hanoi Club and local administration. Paragliding on Mu Cang Chai will give you the best aerial views of the golden terraces below. Nothing can beat this experience.