The first thing you can not miss when setting foot in Vietnam is enjoying a hot bowl of Vietnamese Pho soup. Pho Vietnam is a traditional Vietnamese dish, which became one of the famous hearty soups eaten by rice field workers at breakfast in the North. 
Pho is much more than just a noodle soup. It's a part of the culture and lifestyle of the Vietnamese. Pho also represents the heart and soul of Vietnamese cuisine in all big cities such as Hanoi, Ho Chi Minh city, and Nam Dinh. 
What Makes a Bowl of Authentic Vietnam Pho?
A delicious bowl of Pho is the result of subtle simmering meat, beef bones, seasonings, and aromatics. On top of it, people usually add various Vietnamese herbs including green onions and coriander. This dish is well-served by thin slices of meat, basically beef and sometimes chicken. The texture and flavor of the soup are not too heavy so it can be a perfect breakfast meal.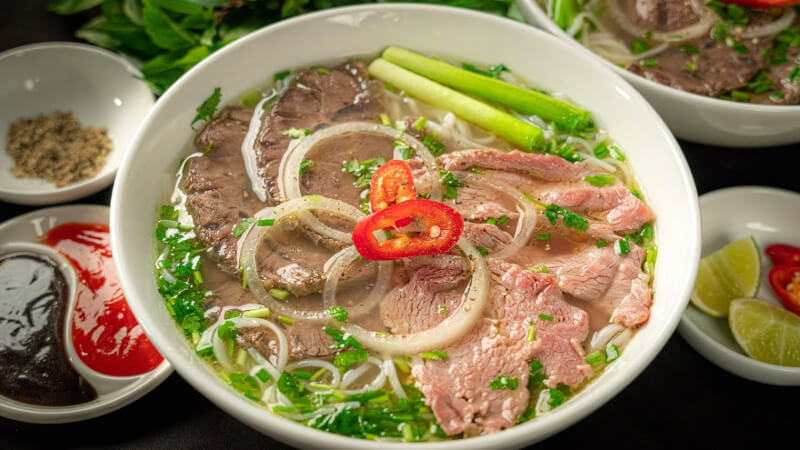 Beef Broth 
The art of cooking Pho is mạking a clear soup from the beef broth. While boiling the broth, we need to skim off the fat and impurities on the surface for 15 minutes. By doing that, we can ensure a clean and clear broth. 
Besides, to make the broth beefier and sweeter, we can use either brisket or shank bones to the broth.
Aromatics
We will char aromatics such as ginger and onions in a grill pan for 5-10 minutes, then slowly simmer to the broth. 
Seasonings
Vietnamese Beef pho spice blend consists of star anise (hoa hồi), cinnamon (quế), black cardamom pod (thảo quả), coriander seed (hạt ngò), and fennel seed (tiểu hồi), clove (đinh hương). You should toast them in a frying pan for 5 minutes until it has a pleasant smell
Other ingredients
To enrich the flavor, we should add fish sauce, sugar, and salt. If you cook in the Northern style, you just need to add a small amount of sugar. However, you can tweak the amount of sugar and fish sauce to satisfy your taste. 
The History of Vietnamese Pho soup
Some believe Pho originated in Nam Dinh while some dispute that it is a spiritual home in Hanoi. 
The history of Pho begins at the end of the 19th century – the peak time of French colonialism. Pho was inspired by both Chinese and French cooking styles. As a result of French colonialism, beef was readily available in Vietnam. China exported rice noodles and seasoning. 
Some believe that the dish is derived from "pot au feu" a French soup. In the north of Vietnam, Vietnam Pho gained popularity with Chinese workers from Yunnan to Hanoi. 
By the 1930s, the Pho stall had become a signature of the Hanoi Old Quarter.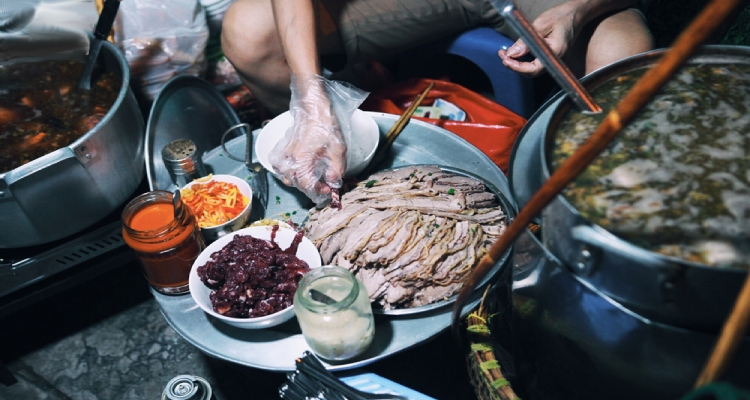 The best type of Vietnamese pho soup
There are two styles of traditional Pho Vietnam: beef pho and chicken pho. 
Depending on each preference, the diner can select various meat choices. For a more traditional pho experience,  beef flank (nạm) Pho and slices of rare beef (tái) Pho are the most popular. Well-done brisket (bò chín) or fatty brisket (gầu) for adventurous eaters.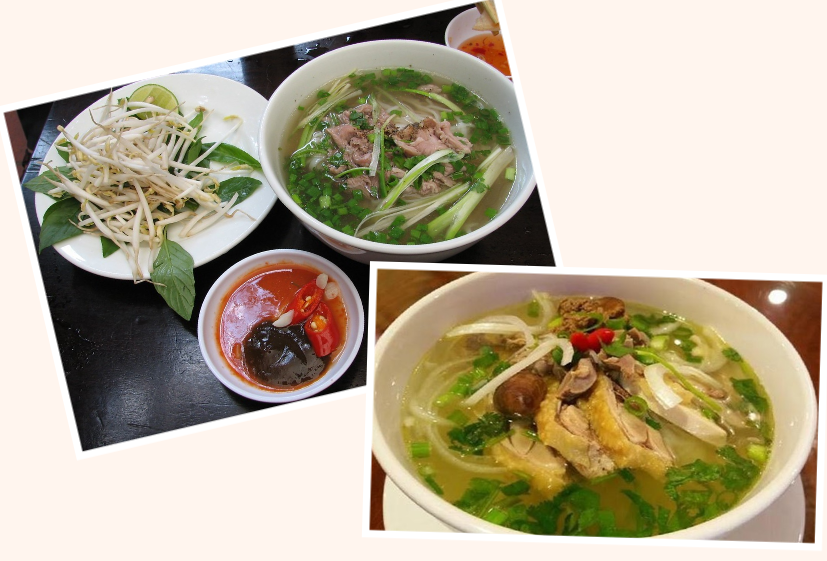 Northern Pho Vietnam
Pho in the North is known as pho bac. The dish is known as the authentic Pho in northern Vietnam. The spotlight of Pho bac is on the clear and light broth. Other spices create refined undertones of flavor. 
The main ingredients are flat rice noodles and thin slices of rare beef or chicken. The green onion will be on the top. To enrich the flavor, the diners can add more fish sauce, chili sauce, rice vinegar, and a slice of lemon. 
The most popular Hanoi Pho
Bat Dan Vietnam Pho Restaurant
At Bat dan, there are three different kinds of meat. Pho Tai which is the signature pho bac, with thinly cut slices of rare beef steak. Pho Chin, with slices of brisket. The last one is Pho Tai Nam – a mixture of slices of rare beef steak and beef flank with slices of brisket. 
To enjoy the taste completely of Hanoi pho, you should eat with quẩy – fried breadsticks and take a sip of ice tea. This combination will satisfy all your senses. 
If you have a chance to visit Hanoi, please stop by here to slurp a hot bowl of Ha Noi Pho.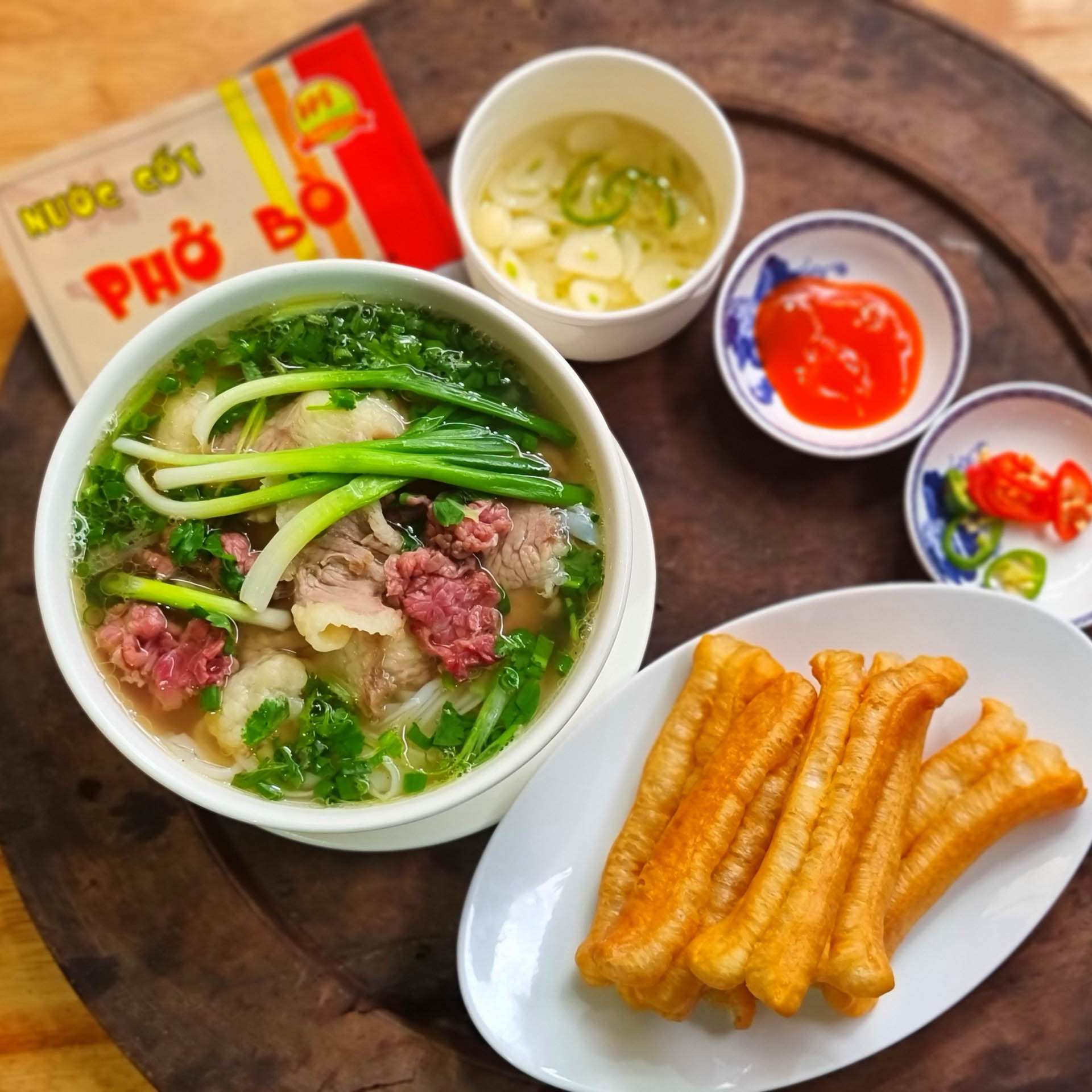 Address: 49 Bát Đàn, Hanoi
Hours: Open every day from 6:00 am to 10:00 am and 6:00 pm to 8:30 pm.
Prices: 40,000 VND to 50,000 VND per person
Chicken Pho 
You can choose a different kind of chicken meat for your toppings, such as dark meat, breast meat, or a combination of white and dark meat. The flavor of chicken pho will be lighter compared to beef Pho.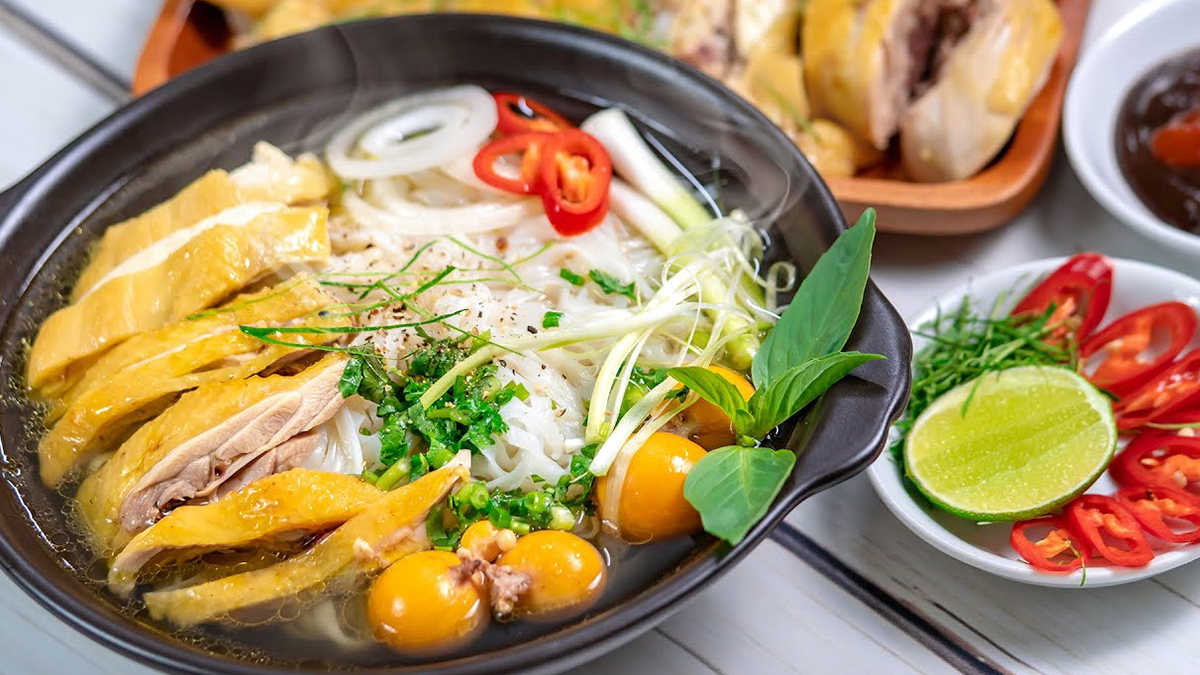 Address: 5b Phủ Doãn Hà nội
Hours: Open every day from 6:30 am to 1:00 pm and 5:00 pm to 0:00 am.
Prices: 50,000 VND to 60,000 VND per person
Southern Vietnamese Pho soup
As compared to Pho from the North, Southern pho has sweeter and bolder flavors. Southern Pho consists of many fresh herbs on the top such as bean sprouts and coriander. Saigonese adds more beef fat and sugar to the broth, which enhances the sweetness and richness of flavors. 
Pho Phu Vuong
You can choose the size of the Pho (regular, large, and special). The pho is served in three options including skirt steak, brisket beef, and flank steak. The bowl of pho is also topped with a ton of herbs and vegetables.
Address: 120 Nguyễn Thái Bình, District 1, Ho Chi Minh
Hours: Open every day from 7:00 am to 10:00 pm
Prices: 50,000 VND for one regular bowl of Pho Soup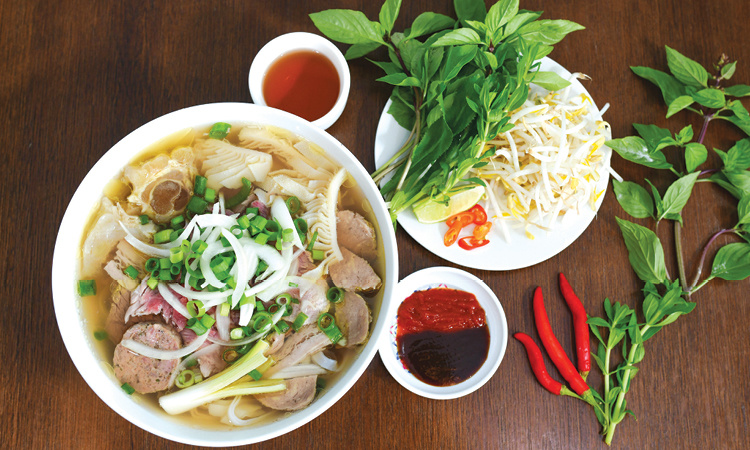 To conclude, Pho Vietnam is not only a flavorful dish but also a pride of the Vietnamese people. Vietnamese pho soup is a symbol of Vietnamese cuisine culture. When traveling to Vietnam, no matter where you go, let's enjoy a bowl of Pho to make your trip more memorable. 
Asianway Travel currently has a Hanoi Cultural & Culinary Experience Day Tour. Let's pack your bag and dig into a delicious bowl of Pho.