Dong Van Karst Plateau Geopark is the main thing to do in Ha Giang. Recognized as a member of UNESCO Geopark Network, Dong Van features a vast area of limestone which covers most of the four provinces of Ha Giang. Located on the height of 1400 – 1600 meters above sea level, the geographical characteristics of Dong Van Plateau are just as dramatic as it can get with sheer mountain cliffs running to the horizon. The 2,356sqkm of Dong Van Karst Plateau is one of Vietnam's special limestone features besides other excellent examples such as Halong Bay or Phong Nha - Ke Bang National Park, housing prominent imprints that depict the development of the earth's crust and natural phenomenon. 
Dong Van Karst Plateau Geopark boasts striking scenery, a high biodiversity and cultural spectrum of local ethnic groups. Riding on the Happiness Road that connects Ha Giang City and the four mountainous districts, 
There're huge mountains and deep canyons to be found here of which the highest peak is Mount Mieu Vac (1971m) and deepest canyon is Tu San (800m). The landscape at Tu San Canyon has become something you should look forward when climbing up Ma Pi Leng Pass.


One of the mysterious things in Dong Van Rock Plateau is the scripts found on many rocks – ancient letters but until now, the meanings to these letters are left unknown.
Geomorphology, Biology and Cultural Diversity
---
The karst evolution has created on the plateau such incredible features like 'rock gardens' and 'rock forests' such as Khau Vai and Lung Pu rock gardens in Meo Vac, Van Chai rock garden in Dong Van. There are caves with karst structures to be found in Dong Van such as Rong Cave in Sang Tung and En Cave in Van Chai, Kho My Cave in Tung Vau that are worth seeing.
Dong Van Plateau is also an area that has seen a unique and diverse mountainous geo-ecosystem. The forests here appeared to be mostly untouched by human activities, is home to many rare floral species, including 40 species of orchids, specially slipper orchid; as well as 50 species of rare animals, birds and reptiles.

You can find at Dong Van cultural richness of many local ethnic groups including H'mong, Dao, Lo Lo, Pu Peo. The fair markets all over the plateau are the places you can see for yourself this diversity demonstrated in harmony and peace. There are also annual festivals of these ethnic groups where the local traditions and customs really shine.
Dong Van Old Quarter
---
The 100-year-old Dong Van Old Quarter is the highest old quarter in Vietnam with the typical Chinese architecture on the dramatic backdrop of sheer mountains and green rice fields. Most of the houses in the Old Quarter are Trinh Tuong Houses, lived in by Hmong, Tay, Kinh, Zao, Hoa ethnic people. These age-old houses has two floors of which the first floor often is opened for small business like restaurant or store, the second floor is used for living.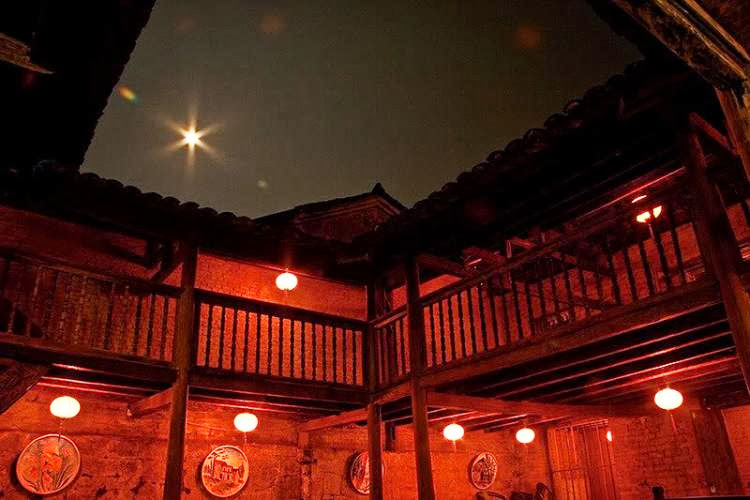 The old quarter is also the place the Night of Old Quarter takes place on three nights on 14th, 15th, 16th lunar days of March. It's when the local people hang their red lanterns, showcase their traditional brocade products, foods and perform cultural activities. It's a great opportunity to visit Ha Giang during this time.
Dong Van Fair Market
---
One of the must-do things to do in Dong Van is to visit the fair market that is held on every Sunday. Occupied at Dong Van Old Quarter, the market is a delightful highlight which turn the highland town vibrant and exciting from 5am to 10am every Sunday morning.
The ethnic people, including Hmong, Tay, Nung and Hoa ethnic minorities stay true to their identity and tradition by dressing with their finest costumes to attend the weekly fair market. The event is a chance for local people to purchase their tribal goods, self-grown li, socialize, and eat good foods. It's a very local, friendly atmosphere and you'll find yourself enjoying the market in no time. So why not set your alarm and wake up earlier to join the one of the most important fair markets in North Vietnam? You won't be disappointed.