As Da Nang has grown into a full major tourist destination in Central Vietnam, the nightlife in Da Nang has improved as well. Da Nang certainly doesn't have Hanoi's Ta Hien Street or Saigon's Bui Vien Street, but it has to itself a very special and peculiar nightlife with a beautiful glimmering river and impressively lit bridges. We're here to show you how to enjoy a wonderful night out in Da Nang.

>>> Related: 10+ Top Things to do in Da Nang other than Golden Bridge
Things to do in Da Nang at Night – Da Nang Nightlife
1. Bridge Watching – Da Nang's Most Impressive Landmarks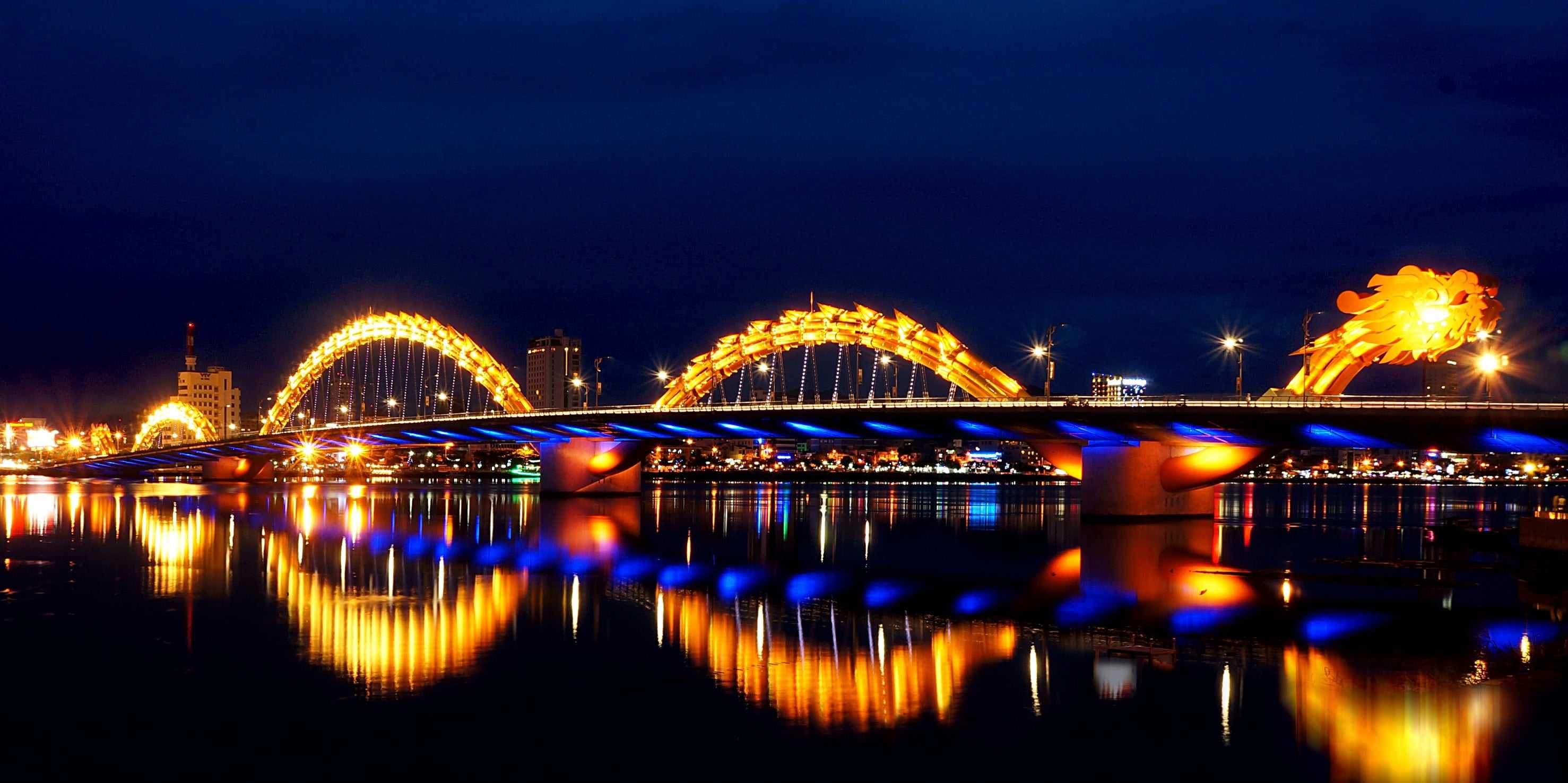 Da Nang is known for having gorgeous bridges crossing the Han River, and they adorn the cityscape of Danang like no other place in Vietnam. One of the attractions of Da Nang nightlife is the famous fire and water breathing Dragon Bridge. This bridge is the new symbol of the city for its marvelous design and wonderful features. Especially in the nighttime, the whole bridge lit up so magically, making it like a shining golden dragon spanning Han River.
Dragon has been the familiar image of prosperity and power. Da Nang Dragon Bridge is inspired by the traditional patterns of dragons and lotus from Ly dynasty, glorifying Vietnamese pride and identity.
In the weekends and holidays, from 21:00, you can come and see the dragon breath fire and water through its mouth.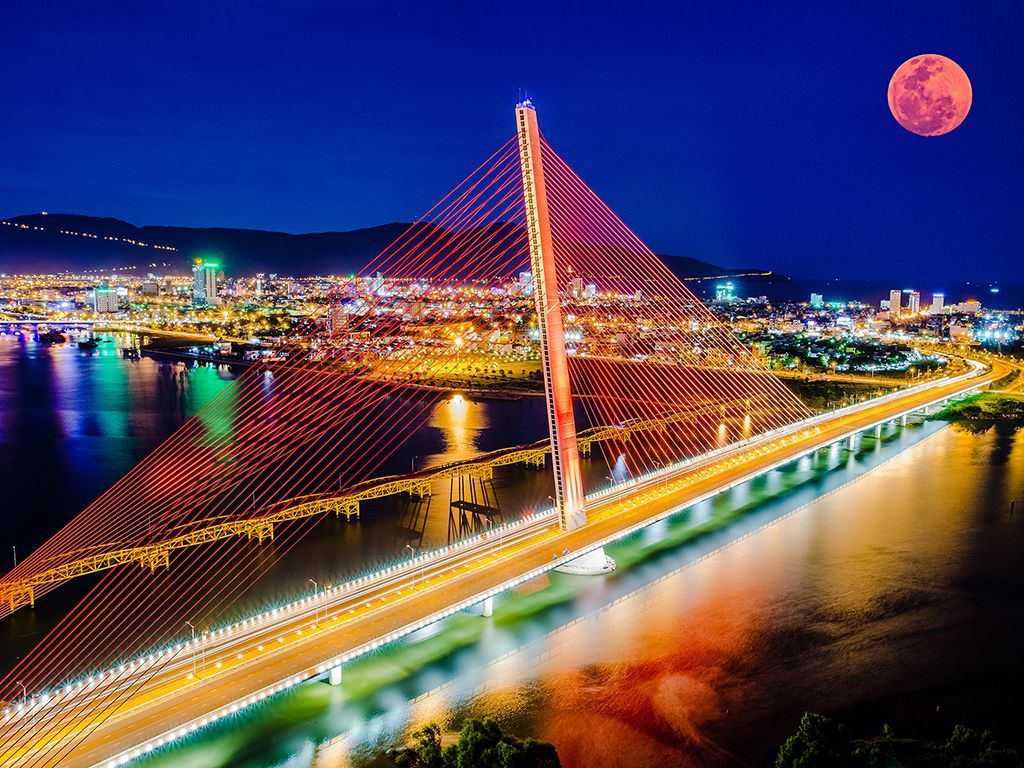 Even though it doesn't have dragon breathing fire and water, Tran Thi Ly Bridge still impresses with its striking architecture. The bridge almost can be seen from everywhere in Da Nang's city center. The thing that makes Tran Thi Ly Bridge stand out is its demanding structure. The bearings located under the pylon are the largest ever to be used in bridge structures around the world.
Tran Thi Ly bridge's highest point reaches 145m high turning the bridge into a sailboat when it's lit up at night.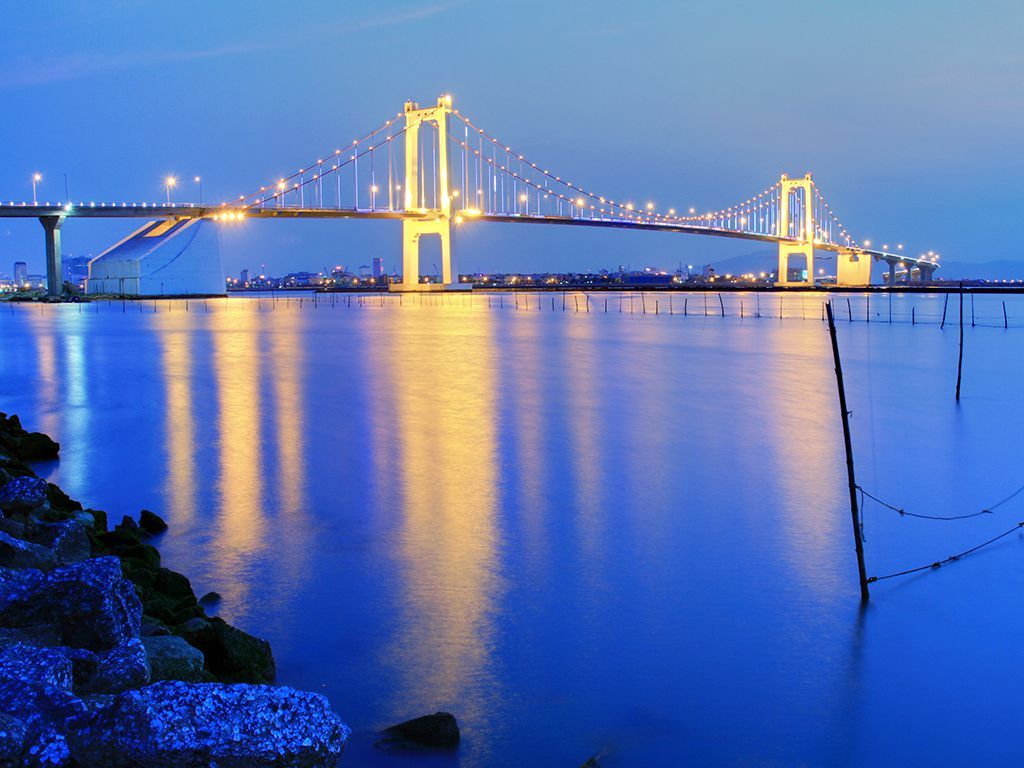 Doesn't have a fairytale-like appearance as Dragon Bridge's and a daring and impressive like Ngo Thi Ly bridge's, Thuan Phuoc is still easily the most beautiful bridge in Da Nang. Thuan Phuoc is this normal, average looking suspension bridge in the daytime but when the sun goes down, it boasts its full splendor.

2. Han River Cruise – Experience the life along the river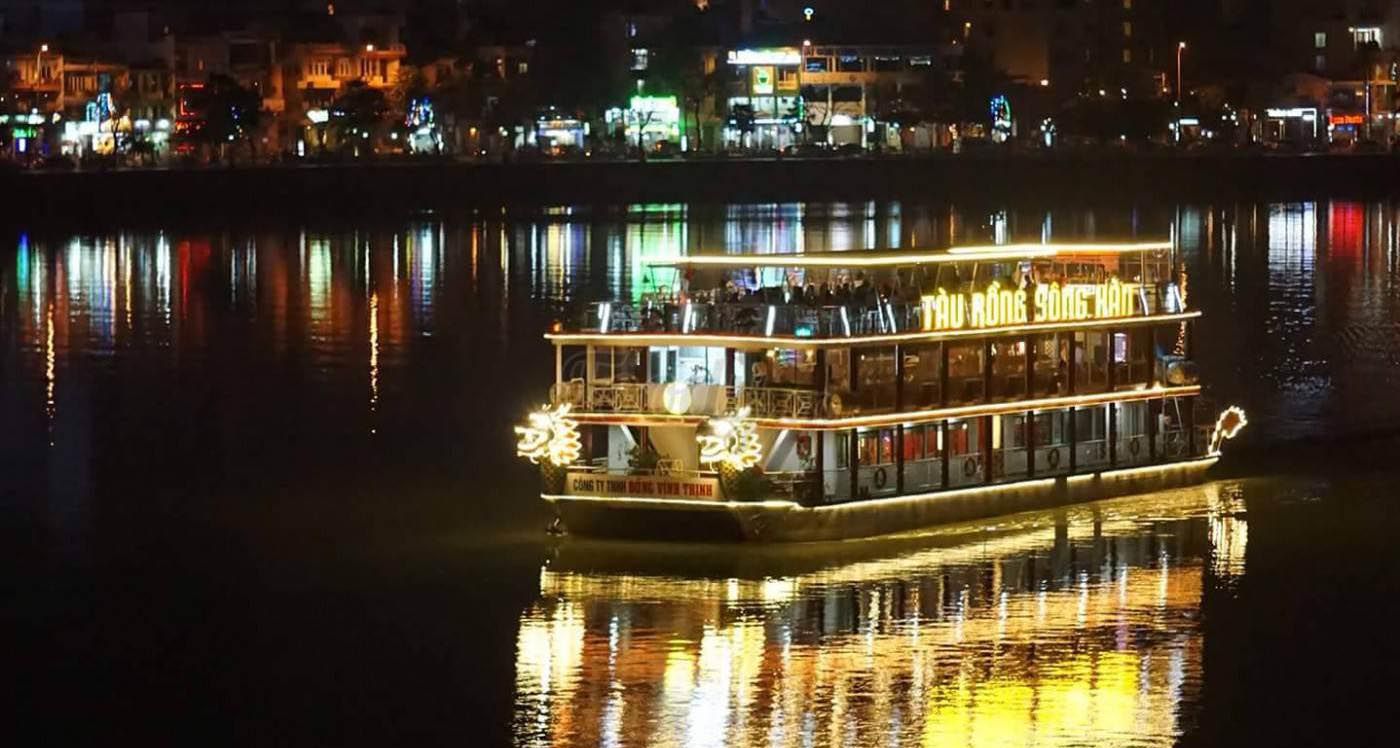 Why not spend a couple of hours of your night to enjoy a special trip along the iconic Han River – arguably the most beautiful river in Vietnam which has the privilege of being embellished by many special and gorgeous bridges.
Han River cruise offers a perfect dining experience to enjoy in Da Nang. Each cruise is equipped with two restaurants, 1 bar and 1 café on the deck. Only costs $4 per person, this is a perfect thing to do in Da Nang at night you're looking for.

3. Asia Park – Sun Wheel – Highest in-city point to view Da Nang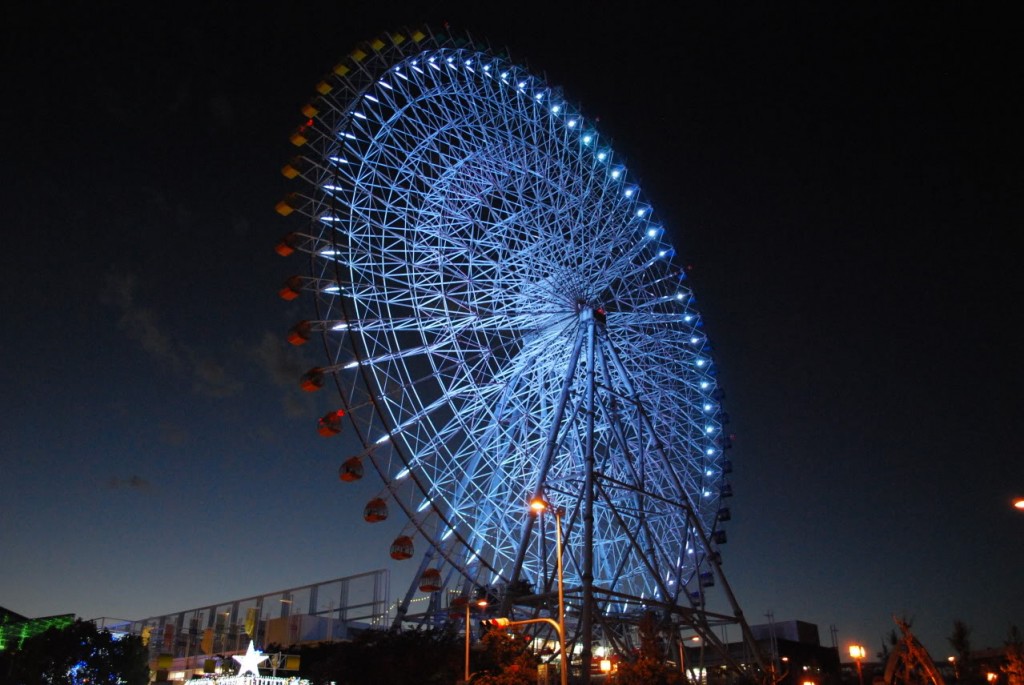 Couples would love this place, or family with kids. Asia Park is a wonderful place to have a blast and enjoy your time. One of the thing that stands out the most is the Sun Wheel, which is often photographed with many bridges.
Sun Wheel is one of the ten highest Ferris wheels on earth, claiming the height of 115m. From one of the wheel's cabin, you can easily take a picture of Da Nang at night.
You will pay 200,000VND for an entrance ticket including so many exciting games. Park's opening hours are from 17:00 – 22:00. You can buy Asia Park ticket online here with cheaper price

4. Da Nang Bars and Nightclubs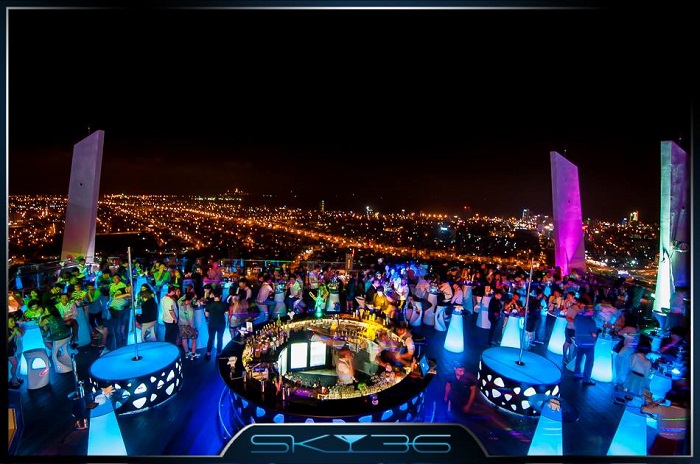 Located on the rooftop of the tallest, building in Danang – Novotel Danang Premier Han River, Sky36 Bar is a must-visit spot for those who are looking for a luxurious, upbeat bar with a great view overlooking the sparkling city.
There are three sections to choose: outdoor bar, bed sofas, and an indoor VIP bar. The outdoor bar gives you the best aerial view of Da Nang city, the glimmering Han River and the colorful bridges with mountains in the backdrop.
Sky36 has a niche for EDM, deep house and hip-hop music. Drinks are quite expensive, but they are all quality and imported beverage.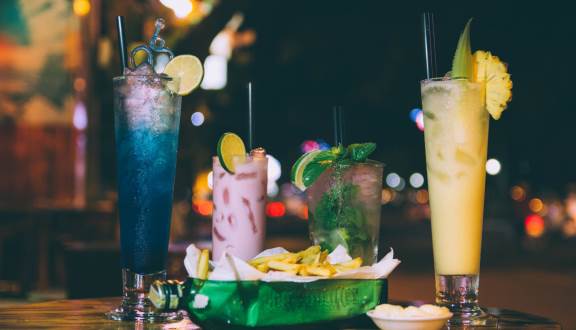 Known for its friendly atmosphere, you can find really good Vietnamese rock and American punk here if you're a fan of music.  The music is the only thing you will enjoy here but also a beach view you can indulge in.
The best part of this bar is its free pool where you can play some rounds with other people. The vibe here is great and the staff is just so friendly and helpful.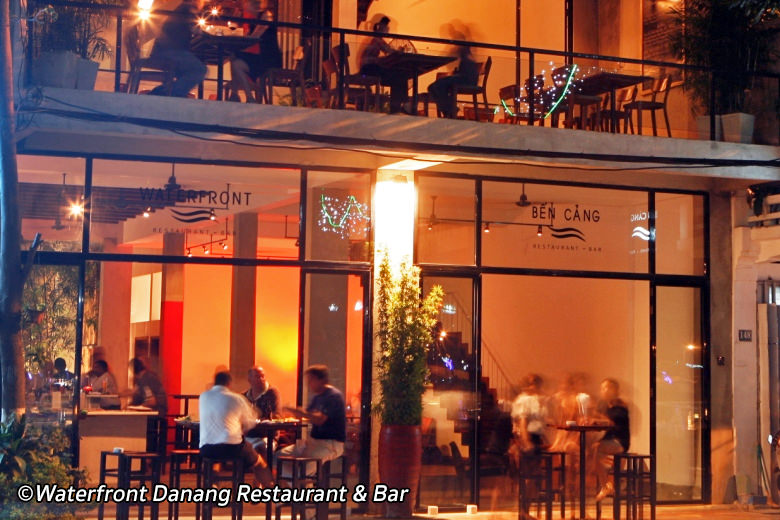 A great place to enjoy an exciting bar on the first floor and a relaxing restaurant on the second floor. And a well-deserved popular nightlife spot in Danang and you should probably book in advance to secure your table at night.
From the upper floor, you can enjoy the fascinating view of Dragon Bridge. The food at Waterfront gets a lot of praises, especially fresh seafood. Staff is friendly and sensible. You will have a great night out at Waterfront.
New Phuong Dong Nightclub

First opened in 1994, New Phuong Dong has made a name for itself as the most popular nightclub in Da Nang. Attractive to locals and tourists alike, what you will enjoy is an impressive audio, lighting system, spacious dance floor, groovy DJs, live bands and dancers performing every night.
Music is the most important thing for a nightclub and New Phuong Dong does not disappoint: from EDM, disco, rock to jazz and funk – which can satisfy everyone.

5. Da Nang Nightlife Treats – Street Food
Bars, dance floors and clubs are not your things? Then head out to the streets and enjoy a nice stroll along Han riverside to enjoy the delicious local street food scene.
Mi Quang: a steamy, delicious bowl of goodness originated from Quang Nam. A must-try specialty no one should miss when visiting Da Nang.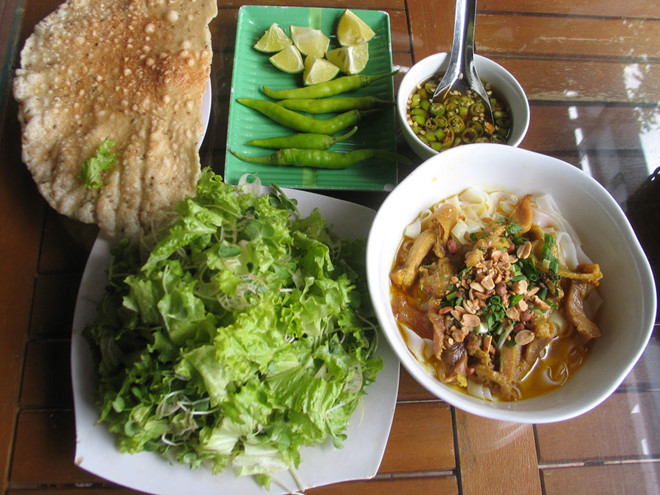 Banh Xeo: the renowned Vietnamese dish with crispy crust filled with prawns, bean sprouts, ground meat. Banh Xeo in Da Nang has its own regional charms you will soon be addicted to.
Fish Cake Noodle: made from the freshest fish cakes and a light sweet broth spiced with fish, pumpkins, pineapple and fish sauce, this is everything you want for breakfast.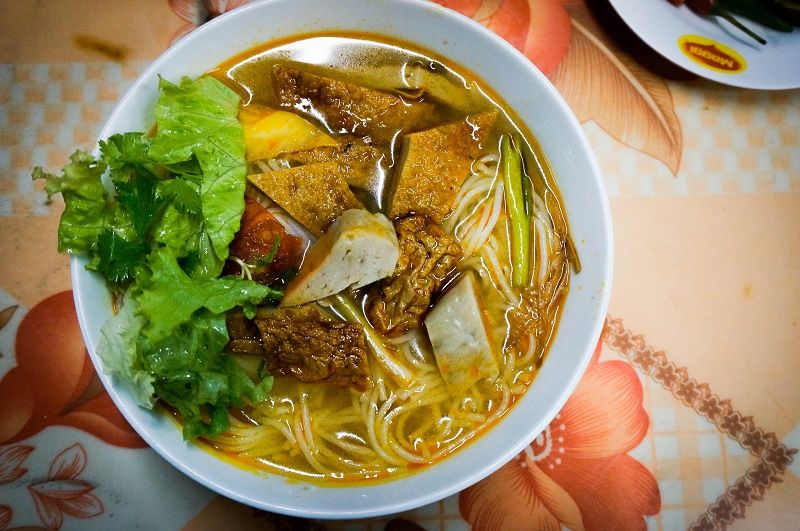 Noodle salad with pork and anchovy fish sauce (bun mam): a wholesome combination of vermicelli, pork, vegetables, unripe papaya, peanuts, and anchovy fish sauce would please your tongue in the most satisfying way.
Da Nang Spicy Snail: want something even more exotic and challenging? Try Da Nang Spicy Snails which can be found along Han Riverside and Le Duan Street. You're in for a surprise.
Recommend tours: Da Nang Food Tour By Motorbike at only $44
6. My Khe Beach at night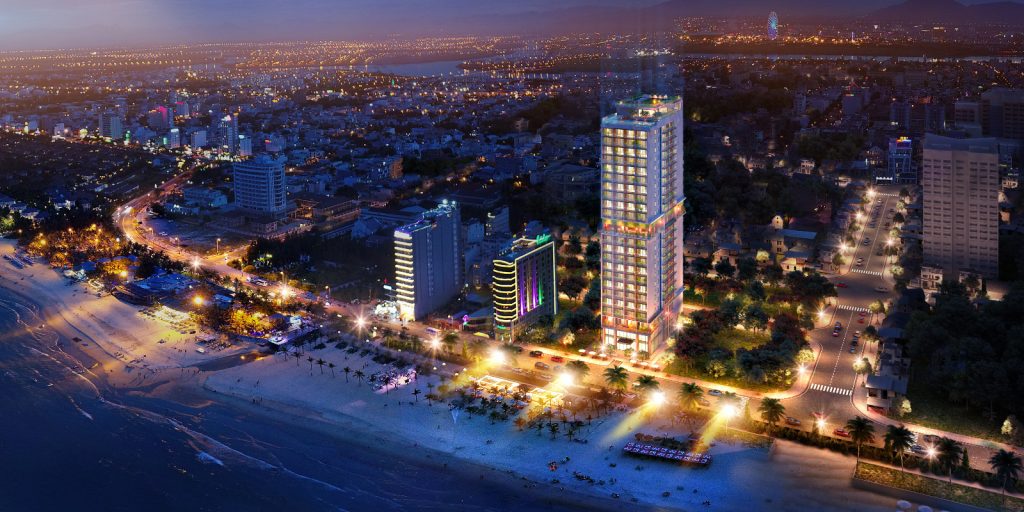 Having a gorgeous coastline with My Khe beach, skipping watching the beach at sunset from a local café would be a nice thing to do before you conquer the streets of Da Nang.
At day's end, My Khe beach becomes bustling with all the locals coming to enjoy the fresh air, play sports like soccer and volleyball. The area is around the beach is lit with an impressive lighting system.

7. Indulge yourself with an herbal spa & massage in Danang

Relax after a long day of exploring the city with a traditional Vietnamese head massage in one of the most popular spas is a favorite thing to do in Danang at night. Step into Asian inspired interiors, listen to a calming music and rejuvenate your skin with an aroma body massage will definitely boost your energy and get ready another day of fun and adventure. Some popular spas &massage in Danang: La Vie Spa, Herbal Spa, or Queen Spa, etc.
---
Thrilled for a Da Nang trip to enjoy all the things to do in Da Nang at night above? See our best Da Nang itinerary below: