Travelers who genuinely want to immerse themselves in the culture of Vietnam and get a sense of its pulsating energy should make it a point to visit floating markets in Vietnam at least once during their trip. Since their inception, hundreds of years ago, floating marketplaces in the Mekong Delta have developed into an essential component of daily life in the region. The Mekong Delta waterway is one of the most popular tourist destinations in South East Asia due to its lively atmosphere caused by the hundreds of boats that pass through it daily. The Mekong Delta is famous for its intricate river system.
How were Floating Markets in Vietnam Established?
The genesis and functioning of floating markets in Vietnam continue to be the subject of intense discussion. However, the most convincing explanation is that the Southwest region includes many rivers and canals, requiring locals to utilize boats as their only mode of transportation for everyday commutes and delivering goods. Occasionally, locals learned to extend their business while using the river, resulting in the construction of floating marketplaces.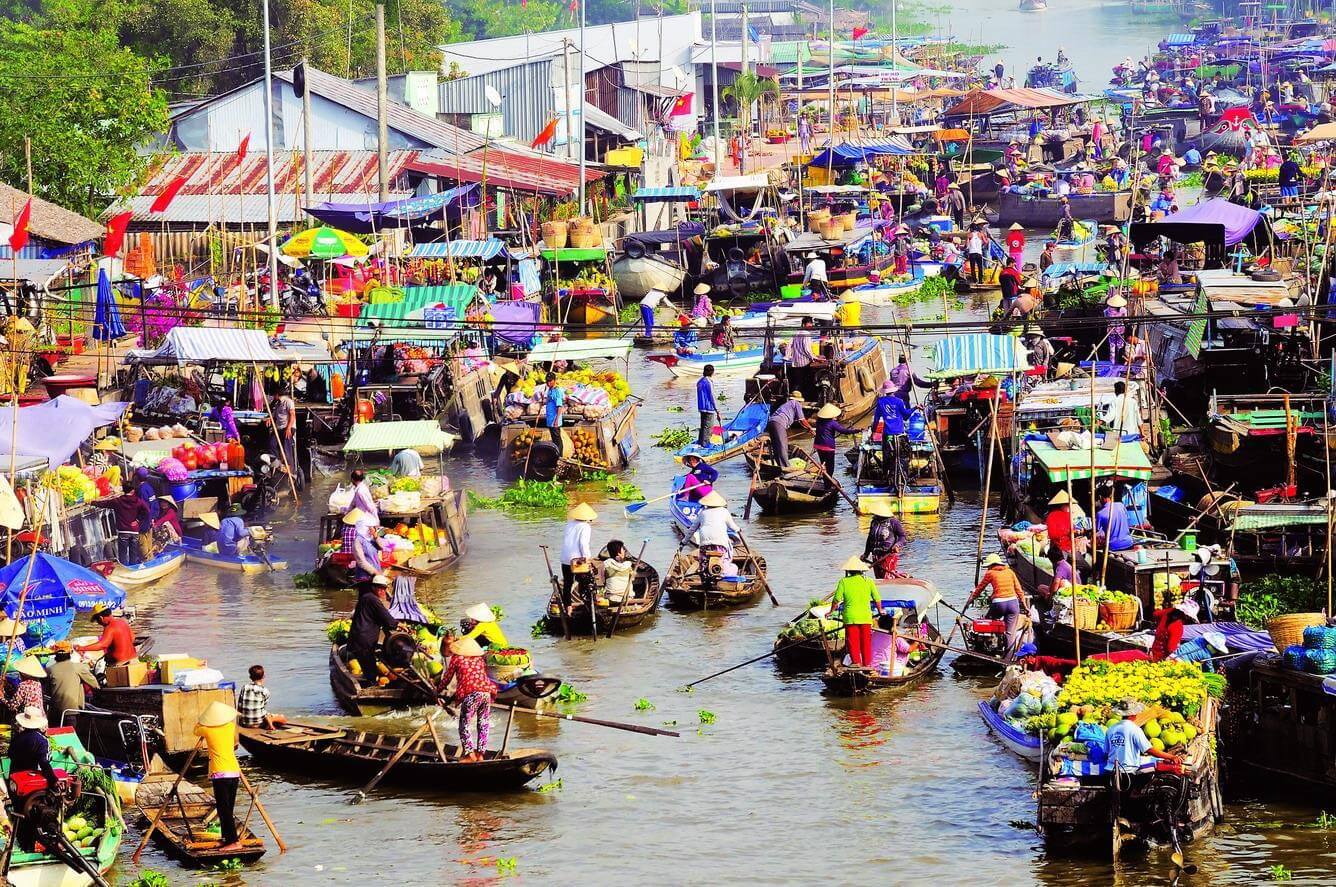 The abundance of Vietnamese fruit and other items from the region's southwest had also increased the need for trade. Nearly all of the floating marketplaces in the Mekong Delta are situated near large orchards, which significantly facilitates the business of the locals.

>>> Read more about: Ultimate Travel Guide to Mekong Delta Vietnam
What Makes Floating Markets in Vietnam Special?
Floating markets in Vietnam are unique not just inside Vietnam but also throughout Vietnam and the rest of the globe for a variety of reasons.
To begin, due to the extensive river system, the boat serves as the primary mode of transportation. Because of this special characteristic, the floating market may be differentiated from other sorts of conventional ones.
Second, the intersections of rivers in Vietnam are the locations of the floating marketplaces. As a direct result of this, many vendors from different provinces go to floating markets in Vietnam in order to sell the particular delicacies they are known for.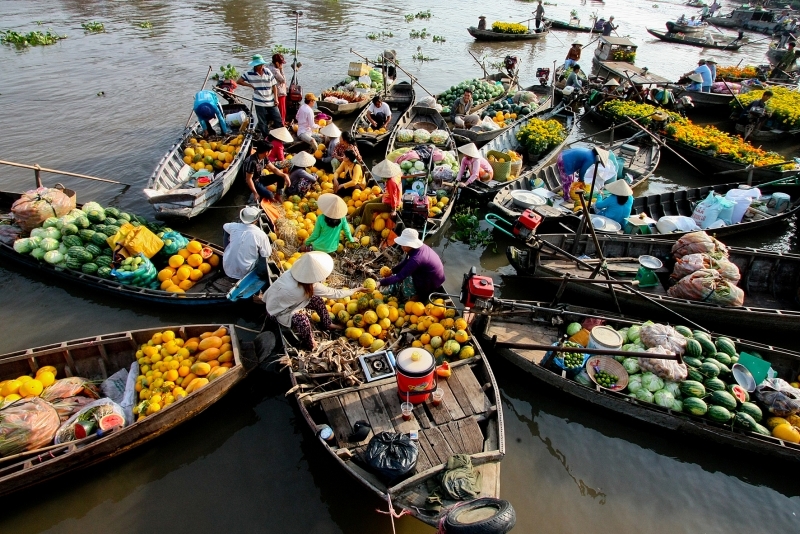 Thirdly, the vast majority of the output consists of fruits grown in gardens. It's common knowledge that Ho Chi Minh City and the rest of Vietnam get the majority of their fruit from Vietnam's Southwest, which is recognized as the main fruit supply region. Consequently, floating markets in Vietnam are the places where you may get the freshest fruit along with other complex handcrafted goods.
Last but not least, the people who live in the Southwest are known for their friendliness. In spite of the fact that they have a poor grasp of the English language, their lovely personalities will offer you the warmest welcome possible. It is often believed among Vietnamese that the people who live in the Mekong Delta are very kind and prepared to assist tourists.
Rules of the floating markets in Vietnam
Displaying a product prominently on a lateral bar in order to provide potential buyers a clear view of what the vendor is offering for sale is an unwritten rule that applies to the sale of items in floating marketplaces. Nevertheless, there are a few notable deviations from the rule:
"Hang but not for sale?"
The majority of market vendors make their living on the water and use their boats not only as booths but also as homes. The individuals who work in floating markets often have to cram all of their daily duties, including the act of hanging their clothing, into an area that is no more than a few square meters. Although these garments are sometimes confused for other types of items, they are not really for sale in any way.
"For sale but not hang?"
These products, which are often consumables like meals and beverages, may be purchased, but it is exceedingly difficult to hang them in a way that conceals them from being exhibited.
Should we hang one but sell another instead?
This takes place when merchants wish to communicate that they are willing to sell their boats and so they hang coconut leaves from the lateral bar.
Top 6 Floating Markets in Vietnam
Cai Be floating market
Cai Be Floating Market is located in Cai Be district, Tien Giang province, on the enormous Tien river (one of the two main streams of Cuu Long river). This is a shipping center for products, fruits, and seafood between the Mekong Delta and the rest of Vietnam. Due to its proximity to Ho Chi Minh City, it continues to be a popular option among many international tourists.
In contrast to other floating markets in Vietnam, which begin early in the morning and thus close earlier, the Cai Be market remains open late to accommodate tourists who may not be as fond of mornings as the Vietnamese! As soon as the sun rises, boats begin gathering and starting their morning trade activity.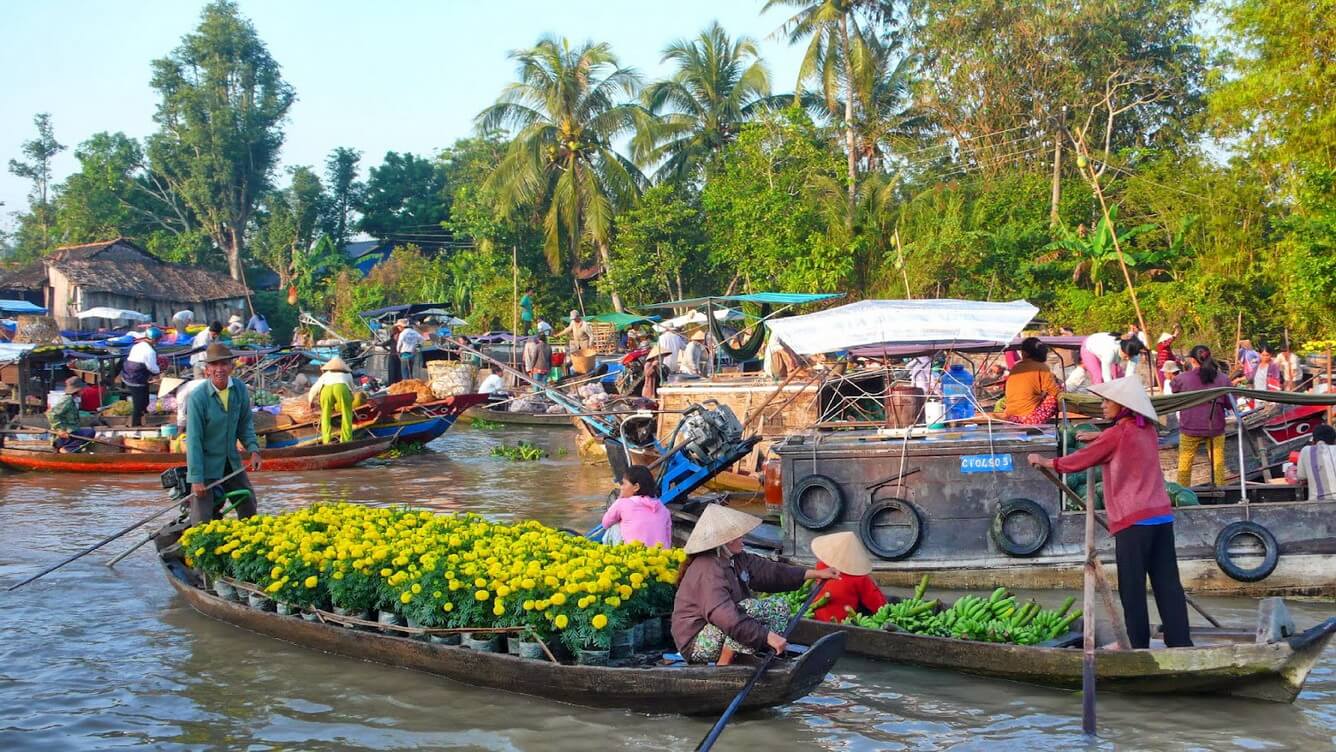 As the floating market is open throughout the day, you may simply come at any time to experience the colorful and energetic ambiance of a Southern-style market. If you are a photographer or just like capturing moments, Cai Be is an inexhaustible supply of creative ideas and photographs.
How can one get there?
Location:

Cai Be province is approximately around 80 kilometers from Ho Chi Minh City through the 1A expressway.

Transportation:

From district 1, you may schedule a private tour of the Cai Be floating market or use taxis to get there. Once you reach the Cai Be bridge, locals will gladly point you in the direction of the floating market if you just ask.

Boat rental:

Since Cai Rang is a tourist destination, it provides a variety of visiting options, including boat rentals. You may join a 2-hour cruise on a big boat with a tour director for $2 per person, or you can charter a private boat for a party of 10 for $25.

Don't be discouraged by the distance from Ho Chi Minh City.

>>> See more: Mekong Delta 2 Days with Cai Be Princess Cruise
Nga Bay floating market in Hau Giang
Since its establishment in 1915, the Nga Bay floating market, also known as the Phung Hiep floating market, has been a central hub for commerce in Nga Bay town. This market is quite popular among tourists who want to explore the rich and varied culture of the Mekong Delta.
The whole market comes alive with color in the morning, with vibrant stacks of vegetables, fruits, and other home products. Intriguingly, each boat only offers a single sort of product, which is roughly displayed on the lateral bar. Animals such as turtles, birds, and even lizards are sold at the market to meet the demand of residents and visitors. Occasionally, goods sold here are carried nationally and shipped abroad.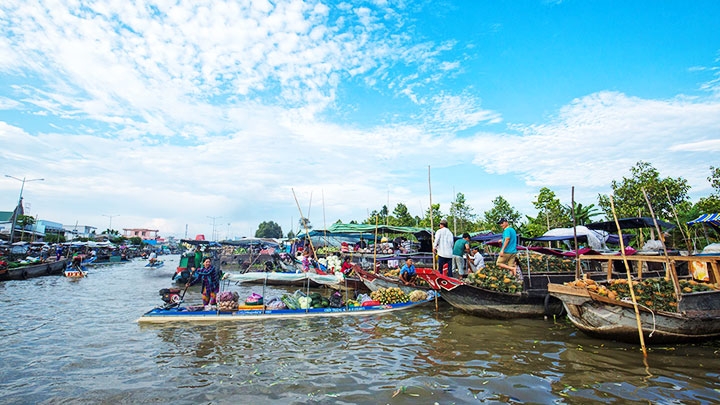 If you ever get the opportunity to come, do not forget to spend your early morning soaking in the ambiance, floating along the river, sipping iced coffee, listening to a few folk tunes, and admiring the vibrant "ao ba ba" – the typical southern Vietnamese clothing. You will find yourself merging in with diverse throngs of people who never stop smiling and negotiating.
How can one get there?
Time to visit:

The market typically opens at 7 a.m so you will need to stay overnight.

Location:

Nga Bay district is 60 kilometers from Can Tho.

Transportation:

You may reach Can Tho by bus, which will take around four hours. You may purchase your ticket at the Phuong Trang bus office, located at 272 De Tham, District 1, or online at https://futabus.vn. The one-way fare is around $5.50, and departures occur every 4-5 hours every day. You may rent a private vehicle or taxis to transport you to Nga Bay province from Can Tho (about 30km from the city center).

Boat rental:

The cost of renting a rowboat varies based on the number of passengers; thus, joining a group with others will assist minimize the cost.

>>> See our tour: Best of Mekong Delta 4 Days
Nga Nam market – Sóc Trăng
Nga Nam market is situated in Nga Nam town province, where five rivers converge: Ca Mau, Vinh Quoi, Long My, Thanh Tri, and Phung Hiep. The bustling atmosphere of the Nga Nam market is unparalleled by any other floating market in Vietnam.
If you visit the Nga Nam market, you will see countless lengths of boats showcasing a variety of items, including cabbage, potato, tomato, and garlic. As the principal market of the whole Mekong delta region, this market supplies the majority of the commodities and specialties from this region, from trademark varieties of rice and tropical fruits to numerous varieties of seafood, showcasing the Mekong Delta's vast variety of resource richness. When accosted by southern vendors selling delicious fish noodles, rice soup, or coffee, you will find it difficult to avoid temptation.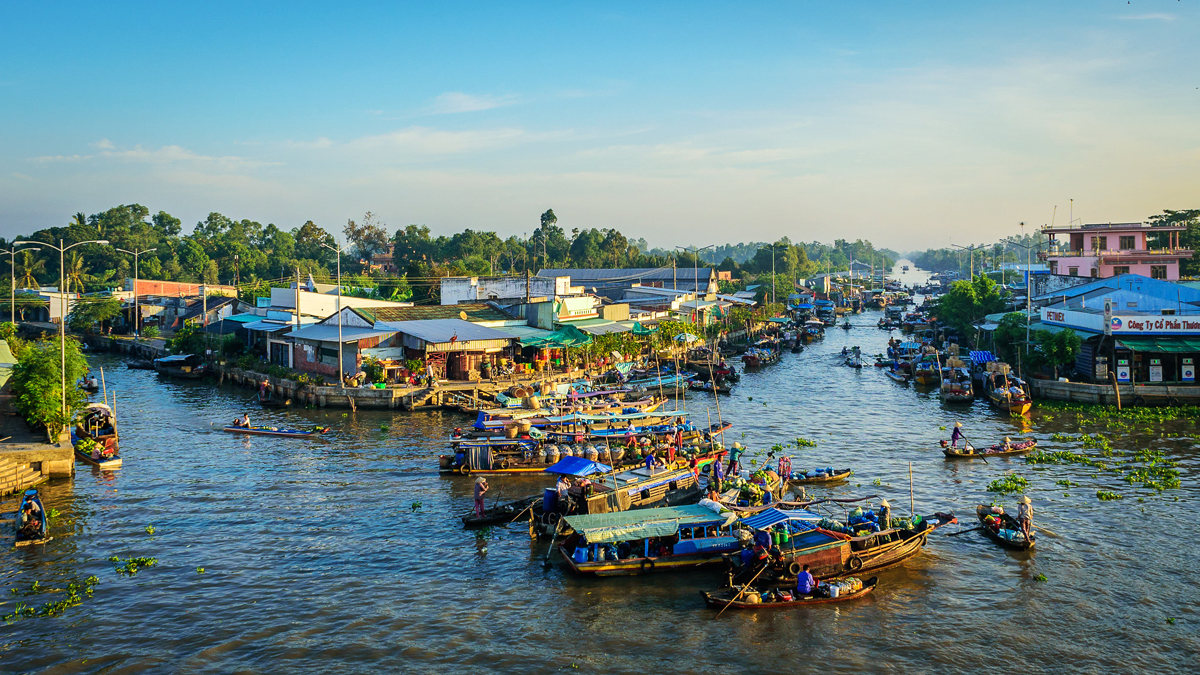 Today, the Nga Nam floating market keeps the distinctiveness of the Mekong region as well as its distinguishing characteristics, such as "ao ba ba," beautiful old folk music, and the southern accent.
How can one get there?
Time to visit:

The Nga Nam market opens at 3 am, reaches its peak at 5 am, and closes at 8 am; you should remain overnight.

Transportation:

the bus is the most popular and easiest method to reach Nga Nam market, with one-way tickets costing between $8 and $9. After eight hours, you will reach the Ca Mau city center and then transfer to a shuttle bus that departs every twenty minutes from the Ca Mau bus station.

Boat rental:

A small boat rental will cost you $1 and will enable you to explore the whole market.

Other notice:

For better transportation, you could go to Ca Mau province instead of Soc Trang.

>>> See more: Lush Mekong Delta Tour 05 Days
Cai Rang floating market in Can Tho
Cai Rang, one of the biggest floating marketplaces in Vietnam's Mekong Delta, where over 350 boats offer a range of fruits and vegetables, draws between 500 and 700 visitors every day, the majority of which are foreigners.
Cai Rang floating market is a large wholesale market and a must-see attraction for tourists visiting Can Tho. The market opens at 5 a.m. and gets busy by 6 a.m. Cai Rang is renowned for being the biggest fruit distribution center, specializing in exotic fruits including Nam Roi grapefruit, Ving Long pink kiwi kumquat, and Cai Mon durian. Like other floating markets, local goods are displayed on a long bar to attract shoppers.
Interestingly, breakfast may be served on boats with plastic seats, transforming them into impromptu restaurants. Although a normal breakfast in this region consists mostly of rice noodles and soup dishes, if you stroll about and investigate more, you will be offered a variety of local traditional snacks, such as coconut-leaf cake, corn pancake, and banana pancake.
You will be immersed in the essence of commercial water culture while visiting Cai Rang Market. Enjoy the sensation of floating, see the dawn from behind the boat roofs, and observe the bustling local culture.
How can one get there?
Time to visit

: Remember to set your alarm since the market opens at 5:00 a.m.

Transportation

: the most convenient method to reach Can Tho is via bus from Ho Chi Minh City. You may reserve a one-way bus ticket at vexere.com for as little as $5, with a variety of options. Cai Rang is about 6 kilometers from the city core of Can Tho and 30 minutes by boat from Ninh Kieu station. On Inspitrip, you can also arrange a real Cai Rang floating market.

Boat rental:

The cost of renting a private boat to visit the market is around $15.

>>> See our tour: Best of Mekong Delta 4 Days
Long Xuyen market – An Giang
Long Xuyen Floating Market is a hidden treasure; this market is one of the less popular floating markets in Vietnam, but it is well worth a visit if you are looking for a location that exudes the relaxed and natural feelings of the Mekong Delta's people and environment. Vegetables, pickles, squash, sweet potatoes, fruits, and traditional West-Southern treats such as fish rice noodles, pig skin pieces, and salad rolls are the most popular local produce marketed here. Surprisingly, there is not a single person negotiating in this market, since it only serves locals and is hardly marketed.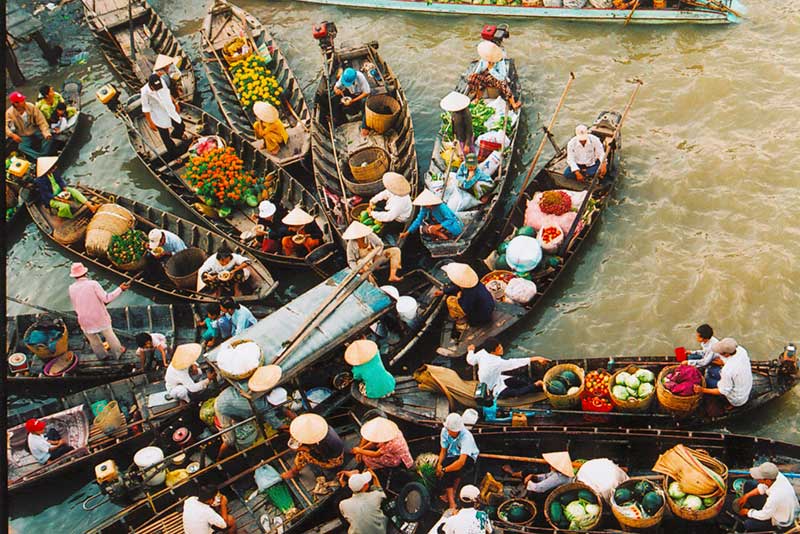 How can one get there?
Time to visit

: The Long Xuyen market is open daily from 6 a.m. to 6 p.m., so you should arrive early.

Location

: Along the tranquil Hau river, two kilometers from the city of Long Xuyen and two kilometers from the market's entrance.
Phong Dien floating market
When visiting the markets, travelers are captivated by a large number of boats laden with fruits, coconuts, vegetables, seafood, and other goods from the South. A major floating market is really incomplete without floating eateries, petrol stations, and the odd tourist-filled tour boat.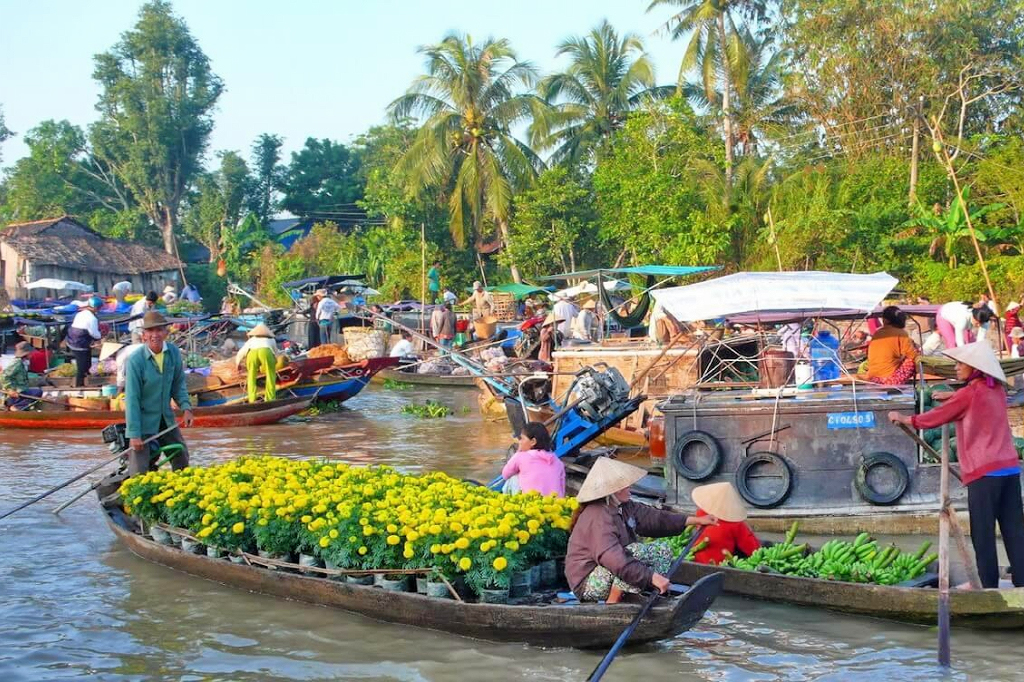 Phong Dien is the finest floating market in the Mekong Delta since there are fewer powered vessels and more rowing boats. It is far less busy than the Cai Rang floating market and draws significantly fewer visitors. Between 6:00 and 8:00, the market is lively with a variety of local activities.
Final Thoughts
The southwest region of Vietnam is the only place in Vietnam where you may experience the one-of-a-kind market known as the floating market. Floating markets always welcome you to go away from the contemporary metropolis and experience something fresh. If you are bored at a typical market in the city, floating markets always welcome you. You won't get the same old impression of Vietnamese culture if you don't check out the floating market in Vietnam.
Visit our website at asianwaytravel.com if you are seeking Vietnam Tours for your upcoming vacation. We have over 100 Vietnam tour packages that may meet the demands of any client.