Vietnamese coffee, which is robust and flavorful, converts as rapidly as it rises. French colonists may have brought coffee to Vietnam, but Vietnamese coffee has evolved its distinct style, with variants including yogurt, eggs, and even fruit.
Coffee culture in Vietnam is much more than a quick energy boost for a hard day of work or school; it is an integral element of daily life. Numerous coffee shops adorn the streets of Saigon and Hanoi, as well as small-town roads, and they are a favorite location for socializing and unwinding at any time of day.
History of Vietnamese Coffee
In 1857, a French Catholic priest transported one Arabica tree to northern Vietnam in the hopes of starting a small-scale coffee business. This event is credited with being the first recorded introduction of coffee to the region. Despite the fact that he was successful in his endeavors, it wasn't until the early 1900s that the Robusta bean found its way to the country's central highlands, where the climate and soil give ideal conditions for producing coffee. The business was going to explode over the next several decades as new plantations were being established all across the Dak Lak province and the territories around it.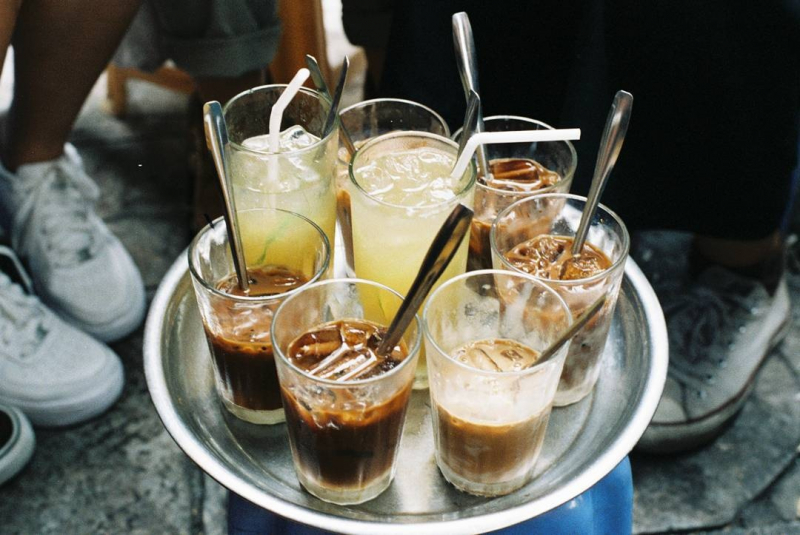 But the economic changes known as "Doi Moi" that were implemented in 1987 were what really catapulted Vietnam into the international stage of coffee. These reforms substantially opened the country up for commerce. In a short period of time following that, Vietnam would overcome Columbia to become the second biggest exporter of coffee in the world.
Today, Vietnam is responsible for twenty percent of the world's total output of coffee (and forty percent of the world's Robusta beans), and it exports more than one million six hundred thousand metric tons of coffee per year. And it's believed that the agricultural coffee sector supports the livelihoods of 3 million people in the country, and that doesn't even include the employment of the tens of thousands of coffee shops around the country.
How to Say "Coffee" in Vietnamese
Currently, the majority of coffee shops in tourist regions provide menus in both English and Vietnamese. However, this is uncommon outside of these regions. Even if you are in a tourist location, the barista will appreciate your efforts to speak the language.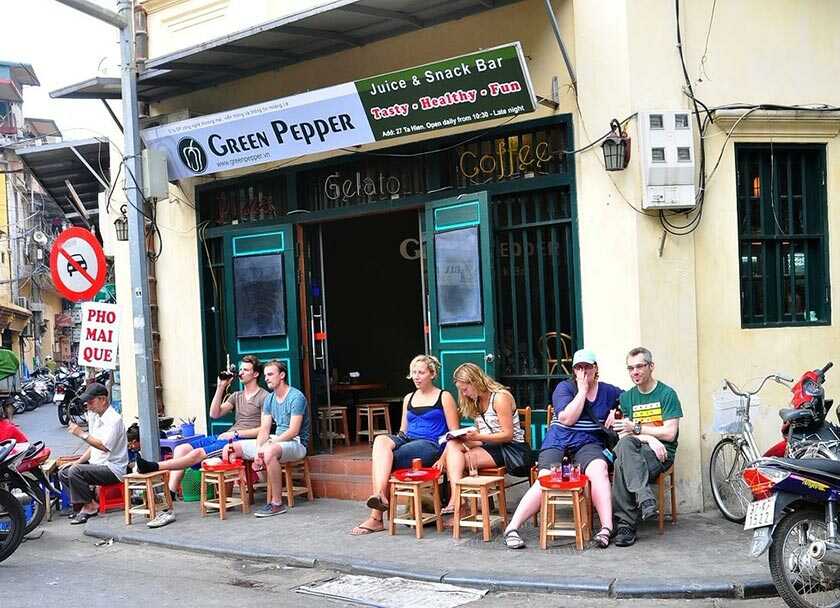 "Coffee" is simply "cà phê" in Vietnamese. The correct pronunciation is "ka-fay."
There are several varieties of Vietnamese coffee, therefore asking for "cà phê" at a Vietnamese coffee shop may cause some difficulty.
Different Types of Coffee in Vietnam
Coffee with milk
Ca phe sua (milk coffee) is a sweet mixture of coffee, condensed milk, and often some crushed ice. When ordering this style of coffee, you will likely get a cup with a 'phin' on top while the coffee is brewing. It takes a few minutes to begin drinking, but the uniqueness of Vietnamese coffee culture is in the preparation procedure. You may unwind and observe the hectic world around you while inhaling the delightful scent of coffee and awaiting the black magic.
Once the coffee has finished brewing, just remove the filter and whisk in the condensed milk to produce a sweet and creamy brown beverage.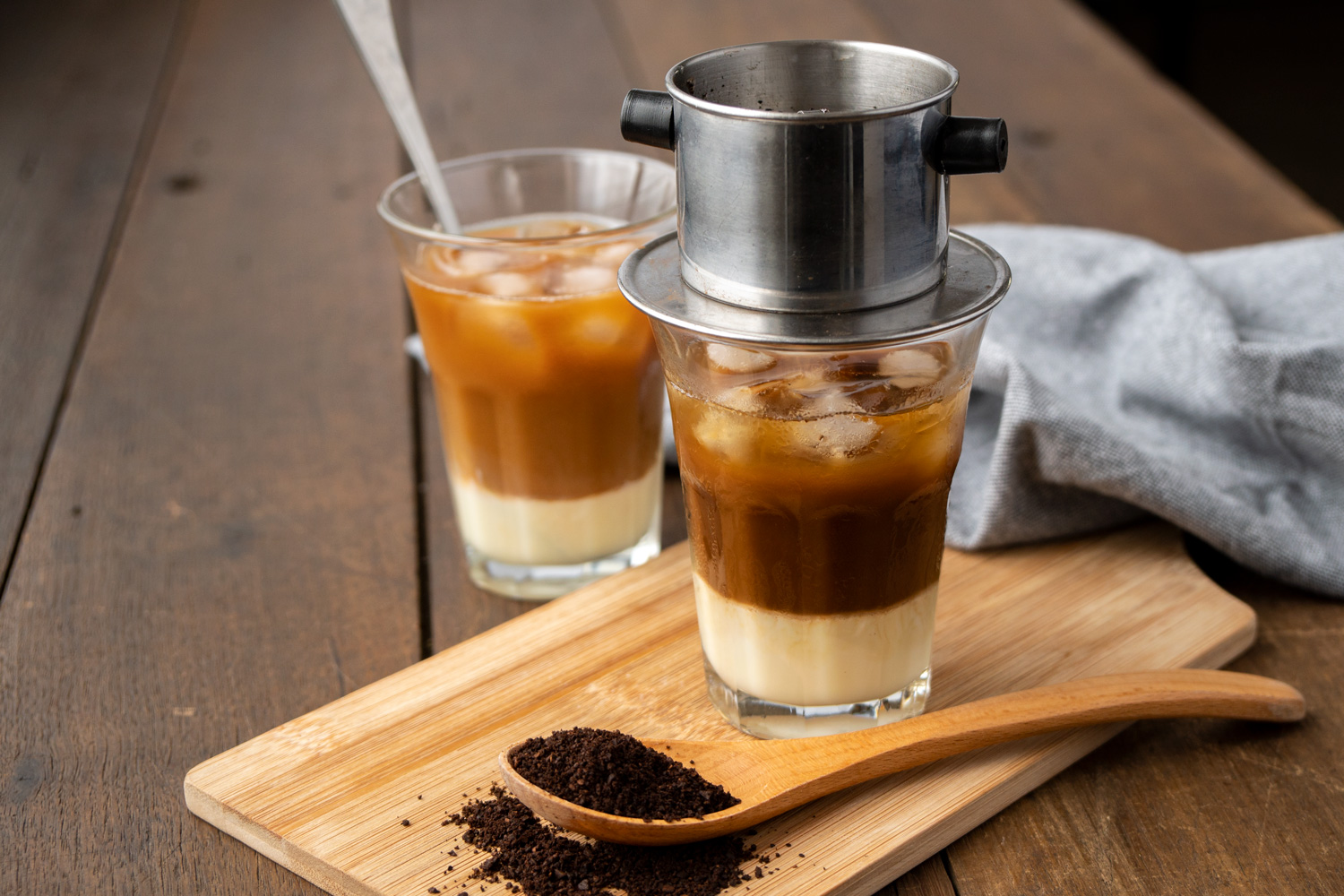 Because it is a powerful and sweet coffee, it is sometimes necessary to add a great deal of ice to mitigate the harshness.
Ca phe den (black coffee) is the beverage of choice for true coffee aficionados who wish to feel the coffee flavor without the addition of condensed milk.
In the north of Vietnam, the combination of black coffee and sweetened condensed milk is known as ca phe nau (dark coffee), but in the south, it is known as ca phe sua (milk coffee). Although it is often served cold with ice, it may also be ordered hot.
Where to drink Milk Coffee
There is no unique location for drinking traditional milk coffee since there are local cafés at every turn. Just search for little seats and tables on the street, filled with people playing cards and video games – that's the spot.
The flavor varies according to the beans and amount of coffee poured, but first-timers will be absolutely blown away! Antonio is an ex-pat in Da Nang, so he knows just where he can get a cup of coffee! People vouch for the quality of Trung Nguyen beans sold in large coffee shops and chains. In some locations, such as Da Lat or Buon Ma Thuot, you should assist the people by consuming coffee from organic coffee plantations. In addition, this region is noted for its Arabica coffee, which is uncommon in Vietnam.
Egg coffee
Egg coffee is a popular beverage in northern Vietnam, particularly in Hanoi. However, there is no need for concern since it is available everywhere throughout the nation (a bit harder though).
The history of egg coffee demonstrates the Vietnamese capacity to adapt to ANY circumstance. During the French conflict and the colonial period, Vietnam lacked numerous resources since the colonialists extracted the resources primarily for their own profit. In 1946, there was a milk scarcity, thus people couldn't have milk coffee, so they had to find other methods to enjoy their beloved beverage.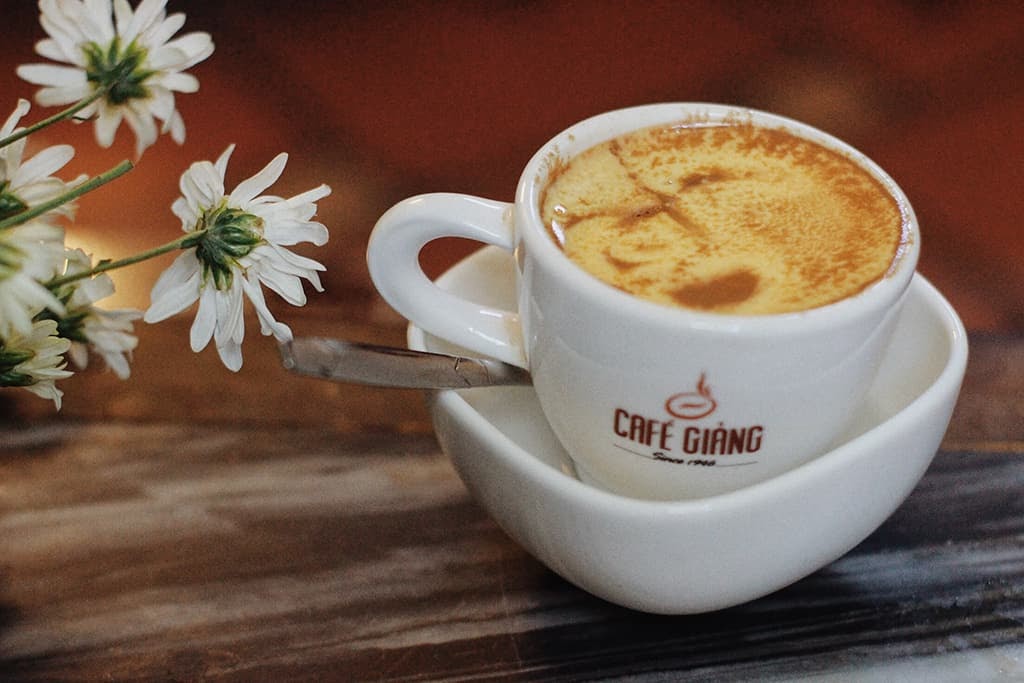 In any difficult circumstance, there is a significant chance that a brilliant idea will see the light of day. A man called Tri Hoa Nguyen created egg coffee by substituting milk with an egg mixture. Egg coffee did not become popular until the 1980s when Vietnam began to actively invest in the coffee sector. During the 1980s, egg coffee's popularity skyrocketed, and Vietnam was once again acknowledged as an inventive nation.
Regarding flavor, some individuals like it, while others dislike it. It depends on your preferences, thus we will defer to your judgment.
Egg coffee is prepared using fresh, uncooked egg yolk and condensed milk. It is more of a dessert than a beverage, and it may be served hot or cold. We like it hot since the flavor and aroma are superior when it is served at this temperature.
Where to drink Egg Coffee
Since egg coffee originated in the north, you may get it at a number of local establishments in and around Hanoi. Cafe Giang is perhaps the most well-known location for classic egg coffee since this delectable beverage originated there. We weren't able to drink much egg coffee (we're milk coffee junkies), but we're certain that you can get your fill at any of the nation's renowned Cong Cafes.
Coconut coffee
Coconut coffee is a genuine thing in terms of coffee taste. This coffee is quite sweet and leaves a lovely coconut flavor in the mouth. Vietnamese people often combine coconut ice cream, condensed milk, and strong Vietnamese black coffee.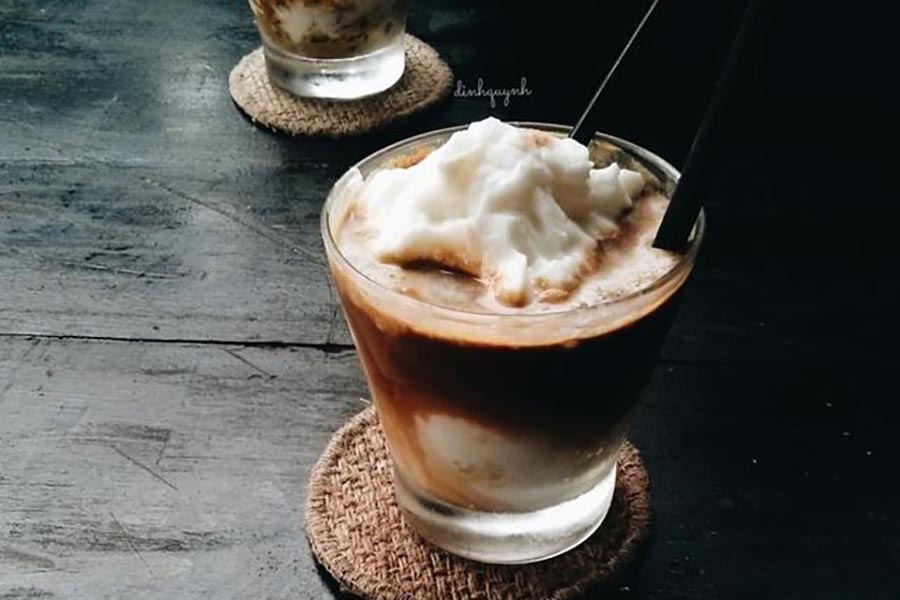 Once combined, the result is a perfect mixture known as coconut coffee. This style of coffee is not a popular option among locals, but it's a favorite among foreigners.
Essentially, you are sampling coconut ice cream with a hint of coffee flavor while sipping Vietnamese coffee. How can we best that?
Where to drink Coconut Coffee
As we've previously said, coconut coffee is not a popular beverage among locals, so it may be difficult to locate. Although many upscale cafes provide coconut coffee! If you want to locate the beverage at street stores, you will have a difficult task. We did not actively search for coconut coffee on the streets, but we have never seen anybody drinking it.
This sort of coffee is somewhat more costly than the others, but you can still enjoy this delicious beverage for 25k to 50k VND in quiet cafes.
How To Drink Coffee Like A Local
A few recommendations for drinking coffee in Vietnam:
Milky way Doesn't even attempt to request decaf. If you want your coffee light, request ca phe bac xiu, coffee with additional condensed milk, as the Vietnamese do. This will also have the flavor of coffee ice cream and will satisfy your (very) sweet craving.
Sweet place Since condensed milk is sweetened, white coffee cannot exist without sugar. True coffee aficionados should choose ca phe den (black coffee). As with dark chocolate, a little amount of sugar will accentuate the rich flavors. However, if you want to guarantee that your beverage is not too sweet, request duong (less sugar).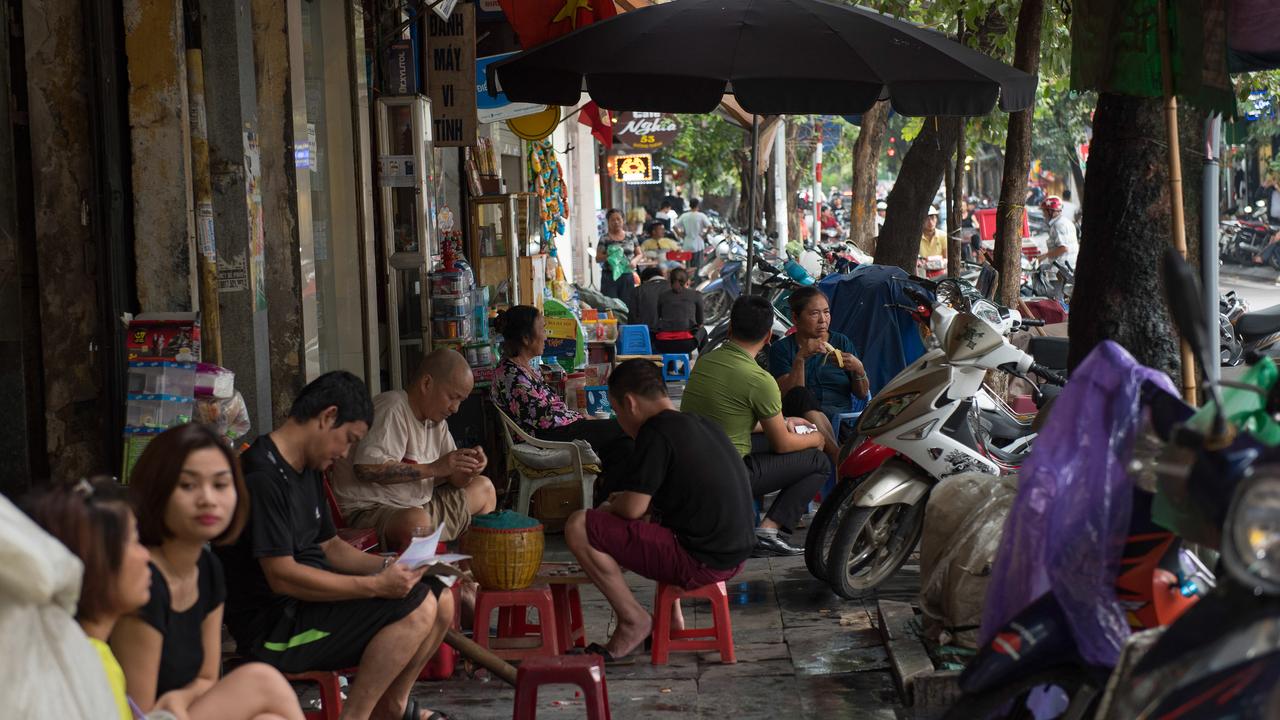 Avoid hunger In Vietnam, cafes traditionally do not provide meals, however, some newer cafes do offer light fare. Therefore, it is OK to bring your own food and eat on the spot, although it is preferable to follow the local tradition of eating first and then walking to a café to rest. You can always chew on hat huong duong in a pinch (sunflower seeds).
Best Coffee to Buy in Vietnam
Coffee is one of the most memorable aspects of a trip to Vietnam for the majority of travelers. Vietnamese coffee has a prominent part in their culture, and the flavor is considerably different from what most people are used to. This makes coffee one of the most typical items to bring back from Vietnam. However, which brand should you buy? Here are your options:
Trung Nguyen
This coffee brand has existed since 1996 and is superior to all others. The renowned Trung Nguyen brand comes as near as possible to a "standard" Vietnamese coffee.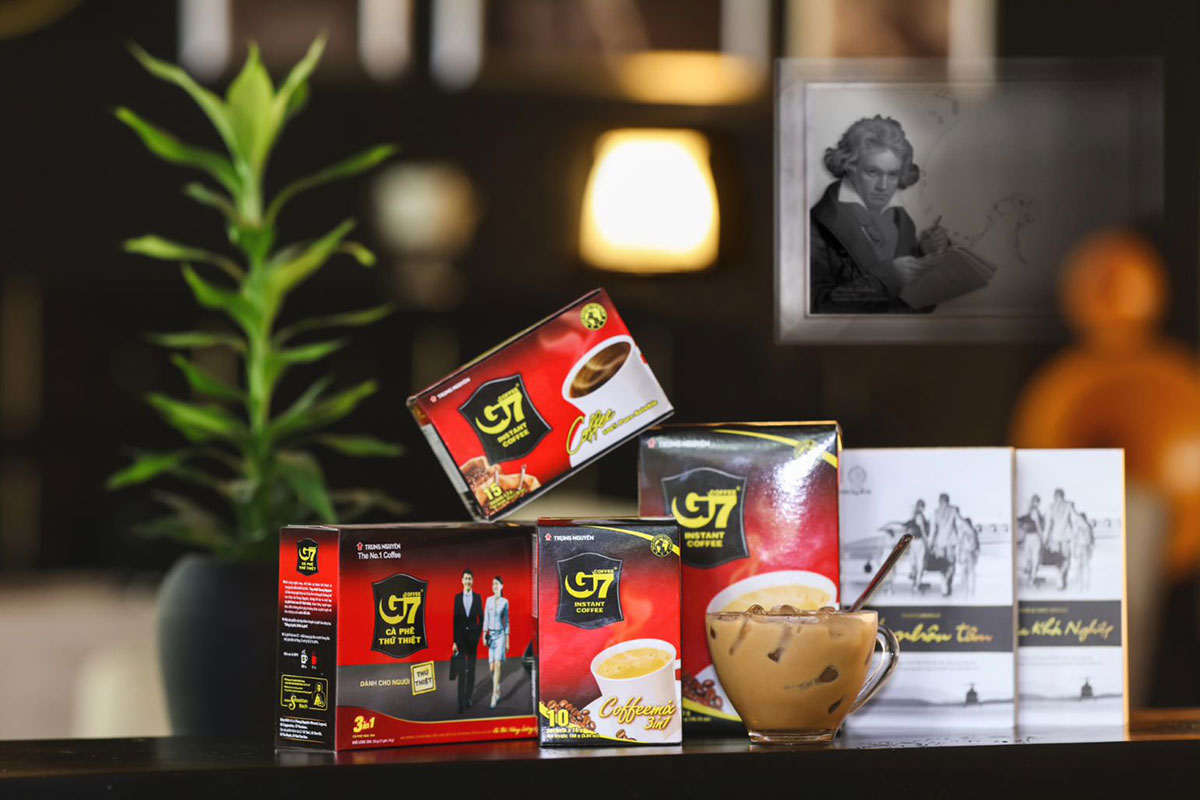 If you visit Vietnam, you will encounter a single coffee brand everywhere. Every coffee connoisseur will enjoy the distinctive flavor and fragrance of this coffee's unique preparation. It is somewhat lighter than the French roast and has a low acidity level. This coffee is a combination of arabica, robusta, Excelsa, and Catimor beans. It is ground to the optimal coarseness for preparing coffee in the traditional Vietnamese method.
Vietnam's leading coffee brand, Trung Nguyên, sells its goods to more than 60 countries, including important markets such as G7 nations, the United States, the European Union, the United Kingdom, Germany, China, Canada, Russia, Japan, Dubai, and ASEAN, including Singapore.
VinaCafe
Instant coffee is popular in Vietnam and the rest of Southeast Asia, and if you'd want to experience an actual version of what locals drink, this Vinacafe instant blend might be a nice choice.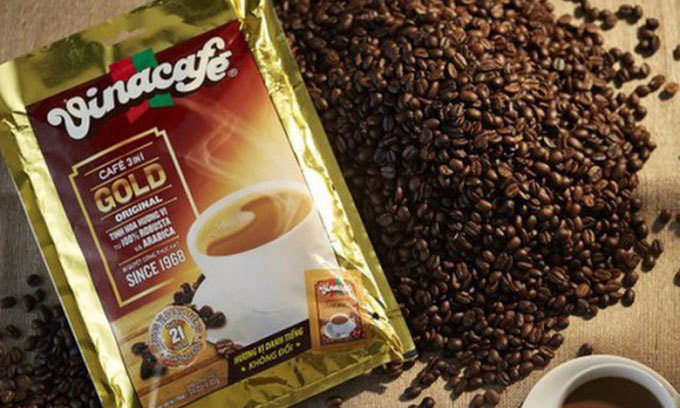 This is a classic Southeast Asian three-in-one coffee blend, which includes both sugar and creamer. Simply add hot water to create a sweet and tasty coffee beverage. Extremely useful at home and while traveling. The Vinacafé brand was founded in 1983, and the firm converted to a joint-stock corporation in December 2004.
Highlands Coffee
From love for Vietnam and a passion for coffee, the Highlands Coffee brand was established in 1999 with the intention of elevating Vietnam's longstanding coffee history and promoting national pride, the harmonic relationship between tradition and contemporary. Beginning with packaged coffee goods in Hanoi in the year 2000, the Highlands Coffee brand has rapidly developed and extended to become a well-known coffee shop brand, and its domestic and international operations have increased constantly since 2002.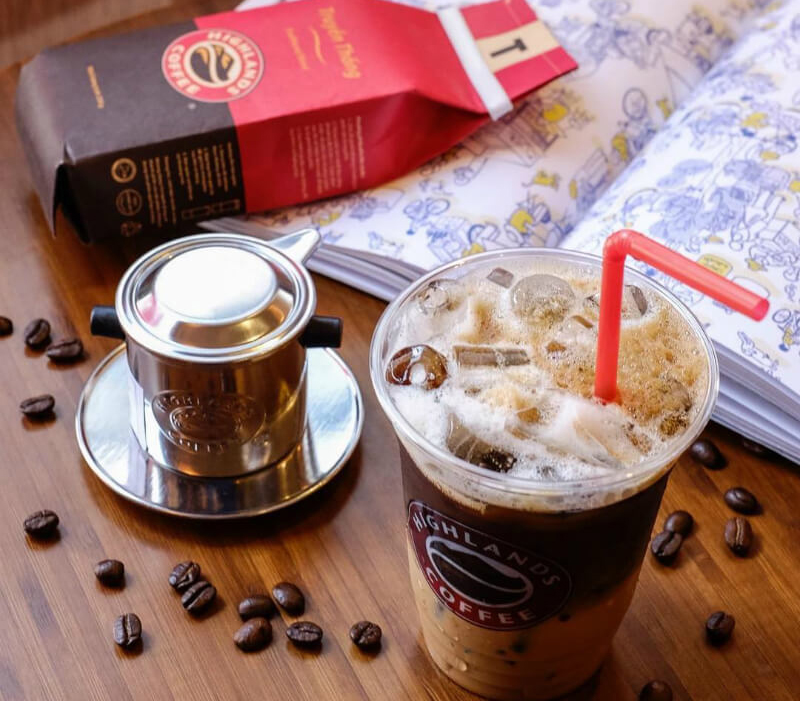 The Highlands Coffee brand has always offered delectable coffee goods in a warm and courteous environment. The coffee cups of the Highlands Coffee brand contain a cultural purpose that represents an element of the contemporary Vietnamese way of life.
King Coffee
Instant coffee (King Coffee 3in1, Pure Black, Coffee & Creamer, Espresso) that satisfies the time-saving needs of the modern lifestyle, roasted ground coffee (Gourmet Blend, Inspire Blend, Premium Blend) for gourmet drinkers, the original Whole Bean coffee and many Luxury ones such as the new and premium Weasel, Legacy, Golden, and Capsules are all available from King Coffee. Each of King Coffee's products is the result of an intricate manufacturing process, inheriting the spirit of nature and bearing tales of boundless devotion.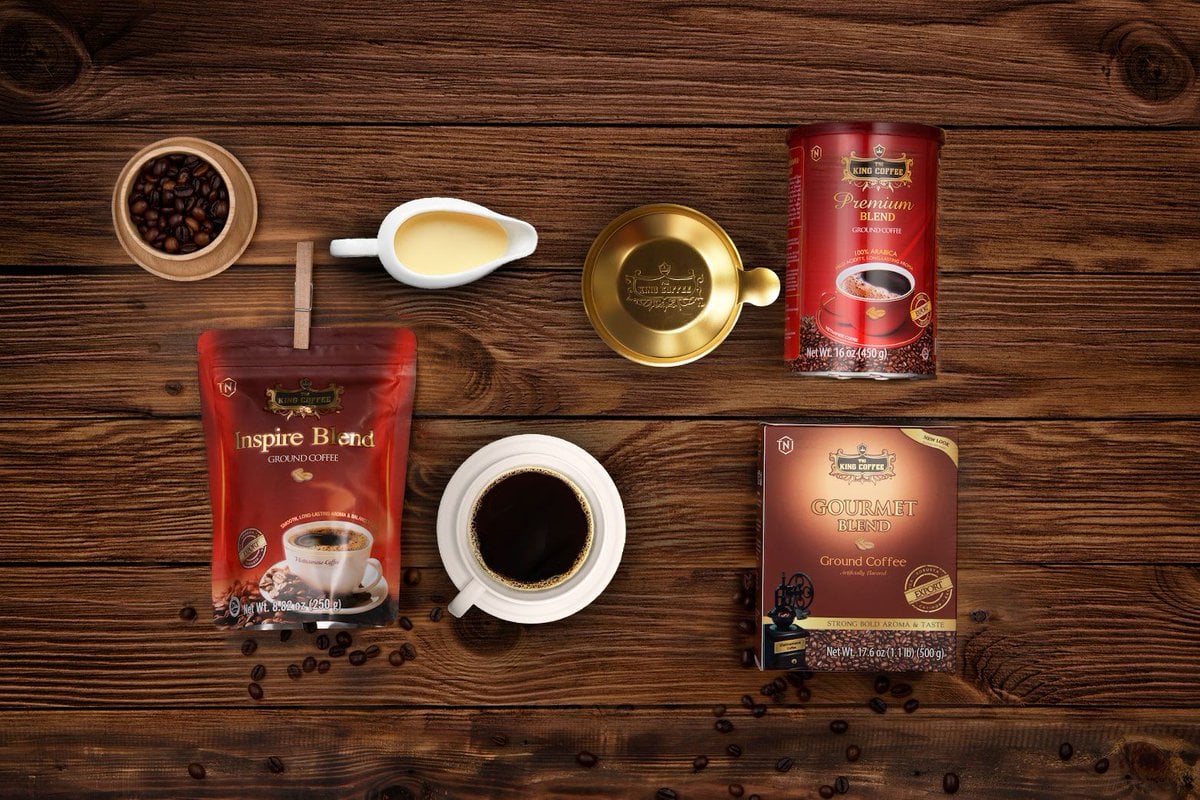 Final Thoughts
Coffee is an integral part of Vietnamese culture. With the creativity and constant learning of growers and baristas, the Vietnamese coffee brand can spread around the world. If you have the opportunity to travel to Vietnam, you cannot miss the opportunity to enjoy the taste of Vietnamese coffee. And surely coffee will be a very meaningful gift to bring back as a gift for family and friends.
Visit our website at asianwaytravel.com if you are seeking Vietnam Tours for your upcoming vacation. We have over 100 Vietnam tour packages that may meet the demands of any client.