Formerly the obsession of many people and known as the "hell on earth" of Vietnam when this place was once a prison "no return",
Con Dao Island is voted as one of 10 most beautiful and mysterious islands around the world by Travel&Leisure, it is today being chosen as a paradise for leisure travel and for exploring nature even though it was the obssession of Vietnamese people during the wars as it is known as " the hell of the world" in Vietnam when it was once a prison of " no return"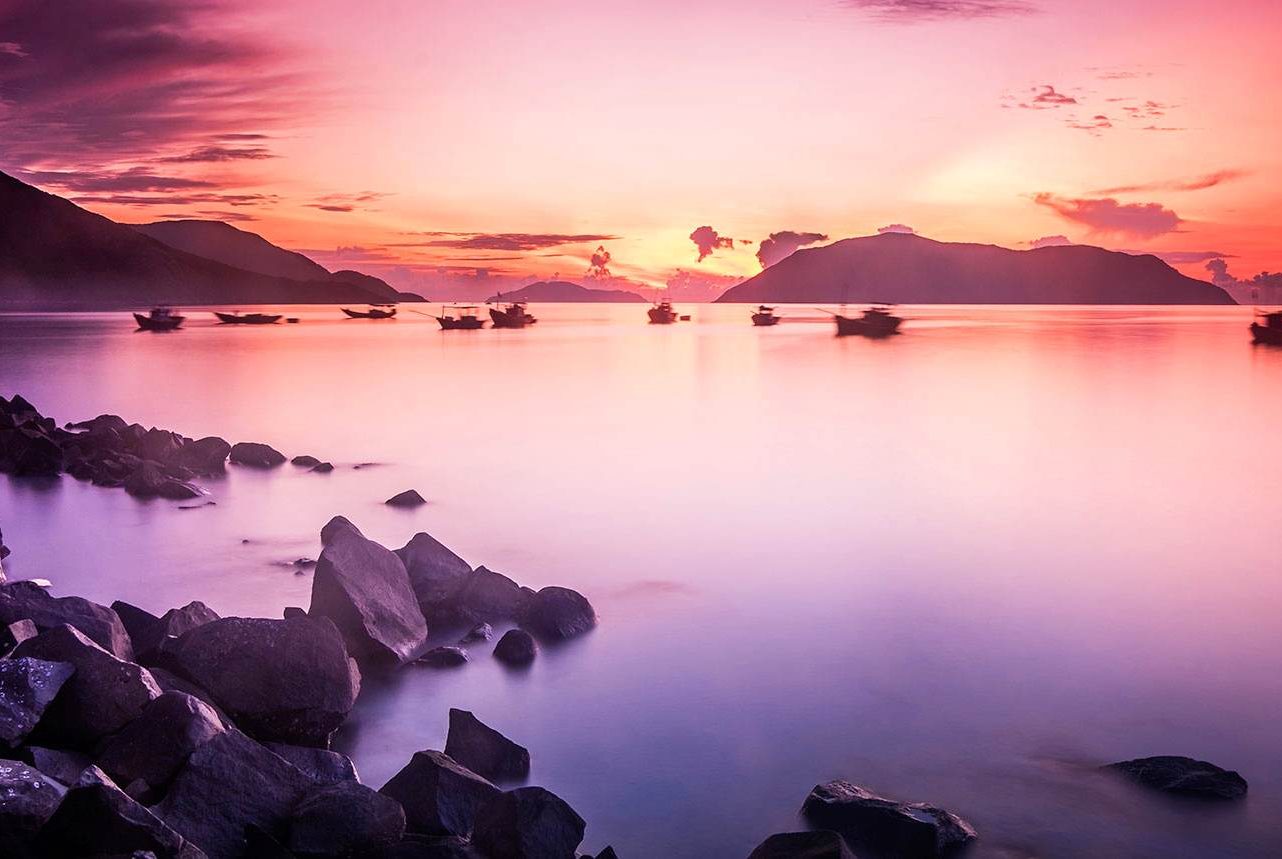 For decades the main settlement of Con Son was used by the French and Americans as an island prison for anti-regime activists and criminals. Several of these jails are now deeply moving, harrowing sights to visit. History aside, Con Dao is blessed with stunning beaches and rich coral reefs that represent the best diving in Vietnam, The islands have been declared a National Park, and there are rewarding rain forest hikes to remote bays., Con Dao is really a "magic place" of Southern part of Vietnam. 
Con Dao location
Con Dao is an archipelago located in the East Sea of ​​Ba Ria – Vung Tau Province, Vietnam, 45 nautical miles from the Hau River. Vung Tau 97 nautical miles. Con Dao is also known by different names such as Con Son, Con Lon or Con Non, also known by the Khmer call Koh Tralach. Con Dao is also known as Poulo Condor shown in the English and French text.
Best time to visit Con dao Island?
In March to the end of September, Con Dao's Island wave is quite stable , although it is the early of rainy season, but the rain in Con Dao this time lasts no longer than 1 hours, the other days are still sunny. This time is suitable for beach holidays, snorkeling and coral reef exploration. This is also the season of Con Dao Island Turtle laying eggs and turtle hatching, thus making it is favorable time to visit Con Dao Island.
In October to the end of February, due to the North East wind, the sea of ​​Con Son Island usually has large waves, but in the West and Southwest of the island,  the sea surface is still soft and less affected by wind waves. You can go to Dam Trau Beach, New Light Beach and enjoy swimming here. If possible, you can rent a boat to explore Big HonTre & small HonTre Islands. These are two islands that preserve unspoiled beauty and are home to a great many coral reefs and colorful reef fish.
In general, Con Dao Island is a suitable destination for all time of the year, this beautiful island has been associated with the type of spiritual tourism and is also a destination for experiencing the rare nature and wonderful laid back holiday. 
Top attraction in Con Dao island
+  Bay Canh Island:
Hon Bay is the second largest island of the 16 islands in the Con Dao Islands.
Located in the East of Con Dao, Hon Bay Canh is covered by primary forest, mangrove forest in tropical island ecosystem with 882 species of plants and nearly 150 species of animals. At this point, you will have the opportunity to dive into the coral reefs, fish and other marine life in coral reefs.
There are a variety of types of coral species with different patterns like coral plate, table type, branch, block They are all in the Red Book of Vietnam. In addition, Hon Bay Canh has rich marine resources with dolphins, blue turtles, sea cows, rock snails, scalloped eared clams, sea cucumbers, butterfish, brain corals.
One characteristic of Hon Bay is the mangrove ecosystem. Con Dao mangrove forest is distributed mainly on the surface of dead coral reef, sand and soft clay. This is also the difference of Con Dao mangrove forests, so when tidal water is withdrawn, you can still walk easily in the forest, not as muddy as other places.
At night, you also learn about the life of a crayfish only in Con Dao that people used to call "tank crab". The crabs are very shy, just listen to the rustling of people walking on the ground, then they will hide.
This is the largest crab fish in Vietnam with a length of carapace up to 10cm, one leg and the other is small but strong, strong enough to rip the leaves and eat the plants. One special thing about this species is that when the legs break, they can grow back.  Scientists are still in the process of research and identifying this particular species.
+Bai Dram Trau:
Dam Trau beach
Considered as the most beautiful beach Con Dao, Dam Trau beach is located 12 km northwest of Co Ong airport. From Con Dao town center, it takes about 30 minutes to get to Dam Trau by motorbike or car. It is famous for its soft white sandy stretches, pristine forests with lush greenery and cliffs with unique shapes. At Dam Trau beach, visitors can enjoy the beach, enjoy the beautiful scenery or dive into the coral.
+ Bai Suoi Nong (Hot Springs)
The Hot Springs is a beautiful beach in Con Dao. From Dam Trau beach, visitors can cross a short jungle road to reach Suoi Hi Beach. It still remains unspoiled and unaware of the flat white sand and a rare mangrove ecosystem on the other islands.
Things to do in Con Dao Island
+ Suba Diving: You can find many coral types as well as very impressive fish in most of the small islands around Con Dao Island. Coral reef systems in Con Dao can be said to be the most abundant in Vietnam.
+ Explore pristine islands: Con Son Bay includes 14 islands with variety of shape like: Tai, Trac, Rabbit, etc. creating a poetic beauty for Con Son Bay. It is also a marine eco-conservation area with many kinds of coral reefs that you will not find any where else. 
+ Discover the islands' terrible past
Con Dao was the most horrible hell in the world when people shudder to mention it. From the mid-19th century to 1975, Con Dao was transformed into a giant prison, detaining hundreds of thousands of Vietnamese patriots. Here, more than 22,000 elite children of the country have fallen for the independence and freedom of the country. The tuberculosis, tiger cage, cow shed, rice grinding, bridge 914, Hang Duong cemetery … forever there, showing the spirit of brave, strong will of the people of Vietnam. Visiting and exploring the past of the nation from the anti-French resistance to the American empire in the Kunshan earthquake is a profound experience of the traumatic and inhuman losses. take place on this beautiful island.
For a good overview of the islands, their environment (the Con Dao are important nesting grounds for sea turtles and there are 11 endemic trees) and their role as a concentration camp, drop by the modern Con Son Museum. This will prepare you for a tour of the prisons themselves.
There were once 11 jails. The largest was Phu Hai, where political rebels and criminals were herded together naked in the French period; today the dank rooms are filled with emaciated, chained mannequins. This prison acted as a revolutionary university for leaders of the People's Army of Vietnam and Vietnamese Communist Party, many of whom were incarcerated here by the French and Americans.
+ Explore a unique mangrove ecosystem in Con Dao Island
Not only do you own charming blue beaches, colorful coral reefs or white sandy beaches stretching wildly, Con Dao is also "a place in your heart" a jungle. the mighty zone – the soul, the heart of the island – with innumerable mysteries and wonders "hidden behind" the canopy of forest trees. Possessing a lot of precious coral reefs, seagrass beds and a unique native mangrove forest, Con Dao National Park has an area of ​​nearly 6,000 hectares of land and about 14,000 hectares of water. is a paradise of rare species of plants and animals that need conservation.
A unique mangrove ecosystem in Con Dao 
Coming to Con Dao, tourists can not go to Hon Tai once – the garden of paradise land on Con Dao. Coming to Hon Tai, besides enjoying the experience of admiring the colorful ocean paintings with images of sea creatures hidden under the brilliant reefs hidden under the sunshine through the water. In the green, visitors will also be able to admire the unique and rare animals such as ebony squirrels – the only squirrels in Con Dao, longan, geckos, white gulls – a rare sea birds. pigeons and monkeys – like monkeys threatened by the World Red Book …
Con Dao will bring to you the most luxurious resorts in the island – Six Senses Con Dao , one of the most luxurious and class resorts in Vietnam
Things to do in Con dao Island
Coral Reef: You can find many coral types as well as very impressive fish in most of the small islands around Con Dao Island. Coral reef systems in Con Dao can be said to be the most abundant in Vietnam.
Fishing: Fishing in two forms, recreational fishing (half day or one day) or professional fishing (usually 3 days 2 nights or more). Whether fishing or fishing, this activity is especially attractive to players from all over the place.
Spawning Eggs: Enjoy the most unforgettable moments in Con Dao with a day on the island and experience a quiet but enchanting night on Bay Canh. You will see the sea turtles Chelonia mydas that people call green turtles or turtles … do nest and lay eggs on the beach.
Exploring the island: Con Son Bay consists of 14 small islands with different chain of Tai, Trac, Hon Rabbit, … gathering as a family and Bay Canh, Bong Lan, Hon Cau , Hon Tre Island, Hon Tre Island, Hon Tre Island … are the islands that make up the poetic beauty of Con Son Bay and the marine ecological preserve with few coral reefs. in terms of density and species.
How to get to Con Dao
The islands are connected to the mainland port of Vung Tau by ferries (three to four times a week), but since the crossing can be very rough, conditions very basic, the journey long (12 hours) and cancellations frequent, most people choose to arrive by air. Vietnam Airlines and Vasco operate three daily direct flights (return US$150) from Ho Chi Minh City and Can Tho.
Heaven from hell" and "hell in the middle of paradise" – that is the unique and exciting experience that you will get when traveling to Con Dao – one of the mysterious island and the most intriguing planet. Do not be embarrassed, take your backpack and go to the island of "heaven on earth" right now!
See the most favored itinerary from Mekong to Con Dao Tour 5 Days