Meal provided: Breakfast, Lunch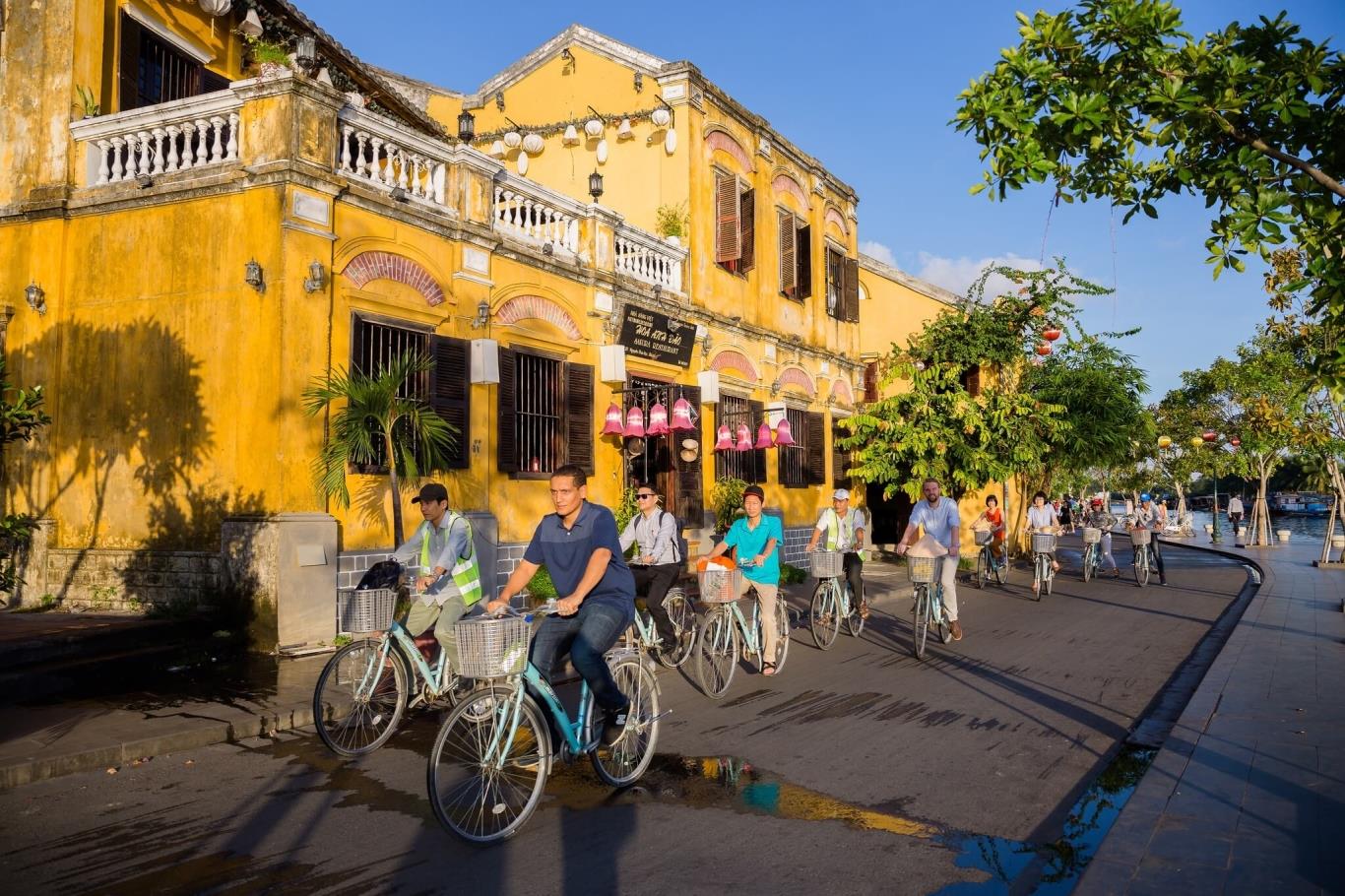 8:00 AM: You will be picked up by local tour guides at the hotel. 
You will be driven to Hoi An Market (around half an hour), you can feel the bustle of the morning market, and have an opportunity to have direct contact with sellers.


You might also learn some tips of "bargaining" when going shopping


Our tour guides will introduce to you the necessary ingredients for cooking classes. Then you will have a sightseeing tour along the Thu Bon River and Cua Dai beat by boat. On the river, you have a chance to contemplate the river beauty in the countryside of Vietnam.


Next, you can get some loveable handmade souvenirs made from nipa palm leaves such as hats, watches, rings… When you do it on a bamboo basket boat, you will be immersed in the natural beauty of the nipa palm forest.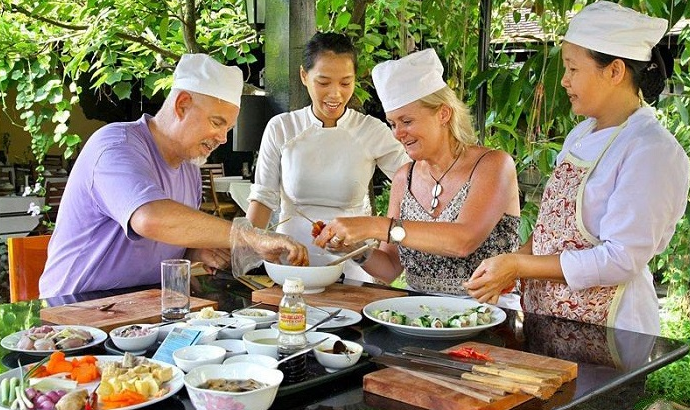 Then be welcome in our restaurant. At here, after you use welcome drinking, you paint on bamboo Sieve by yourself


In the end, participate in a cooking class with our chefs. Cooking classes will take place within 2 hours, the chef will teach you how to cook Vietnamese cultural cuisine. Then you can enjoy Vietnamese food made by yourself.

Menu
– Fresh spring roll without rice paper
 – Rice pancake with fresh salad
– Grill eggplant with tomato sauce
Return to the Ancient town, start your walking around the town to visit: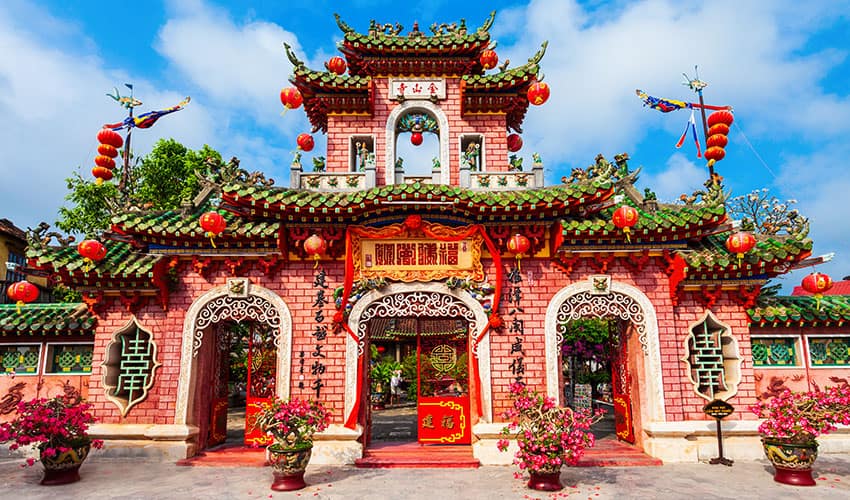 + Japanese Covered Bridge dated back to the 18th century and is a beautiful historical piece of Japanese architecture. It is claimed that it was created by the Japanese then living in Hoi An as a way to reach the Chinese quarter across the water. The bridge also features the sculptures of two dogs and two monkeys representing the Chinese years in which many Japanese Emperors were born along with the fact that the building of the bridge began in the year of the dog and was completed in the year of the monkey.


+ Phuc Kien Assembly Halls was built around 1690 and functions as a traditional assembly hall for the Chinese ethnic group from Fujian, China to socialize, but later was transformed into a temple dedicated to their deity named Thien Hau – the goddess of sea who protects sailors from danger.


+ Fujian Assembly Hall bears all the fundamental features in structure of a Chinese Assembly Hall.


+ Tan Ky old house is an almost perfect example of an 18th merchant's residence in this major commercial port town.


Dropped off at your hotel.
Stay overnight in Hoi An.
Day 9: Hoi An - Da Nang - Fly to Ho Chi Minh - Half-day city tour
Meal provided: Breakfast, Lunch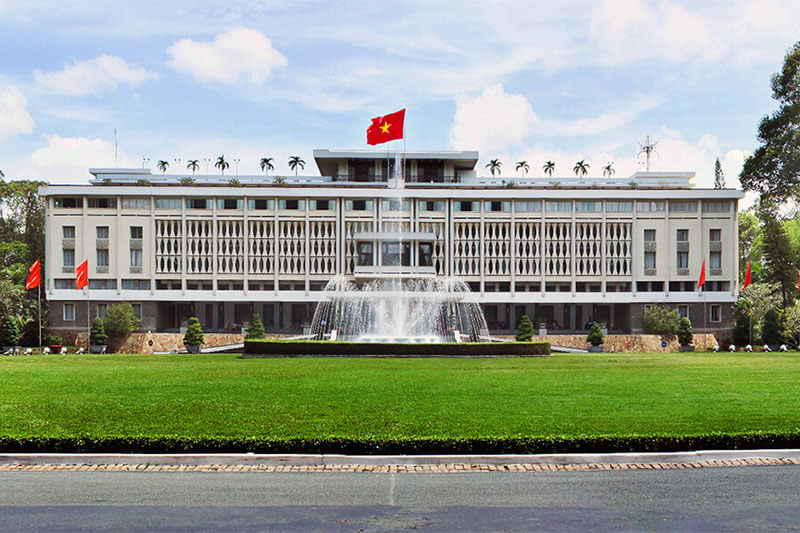 2 hours before your flight time, picked up by our driver (No guide) to the airport.


Upon arrival in Ho Chi Minh, welcome by our tour guide and driver. Transferred to your hotel for a short rest (check-in time: 14:00).


Have lunch at a local restaurant then visit Reunification Palace formerly known as Independence Palace, built on the site of the former Norodom Palace, a landmark in Hochiminh City. Our next stop is the War Remnants Museum. Operated by the Vietnamese government, an incipient form of the museum opened on September 4, 1975, as the "Exhibition House for the US and Puppet Crimes, located on the premises of the former United States Information Agency building.
Stay overnight in Ho Chi Minh.
Day 10: Ho Chi Minh - Cai Be – Tan Phong Island – An Binh Island - Homestay (B/L)
Meal provided: Breakfast, Lunch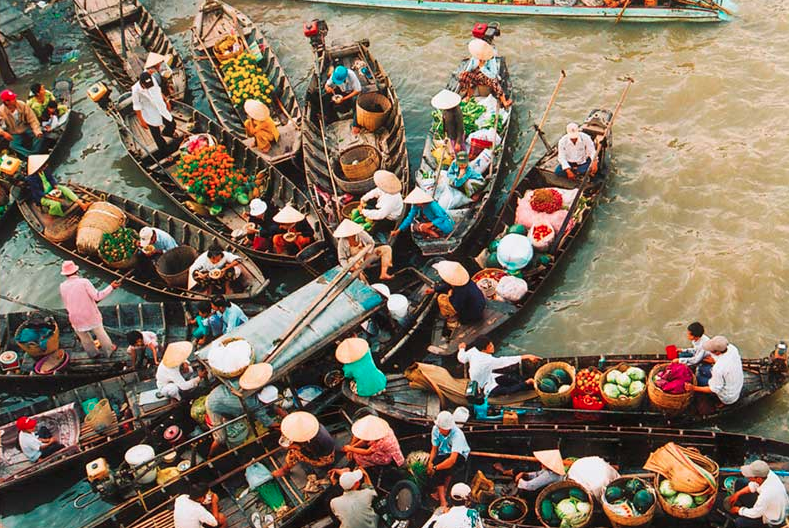 Picked up from your hotel lobby by our tour guide and driver. Depart for Cai Be.


The program will start with a quick visit to Cai Be floating market. Then, we'll come to Tân Phong island for biking / walking on village paths to see the local daily life: orchard, school, church, pagoda, traditional houses… On the way, we can make some stops to see how they wave the dried water-hyacinth to make many products: baskets, bags, hats, wallets, shoes…


Then, the rowboat will take you deeper into the countryside on smaller canals to enjoy a peaceful time.
Lunch can be served at homestay/on boat


Back to our boat to go across one of the longest rivers in the world, the Mekong River, to come to An Bình Island. Travel on Muong Lo handmade canal to check in at your homestay in Cai Be.

Have a fresh shower before cooking some special dishes with the members of the local family. We'll enjoy dinner & stay overnight at the homestay in Cai Be.
Day 11: Homestay in Cai Be – Vinh Long – Ho Chi Minh (B/L)
Meal provided: Breakfast, Lunch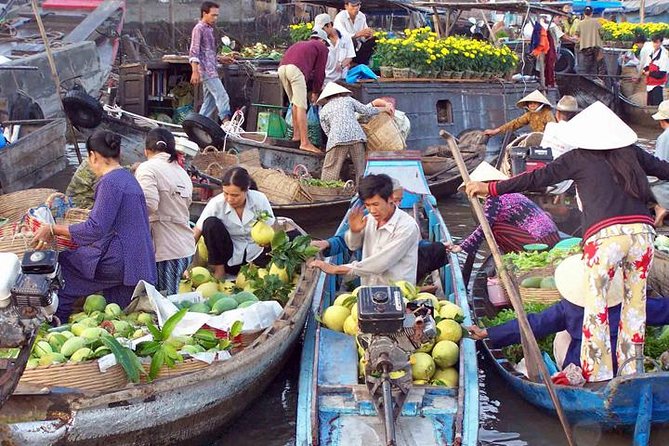 Have breakfast and check out for a walk along the village to enjoy the fresh air in the morning & arrive at the local workshop to see how to make rice paper, coconut candy, pop-rice… Enjoy some sweets with a cup of hot tea.


Boat trip to visit the brick kilns where you can see how the local people create beautiful potteries from clay.


Our boat will go along the floating village. We will see how to farm catfish on Mekong river. 
Also, we can visit Vinh Long market in the town. This is the best choice for you to take pictures of fish, shrimps, prawns, crabs, snakes, rice-field rats, tropical fruits, vegetables… The cruise will end at Vinh Long city. Hop on your private car and we'll return to Ho Chi Minh. Lunch at local restaurant.
Stay overnight in Ho Chi Minh.
Day 12: Ho Chi Minh - Cu Chi tunnels - Fly to Siem Reap
Meal provided: Breakfast, Lunch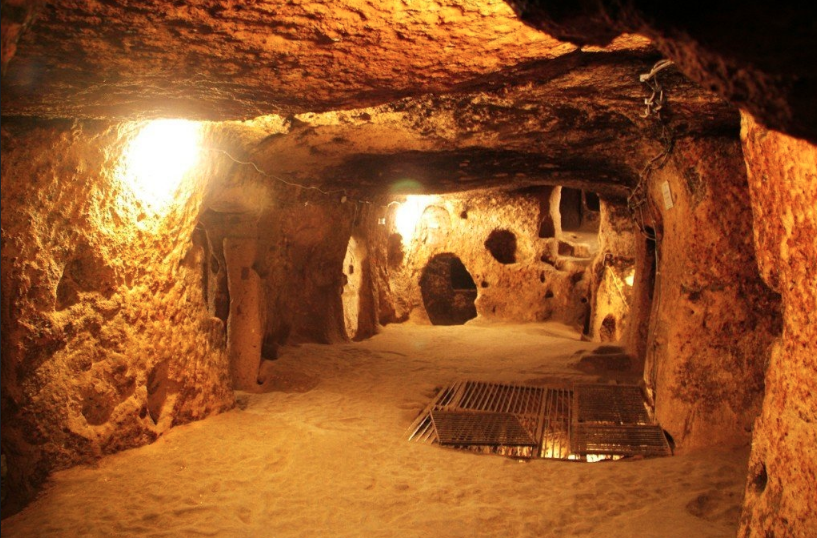 This morning head out to visit the famous Cu Chi Tunnels, an incredible underground tunnel network constructed by Vietnamese resistance fighters during the long struggle for independence. The Cu Chi Tunnel system had been created a long time back, in 1948 to assist Viet Minh in the combat with French. And it was continuing built over 25 years later. It was an underground city with living areas, kitchens, storage, weapons factories, field hospitals, and command centers. In places, it housed up to 10,000 people who virtually lived underground for years…. getting married and giving birth. During the American War, the entire area of Cu Chi has designated a free fire zone and was heavily bombarded. Since 1988, two sections of tunnels have been open for visitors.


Have lunch at a local restaurant then return to Ho Chi Minh. Drop off at Tan Son Nhat International Airport for your flight to Siem Reap.


Arriving in Siem Reap, welcome by our tour guide and driver. Transfer to your hotel.
Stay overnight in Siem Reap.
Day 13: Siem Reap - Angkor Wat - Angkor Thom
Meal provided: Breakfast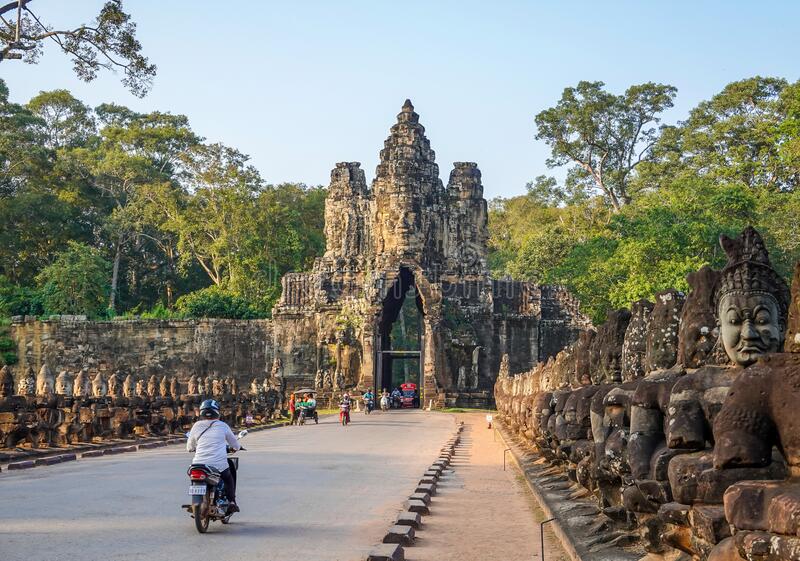 Explore South Gate of Angkor Thom known as Big Angkor, 3km2 walled and moated royal city and was the last capital of the Angkorian Empire, The famous Bayon Temple was an architectural muddle, in part because it was constructed in a somewhat piecemeal fashion for over a century. Terrace of the Elephants is an impressive, two and a-half meter tall, 300-meter-long terrace wall adorned with carved elephants and gradual that spans the heart of Angkor Thom in front of Baphuon – a huge temple mountain in the heart of Angkor Thom, Royal Palace Area and Phimeanakas – impressive rite and sandstone pyramid. The terrace of the Leper King is at the north end of the Terrace of the Elephants, a double terrace wall with deeply carved nag as, demons and other mythological beings, Ta Prohm temple is a wonderful combination of human genius and natural beauty. Lunch is not included.


Afternoon visit Angkor Wat temple, the founder of the temple was Suryavarman II who ruled Cambodia from 1113 to 1152 and built the five towers in the 12th century to dedicate to the Hindu God Vishnu. The plan of the pyramidal conception of the temple combined with spaces, alleys, and ditches is an ancient masterpiece of architectural design and construction. It is time to visit Pre Rup temple for a romantic sunset view. Dinner is not included.
Stay overnight in Siem Reap
Day 14: Siem Reap - Kampong Kleang - City tour
Meal provided: Breakfast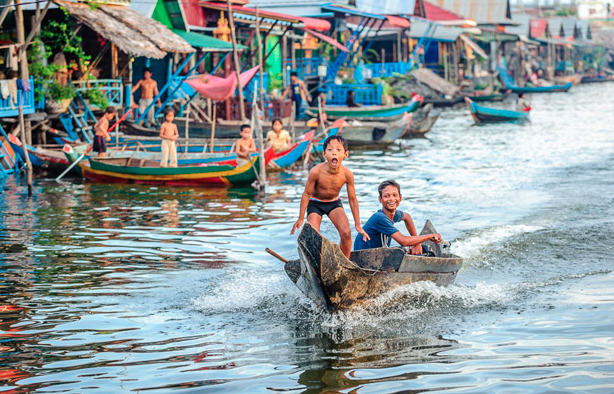 Today, depart by private car with a guide to visit Kampong Khleang is located on the northern lake-edge about 55 km east of Siem Reap town, more remote and less tourist than Kampong Pluk. Visitors to Kampong Khleang during the dry season are universally awestruck by the forest of stilted houses rising up to 10 meters in the air. In the wet season the waters rise up to one or two meters of the buildings. Like Kompong Pluk, Kompong Khleang is a permanent community within the flood plain of the Lake, with an economy based in fishing and surrounded by flooded forest. But Kompong Khleang is significantly larger with nearly 10 times the population of Kompong Pluk, making it the largest community on the Lake. Lunch at your own expense.


On the way back we will take some time to visit l'Artisan D'Angkor. A visit to Artisans D'Angkor is a must to get a deep insight into the remarkably skilled workmanship of traditional handicrafts in Cambodia and the local Market "Psar Chas". We take a short walk along the road in front of the King's Residence to see the Main Shrine, where the local people usually worship, with its statue of Yeay Teap, Preah Ang Chek and Preah Ang Chorm. Buying jasmine and lotus flowers to worship is very important for Cambodians.
Stay o
vernight in Siem Reap.
Day 15: Siem Reap - Fly to Luang Prabang
Meal provided: Breakfast

Free for your own leisure until transfer to Siem Reap international airport 2 hours before departure flight to Luang Prabang.

On arrival at the Luang Prabang airport, you will be met and transferred to check in at the hotel. Situated in the centre of northern Laos, Luang Prabang is classified as a UNESCO World Heritage Site for its outstanding cultural, historic, and architectural values and its harmonious relationship between the natural and built environment. There are no activities planned for today, so you may stroll around for the first impression of this ancient city.
Stay overnight in Luang Prabang.
Day 16: Luang Prabang - Pak Ou Caves - City tour
Meal provided: Breakfast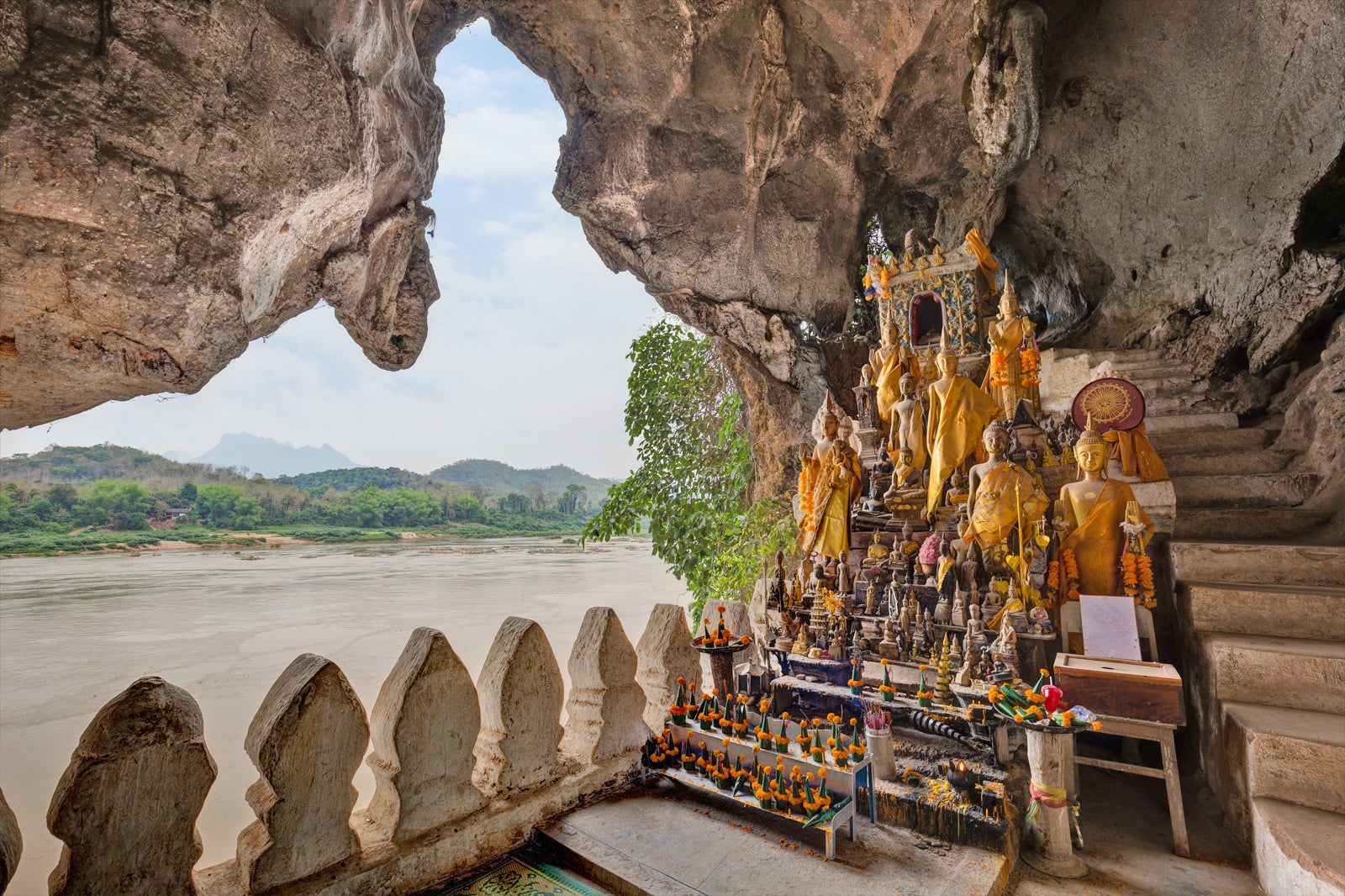 After breakfast, you will first visit Royal Palace Museum, which was built in 1904 during the French colonial era for King Sisavang Vong and his family. We then embark on a leisure cruise upstream on the Mekong River, which also gives us a breathtaking view of the tranquil countryside, before reaching the mysterious Pak Ou Caves, two linked caves crammed with thousands of gold lacquered Buddha statues of various shapes and sizes left by pilgrims. Along the way, we stop at the village of Ban Xanghai, where they make the local rice wine.


On arrival back in the city, we will visit the old Wat Sene and the nearby magnificent Wat Xiengthong – a superb piece of Laos temple architecture, which presents a sweeping two-tiered roof and ornate mosaics including a beautiful 'tree of life 'glass montage on the rear temple wall.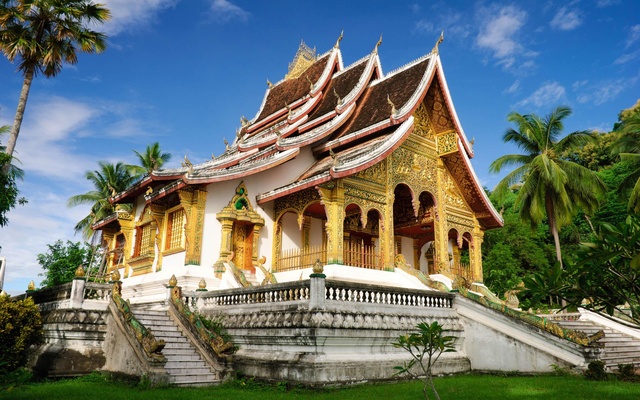 If time permits, we will drive out of the city to visit BanXangkhong, the Thai Lue village, which is famous for its arts and crafts. We also visit the nearby village of Ban Xienglek specializes in making the traditional Saa paper. You can either get to the nearby village and join a petanque game with the local team.


In the late afternoon, we will make a stop at Wat Prabath to admire the sunset; this is the ideal place to catch the last beauty of the
The tour ends after a visit to the famous Night Market, where you can find a lovely collection of handmade textiles made by local and hill tribe people surrounding Luang Prabang.
Stay overnight in Luang Prabang.
Tip: If you are fond of various ethnic cultures, you can visit Traditional Art and Ethnology Center(closed on Monday).
Day 17: Luang Prabang - Kuang Si Waterfalls
Meal provided: Breakfast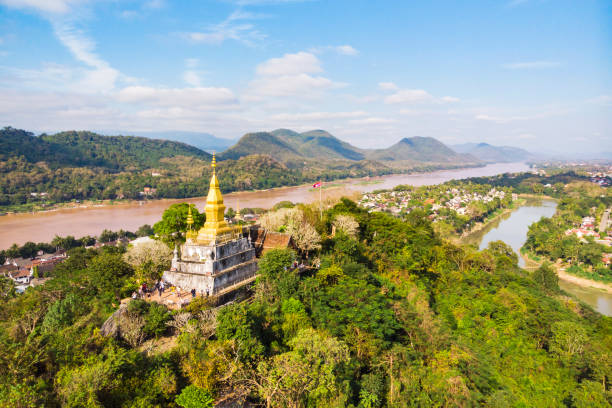 Wake up as the sun rises, we will prepare to join the most sacred tradition of Laos, the daily morning alms giving, which dates to the 14th century. More than 200 Buddhist monks depart from various temples to gather their daily meals from the faithful residents sitting quietly on the streets.


We then visit the temporary morning market near the former Royal Palace. Just set on the ground, the local people come here to barter their day's catch from rice to vegetables, to fish, or chicken.
After breakfast at the hotel, we ascend the 329 steps to the top of Phousi Hill for a panoramic view of the city and the Mekong River.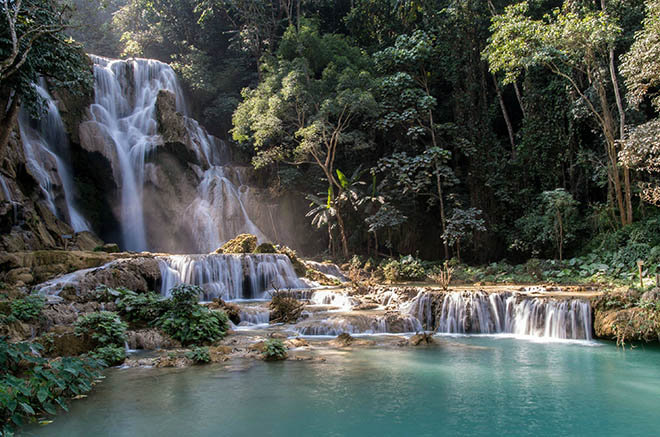 If time permits, we will visit UXO Visitor Center (closed on Saturday, and Sunday), where you can find the documentation about the secret war in Laos.
Then transfer directly to the beautiful Kuang Si, which is the biggest waterfall in the Luang Prabang area with three tiers leading to a 50-meter drop into spectacular azure pools before flowing downstream. The pools also make great swimming holes and are very popular with both tourists and locals. There is also the chance to walk to the nearby village of Ban Thapene and explore the hidden waterfalls, which are rarely visited by other tourists. If you wish, take a short visit to the Bear Rescue Center, which houses a couple of dozen animals rescued from the hands of poachers and traffickers.


On the way back to Luang Prabang, we will take a short visit to the Ock Pop Tock Living Craft Center, set serenely close to the Mekong, this beautiful, traditionally styled workshop, where weavers, spinners, and batik makers produce top-quality fabrics, offers free tours every half-hour. This is also one of the best spots to admire the sunset in Luang Prabang.
Transfer back to your hotel late afternoon.
Stay overnight in Luang Prabang
Day 18: Luang Prabang - Fly to Bangkok
Meal provided: Breakfast

Transfer to the airport (without a guide) for an international flight to Bangkok.
Arriving in Bangkok, welcome by our tour guide and driver. Transfer to your hotel. Stay overnight in Bangkok
Day 19: Bangkok City tour
Meal provided: Breakfast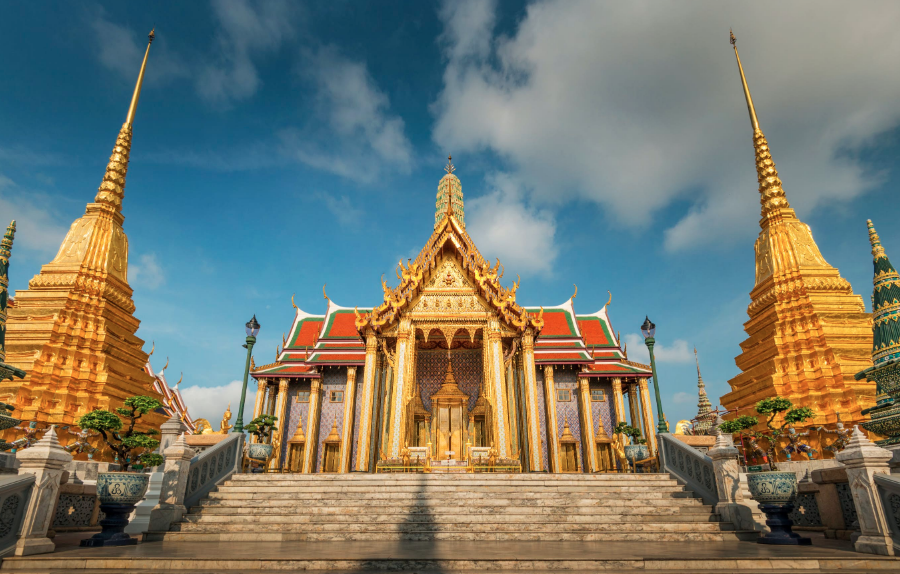 After breakfast, we visit the Grand Royal Palace dedicated to the ceremony of the royal family of Thailand. In the same compound is the magnificent Wat Phra Kaew which is known for the Statue of the Emerald Buddha. After visiting this complex, we continue to visit Wat Pho, a giant house of the lying Buddha. Then, we visit Wat Traimit which is well known as the Golden Buddha.


Afternoon, boarding on a long tail boat for an excursion along the Chao Phraya River and many bustling interior canals that offer fantastic views of local life close by. Along the way, we stop at Wat Arun, the temple of the Aube.


Return to the hotel and have free time for relaxation.
Stay overnight in Bangkok.
Day 20: Bangkok – Maeklong Railway market - Damnoen Saduak floating market – Patom Organic Village
Meal provided: Breakfast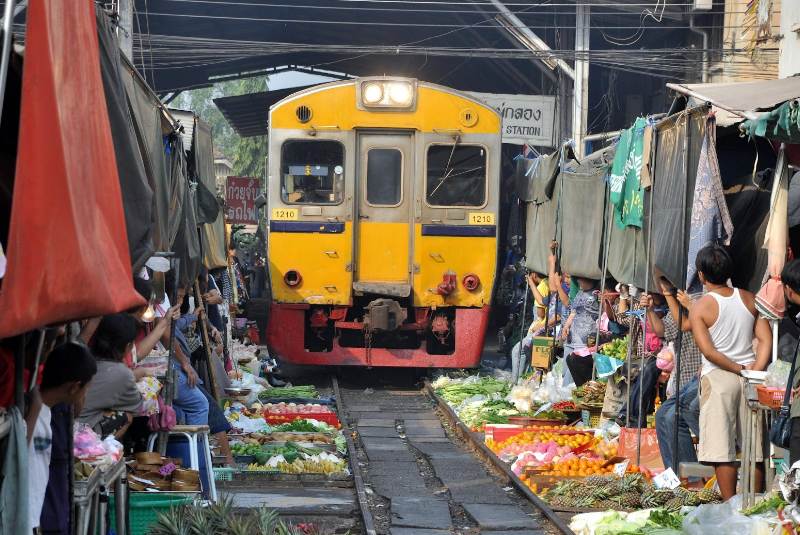 Early in the morning, we drive southwest of Bangkok, visit the Maeklong railway market, take photos, and enjoy the local snack in the market before driving to Damnoen Saduak, a rural floating market. Stop for a motor boat trip along the waterway to the picturesque floating market of Damnoen Saduak. Enjoy your own lunch. In the afternoon we will transfer back to Bangkok.


On the way, stop at PATOM ORGANIC VILLAGE.


Patom Organic Village is where you can experience the traditional Thai way of life by learning about the journey of organic raw materials to Patom products. Our open factory will show you the work that goes into our bakery, supplement, and body care factory before the products make their way to Patom Organic Living stores. Immerse yourself in our concept of organic living and participate in our selective hands-on workshops.
Stay overnight in Bangkok.
Day 21: Bangkok - Fly to Chiang Mai
Meal provided: Breakfast

The morning would be free to do whatever takes your fancy until you would be transferred to the airport for your flight to Chiang Mai. Arrival in Chiang Mai, pick up and transfer to hotel. Time free and stroll around.
Stay overnight in Chiang Mai.
Day 22: Chiang Mai city - Doi Suthep
Meal provided: Breakfast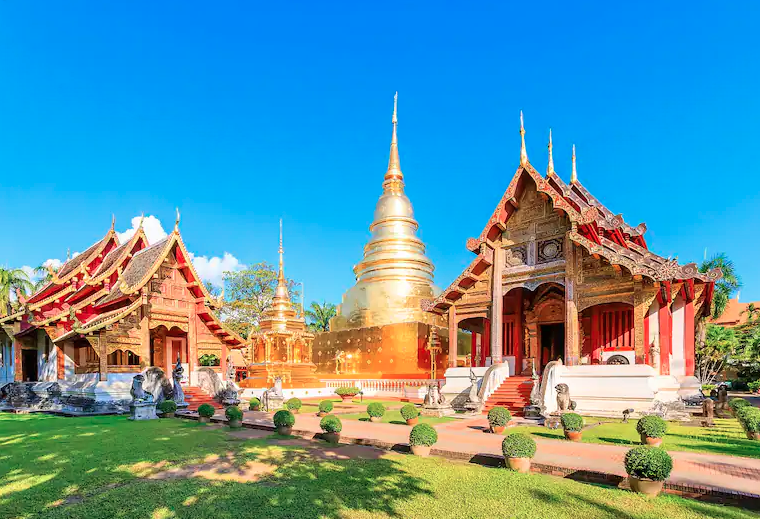 Breakfast is served at the hotel. The morning will be mainly devoted to the walking tour of the old town with a stop at the old wall, the moat, and a door of the old town. You will see the most beautiful temples of Chiang Mai: Wat Phra Singh temple, Wat Phan Tao temple, Wat Chedi Luang temple.

Then you will stroll along small streets lined with traditional houses, where you will take a rickshaw tour.  After that, you will take a walk through the central market of Warorot. In the afternoon you will visit the Doi Suthep hill. To brighten up your evening, browse the Night Market for yourself.
Stay overnight in Chiang Mai.
Day 23: Chiang Mai - Elephan Jungle Sanctuary (Join-in tour)
Meal provided: Breakfast, Lunch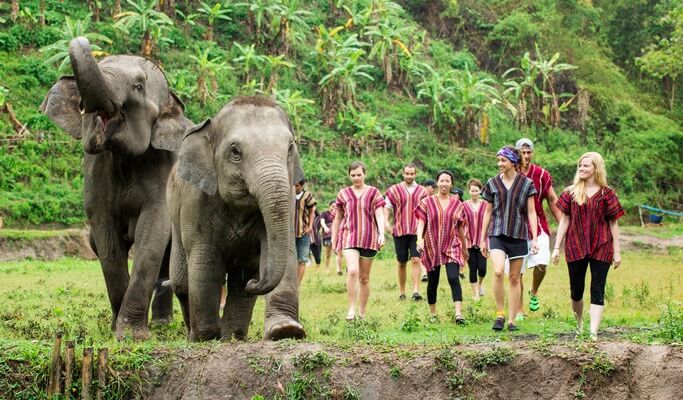 08:00 – 08:30: Pick up from your hotel


08:30: Drive approximately 1.5 hours South of Chiang Mai through rolling hills, forest, and local farming areas.


10:30: Arrive at the Sanctuary. Meet your guide and walk for 10-15 minutes through the Jungle to the Elephant Jungle Sanctuary. Change into traditional Karen clothing. Enjoy an introductory lesson about elephant anatomy, history, and behavior.


11:00: Meet the elephants. Feed, interact, and play with the elephants in a natural environment as you learn about their behavior and history. Take photos with the elephants.


12:00: Enjoy a lunch of traditional Thai food and fresh fruit.


13:00: Learn how to make herbal medicine balls, feed the Elephants, and then walk with the elephants to the river. Bathe and brush the elephants.


14:00: Join the elephants for a therapeutic mud spa. Swim in the river and take photos with the elephants.


15:00: Change clothes and say goodbye to the elephants


15:30: Leave the Elephant Jungle Sanctuary and drive approximately 1.5 hours to Chiang Mai.


17:00-17:30: Drop off at your hotel.
Stay overnight in Chiang Mai.
Day 24: Chiang Mai Departure
Meal provided: Breakfast

The morning after breakfast, time would be free on your own until we transfer you to the airport for your flight to your next destination.
End of tour.
Tour prices shown are 'per person', based on a
traveling party of 4 adults
, and sharing double or twin rooms.
** If you travel in group of 2, of 3 and so on, please feel free to contact us for specific offer.
** If you intend to travel alone, the cost might be much higher. However, you also earn money by using the
Share button
above to invite your friends and family to book this tour with you.

What's Included:
• 21 nights at hotels with breakfast on a private double/twin sharing room.
• 01 night at private double/twin sharing room in Cai Be homestay.
• 01 night on Ha Long bay cruise with full board on private double/twin sharing cabin.
• 03 international flights: Ho Chi Minh – Siem Reap, Siem Reap – Luang Prabang, Luang Prabang – Bangkok.
• 03 domestic flights: Hanoi – Da Nang, Da Nang – Ho Chi Minh, Bangkok – Chiang Mai.
• Meals mentioned in the itinerary.
• Entrance fees for all visits as mentioned in the program.
• Kayaking service/Rowing bamboo boat, boat trips as mentioned.
• Travel by private, air-conditioned vehicle with an experienced, safe driver
• Private English speaking guide with legal license.
• Sharing shuttle bus Hanoi – Ha Long – Hanoi (3 star cruise: bus/4 star cruise: limousine).
• 01 bottle of mineral water/ pax/ day and souvenir.
• All taxes and service charge. 

What's Excluded:
• Bank fees for both sides (Prefer cash on arrival).
• Visa to Vietnam, Laos, Cambodia, Thailand.
• Early check in and late check out at all hotels.
• Single room supplement.
• Compulsory Gala Dinner on 24/12 & 31/12 & Local Public Holiday (if required by the hotel).
• Personal expenses (laundry, telephone, shopping).
• Tipping for guide, driver.
• Drinks and other meals which are not indicated in the program.
• Travel insurance.
• International air ticket and airport tax.
• Any additional expenses caused by reasons beyond our control such as natural calamities (typhoon, flood), flight delays, rescheduling or cancellations, any accidents, medical evacuations, riots, strikes etc.
• Other services which are not mentioned clearly in the "Including" item.

Remarks: 
1. All of our itineraries can be tailor-made to suit your requirements, allowing us to create the perfect holiday just for you. Please click on the "Tailor this trip" button and complete the requested information for us. Upon receipt, our travel consultant will customize the best value vacation for your kind consideration. Please note: Changes CAN be made to the itinerary after our initial quote, but may result in a price change also!
2. We are aware that a good tour must have good hotels. In Indochina in particular (Vietnam, Cambodia & Laos) hotel prices make up the major expense of your holiday. Therefore, we would like to clarify how we define these charges:
• Boutique & character hotels: from $50-$80 USD per room/ per night
• Comfort = 3 star hotels from US$ 40 - US$ 60 per room/ per night
• Superior = 4 star hotels from US$ 80 - US$ 110 per room/ per night
• Deluxe = 5 star hotels from US$120 - US$ 190++ per room/ per night
• High-end = Best of the best hotels from US$ 250++ per room/ per night
Child policy: 
• Ages 0-2: free of charge for tour. Airfares depend on Airlines's policy at booking time
• Ages 2-5: 50% of adult price. Airfares depend on Airlines's policy at booking time
• Ages 6-10: 85% of adult price & airfare fully charges
• 11 years and older: 100% (charged as an adult)
Service Details During The Trip
We'll immerse you in the diverse cultures of Vietnam by showcasing the unique local flavors. And with the perfect balance of included sightseeing and free time, you can customize your dream vacation with the things you have always wanted to do.
Private Local Tour Guide

 You will have legally licensed local tour guide in each destination, from welcome and farewell you at the airport. Your guide will guide, help, assist and taking care of you in order to make your tour worry-free. The good guide for you means we arrange the right guide. Asianwaytravel.com will arrange tour guide base on the feature of the itinerary and consists of the group, to maximize your experiences in traveling.



Private Drivers & Vehicle

 Safety is first priority for transportation. A well maintained good condition car with legal business licensed and an experienced driver to make sure you are in safe hands. To maximize your comfort and joyful experience with driving service, cold drinking water, cold towel and soft drink are provided in the car.


Local Flavor Meals

 Don't worry about meals; we select both restaurants and menus for you. Asianwaytravel.com will select clean and good environment restaurants for our customer. Menu is also carefully selected by us to ensure you try different food every meal.
We will recommend and arrange local cuisine since it is part of the cultural experience while traveling. We also recommend dinners are free on your own so you can choose your favorite food by yourself under necessary assistance of your local guide.



Well-Selected Hotels

 Comfort and good value is our priority for choosing hotels for our customers. Comfort of mattress and bedding, joyful decoration style, user friendly facilities, good service and good breakfast!
Travel Visa
Most countries in South East Asia require you to obtain a visa. Please check carefully with your travel specialist regarding specific visa requirements for each country you plan to visit as the legislation does change frequently. Thailand offers a free visa on arrival to most nationalities. Other countries including Vietnam, Laos, Cambodia and Myanmar offer a "visa-on-arrival" service which requires you to pay a fee at the airport, or you may prefer to obtain this in advance through the relevant embassy or a visa agent. For visa-on-arrival in Vietnam, you must submit some paperwork before you arrive.

This is an option to get your visa for Vietnam instead of getting visa at the Vietnam consulate in your country.
Step 1: Provide us your application details


 • Your full name (as exactly seen on your passport)
 • Your gender
 • Your date of birth
 • Your nationality
 • Your passport number
 • Your passport expiration dates ( with at least 3 vacats pagess and valid for at least 6 months)
 • Date of arrival ( dd/mm/yy)
 • Date of exit (dd/mm/yy)
 • Arrival airport


Step 2: Process your visa information into a visa application


We will contact you for reviewing your visa information and then submit your application on your behalf to Vietnam Immigration department and follow other procedures pursuant to the regulations of Immigration department to get Visa approval letter granted by Immigration department.
We will send the visa approval letter via email to you after 7 working days.
After we obtain the visa approval letter from the Immigration department for you, we will forward you a scanned copy of it by email (Your visa information then have been recorded to the Visa system of the Vietnam Immigration department).




Step 3: Get your visa stamp on your arrival


Just print the approval letter out, prepare 2 passport sized photos and an amount of USD for stamping fee ($25 for single entry visa; $50 for 1 month multiple entry visa ). Put all above mentioned things along with your passport in a package, then show them to Immigration officer at Vietnam arrival airports.

Upon arrival at Vietnam's airport, expect a simple form to fill in (or you can download here to fill beforehand), present the visa approval letter, passport, photos to the Immigration officer inside the counter and look for a place to hear your name be called to get the passport back and pay for the stamping fee. The actual process takes around 15 minutes without hassle or trouble.


For those who is applicable for E-visa, our travel experts will consult case by case.
Be the first review this tour
Want a customized trip
just for you?
Send us a quick inquiry so that we can offer you an itinerary
with price for your information. This short inquiry is FREE and
NOT a commitment for booking.