Not yet to be touched by tourism, Central Highlands of Vietnam are still remain its primitive nature and authentic culture. Besides Kon Tum, Pleiku is not a destination you can't miss in your trip to Vietnam's Central Highlands. As the capital of Gia Lai, Pleiku offers the most things to do and tourism services, especially around the Sea Lake. Pleiku and Gia Lai definitely should be on your bucket list if you're seeking for off-beaten-track destinations in Vietnam.
In this travel guide, we'll show you in details how to get to Gia Lai and Pleiku, what to do, where to stay and all the travel tips you need.

Overview

---

'Gia Lai' in Jarai people's original ethnic language means just simple as this: 'the land of Gia Rai/Jarai people'. Located on Kon Tum Plateau on an altitude of 700-800 meters above sea level and right next to Kon Tum province, Gia Lai has all the typical geography features of Central Highlands. The province is divided into 3 terrain forms: mountain, plateau, and valley. With the highland monsoon climate and high rainfall, Gia Lai has two seasons: wet and dry.
Things to do in Pleiku and Gia Lai
---
1. Get some fresh air at T'Nung Lake (Sea Lake)



Not just a tourist destination, T'Nung Lake or Sea Lake is also an inspiration for musicians. The lake is the object of admiration in the famous Vietnamese song 'Pleiku's Eyes' in which the lyricist compared the lake to the eyes of a young beautiful girl.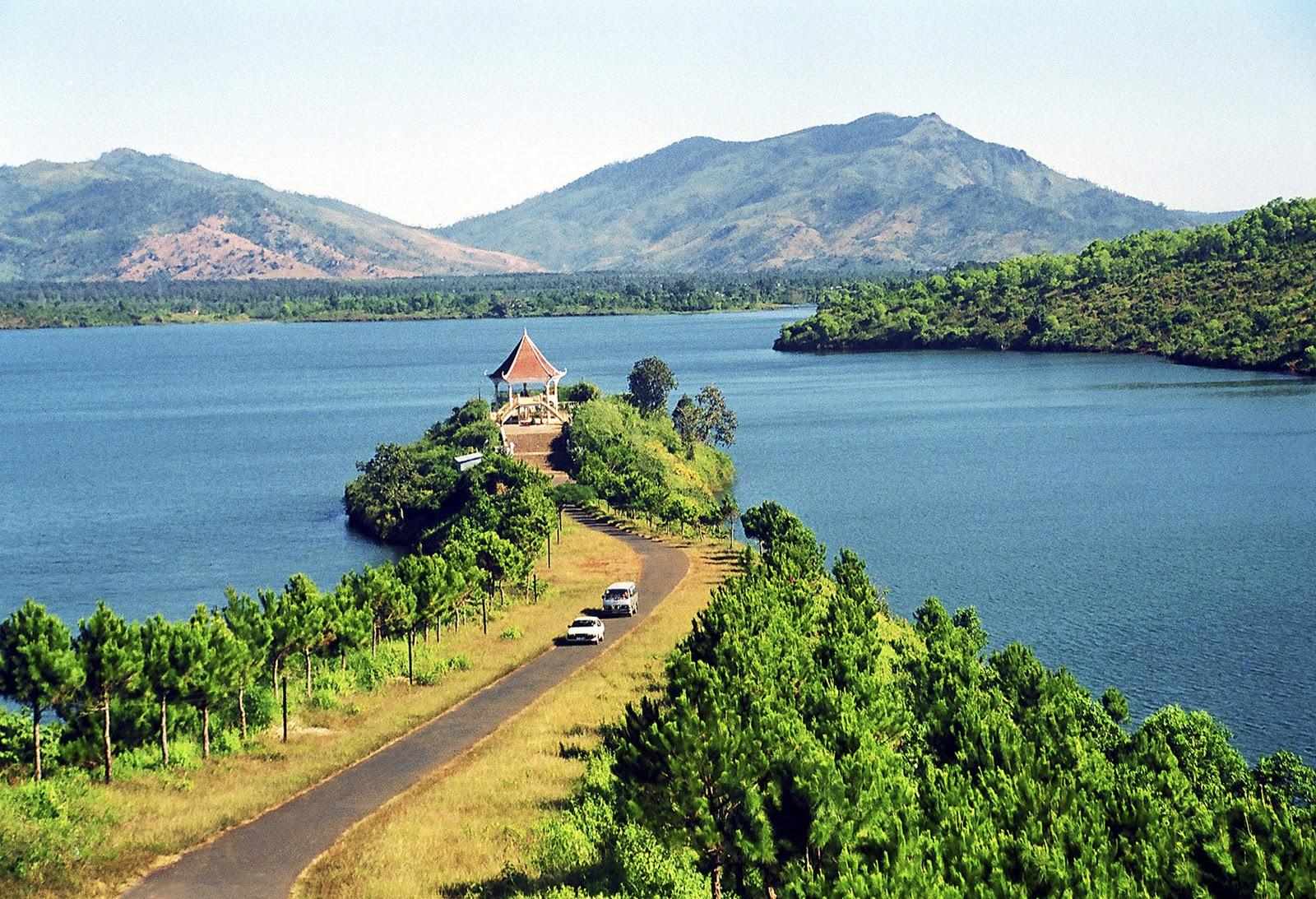 T'Nung Lake is located at Bien Ho Commune, on an altitude of 800m, covering a total area of 250 hectares (reaching 400 hectares in rainy season) with 18m depth, the lake is a true sight to behold. The lake is actually an oval-shaped crater of an extinct volcano. The blue and clear water of the lake is the reason for it to get the nickname 'Pleiku's Eye'.
A legend related to the lake has it that is about a village where people lived happily together but was destroyed by a volcano eruption; then the lake was formed by the tears of ones who survived cried for their lost ones.
The path leading to the lake has such a beautiful and peaceful setting with two rows of pine trees. Come to T'Nung Lake to enjoy the quiet landscape, fresh air and peaceful landscape. A special thing to do in T'Nung is boating under the moonlight.
2. Climb Ham Rong Mountain (Dragon's Jaw)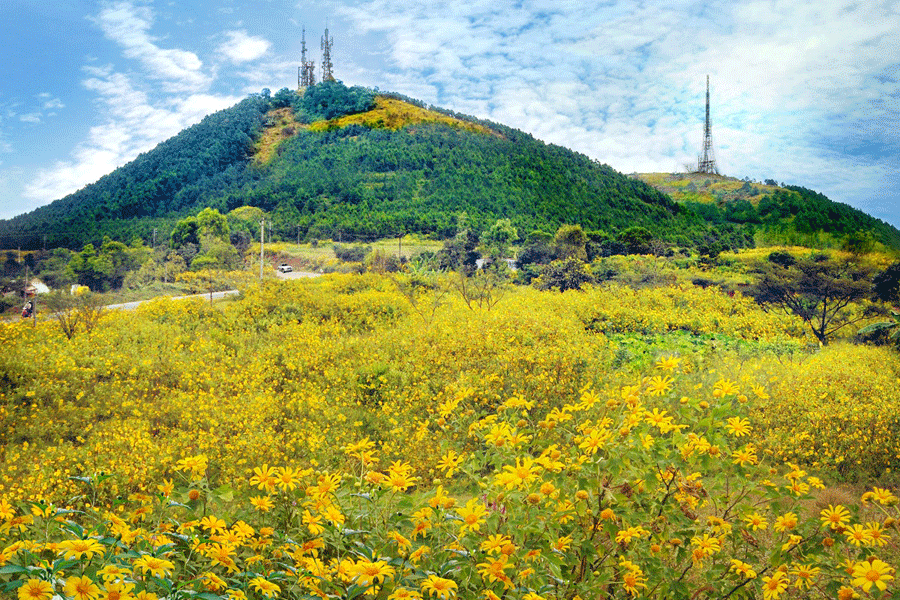 Ham Rong or Dragon's Jaw Mount is only 11 kilometers south of Pleiku, making it a perfect day trip from the capital of Gia Lai. Lying on the national highway 14B, the mountain has an easy accessibility for trekkers and climbers. As an extinct volcano, Ham Rong Mount is blessed with a typical appearance of a volcanic crater covered in green trees. During war, the mountain was taken to be a military base of US troops (Camp Enari, the former headquarters of the US 4th Infantry Division). Today, it's a provincial telecommunications transmitting center.

On an altitude of over 1000m above the sea, the air on the mountaintop is so refreshing with white clouds laden. From there, you can take in the panoramic views of the city below. The path leading up to the mountaintop is filled with da quy flower blooms from October to November, making it a beautiful sight to behold and a spot for photography.

3. Admire the unique architecture of Minh Thanh Pagoda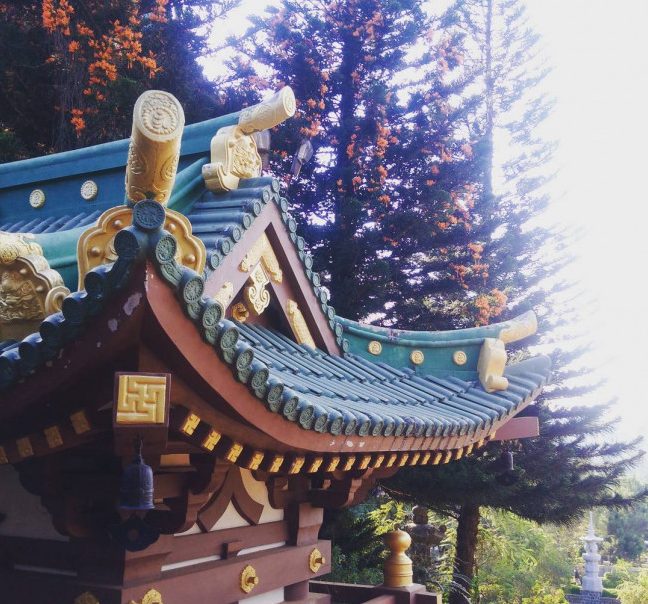 Located on Nguyen Viet Xuan Street, Pleiku city, Minh Thanh pagoda was built in 1964 and known for its beautiful Taiwanese architecture which is quite rare to be found in Vietnam.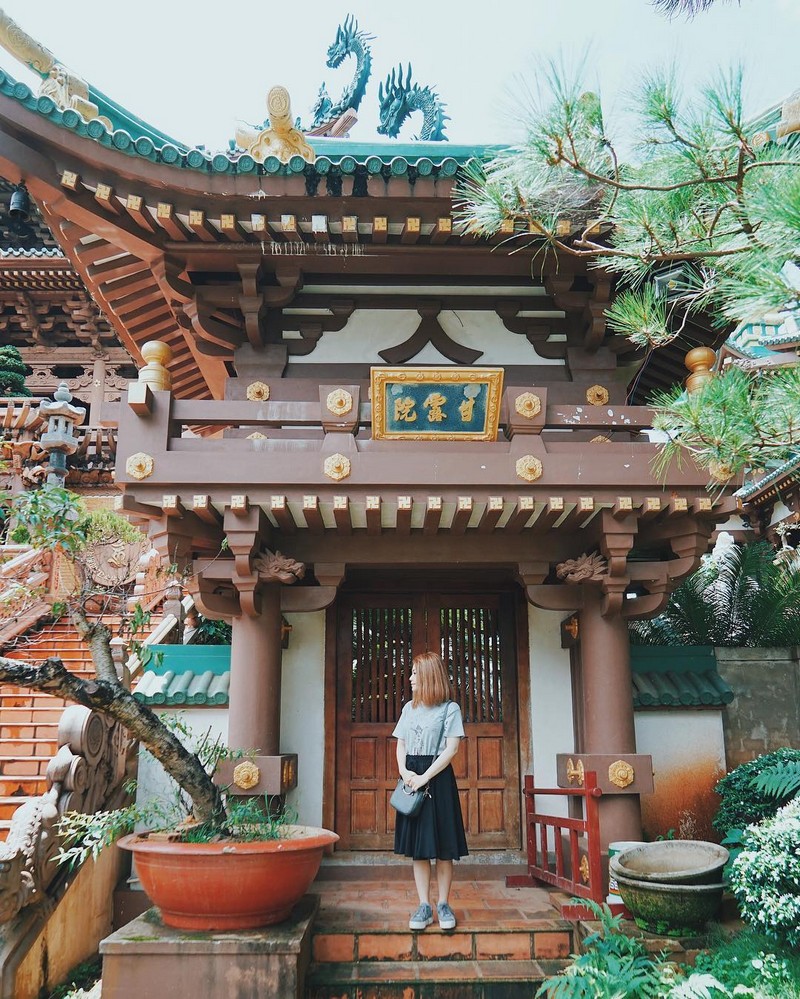 In the pagoda's courtyard stands a 40m high Chedi tower which can be seen even from afar and a 16m high presbytery resembling a blooming lotus. The presbytery houses a bell house, many statues and a lake garden. All the tiles on this pagoda's roof are glazed with dark green tint. The pagoda interior is well arranged and the there are many beautiful corners for you to pose. A must-see site in Pleiku city.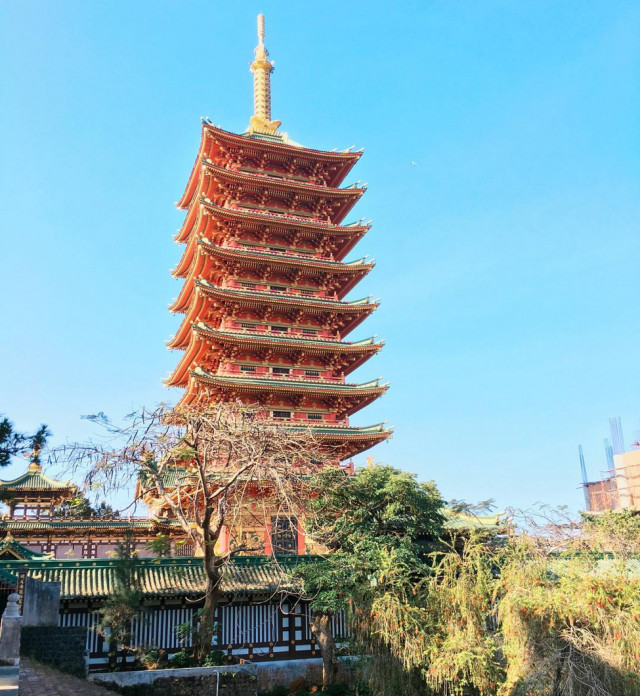 4. Trek to Kon Ka Kinh National Park



Kon Ka Kinh National Park at Ayun Commune, Mang Yang District, 50km away from Pleiku is the paradise for adventurers who love beautiful landscape and rich wildlife. Covering an area of almost 42,000 hectares, Kon Ka Kinh has been named as one of ASEAN Heritage Parks since 2003 with other three parks in Vietnam – Ba Be, Chu Mom Ray and Hoang Lien. The highest point in the national park is Kon Ka Kinh peak on a height of 1748m above the sea.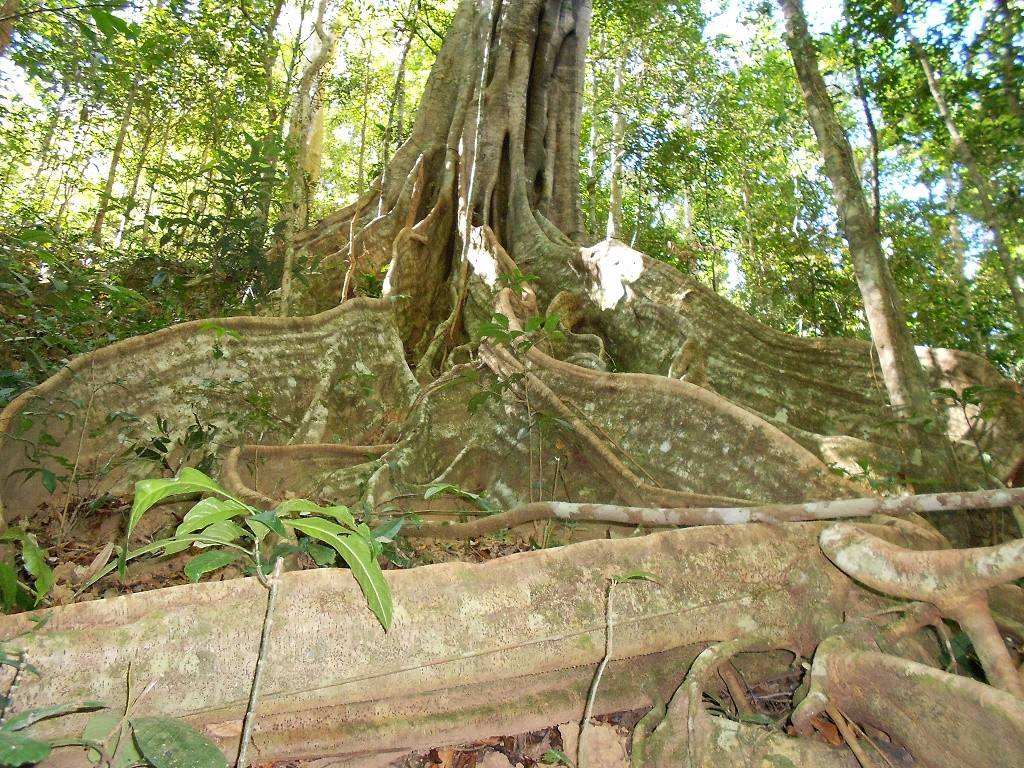 The park is blessed with a wide range of bio-diversity of flora and fauna: 687 flora species of 459 genus and 140 families including 24 precious and rare species; 428 animal species of which 223 species are of vertebrates living on land and 205 species Invertebrates.
On your trekking path, you can see many kinds of landscape like winding rivers, silver waterfalls, and clean streams. When you're on the top of Kon Ka Kinh peak, in front of your eyes will be the grandiose scenery of Truong Son mountain range.

5. Admire the mighty beauty of 50 Waterfall in Kon Chu Rang Nature Reserve



If you even more challenging experience in Gia Lai, why not trek to K50 Waterfall in Kon Chu Rang Nature Reserve. The path leading to this fall is not an easy feat but the reward is so satisfying.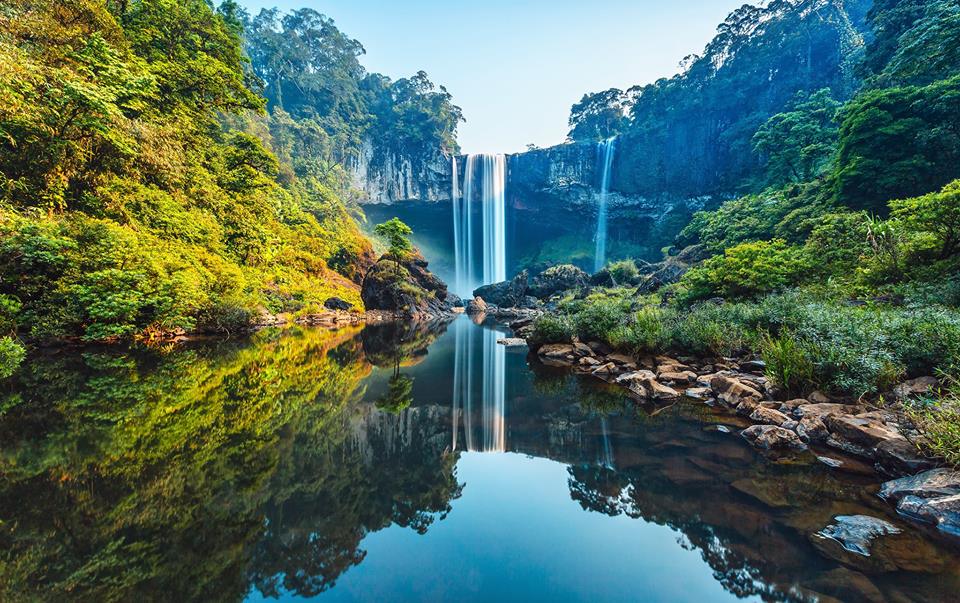 K50 is located on the border of Gia Lai and Binh Dinh, separated from the world by a thick forest and steep slopes. You'll have to ride motorbike for one hour than trek on foot for 3 hours more inside the national park. The whole trip to K50 waterfall might take 2 days and one night for experienced trekkers.
The beauty of K50 waterfall is kept intact from tourism, thanks to its remote location. The fall is singled out from its surroundings, making it even outstanding when you see it. The delicate water streams dropping from the top of a large cave and falling into a mirror lake at the bottom which is surrounded by big boulders and green trees. K50 is about 54m high (higher than Dray Nur) and 20m-100m wide depending on the water volume. Come here, travelers can't help to feel overwhelmed by the clean water and the primitive forest here.

6. Soak up Ba Na cultural air at De K'tu Village



De K'Tu Village is home to one of the four traditional Ba Na communities in Kon Dong town, located about 35 kilometers away from Pleiku following national highway 19 towards Quy Nhon.
De K'Tu's Rong House is the main draw of the village, decorated nicely with high-gabled roof and typical patterns of Na Na ethnic. Rong house is a type of communal house only seen in Central Highlands gathering the villagers to come and enjoy in most important events. Near the house the people here placed the jars of Can wine used only in the most exciting events.
On the west of the village is the grave house, much smaller than Rong House but holds equal importance and cultural value.

7. Visit Dong Xanh Cultural Village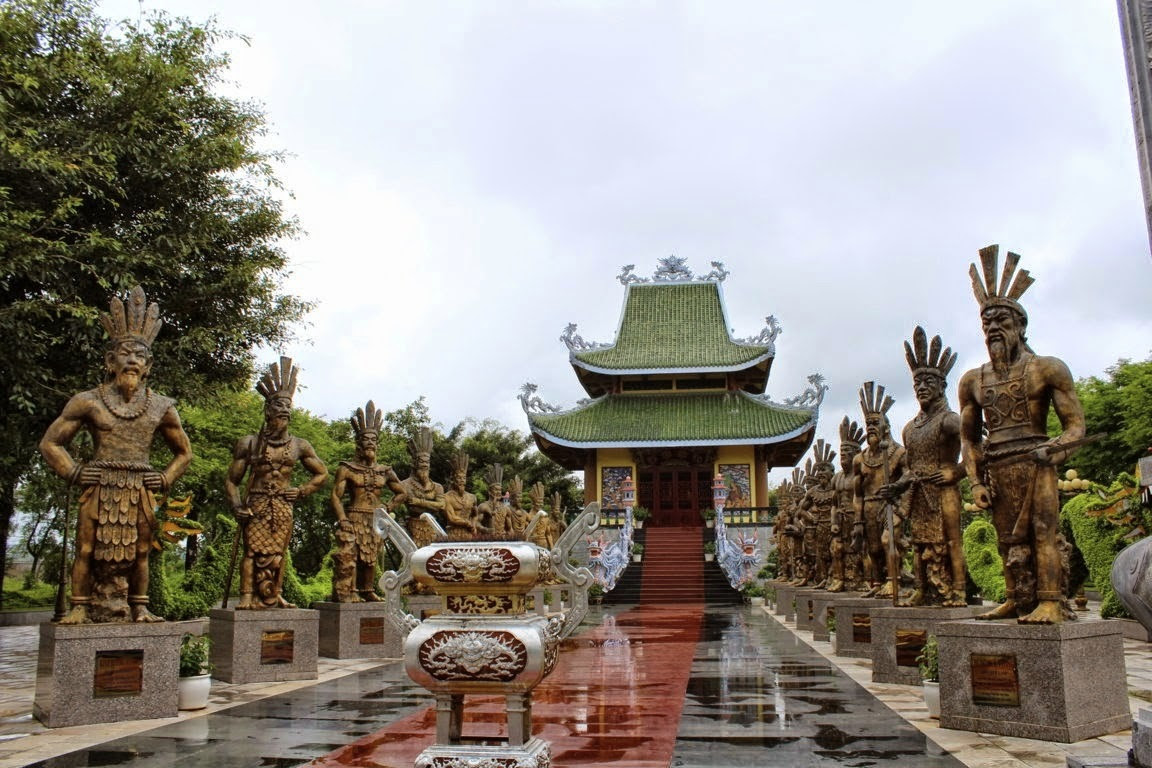 Dong Xanh cultural village is the small Central Highlands with most celebrated cultural features displayed here. Situated 10km from Pleiku, belonged to An Phu Commune, Dong Xanh shouldn't be missed on your trip.
Covering a total area of 8ha, Dong Xanh brings all the provinces of Central Highlands into one places. Here and there are Rong Houses, tomb houses, and wooden sculptures displayed. Many flowers and plants of the area are planted around the miniature mountains, lotus lakes, fountain, pavilion, and gardens harmoniously. You can find here the iconic T'rung instruments which is famous across the country has long been considered as the symbol of Central Highlands.
8. Enjoy picnic time at Phu Cuong Waterfall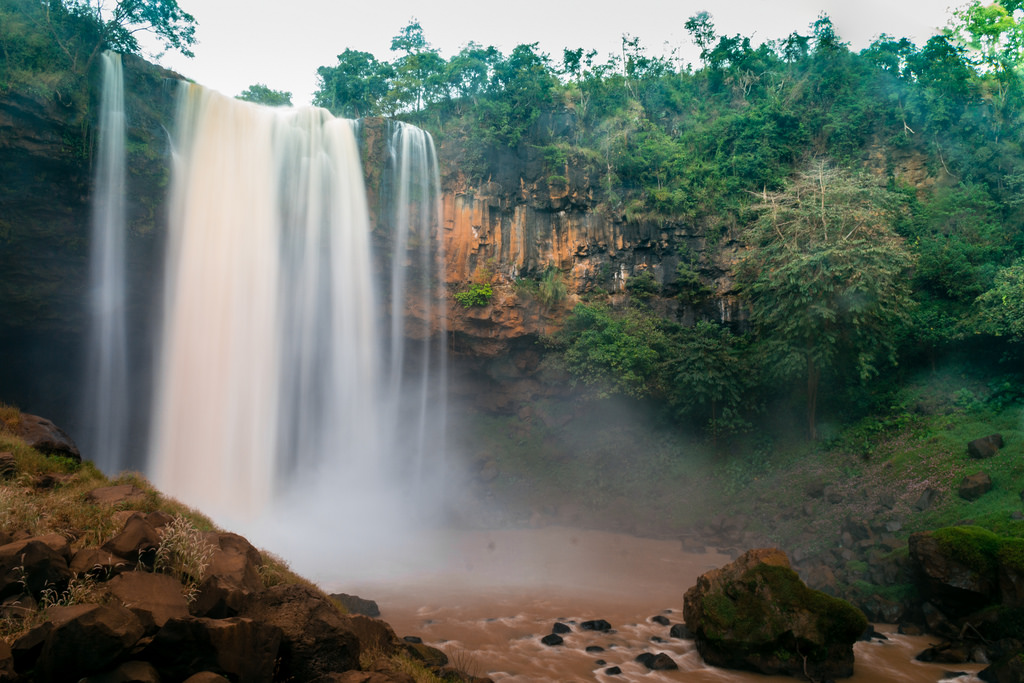 If the K50 waterfall is too remote for you to visit, Phu Cuong Waterfall is a great alternative which is much closer (40km away from Pleiku city, inside Phu Cuong Waterfall Ecotourism Area) much less challenging. The water drops from a height of 45m into a small lake at the bottom. In rainy season, the larger volume of water makes the fall more powerful but in dry season, it becomes a delicate white silk scarf on the rocky edge. 

9. Buffalo-Stabbing Festival



Central Highlands is home to many authentic and unique festivals, one of which is Buffalo Stabbing Festival of Ba Na ethnic people.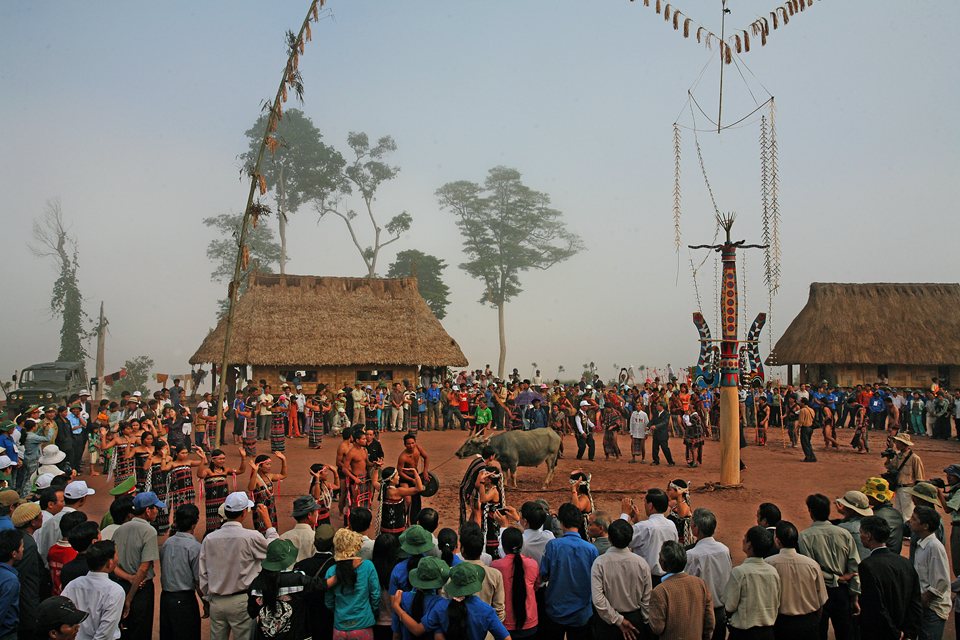 The even often occupies on the ground in front Rong House and is to remember the village founders, ancestors and to celebrate the bumper after harvest season. A buffalo is tied to a tall bamboo pole at the middle of the ground, decorated with flowers, leaves, colorful flags, banners and rattles. On the pole's top is a phoenix often made by bamboo or wood. This pole is very similar to the north's New Year Cay Neu. The buffalo must be of Liangbiang breed, cleaned and fed before the event. On the second day morning, strong men of the village will use long darts to stab the buffalo to death. The meat will be shared to all villagers.
This festival often lasts for two or three days on special occasion for the village.

10. Leaving Tomb Festival



From March to April every year – a long time after the harvest, leaving tomb festival will take place to send the soul of family's deceased away. When a family member dies, his soul still remains with the family and the living ones will talk to him every night and let him join every activity of the family. With the festival, the family will say goodbye to the dead and move on with their life. People will go to the forest to choose the best woods to make wooden statues around the tomb house of the dead. Villagers will sing and dance in the whole three days of the festival as a send-off. After that, family members see themselves having no connection to the dead.
What to eat in Pleiku and Gia Lai
---

1. Dry Noodle (Dry Pho)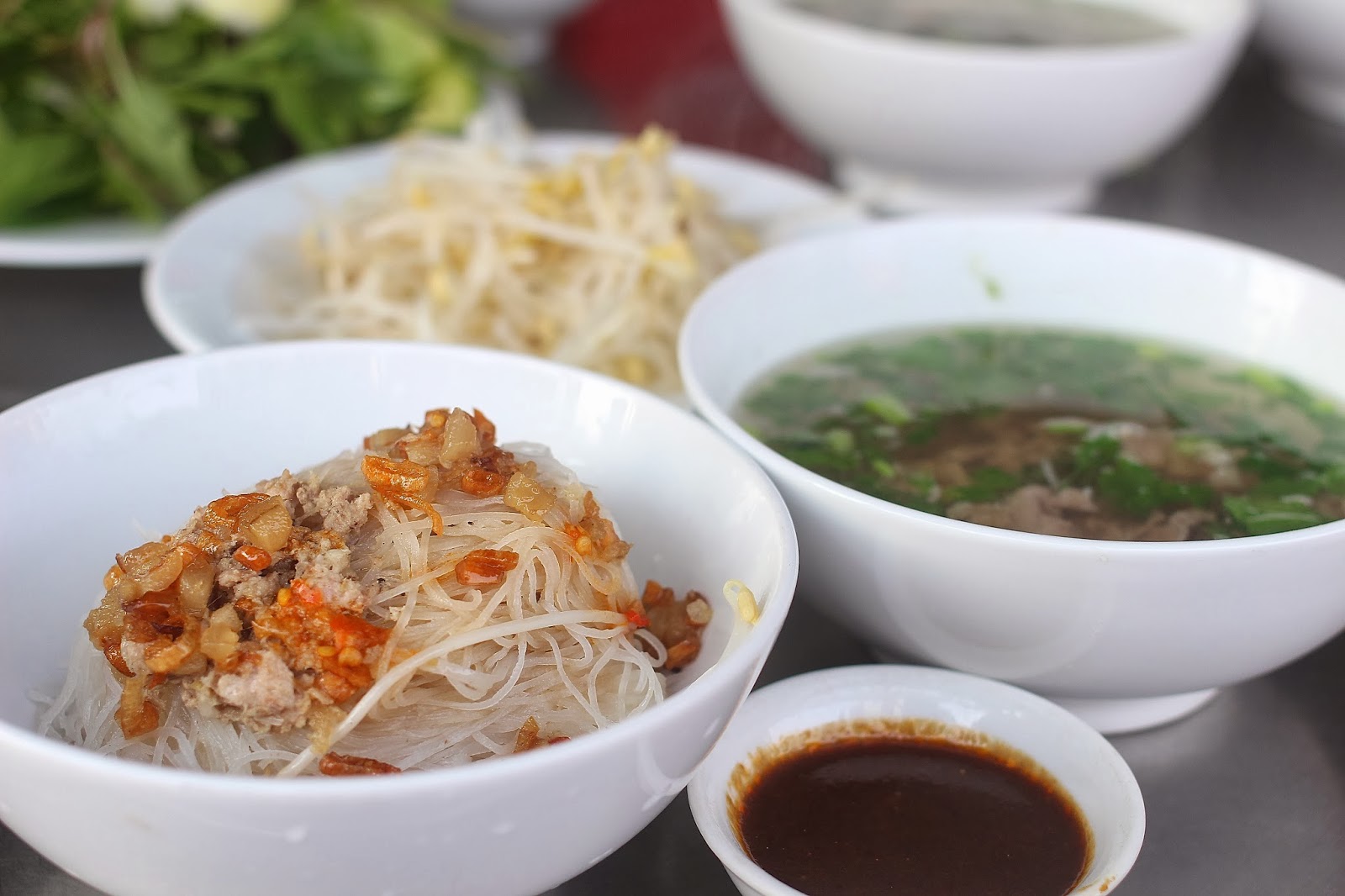 This is very special dish in Gia Lai and it tastes best in Pleiku. Unlike the convenient noodle soup in Hanoi, Gia Lai's dry noodle is served in two bowls – one containing noodle with toppings like chicken mear, ground pork and fried onions; the other one for the broth which is made by boiling the knuckle bones with many spices. The dish is served with fresh herbs and a small bowl of black soy bean sauce.
2. Can Wine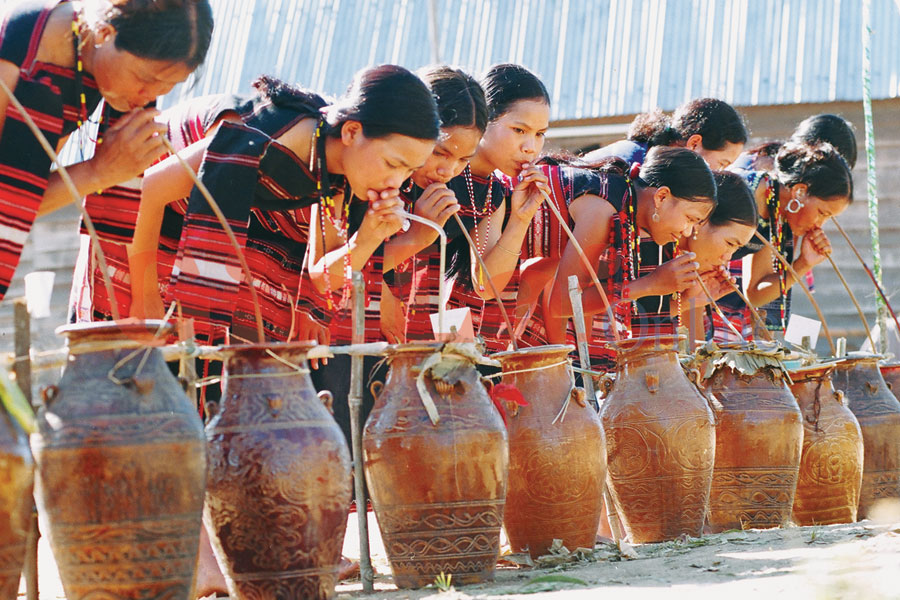 Can wine is a communal alcohol drink for festive occasions for many ethnic people in Vietnam, especially the minority groups in Central Highlands. Can Wine can't be missed in any village's event. The wine is made from glutinous rice, has a wonderful fragrance which can make you drunk just by smelling it. Can wine is often drank in Rong House when everyone is gathered for a celebration or a marriage. A huge jar containing Can wine is placed in the center of a group of people and they do not use cups to drink the wine but they use many small and long bamboo tubes as straws. If you have a chance to visit a village in Pleiku, the people might offer this wine as a welcome drink.
3. Crab sauce and bamboo shoots noodle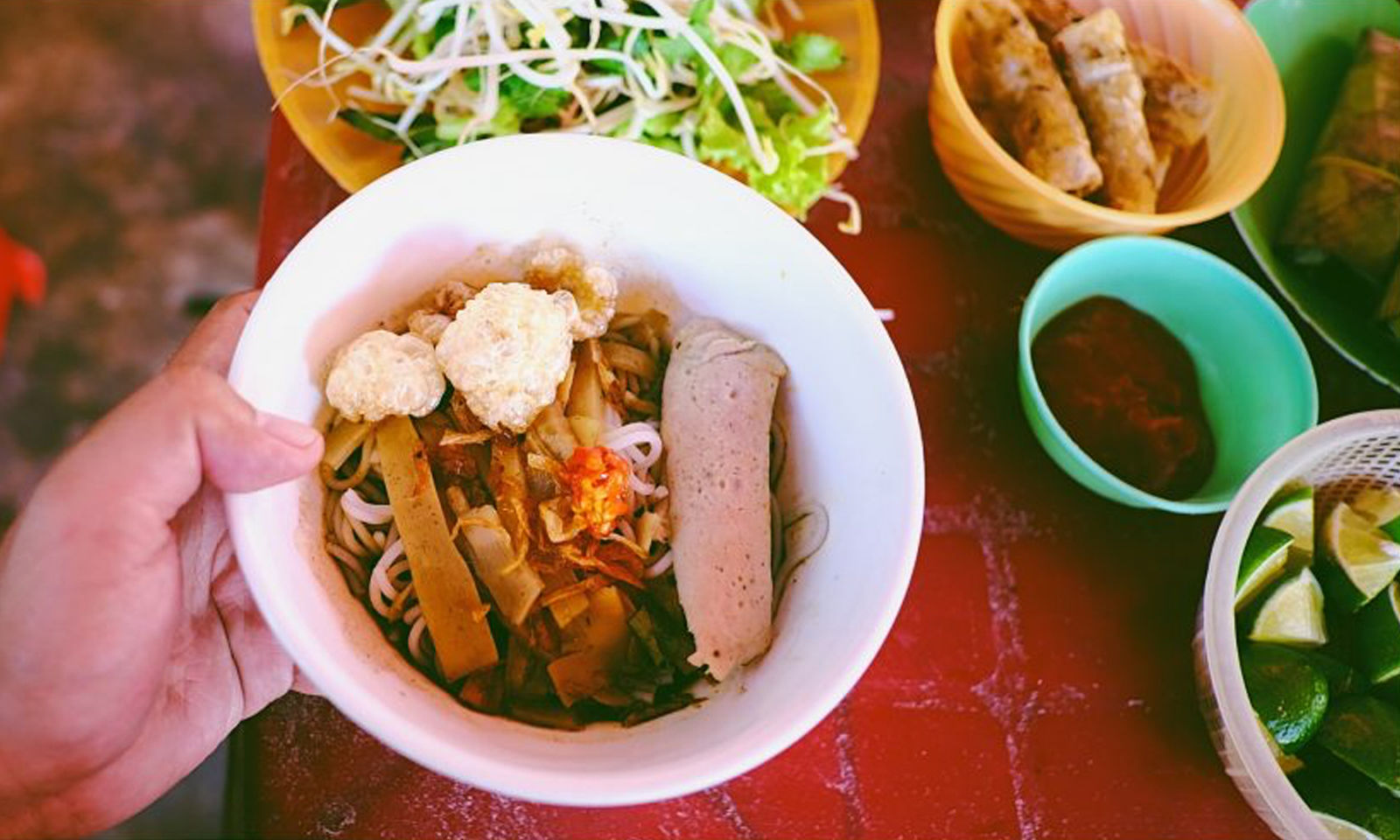 Another unique dish in Pleiku for you to try – yet not everyone like this dish for its very strong smell from the crab sauce. This sauce – the highlight of the dish must be kept for one day until it smells.
Those who dare try won't ever forget the taste of the dish which is a mix of crab sauce, bamboo sauce, vemicelli, pork, lemon. It's really a feast of flavors that will left you the strongest impression ever.
4. Golden Ant Salt
You might feel weird about this dish when you know its making. To make this salt, the local people have to go deep into the woods to find the golden ants then stir fry them then pound them with spcicy chilies, leaves and salt. This salt is best when used with dried beef.
5. Pleiku Coffee
Come to the coffee gardens in Pleiku to enjoy the smell and taste of one of the best coffee in Vietnam. Especially when you visit the land in March or in December – it the months for coffee flowers bloom and coffee cheries harvest.
How to get to Pleiku, Gia Lai

---

Pleiku is one of the major cities in Central Highlands, the third largest after Da Lat and Buon Ma Thuot, therefore the transportation from/to Pleiku has a lot of options for you to choose. Pleiku is 186km from Quy Nhon, 197km from Buon Ma Thuot, 550km from Ho Chi Minh City. There are two main way to travel to Pleiku: by bus and by airplane.
-

By plane

, there are daily flights connecting between Pleiku with Da Nang, Ho Chi Minh city and Hanoi, operated by Vietnam Airlines, Vietjet Air, and Jetstar Pacific.

Pleiku airport: 17 Thang 3 Str., Pleiku City.
-

By Bus

, there are alot of buses available buses running to Pleiku from north to south. There are abundant companies as Mai Linh, Hong Hai, Tan Phat… having coaches running to Gia Lai everyday from all big cities. Price for a one way ticket from Ho Chi Minh city to Gia Lai is 200,000-300,000VND.
Best time to visit Pleiku, Gia Lai

---

Central Highlands region has two distinct seasons: dry season from December to April and rainy season from May to November. The best time to visit Pleiku and Gia Lai is supposed to be December and between February to early March, which is also the best time to visit Vietnam.
There're heavy rains in wet season, the air is humid and the roads are dirty and swamp, not at all ideal for traveling activities.
In December, you can enjoy the flowers in Pleiku and this time is also the time for coffee harvesting. By visiting the coffee gardens, you'll have chance to taste Pleiku coffee which is considered a specialty here. If you want to see the white blossoms of coffee flowers, come to Pleiku in March. The spring time has also many festivals such as buffalo fighting festival, elephant race festival...

You find Pleiku, Gia Lai to be your next destination in Vietnam? Send your request to booking@asianwaytravel.com, we'll come up with the most sensible itinerary and quotation.