The sleepy Laos has always been an inspiring destination among Indochina countries. Laos is not to be missed in any trip to Southeast Asia for its sublime nature beauties and richness in culture. Life in Laos is slow, the people is friendly and the food is delicious, what could you possibly want more than that of a perfect destination? Laos is also nice to first-timer visitors for its safety and easy-going atmosphere. In this article you will learn all the best things to do for first-time visitors in Laos, bonus with all necessary information and tips to make sure your trip go smoothly.

>>> See Top Things to do in Luang Prabang
Things to do in Laos in First Time

---

In Vientiane


The nickname given by travelers and expats 'sleepy capital' doesn't necessary means that the capital is a boring destination to be discovered. Rather the opposite, Vientiane is the number one place to see and a great base for first-timers to travel Laos. Vientiane appears to be quite different from what you might expect of a capital city: loud noises, traffic jams, skyscrapers…. Laos's capital has this slow rhythm to it with a pleasantly relaxing atmosphere. For a trip to Laos, Vientiane is a perfect start. Here are things to do in Vientiane:

1. Take picture of Arc de Triomphe: Patuxai




Influenced by the French, Laos has their own Arc de Triomphe built to commemorate the people who fought and died in the battle against the French and the wars after. With a twist of Lao own architecture traits, Patuxai is a great sight to behold in the capital of Laos.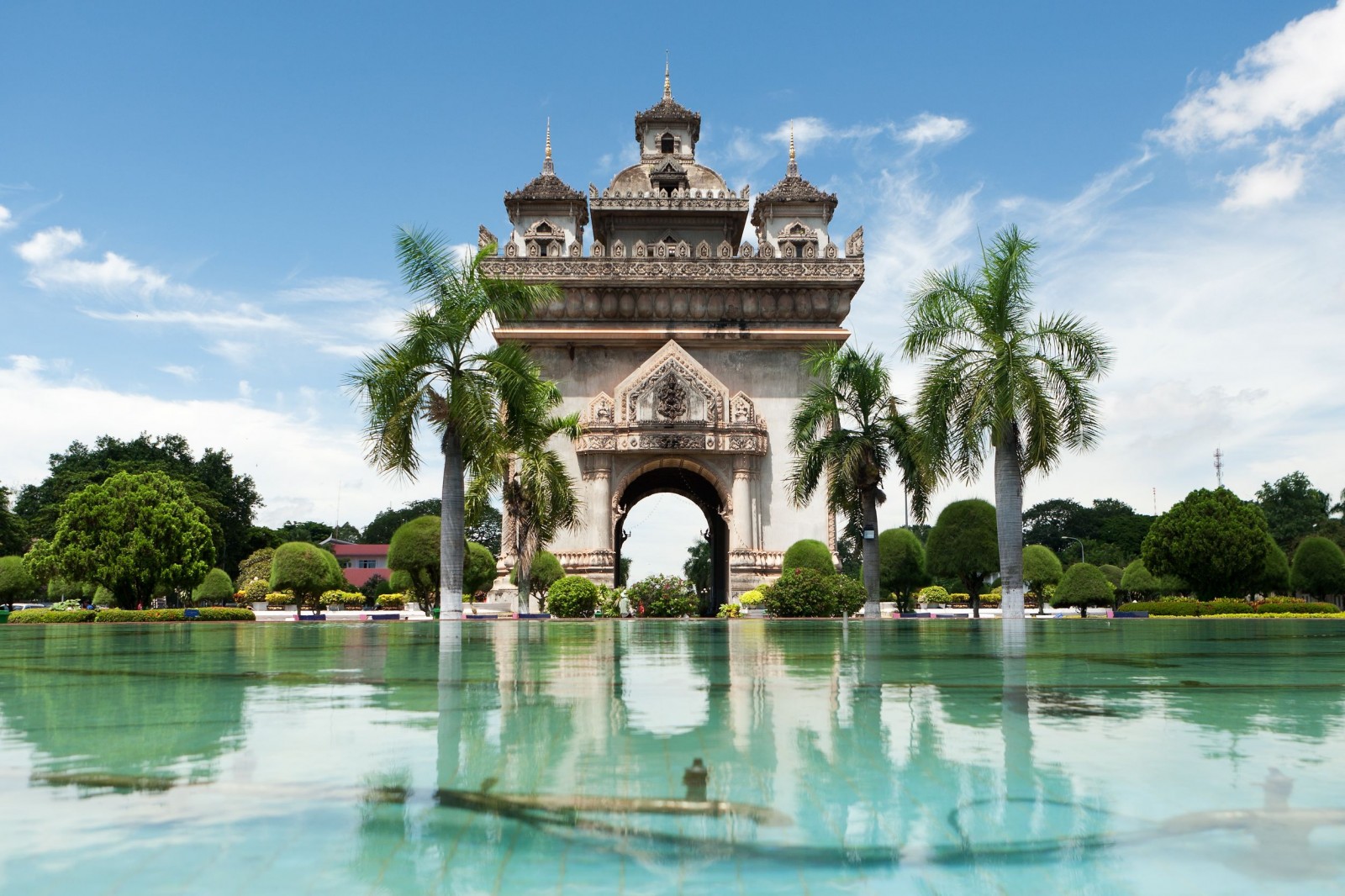 – Opening hours: 8:00am – 16:30pm Mon – Fri | 8:00am – 17:00 pm Sat – Sun

– Location: Thanon Lane Xang

– Entrance fee: 3,000kip / USD $.40
2. Visit the Buddha Park



Buddha Park or 'Spirit City', located 25 kilometers from the capital, can make a great short day trip from Vientiane. You'll see a bizarre park filled with several concrete statues of humans, animals and demons from Buddhist and Hindu mythology. A reclining Buddha statue in 120m long is highlight of the park.





– Opening hours: 8:00am – 17:00pm every day

– Location: Thanon Tha Deua

– Entrance fee: 1500kip per person

3. Learn about the secret war in COPE Center
Not that many people knew about the secret war in Laos where Americans dropped a number of bombs than that of the World War II combined. Till todays, the war still affects the lives of Lao people so deeply that people are still being killed by the unexploded bombs.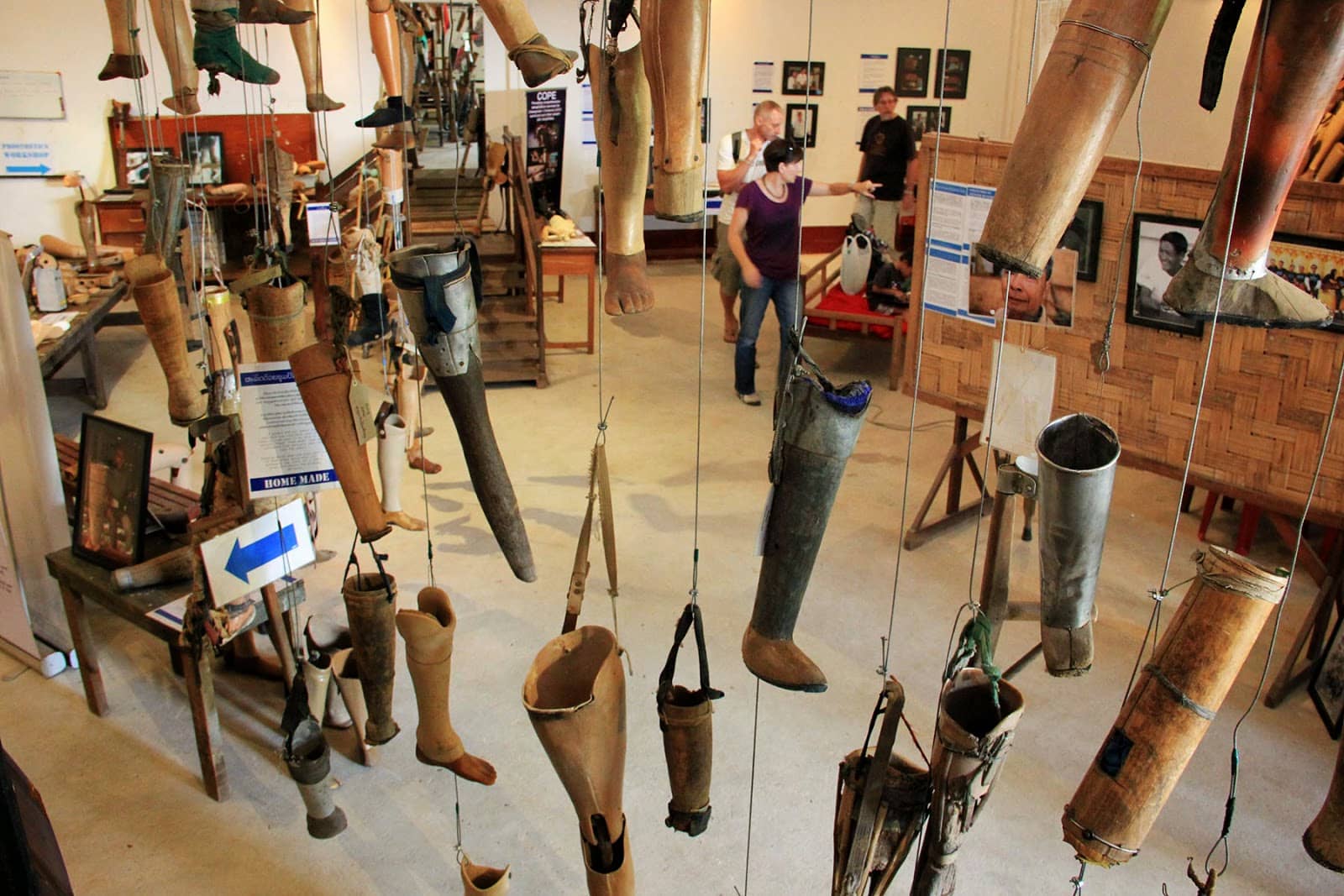 – Opening hours: 9:00am – 18:00 pm everyday

– Location: Boulevard Khouvieng, Vientiane, Laos

– Entrance fee: Free, though donations are appreciated

4. Enter the world of colors at Lao Textile Museum
If you are infatuated with all things textiles, then you should visit Lao Textile Museum where the whole Lao textile culture is displayed: antique textile, the weaving equipment, and a variety of designs. Just take a tuk-tuk and you can get there easily.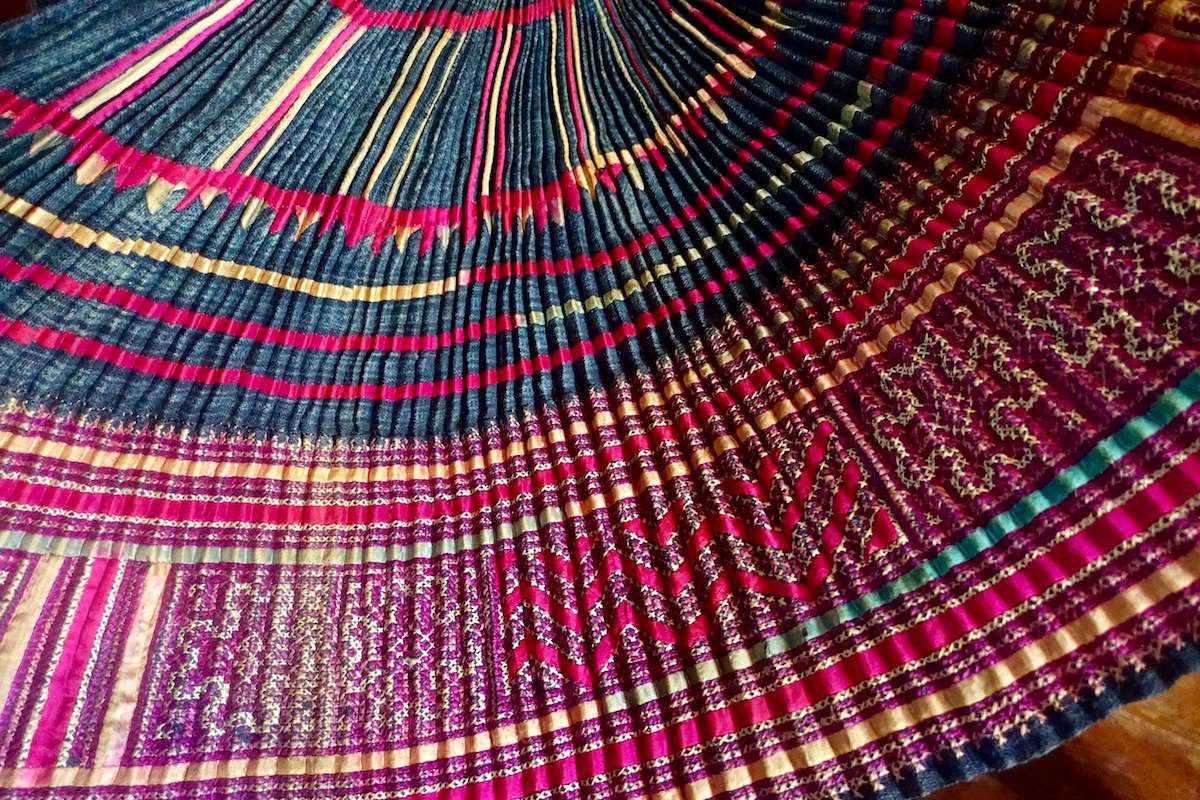 – Opening hours: 9:00am – 16:00pm daily

– Location: 151, Nongthatai Village, Chanthaboury District

– Entrance Fee: 30,000 kip / USD $3.60

5. Pha That Luang – World Heritage
If you come to Vientiane, Pha That Luang – a pagoda with a gold covered stupa, is a must-do thing. Proved to be existed back to 3rd century BC, Pha Tha Luong has been recognized as an important cultural monument of not only Vientiane but also of all Laos. Most highlighted feature beside the golden stupa is the giant reclining Buddha golden statue.


– Location: That Luang Stupa, Vientiane

– How to get there: The easiest way from central Vientiane is via tuk tuk

– Phat That Luang entrance fee: 5,000kip for foreigners
6. Get the most of Luang Prabang Experience
As a world heritage, Luang Prabang cannot be missed in your first trip to Laos. The glimmering temples and French architecture dot Old Quarter of Luang Prabang with their majestic, ancient and regal beauties. Nested in between two rivers and mountains in the backdrop, Luang Prabang offers plenty of natural sites to be discovered. But the thing you will enjoy the most in this city is the peaceful atmosphere and slow pace of daily life.


In Vang Vieng

Vang Vieng is the best place in Laos to have a good time – not just the landscape is magnificent but also there're a lot activities you can enjoy here.


7. Tubing in Vang Vieng
One of the fun and quite challenging things to do in Laos for young travelers. You might probably heard about tubing in Vang Vieng – both the fun and the danger. Good news is in recent years, tubing has become much safer for the travelers. For those who are looking for a bit of thrill in Laos, Vang Vieng is the way to go.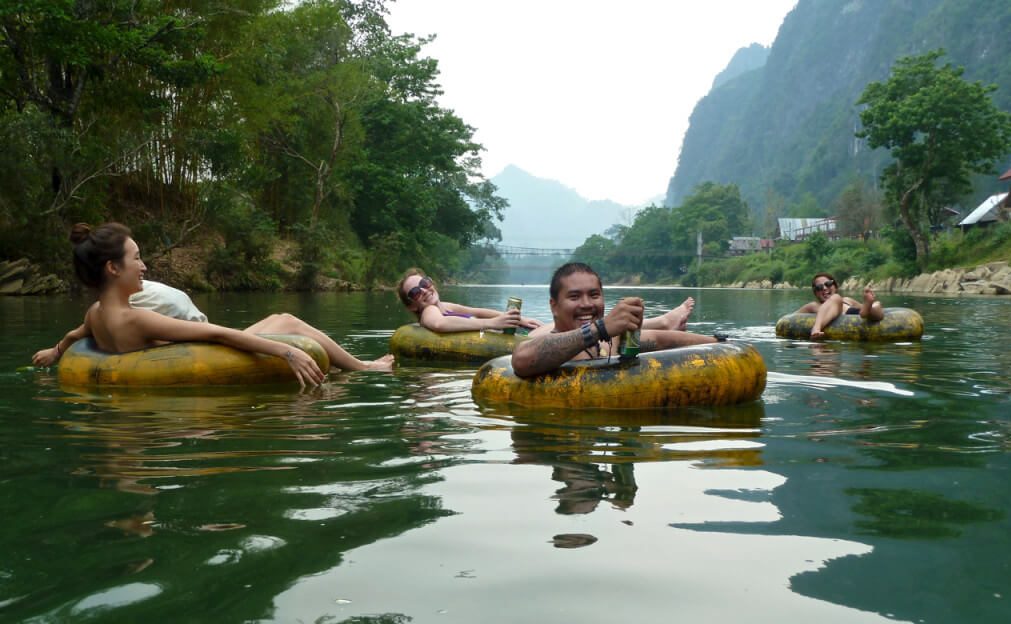 *How to start tubing in Vang Vieng:


– Rent a rubber tube in town for 55,000 kip and deposit 60,000kip (get back the deposit when you return the tube by 6:00PM)

– Get on a tuk-tuk heading to the upstream of Nam Song River – stating point of the tubing route

– Jump in your tube and start floating, start partying at the bars and have fun

*Tips for tubing in Vang Vieng:

There are two routes open for tubing: red and yellow/white. The only difference is where you start on the river:


– Red Tubes: start at the south


– Yellow/White Tubes: start at the north of the river, floating south


– Don't drink before you tube


– Use waterproof bags for your camera/gopro


– Leave your shoes at home


8. Jump in the Blue Lagoon
Besides Iceland, Laos also has its own Blue Lagoon where you can jump into an incredible blue swimming pools. Not only one, Vang Vieng has three blue Lagoons which are all parts of a packaged tour, combined of caving, swimming, hiking and tubing. Dry season is the time these swimming holes get the prettiest color. Covered by big trees, travelers can climb up the trees' branches and the rope swings easily and jump down.


Road to the Blue Lagoon is quite a challenge for trekkers since you have to go through a cave to reach these pools. But it's really worth the effort!


9. Go Kayaking in Vang Vieng
Nam Song River inspires so many things to do in Vang Vieng, one of them is kayaking. There's no better way to enjoy the scenic landscape and wilderness of Vang Vieng than kayaking along this poetic river. To do this, you can book a half day tour from any company in town for about 100,000 Kip, about a little more than $10. This tour takes you a few hours, offering some nice stops on the way where you can enjoy a BeerLao.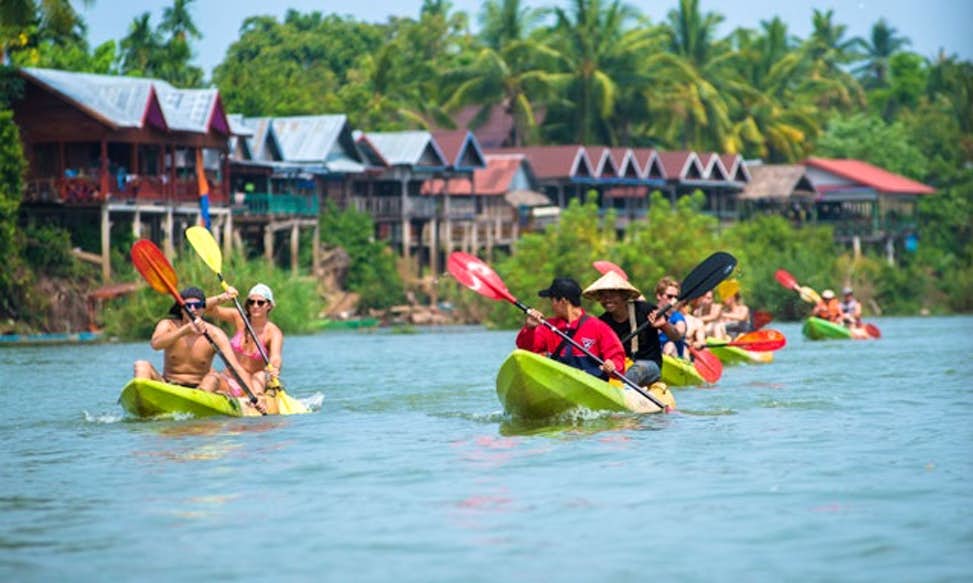 10. Take in the landscape at Phangern Mount Viewpoint
Right in Vang Vieng you can enjoy magnificent view of nature – Phangern Mount Viewpoint is the place to go, located just 4.5km from Vang Vieng Town. Trekking to Phangern Mount is a must thing to do in Vang Vieng for first-timers who love adventures.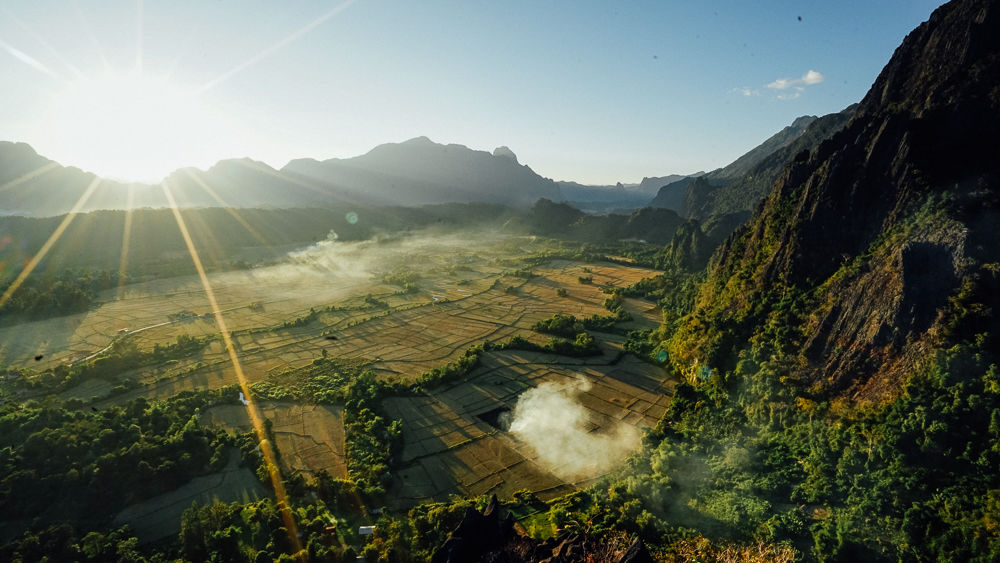 11. Visit the Plain of Jars in Xiang Khoang

Get to Plain of Jars in Xiang Khoang to enjoy a little twist of enigma and mystery. Plain of Jars is truly one of the kind attraction in Lao that should be on every traveler's list. Located on a large area around Phonsavan, a sight of hundreds of stone jars made from granite and sandstone will arouse your curiosity.  The purpose of these jars is still to be debated – one opinion supports that the jars were made to store wine while some think they were to keep the dead.


– Tips: only walk on the known routes to avoid UXO


– Opening hours: all year around


– Location: Around Phonsavan. Site 1: 15km southwest of Phonsavan, Site 2: 25km south of Phonsavan and Site 3: 35km southeast of Phonsavan.


12. Try Lao-Lao in Ban Xang Hai
Lao-Lao, besides Beerlao, is a staple drink in Laos. This drink is most famous in Ban Xang Hai village where the villagers attract tourists with their Lao-Lao making skills. Basically, Lao-Lao is made from fermented sticky rice, distillated by boiling. A bottle of Lao-Lao can make a wonderful gift to bring back home.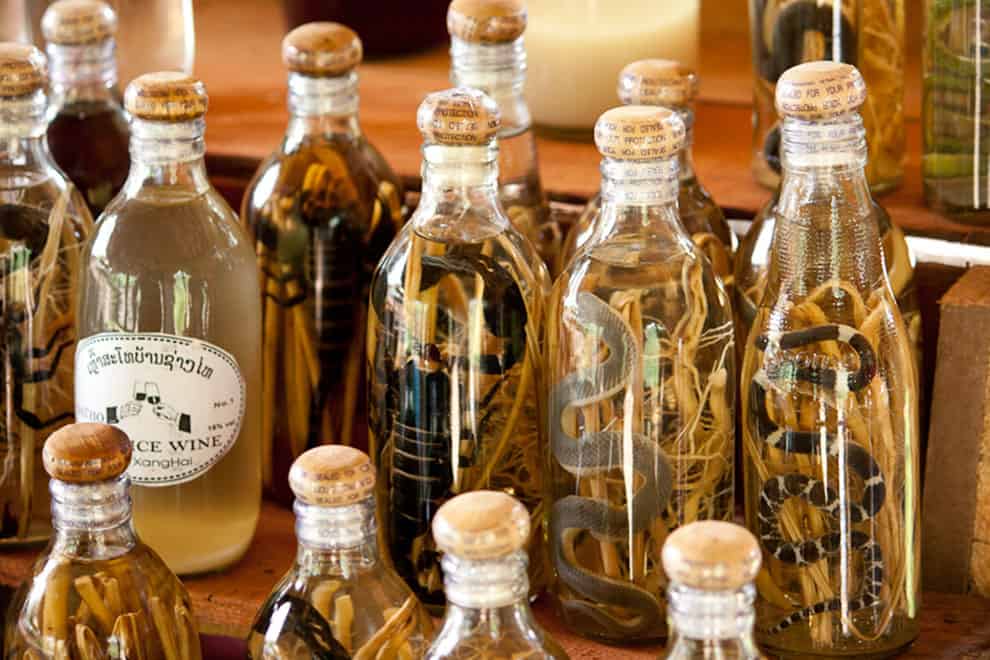 13. Admire the nature wonder of '4000 Islands' Si Phan Don
As a matter of fact, Laos doesn't have coastline, but it has the land of 4000 islands which offer a dramatic yet idyllic natural landscape. Located at the southernmost province Champasak of Laos, Si Phan Don is where Mekong river flows out of Laos and into Cambodia.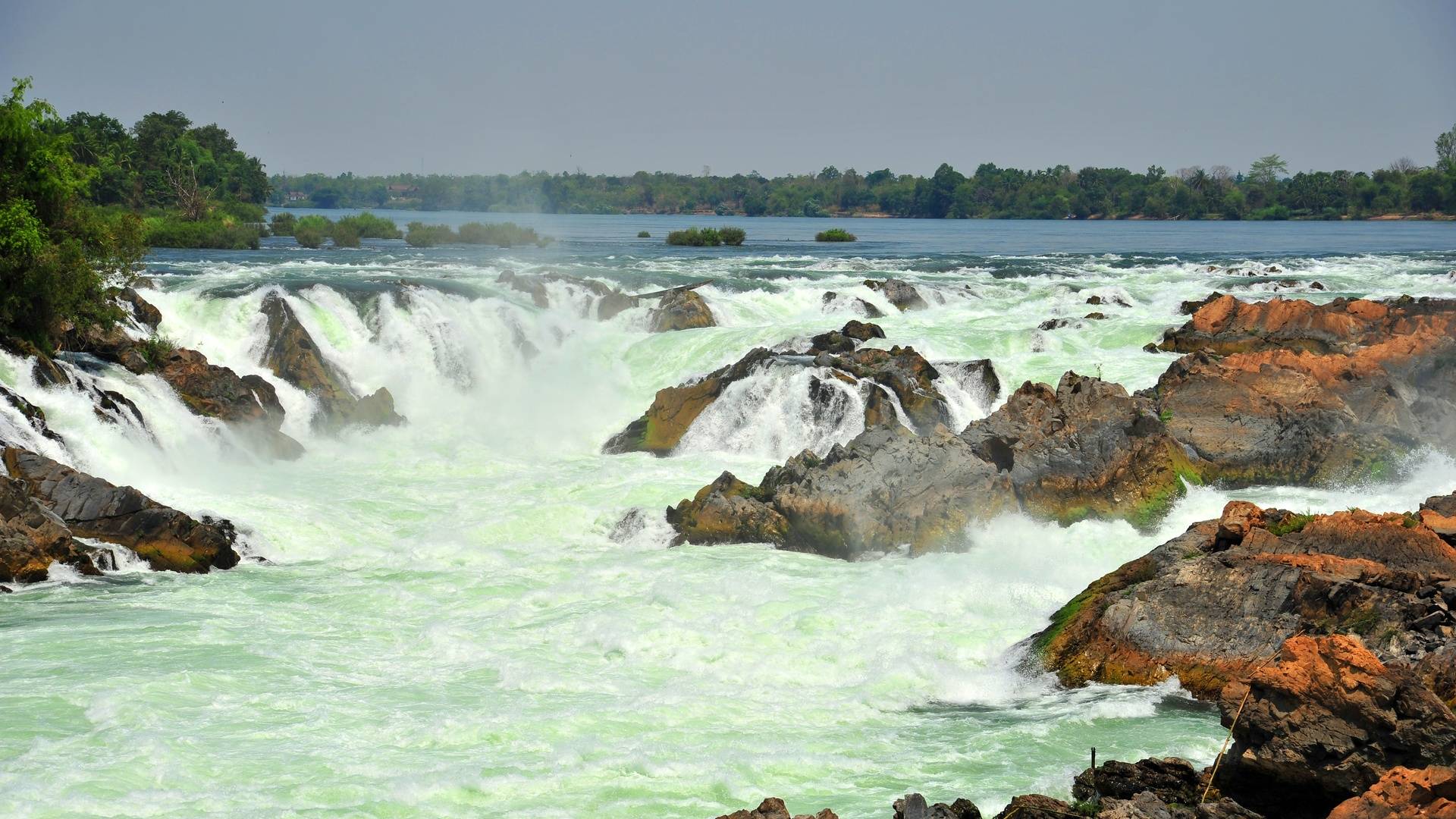 Come to Si Phan Don, you'll have chance to see the most impressive set of islands and if it's rainy season, you'll see the river expands to 14 kilometers while its flow blocked by Khone Falls making it fierce and dramatic sight to see. Si Phan Don is also home to a group of 50 Irrawaddy dolphins, often seen at the downstream of Khone Falls.

Other than Khone Phapheng and Somphamit Falls, you can also take a visit to the nearby islands Don Det, Don Khon, Don Khong  to see more of the daily life of the dwellers here.

>>> All the destinations above are included in:



Top Recommended Laos Food for First-time Visitors

---


By no mean first-time visitors should miss trying the best dishes of Lao Food. Many people know and love Thai food but fail to acknowledge that a lot common Thai dishes have actually originated in Laos. 

1. Khao Jee Sandwich

 
This is a Lao version of Vietnamese sandwich – made of French baguette and filled with lettuce, carrots, tomatoes then filled with luncheon meat, chopped ham, pate and a chili garlic sauce. The dish is a popular snack and can be found almost anywhere in Laos. 

2. Beerlao



Beside Lao-lao, Beerlao is another popular drink of the country and much easier to find and try than lao-lao, especially for female travelers.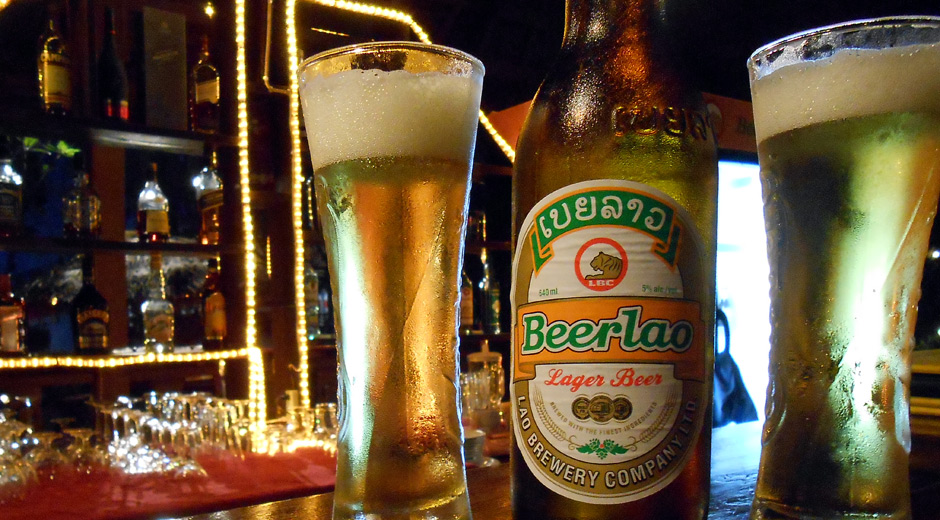 You can drink Beerlao with almost any Lao food and with no food at all it still can fill you up and quench your thirst. Beerlao gets the conversions going and makes it so much easier to make new friends. 

3. Mok Pa (Steamed fish in banana leaves)



This is the Lao version of Cambodia Fish Amok dish, but tastes slightly better with a whole lot of flavors added to the fish from lemongrass, kaffir lime leaves, fish sauce, and lots of chilies.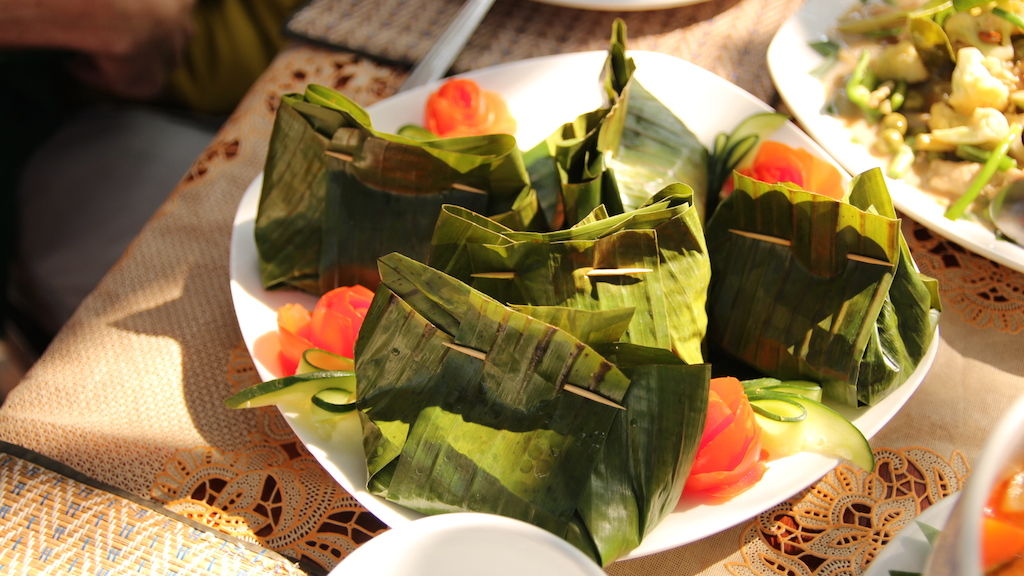 Then the fish is wrapped by a banana leave until it's cooked soft and fragrant. If you're a food enthusiast visiting Laos, this dish is not to be missed on your food list.
4. Khao Piak Sen (Noodle Soup)

Khao Piak Sen is what Pho is to Vietnamese people – a quick, tasty and easy dish that can be eaten at anytime of a day. You can easily find this soup at any corner on Lao streets. The dish is made of rice noodles topped with either beef, chicken or pork and onions, few slices of tomato, bean sprouts, cilantro, beans, and of course, chillis. 

5. Naem Khao Tod (Crispy Rice Salad)



This dish should be a fun experience with many flavors combined. Made of deep fried rice balls, roasted peanuts, freshly grated coconut, dried chili and pork sausage. Served with a lot of fresh herbs, try Naem Khao Tod to enjoy incredible texture and a unexpected combination of flavors.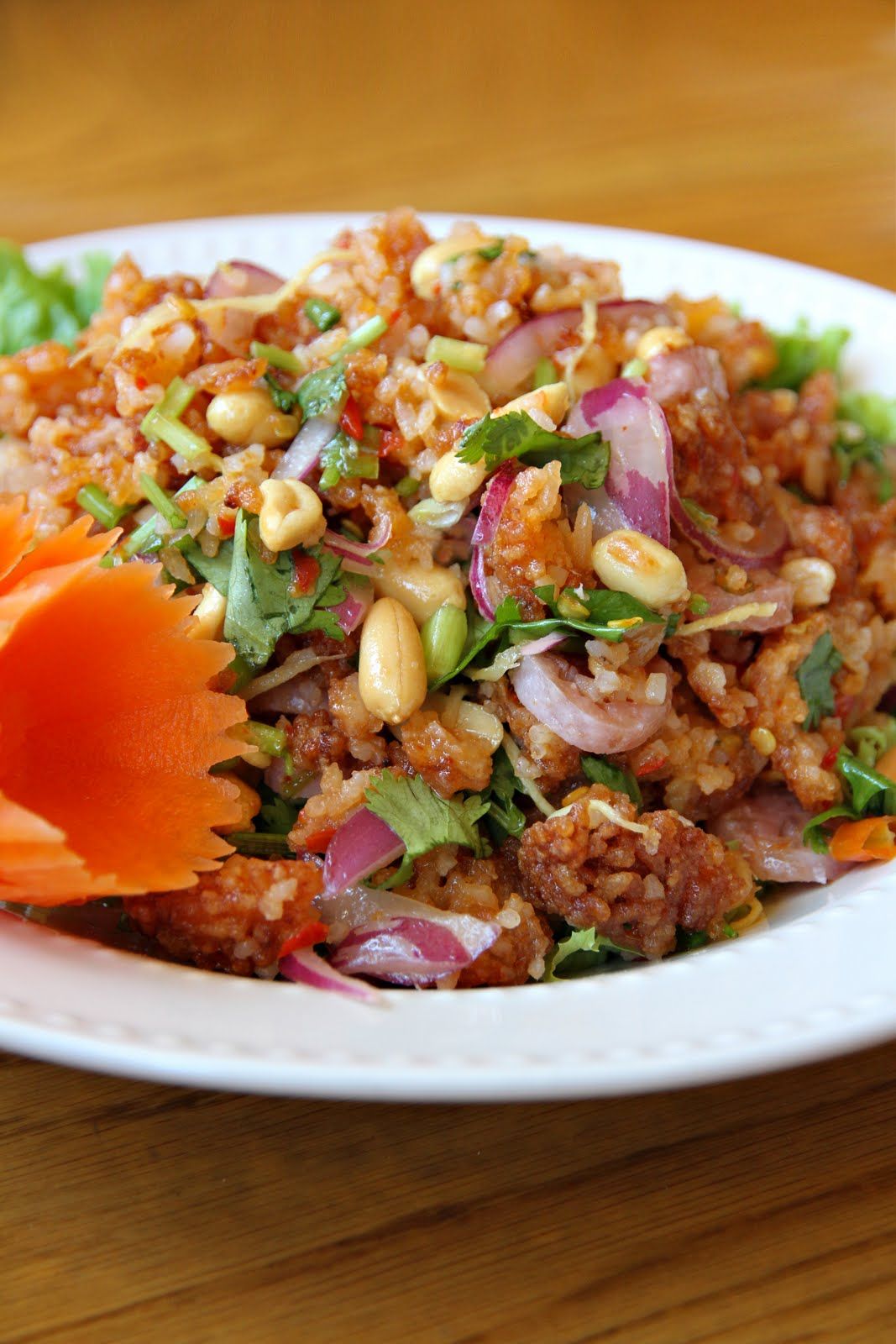 Tips for First Timers to Laos

---
Laos Visa Information




Most citizens are required a visa to be able to enter Laos. There are many types of Laos visa: Tourist (T) visa / Business (B2) visa / Courtesy(B1) visa / Visit (B3) visa / Diplomatic (A1) visa / Official (A2) visa / Transit (Tr.) visa.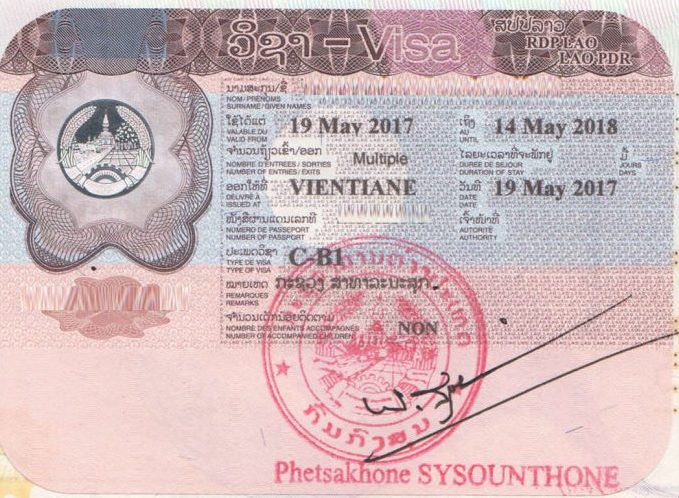 Laos offers a 30-day visa on arrival at at all international airports and most international border crossings. Visas may be extended twice for up to 90 days without leaving the country. 

The whole process is very straightforward. You need between US$30 and US$40 in cash, one passport-sized photo and the name of a hotel or guesthouse.

Those without a photo, or who are arriving on a weekend, holiday or after office hours, will have to pay an additional one or two dollars.


There are two ways you can get a Laos visa:

– by applying with a Laos Embassy/Consulate
– or getting a Visa on Arrival.

Vast majority of nations enjoy visa-waiver policy or are eligible for Visa on Arrival for a 30-day stay in Laos. There are 15 nationalities who can enter Laos without a visa and stay from 14 to 30 days. Most of the Western countries will have to apply for a visa before coming to Laos


Steps to apply for the Laos visa on arrival:


– If you want to be prepared and if you have access to a printer, download the visa application form. Print and fill it out and take with you, otherwise wait till you arrive;

– On arrival, head to the window marked visa on arrival (don't waste your time lining up at the immigration window if you don't already have the visa);

– In most ports of entry including the Lao international border crossing points and Lao International Airports (Vientiane, Luang Prabang, Pakse and Savannakhet) the Laos visa on arrival window is located at the arrival channel (before or next to the immigration windows).

– If you have not already pre-filled the application form, get it at the window and fill it out (if you arrive by plane, the visa form as well as immigration form should be given to you before landing, get them ready before leaving the plane);

– Submit the completed form together with your passport and 2 photographs;

– Pay the visa fee (cash, payable in US dollars), a complete list of fees is usually placed at the window for your reference;

– After providing everything needed, wait nearby, your name will be called once your visa is ready.

*Note:

– The visa processing time varies between ports of entry.


– Where you can get a VOA in Laos: Airports (Vientiane, Luang Prabang, Pakse, Savannakhet), Terrestrial checkpoints and border crossings, and Train Stations.


– At major airports or at Lao-Thai Friendship Bridge in Vientiane it takes around 10-15 minutes. Delays are possible in late afternoons, weekends and public holidays at both visa window and immigration windows especially at the Lao-Thai Friendship Bridges.

– VOA Validity: 30 days from the date of entry.


Laotian Etiquette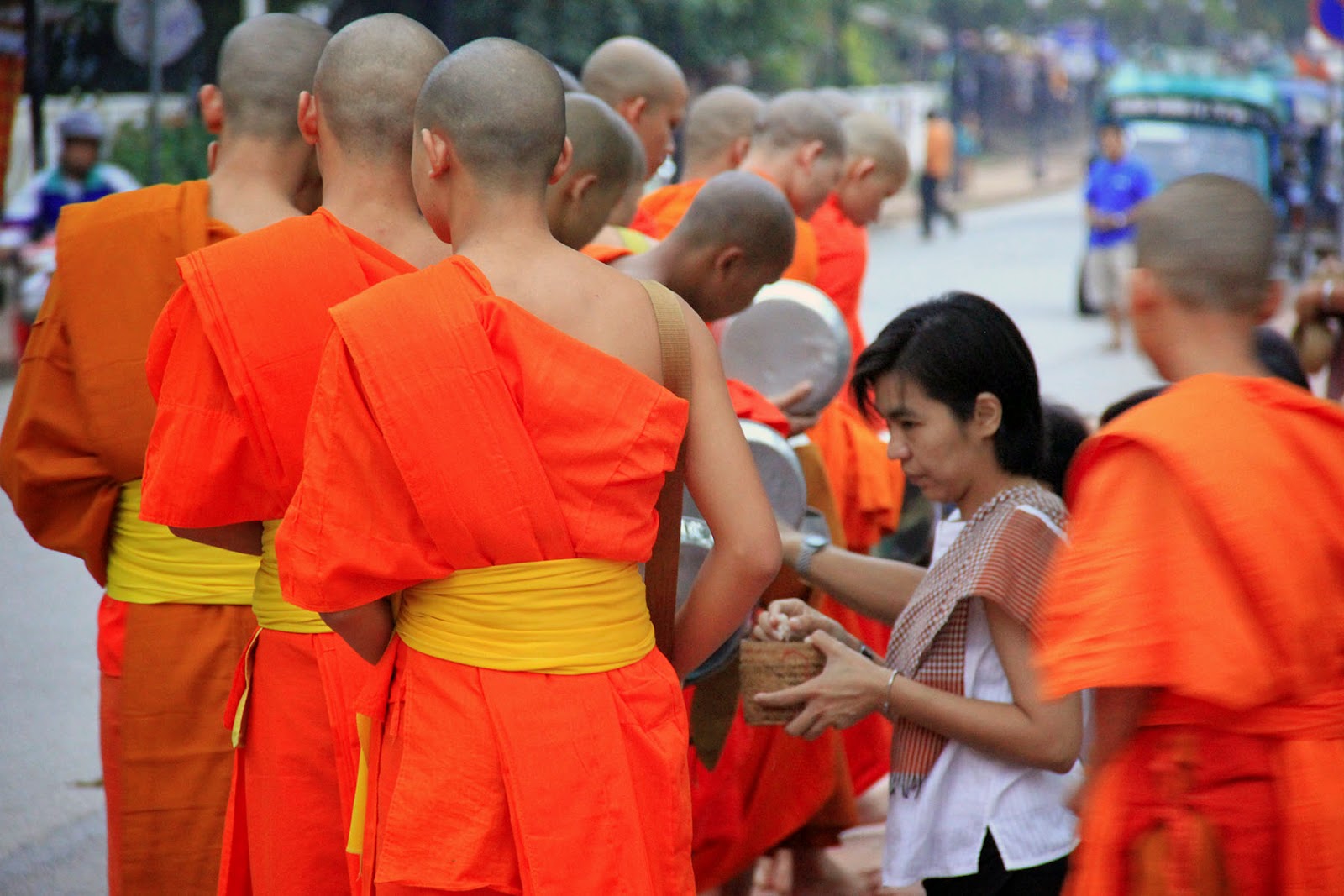 Laos is a country that is deeply influenced by Buddhism, therefore there're quite a number of manners you should know and mind when visiting the country.


– Laotian people greet each other by placing the palms together below the chin and nodding their heads downwards saying Sah-Bai-Dee (meaning 'hello' in Lao language)

– Take of your shoes when entering Lao houses and sacred places

– Keep your head lower than Buddha and monks, do not touch the statue of Buddha and the monks

– Do not disturb the Alms Giving Ceremony.



When is the best time to visit Laos

---


Laos is located in a tropical area which is influenced by monsoon season. Rainy season is between May and October while dry season takes place from November to April. The best time to travel falls in dry season, from November to February with milder temperature (15-30 Celsius degree) and more vivid scene of nature. There shouldn't be any concerns if you choose to visit Laos in this time of year.

November and December are most suitable months to enjoy water activities and visit waterfalls because water reach its highest level.



January and February get to be most wonderful months in Laos since the weather is cooling and chilling the most, but remember to bring a light jacket with you. These two months are also the time for two important festival – New Year Festival (Jan) and Boun Pha Vet (Feb).

Rainy season might not be in the favor of nature, however it still might be good time to visit Laos thanks for cultural activities and festivals: March – Boun Khoun Khao, April – Boun Pi Mai and Songkran Lao, May – Boun Bangfai & Rocket festival, July – October – Boun Khao Phansa, October – Boun Ok Phansa and boat-racing festival.

We've listed all the Best Things to Do For First Time in Laos, together with detailed Visa Information and tips on Lao Etiquette. Overwhelmed by the amount of information and tips, get in touch with us to get your trip to Laos planned by travel experts in Indochina.