If you're curious about what the wetlands of Mekong Delta look like, come to Tra Su Cajuput Forest – an ecotourism site turning green by the water ferns during the rainy season every year.
Tra Su is just about 30 kilometers southwest of Chau Doc, covering a vast area of 850 hectares. Tra Su is an ecosystem of cajuput trees and a flooded mangrove forest which are the home of many species of flora and fauna.
The larger part of the forest is flooded with green water in wet season, making an incredible sight especially when the sunlight reaches down the water surface.
The forest is also the habitat for many colonies of water birds, bats and even rare and endangered animals and reptile species. There are 140 types of flora, 70 species of birds, 11 species of animals, 25 species of reptiles and 23 kinds of fish. 
To explore the forest and watch the birds, travelers will take a boat tour offered by forest's administration, paddled and guided by the local ladies. When you're on a boat, you'll have the luxury feeling of navigating through the carpet of green ferns so dense you can't even see the water surface.
The rower will help you understand more about the forest and here and there she will tell point where the birds are. So get your camera ready for this special photo shoot.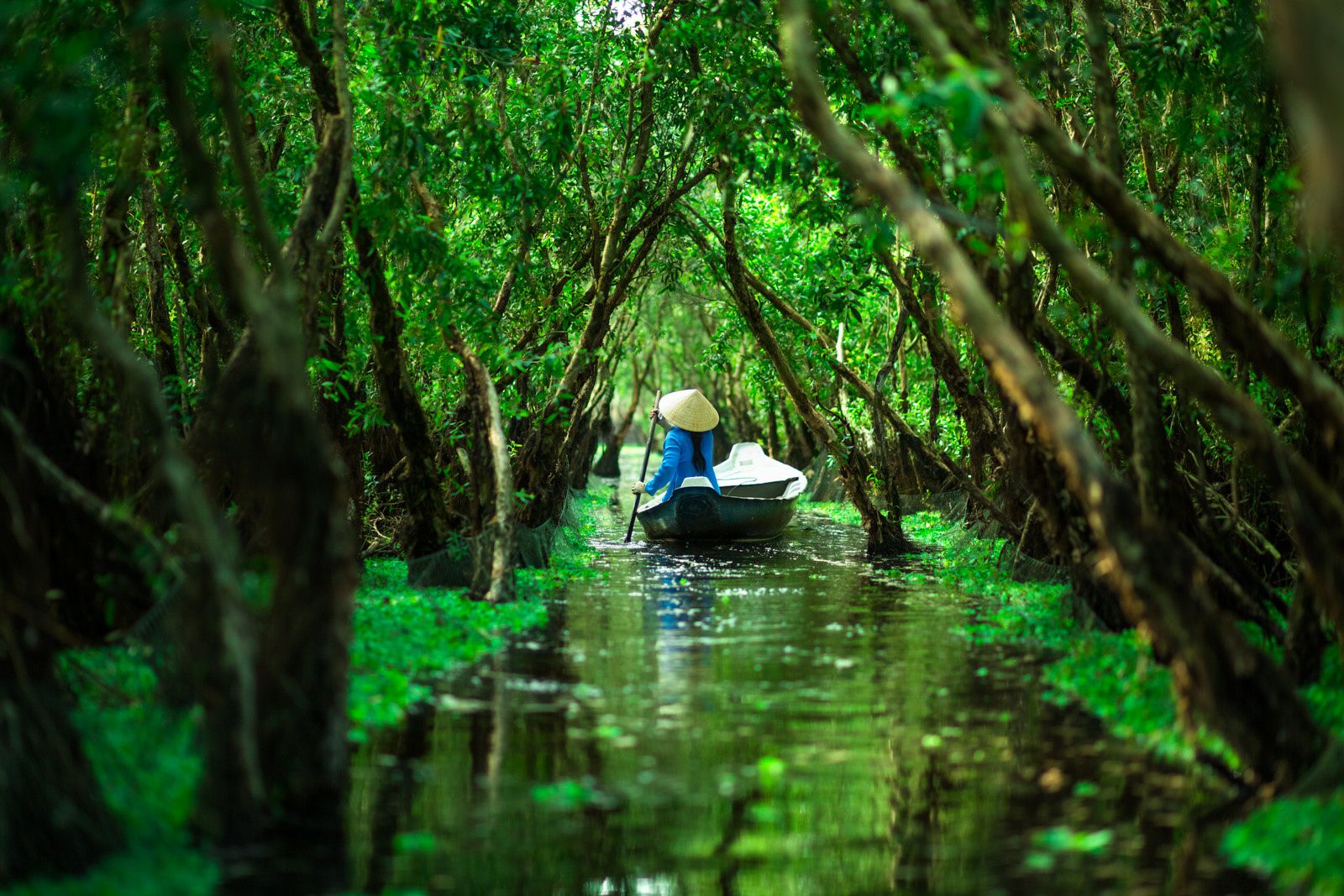 The boat will stop to take you to the cajuput forest with tall, green cajuput trees standing in line on the dirty sidewalk. Don't miss to get to the top of the watch tower to have a view overlooking the whole forest. Get there when the sun is about to go down, it's the most memorizing scene of this trip.
Entrance ticket costs 130,000VND per person including boat fee for a round trip. You can also explore the area by motorbike but by motorbike, it's harder to see the birds and the plants. 
Best time to visit is, of course, the rainy season from September to November which is also the wet season in Mekong Delta.
*Photo tips: You should pay a lot of attention to your surroundings and you should keep quiet to not scare the birds away. Always have your camera ready and just ask the rower lady where the birds are the most.