Myanmar or Burma is the land for a traveler who is looking for a spiritual inspiration. It's a country that is full of mysterious, cultural richness and natural beauties, despite going through the many ordeals and hardships. Here are all the top things to do in Myanmar to stimulate your next trip to this country.


Myanmar Overview
---

Not many people has imagine that Myanmar as it is today, is covered with tourist and pilgrims from all over the world. Often overshadowed by other major tourist destinations as Thailand, Singapore and Vietnam, Myanmar still has so much appeal with its unique culture and way of life.
Come to Myanmar, it'd make your trip an incomplete experience if you skip the most major destination in the country – Bagan. However, Bagan is the only place that represent all the beauties of Burma – no attraction can. Yangon with the legendary Shwedagon Pagoda and Inle Lake with the rustic stilt houses are attractive in many different lights.
Check our list of top activities and attractions in Myanmar below!
Top things to do in Myanmar
---
Top things to do in Mandalay
Admire the Bagan plain with a Hot-air Balloon Ride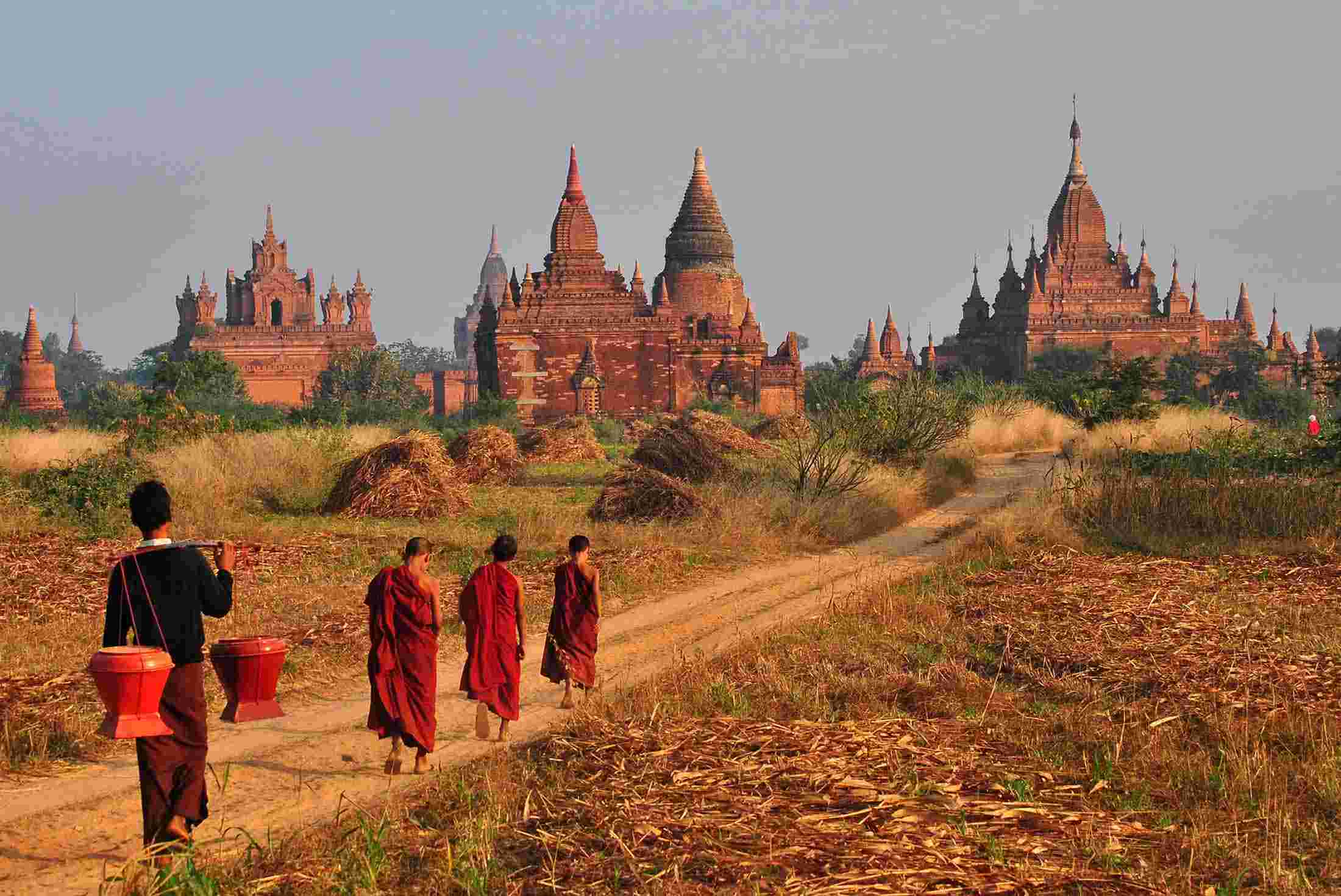 Bagan was once the capital of the ancient Pagan kingdom and now a top tourist destination in Myanmar, attracting visitors from all over the world to come and admire the spectacular sight of man-made wonder.
During the heyday of Pagan, during 11th – 13th centuries, more than 10,000 Buddhist temples, pagodas and monasteries were constructed in the Bagan plain alone. To this day, there are 2000 temples and pagodas remained, creating such an absolutely singular and otherworldly view when seen from above.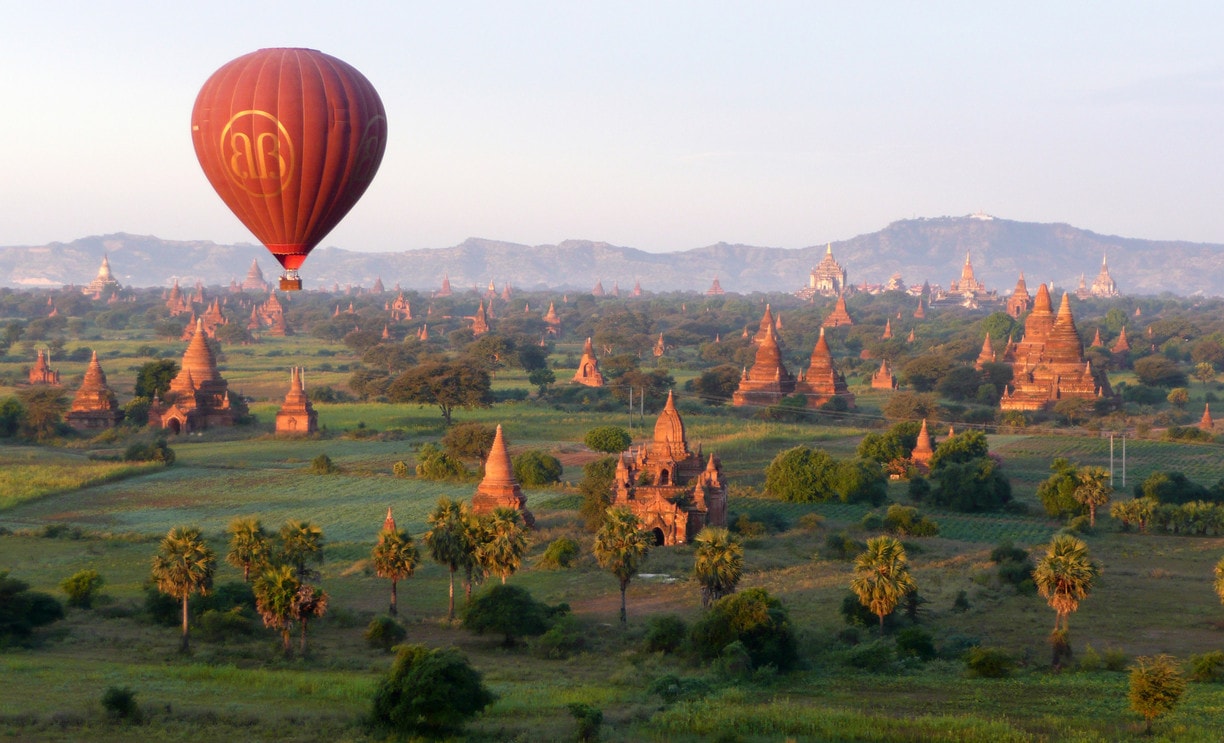 A hot-air balloon ride in Bagan would be the highlighted travel experience in Myanmar for you. You'll be flying over the ancient temples and pagodas of Bagan for about 40 minutes, guided by absolutely professional team. This trip includes a pickup at your hotel before the sunrise, and a hot cup of tea and coffee while waiting for the balloon to be inflated and champagne and croissant after flight. The price is quite expensive but the experience is really nice and worth it.
Visit Mandalay Palace the last royal palace in Myanmar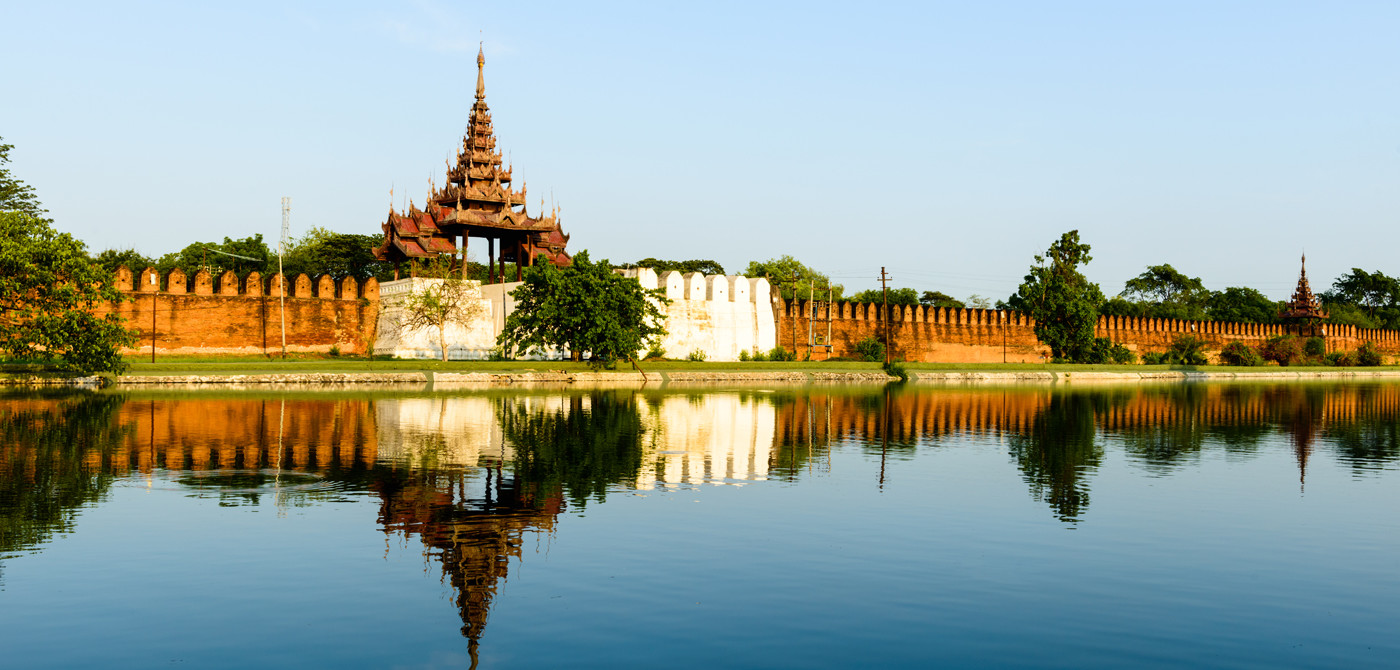 Mandalay Palace is the last royal palace of last Burmese monarchy, built from 1857 to 1859 as a part of Mindon's founding of the new royal capital city of Mandalay. The complex followed the traditional palace design, inside a walled fort surrounded by a moat.
As you roam around the palace, you can easily find the presence of gold in the hall – the element that has great influence in Burmese culture and religious life. The throne room is rather simple with the main color of gold and deep red.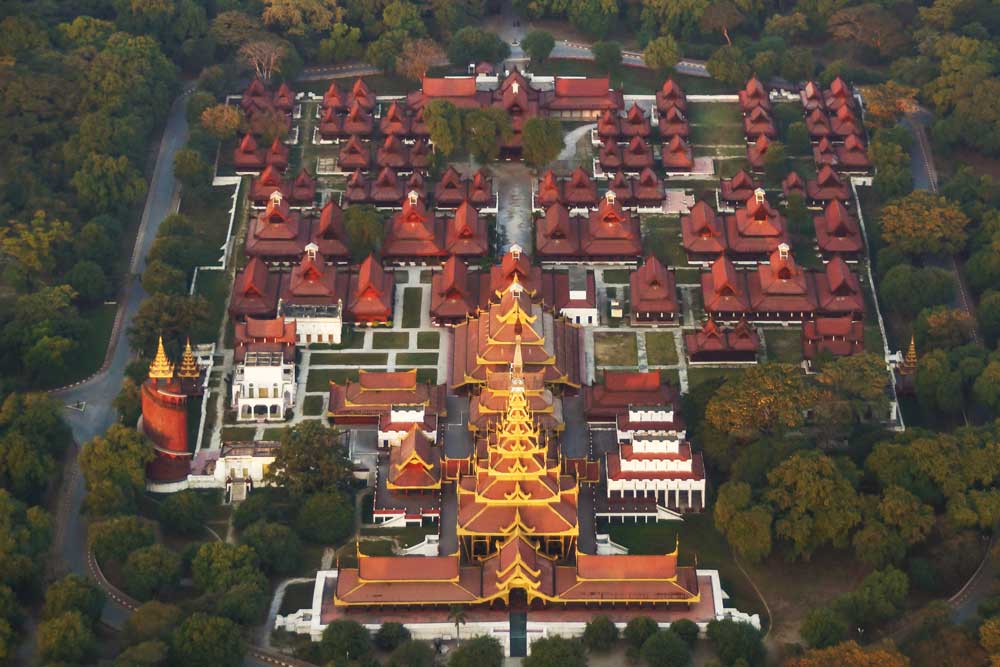 The large part of the whole complex was faithful to the original design but some modern materials like concrete and iron were used since the place was reconstructed. But the use of modern elements are not obvious and blend nicely with the original buildings.
Admire the Taj Mahal of Myanmar – Hsinbyume Pagoda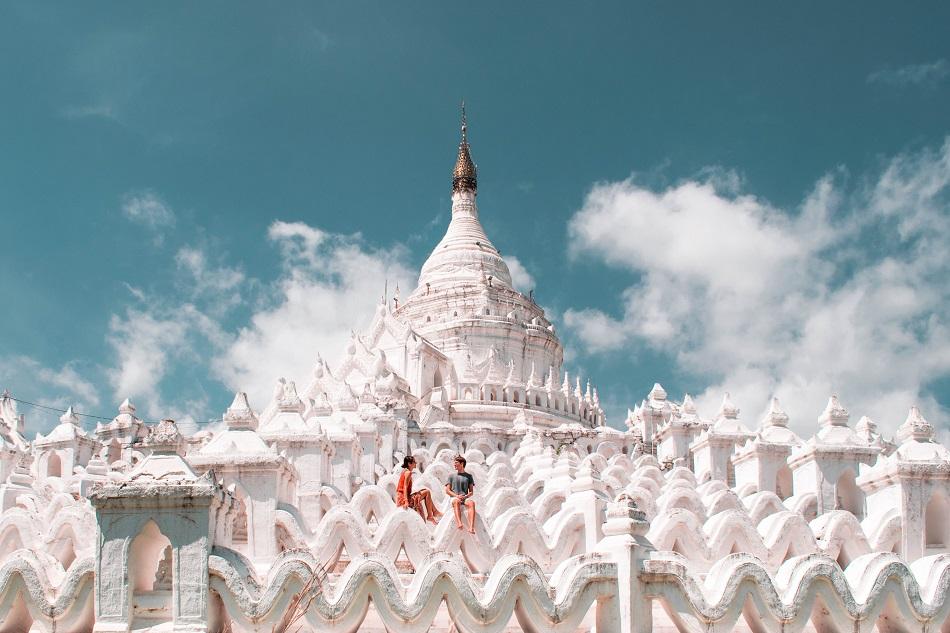 If India is known for the magnificent Taj Mahal as a symbol of love, Myanmar has the same thing – it's the Hsinbyume Pagoda, a true labor of love. The pagoda is situated on the northern side of Mingun in Sagaing Region, western bank of Irrawaddy River. This pagoda is painted in all white and was dedicated to the memory of Bagyidaw's first consort and cousine, Princess Hsinbyume or Princess White Elephant who had died in childbirth.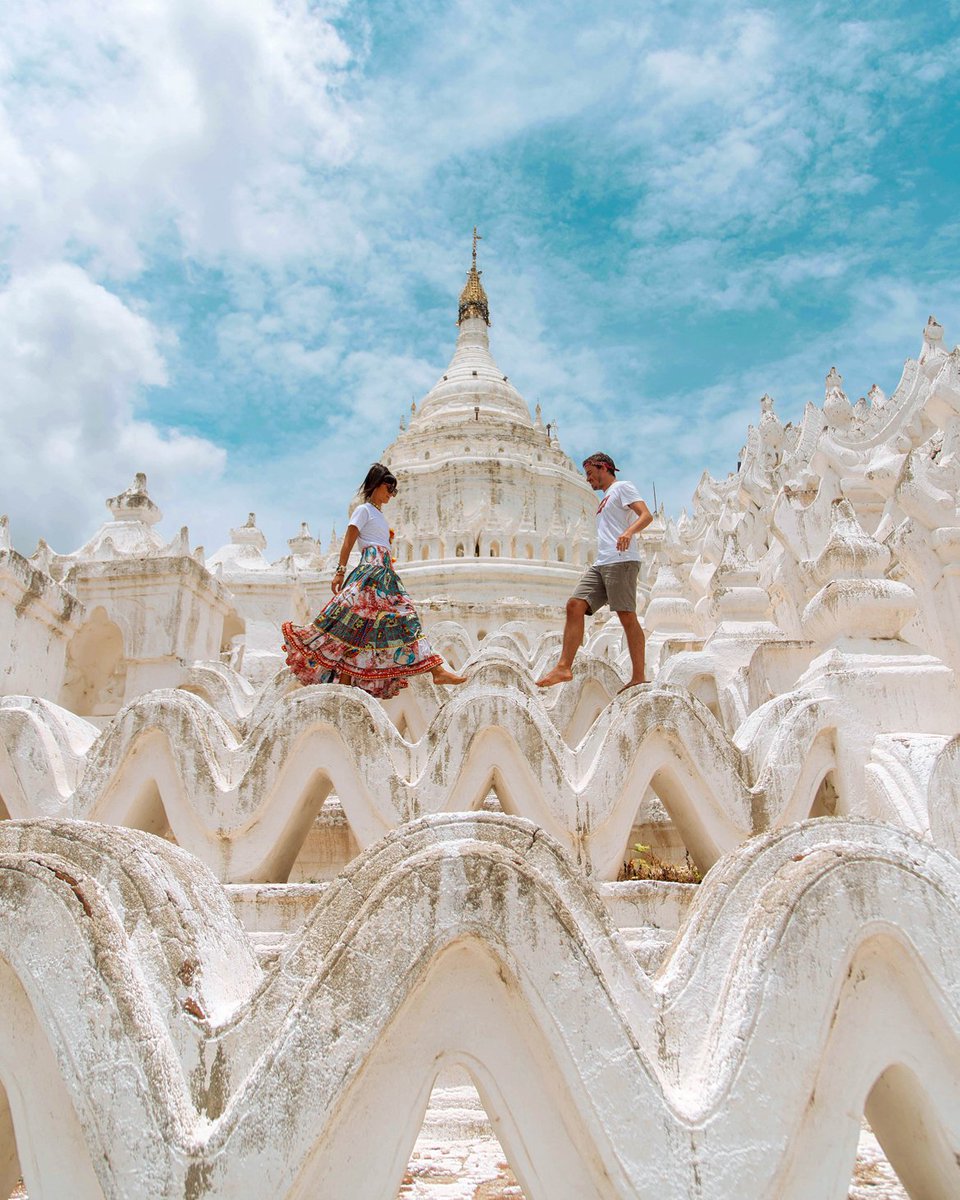 The pagoda is faithful to Burmese pagoda design norms, built on the descriptions of the mythical Sulamani pagoda on the legendary Meru Mountain. The white main stupa on top was surrounded by many wave-like terraces one of another.
Hsinbyunme Pagoda is very photogenic and you'll have a great time here. You can visit this place when visit Mingun.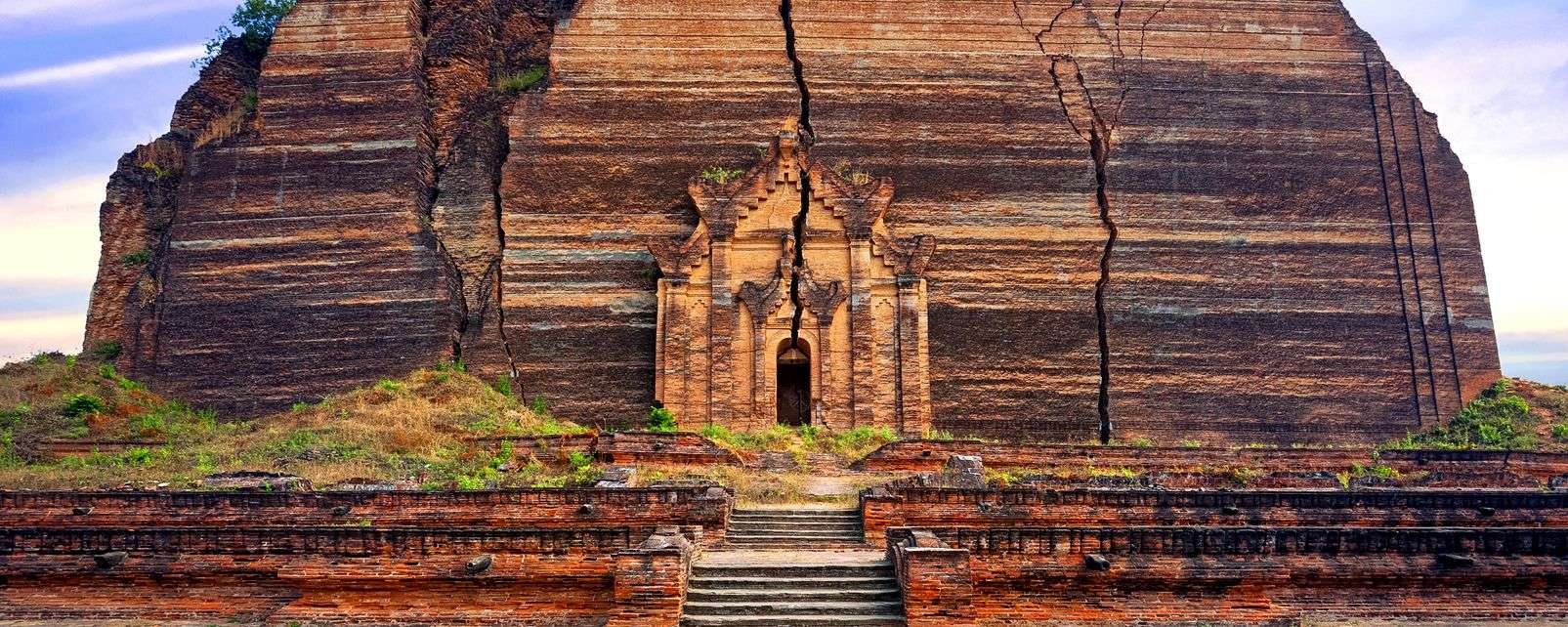 Take a walk on U-Bein Bridge
Let's take a break from all the pagodas and temples to get closer to nature. U-Bein is just a perfect place for it. Located outside Mandalay city just a bit, U-Bein is fairly easy to visit.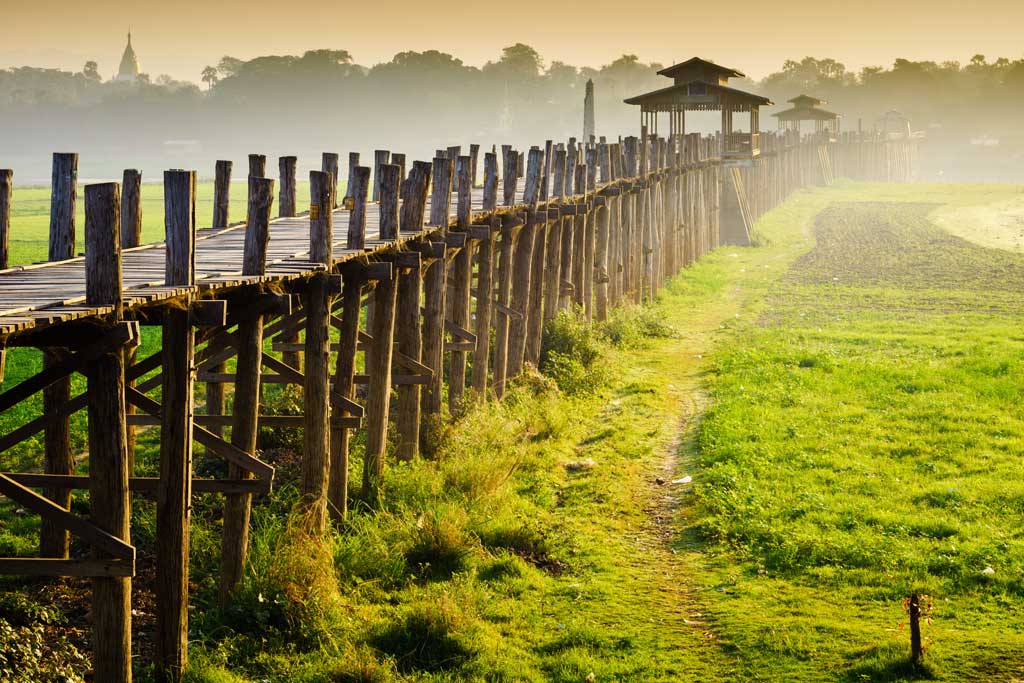 This bridge is the longest teak footbridge in the world and spreads about 1300 yards across the Taungthaman Lake.
U-Bein is even more perfect to visit during sunset. Remember to bring your camera to capture breathtaking photos. You'll also have chance to interact with the locals and see tranquil their daily life around the lake.
Top things to do in Yangon
Visit the sacred Shwedagon Pagoda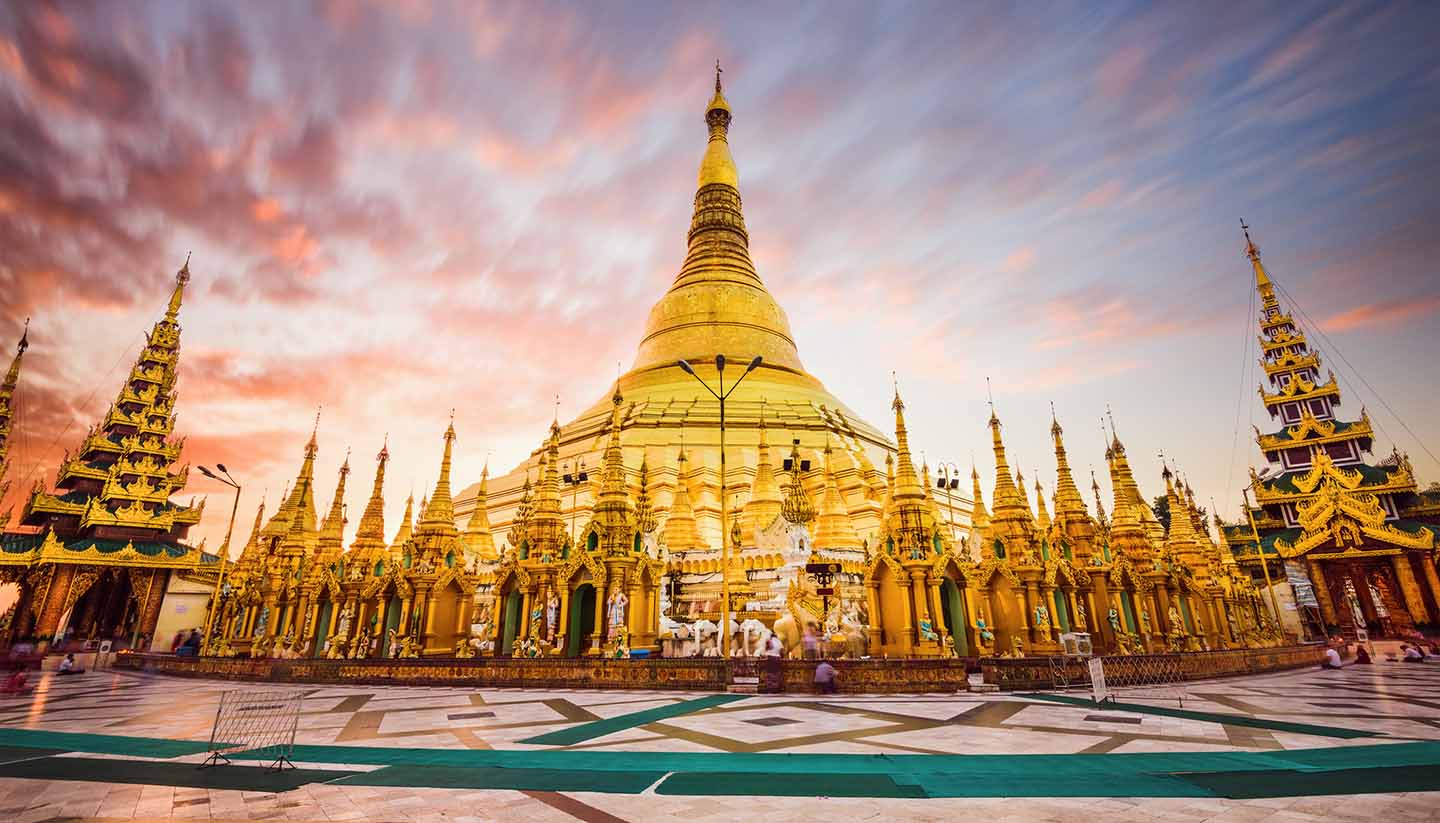 Just like Bagan, Shwedagon can compete for the very top thing to do in Myanmar that no visitor should miss, no matter how short your visit is. Shwedagon is the most important religious construction ever built in the country.
The pagoda's appearance is just as striking as it is magnificent: a 99m-high golden chedi is visible throughout the city, even more sparkling when it reflects the sunlight. In sunny days, one can hardly look at the pagoda without squinting the eyes.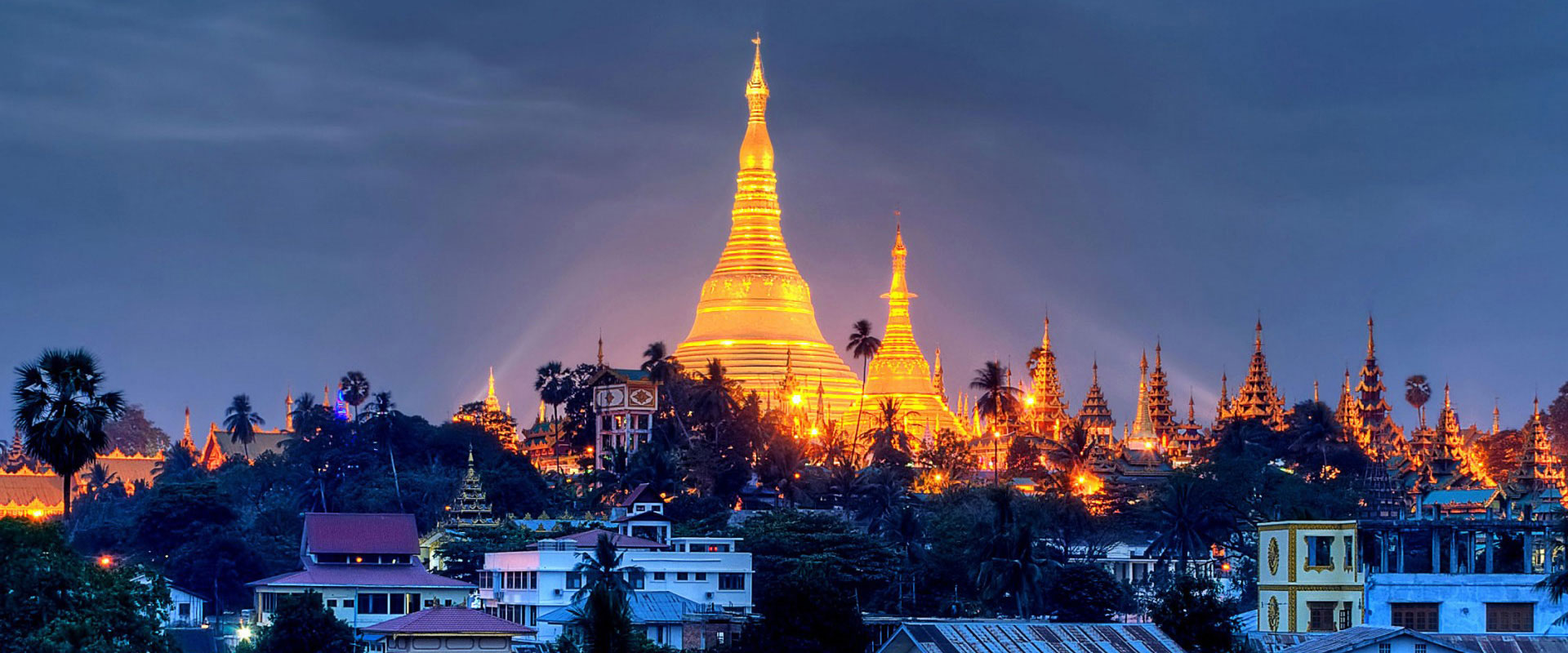 Many Buddhists and Buddhist enthusiasts in Southeast Asia and around the world make their pilgrimage to Shewdagon as they believe that this is the most sacred pagoda in Myanmar and Asia. The legends had it that this is the place four Buddhist treasures were kept.
The stupa is gilded with gold and on the top is jeweled 5448 diamonds and 3217 rubies. On the very top is a 76 carat diamond.
The location of this pagoda is also ideal because from here you can enjoy the view of Yangon city.
Admire the magnificent architecture of Sule Pagoda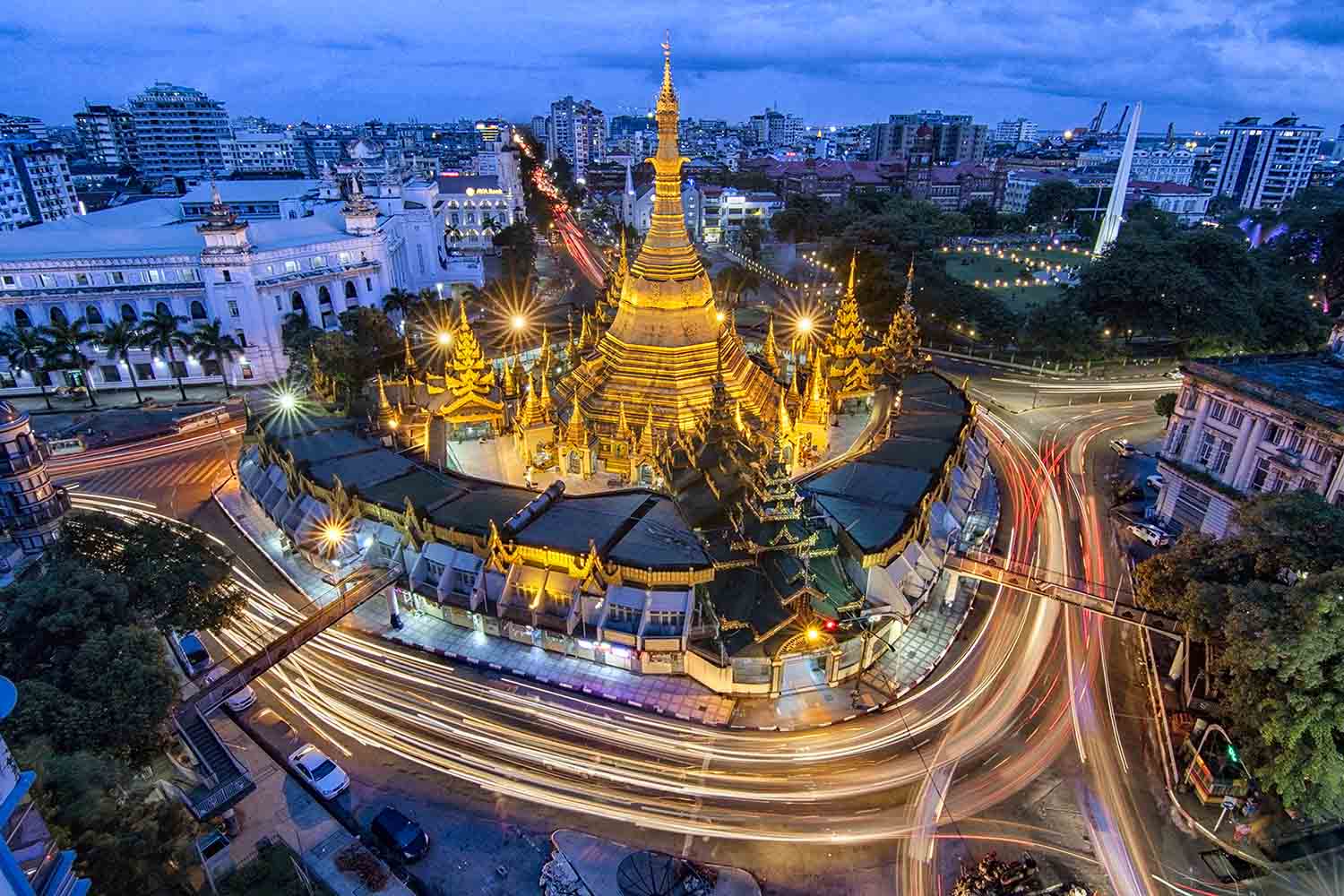 Listed in Yangon city heritage, Sule pagoda is obviously a worthy choice of your visit. The pagoda isn't only a religious and historical landmark in Yangon but also a navigational landmark as well. As they has that saying, all roads in Yangon lead to Sule Pagoda. Therefore you can visit the pagoda quite easily.


Like Shewdagon pagoda, the most impressive feature about Sule is its gilded stupa which originally incorporated the original Indian structure. However, as the Burmese culture grew, and became independent of Indian culture, the shape and design of the stupa was changed over time to embrace more Burmese features.
This pagoda is believed to have a strand of hair of Buddha. The sight of Sule's stupa makes Yangon's cityscape singular and different from many other cities.
Visit Bogyoke Aung San Market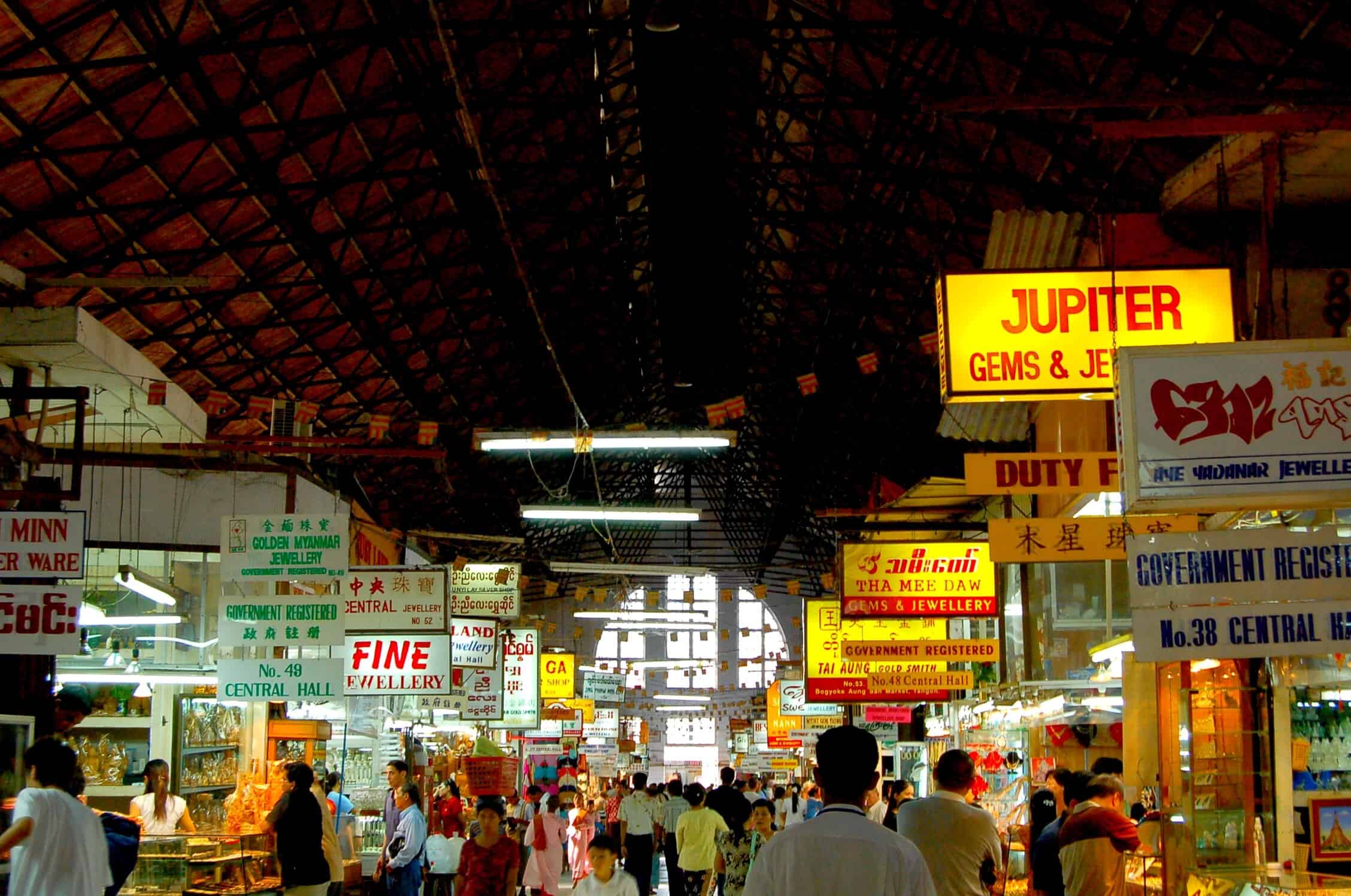 Bogyoke Aung San (Scott Market) is the best market for tourists to visit. The market is a major bazaar located in Pabedan township in central Yangon. The architecture of the market is quite well known for its cobblestone streets.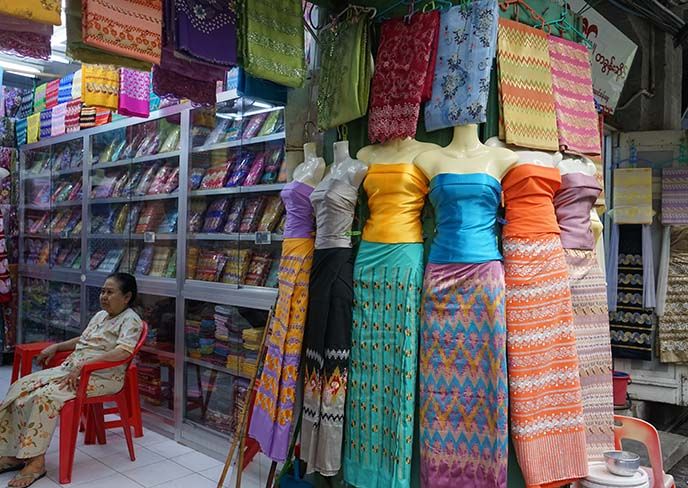 Coming to Bogyoke Aung San, you'll find yourself lost in hundreds of stores and shops selling Burmese handicraft, jewelry, accessories, art works and clothes. This market is known to be a popular black market location to exchange money.
The new wing of the market houses shops that sell medicine, foodstuffs, garment and foreign goods. This is also the place in Yangon where you can buy famous Burmese items like longyi and Shan paper umbrellas.
Try on Longyi – traditional Burmese attire
Don't miss this wonderful experience, it's such a beautiful thing to do in Myanmar. If you walk on the streets of Myanmar, you'll realize that everyone, men, women, young, old, rich poor, all wear a same kind of skirt-like garment which is called longyi.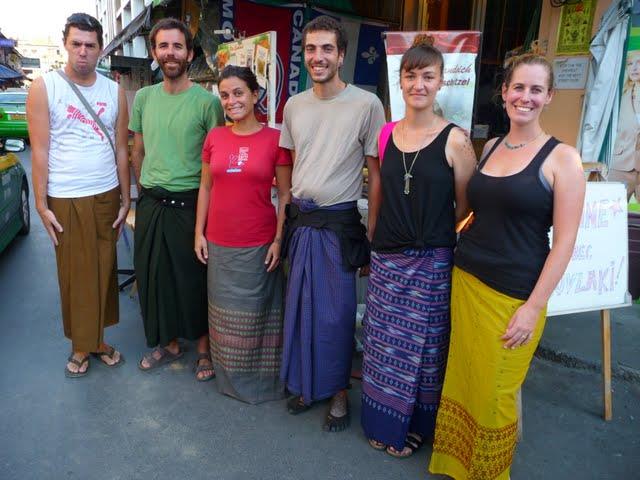 This garment became really popular in Myanmar during the British colonial period, influenced by the customs of India and Malaysia.
To the untrained eyes, longyi seems like a unisex fashion but it's not. Men and women wear this garment differently according to the customs. Different patterns are more preferred to different sexes. Thanks to the popularity of longyi, tourists can easily buy and try this garment in many markets in Myanmar.
Top things to do in Inle Lake
Take a boat ride on the lake and see the traditional fishermen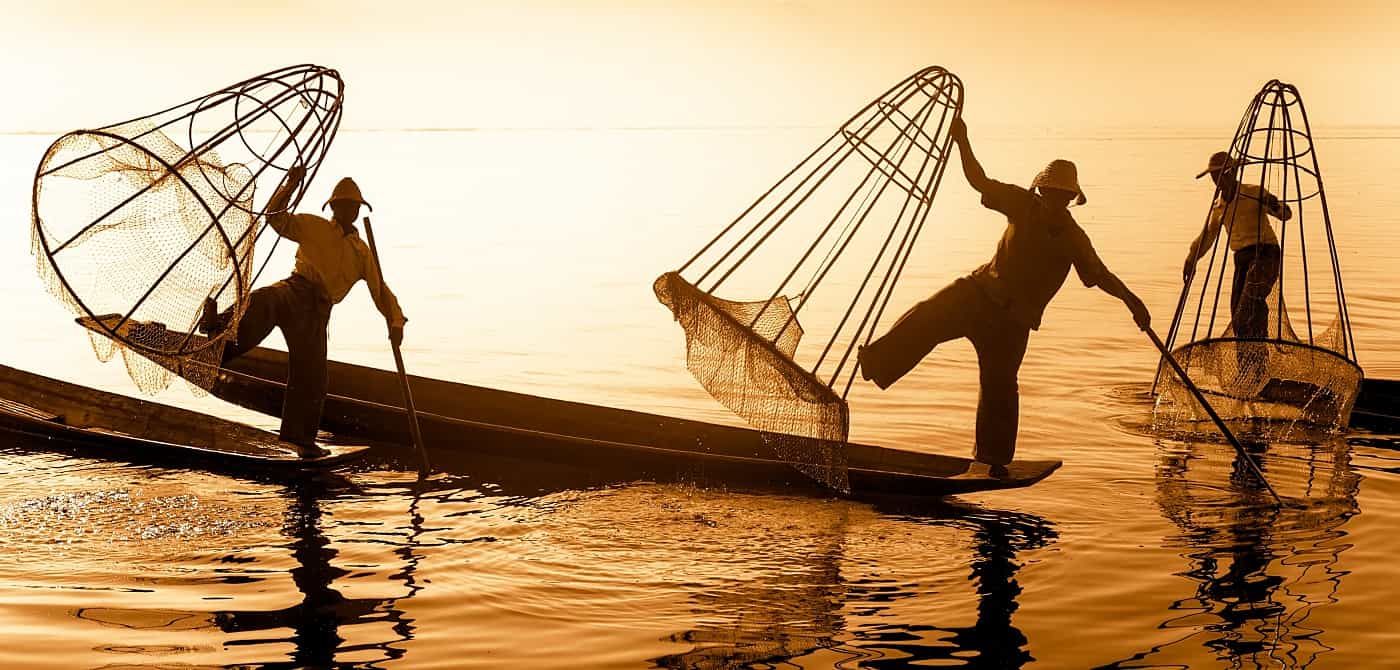 It's no lies, Inle Lake is one of the most stunning lake in the world, not only for its beautiful scenery but also for the great views of the golden stupas and rustic stilt houses.
One of the best way to enjoy the beauties of Inle Lake is to ride on one of the long tail wooden boats just like the locals do. This slender boat will take you around the lake to see its most beautiful moment during sunrise or sunset. The real privilege is watching the local village life unfolding before your eyes while floating on the water.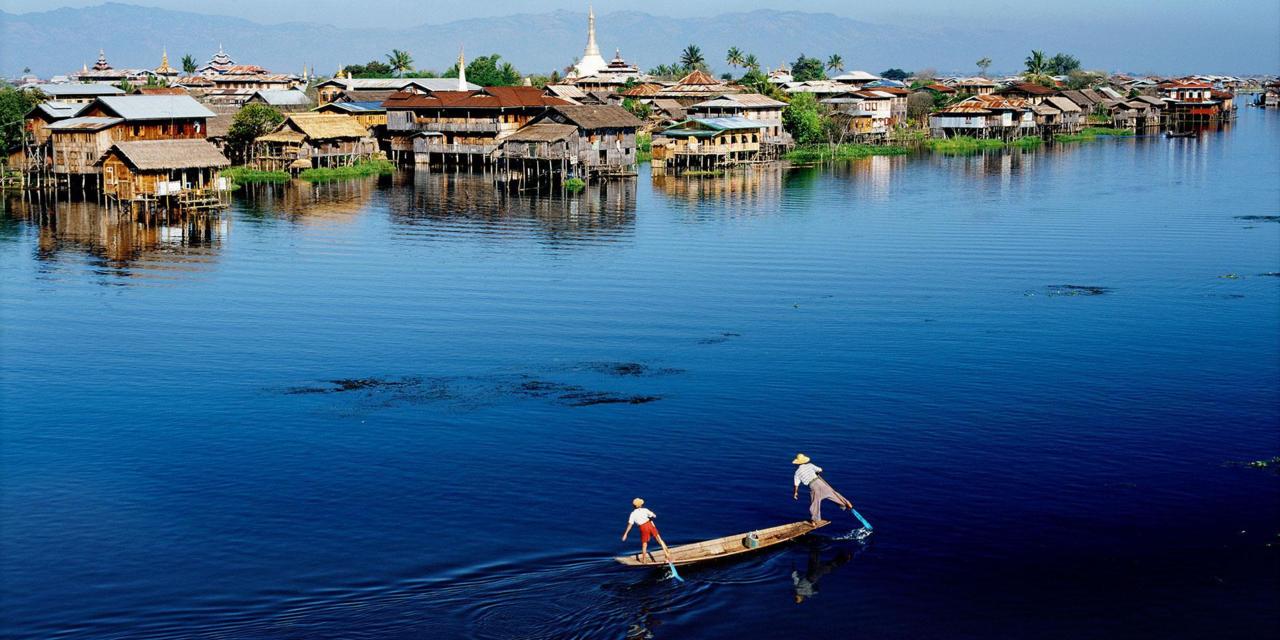 Keep your eyes on the fishermen! They will show you a rowing method that looks a lot like a magic trick. They show a perfect balance on the boat while using one leg rowing technique to keep the boat going while dipping the fishnet into the water.
Get lost among the hundreds stupas in Indein and Kakku
First of all, the journey from Inle to Indein is a fun ride where you weave through narrow and overgrown waterways and you'll meet plenty of local farmers and boatmen.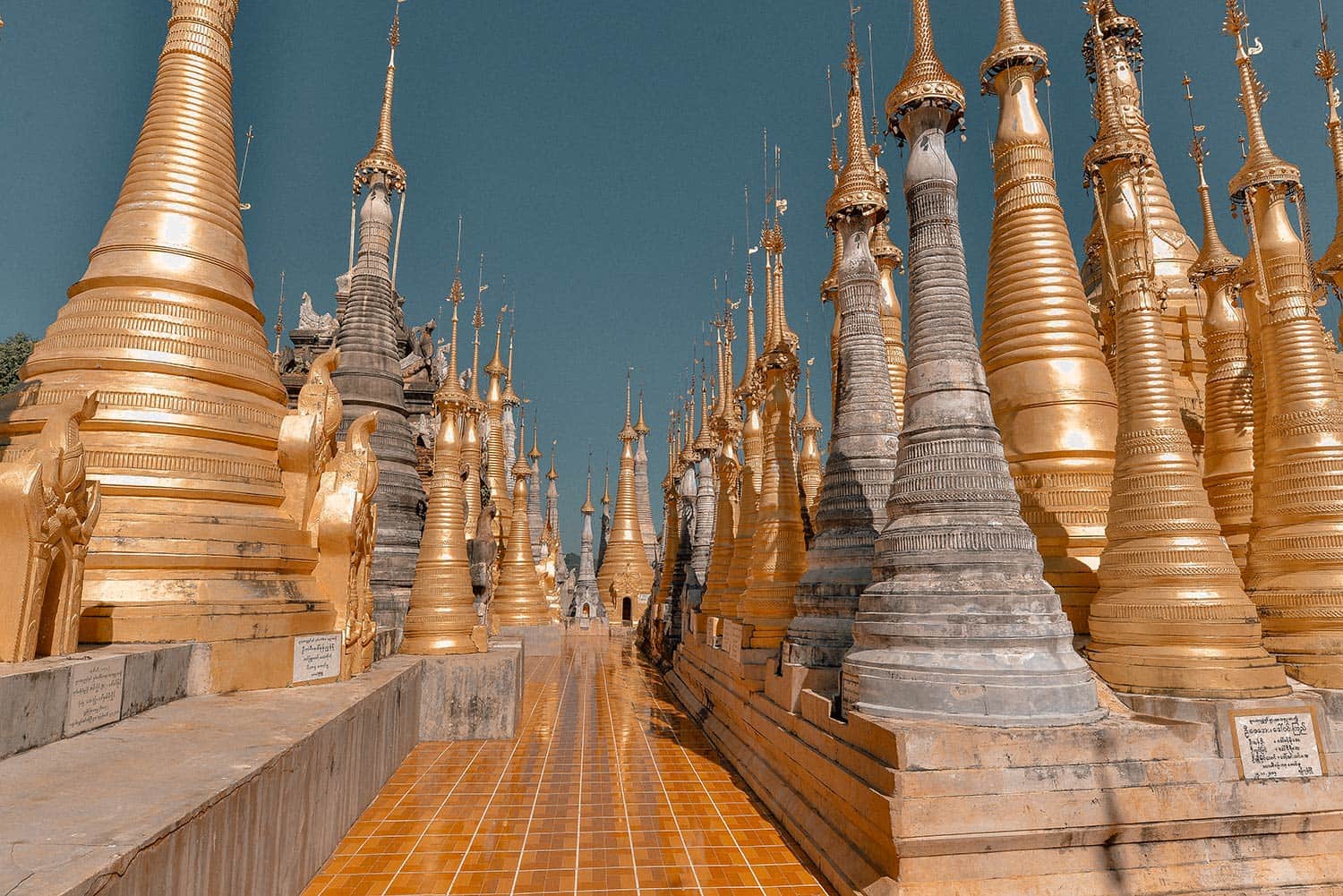 Indein and Kakku are where treasures like those in the fantasy movies are kept. When you see Indein, you'll see hundreds of ancient stupas in many colors of red, white and brown standing one by one next to each other. There are both old and newly restored stupas with different and interesting details which would make your discovery even more stimulating.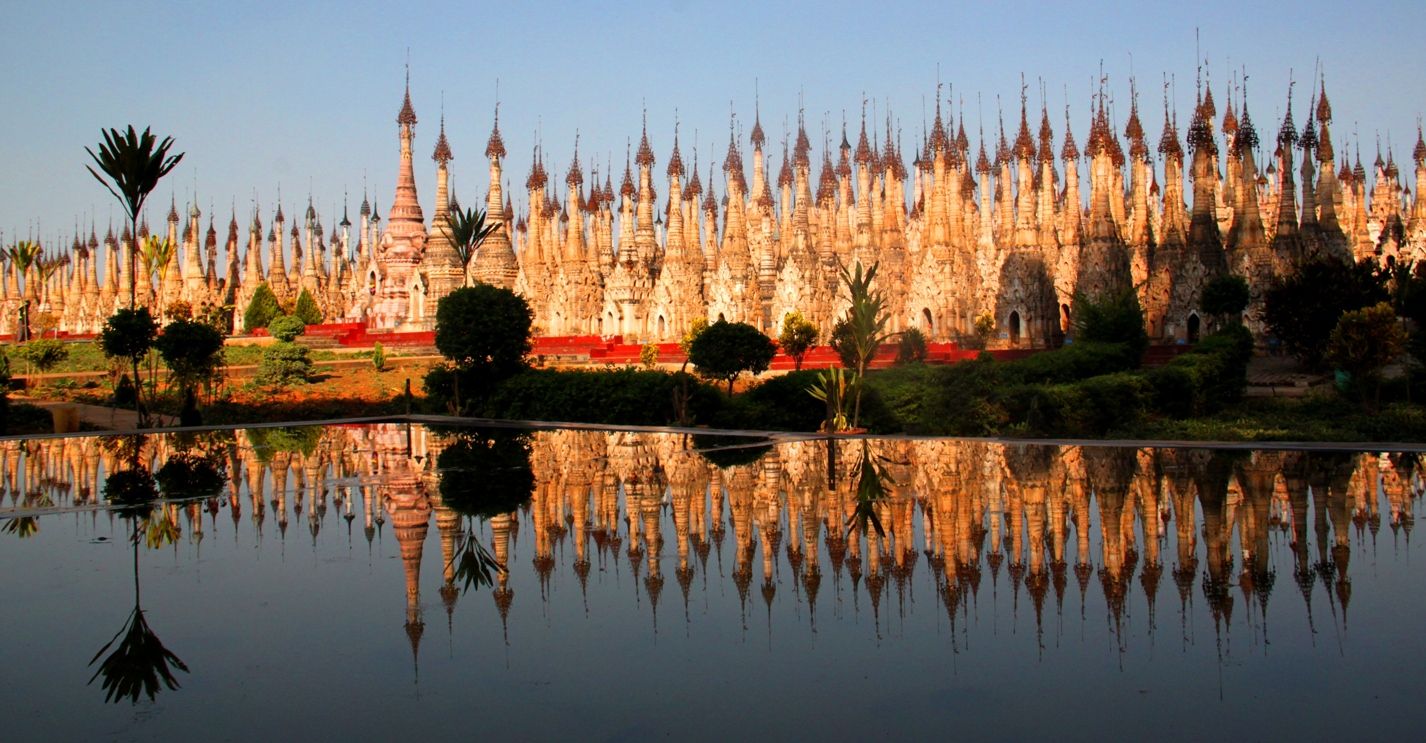 Kakku isn't so that much different from Indein but still an interesting place if you prefer this type of destination. Kakku has a collection of 2478 stupas and is the religious centre of Pa'O people. The stupas here have more of a homogenous look than those in Indein.
Two destinations can make wonderful places for dramatic photos.
Visit the village of long-neck women of Kayan

Kayan women wear large brass neck rings since they were young children to deform the collar bones and upper ribs to make their neck stretched longer. The moment you see them, you'll know they're the Kayan people.
Visit one of the Kayan villages, you'll able to see some women weaving and many craft shops around in these villages. You can also find longyi woven by the women in these shops.
See the beautiful stilt houses on Inle Lake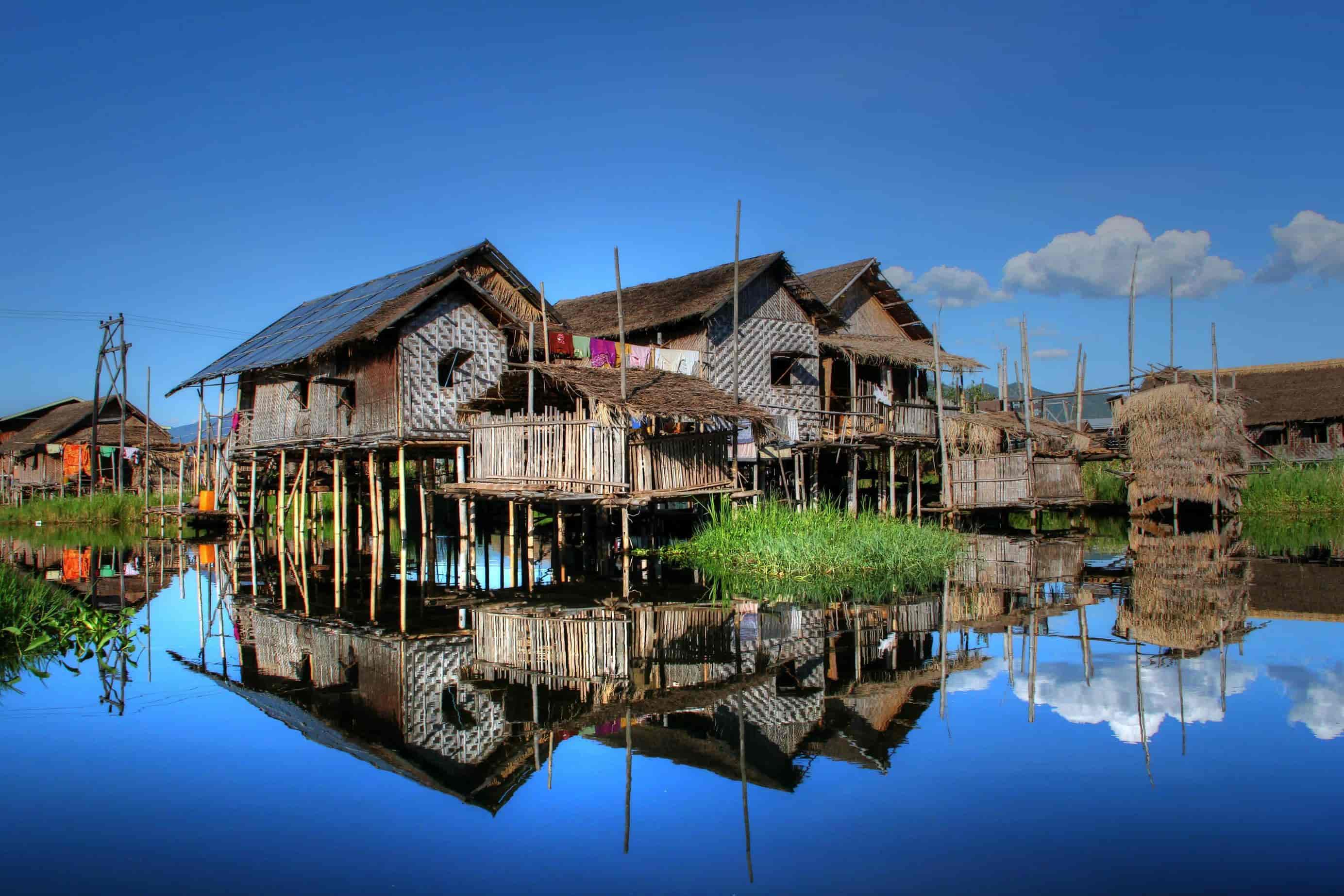 As you float on the lake, you see numerous small villages along the lake's shores and on the lake. These villages are great example on how people here live with water.
The scenic 22km-long lake is dotted with stilt houses and verdant floating vegetable gardens. Most of the local residents belong to Intha group who are the people with famous leg rowing technique.
What to eat in Myanmar
---
Shan Noodles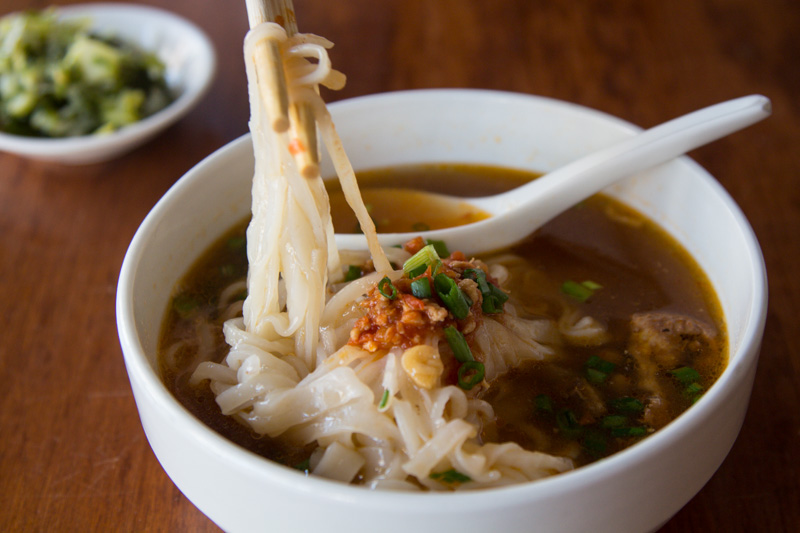 Shan Noodles is Myanmar's specialty you must try when in the country, often eaten as a lunch or dinner or a kind of snack. This dish is a perfect combination of thin noodles and marinated chicken or pork, touched up with a clear pepper broth. You will enjoy a feast of flavors when eating this dish.
Burmese Pancakes
Burmese pancakes are the perfect dish for a breakfast in Myanmar. These pancakes has smooth texture with  really crispy edges. This is a perfect on-the-go dish to devour. 
Nasi Briyani
This is a Burmese version of Briyani rice, even more delicious with local dark sauce. The rice accompanies very nicely with curry chicken meat. You can find this dish almost everywhere in Myanmar.
Mohinga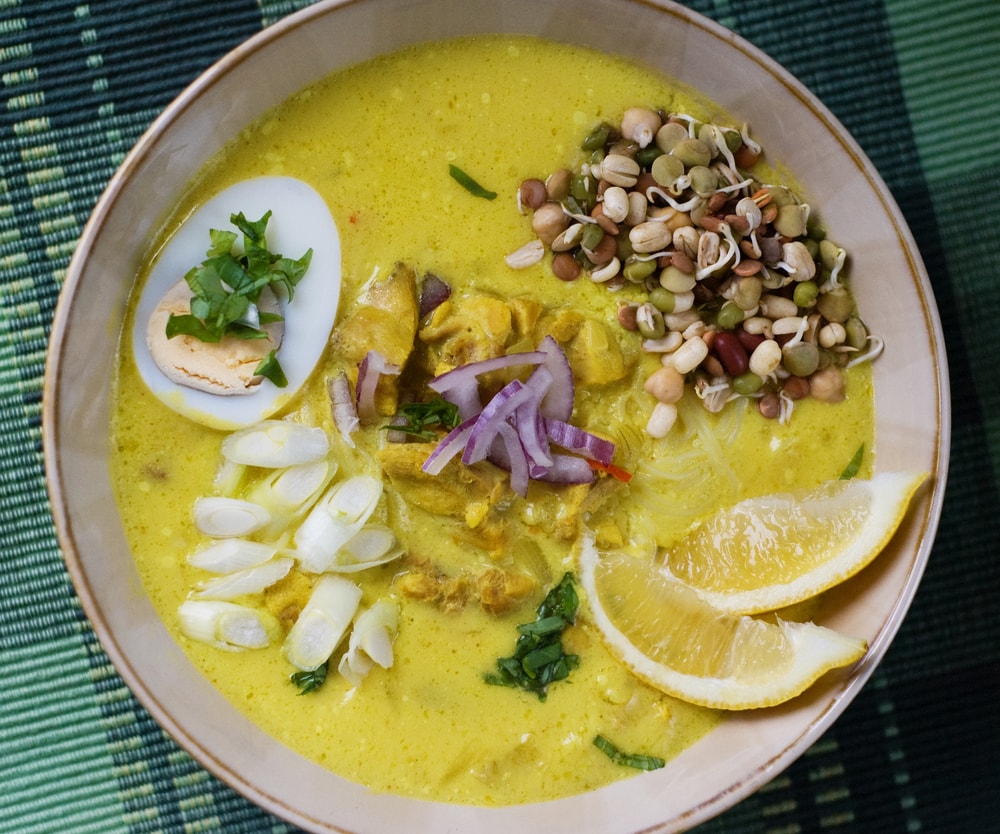 A perfect breakfast dish to start your day. The dish is composed of slender rice noodles and fish soup, topped with boiled egg and a herbs. Many have considered Mohinga to be Myanmar's national dish. The dish is cheap and available in every market.
Mont Lin Ma Yar
A staple dish in Burmese street food. The making of this dish is similar to Japanese takoyaki's or Vietnamese Banh Can's. Rice batter is poured into muffin-like iron pan with quail eggs, scallions, or roasted chickpeas added to the flavor. You can find this dish in big cities like Mandalay or Yangon.
Best time to visit Myanmar
---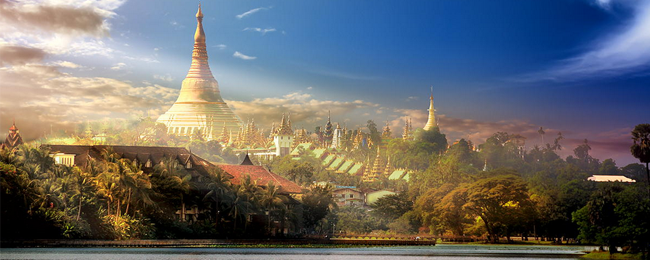 Myanmar has two distinctive seasons: dry season and wet season. Like many other countries in the region, the dry season in Myanmar runs from October to May and the wet season lasts from May/June to late September. 

During wet season, some regions in Myanmar become inaccessible due to the strong winds and heavy rainfall. The temperature during this season is also the highest of year. 

During dry season, temperature drops and in higher areas, it's much cooler at night. The rainfall during these months also is lower, making it more suitable to visit Bagan plain and around Mandalay by hot-air balloon.

So as you can see, the best time to visit Myanmar is from November to February. In these months, you can enjoy all the top things to do in Myanmar we've listed above.
---
Is this enough to get you thrilled for a journey to Myanmar? If it is, let us arrange your best trip to the country by sending your request to booking@asianwaytravel.com and get our experts start planning your Myanmar itinerary today!