Fansipan is called "the roof of Indochina", the highest peak in Indochina as well as in Vietnam with height of 3143m. The mountain is belonged to Hoang Lien Son range, located 9km away from Sapa town on the southwest. There are up to 1680 species of flora, some of them are precious and 327 fauna species. Now with the open of cable car, anyone could visit the top and enjoy the stunning panoramic landscape of Sapa and Fansipan becomes must-included in any Sapa Tour.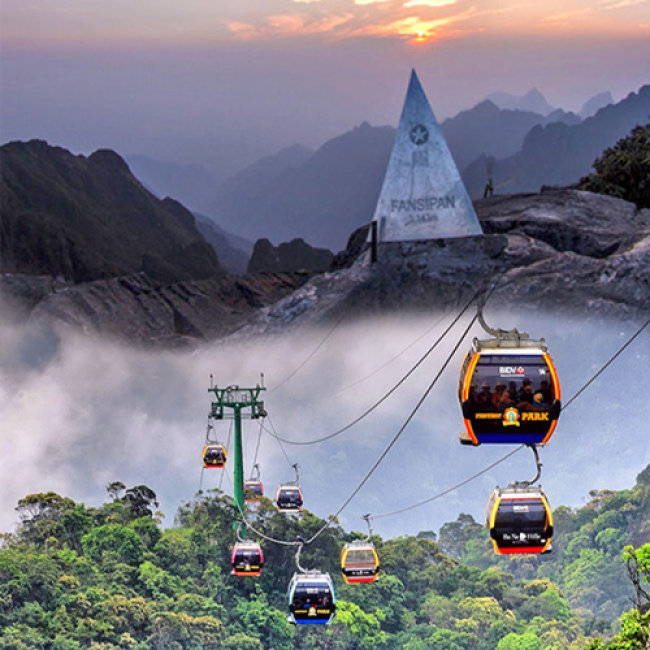 In 2016, the longest cable car line was opened for anyone who wishes to conquer the roof of Indochina with a length of 6292.5m. Now the cable car needs only 15 minutes to take you to the peak, compared to 2 days of trekking on foot, it's quite a difference. Fansipan's wild, lonesome beauty has been somewhat shattered with the opening of a 6282m-long cable car (return adult/child 700,000/500,000d, from 6.30am to 4.30pm), taking people across the Muong Hoa Valley and up to the peak, where a new complex of shops awaits, in 15 minutes. 

There are a few places that you can buy tickets to Fansipan cable car. If you are in a big group or visiting Sapa in the peak season, you can book in advance with Asianwaytravel without having to queue in a long line. If you travel with a small group or in the low season, you can buy tickets directly at Sun Plaza, right in the center of Sapa or Sapa station.

Due to the operating time of Fansipan cable car from 7: 30 to 17:30 daily, it will be difficult to catch sunrise or sunset on the top of Fansipan. However, manage to be here at noon, when it is less foggy, vibrant sunshine with cool breeze, thus helping you have a great time here to enjoy the stunning landscape around and having the best photoshoots.