You're traveling to Vietnam and Cambodia but have yet to know the best way to do it? We're more than ready to show you the most authentic, original and at the same time luxurious way to do so – Cruising to Vietnam and Cambodia. Unlike cruise to Halong Bay, cruise along the Mekong river, especially cruising upstream the river is a whole different sport altogether.
A Mekong voyage to Vietnam and Cambodia is longer, filled with more adventure yet remained comfortable with leisure, and most importantly, the story of the mother river that has nurtured civilizations will unfold before your eyes in the most unique, unfiltered way.
The Mekong
---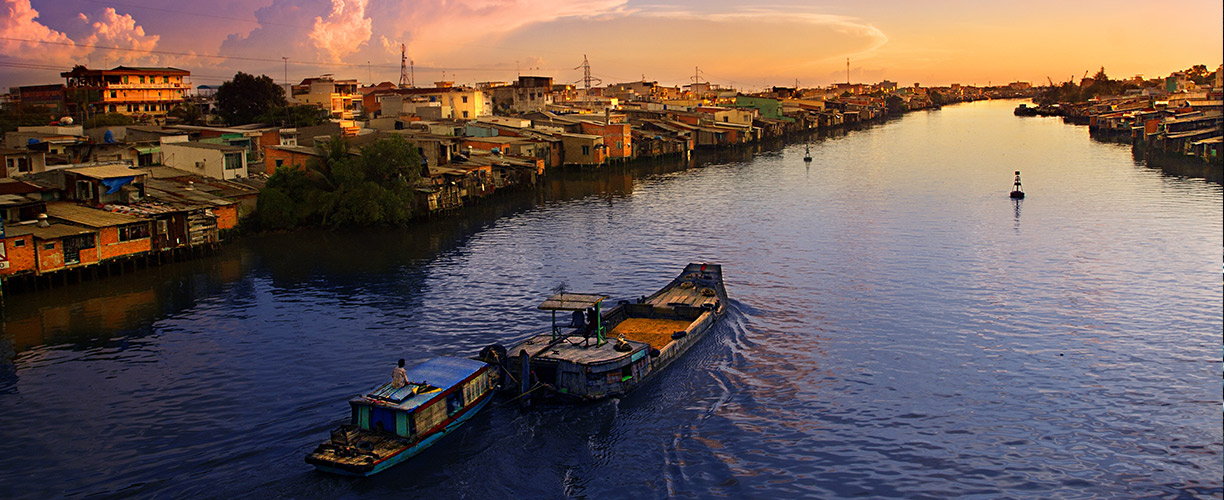 Mekong River has long been known for its grandeur, fierceness and beauty. Originated from Tibet, Mekong passes more than 3000 miles through the great lands of China, Myanmar, Laos, Thailand and Cambodia before reaching Vietnam and the East Sea. In Vietnam, Mekong changes its name into 'Song Cuu Long' which means the river of 9 dragons, a way to describe the nine branches spanning all over southern Vietnam. This region is called the 'Delta of Nine Dragon River' or 'Mekong Delta' as we have known of.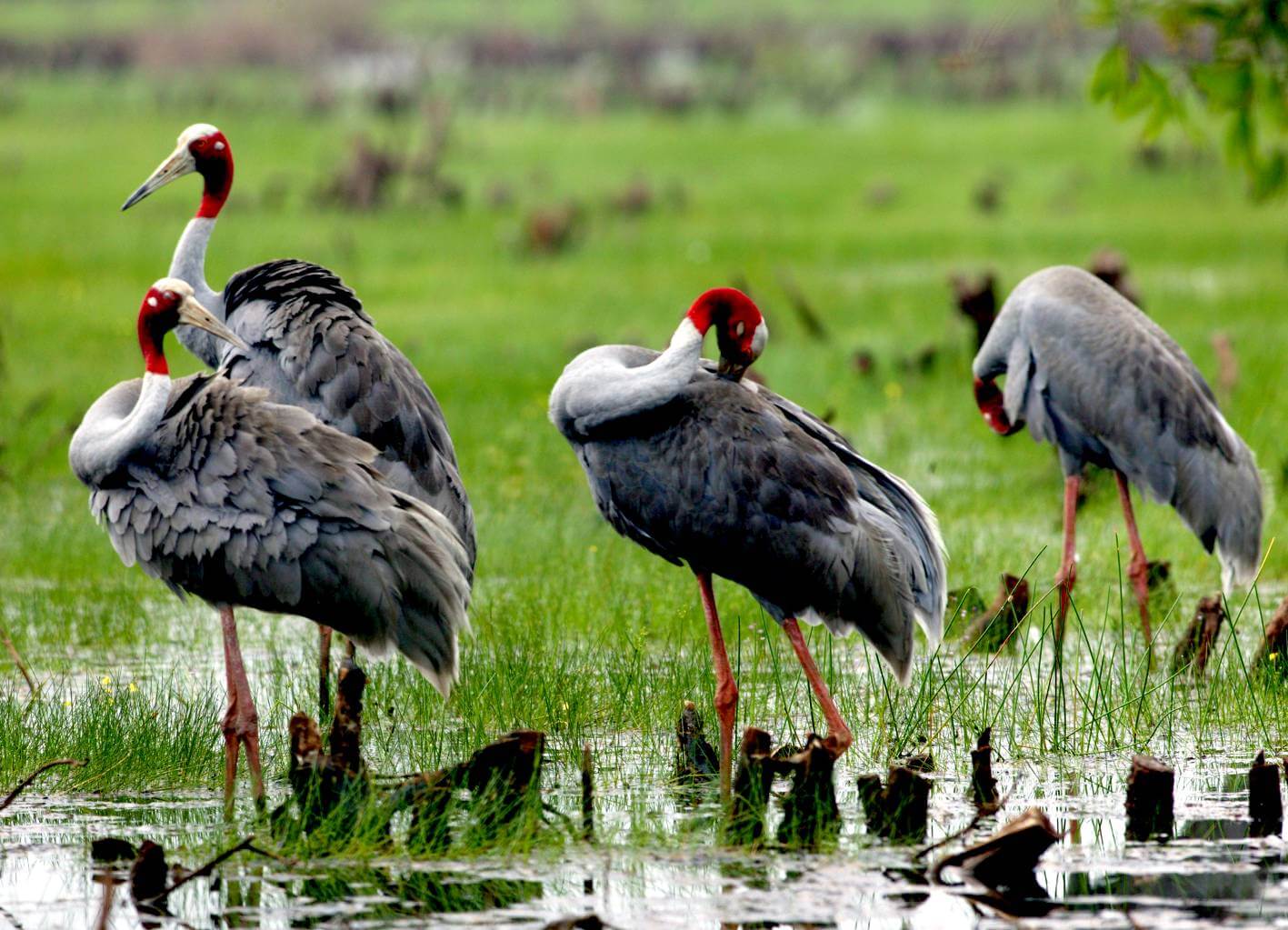 Throughout history, Mekong River has fed 60 million of people of its way and is continuing to do so. The very river has enriched various kingdoms, created civilizations after civilizations, and fostered the culture diversity in Southeast Asia. A Mekong cruise from Vietnam to the upstream of the river in Cambodia is the best way to see the culture diversity between regions.
When is the best time to for a Mekong Cruise to Vietnam and Cambodia?
---


Mekong works a little different from normal seasons divided into winter or summer. Instead the river has two distinct seasons: low water and high water which refers to the water levels of Mekong river. From August to October, Mekong sees a distinct rise in water level due to the huge volume from Tibet.
The wet season is in between July and October and from November to February, the weather get so much milder and this is also the best time to cruise the Mekong since the scenery will be much more greener and you can even see the birds and small animals living near the water source.

November – February are also the most ideal months to visit both Vietnam and Cambodia since the heat dies down a little bit and the scenery is lush and the waterways are full. The orchards, gardens, flower gardens all are in full bloom. 
How to choose the best Mekong Cruise?
---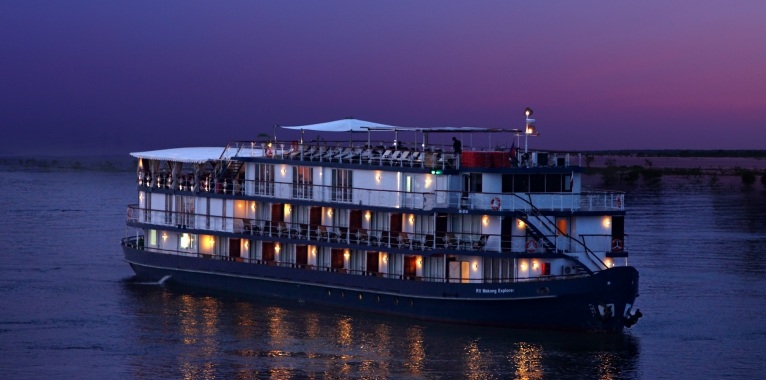 Like we said in the beginning, Mekong cruises are different from Halong Bay cruises which are more suitable for shorter excursion, hopping from island to island with a huge sundeck where you can admire the beauty of the bay.
There are a diversity of Mekong river cruise in style, type and amenities. Most of daily cruises are shared cruise for shorter excursion in Mekong delta. These big wooden yachts like La Perle de l' Orient cruise ship of Indochina Junk can accommodate up to 200 guests at the same time. However, this ship doesn't have private cabins.
For longer voyages, the cruise ships are mostly luxurious, adequately equipped with highest level of safety guaranteed. Most famous cruise ships like Jayavarman and Jahan from Heritage Line are designed as French colonial steamers with spacious, luxurious cabins, a pool, a cinema and large decks. There are also dining hall and bar club providing top quality services.
Here are some names to choose from:
| | | |
| --- | --- | --- |
| Cruise Operator | Trips | Price Range |
| Indochina Junk | Saigon river tour, Saigon – Can Tho | $35-$80 |
| The Lady Hau Cruise | Saigon Cruise, Mekong Cruises under 3 days | from $57 |
| Mekong Eyes Cruise | 2-3 day Mekong delta tours | from $219 |
| Authentic Mekong | Mekong delta cruises under 3 days, Saigon – Angkor 7 days | from $400 |
| RV Amalotus | Mekong delta – Siem Reap 7-8 days | $1500 – $2650 |
| Heritage Line/ Jayavarman / Jahan | 4-8 days of Mekong Delta and Cambodia |  from $2958 – $3319 |
What to see and do along the Mekong River? – Port Highlights
---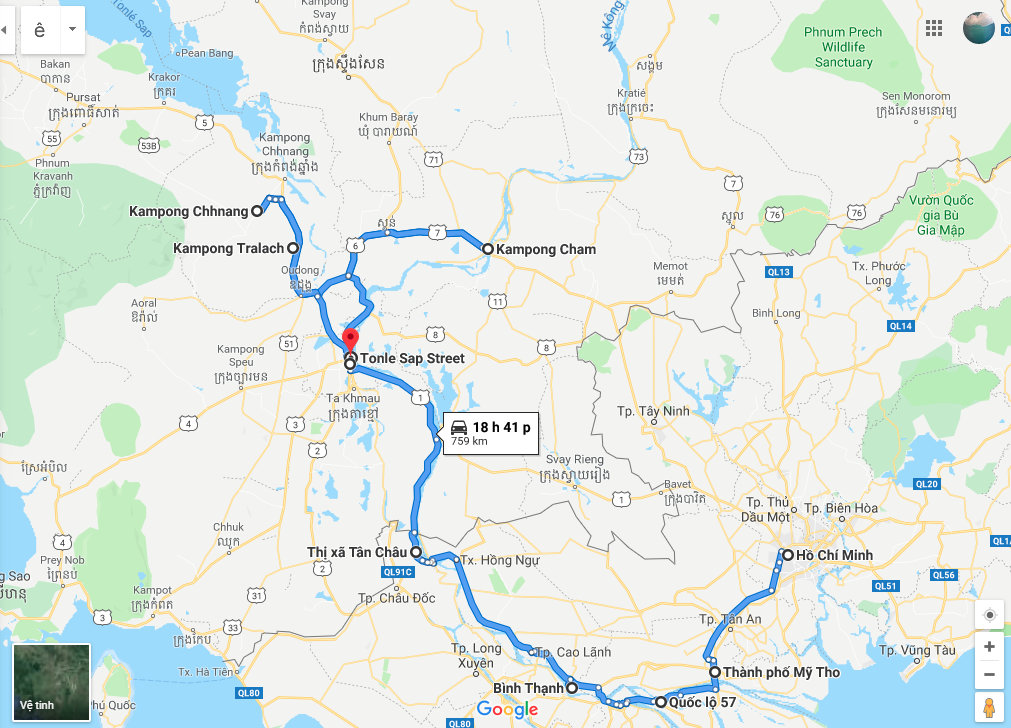 A cruising voyage to from Vietnam and Cambodia often take you to visit the highlighted attractions along the waterline. This cruise will take about 8 days, you'll spend about 3 days in Mekong Delta and 5 days to go upstream deep in the land of Cambodia.
My Tho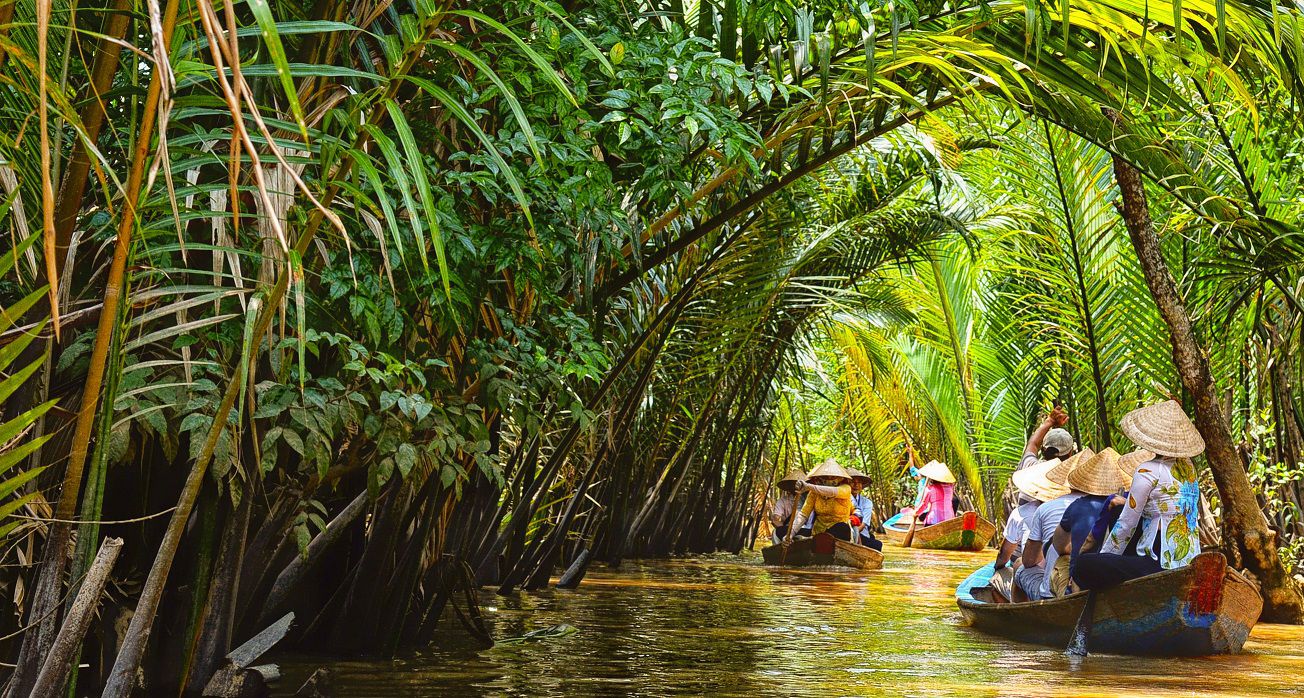 Most cruises will start from My Tho which is about 70km from Saigon and the place you can enjoy the beautiful, rich nature of the land and the unique way of life of local people by a sampan cruise to discover the fruit gardens, coconut forest and local workshops.

My Tho is the perfect destination to breath in the fresh air, enjoy the beautiful nature and culture of this beautiful land. 
Cai Be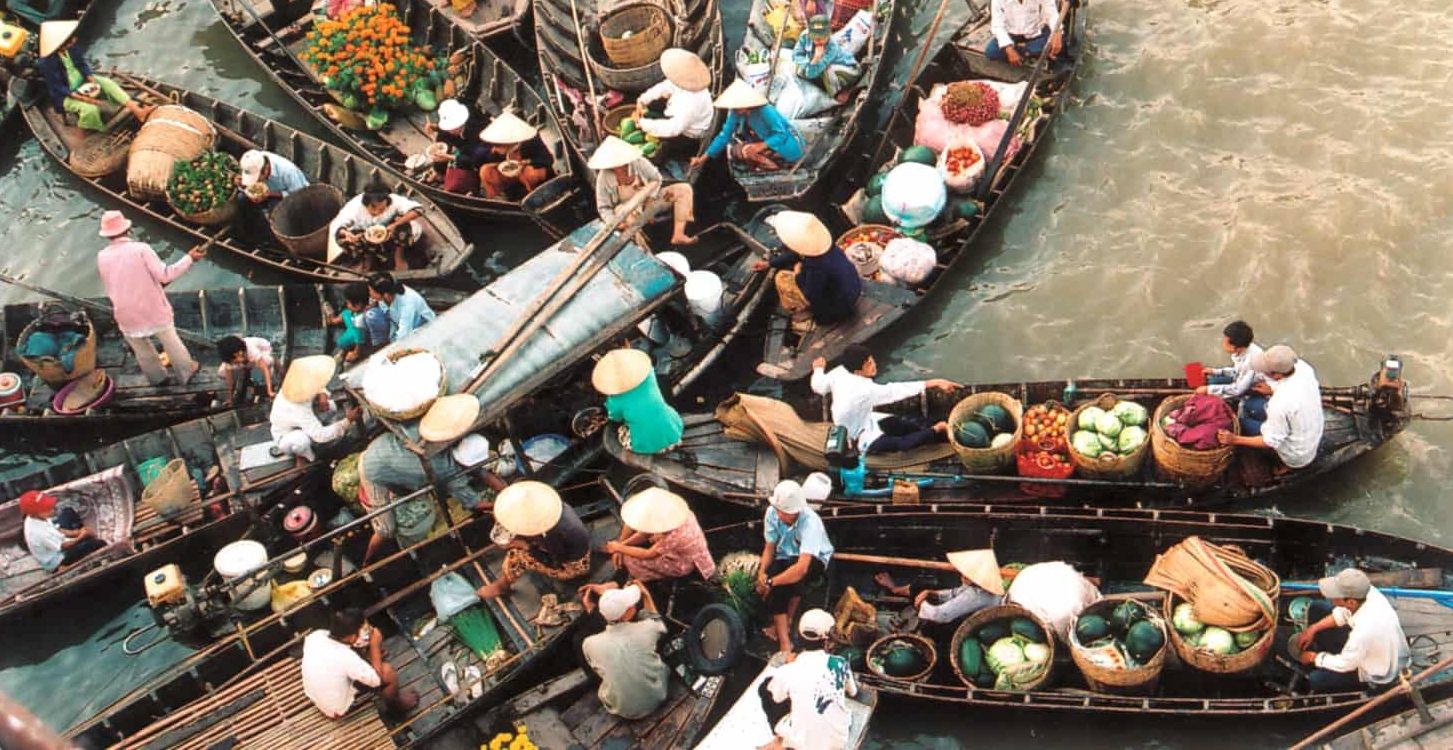 Cai Be is a famous attraction in Mekong Delta, a charming town lying on the most beautiful part of Mekong river in Vietnam. Cai Be floating market is among the worthiest floating to visit in Mekong Delta. This floating market was founded back in 19th century under Nguyen dynasty and has been gathered ever since.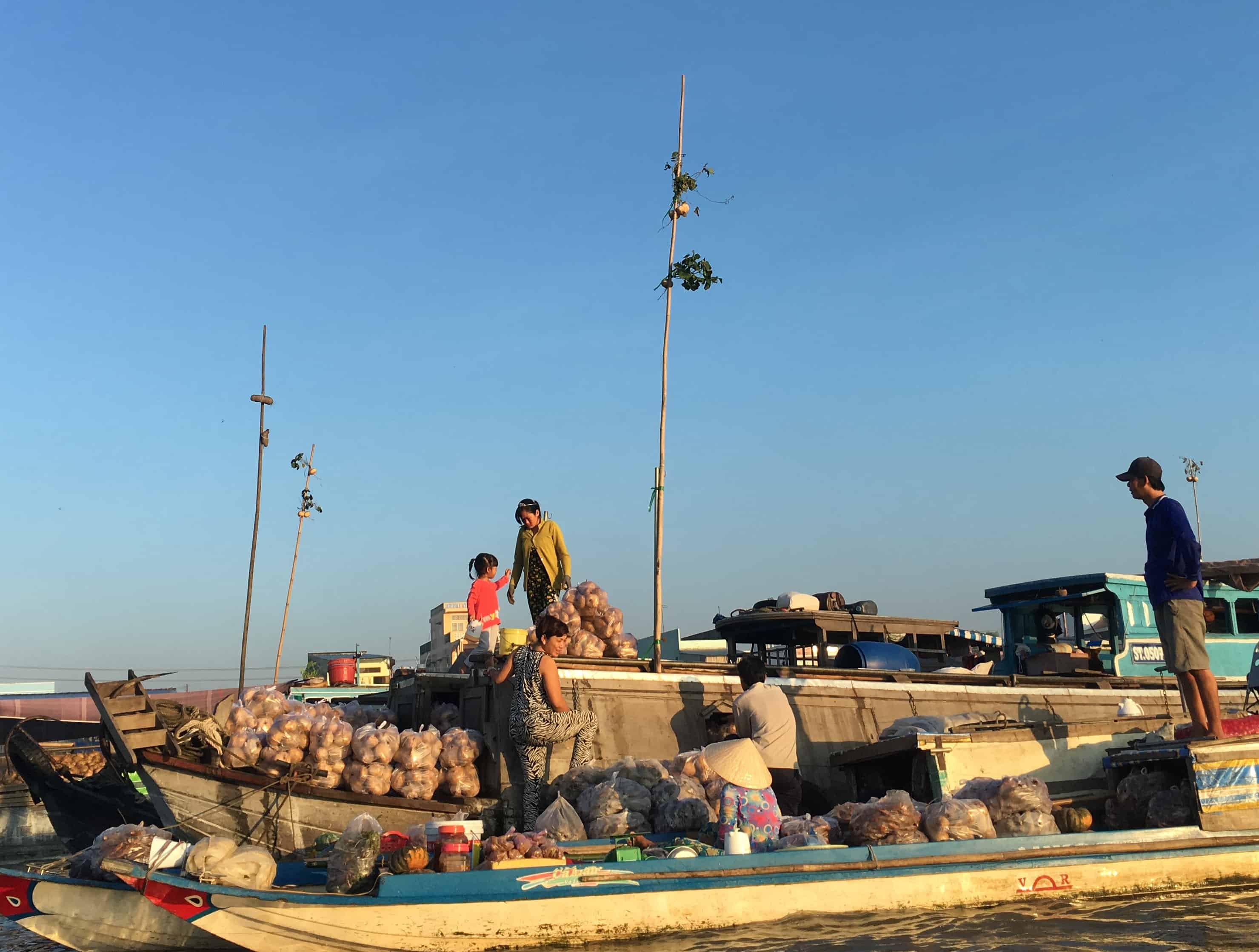 From your sampan boat, you can see the bustling sights of people selling their goods on their boats and rafts. As a silent rule, each seller hangs the things they sell on a bamboo stick to make it easier for the buyers to recognize, except for things impossible to hang like noodle soup or the like.
Cai Be floating market is a great place to have a glimpse into the life of the local people here – their way of life and their culture.
Sa Dec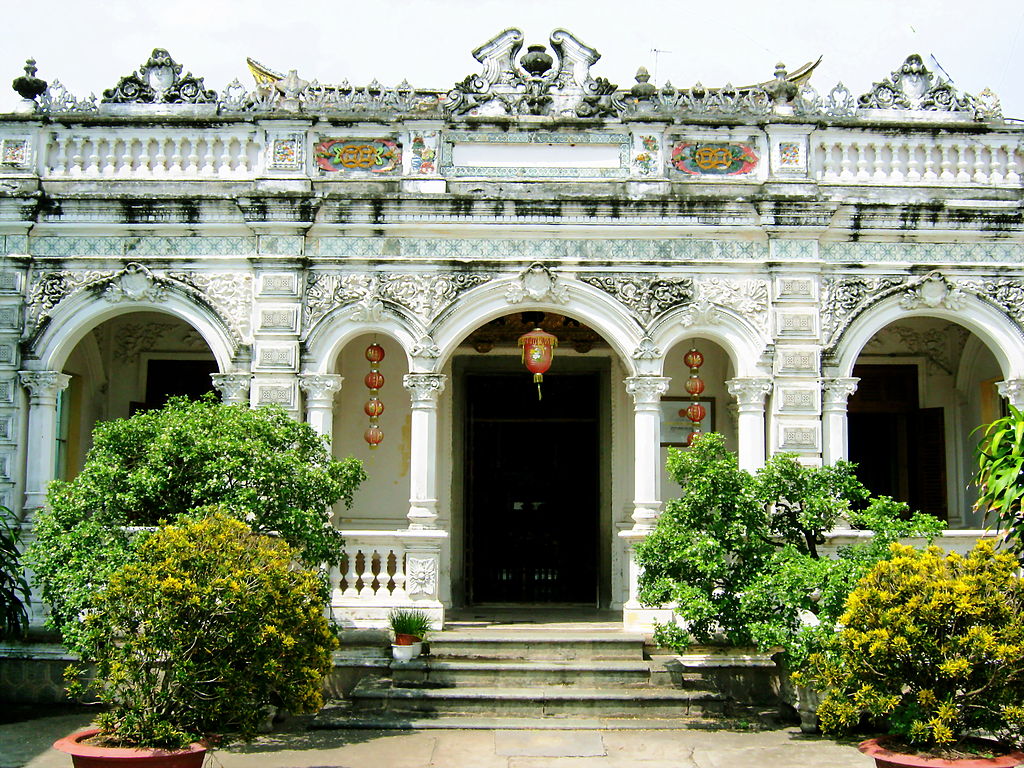 Sa Dec is a small city in Dong Thap province, once a trading center and now a lovely tourist attraction in Mekong Delta. What is the must see in Sa Dec? If you're a fan of the movie L'Amant (The Lover), you'll know the answer to this question – it's the house of the Chinese man Huynh Thuy Le at 255A Nguyen Hue Street. He was the lover in Marguerite Duras's book and the house was also the filming location of the film.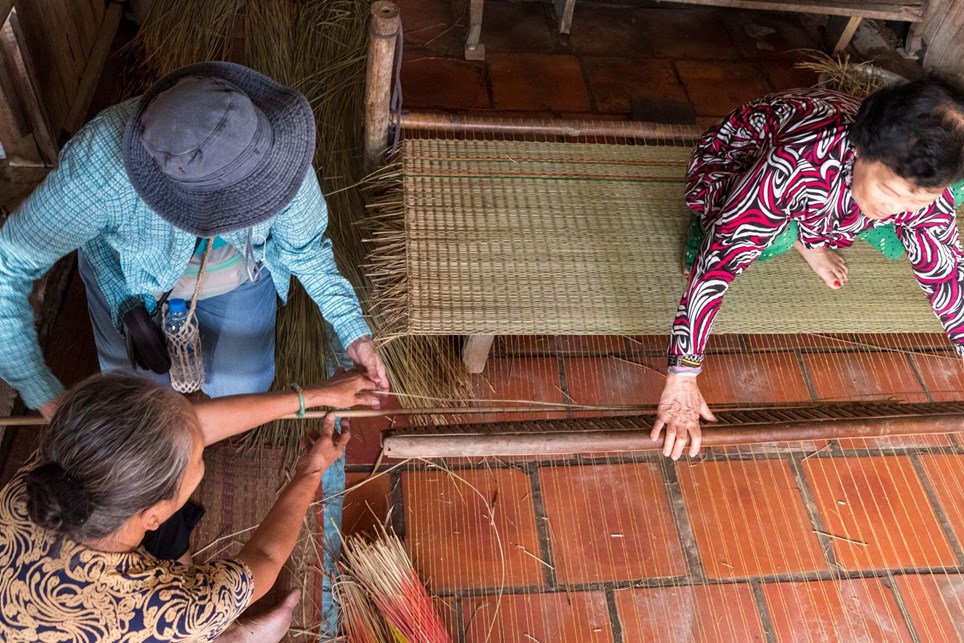 You'll also visit
Binh Thanh Island
where the people settled by making their living by growing water hyacinths. Binh Thanh island is also home to the crafts of mat making and you can try your hands in making the mats under instructions of the local craftsmen.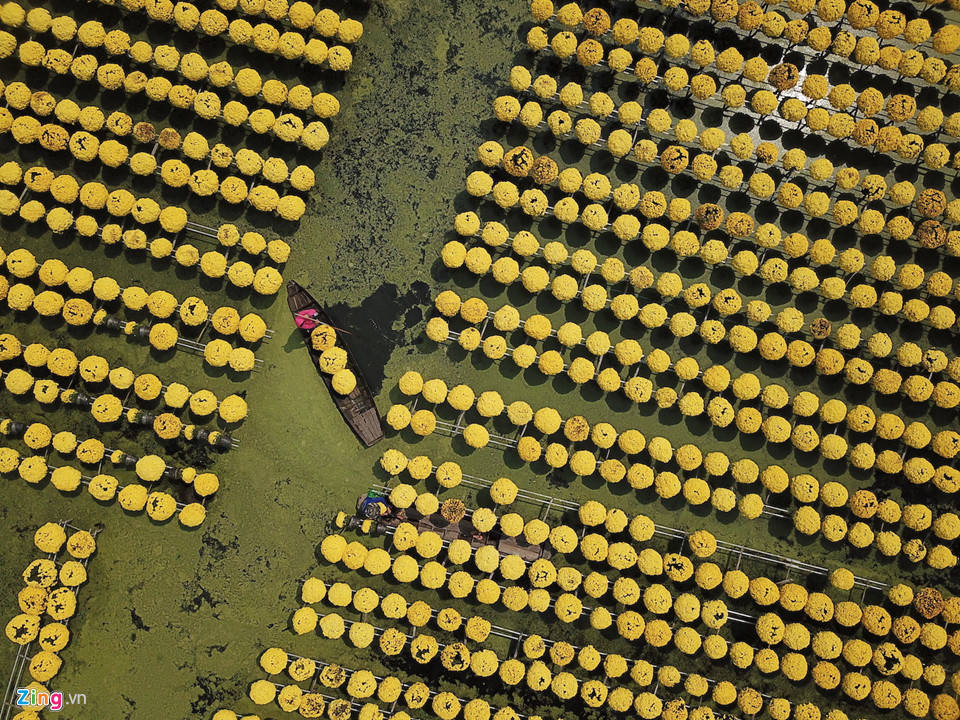 Sa Dec also has the largest flower garden in Mekong Delta – it's so vast and colorful you'll feel like floating through a paradise in real life. 
Tan Chau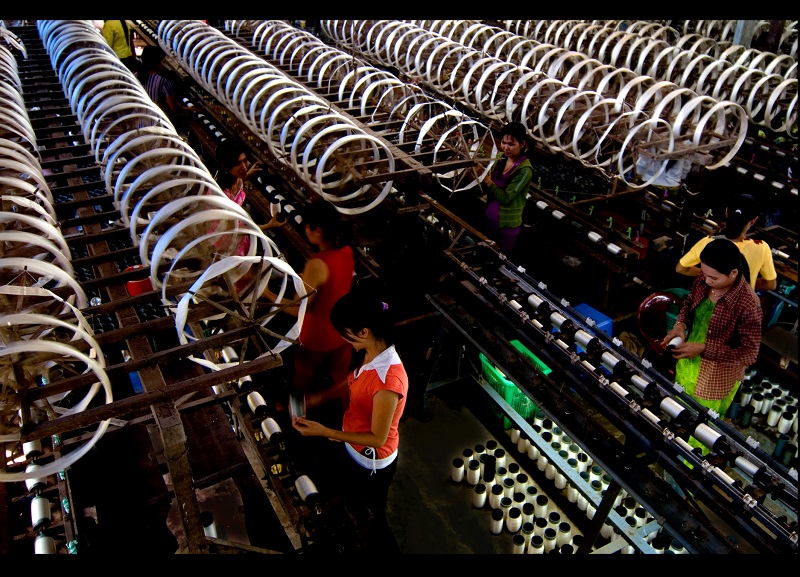 Tan Chau lies close to the border of Vietnam and Cambodia and a perfect town to visit before crossing into Cambodia. A short tour around Tan Chau – a home of a sizable Chinese, Kinh and Khmer communities by riding a xeloi – a local vehicle – would be an interesting experience. Tan Chau has a laid-back vibes you would love if you're bored with busy and noisy cities.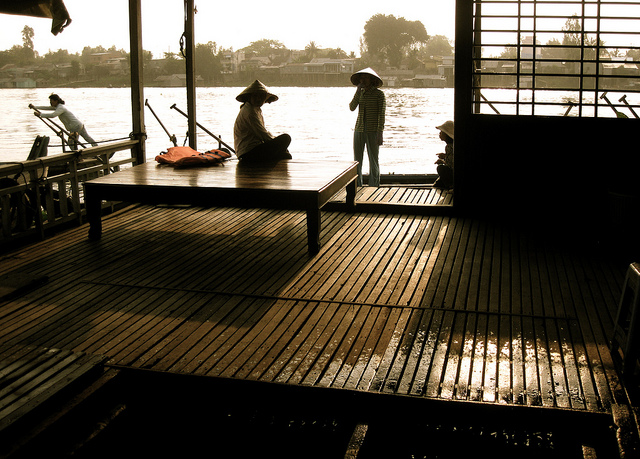 You can visit a local market and a local temple before boarding the boat and cruise past floating houses and finally reach a floating fish farm. Tan Chau is also known for the craft of making silk and they're sure good at it. If you're looking for quality silk products, don't miss visiting this place.
Phnom Penh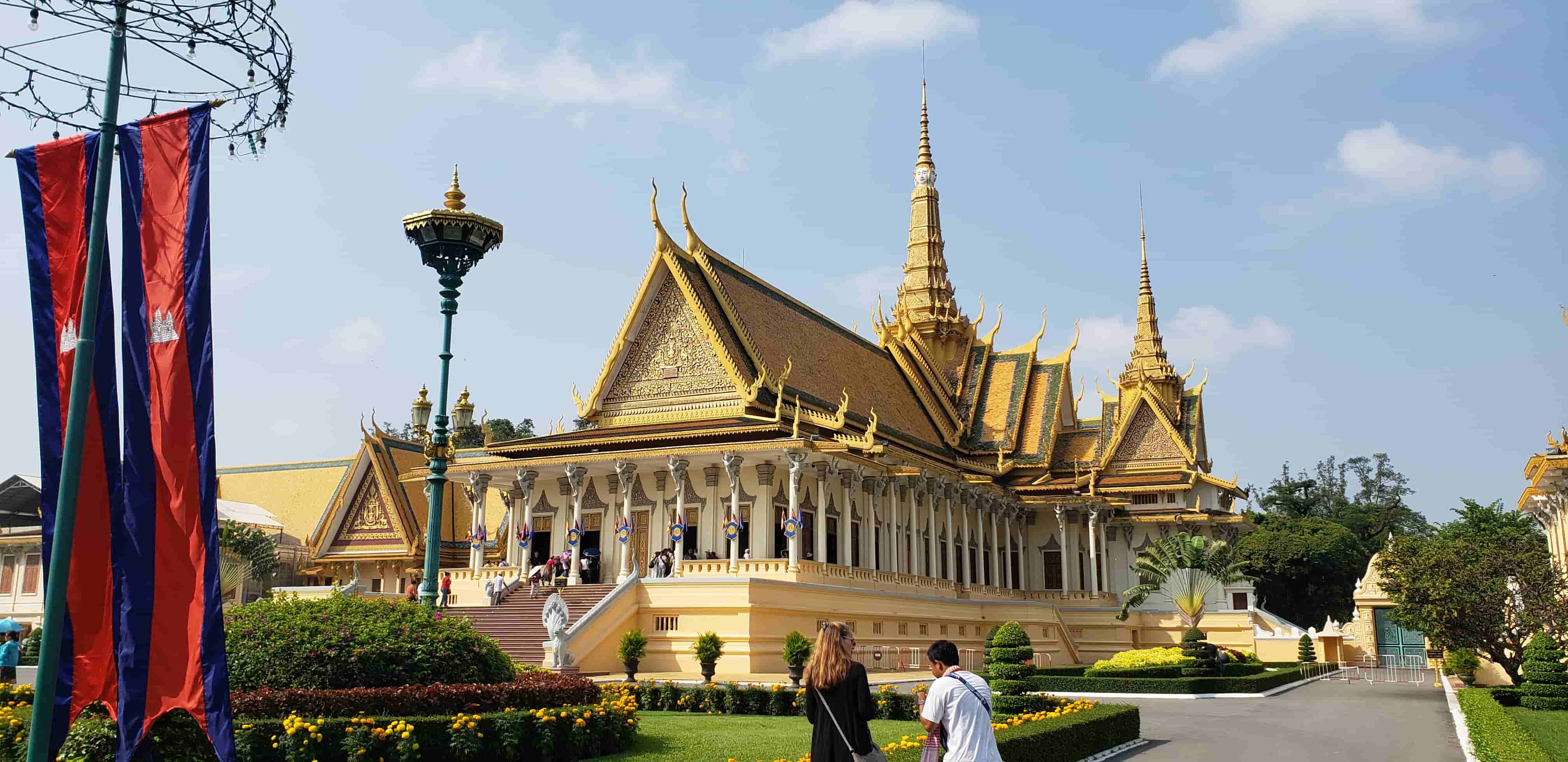 Phnom Penh, the city once was called 'Pearl of Asia' or 'Paris of the East' for its glory period of music and parties. A cooking class is often offered during a Mekong cruise tour. This is the chance for you to learn how to cook some Cambodian dishes.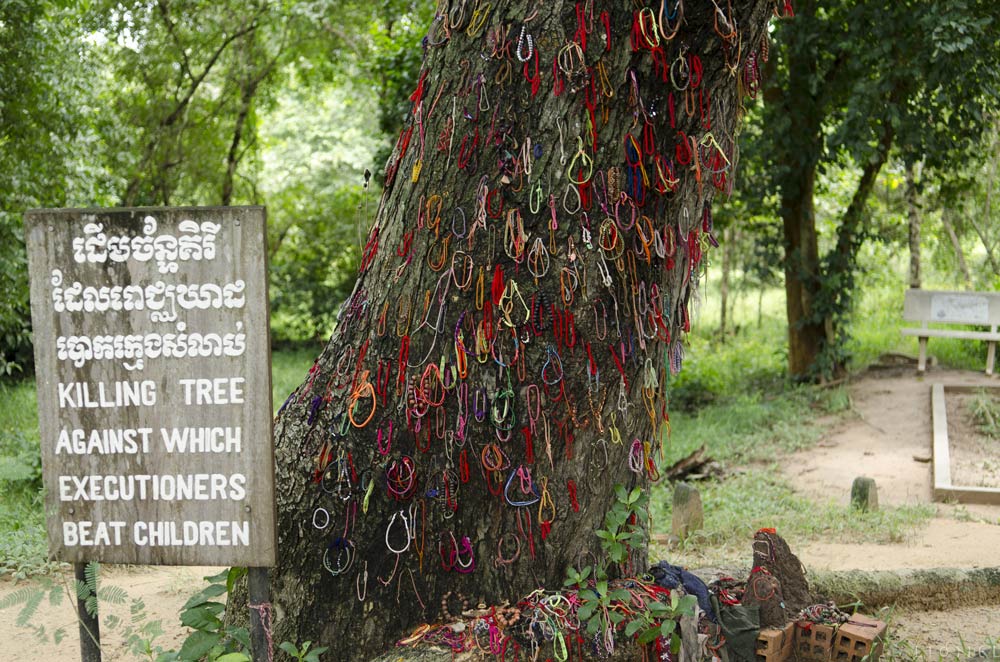 You should spend a full day to discover the beautiful capital of Cambodia: its history, culture and story. Pay a visit to the sobering Killing Fields and S21 Prison to learn about the tragic Khmer Rouge had caused the Cambodian people.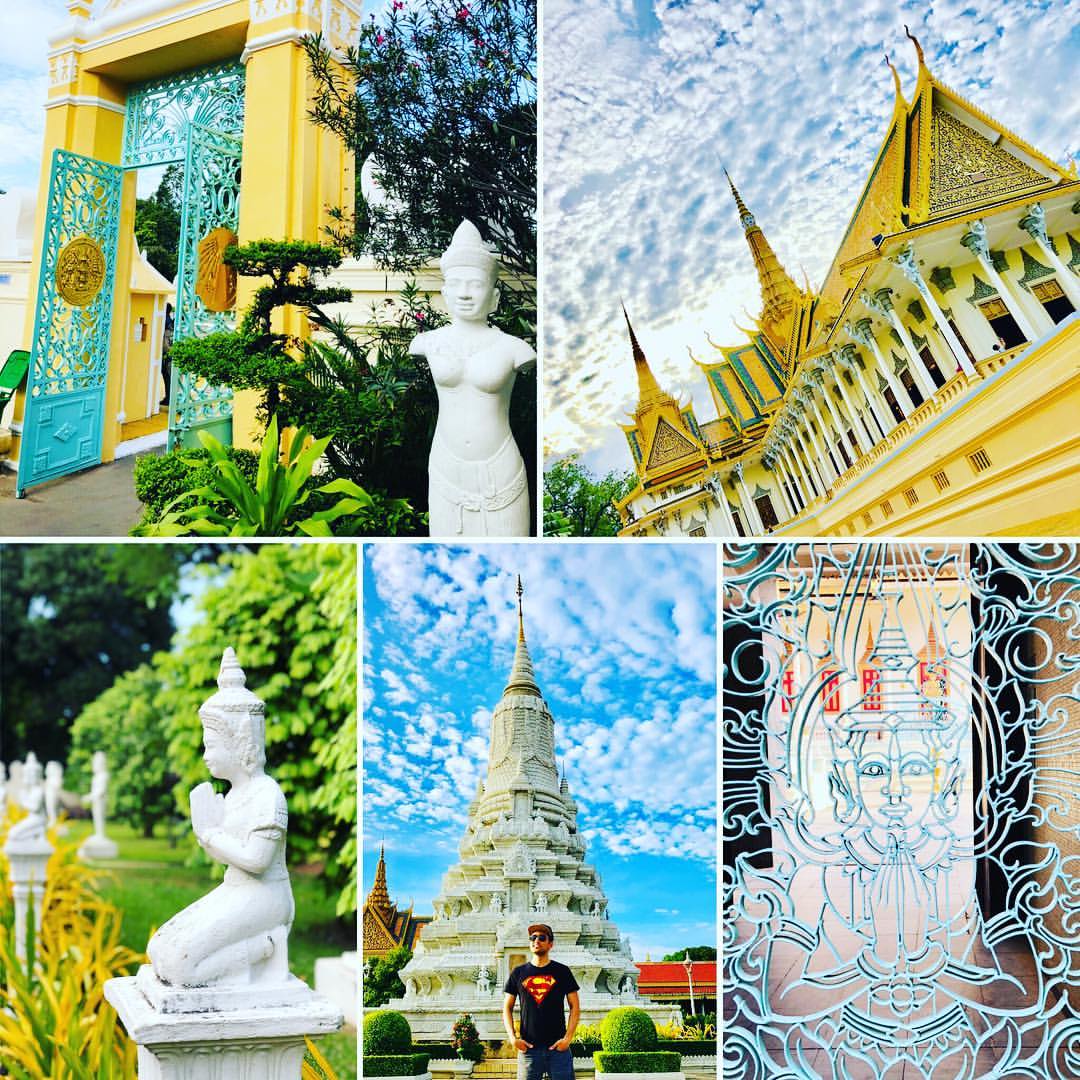 Next, visit Phnom's most important religious and political monuments: Royal Palace and Silver Pagoda. Or discover the nation's culture heritage in National Museum. In the evening, you can enjoy a dinner while watching a performance of Apsara dance performance.
Kampong
Ban Village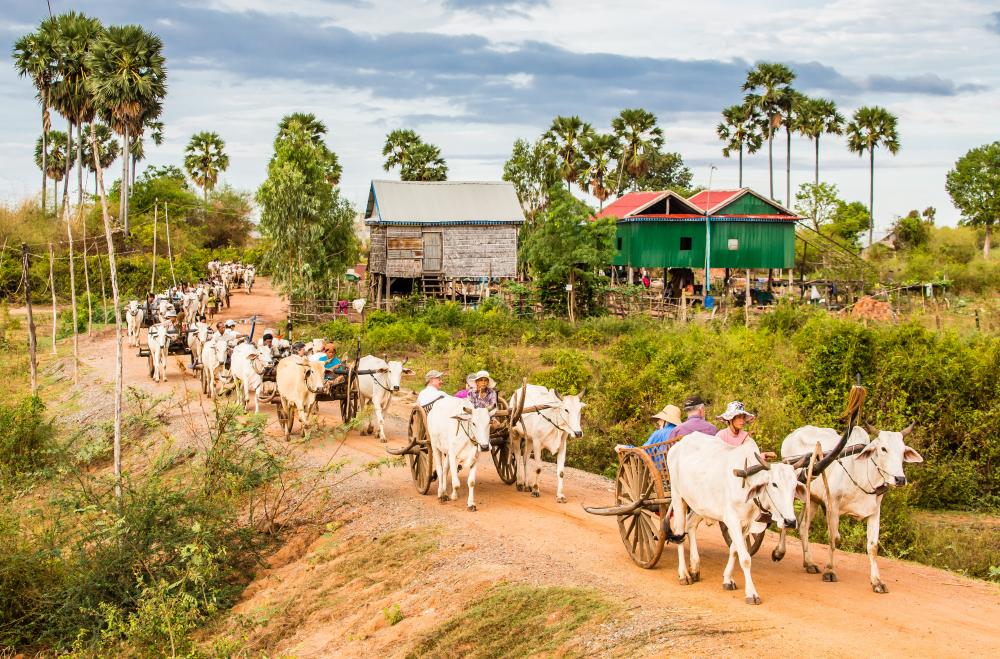 The Ban village is known for unspoiled community and beautiful, traditional houses, making your trip feels like you're traveling back in time for a hundreds of years. You'll meet the friendliest villagers you ever met. The host are gladly welcome you and show you their culture, their way of life.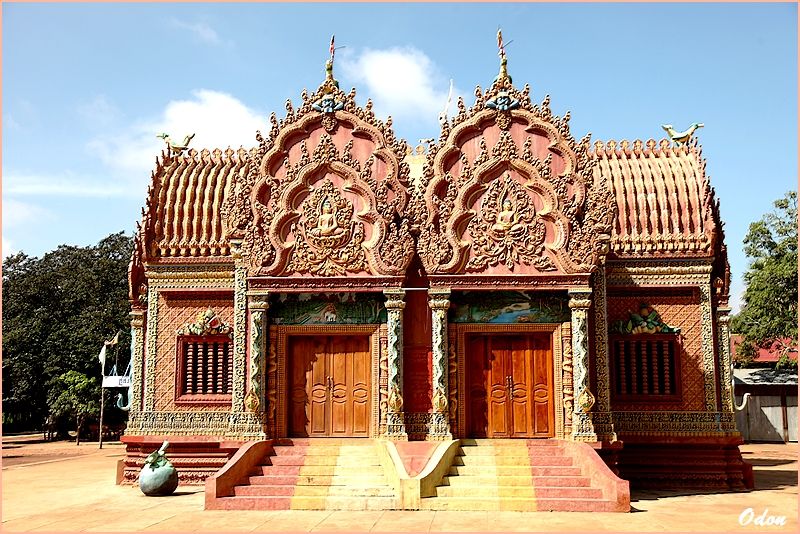 Visit a rare pre-Angkorian temple of Wat Hanchey (built in 7th century) – this pagoda is small but it has the quintessence of pre-Angkorian architecture style and will charm you with its lovely appearance.
Oknha Tey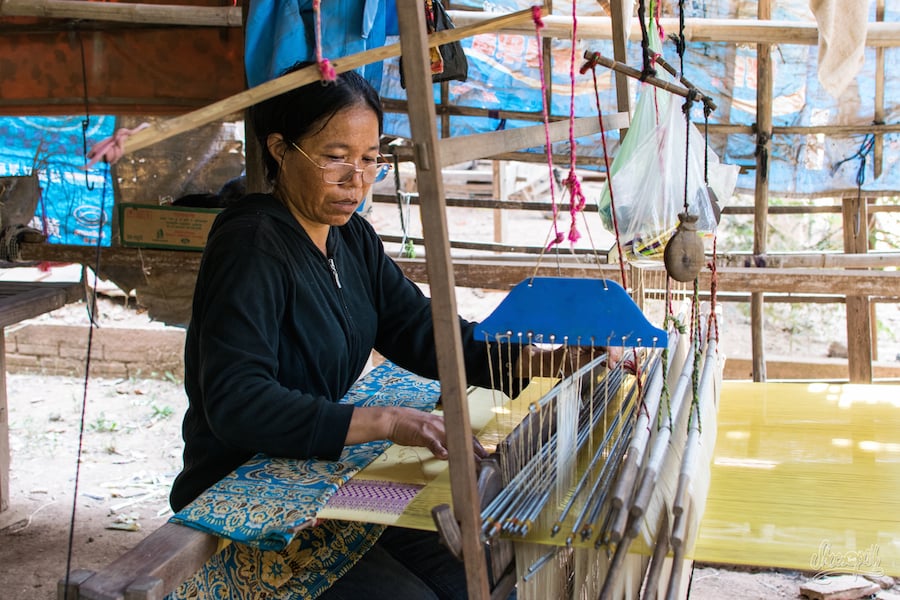 In Kampong Cham, the Island of Oknha Tey is a wonderful place to visit and discover the culture. Oknha Tey is known for the manufacturing of high-class silk products. You'll visit the local workshops to see how the silk is made and the locals are gladly help if you want to learn Cambodian weaving which is just a nice thing to experience.
Kampong Tralach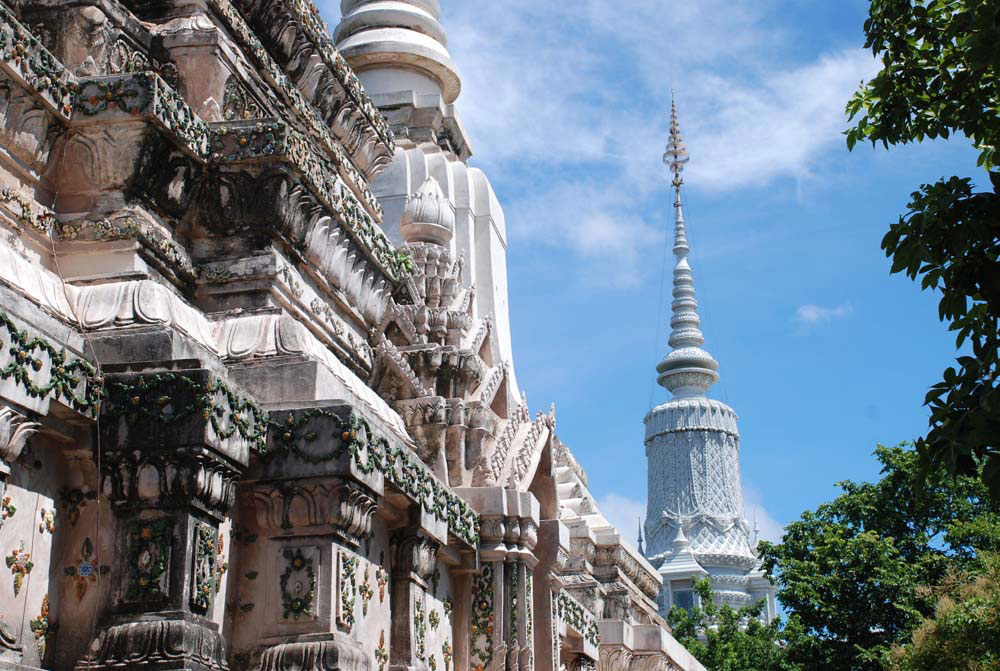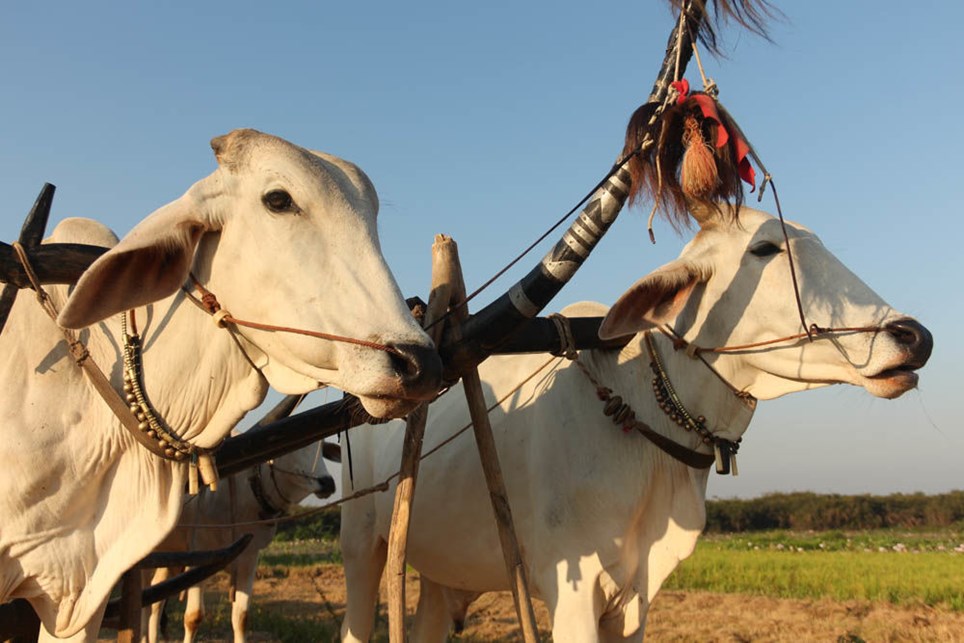 This part of the Mekong is leafy, covered by trees and hidden away by myths. You'll experience a special way to explore the land – riding a local ox cart. This is also the way of transportation of the people here and by experiencing it, you also experience a small part of the local life.
Kampong Chnaang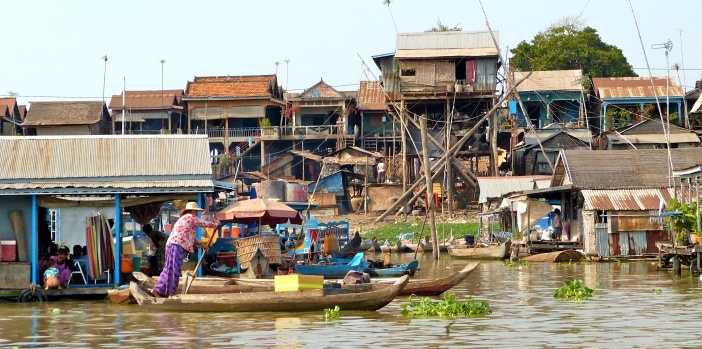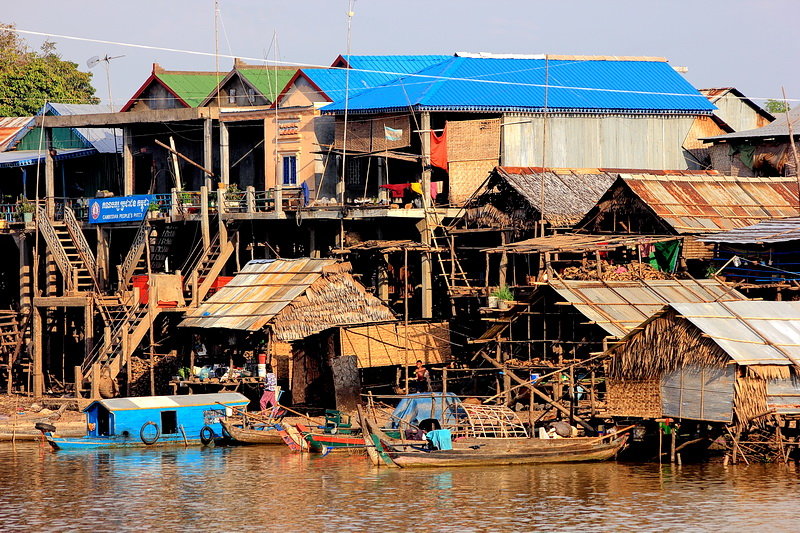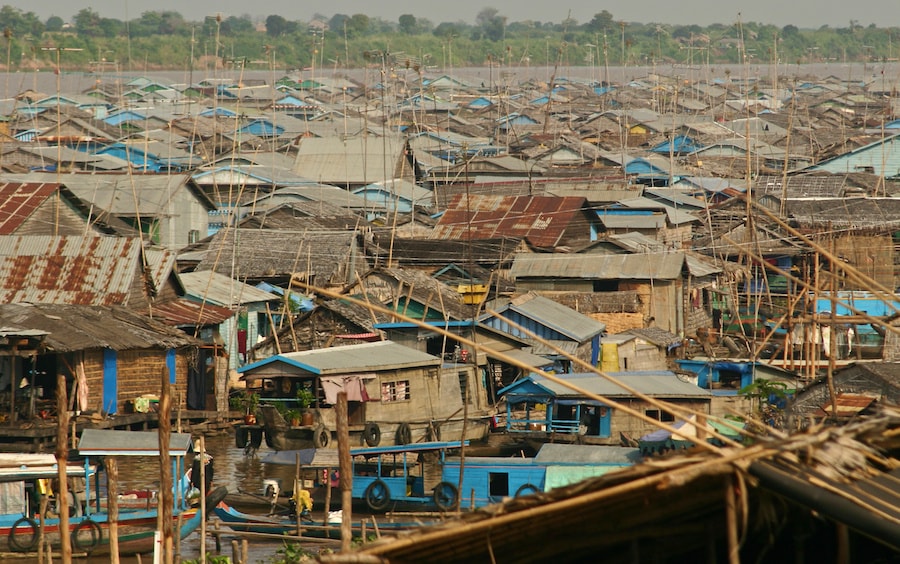 If in the other parts of Kampong you see the life of the people on land then in Kampong Chnang, a much different way of life will unfold before your eyes. The Kampong Chnnang floating village is a world of its own, intimidating, overwhelming and fascinating. The people here do everything on the water and it's just a wonderful sight to see how they adapt to this water life as well.
The village specialties – Khmer-style pottery and making palm sugar will be introduced to you and you can support the villagers by buying some products as souvenirs.
Tonle Sap Lake


The last destination of most Mekong cruises –Tonle Sap Lake or The Great Lake – has the charms of both culture and nature to behold. It's known that Tonle Sap has more fishes than any other lake in the world and is home a wide variety of birds, including rare and endangered species.
Coming to Tonle Sap, you'll have chance to witness the bustling life of wildlife here while cruising on the lake as well as the life of the floating villagers here.
The Mekong flows forward but your journey ends here. Before you is the lost civilization of Angkor, the glory of which can still be seen in the haze of sunset.
---
Enthralled to go on a voyage along the almighty Mekong River? Why not do it on the masterpiece cruise Jayavarman? We will take you on an epic journey of discovering the natural and cultural beauties of the lands where Mekong flows through. Send your request for this trip to our email booking@asianwaytravel.com to have our travel expert working on it.