There are several questions that arise as Vietnam golf continues to pique the interest of players worldwide. The best time to play golf in Vietnam is one such question. It is reasonable to assume that the climate in Vietnam as a whole is rather diverse. In this article, we will suggest to you the best time to go on a Vietnam golf tour.
Three Regions for Golf in Vietnam
Vietnam is a long winding nation with a coastline extending more than 3000 kilometers from north to south. The Vietnamese have been divided into three regions: the North, the Center, and the South. In addition to distinctions in culture and food, these areas also have distinctive landscapes and climates.
This results in an astonishing range of golf courses in Vietnam and creates a unique experience in each locale. As a result, the quality of the golf experience in Vietnam is further increased by choosing the correct place at the right time.
Best Time to Play Golf in Hanoi & North Vietnam
The capital area is home to a number of excellent Vietnam golf tour, and more are planned, which contributes to the allure of Hanoi golf trips. However, the greatest time to play golf in Hanoi is between the months of February and April, or from October to mid-December. May through September is often the rainy season, and if it's not raining, it may be rather warm.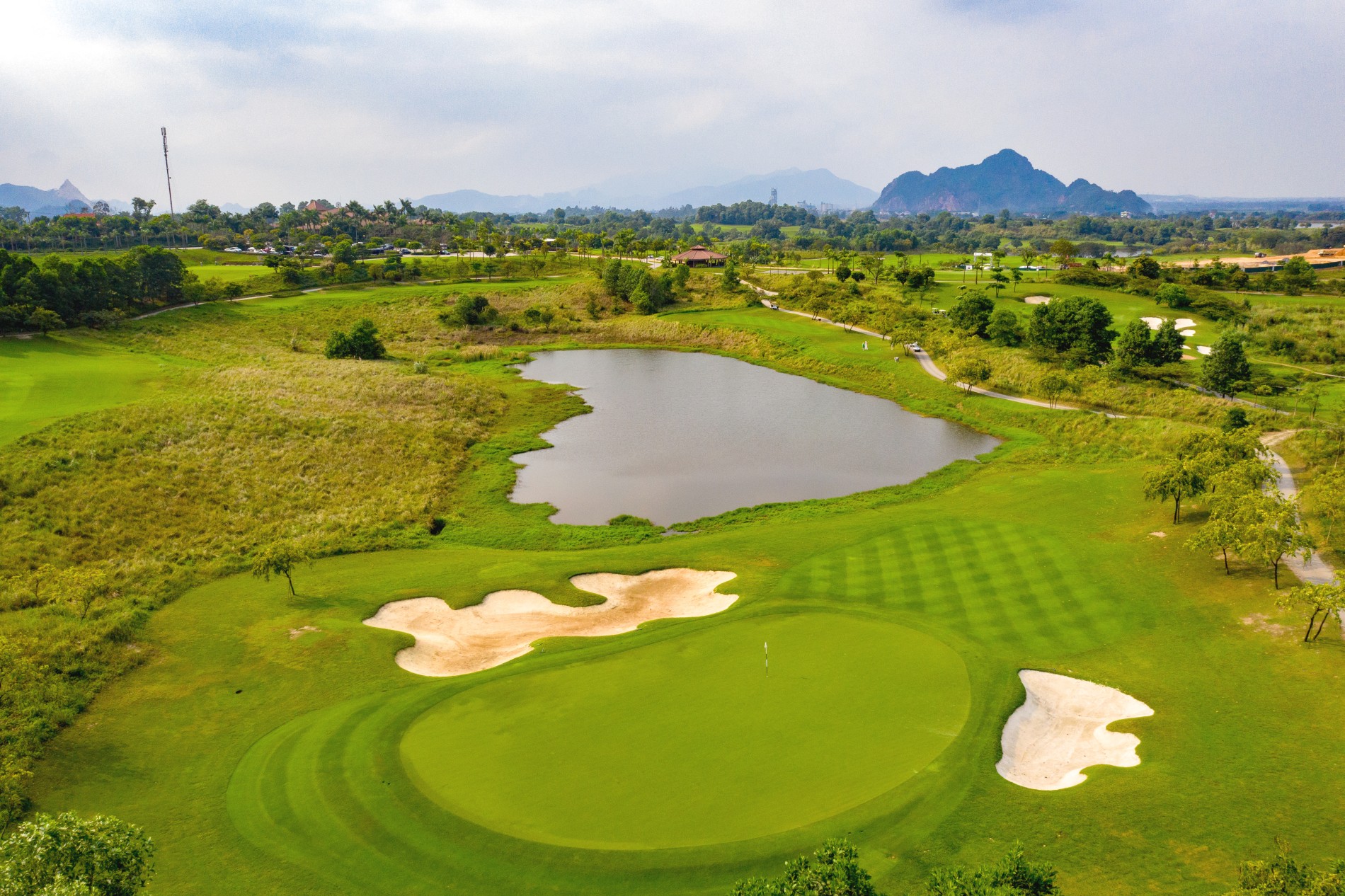 In late December and almost the whole of January, temperatures may decrease dramatically. This has sometimes damaged the conditions of certain golf courses. However, golfers from Southeast Asian nations find the chilly temperature rather appealing.
Some famous golf courses for golf vacations in Hanoi: Sky Lake resort & Golf club, Van Tri golf club, BRG Kings Island Golf Resort, Hanoi golf club, etc. 

>>> Hanoi Golf Vacation 4 Days
Best Time to Play Golf in Danang
Danang is the biggest city in Central Vietnam and the third largest in Vietnam overall. The stunning Danang golf courses are responsible for the growing demand for Vietnam golf tour. The climate of Danang and the rest of Central Vietnam is distinct from that of the north and south.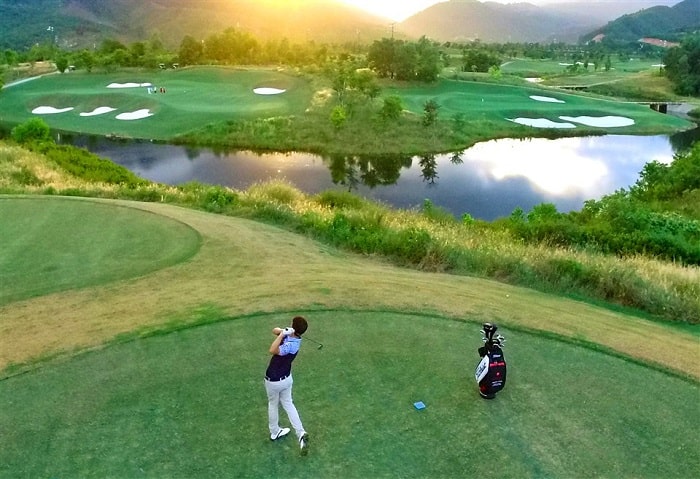 Typically, the rainy season runs from September until December. It is worth noting that a few of the golf courses that are bordered by mountains tend to get more precipitation. Despite the fact that course operations have been able to overcome these obstacles throughout the years, it is prudent to remain vigilant. Consequently, the optimum time to play golf in Danang is between February and April. May through August are the warmest months in Danang before the rainy season arrives.

>>> Danang Golf Vacation – 4 Days
Best Time to Play Golf in Ho Chi Minh City and South Vietnam 
The city with the most people and the most excellent activity is Ho Chi Minh City in Vietnam. The golf courses in Ho Chi Minh City are of a world-class standard, and they provide a considerable amount of variation. Although there is no such thing as a really awful season to play golf in Ho Chi Minh City, the months of December through February are generally considered to be the finest.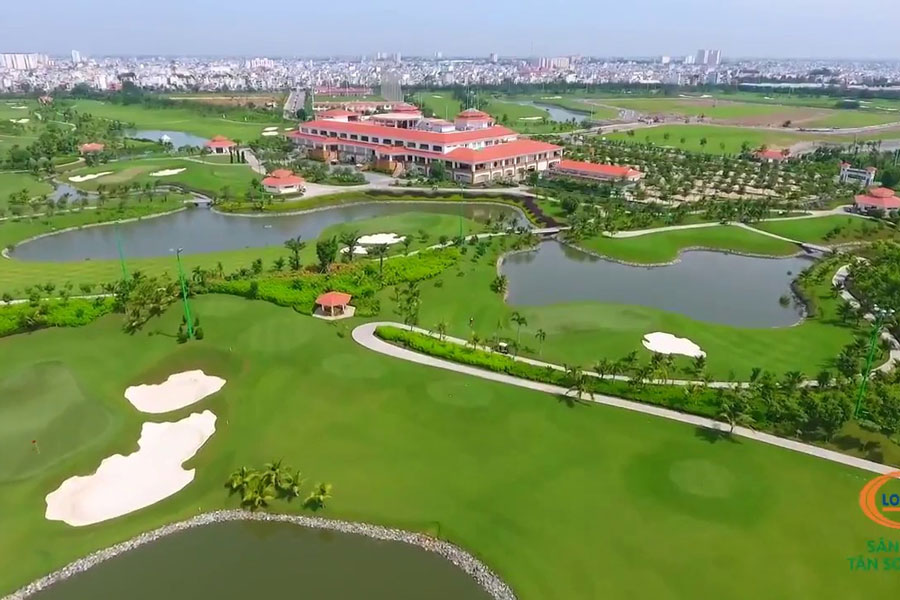 This is the time of year when the temperature is at its lowest point. The months of March and April are typically on the warmer side. May marks the beginning of the wet season, which typically lasts until around the middle of November. Bear in mind that it is quite unusual for a golf match to be postponed or canceled due to rain, especially at this time of year. This is particularly the case if you finish playing golf earlier in the day and have some time to kill before dinner.
Another up-and-coming golf destination in Vietnam is Nha Trang, which may have a climate that is quite distinct from the rest of South Vietnam. The months of February through April are considered to be the sweet spot for golfing in Nha Trang. Beginning in April, and especially during the months of July and August, Nha Trang may experience very high temperatures. The rainy season typically lasts from September to December.

>>> Saigon Golf Vacation 4 Days
Reasons That You Should Go on a Vietnam Golf Tour
Vietnam Has Golf Courses of The Highest Caliber
In the opening, we mentioned is made of the rising golf courses in Vietnam. The last decade has witnessed an astounding rate of change in the popularity of golf in Vietnam. Across the entirety of the United States, magnificent golf courses with cutting-edge layouts have sprouted in breathtaking settings.
Golfers may opt to play in the mountains, near the sea, in tropical jungles, or a combination of these environments. The finest golf course architects have utilized breathtaking scenery to create courses that can easily compete with the best.
It makes no difference whatever location you select for your Vietnam golf tour. You may visit Hanoi and choose from a variety of golf courses, or you can play along Halong Bay. Alternatively, you might be in Danang, which may soon become Asia's premier golf destination. Greg Norman, Sir Nick Faldo, Nicklaus Design, Robert Trent Jones Jr., Colin Montgomerie, and Luke Donald created the golf courses in Danang.
Or, you may select Nha Trang, which is renowned for its magnificent beaches and cuisine. If Ho Chi Minh City is your desired location, there is no scarcity of high-caliber golf courses. In addition to all of these, there are calmer spots if you so want. Quy Nhon, Dalat, and Phu Quoc are among the destinations to consider for a relaxing vacation.
Unsurpassable Service and Hospitality at the Vietnam Golf Tour
In addition to the world-class design and breathtaking vistas, the supporting infrastructure is also of the highest caliber. The Vietnam golf courses have expansive clubhouses, five-star locker rooms, well-equipped pro shops, and foreign dining options. Not before mentioning the caddies, who are predominantly female, well-trained, and well-dressed, and who make the golf experience special.
Conducive Golfing Climate Almost All Year Round
Depending on the region of the nation you choose to see, there is rarely a terrible time for a golf trip in Vietnam. Ho Chi Minh City and Hanoi may see rainfall from June through October, but it is rarely disruptive enough to cancel a round of golf. 
The same is true for Danang's rainy season, which lasts from November to January, and Nha Trang's, which lasts from October to December. Nevertheless, January to March is the optimal season for a golf tour in Vietnam. This season bodes well for players from North America and Europe since golf courses are typically closed during this time.
Great Options for Beyond Golf Experiences
Considerations for a golf location extend beyond the golf courses and offered golf experience. While golf is the primary activity, golf travelers seek a comprehensive experience. This includes dining, drinking, and entertainment, as well as sightseeing and cultural immersion. This is an area where it is difficult to err in Vietnam.
Vietnam is a fantastic travel location for the reasons listed above. Depending on whatever region of the nation is being visited, the landscapes are both breathtaking and diverse. Even while embracing a fast-expanding economy, the culture never abandons its origins in distinctive customs.
Regardless of whose sensation it satisfies, the cuisine and its diversity are a distinct feast. There is no dearth of drinkable alternatives, but nothing tops the kerbside "bia-hoi" experience at astonishing pricing. And if you like to party sing, and dance, you may do so in plenty, particularly in Ho Chi Minh City, Hanoi, Danang, and Nha Trang. Or, if you simply want a calm, soothing massage to alleviate your golf weariness, there is no shortage of possibilities.
Easy Access to the Majority of Locations
At least four Vietnam golf sites have international connections. Ho Chi Minh City and Hanoi have international air connections. Danang and Nha Trang are also connected to Thai, Chinese, Malaysian, Singaporean, and South Korean planes. Local airlines provide great access to all other locations from Ho Chi Minh City and Hanoi. This makes traveling to your place of choice for a Vietnam golf vacation rather simple and effortless.
Final Thoughts
February to April is the safest period to travel to Vietnam for a golf vacation. This corresponds with the biggest tourist season, it must be emphasized. The availability of golf tee times is not always convenient, especially on weekends. Golf excursions in Vietnam should be planned in advance during this time of year. On the other hand, organizing Vietnam golf tour during lean times might have its advantages. First, the total expenditures are reduced, especially with regard to lodging.