On the worldwide culinary map, banh mi Viet Nam has a spotlight among all kinds of bread and sandwich. Banh mi Viet Nam also won everyone's heart with many global awards over years! What makes them different and special like this? Let's discover the stories of banh mi with Asianway Travel.
The History of Banh Mi Viet Nam
Define and pronounce Banh mi Viet Nam in the right way
Before exploring Vietnamese bread, maybe you should start with the pronunciation and definition. Banh mi is a Vietnamese word, which means bread in English. It was officially added to the Oxford dictionary in 2011 as ​a type of Vietnamese baguette sandwich filled with cold meats, pate, and vegetables.


To be more clear, banh mi Vietnam is traditionally baked with rice and wheat flour. The bread filling is the most special part of this food: it is filled with various ingredients normally including meat, fresh Vietnamese vegetables, chili, and peppers. Furthermore, having the original name in an international dictionary makes Vietnamese people very proud, which means that we are spreading our cuisine throughout the world.
The history of Vietnamese bread
In the beginning, banh mi was derived from the French baguette because the French wanted to satisfy their culinary needs. Baguette is a type of bread that can be distinguished by its length and its crispy crust. French bread is usually 5–6 cm but up to one meter long. From the 50 to the 60s of the 20th century, Vietnamese people improved bread by shrinking 2-3 times and extra ingredients such as meat, pork rolls, pate…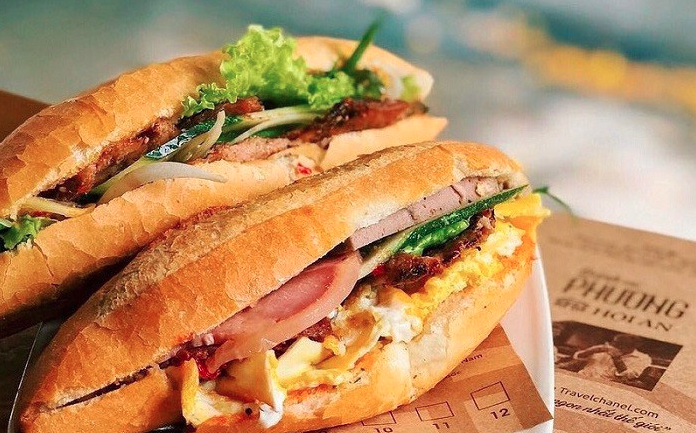 The first banh mi brand was in Saigon. Then, banh mi became the most wanted food nationally in Viet Nam, glued with the childhood of many generations of this S-shaped land. Today, banh mi is a well-known fast food due to its diversity, convenience, and affordability.
For more than 100 years, banh mi had some great milestones. In 2012, Vietnamese bread was awarded the title of "The best sandwich in the world" by The Guardian newspaper 2012. In 2013, banh mi Vietnam was voted by National Geographic magazine as one of the 11 best street foods in the world. In 2017, Vietnamese bread is one of the best street foods in the world" voted by British travel magazine Rough Guides.
Nowadays, tourists can enjoy the soul of Vietnam in multiple places in the world. Everywhere Vietnamese people live, you can find famous bread in Viet Nam restaurants. In the USA, there is Banh Mi Saigon in New York, Bun Mee in San Francisco, and a restaurant chain of world renown Lee's Sandwiches in the southern region of America. In Canada, you will see Banh Mi Boys in Toronto and Banh Mi Thi-Thi in Calgary. In Prague, the Czech Republic, everyone can have themselves bread at Banh Mi Ba và Mr. Banh Mi.
Inside A Loaf Of Banh Mi Viet Nam
Exploring the inside of banh mi will make you surprised not only because of the nutritious ingredients but also because of the fulfillment of taste.
The soft crumb inside, the crunchy crust outside 
Right on the first bite, you will be impressed by the crunchiness of the loaf but still soft like cotton candy inside. Most banh mi made of white wheat flour will have a yellow appearance, besides some kinds of charcoal and whole wheat bread will give black or brown bread. Whatever the main ingredients are, there is no huge effect on the flavor and the crunchy texture of banh mi.


The nutritious ingredients
Plenty of ingredients in banh mi will be the most important part of each loaf. The popular ingredients are pork meat, beef, beacons, char siu, fried eggs, spring rolls, or fish balls, … To balance the flavor of meat, there is a wide range of vegetables, like cucumber, onion, and must-have Vietnamese herbs. The herbs can be peppermint, sweet basil, or scallion… depending on the kind of banh mi. Finally, the sauce is the determinant for the taste explosion! The sauce can be sweet, salty, sour, and usually contains fish sauce, mayonnaise, honey, butter, chili, garlic… Whatever it is, with the appearance of sauce soup, the combination of each bread can be completed magically, which becomes unforgettable for everyone.


In addition, one notable thing is: Even when it's full of input, every restaurant in different regions of Vietnam can have their recipe and keep it a secret. That's why when you go to Hanoi, you will find the strange taste of banh mi that will represent only Hanoi, unfamiliar with the same kind of banh mi in Hoian. You can find more information in the next part of the blog, so keep reading and stay with us!
The Difference Between Banh Mi Viet Nam And The Others In The World
You've known a lot of things about the history and flavors of banh mi, but can you figure out what makes banh mi Viet Nam stand out among the world of sandwiches? The answer is, that Vietnamese people find distinctive ways and rare ingredients to make a loaf of banh mi. For example, coriander is the Vietnamese herb that foreigners hardly can find on Western sandwiches, even in the French – the mother of baguettes. Moreover, banh mi owns numerous versions for respective regions in Vietnam. For instance, banh mi que is the most narrow sandwich with just liver pate and cilantro, used with handmade chili, derived from Hai Phong – a northern province of Vietnam. Meanwhile, banh mi in Hoi An is famous for its deep flavor sauce and is full of various inputs.


The Difference Between Kinds Of Banh Mi Viet Nam
Banh mi is a street food therefore it can easily hold the unique fusion between each region in Vietnam. In the article boundary, Asianway Travel will present to you the 3 most famous kinds of banh mi street food. Along with that, if you have a chance to visit Vietnam, please visit these addresses we mention below to grab yourself the most authentic Vietnamese bread.
Banh mi Hanoi
As the capital of Vietnam, Hanoi holds several signature dishes of the country. The filling inside each loaf is not redundant but has some essential ingredients: pate, pork chop, chicken, corn, coriander, and some light slices of spring rolls. The spices are usually butter, mayonnaise, and chili with the same version for Pho. Banh mi Hanoi seems to be simple, and traditional; however, the crunchy bite and the balanced flavor of it can be the memorable mild sweet banh mi.
Recommendation: Banh mi Pho in Hanoi: 57C Dinh Tien Hoang street, Hoan Kiem ward, Hanoi. The price is 30.000 VND per loaf.


>>> Find more information: Hanoi Cultural & Culinary Experience Day Tour
Banh mi Hai Phong
The most unique kind of banh mi can be given to Hai Phong. Because of its small size, Vietnamese people call it Banh mi que (Stick bread). The input is even more simple than the banh mi Hanoi: just with pate and chili. But the liver pate is cooked with a nice recipe that is soft, delicious, and sweet. The chili for that banh mi is significantly spicy, so you can feel numbing hot on the tip of your tongue. However, the experience is interesting. Make sure you pack at least 10 pieces of banh mi Hai Phong per purchase, we are sure this is an unputdownable dish for you.
Recommendation: Banh mi que Ba Gia (Spicy stick bread) in Hai Phong: 57 Le Loi Street, Ngo Quyen district, Hải Phong. The price is 3.000 VND per piece.


Banh mi Hoi An
Banh mi Hoi An is famous for its diversity of ingredients. In each restaurant, you can find more than 10 flavors of banh mi: ham, sausages, pork barbecue, cheese… Each banh mi has a medium size but a thick filling inside, so when you take the first bite, you will want to eat more and more. Due to different recipes, the butter and the sauce are exclusive for each shop, which makes the flavors of banh mi Hoi An even tastier and numerous.
Recommendation: Banh mi Phuong in Hoi An: 2B Phan Chu Trinh Street, Hoi Anh ward, Quang Nam city, Vietnam. The price is around 30.000 VND per piece.


Banh mi Saigon
The most interesting banh mi area can be known here – Saigon. This city is like a world of banh mi because you can find banh mi in every corner of Saigon, especially in multiple glasses cabinets in the street. The nonstop growing speed of banh mi brands here is incredible, which can present the culture of banh mi in Saigon. The ingredients for each loaf of banh mi are not too much different from those in other parts of Vietnam. But it is well known for the diversity of the local needs. With the fast pace of life, Sai Gon citizens usually have banh mi for their breakfast, lunch, afternoon break, or dinner with lemon tea, kumquat tea, or peach tea. Besides, having a unique recipe and always trying the new formula makes banh mi Saigon get more special.
Recommendation: Ma Hai Bread in Ho Chi Minh City: Plenty of cabinets in Ho Chi Minh. The price can be from 25.000 VND per loaf.


>>>Explore Ho Chi Minh City deeply here:  Ho Chi Minh City – Mekong Delta – Phu Quoc Tour – 7 Days
How Banh Mi Conquers The World
Becoming one of the favorite dishes in Vietnamese cuisine, bread in Vietnam gradually appears in many worldwide events and awards. There is plenty of global awards for bread in Vietnam, such as:
In 2017, Vietnamese bread was in the top 10 most attractive sandwiches in the world according to Traveler. Still, in 2017, bread is also one of the best street foods in the world" voted by British travel magazine Rough Guides
In November 2017, during his trip to Vietnam to attend the APEC Summit Week, Australian Prime Minister Malcolm Turnbull also had breakfast with bread on the streets of Da Nang.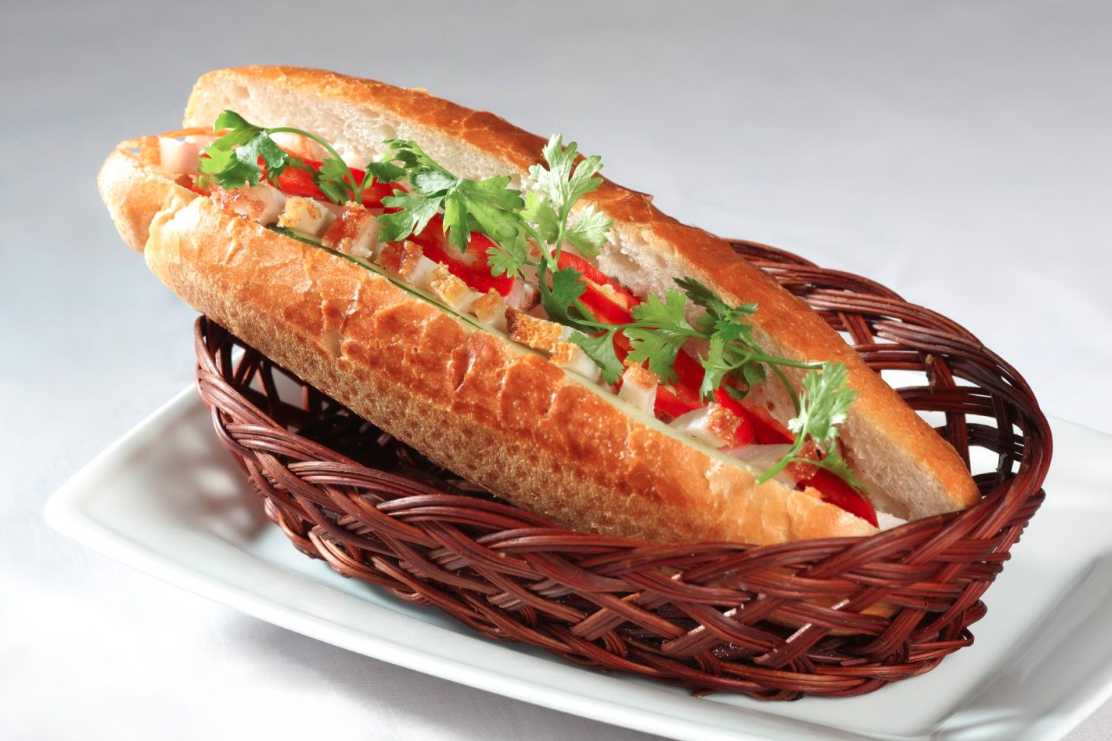 In 2018, the CNN page favored Hoi An's banh mi as "The king of sandwiches in the world". 
In August 2018, the famous American travel magazine Fodor voted Vietnamese bread as one of 30 sandwiches in the world that people must try.
In the framework of Miss Universe 2018 in Thailand, the image of bread appeared in Miss H's costume and caused a great resonance.




On March 24, 2020, Vietnamese Bread appeared on the Google homepage of more than 10 countries.
Although Vietnamese banh mi is just a portion of ordinary street food, with its delicious taste and constant variation, banh mi has fascinated the whole world.
A journey to have a banh mi Viet Nam with Asianway travel
Thanks to the delicious food, Vietnam welcomes millions of tourists annually. More than a dish, banh mi is one of the culinary pride in the cultural identity of Vietnamese people. It would be our pleasure to have you on our vacation. Come and visit our beautiful S-shaped land and enjoy our local meals. Asianway Travel has almost 20 years of experience in inbound tour operations. We are here to give you the most effective customer service and customized trips.