Angkor Wat is iconic and its beauties are just unbelievable. The significance of Angkor Wat lies right in the meaning of its name 'Angkor Wat' means 'Capital Temple' - standing as the epitome of Khmer Empire. And there're no surprise at the fact that Angkor Wat simply has become the symbol of Cambodia, appearing proudly on the country's national flag. 
The compound of Angkor Wat lies about 5.5 kilometers away from Siem Reap, not far from the previous capital. 

History of Angkor Wat
---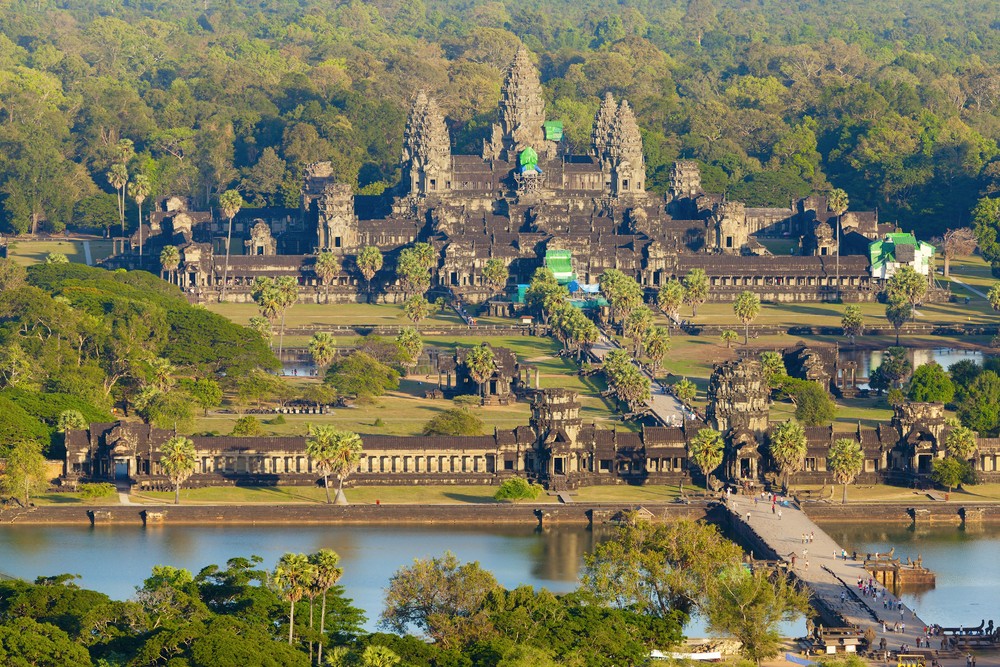 Angkor Wat was built in the first half of the 12th century (113-5BC). Estimated construction time of the temple is 30 years by King Suryavarman II, dedicated to Vishnu (Hindu), replica of Angkor Thom style of art. The ancient city of Angkor Wat was extended to an area of 400 kilometers, making it the largest pre-industrial city on the world with estimated population to be 1 million. 

Architecture of Angkor Wat
---

Angkor Wat is about over 200 feet high, divided into several layers. This temple is the largest in the whole complex and is where the historic site gets its name. The central temple complex has 2,600 feet of bas-reliefs.
Angkor Wat forms a symbolic representation of the mythical Hindu home of the gods, Mount Meru. Angkor Wat covers a rectangular area of about 208 hectares (500 acres) defined by a laetrile wall. The first evidence of the site is a moat with a long sandstone causeway crossing it and serving as the main access to the monument. The moat is 200 meters wide with a perimeter of 5.5 kilometers (3.4 miles).
Gallery of Bas-Reliefs
Battle of Kurukshetra
Army of King Soryavaman II
Battle Between The Gods and Demons

The gallery shows 21 gods of the Brahmanic pantheon engaging in a battle with the demons. One god battles against a demon while warriors on both sides battle in the background. The adversaries include the Kubera (God of riches), followed by Skanda, God of war, Indra, Visnu, a Guard; a demon (tiered heads) shaking swords; Yama, God of Death and. Justice, stands in a chariot pulled by horses; and Varian, God of the Water, stands on a five-headed serpent harnessed like a beast of burden.

When to visit Angkor Wat
---

November to February is your best time to visit Angkor Wat when the weather is not too hot and less rain than other month. Angkor Wat in sunrise or sunset is equally stunning, but it's recommended to visit to see the complex in sunrise.   

Opening times: Daily, 5am – 6pm. Some temples close earlier (Kbal Spean closes at 3pm).
Location: Angkor Archaeological Park.
Price:  $37/ one day pass,  $62/ three days, five days $72/ five days